This post highlights potential solutions to common problems with the Samsung Galaxy A series built-in camera application. Read on to learn what to do when your Galaxy A73 5g camera app keeps stopping.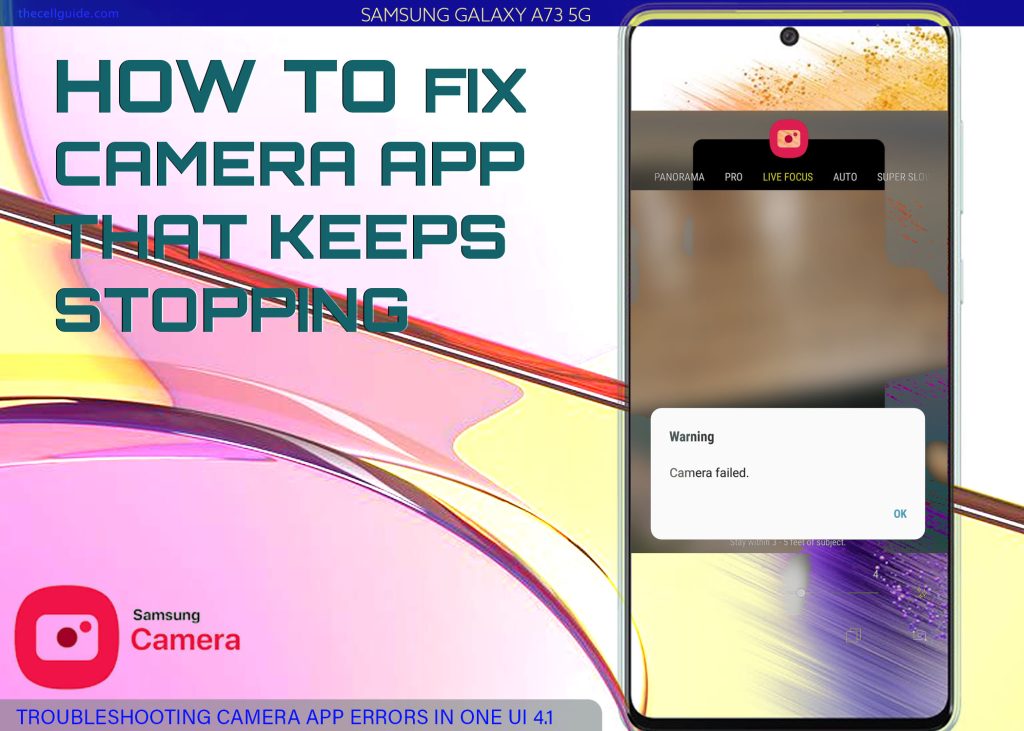 'Camera has stopped responding,' and 'Camera failed,' error are two of the most common problems encountered by many Samsung smartphone owners. Keep scrolling to find out what triggers these errors and how to deal with them.
Samsung One UI 4.1 Camera Issues
Apart from its hyper-fast 5G connection, the Galaxy A73 device also comes with captivating camera specs that allows you to capture landscapes and portraits in the form of delightful images. Among the key features of the rear camera setup include Auto Flash, Digital Zoom, Face detection and Touch to focus the subject. Overall it's a great bargain. Nonetheless, all these camera specs are useless if the app isn't working as intended.
Unfortunately, bumping into some occasional errors when using the camera is inevitable. In fact, many owners of Samsung Galaxy phones have been raising various problems that they've encountered. So don't be surprised if one day your phone camera app would just stop responding.
There are a lot of different factors that can cause conflicts with the inbuilt camera system and result in unexpected errors.
Software bugs, settings conflicts, corrupted files and memory-related issues are usually found to be the underlying causes. In worst case scenarios, the camera app may have stopped working due to hardware damage.
Before opting for hardware repair, performing some basic tweaks including the subsequent workarounds to eliminate software-related culprits is highly recommended.
Troubleshooting Galaxy A73 5g Camera app keeps stopping
Performing the following procedures will help rule out common software-related factors that often caused conflicts with the inbuilt camera application in various Samsung Galaxy devices. These workarounds have been proven effective in resolving different issues that manifest while using the Samsung camera unless hardware damage is present.
Before you begin, verify your phone's battery life and ensure that your phone is sufficiently charged. Some of the camera features or the camera app itself may not be able to work properly when the device is running low on power. Also ensure that power saving mode is disabled.
Solution #1: Terminate/Force Stop Camera and other running apps.
Apps that are left open or running in the background for quite some time are more likely to encounter errors and suddenly stop working. And this could be what's transpiring on your phone's camera app.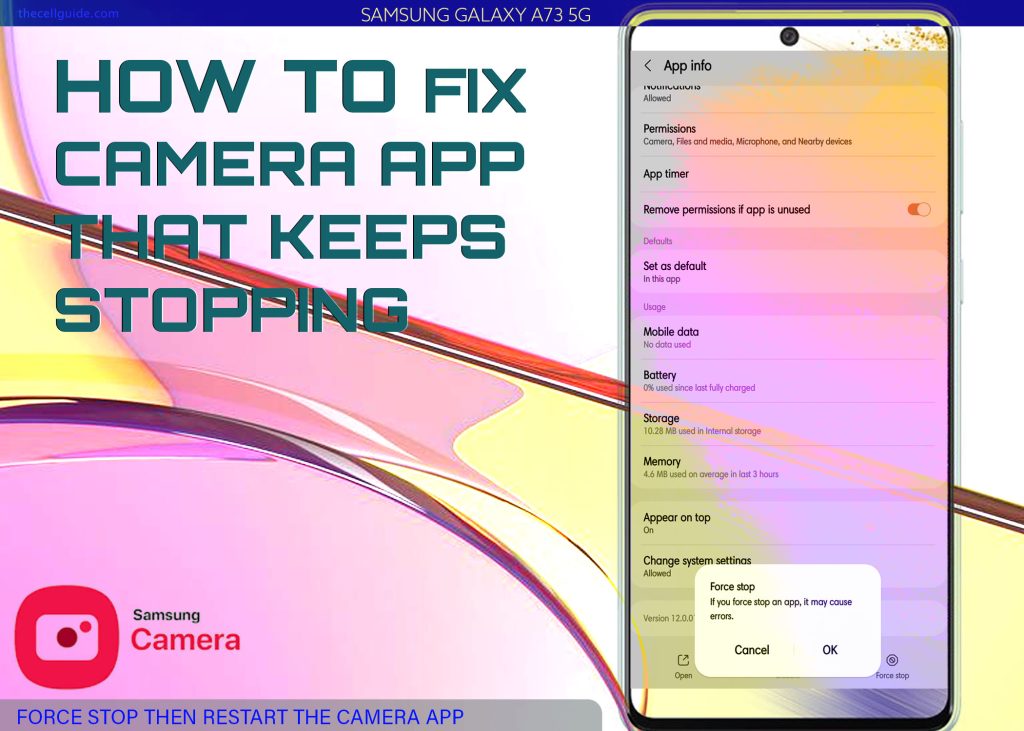 To make it work properly again, restarting the application would be necessary. Before restarting, you will need to end/terminate the app as it might have been stuck among other background processes. This is when executing the force stop command comes in handy.
To force stop the camera app on the Galaxy A73 device, you will need to navigate to the phone Settings-> Apps menu and then select Camera from the list of apps. In the Chrome App info screen, you will see the Force stop option at the bottom. Tap on it and then tap OK on the pop-up window to confirm.
You can also terminate the Camera app straight from the Home screen of your phone.
To do this, simply tap the Recent icon at the bottom-left corner of the Home screen to launch the multitasker that contains previews of the open/running apps. Swipe on the Camera app's preview to end it. If multiple apps are left running in the background, tap Close All instead to terminate all background applications at once.
This is recommended to prevent any background apps from causing conflicts with the Camera app the next time you launch it.
Solution #2: Restart the phone.
Various types of software errors can be addressed by restarting the phone. This usually works when a certain app suddenly stops working due to some minor system conflicts inflicted by random glitches.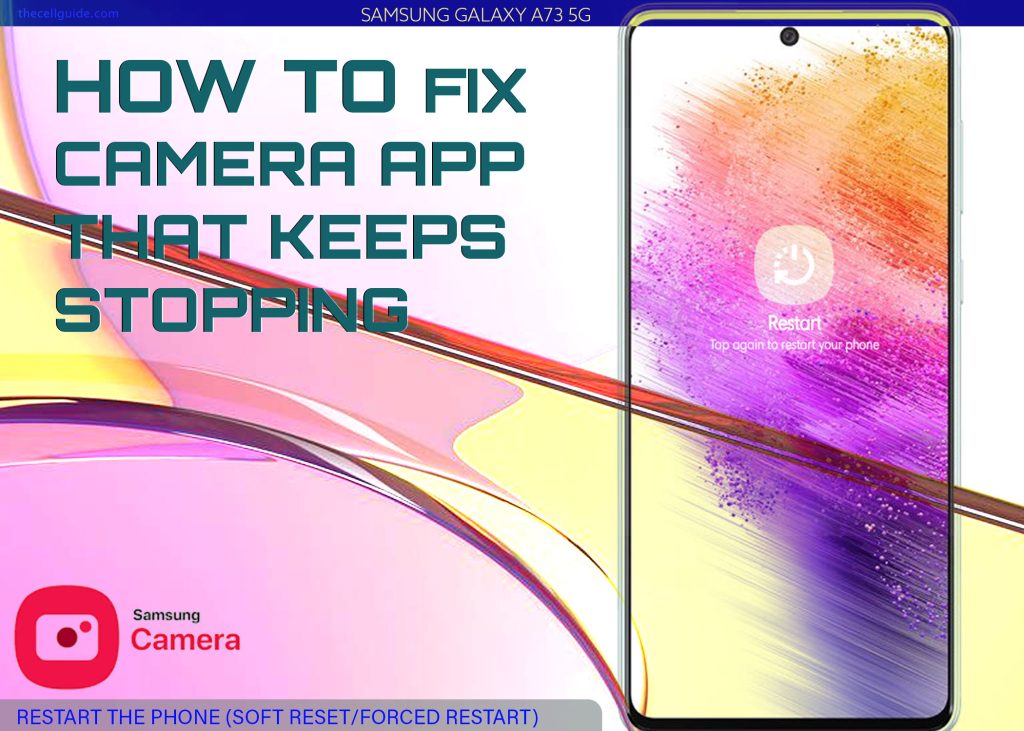 Restarting the phone does not affect any saved data from the internal storage and therefore doesn't delete any important files from the system storage.
For starters, performing a soft reset (typical system reboot) on the Galaxy A73 is done by pressing and holding the Power key for a few seconds and then releasing it when the Power options menu appears. Tap Restart twice to reboot the phone or tap Power off to turn it off and then turn it back on again after a few seconds.
In the case where the phone becomes unresponsive while the Camera app encounters an error, performing a forced restart would be necessary. Doing so will force the system to shut down and reboot.
To force restart the Galaxy A73, simply press and hold the Power key for at least 10 seconds and then release it when the Samsung logo appears.
Wait for your device to finish rebooting and then retry launching the Camera app as soon as it gets back up and running again.
Solution #3: Clear app cache and data.
Temporary files and residual data stored in the Camera app's cache can likewise trigger unexpected conflicts especially when they get corrupted. When this happens, the camera app would suddenly misbehave.
To prevent this from happening, clearing the app's cache and data is recommended from time to time.
To do this, just go to Settings-> Apps menu then select Camera app from the list. In the Camera app info screen, tap Storage. On the succeeding menu, you'll see the option to Clear cache and Clear data at the bottom.
Clearing data will put the Camera back to its factory state so all your saved settings and preferences for the application are deleted.
Solution #4: Restore camera app defaults.
The built-in camera app on a Samsung Galaxy device has a dedicated reset option that users can use whenever the app gets rogue after altering some settings.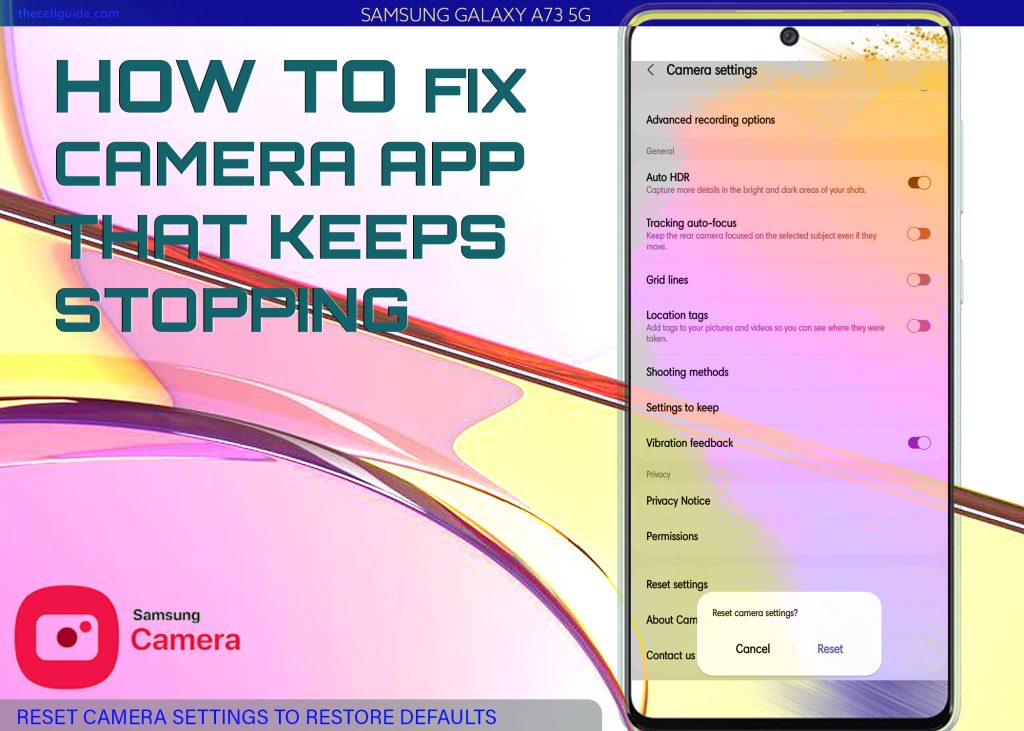 This can be the key to fixing the problem if your phone's camera suddenly stops working after reconfiguring the default options.
To access this feature on the Galaxy A73, just go Settings-> Apps and then select Camera from the list of apps. On the Camera app's info screen, tap Camera Settings. Scroll down to the bottom of the list and then tap Reset settings. Read the warning prompt then tap Reset to confirm.
All recent custom changes made to the camera app's settings will then be removed and then default values and options are restored. Any errors tied to invalid settings will likewise be obliterated including the ones that made the app unstable.
Solution #5: Reset all settings on the phone.
Recurring errors on the camera application may likewise be directly attributed to a complex system flaw from a recent update containing automatic system settings overrides. This is when restoring defaults through system settings resets comes in handy.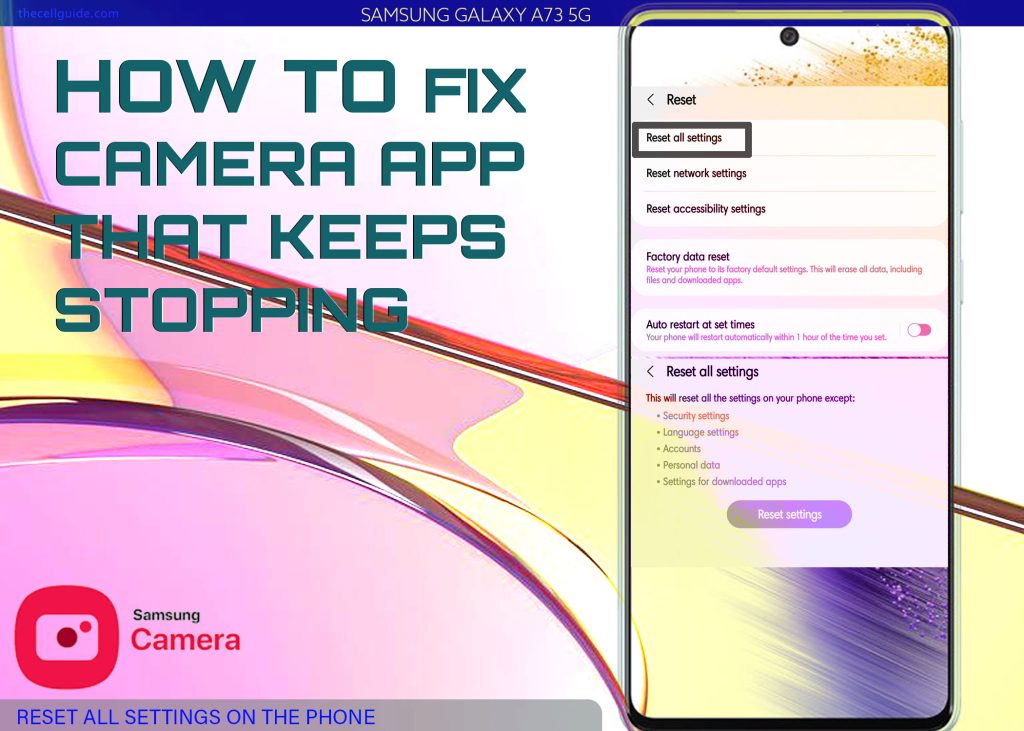 There are main reset options available on every Samsung device and that include reset all settings, reset app preferences, reset network settings, reset accessibility settings and factory data reset.
For application errors tied to complex system bugs, resetting all settings is recommended. This reset deletes all current system settings including the device network settings, default apps, permissions and preferences and then restores the default values.
Unlike a factory reset, the reset all settings command does not affect any user data from the system storage and thus no apps or saved files are deleted in the process.
To reset all settings on the Galaxy A73, go to Settings-> General management-> Reset menu and then select Reset all settings from the given options. Read the reset details on the next screen to learn which type of information will be deleted. After reviewing the details, tap Reset settings and follow the rest of the onscreen instructions.
The entire reset should only take a few seconds to complete. When it's done, the phone reboots by itself and then loads up all default values and options. This denotes the need for you to rejoin and reconnect to your Wi-Fi network, set up Bluetooth connections and enable necessary features that are disabled by defaults.
You will also need to set a default app to process a certain file type or data protocol just like the first time you open these files on your device.
Is your Samsung Camera still stopping?
Random camera errors attributed to minor software glitches are usually addressed with the aforementioned solutions. If none of them works, then you may resort to these additional workarounds to troubleshoot further.
1. Install pending software updates.
One way to keep system applications and services optimal is to keep them updated. Samsung releases periodic updates that contain new features while others embed critical patches to get rid of existing bugs and malware that ruined certain system apps and services. That being said, keeping the device software up to date is highly recommended.
Unless you've turned on automatic update downloading and installation on your phone's settings, you would need to manually check for and update the device whenever a new OS version is available.
2. Run the device in safe mode.
Android devices have a dedicated system interface wherein only system apps are allowed to run. This state is called Safe Mode.
Running the device in safe mode will help you determine whether or not the transpiring issue is attributed to a third-party application or downloaded widgets.
If the camera app is working properly while in safe mode, it indicates that a third party-application is causing the problem. In this case, try to think of which from your recent app downloads is the root cause of the problem.
Temporarily disabling downloaded applications starting from the most recent download will help you find the culprit.
3. Optimize storage.
Memory problems could also be the main reason as to why apps would suddenly stop working on your device. Crashing, lagging, freezing and loading errors are usually emerging as the common symptoms of low memory. That said, insufficient storage could likewise be the root cause of the problem.
To clear this out, check the current memory status of your device by heading towards its storage menu through settings. If the available storage is below 2 gigabytes, then that means the need for you to free up space.
Deleting old and unwanted contents including photos, messages, videos and other saved files that are no longer useful is therefore recommended.
4. Restore factory defaults (factory reset).
A drastic solution to complex system issues including a dysfunctional camera app is a factory reset. This is often needed if the problem started from a recent software update or file download. Post-update bugs that could not be cleared out by prior tweaks usually require a total system reset. The same thing with file-embedded bugs and malware that ruined the phone's system apps including the camera.
Be sure to note though that this reset will wipe everything from the system including your downloaded apps and saved files as it restores the device to its factory state.
Should you wish to proceed, back up all your important data beforehand. This way you would still be able to retrieve your files after the reset.
A factory reset can be carried out straight from the settings menu on your phone or via Android recovery mode.
Repair Options
If the problem continues after performing all the above solutions, there's a good chance that hardware damage is present on the phone's camera or other relevant components. To clear this out, you can take your device to the nearest authorized Samsung service center so that a technician could take a look at it and fix whatever damage may be found.
Hope this helps!
Please check out our YouTube channel to view more tutorial and troubleshooting videos for popular iOS and Android devices.
You Might Also Want To Read: