This post will walk you through restoring default options and system configurations on a Samsung Galaxy phone running on Android 12 with One UI 4.1 OS version. Here's a quick guide to reset all settings on Galaxy A53 5g without deleting any user data.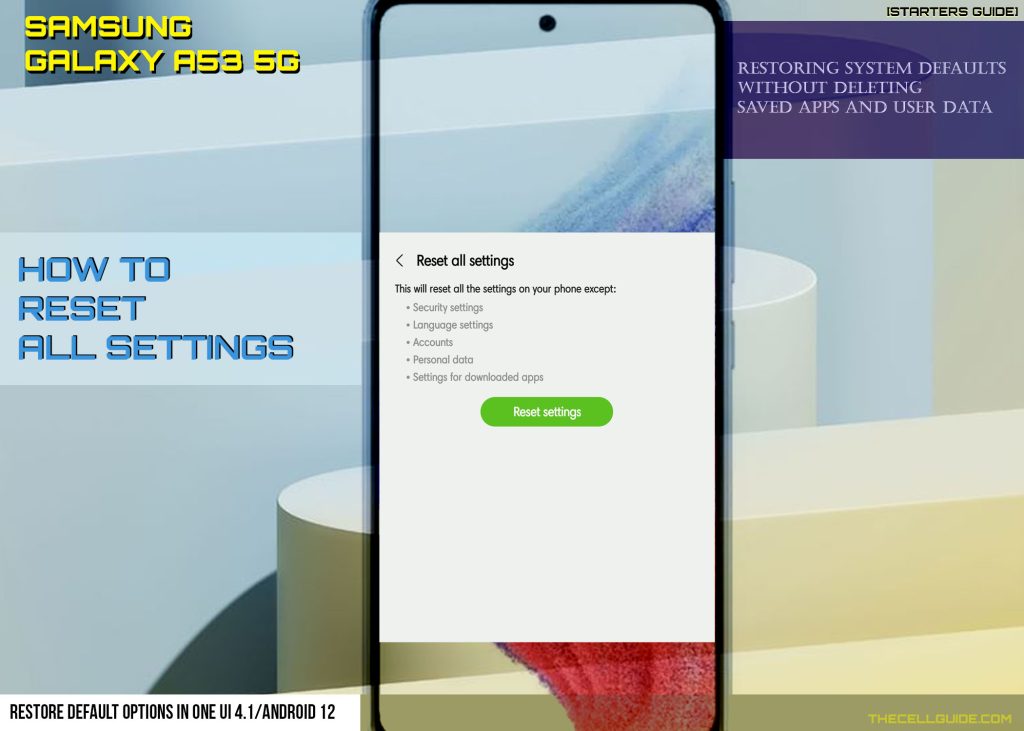 Is your Samsung Galaxy phone acting up after changing some system settings? If so, then there's a good chance that the recent changes have caused system conflicts and thereby ruins the device's normal operations.
Should this be the case, restoring system defaults is a recommended solution. Just read on for more detailed instructions.
One UI 4.1 System Reset
Every Android smartphone has inbuilt reset commands that you can use whenever the need to restore default settings arise. Each of these reset options has a specific function and works on certain settings or system information.
In Android 12 with One UI 4.1 OS devices, the inbuilt reset system commands include Reset all settings, Reset network settings, Reset accessibility settings and Factory data reset option.
To use any of these reset commands in newer Samsung phones, you will need to access the General management menu from the Settings app.
Depicted below is the actual process of restoring default system settings on the Galaxy A53 5g smartphone without deleting any saved user information.
Changes made to the phone's display, input, and notification settings are also deleted in the process.
Here's a summary of all the system categories affected with this reset:
Bluetooth settings
Wi-Fi settings and other network settings
Custom Home screen layout
Input settings
Location settings
Privacy settings
You can do this reset if any of your apps or the phone itself is acting up following a system update or a series of settings alterations.
Steps to Reset All Settings on Galaxy A53 5g without deleting user data
The following procedure will reset your device settings to their default without erasing your content.
Before you proceed, be sure to take note of your Wi-Fi passwords and other account credentials for default apps as they will be deleted from this reset.
But unlike factory data reset (factory reset), resetting all settings does not delete any apps or other saved information from the Samsung Galaxy A53 5g storage so there's no need to create backups.
Feel free to start whenever you're all set to reset your phone's settings.
Step 1: First, tap Settings from the Home screen to launch the settings app. If you don't see the settings icon from Home, find it from the Apps tray or access it straight from the quick panel of your phone. Just tap on the Gear icon located on the top-right edge of the quick panel and you'll be taken straight to the main settings menu.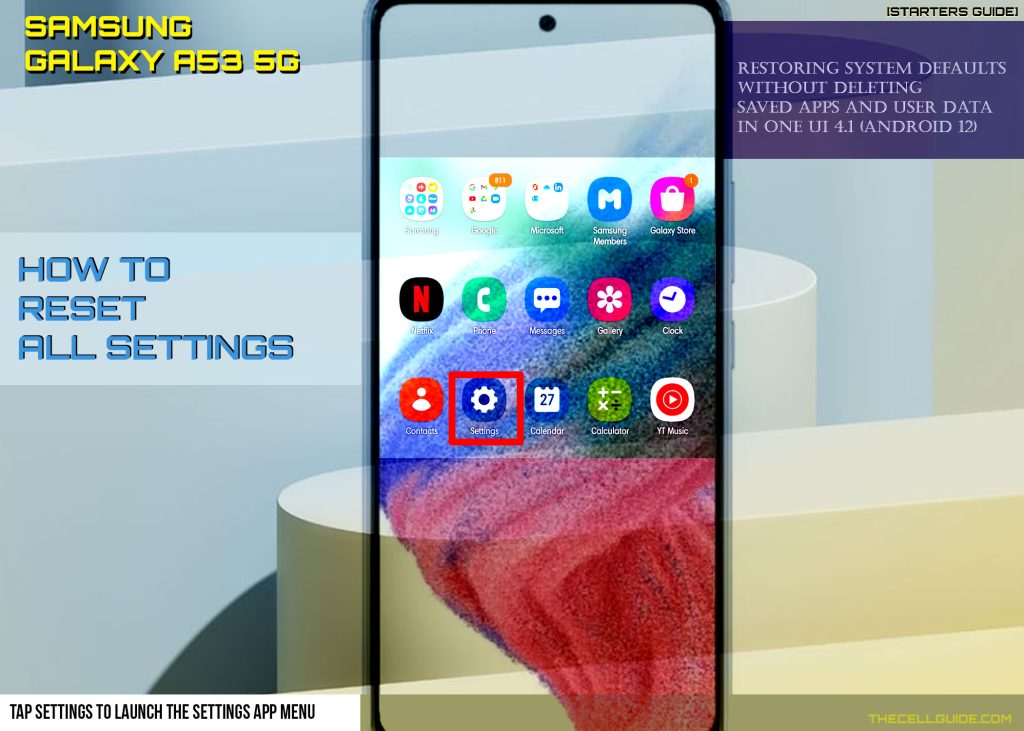 Step 2: From the main settings menu, scroll to find and then tap General management. Another menu opens with a list of general management features and options.
Step 3: Scroll down and then tap Reset to proceed.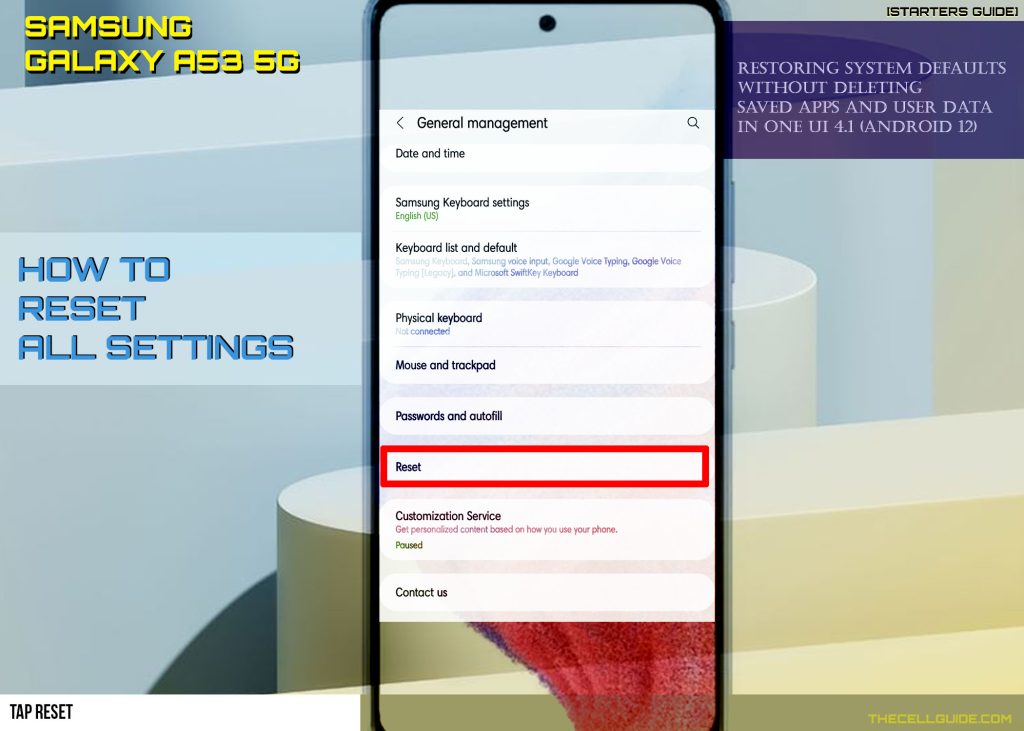 Step 4: On the next screen, you will see a list of system reset options. Tap Reset all settings to continue. More details about how resetting all settings work will show up next.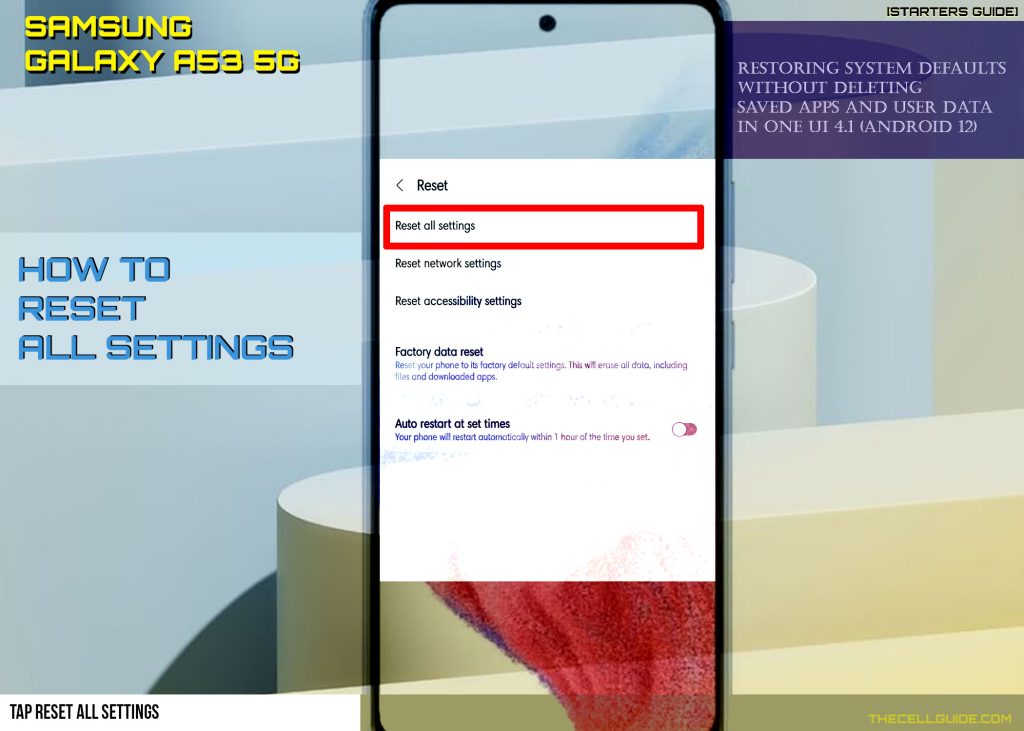 Step 5: Read the reset details and then tap Reset settings at the bottom to proceed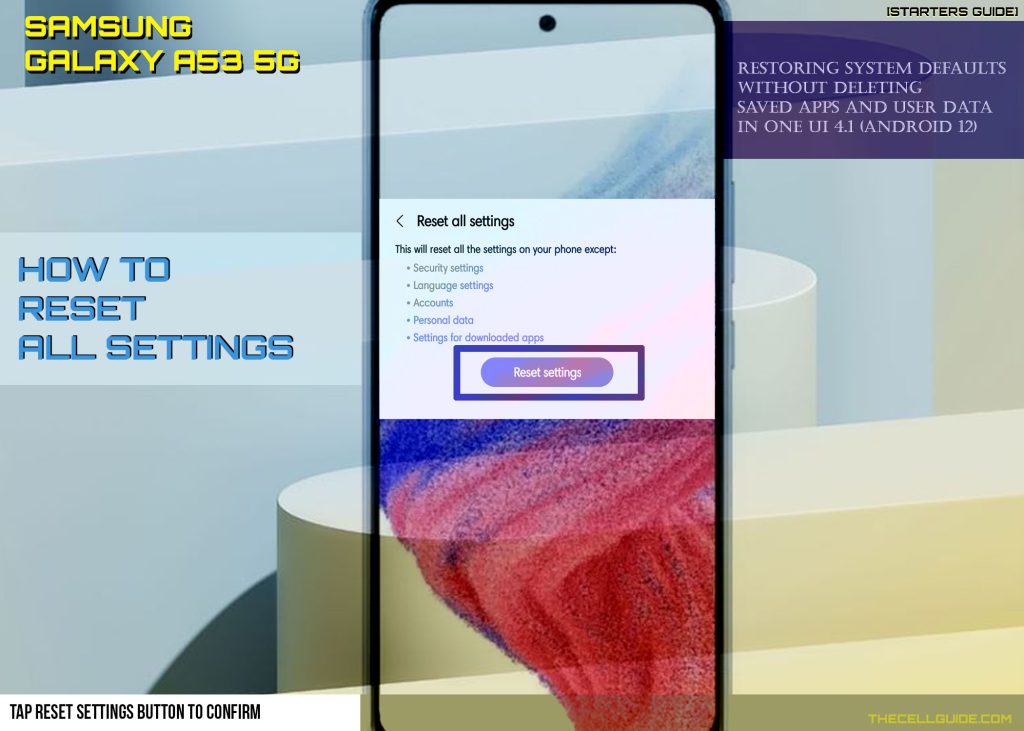 If prompted, enter your phone's screen lock PIN, pattern or password and then tap Reset on the succeeding window to confirm action.
The phone will then erase all recent changes made to your phone's system settings including accounts, language settings, security settings, customized options, app preferences and settings for downloaded apps.
What happens after resetting all settings?
After the reset, you will need to reconnect to the Wi-Fi network by enter the Wi-Fi network password.
You also need to re-enable system features that are disabled by default so you can use them again on your phone.
Bluetooth devices must also be paired individually like the first time you pair them with your device.
Setting default apps to process certain file type or data protocol is also needed, especially if you've installed multiple apps that handles similar files or data type.
These steps are also applicable when restoring default system settings and options on other Samsung phones running on the same Android and One UI platform.
However, there may be some slight differences on every device's user interface given that actual screens and menu items may likewise vary between device models and network service providers.
The key to getting access to the main features is to keep your device's software up-to-date.
And that's how you reset Samsung Galaxy A53 and restore the default system options and configuration without deleting any saved user information from the phone storage.
Hope this helps!
Please check out our YouTube channelto view more tutorial and troubleshooting videos for popular iOS and Android devices.
You Might Also Want To Read: