This post highlights potential solutions to Instagram feeds that are not loading on the Samsung Galaxy A series. Read on to learn how to deal with Instagram that couldn't load posts on Galaxy a73 5g and other Galaxy A devices running on Android 12 with One UI 4.1 OS version.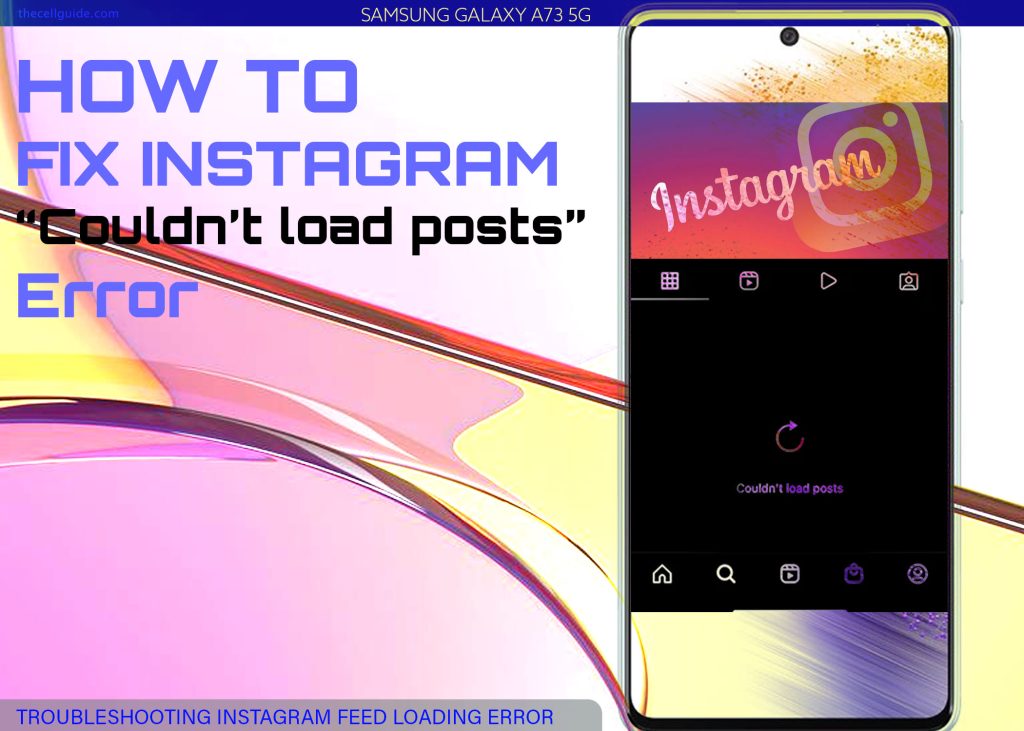 Instagram Feed Loading Error
Instagram is one of the widely used social media platforms to-date. With Instagram, you can share photos and videos on your iOS and Android device for free. It provides an user-friendly interface where users can upload and share photos and videos with their followers or with a select group of friends. Instagram users can comment, view and like posts shared by others.
Overall, Instagram is an attested platform for online connections be it for personal or business sectors. But just like any other networking apps, Instagram is also susceptible to random connection muddles.
Emerging among the most prevalent issues encountered by Instagram users on Android devices is feed loading failure. This is when Instagram is unable to load up recent posts and eventually prompts an error message saying, "Couldn't load posts" or "Couldn't refresh feeds."
There are many reasons as to why this happens but the most common cause is internet problems. That said, resolving this Instagram error also denotes fixing your phone's internet connection.
Highlighted below are a few workarounds that can help fix this Instagram error on the Galaxy A73 5g smartphone. Feel free to try these tweaks whenever you'd bump into the same error when using Instagram on the same Samsung mobile device.
Troubleshooting: Instagram Couldn't Load Posts error on Galaxy A73 5g
Before you begin, verify and ensure that you're using the updated version of Instagram app. If necessary, download and install pending updates for Instagram on your device.
Once you've got everything set, you may go ahead and start ruling out every possible cause with these outlined tweaks.
Solution #1: Force stop then restart Instagram.
If everything was working perfectly fine and then suddenly Instagram is unable to load recent feeds and instead prompts a "couldn't load post" or similar error, then it could be just a random glitch affecting the app's normal operation.
Should this be the case, ending and restarting the app will likely fix it.
Thus, force stopping then restarting Instagram is the first suggested workarounds.
To force stop Instagram, just go to Settings-> Apps menu then select Instagram from the list of apps. In the Instagram app's info screen, tap Force Stop at the bottom-rightmost corner. Read the warning prompt and then tap OK to confirm.
Alternatively, you can close the Instagram app preview straight from the Recents tab. Just tap the Recent icon from the bottom-left side of the Home screen then tap Close all to terminate Instagram along with other apps that are left open and running in the background.
After a few seconds, relaunch Instagram then see if it's already able to load new feeds.
Solution #2: Refresh your internet connection.
If restarting the app doesn't solve the problem, check your internet connection. A common reason as to why recent feeds aren't loading is because the phone loses internet connection or the connection is suddenly slowing down.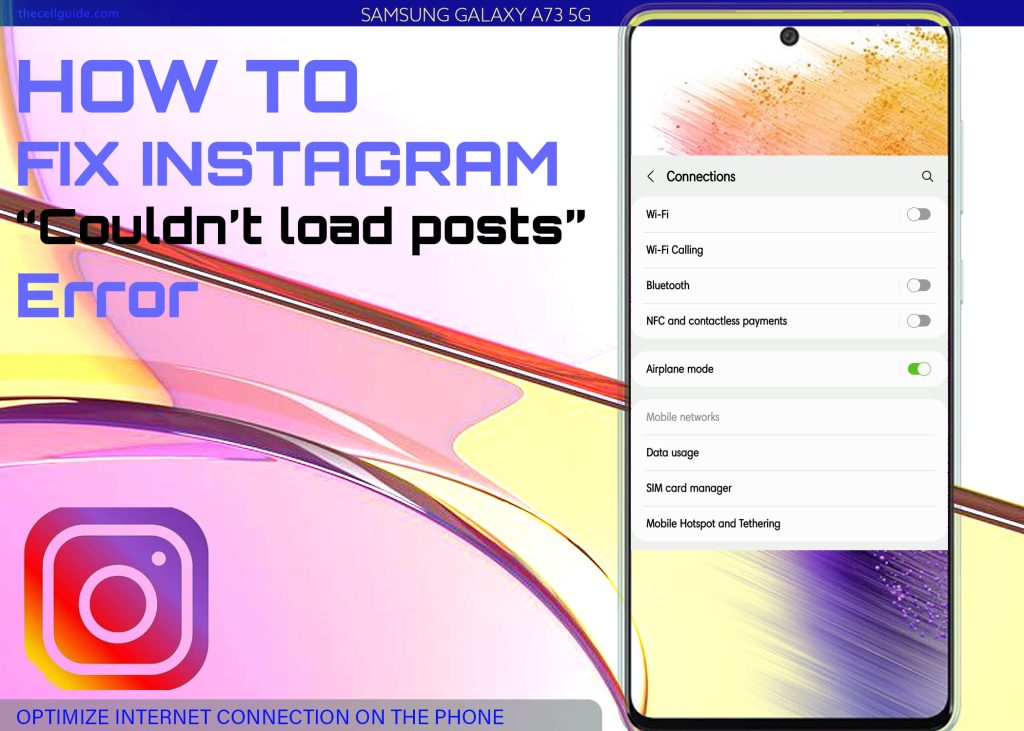 Should this be the case, refreshing the internet is needed. There are different ways to refresh the connection depending on which setup your device is using.
If you're on Wi-Fi, turning Wi-Fi off and on is recommended. If you're on Mobile data, turning Cellular data off and on is an option.
Alternatively, you can perform the Airplane mode tweak to simultaneously disconnect and reconnect all wireless features of the phone.
To do this, just head over to Settings-> Connections-> Airplane mode menu then toggle the switch to turn Airplane Mode on. All wireless connections will be disabled including Wi-Fi, Cellular and Bluetooth connections. Restart the phone while Airplane mode is on. As soon as the phone is finished rebooting, go back to Settings then turn Airplane mode OFF again.
Wait for the phone to re-establish wireless signal. When the signal stabilizes, reconnect to Wi-Wi or cellular data so you can go back online and use Instagram again.
Power-cycling the wireless router or modem is also deemed an ultimate solution to internet connectivity issues affecting devices connected through a wireless network setup.
Resorting to a network reset can also be considered among the last options when dealing with various internet problems on an Android phone.
This reset deletes all your current network settings including custom networks, APNs, VPNs, and other relevant information.
Any error associated with incorrect or invalid network configuration will likewise be removed. After the reset, all default network values and options are restored. This allows you to set up network connection (Wi-Fi or Cellular data) and connect to the internet like the first time.
Once the connection is back, relaunch Instagram and see if it's already able to load new feeds and posts.
Solution #3: Restart your phone.
To clear out minor software glitches that might have interfered with Instagram, restarting the phone can help. Doing so will also refresh all system apps and services for optimal system performance.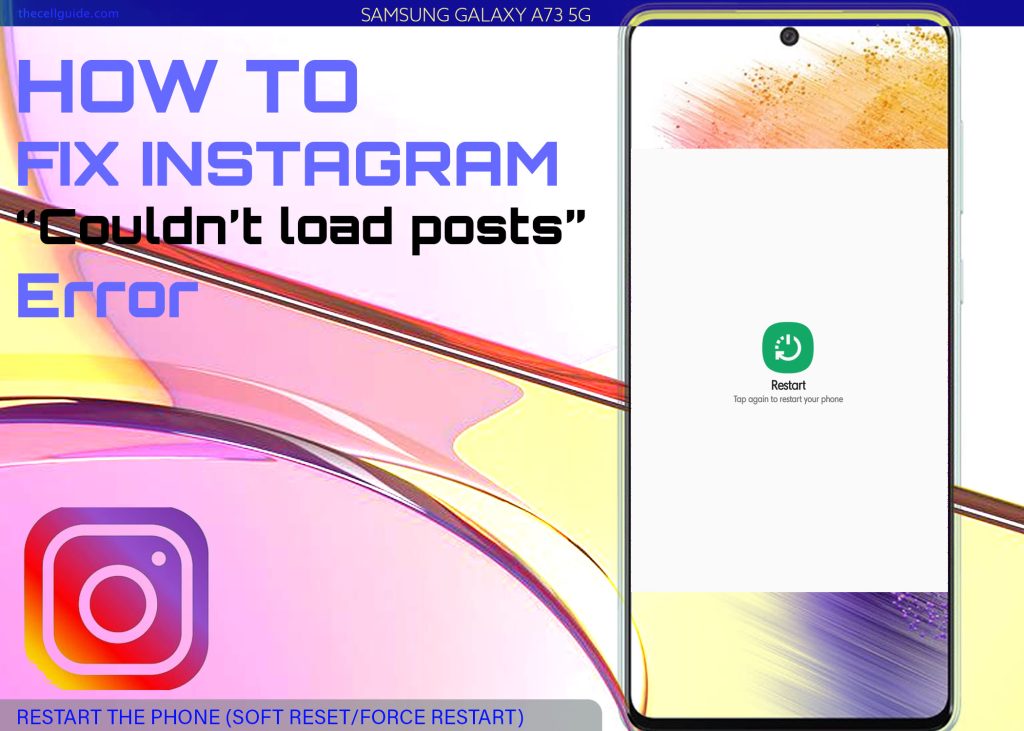 You can do the normal restart (soft reset) or force restart if your phone is unresponsive.
Both a soft reset and force restart yield the same positive outcome in terms of rectifying minor system errors and glitches without affecting any saved user information.
To restart (soft reset) the Galaxy A73, just press and hold the Power button for a few seconds and then release when the Power options appear. Tap Restart twice and wait for the phone to finish rebooting.
To force restart, press and hold both the Power button and Volume Down button for a few seconds and then release when the Samsung logo appears.
Wait for the phone to finish rebooting then reconnect to the internet.
As soon as the internet connection becomes stable, load up Instagram and see if the error is gone.
Solution #4: Clear Instagram App Cache and Data.
Errant cached files from the Instagram app storage can also trigger unexpected errors especially if any of them gets corrupted or broken.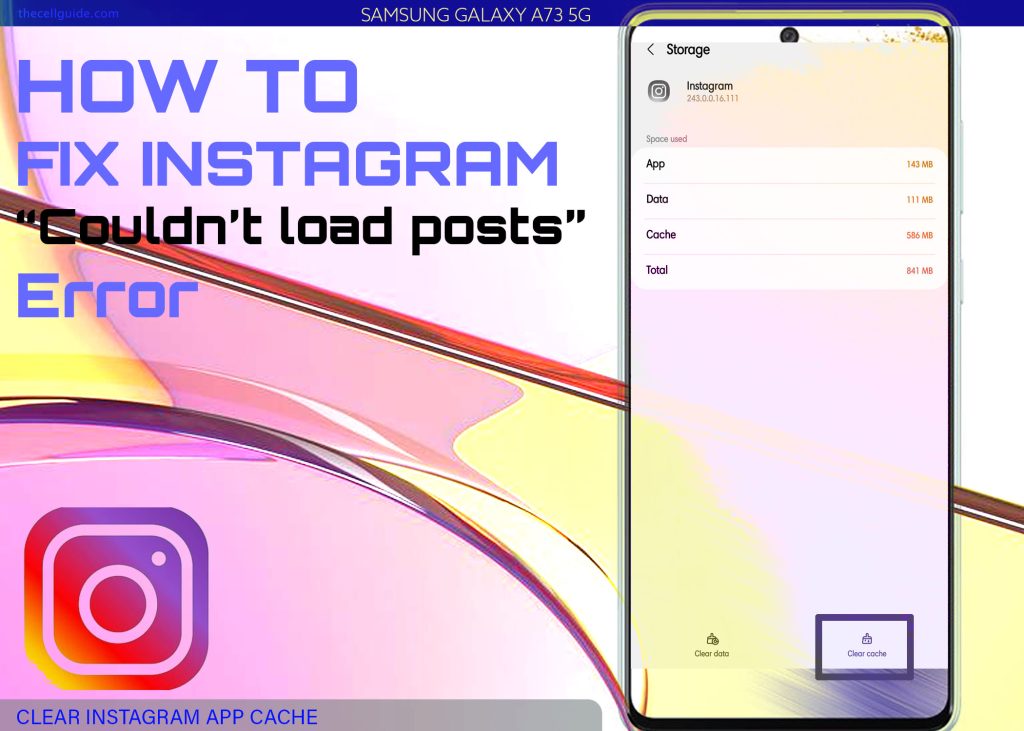 To prevent this from happening, regular clearing of the app's cache and data is recommended.
To do this, just head over to Settings-> Apps then select Instagram from the list of apps.
In the Instagram app info screen, tap Storage and then tap Clear Cache to delete all cached files accumulated by Instagram. To remove all residual data from Instagram, tap Clear Data then tap OK from the pop-up warning to confirm.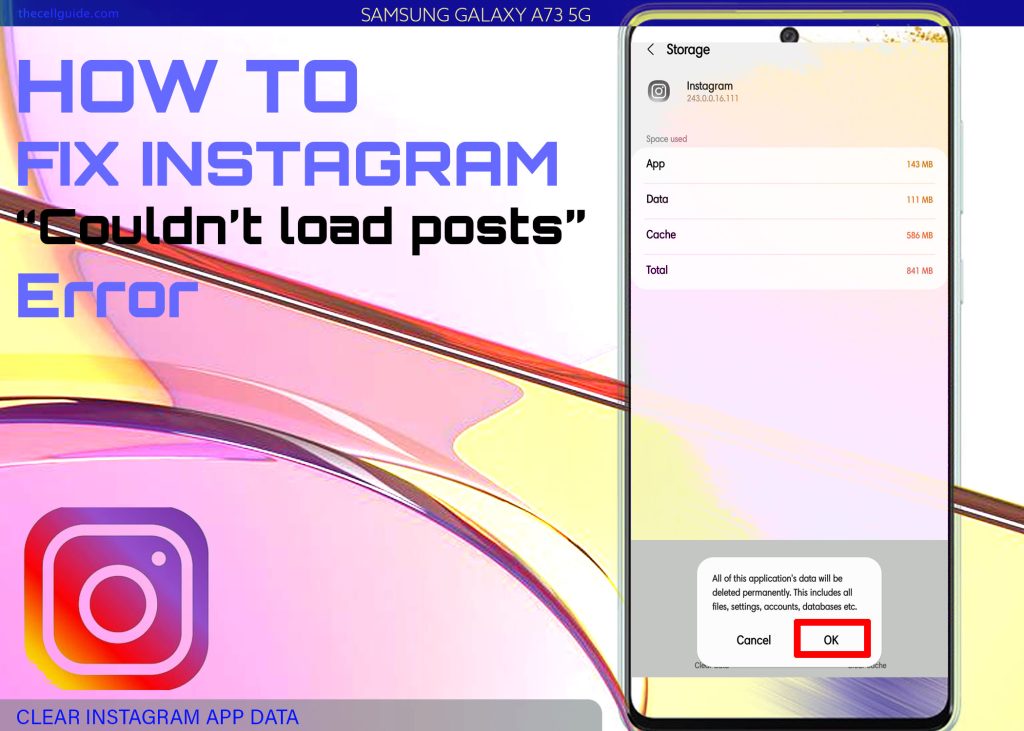 It's worth to note that clearing the app data will also erase your login credentials, downloaded files and custom settings. As a result, the app will be restored to its factory default state.
So the next time you launch Instagram, you will need to sign into your account just like the first time.
Solution #5: Log out from and back into Instagram.
Some Instagram users who encountered the same error have managed to correct it by logging out and signing back into the account.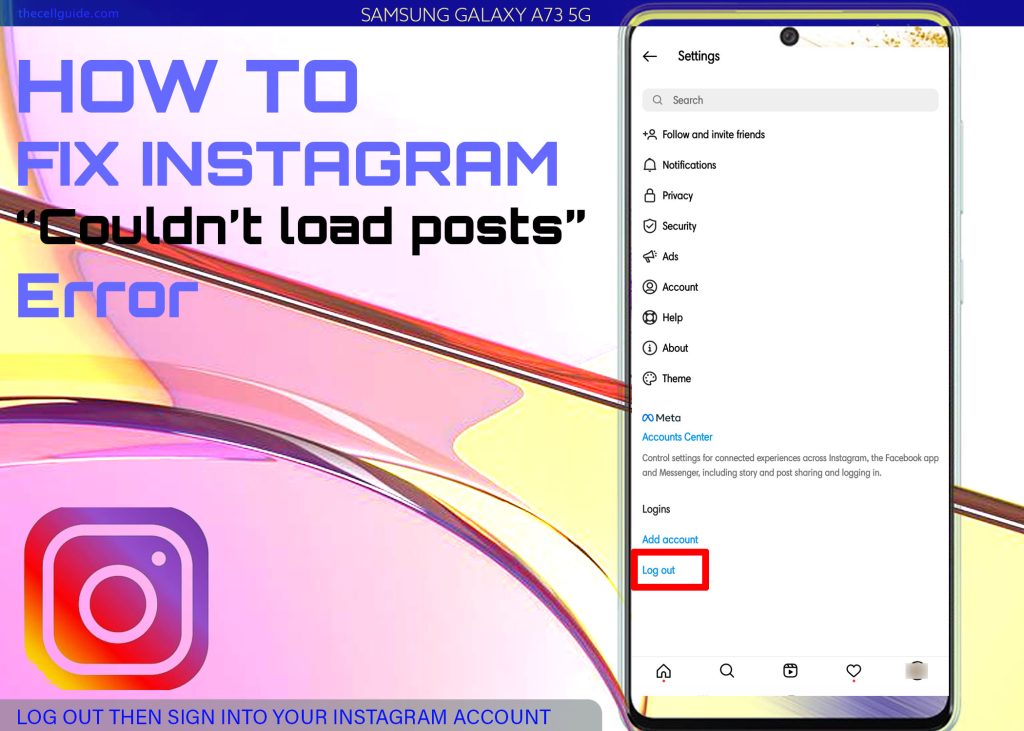 This usually helps if the error is tied to some corrupted login session resulting in the app being unable to sync with the main server.
To log out, just tap on your profile icon on Instagram then tap Settings on the upper-right side. Scroll down to the bottom and then tap Log Out.
After logging out, exit/close Instagram then launch the app again. Finally, sign into Instagram by entering your account credentials.
Wait for your feeds to refresh and see if the posts that load up are recent.
Still unable to load Instagram feeds on your Samsung phone?
The above solutions are usually good enough to rule out the common factors that can prevent Instagram from loading posts and feeds. If none of the given solutions worked, then it might be due to a server issue.
To clear this out, go ahead and check Instagram status. You can use the downdetector tool or do a quick search on Google to view the current status of Instagram. Should there be any ongoing outages, that should be posted on downdetector or any other relevant sites.
If there are no ongoing service outages affecting Instagram, then it could be due to some fatal error from within the application. To clear this out, uninstalling then reinstalling Instagram on your device can help.
Uninstalling the app will help clear out any corrupted Instagram data and other relevant file segments that have been broken.
After deleting the app, head over to the Google Play Store and download the latest version of Instagram app on your device. Make sure that your phone is sufficiently charged, has stable internet connection and has ample storage space.
After installing the app, access your Instagram account by entering your credentials like the first time. Once you've logged back in, check your Instagram feed and see if it's already the most recent.
You may also reach out to the Instagram Help Center and report the Instagram feed error you're encountering for further assistance.
Hope this helps!
Please check out our YouTube channelto view more tutorial and troubleshooting videos for popular iOS and Android devices.
You Might Also Want To Read: