This post will walk you through clearing out temporary data from an app on the new Samsung Galaxy flip phone. Here's a quick guide to clear app cache and data on the Galaxy Z Flip4 smartphone.
Clear App Cache/Data
Android phones have in-built commands to clear app cache and clear app data. These two commands are often regarded among other potential solutions when faced with unexpected errors while using a certain app and other software-related issues that are randomly transpiring.
The Clear App Cache command works by deleting all the temporary data related to an app.
Every app has a dedicated storage directory for temporary data (cache) that's primarily used by the app for faster loading the next time you'll re-use them on your device.
While keeping these temporary files in an app's cache benefits in terms of loading faster, there are times when conflicts arise due to some corrupted cache or broken residual data fragments.
To prevent this from happening, clearing the app's cache from time to time is recommended. While other phones and operating systems are already designed to automatically delete temporary data in a certain time range, other apps require manual deletion.
Many Android apps (pre-installed and downloaded) have in-build commands to clear cache and clear data.
Depicted below is the step-by-step guide on how to access and trigger these commands on the new Samsung Galaxy Z Flip 4 device.
Steps to Clear App Cache and Data on Samsung Galaxy Z Flip4
Performing the following steps will help free up the phone's storage by removing all temporary files and residual data from an app's repository. This process does not affect any saved information from the internal (system) storage and therefore all your downloaded apps, documents, files and settings will remain as is.
Feel free to start whenever you're all set to optimize an app's storage on your Samsung phone.
Step 1: To get started, launch the Settings app by tapping on the Gear (Settings) icon from the Home screen or Apps tray of your phone.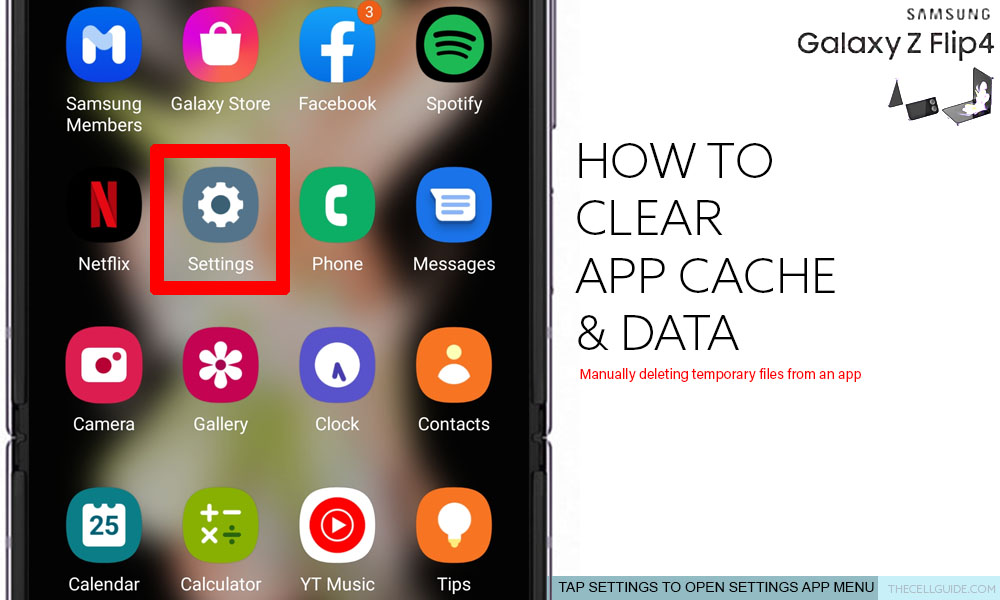 Step 2: In the Settings menu, scroll to find and then tap Apps. The Apps menu opens with a list of all apps installed on the phone.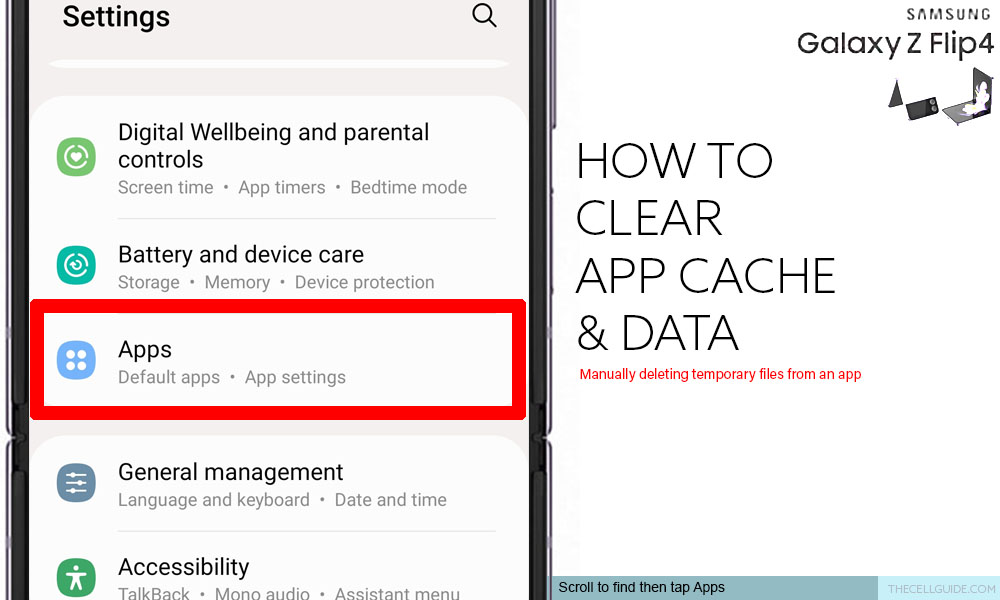 Step 3: Select the app that you want to clear cache and data from. Just find the name of the app and then tap on it to select. Let's just use the Camera app as an example, so we'll tap Camera to proceed.
Hint:
To save time from scrolling through various apps, you can use the quick Search function. To do so, simply tap on the Magnifying glass (search) icon on the top-right edge of the Apps info screen, then type the name of the app. Select the app from the search results so you'll get straight to the App's info screen.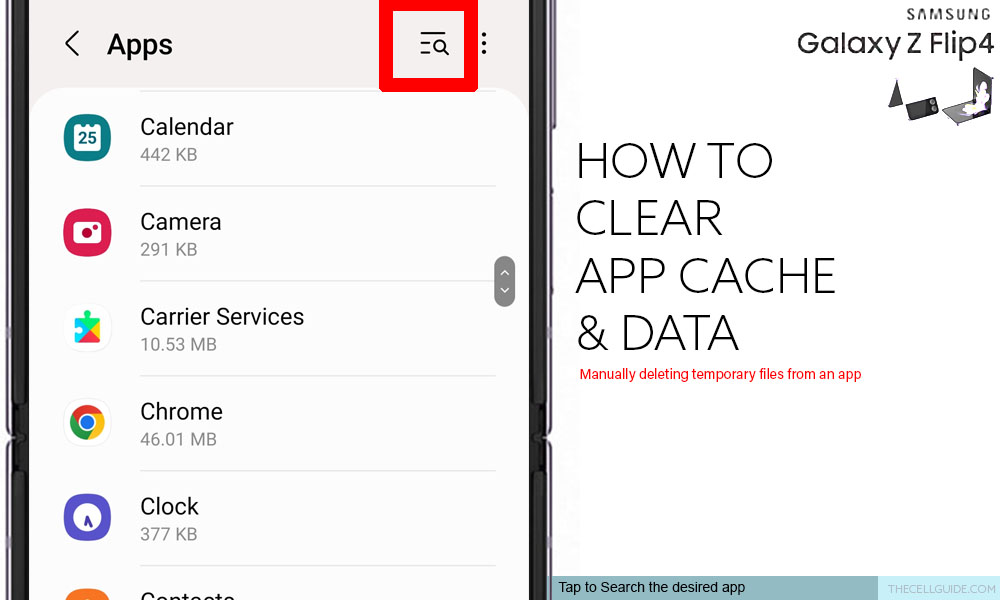 Step 4: In the Camera App Info screen, scroll down then tap Storage. More details about the app's storage will load up next. Beneath are the commands to Clear cache and Clear data.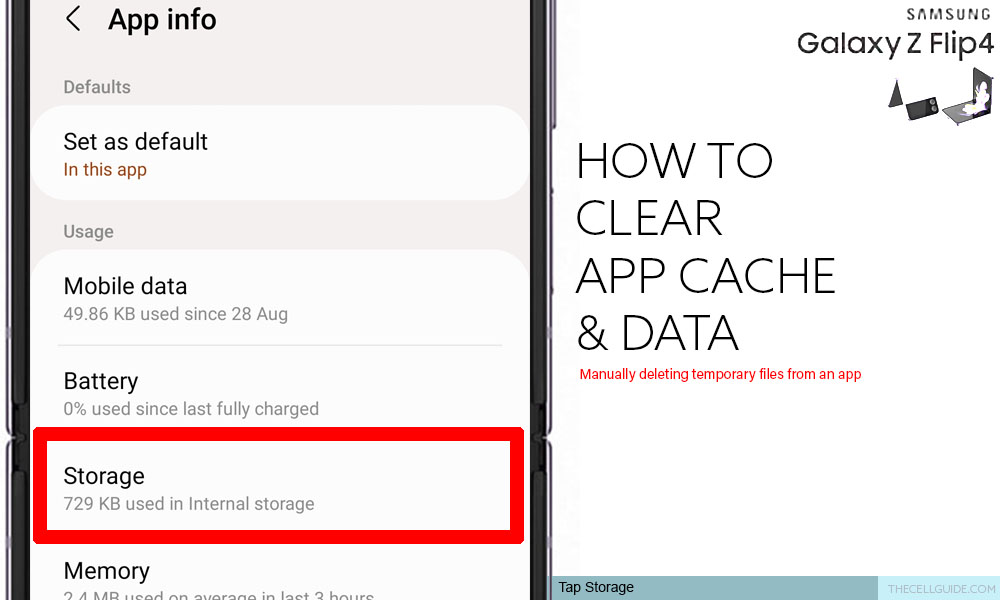 Step 5: Tap Clear cache to clear out all temporary files from the app's cache directory.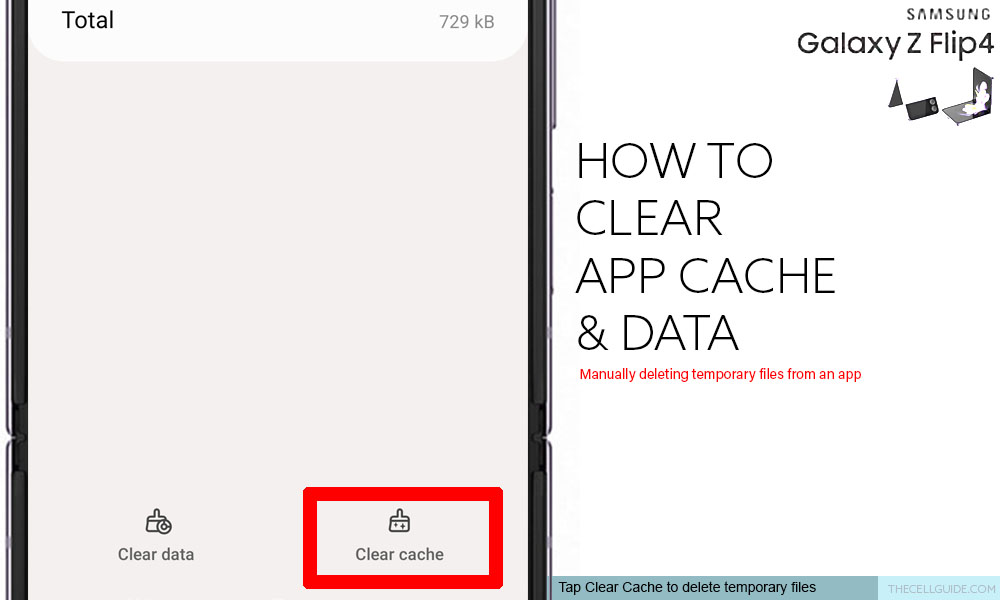 Step 6: To clear all saved data from the app's storage, tap Clear Data.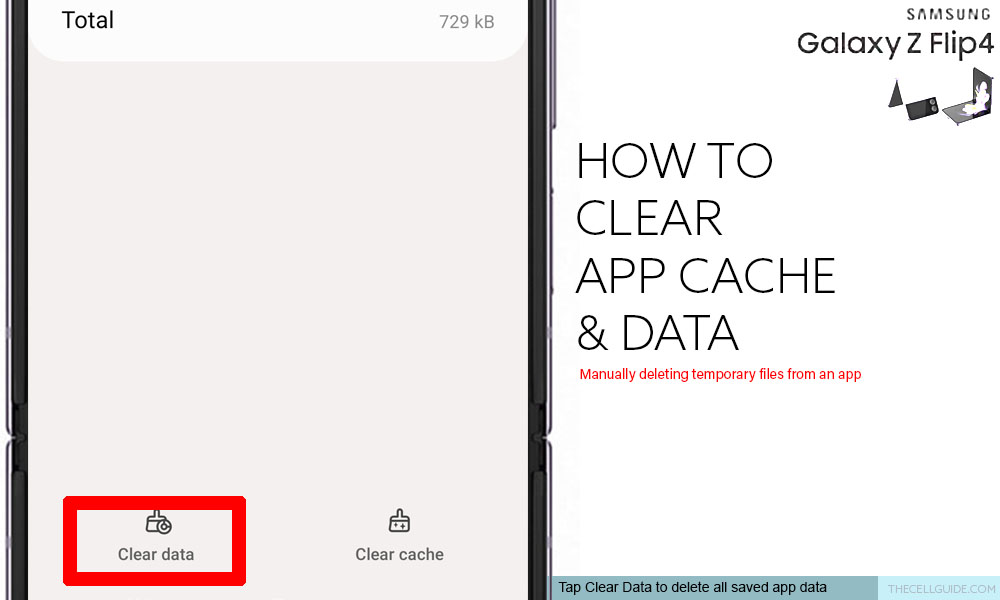 Step 7: Read and review the warning prompt to learn what exactly happens when you clear data from the app then tap OK to confirm action.
All data of the selected app will then be deleted permanently including all saved files, settings, accounts, databases and other added information in the app. As a result, the app will be restored to its default (factory) state.
When to clear app cache and data?
Clearing app cache and data is usually deemed among other primary workarounds when dealing with minor in-app glitches affecting a certain app's performance. Problems such as random app crashes, lags, freezes and loading errors can likewise be remedied by clearing cache and data from an app. The same thing when having trouble logging in to your account from an app.
Difference between Clear App Cache/Data and Wipe Cache Partition in Android phones
Android smartphones also have a separate command to clear system cache. Such a command is lined up among other system commands in the Android System Recovery.
In Samsung Galaxy phones, the command to clear system cache is called Wipe Cache Partition.
Wiping your phone's cache partition can help fix performance-related issues affecting system apps and services, resulting in sluggishness, system lags and crashes.
When triggered, this process clears all temporary files that are stored in your phone's operating system. Any residual files from the app you've uninstalled are also cleared up, making your phone run smoothly again.
To wipe the cache partition, you will need to access the Android Recovery screen on your Android phone.
Hope this helps!
Please check out our YouTube channelto view more tutorial and troubleshooting videos for popular iOS and Android devices.
You Might Also Want To Read: