This post will walk you through restoring default app preferences, notification restrictions, permission restrictions and background data restrictions for apps on a Samsung Galaxy A smartphone. Here's a quick guide to reset app preferences on the Galaxy A13 5g.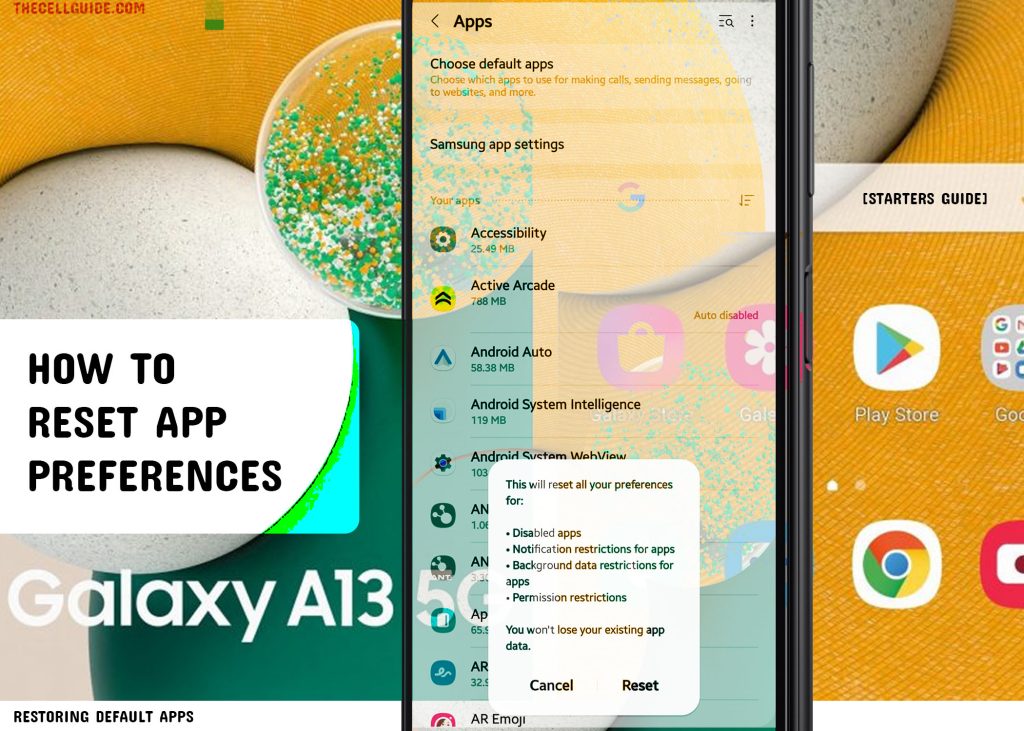 Samsung Apps Reset
If you've installed multiple apps on your Android phone and those apps are programmed to carry out similar functions, you will be required to set the default application to process the type of file or data that you're trying to open or use on your phone.
For example, when you download a file attachment and you've installed a third-party app that works similar to that of the built-in Gallery app. Since there are two similar apps on your phone that process the same file type, you will need to set which app to use — either the Gallery app or the one you downloaded from the Play Store. The same thing with the browser, file manager, media player and other apps.
If you haven't set any app to open a certain file type or data protocol, you will be prompted to select the app you'd like to open the file selection with.
You may opt to use the selected app Just Once or Always. If you choose the former, that app will only be used once so the next time you'll open the same file, you'll receive the same prompt to choose the app you'd like to use. If you choose Always, your selected app will automatically be used as the default app to open the same file type or data protocol in the future.
Having multiple similar apps installed on your device benefits in terms of having alternative apps to use if ever one of them misbehaves or stops working as intended. However, conflicts may also arise from having duplicate apps. This often results in unexpected app problems including failure to open a file. To fix the problem, restoring the default apps is recommended.
In Android phones, resetting default apps is carried out through a system command known as reset app preferences.
As the name suggests, this reset nullifies your current app preferences, custom app permissions, notification restrictions and the like. As a result, default apps are reinstated.
If you're new to Android 12 with One UI interface and need some input on how to access and trigger this reset command, you can use this guide as personal reference.
Steps to Reset App Preferences on Samsung Galaxy A13 5g
The following steps are based on the updated interface of the Galaxy A13 5g smartphone. To ensure all key features and menu items are accessible, update your phone to the latest software version available.
Once you've got everything set, go ahead and proceed with these steps:
Step 1: To get started, launch the Settings app by tapping on the Settings icon from the Home screen or Apps tray.
Alternatively, you can tap on the Gear icon from the quick panel of your device.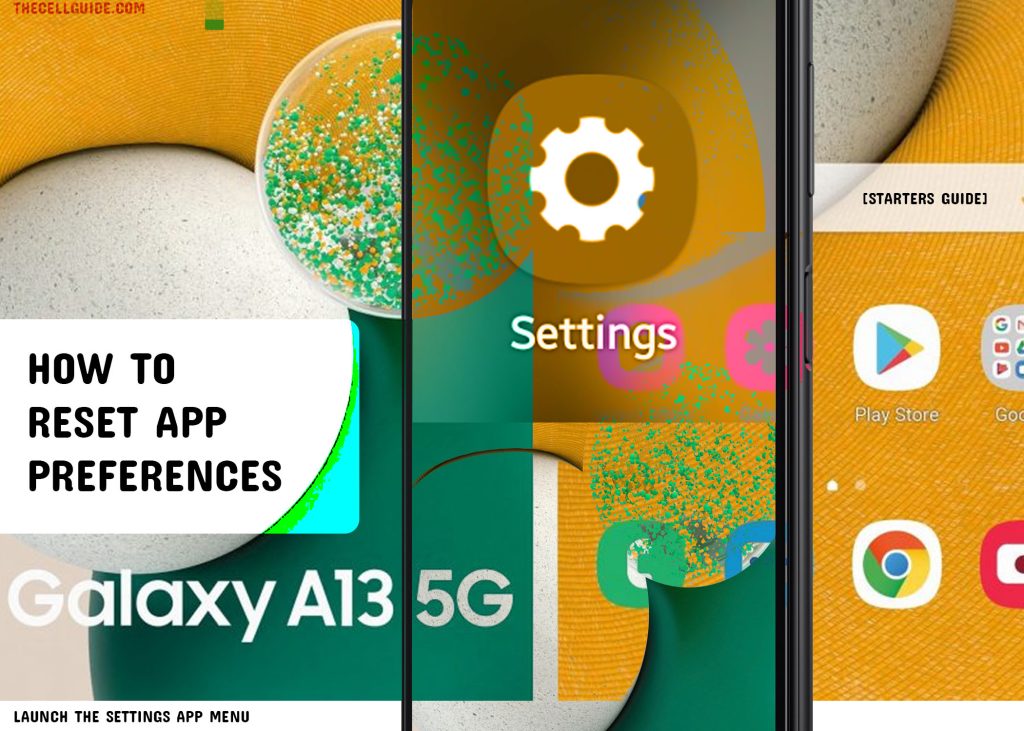 Step 2: While in the main settings menu, scroll to find and then tap Apps. A list of all system and downloaded apps will load up next.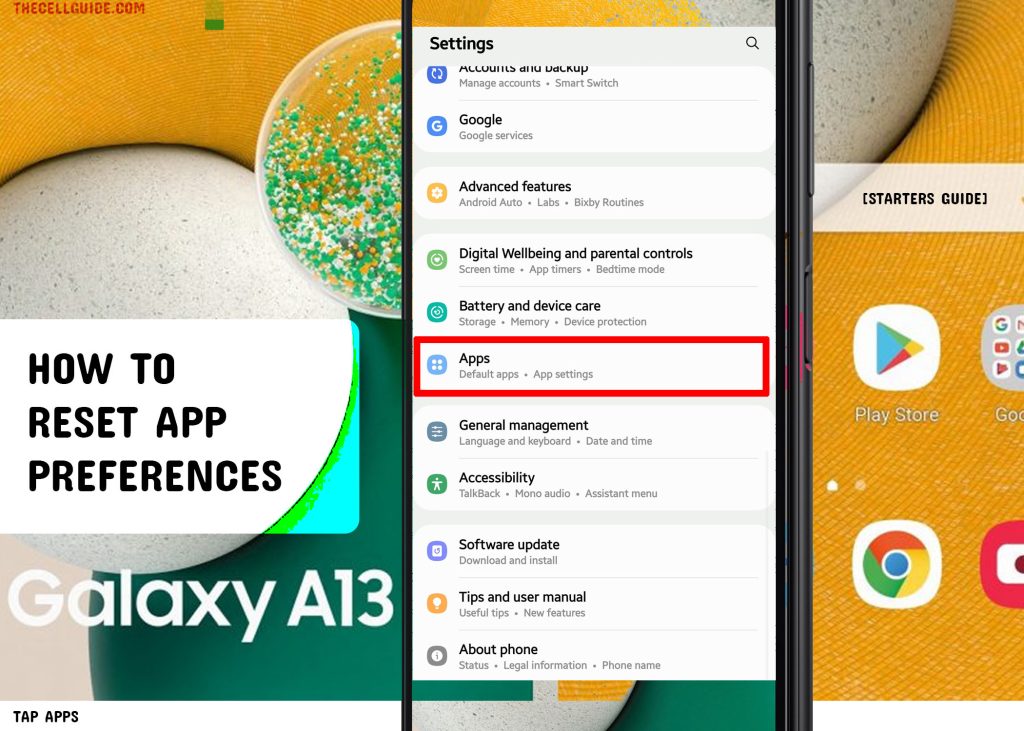 Step 3: To continue, tap on the three dots located at the top-right corner of the Apps screen. Doing so will open a side menu with a list of additional options.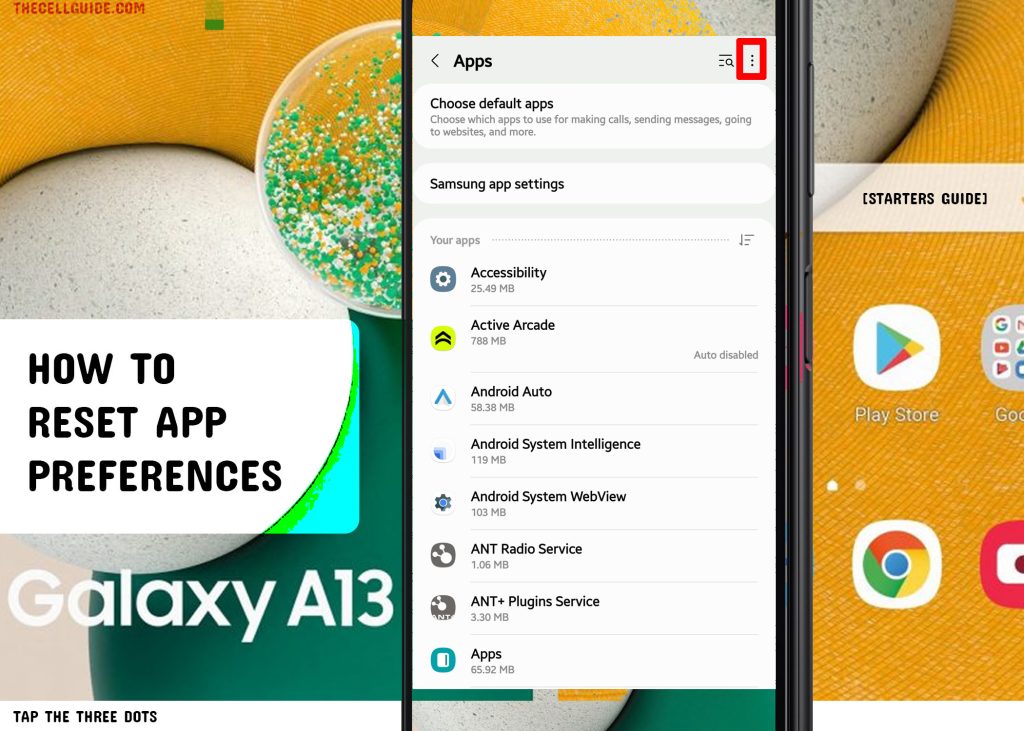 Step 4: Tap Reset app preferences from the given options to proceed.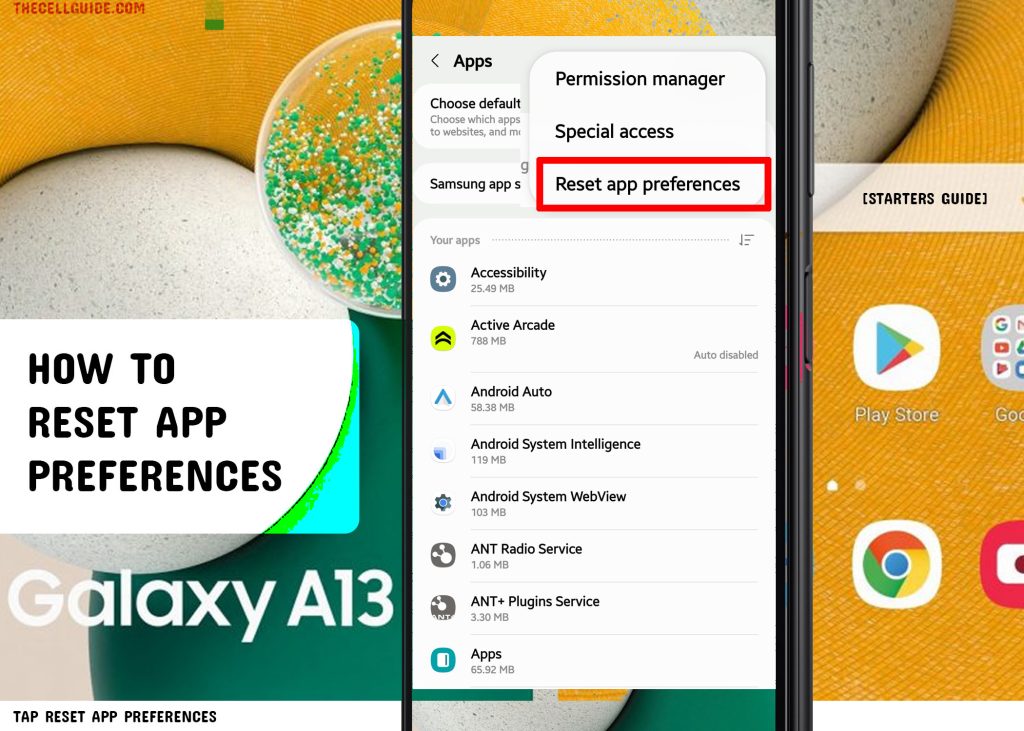 Step 5: Read the pop-up message to learn how this reset works and which type of information it affects. After reading the reset details, tap Reset to confirm.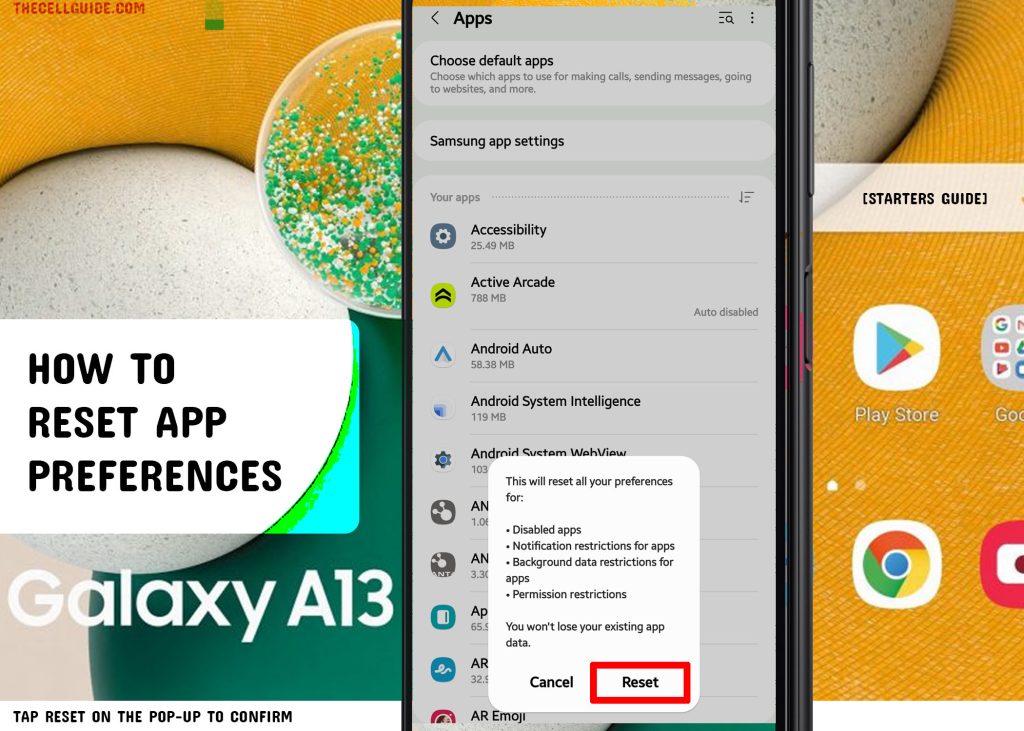 All your existing app preferences will then be deleted. Disabled apps, notification restrictions for apps, background data restrictions for apps and permission restrictions will then be restored to default.
This reset does not delete any of your existing apps' data (clear data) so you'll still be able to use your saved data on any of your applications.
Another way to restore default apps and apps permissions on an Android phone is by resetting all settings. This reset is lined up among other system reset options under the One UI General management menu.
Performing this reset is usually recommended when dealing with recurring in-app glitches and other software-related errors tied to some rogue or corrupted applications.
Unlike a factory data reset, the command to reset apps (reset app preferences) and reset settings (reset all settings) don't affect any type of user information saved in the internal storage of the phone. That said, all your important apps, files and documents will remain untouched in their respective directories.
Hope this helps!
Please check out our YouTube channelto view more tutorial and troubleshooting videos for popular iOS and Android devices.
You Might Also Want To Read: