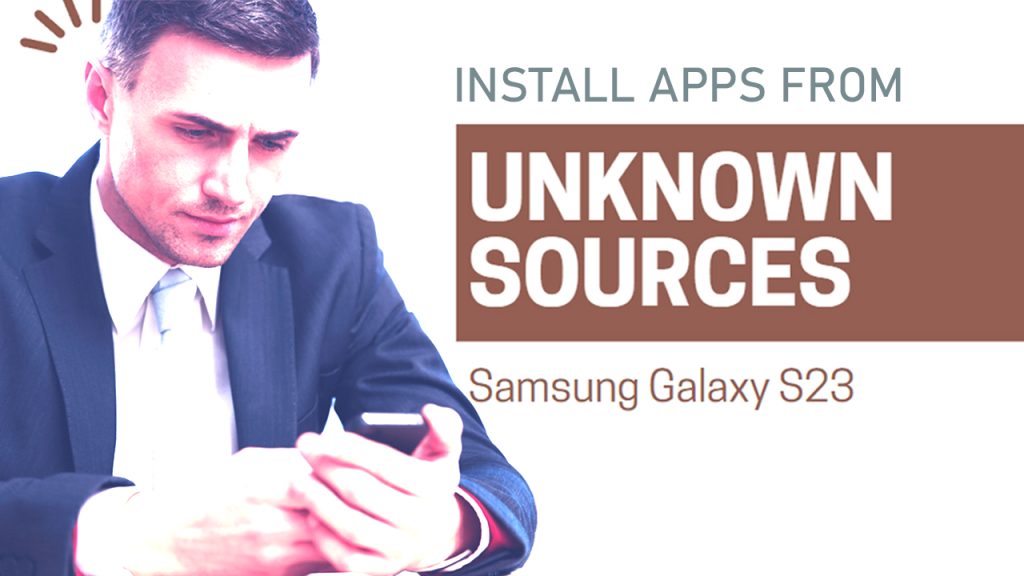 When you encounter an "Unknown source" error message when attempting to install an app on your Android device, it is most likely because the app that you're trying to install does not come from the Play Store but rather from a third-party app store or website.
To override or bypass this security measure, you will need to configure the device's settings to all installation of apps from unknown sources. And this post will walk you through applying this setting on the new Samsung Galaxy S23 smartphone. Read on to learn how to allow unknown source app installation on your Galaxy S23.
What triggers the unknown source app installation error?
For security reasons, Android devices are configured to disable the option to install unknown apps and therefore block the installation process. This means that Android devices only permit installation of apps from the Google Play Store or other trusted sources.
Attempting to install apps from other sources will therefore yield an error prompt that says, "Install blocked. For security, your phone is set to block installation of apps obtained from unknown sources" or something similar.
However, modern Android phones including the latest Samsung Galaxy devices are already programmed to let users reconfigure the default security settings and enable the option to allow installation of apps from unknown sources.
How to Allow Unknown Source App Installation on Galaxy S23?
To allow unknown source app downloads and installation on your new Samsung Galaxy smartphone, follow these steps:
Step 1: First, launch the Settings app by tapping on the gear icon from the Home screen or Apps tray of your phone.
Alternatively, you can launch the app by tapping on the same gear icon from the quick settings/notification panel. Simply swipe your fingers down from the top of the Home screen to access the notification panel and then locate the gear icon from the available controls.
Step 2: Once you're in the Settings menu, scroll down and select Security and Privacy.
Doing so will take you to the security and privacy settings menu.
Step 3: To continue, scroll down to the Security section and then tap Install unknown apps.
On the succeeding window, you will see a list of apps that have been granted permission to install unknown apps. Just wait for all the apps to finish loading up.
Step 4: When the Install unknown apps menu completely loads up, find the source that you'd like to allow and then tap to turn on the switch next to it.
Once this option is enabled, you will already be able to download apps from any source, such as a website or third-party app store, and install them on your Galaxy S23.
For example, if you allow installation of apps downloaded from the Google Chrome browser, tap to turn on the switch next to Chrome. To allow installation of certain apps downloaded from your Gmail (email) account, tap the switch next to Gmail. The same goes for other app sources.
But then again, you have to note that allowing installation from unknown sources can increase the risk of malware or other security threats on your device given that these apps are not subject to the same level of scrutiny and security checks as the ones downloaded from trusted sources like the Google Play Store.
That being said, it is highly recommended that you turn off the "Install unknown apps" option as soon as you're done using it.
If you have not previously enabled installation from unknown sources, you will likely get a warning message telling you of the potential risks. Just read the message and tap OK if you're willing to proceed.
What are unknown sources?
Unknown sources refer to apps that are not downloaded from the official Google Play Store or other trusted app stores on an Android device. These apps are usually downloaded from third-party app stores, websites, or other sources, and may not have been vetted for security or malware by Google or other trusted sources.
Allowing installation of apps from unknown sources is a security risk, as it can expose the device to potential malware or other security threats. It is therefore recommended that users only download and install apps from trusted sources unless absolutely necessary for a specific app that's not available through the Play Store.
And that's all there is to allowing unknown source app installation on the new Samsung Galaxy S23 smartphone.