This post will walk you through preserving battery life on a Samsung phone by putting unused apps in sleep mode. Here's a quick guide to put unused apps to sleep on Galaxy A53 5g.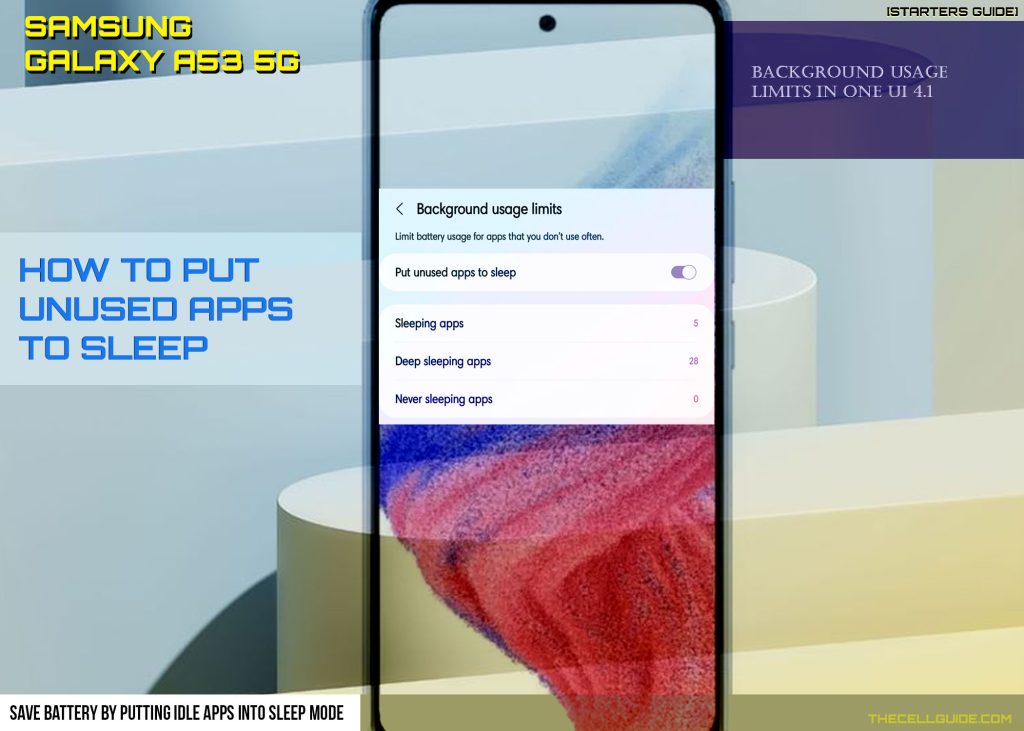 Samsung phones are packed with a number of power-saving features that users can activate whenever the need to preserve battery arises. Aside from power saving mode, you can also make use of other built-in features from the Device care menu including the option to Put Unused Apps to Sleep.
Read further to learn how this feature works and how to enable it on your Samsung Galaxy device.
Put Unused Apps to Sleep on Samsung
High-end smartphones allow you to multitask between various applications. While this benefits in terms of productivity, constantly switching between apps extensively will also drain the device's battery quickly.
To optimize power usage, newer Samsung phones are already designed to allow users to put some of the apps to sleep. This helps the device last longer throughout the day.
What happens when you put apps to sleep?
When apps are put in sleep mode, they will stop running in the background. It's like putting them in hibernation. This means lesser power consumption and lighter workload for the phone's processor as it immediately frees up RAM space.
Additional background activities from those apps are likewise halted.
Resorting to this feature is recommended whenever the need to save battery arises like when you badly need to keep your phone running prior to the next charge.
If you're new to the Android 12 platform with One UI 4 or later OS version, the outlined steps below will walk you through the entire process of putting unused apps in hibernation.
Steps to Put Unused Apps to Sleep on Galaxy A53 5g
The following steps are based on the user interface of the Galaxy A53 5g smartphone with Android 12 (One UI 4.1) OS version. If you own other Samsung phones that have the same software version with the A53, then you can apply the same procedure when putting unused apps into sleep mode or hibernation.
It is highly recommended to keep your device's software is updated to ensure all key features and menu options are available.
Just follow these steps whenever you're all set to configure your device settings.
Step 1: To get started, tap Settings from the Home screen or Apps tray to launch the settings app menu.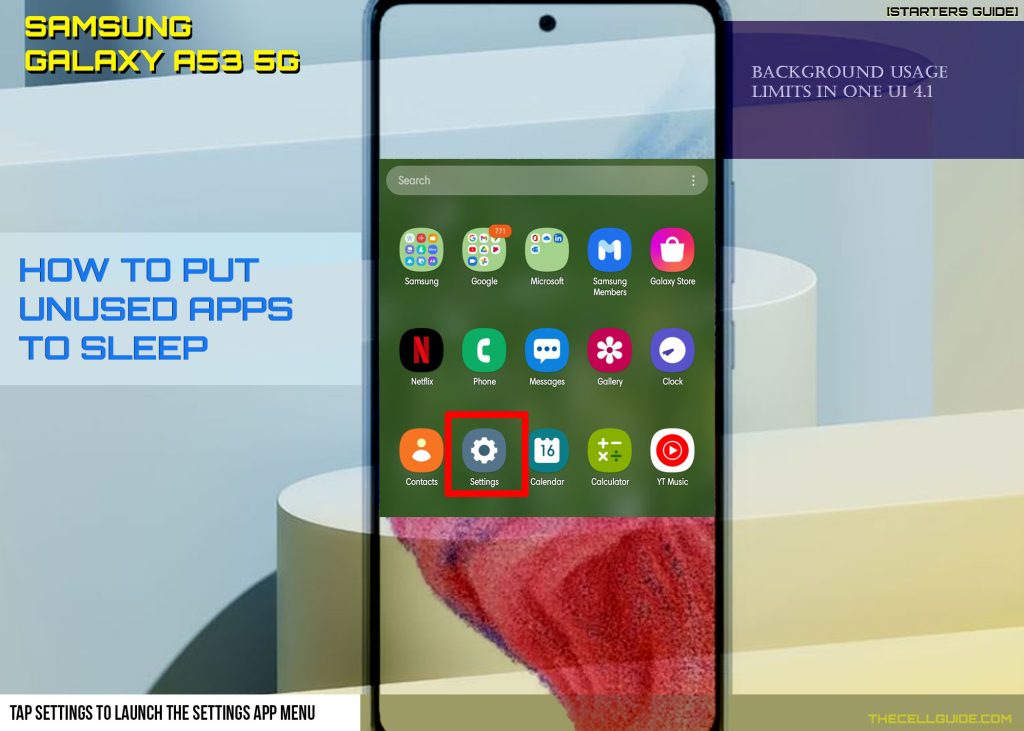 Step 2: In the Settings menu, scroll to find and then tap Battery and device care. Another menu opens with battery and system optimization options and features.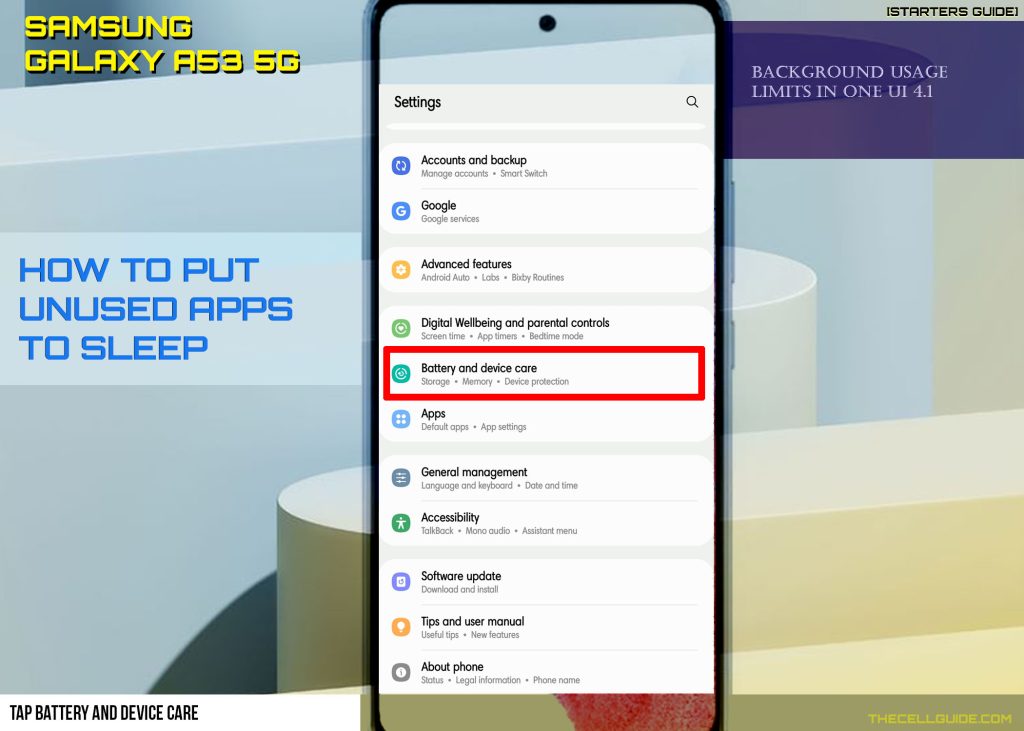 Step 3: Tap Battery on the Device care menu to proceed.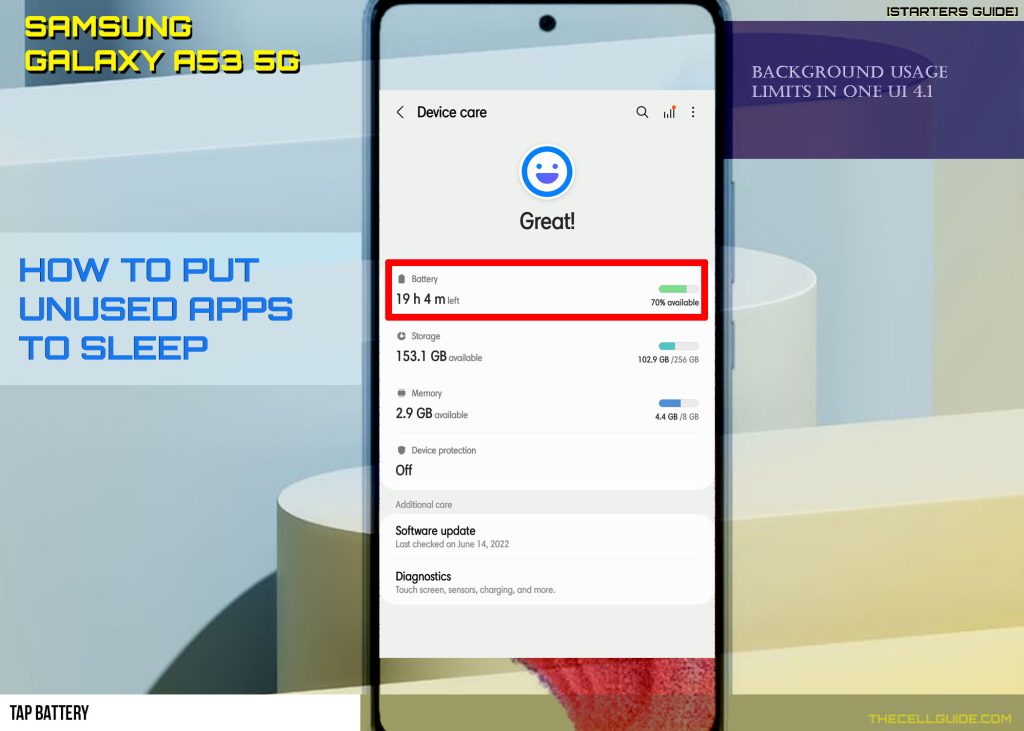 Step 4: On the next screen, scroll down and then tap Background usage limits.
Step 5: Finally, tap to turn the Put unused apps to sleep switch ON.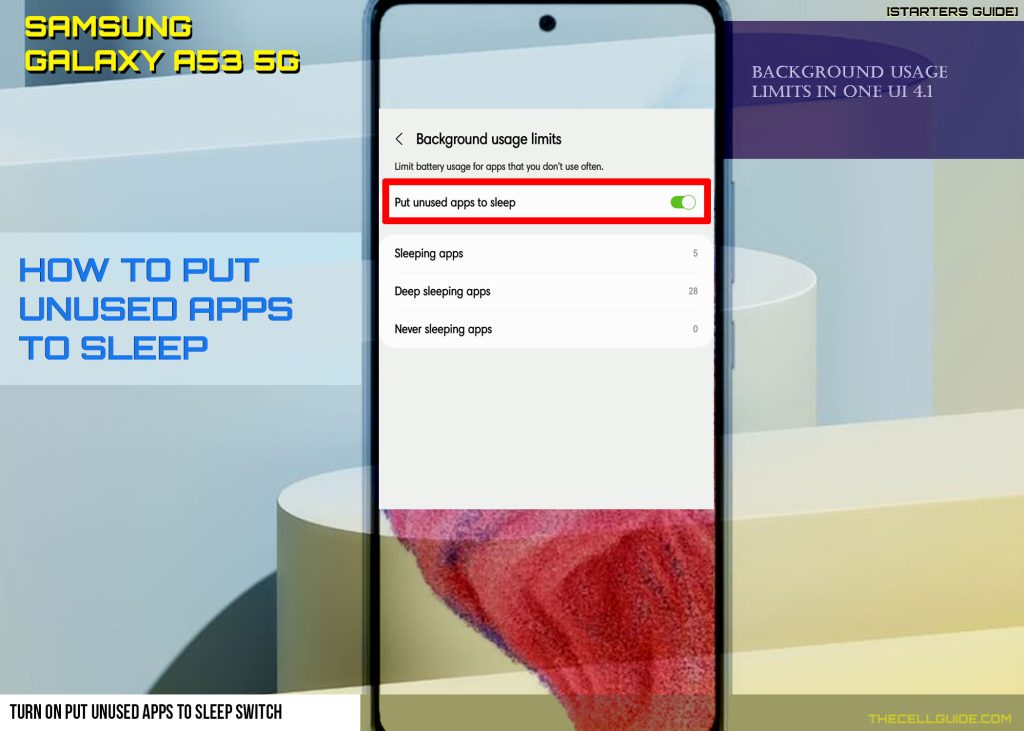 Doing so will prompt the device to automatically put all unused apps to sleep and stop running in the background when idle for so long.
Adding Exceptions to Selected Apps
The above steps will automatically put all unused apps to sleep without any exception. That said, any apps that you open and left idle for several minutes or hours will be put in hibernation mode.
If you wish to set some exceptions based on how frequently you are going to use certain apps, just head over to your phone's Settings-> Battery device care-> Background app limits menu.
Here, you will see three main categories (background usage limits) to group apps that you'd like to be placed in sleep mode.
You can choose any from Sleeping apps, Deep sleeping apps and Never sleeping apps. Simply tap to open your preferred category. On the succeeding menu, tap the Plus (+) icon on the top-right edge to add new apps to the selected sleeping category. Tap to mark the apps that you'd like to add and then tap Add at the bottom to save.
The selected sleeping category will then be updated and then recently added app(s) will show up on the list.
The process of adding apps to other sleeping categories are just similar. Just follow the onscreen prompts to complete the process.
There is also an option to remove apps from each of the battery usage limit categories when needed.
Different Background App Limits Categories
Lined up under the Background usage limits section of your Samsung phone in Android 12 are three main items namely the Sleeping apps, Deep sleeping apps and Never sleeping apps.
Sleeping apps is a background usage limit category that contains all apps that are currently sleeping. Sleeping apps may run in the background if you use them again.
Deeping sleeping apps is another category that holds apps that are in deep hibernation mode. Deep sleeping apps will never run in the background unless you open them again.
The last background usage limit category is Never sleeping apps. This contains apps that will never turn off or sleep in the background so you can use them anytime you want.
You can transfer apps from one category to another in case you would need to rearrange your apps according to their battery usage.
And that's how you put unused apps in sleep mode on the Samsung Galaxy A53 5g smartphone.
Hope this helps!
Please check out our YouTube channel to view more tutorial and troubleshooting videos for popular iOS and Android devices.
You Might Also Want To Read: