This post highlights potential solutions to a common problem with the Android Facebook app on a Samsung Galaxy device. Read on to learn what to do if Facebook keeps crashing on Samsung Galaxy A53 5g.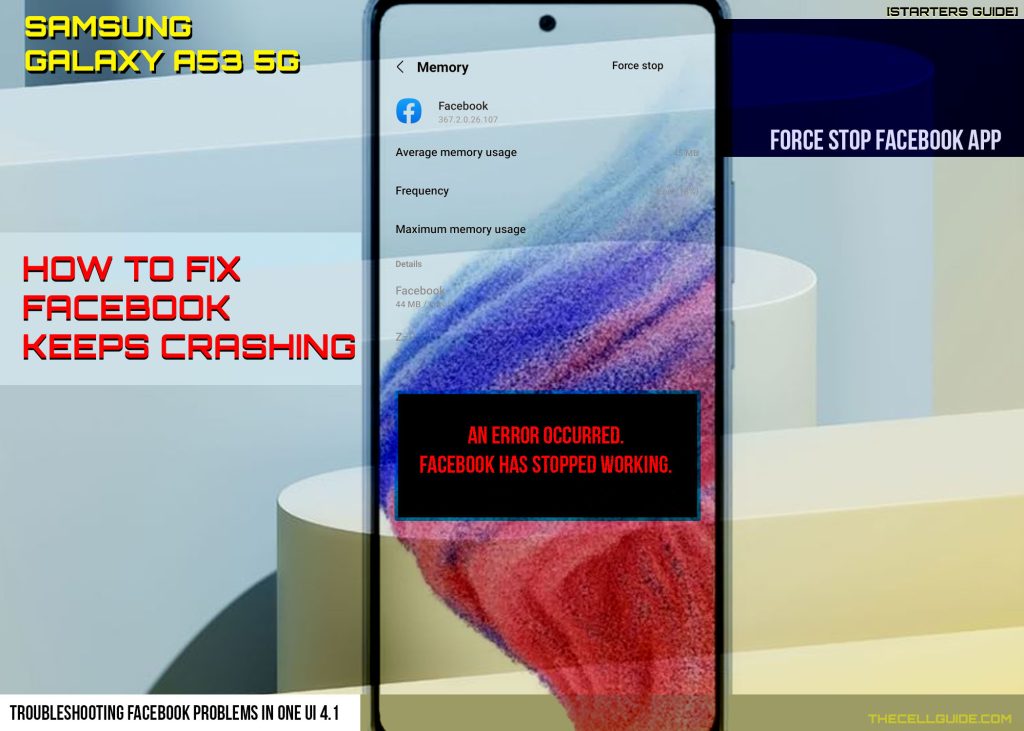 What causes Facebook app crashes?
Random app crashes are often tied to system issues. The underlying cause could be a minor glitch or fatal system errors. If the problem occurs only among internet-based applications, network connectivity issues may also be the possible trigger. This is usually the case if the internet connection is unstable.
Online apps like Facebook need to frequently sync with the main server to process real-time requests and updates. If the internet connection is intermittent, it often gets disconnected from the server. As a result, relevant processes may appear to be laggy and eventually the app itself stops working as it's unable to establish a stable connection to the main server.
Aside from a problematic network, random software bugs such as faulty updates, settings conflicts, corrupted data and files that embed some malware are also among the possible culprits.
Memory problems like when the device is running low on storage can also be the root cause of the problem. Performance issues such as random app and system lags, freezes, loading errors and random crashing are usually the transpiring symptoms.
Other possible causes include unexpected technical difficulties transpiring on the main server as well as scheduled system maintenance and outages.
Generally, app problems are software-related and thus there's a higher chance for end-users to fix them unless the problem is from within the main server.
Troubleshooting Facebook keeps crashing on Samsung Galaxy A53 5g
Performing the following procedures will help clear out software-related factors that can cause apps like Facebook to crash and stop working unexpectedly.
Before you begin, verify and ensure that your phone has a stable internet connection either via Wi-Fi or cellular data network.
Also try to access the web version of Facebook using your preferred browser app then sign into your Facebook account. This is highly recommended to determine whether or not the problem is just isolated to the Facebook app on the phone.
If you haven't encountered any problem or error while using Facebook through the web browser, then that's an indication that the main Facebook server is available. That said, you'll need to troubleshoot Facebook and rule out possible culprits from the phone's system that might have caused conflicts and made the app unstable.
Solution #1: Force stop Facebook app then restart it.
There will be instances that an app would just crash or stop working due to the occurrence of some unexpected in-app glitches. Usually, random problems like this are rectified by terminating and restarting the application. So if this is the first time for the Facebook app to crash on your device, try to force close and restart the app.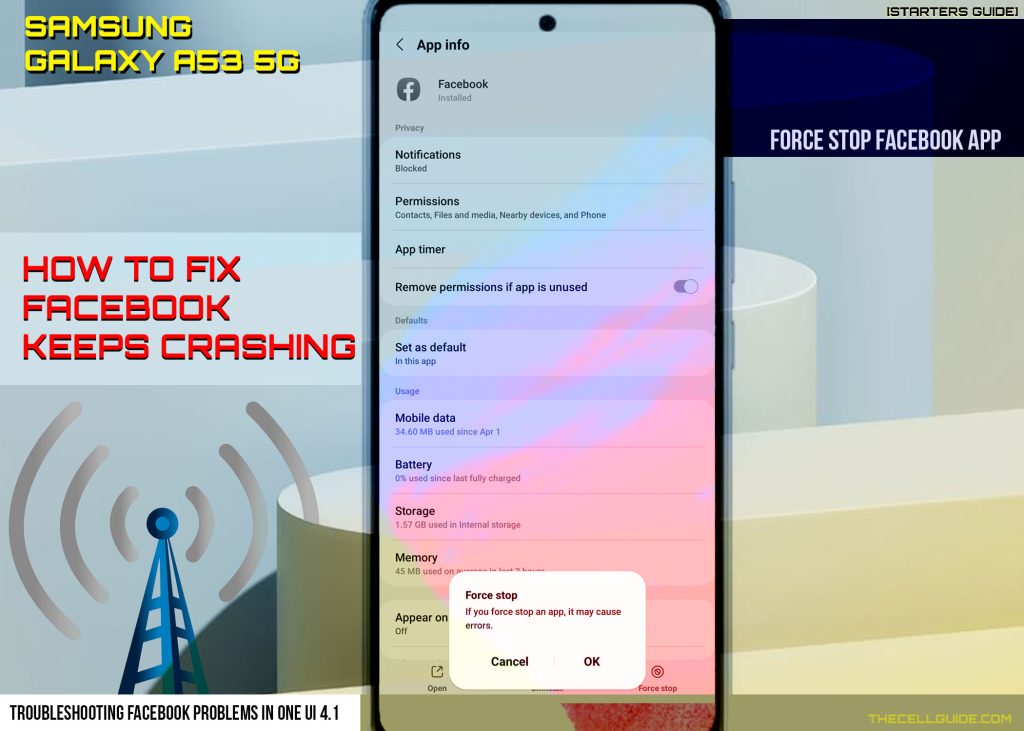 To force stop the Facebook app, just head over to  Settings-> Apps then select Facebook from the list of apps. On the next screen (Facebook App Info screen), tap Force Stop at the bottom.
Doing so will end the Facebook app from running in the background.
Alternatively, you can terminate Facebook along with any other background apps straight from the Home screen of your phone.
To force stop multiple running apps on the Galaxy A53 5g, press and hold the Recent key (three short vertical lines) at the bottom-left corner of the Home screen to access the Recent Apps screen. Previews of all recently used apps will then be displayed. Finally, tap Close all to terminate all running apps including Facebook.
After ending all background apps, relaunch Facebook and see if the problem is gone.
Solution #2: Reboot/soft reset the phone.
Restarting the phone or performing a soft reset can also help fix various types of software errors that trigger online apps like Facebook to misbehave.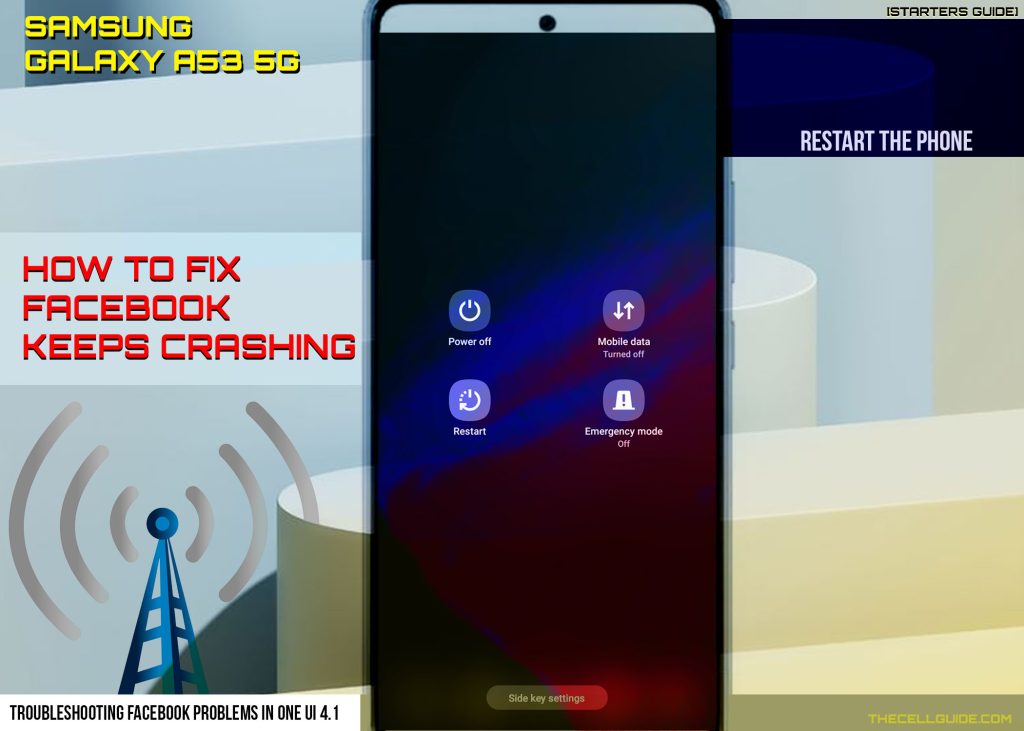 It also helps refresh any errant system features that may be causing conflicts with other apps in use. There are two ways to restart your Samsung phone. You can do the normal restart (soft reset) or force restart.
Both of these methods yield the same positive results when it comes to resolving minor system flaws without affecting or deleting any saved information from the internal memory.
To soft reset/restart the Galaxy A53, just follow these steps:
Press and hold the Power button for a few seconds until the power options appear. Tap Restart to instigate system reboot. Wait for your phone to finish rebooting and load back up to the Lock/Home screen.
Alternatively, you may choose to tap on the Power off icon to turn the device off for a few seconds and then turn it back on by pressing on the Power button until the phone boots up.
Solution #3: Clear app cache (and data).
Accumulated temporary files (cache files) in the Facebook app's storage may also be the root cause of the problem especially of any of them gets corrupted.
The presence of these corrupted temporary data may eventually cause conflicts that make the app misbehave. For this reason, it is recommended to clear the app's cache from time to time.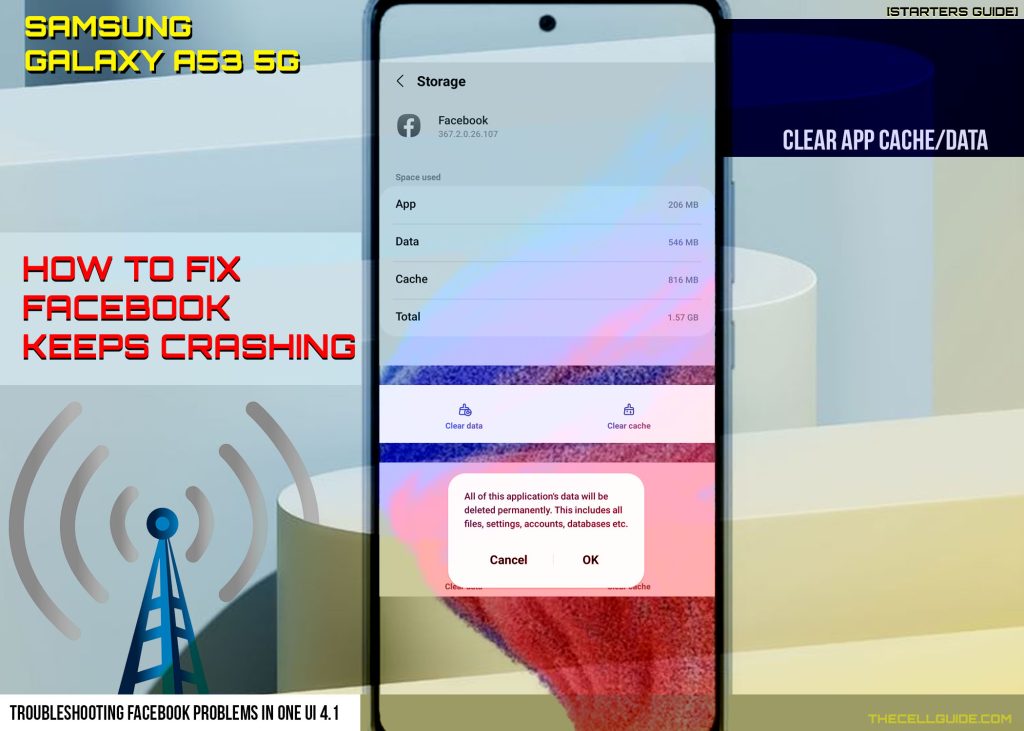 To clear cache for Facebook app, just head over to Settings-> Apps menu and then select Facebook from the list of apps. In the Facebook app info screen, tap Storage and then tap Clear cache to clear temporary files that are stored as cache in the app's memory.
Clearing the app's data may also fix the problem if any of the accumulated data for the Facebook app gets corrupted. Simply tap the Clear Data option to execute the command.
But before you clear data, be sure to take note of your Facebook account information, particularly the username and password as you will need to re-enter this the next time you relaunch the app.
This is because clearing the app's data will delete all residual data that are stored in the app's memory including the preferences and custom settings you've set and used for and with the Facebook app previously.
Solution #4: Manage and optimize storage.
If the available storage on your phone is less than 2 gigabytes, the memory status is already tagged as low. This means that it may already be insufficient to allocate new apps and system processes.
When this happens, random crashes may occur along with other performance problems such as sluggishness (lags), sudden freezes, and incomplete loading.
To fix the problem, freeing up some storage space is recommended. To make this happen, you will need to delete all unused apps and files including old messages, downloads, photos, videos, and audio files from your device.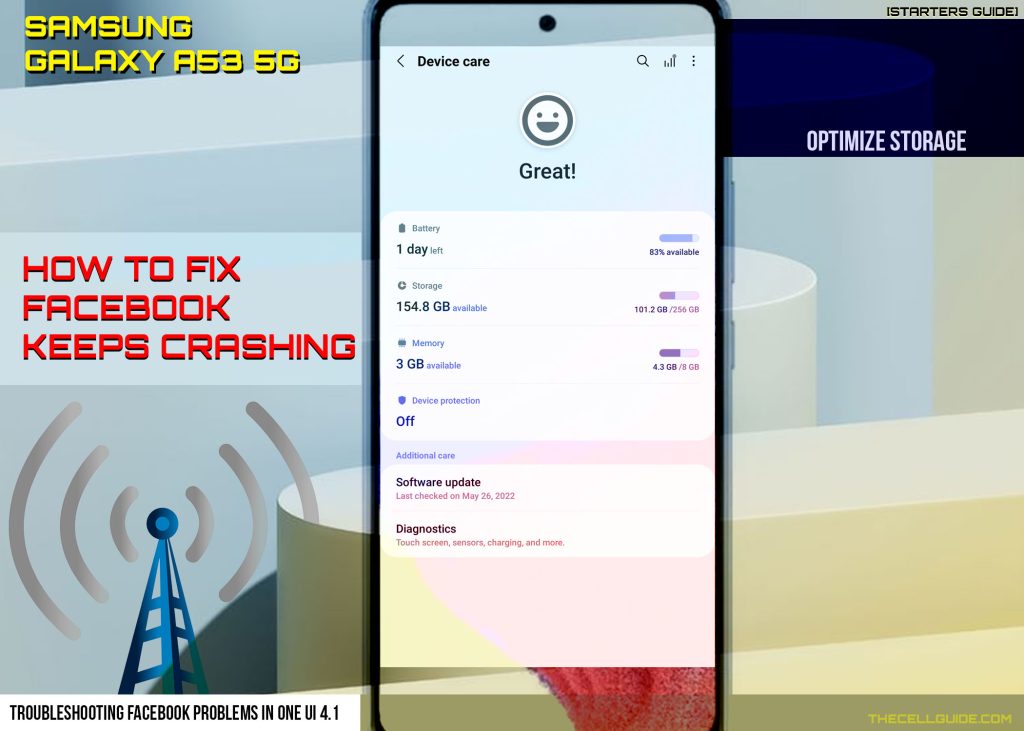 Typically, you'll get to see a notification saying that your phone's internal memory is running low or insufficient and that you need to free up some space.
However, it would still be better of you check the current memory status of your phone from time to time.
To check and manage storage on the Galaxy A53, navigate to Settings-> Battery and device care-> Storage menu and then view the available storage on your phone.
There are also given suggestions about what you should do to free up storage space to allocate new files.
Solution #5: Update Facebook (if applicable).
Software updates usually integrate essential patches or codes that are mainly designed to get rid of identified bugs that cause system irregularities. It is therefore highly recommended to keep all your apps up-to-date to ensure optimum performance and stability.
Apps can be updated automatically or manually depending on your phone's settings. If auto-updates are disabled, you will need to manually access the Google Play Store updates and view available updates to download and install.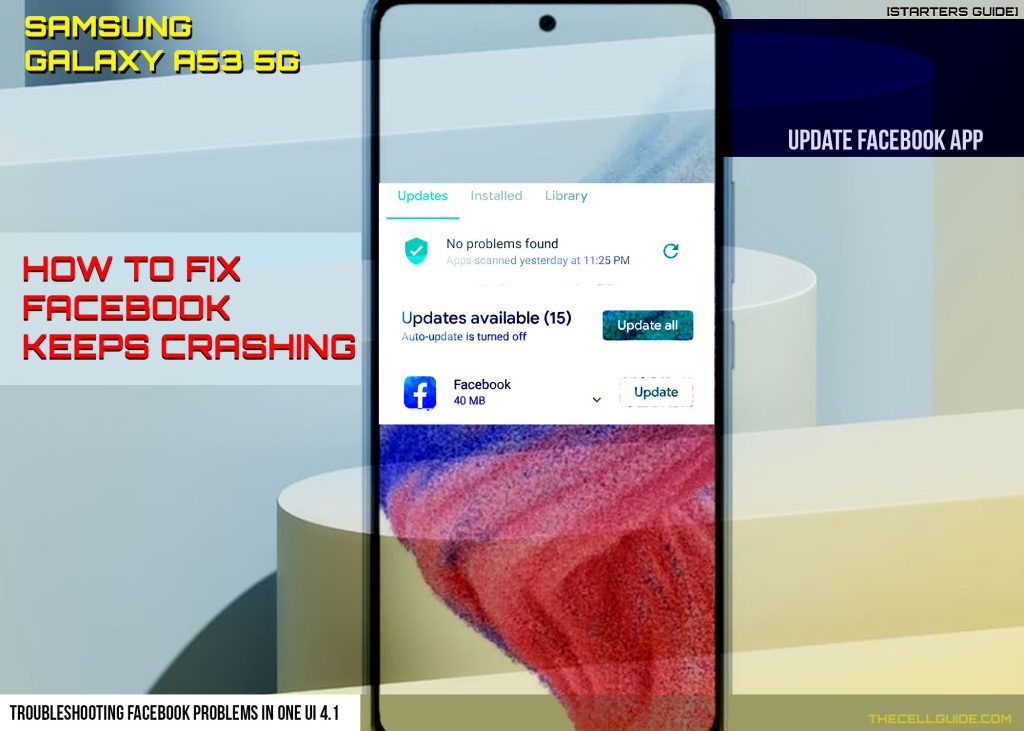 To manually update apps on your Galaxy A53, just open the Play Store app and then tap on your profile icon. On the next screen, tap Manage apps & device and then tap Updates available to view what apps have pending updates.
You may opt to update apps individually or tap Update All to update multiple apps at once.
Make sure that your phone is connected to the internet, sufficiently charged and has ample storage for the updates to be installed and implemented completely.
Solution #6: Reset all settings on the phone.
Restoring the default settings on the phone may also be the key to fixing the problem if system conflicts are to blame. This is usually what's needed if the Facebook app crashing issue started after altering the default settings on your device. It's possible that the recent changes you've made had resulted in some conflicts and eventually made the Facebook app erratic.
To clear this out, resetting all settings on the phone is recommended.
The reset all settings command is different from a factory reset. Unlike a factory reset, resetting all settings does not delete any user data including downloaded apps, documents and other saved files on the phone's storage.
Among the information that will be removed after resetting all settings include Wi-Fi, Bluetooth, Cellular connections, app defaults and preferences, keyboard settings and the like.
To reset all settings on the Galaxy A53 5g, just head over to Settings-> General management-> Reset menu and then select Reset all settings from the given options.
If prompted, enter your phone's unlock PIN, pattern or password to proceed and then tap Reset on the final warning to confirm.
The entire reset process only takes a few seconds or a minute. When the reset is complete, the phone reboots on its own and then loads up the default options and values.
This means the need for you to re-enable features that are disabled by default including Wi-Fi, Bluetooth, and cellular data.
After re-enabling necessary features, reconnect to the internet and then retry launching Facebook to see if it's already working stable.
Is Facebook still not working?
The given solutions are usually good enough to eliminate common software-related factors that might have hindered the Facebook app from working properly and thus, keeps crashing.
If none of them works, then there might be some complex errors that have ruined the app's critical functions. Should this be the case, uninstalling then reinstalling Facebook on your phone would be necessary.
As mentioned earlier, an app may crash due to some critical files or in-app data fragments that have gone corrupted. Should this be the main reason as to why Facebook app is acting up on your Samsung phone, reinstalling the app will likely fix it. This also means the need for you to completely delete the app from your phone system.
It's also worth to note that all accumulated data for the Facebook app will be deleted including your login sessions, statuses, and other relevant information.
That said, you will need to re-enter your Facebook account credentials the next time you reinstall it and log into your account.
Seek more help
You can visit the Facebook support page or Facebook help center to report the problem and ask for suggestions and possible solutions from expert Facebook users and community members.
Meanwhile, if the problem instigated following an Android firmware update and that it persisted after applying the basic tweaks, escalating the problem to Samsung Support may be regarded among the last option. The recent update might have contained some unforeseen bugs that suddenly makes Facebook app unstable or dysfunctional.
Hope this helps!
Please check out our YouTube channel to view more tutorial and troubleshooting videos for popular iOS and Android devices.
You Might Also Want To Read: