This post will walk you through configuring the Google Play Store account settings to require authentication for purchases made on a Samsung Galaxy phone. Read on to learn how to enable purchase authentication to authenticate Play Store Purchases on Galaxy A73 5g.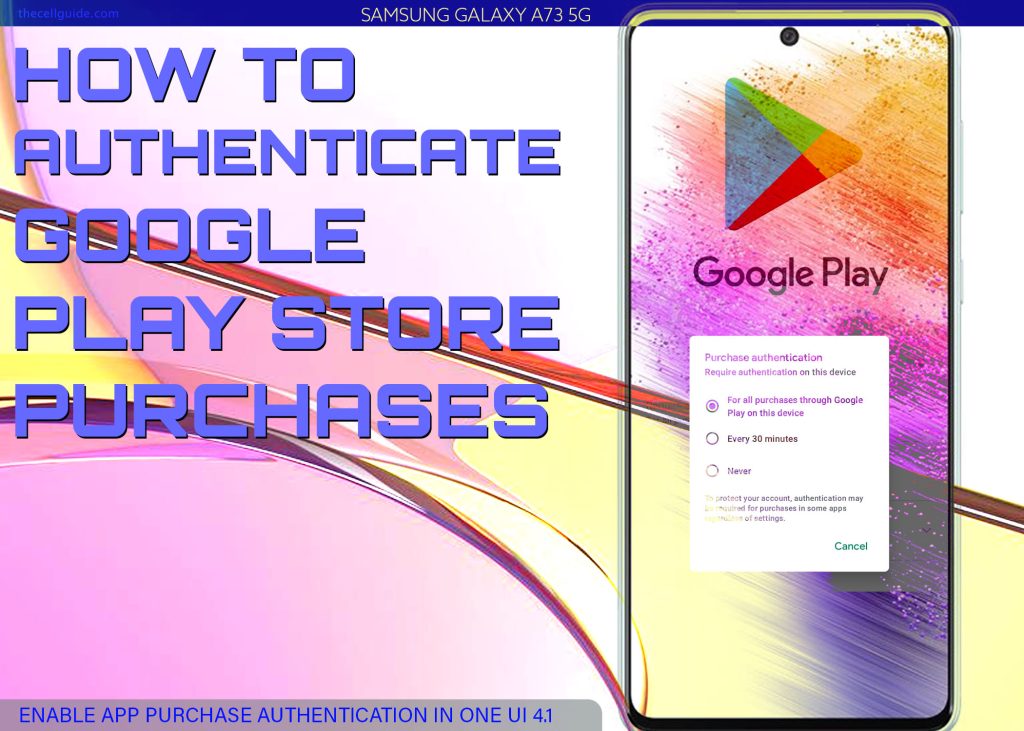 Wondering how to stop incurring unwanted extra charges for any unauthorized Google Play Store purchases on your Samsung phone? If so, then enabling the Play Store authentication feature might be able to help you, especially if you grant other people access to your device. Keep scrolling for more detailed instructions on how to enable and use this Play Store security feature.
Google Play Store Purchase Authentication
One way to prevent unauthorized Play Store purchases on your Android and/or Samsung phone is to set the app to require authentication before approving any purchase on your device.
First introduced in Android Marshmallow, the Google Play purchase authentication feature works by prompting you to enter the required password authentication before you can proceed with your app purchases. Biometrics authentication method can also be used if you've activated a fingerprint or face unlock on your device.
Enabling this feature is highly recommended if you're letting your children or others use your device given that buying something from the Google Play Store on an Android device is quick and easy for as long as a valid credit or debit card is set up.
To access and enable this feature, you will need to access your Play Store account settings. If you're new to the Android with One UI OS platform, you can refer to the outlined steps below.
Steps to Authenticate Play Store Purchases on Galaxy A73 5g
Performing these subsequent steps will activate the Galaxy A73 Play Store authentication to ensure only authorized purchases are made through the app.
These steps are also applicable when setting up Play Store authentication on other Samsung phones that are running on Android 12 with One UI 4.1 OS version. Aside from firmware (Android) updates, installing new Play Store updates, particularly for the Google Play Store services is also recommended unless auto-update is enabled for Play Store.
Be sure to note though that the actual interface of individual devices may vary depending on the device model and service provider.
To ensure all key features and menu options are accessible through the app, keeping the phone's software up-to-date is highly recommended
Feel free to start whenever you're all set to configure the Google Play Store settings on your Samsung phone.
Step 1: To get started, open the Play Store app. Just find and then tap the Google Play Store icon from the Home screen or Apps tray on your device.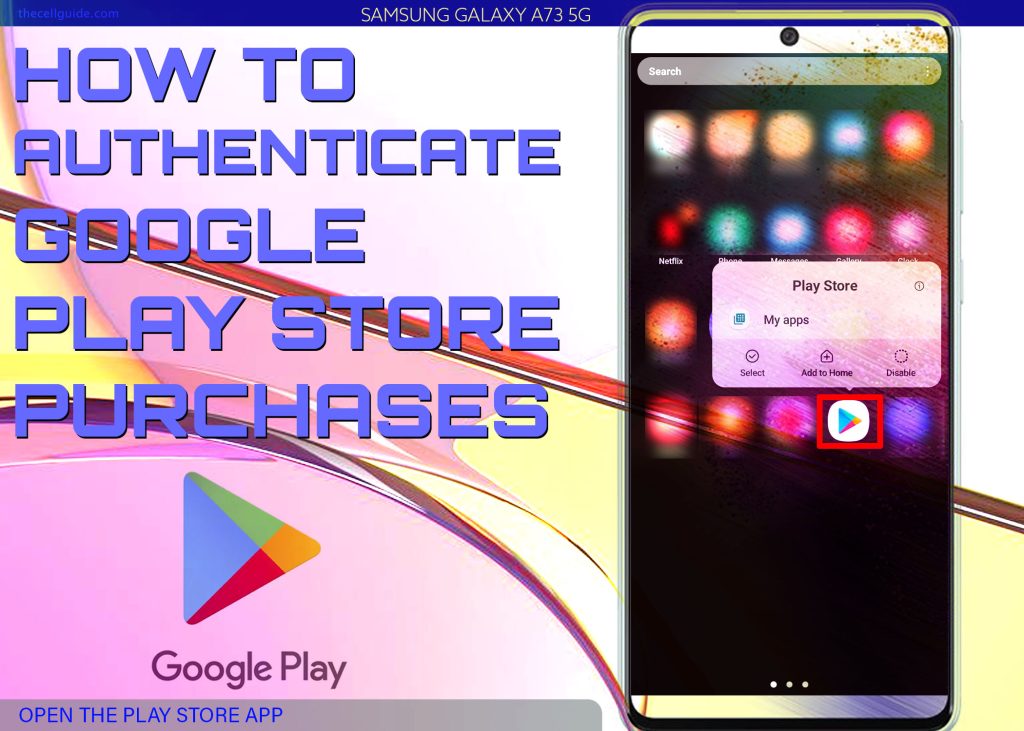 Step 2: While in the main Play Store menu, tap on your Play Store Profile icon located on the top-right corner. Doing so will open a side menu containing a list of Play Store options.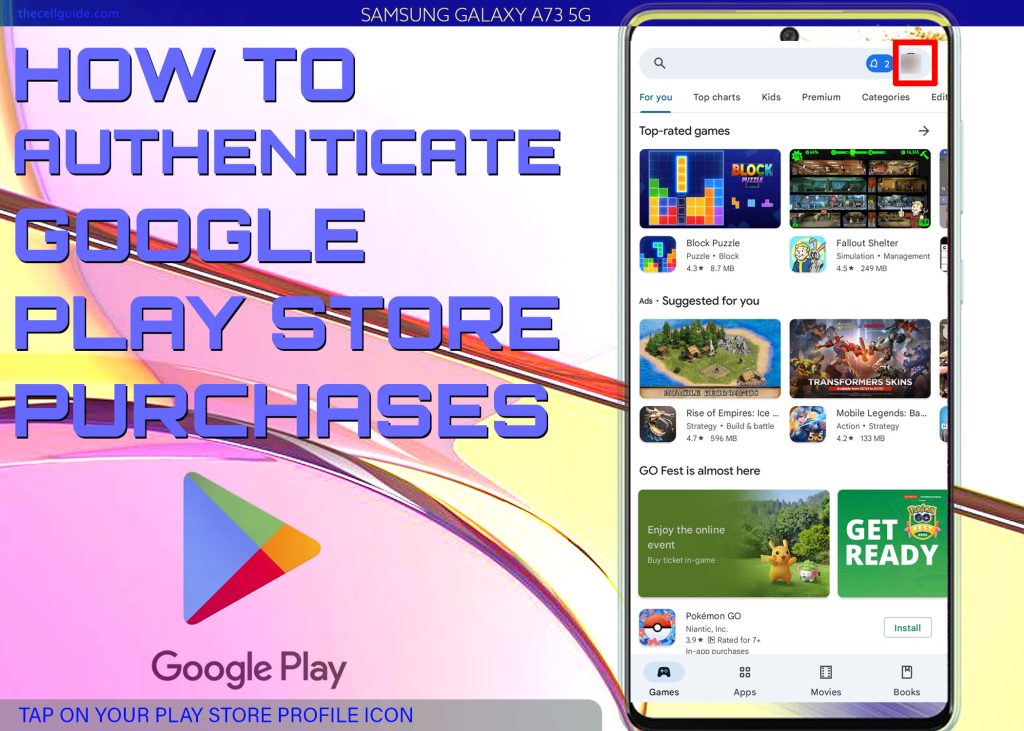 Step 3: Find and then tap Settings to continue. The Google Play Store settings menu opens next.
Step 4: Tap Authentication from the settings menu to proceed.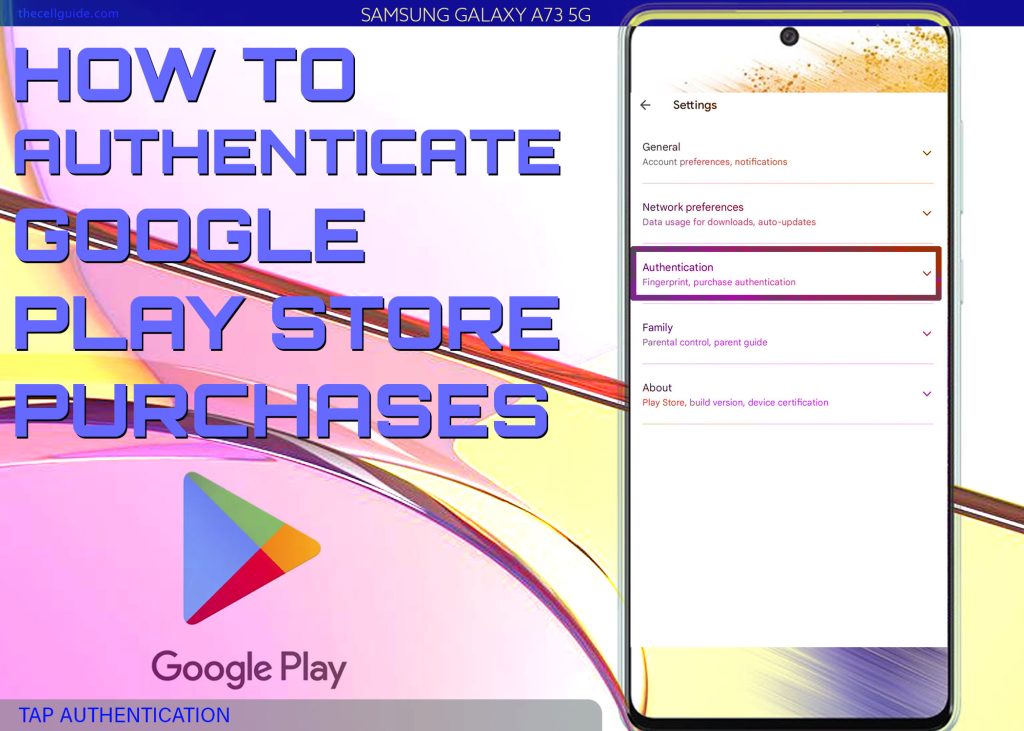 Step 5: On the next menu, tap Require authentication for purchases. A pop-up menu containing purchase authentication preferences will show up next.
Step 6: Just tap to mark or select your preferred purchase authentication option.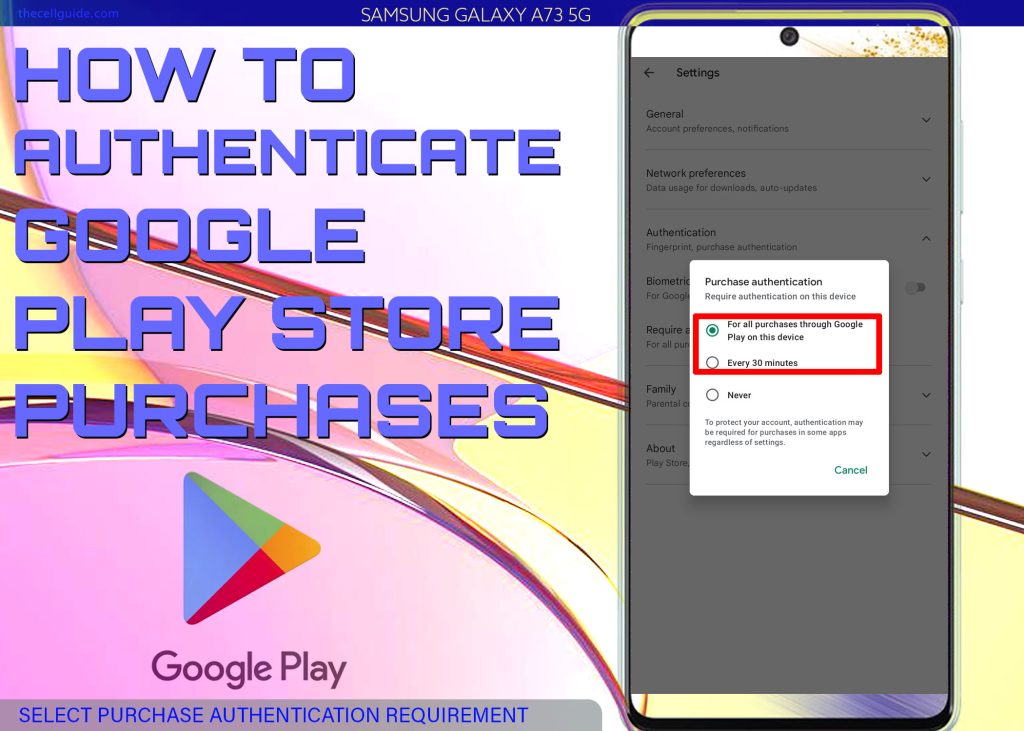 Among the given choices include For all purchases through Google Play on this device, Every 30 minutes and Never. To require password authentication, just choose between the first two options.
Selecting Never means voiding the Google Play authentication requirements for every Google Play Store purchases. This means that anyone who has access to your phone can download and install paid Google apps and services without having to enter the required password or biometric authentication.
You can always change this setting should you wish to disable authentication for Play Store in app purchases.
How does Play Store Password and Biometric Authentication work?
The authentication method may vary depending on the phone's security setup. You can set your Play Store account to use biometric authentication like your fingerprint for Google Play purchases made on your device.
To make your phone and the Play Store app work in this manner, just toggle to turn on the Biometric authentication switch then follow the rest of the onscreen instructions to complete the Biometric authentication setup process.
With the password authentication enabled, anyone who will attempt to download paid apps or games as well as in app purchases from the Play Store will be prompted with the "Authentication is required" message. Others even considered it as Play Store authentication error as it hindered them from downloading new apps.
Before they can proceed with the purchase, they will need to enter the correct password or biometric authentication as intended.
Facing Google Play Store errors after changing settings?
If by any chance the Google Play Store app is misbehaving after making recent authentication settings, clearing the cache and data will likely fix the problem.
Also ensure that the correct Google account is set up on the phone. If necessary, remove the inactive account and add your new account to log into with Google account and password.
Restarting the phone is also recommended to clear our minor firmware errors that might have caused conflicts with the Google Play Store app.
In the case where Play Store downloads aren't working, check and ensure that your phone has ample storage space with a stable internet connection either through a Wi-Fi or cellular/mobile data network.
And that's all about authenticating Play Store Purchases with a unique password or fingerprint unlock system on the Galaxy A73 5g smartphone.
Hope this helps!
Please check out our YouTube channel to view more tutorial and troubleshooting videos for popular iOS and Android devices.
You Might Also Want To Read: