This post will walk you through activating the built-in OneUI internet feature that allows you to share the internet connection from your Samsung Galaxy phone to other devices nearby. Read on to learn how to activate and set up a mobile hotspot on Samsung Galaxy A53 5g.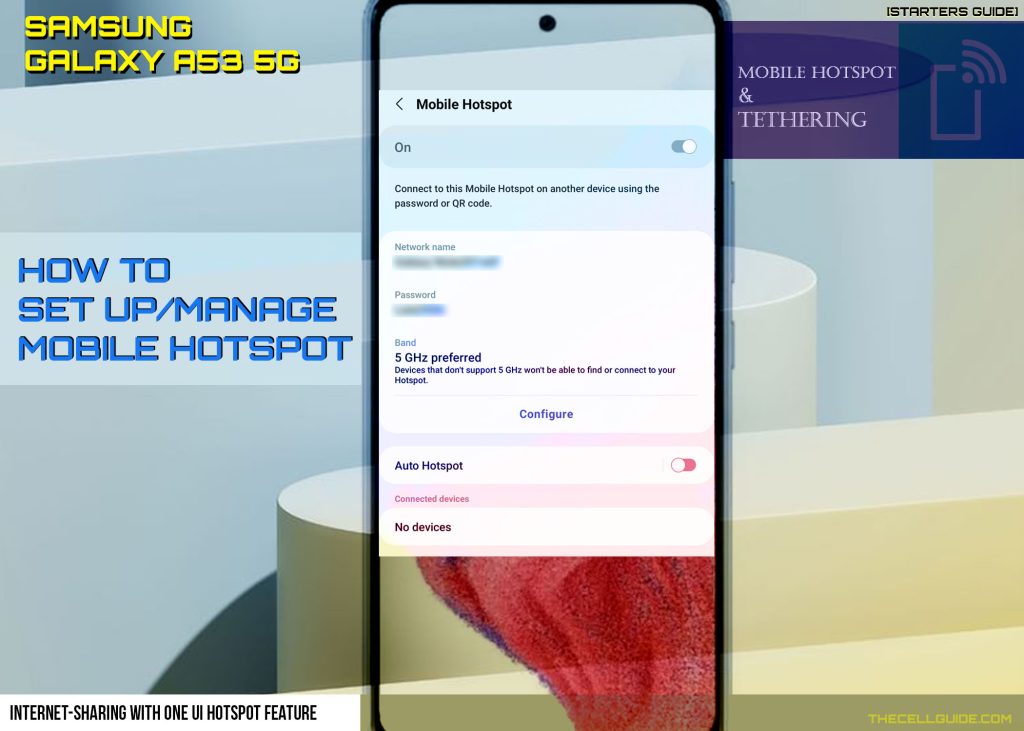 Don't have access to a Wi-Fi network on your Samsung phone? If you're currently subscribed to a data plan and your Samsung phone has a stable cellular network reception, you can still go online and share your internet connection to your other devices using the built-in One UI Hotspot feature. To make this happen, you will need to enable and configure the Mobile Hotspot feature on your Samsung Galaxy device. Keep reading for more detailed instructions.
OneUI Mobile Hotspot and Tethering
Modern smartphones are already equipped with more advanced system features including the ability to perform dual or multiple functions. In fact, recent Android phones including Samsung Galaxy devices can now be used as a wireless router with the integrated mobile hotspot and tethering feature.
A hotspot or mobile hotspot refers to a wireless access point that allows you to connect your phones, tablets, computers and other electronic devices to the internet while on the go.
Most of the latest smartphones already have a built-in mobile hotspot feature that are able to feed internet connection speeds of around 30Mbps over 4G LTE wireless technology and 50Mbps to 1000Mbps in some newer devices with 5G capability.
Steps to Activate and Set Up Mobile Hotspot on Samsung Galaxy A53 5g
Before you begin, verify and ensure that the 5G mobile connectivity is enabled on your Samsung Galaxy A53 5g. To do this, just pull up the notification/quick panel and then tap the antenna icon to enable it. The icon must be in blue.
After turning on the antenna icon on the quick panel, you may now proceed with these subsequent steps to activate and configure mobile hotspot and start sharing your phone's Wi-Fi internet connection to your other devices.
Step 1: If you haven't already, turn on Mobile Data from Settings-> Connections-> Data usage menu and then turn on the switch next to Mobile data.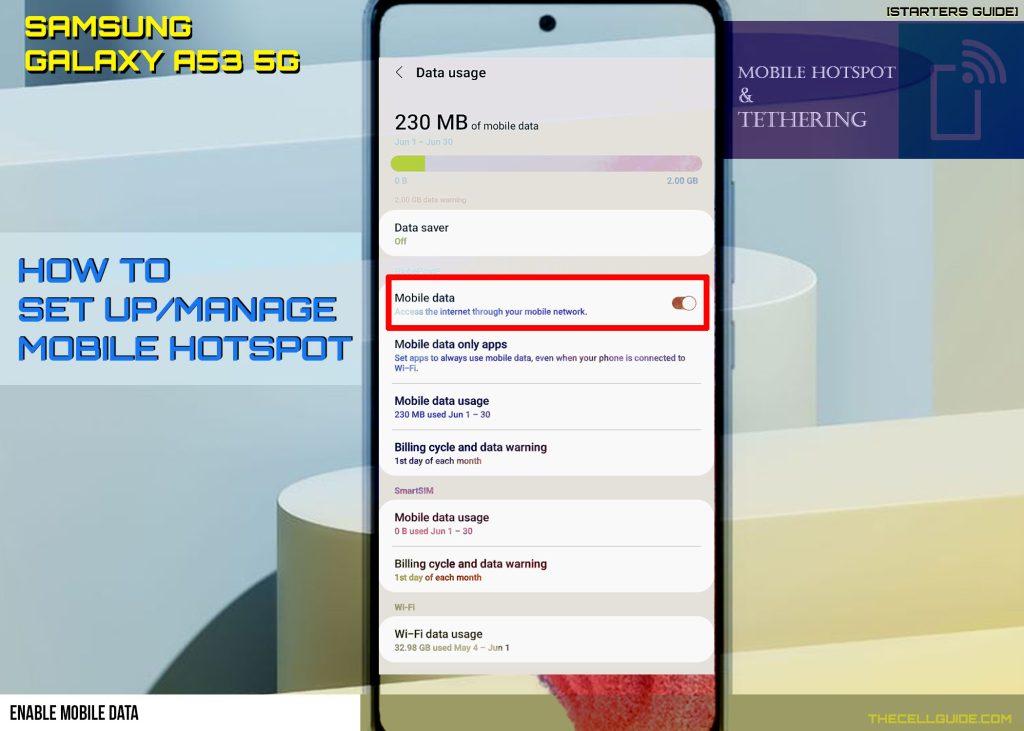 Alternatively, you can pull up the quick panel and then tap to turn on the Mobile data icon. It's turned on when the icon turns blue.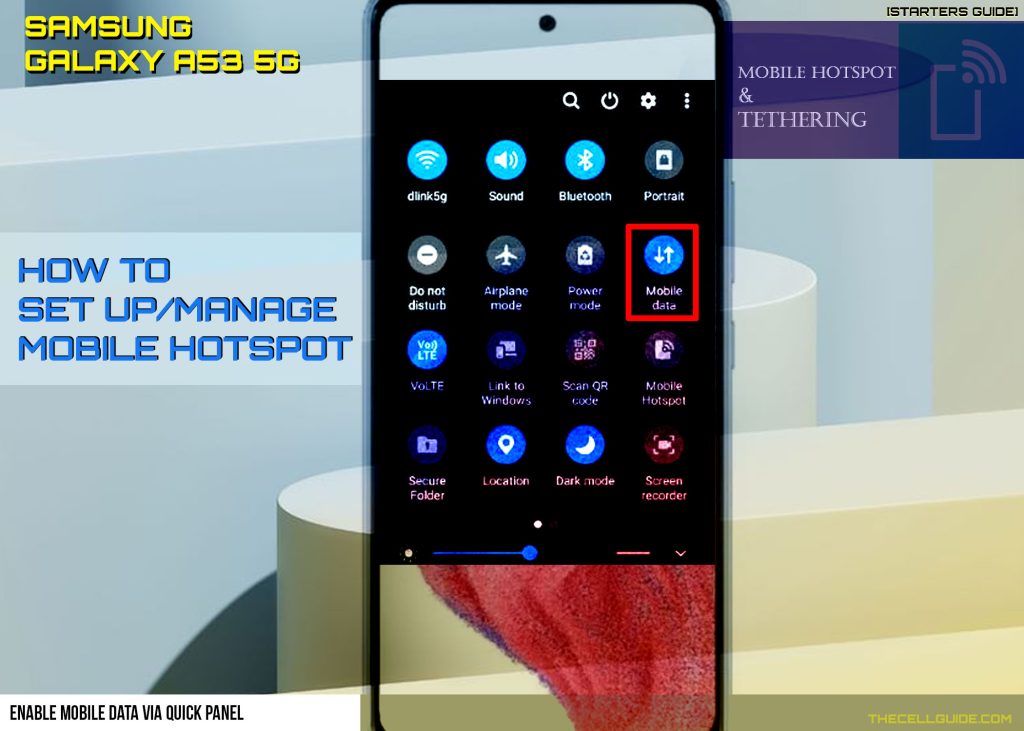 After enabling Mobile data, activate and set up Mobile hotspot connection with the next steps.
Step 2: From the Home screen, tap Settings.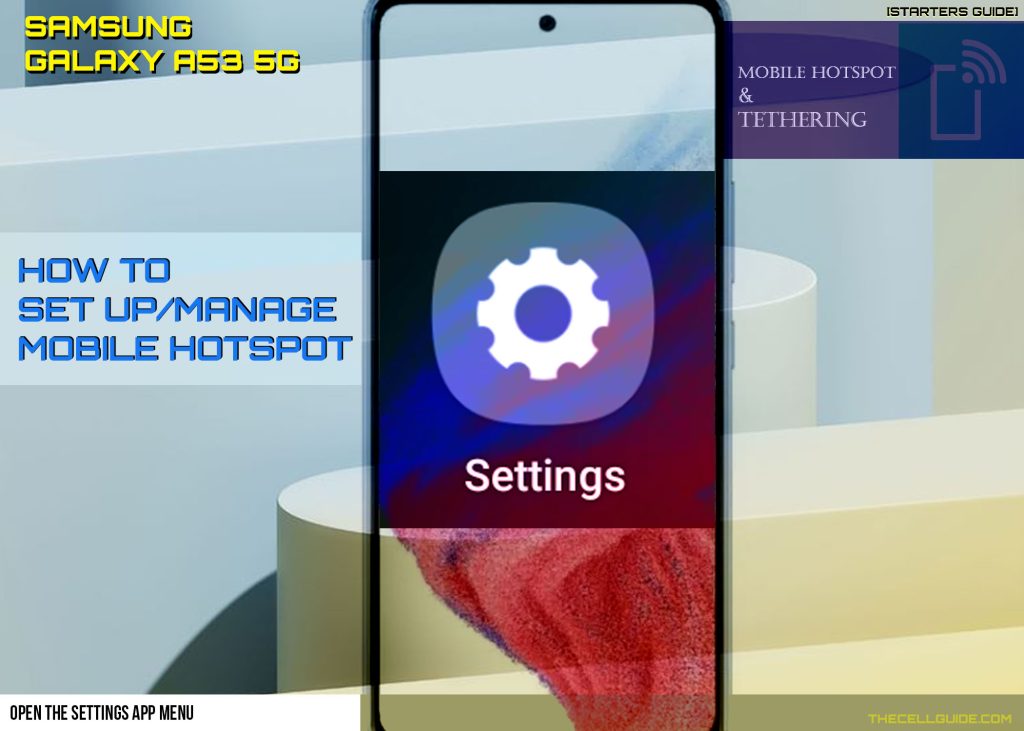 Step 3: While in the main Settings app menu, tap Connections.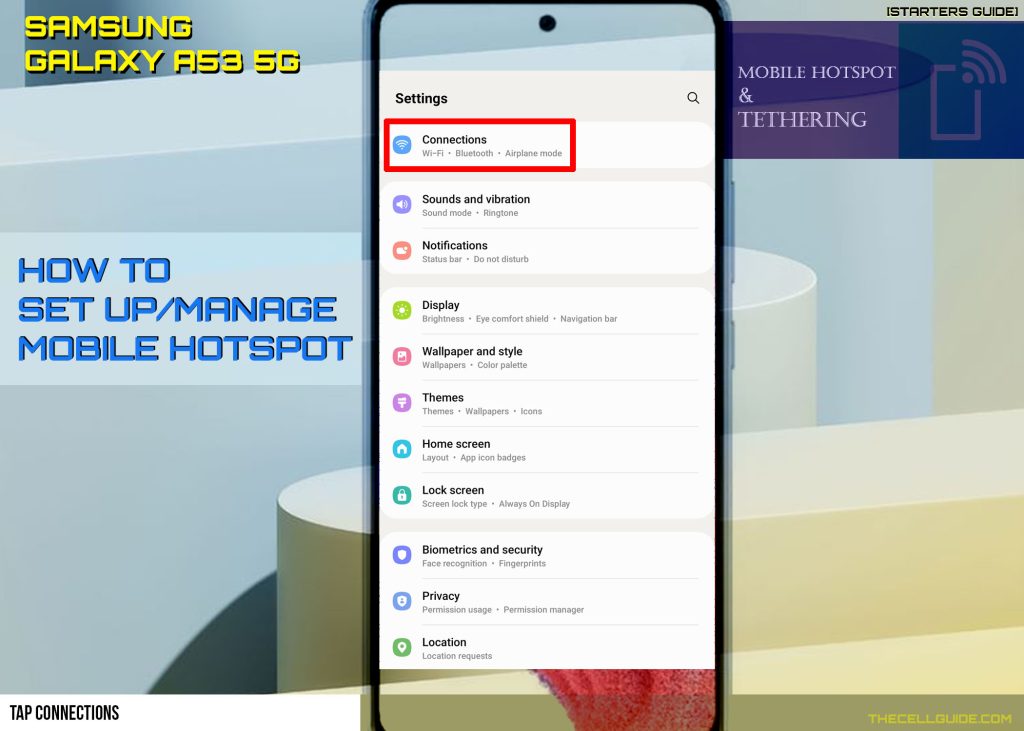 Step 4: On the succeeding menu, tap Mobile Hotspot and Tethering.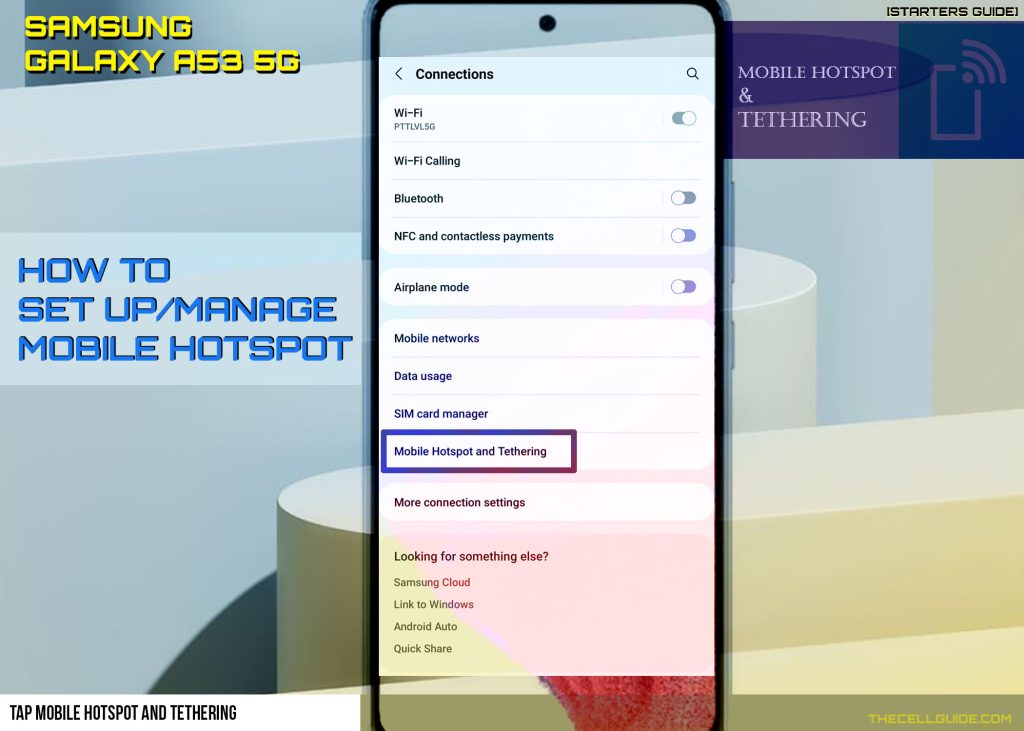 Step 5: Finally, toggle Mobile Hotspot switch on to enable the feature.
To configure the Mobile Hotspot settings like change the network name and password, set data limit and other customizations, just follow these steps:
Step 6: Go to Settings-> Connections-> Mobile Hotspot and Tethering-> Mobile Hotspot menu then tap Configure.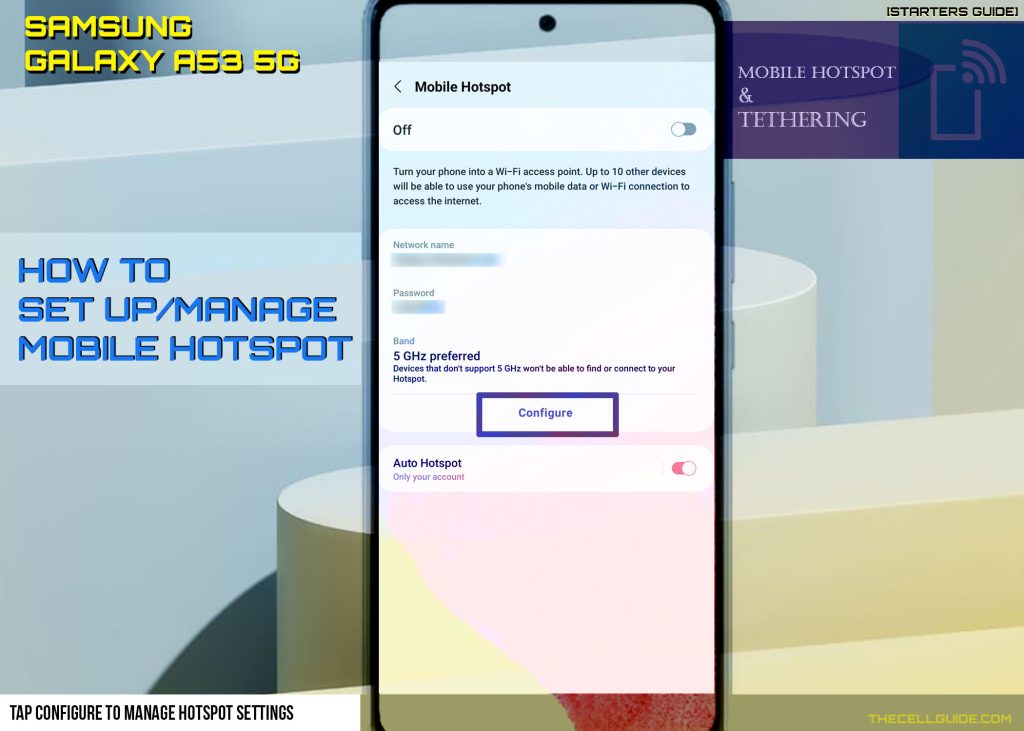 Step 7: On the succeeding screen, make all necessary changes to make your Hotspot work according to your preferences and then tap SAVE when done.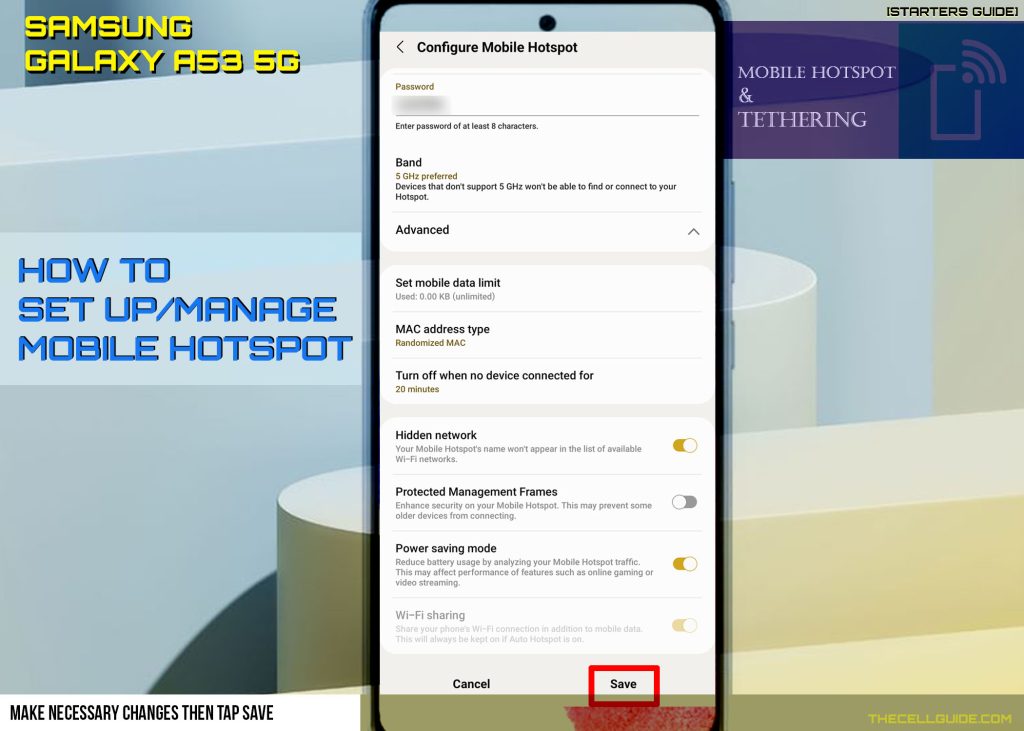 Among the mobile hotspot information that you can change include the network name, security password, and set your preferred network band like 2.4 GHz or 5 GHz.
You can also set a mobile data limit to automatically disconnect all devices from the Hotspot once the data limit you've set is reached.
Mobile Hotspot not working?
Be sure to note that Hotspots don't work without cellular coverage (network reception). In order to create a Wi-Fi signal, your phone's mobile hotspot feature requires cellular service. This means the need for you to secure a data plan from your cellular service provider (network operator) to make your own hotspot work.
Adequate cellular service or network reception is also needed for your phone to offer a stable mobile hotspot internet connection.
It's also worth to note that battery usage on your device is increased when a mobile hotspot is enabled and in use. To save battery, you can set your mobile hotspot to automatically turn off if no devices are connected for a specified amount of time or you can configure the timeout settings accordingly.
To avoid incurring extra charges for excess data, be sure to check your data usage and turn off mobile hotspot and mobile data connection when not in use or when a Wi-Fi network is already available.
And that's how you activate, set up and manage a mobile hotspot to share internet connection on your Samsung Galaxy A53 5g smartphone.
Hope this helps!
Please check out our YouTube channel to view more tutorial and troubleshooting videos for popular iOS and Android devices.
You Might Also Want To Read: