"Unfortunately, Gallery has stopped" — this is an error message that usually appears when the Android Gallery application encounters unexpected errors and stops working. If you happen to bump into the same error while using the preinstalled Gallery application on your Samsung smartphone, you can refer to the outlined solutions below. Read on to learn what to do if your Galaxy A53 5g Gallery keeps crashing.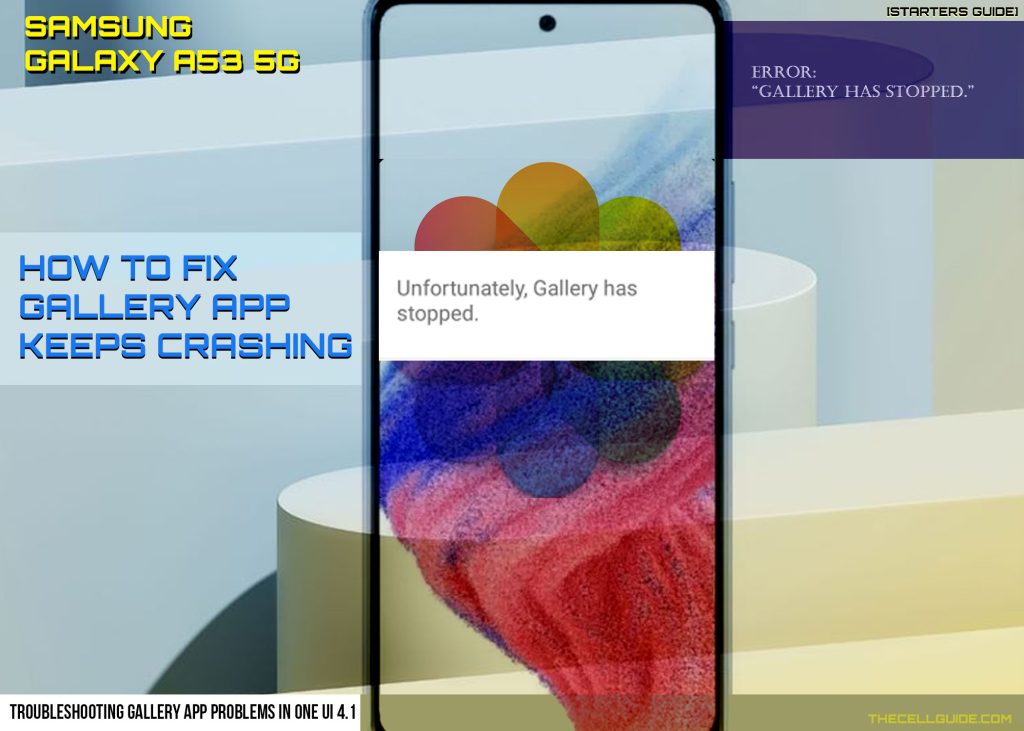 What causes Gallery app crashes?
Bumping into random app crashes is normal. But if the problem reoccurs to the same application, it apparently denotes a problem. Crashing usually occurs among other performance issues in earlier devices and manifests among various apps either preloaded or downloaded.
Generally, the software-related factors are the underlying cause of the problem and therefore easier to fix.
A faster approach to troubleshooting app-related crashing issues on an Android device is to rule out every possible trigger. Among the widely known culprits are the following:
Random in-app glitches – Random crashes are often tied to random glitches that's interfering with the app's normal functions. Refreshing the glitching app will likely fix the problem.
Settings conflicts – When an app starts crashing after making changes to the system settings. It's possible that the recent changes cause some settings conflicts, resulting in an unstable performance of the app.
Corrupted files – Downloading and saving corrupted images and media files from the internet may likewise ruin the Gallery's normal operations and eventually makes the app shaky.
Post-update bugs – When the Gallery app starts crashing from a recent software update, it's possible that the recent update contains unforeseen bugs that bring error to either the built-in camera or Gallery app.
Memory-related issues – Low storage is also one of the main reasons as to why performance issues including system crashes occur in mobile devices. It's possible that the Gallery storage or the phone's storage itself is already low, if not full.
In worst case scenarios, frequently recurring system crashes may directly be attributed to hardware problems like when physical or liquid damage is present on an Android device itself.
Troubleshooting Galaxy A53 5g Gallery keeps crashing issue
Outlined below are simple procedures that will help eliminate common factors that can trigger random crashes on the Galaxy A53 Gallery application.
Try these methods before taking your device to an authorized Samsung service center for hardware assessment and/or repair.
Before you begin, verify and ensure that the date and time settings on the phone are correct. If necessary, set the date and time to automatic so that the phone will use the date and time information based on the time zone of your current location.
Once everything is set with the system date, you may go ahead and perform these subsequent tweaks.
Solution #1: Force close Gallery app then restart the phone.
If this is the first time the Gallery app has stopped working, then it's probably just due to a minor in-app glitch. The easiest way to clear out minor in-app flaws like this is to restart the application or the system.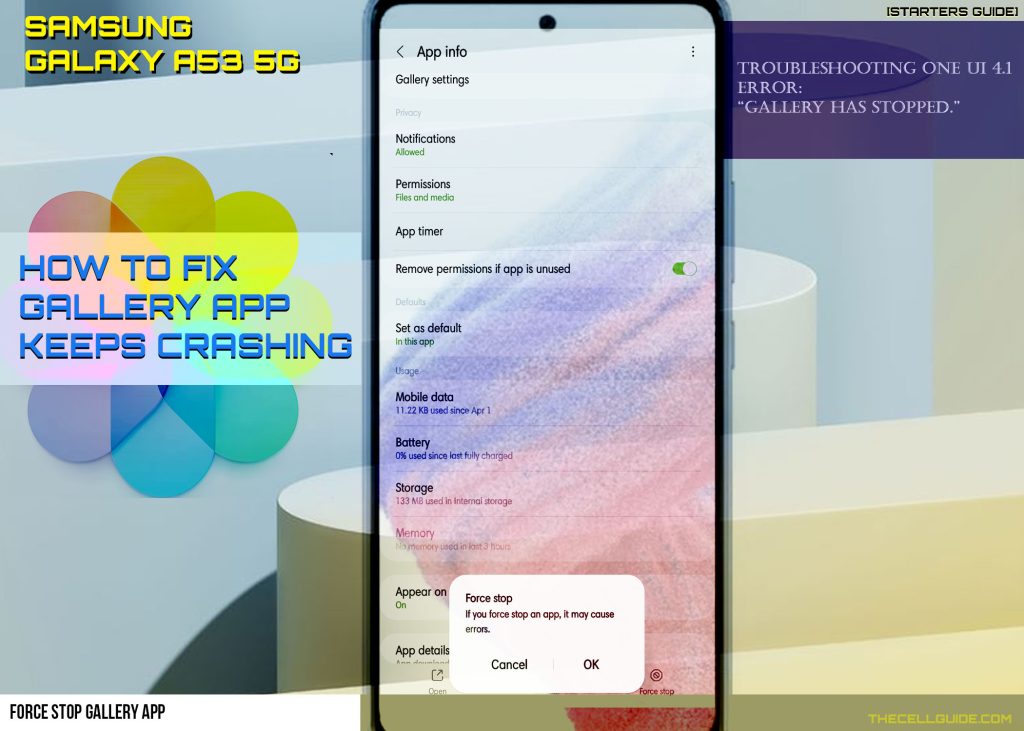 To do this, you can use the force stop command from the system settings to forcibly terminate the Gallery app from running in the background.
Alternatively, you can close the app straight from the recent apps viewer of your phone. To access this section, simply tap the Recent icon represented by three short lines at the bottom left corner of the Home screen. Doing so launches previews of all apps that are left open and running in the background.
To terminate all background apps including Gallery, tap Close all at the bottom of the app previews.
After terminating all background apps, clear out random system glitches and refresh system services by rebooting the phone. Just reboot the phone as you normally do or turn it off for a few seconds and then turn it back on again.
Solution #2: Clear cache and data for Gallery app.
Every app has a dedicated storage for temporary files or residual data that it collects every time you open and use the app.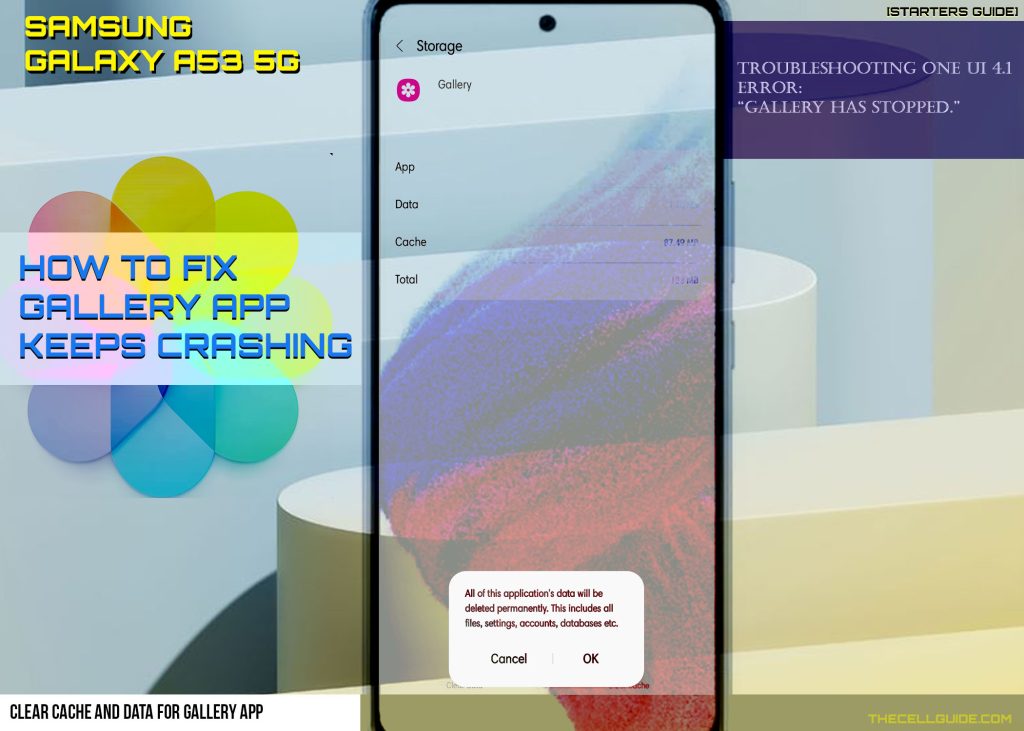 While these residual files are beneficial in terms of prompt reloading of the same information, conflicts and unexpected errors may also be triggered when any of these residual files get ruined or corrupted. To prevent this from happening, clearing the app's cache regularly is recommended.
To access and trigger this command on the Gallery app, just go to Settings-> Apps menu then select Gallery from the list of apps. While in the Gallery apps info screen, tap Clear cache at the bottom to delete all accumulated cached files from the app's storage.
Important Note:
Clearing data for an app will permanently delete all app's data including settings, files, accounts and databases. Any associated errors with these residual files will likewise be obliterated and so as the transpiring symptoms on your device.
To clear the app's data, just tap Clear data from the Gallery app's info screen. Read the warning prompt then tap OK to confirm.
After clearing the Gallery app's cache and data, exit settings then relaunch Gallery.
Solution #3: Optimize storage space.
To deal with performance issues attributed to low or insufficient storage, deleting old and unwanted contents is recommended.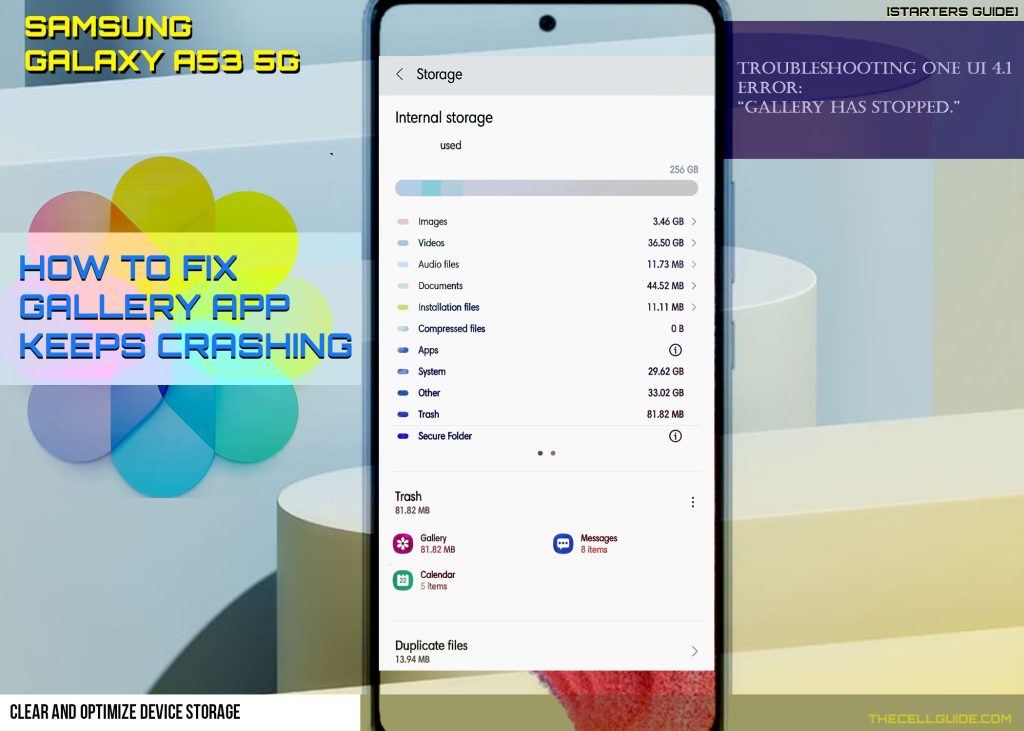 To check the current status of your phone's internal storage, go to Settings-> Battery and Device care menu and then tap Storage. There you will see the percentage of the internal storage used by your apps and the remaining storage.
If necessary, delete old and unwanted files including photos, music, videos and messages that you're no longer using. Deleting old photos and videos from the Gallery and Camera app is also recommended.
Uninstalling unnecessary apps is also recommended to free up storage space and keep your phone's performance optimal.
Aside from deleting old files, you can also free up storage by moving some of your important files to a secure backup storage like a computer or cloud storage.
Solution #4: Install pending software updates.
Software updates that are released by Samsung periodically can also fix performance issues that are triggered by stubborn bugs and malware. Thus, installing the latest software version available for your phone is likewise a potential solution.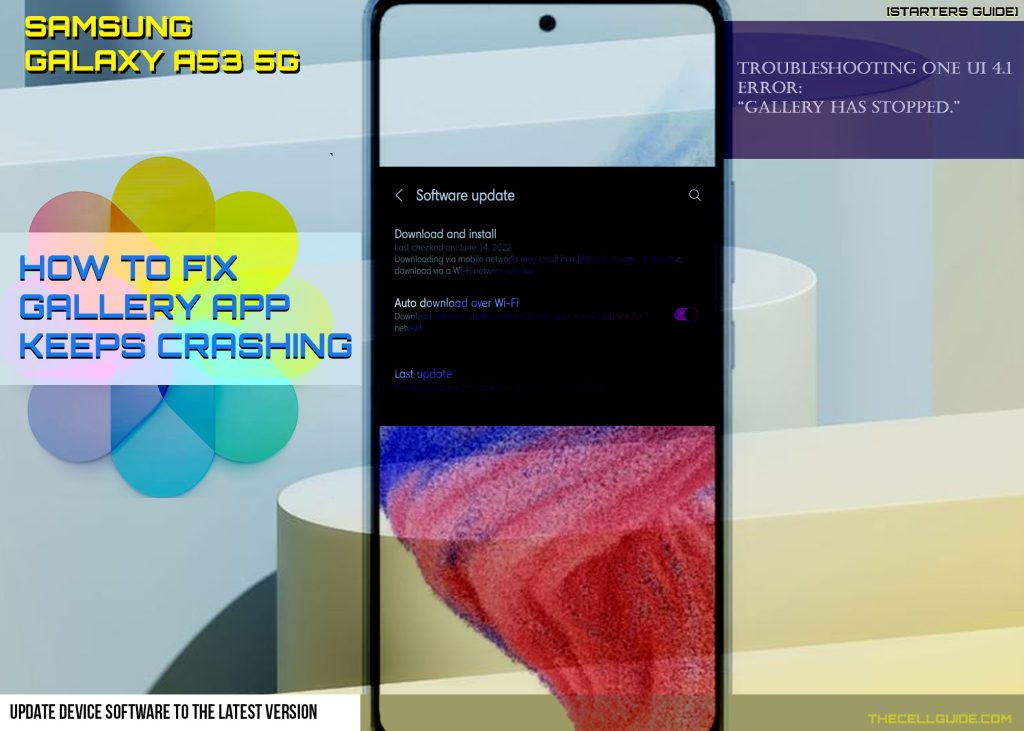 If you haven't enabled auto-updating on your phone, you can manually check for new updates by heading over to your device Settings-> Software update menu. Tap Download and install and wait for your phone to scan for new updates. If a new update is available, follow the rest of the onscreen instructions to update your phone's system.
Make sure that your phone has sufficient storage space, battery life and a stable internet connection beforehand.
Solution #5: Reset all settings.
When the Gallery app starts crashing after changing some settings on the phone, there's a higher chance that the recent changes you've made caused conflicts with the Gallery app.
Unless you're certain which from the recent changes is the root cause of the problem, restoring the default options would be necessary.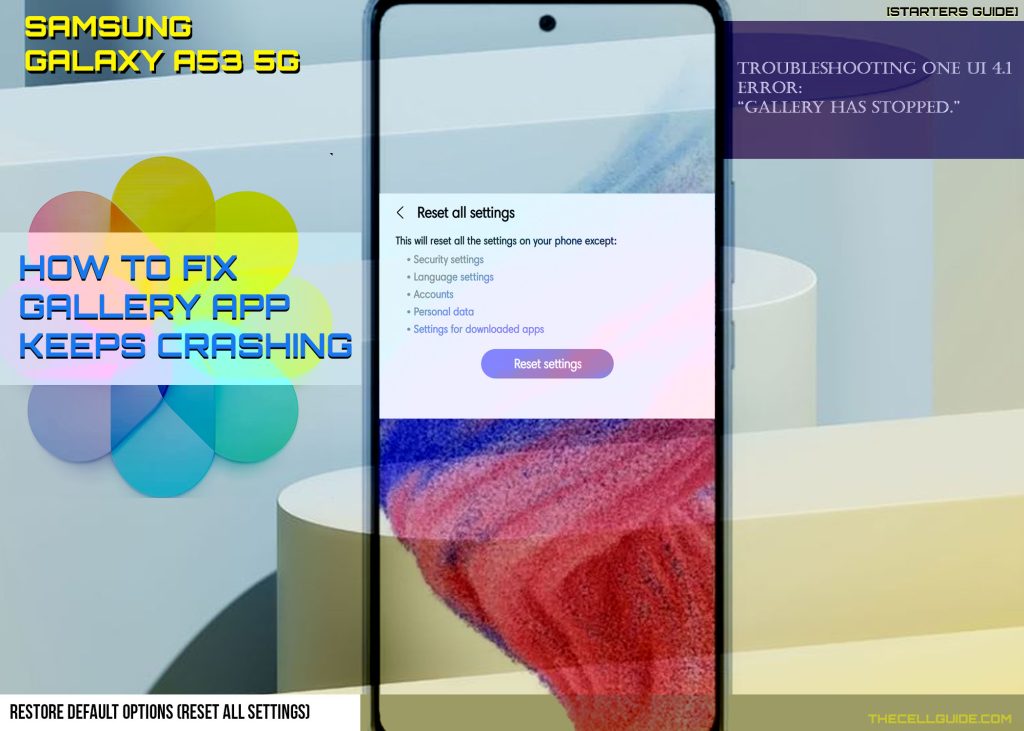 You can do this without deleting any of your downloaded apps and saved files from the phone's storage. All you have to do is trigger the inbuilt reset all settings command on your Galaxy A53.
To access and use this reset, just go to Settings-> General management-> Reset menu and then tap Reset all settings from the given options.
Enter your unlock PIN, pattern or password if prompted and then tap Reset settings on the following screen to confirm.
The phone will then erase all recent changes made to the system settings and then restore the default options and values.
After the reset, the phone reboots automatically and then restores system defaults.
By then you can start re-enabling necessary features including Bluetooth, Wi-Fi and Cellular/mobile data connections so you can use them again on your phone.
Is the Gallery app still stopping/crashing?
If the problem continues after performing all the given solutions, there's a good chance that something else from the system is triggering the Gallery to stop working. It could be due to some corrupted residual files from the system cache, a buggy third-party application or complex system errors.
Should you wish to troubleshoot your device further, you may do so with these additional workarounds.
A. Wipe cache partition.
This is an Android command that is used to eliminate temporary files or residual data that have been accumulated in the system cache. Note that there's a separate cache directory for your apps and the phone system. That said, clearing cache from an app and system storage also differs. Since the problem continues even after clearing cache and data from the Gallery app, wiping the phone's cache partition may yield a different (positive) outcome.
To do this, you will need to power off your device completely and then boot it up in Android recovery mode. While in the Android recovery mode, use the Volume keys and Power button to scroll through and select or highlight Wipe cache partition from the given options.
The Galaxy A53 5g runs on Android 12 with One UI 4.1 OS so the process of wiping cache partition is similar to that of the Galaxy S22. Just refer to this guide if you need help.
B. Restart in Safe Mode.
Third-party apps are also among the possible culprits, especially if the Gallery app starts to crash after downloading a new application.
The easiest way to determine whether or not a third-party app is to blame, reboot the system in Safe mode.
All third-party apps are temporarily disabled while in safe mode so your phone runs purely with all the preloaded applications. If the problem does not occur while in safe mode, then that implies a third-party app is the root cause of the problem. Should this be the case, uninstalling the culprit will solve the problem. But the main challenge is to identify the main trigger. To make it easier, try to think of which app you've recently installed before the Gallery app started crashing. You may have to disable or uninstall possible causes individually.
C. Factory data reset.
A drastic solution to system crashes is a master reset or factory data reset. Performing this reset is usually needed to fix complex system errors that make system apps or the device itself erratic.
If the problem started after updating the system and it persisted after applying all the given solutions, then restoring system defaults through a factory reset can be considered among the last options.
But before you do, be sure to back up all your important files from the phone's storage to your Samsung cloud account or other secure storage media.
You can proceed with a factory reset via settings or through Android Recovery Mode once you've secured all your backup files.
Hope this helps!
Please check out our YouTube channelto view more tutorial and troubleshooting videos for popular iOS and Android devices.
 You Might Also Want To Read: