This post highlights a few potential solutions to an unstable Chrome browser application on a Samsung Galaxy device. Read on to learn what to do if Google Chrome keeps crashing on your Galaxy A73 5g smartphone.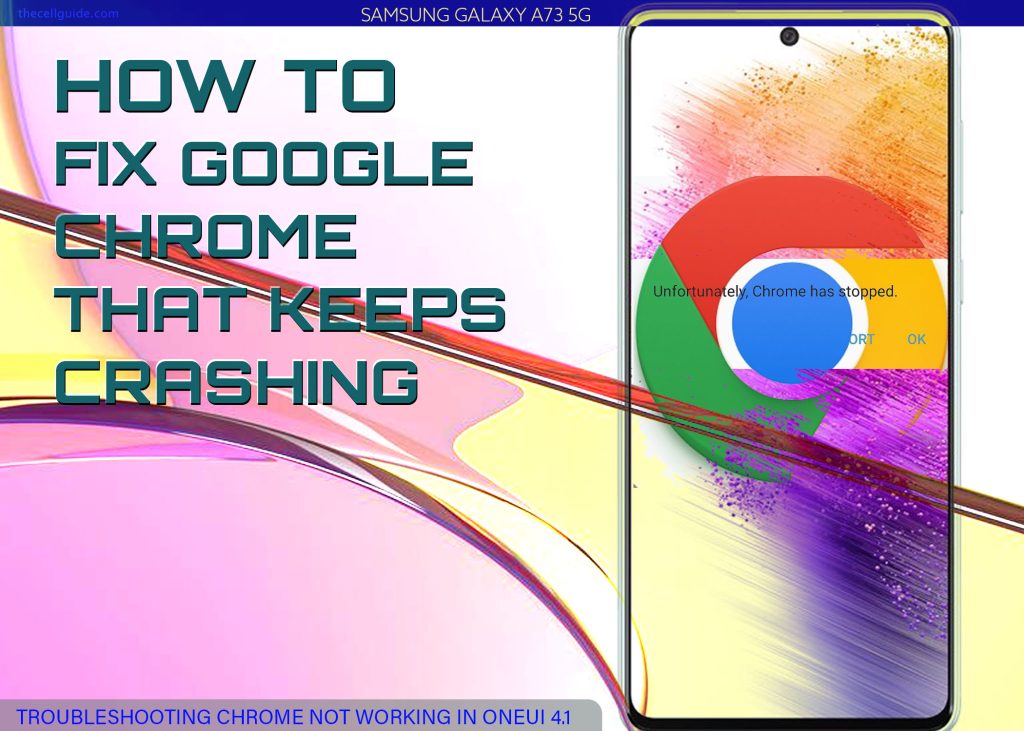 One UI 4.1 Chrome App Issues
'Unfortunately, Chrome has stopped.' This is just one of the errors that you'd hate to encounter when using your Android smartphone. Nonetheless, it's also among the many inevitable errors that could occur on any Android device, even the high-tiered variants.
Despite the fact that it is backed and maintained by the internet giant itself, unexpectedly in-app glitches would still manage to disrupt your browsing experience with Chrome. This is likely due to the fact that it's an internet-based application.
It's expected for online apps like Chrome to stop working properly whenever the device is experiencing internet connectivity issues like slow browsing, intermittent connection or no internet connection at all.
Aside from network problems, other factors such as random software glitches, faulty updates, corrupted files and settings conflicts are likewise among the common triggers. Memory-related issues like when the device's storage is already running low could also be the underlying cause of the problem.
But on a positive note, most of the problems that are randomly manifesting in Google Chrome are inflicted by minor software flaws and therefore can easily be resolved unless unexpected server outage is the underlying cause.
Outlined below are simple tweaks that can be used when troubleshooting performance-related issues with Google Chrome on the Samsung Galaxy A73 5g smartphone.
You can try any of these potential solutions whenever you encounter the same issue wherein Chrome would suddenly stop working and crash upon loading on your Samsung Galaxy device.
Troubleshooting Google Chrome keeps crashing on Galaxy A73 5g
Performing the following solutions will help rule out common factors that can adversely affect Google Chrome normal functions and eventually stop working on your Samsung Galaxy phone.
Before you begin, verify and ensure that your phone has ample storage space.
If necessary, you can check the current memory status of your phone by heading to Settings-> Battery and device care menu and then tap Storage.
If the available storage is less than 2GB, consider deleting old and unused files including old messages and apps that you're no longer using.
Aside from storage, also check your internet connection. Online apps may be unable to load up and end up crashing because your device has no internet access. The same thing when the internet connection is intermittent and slow.
If everything looks good with the device storage and internet connection, you may go ahead and try any of these outlined solutions.
Solution #1: Force close Chrome.
Just like any other apps, Chrome may likewise crash after leaving it open and running in the background for a long time. To fix the problem, terminating the app is recommended.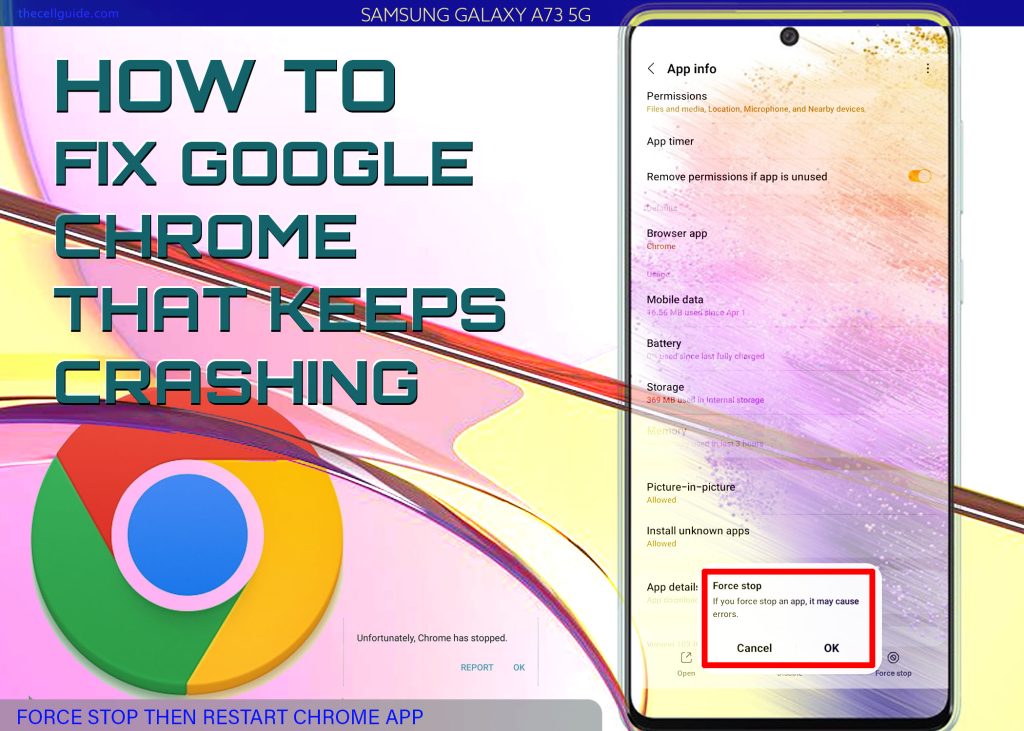 There are different ways to terminate an application on Android devices. You can use the built-in Force close command or End the app through the Recent tab.
To force close Chrome through the App info screen, you will need to access your phone Settings-> Apps menu and then select Chrome from the list of apps. The Chrome app info screen opens next. Here, you will see the Force stop option at the bottom. Tap on it and then tap OK on the pop-up window to confirm.
Alternatively, you can end the app straight from the Recent apps tab.
To do this, simply tap on the Recent icon (three short lines) at the bottom-left edge of the Home screen to view all recently open and running apps. Then tap the Close All button to terminate all background applications including Chrome.
After a few seconds, retry loading the Chrome app browser and see if the problem is gone.
Solution #2: Reboot the phone.
Another simple solution to various types of software-related problems in mobile devices is a system reboot. Just like computers, a system reboot clears out all background processes including those that have gone rogue and caused conflicts with other apps.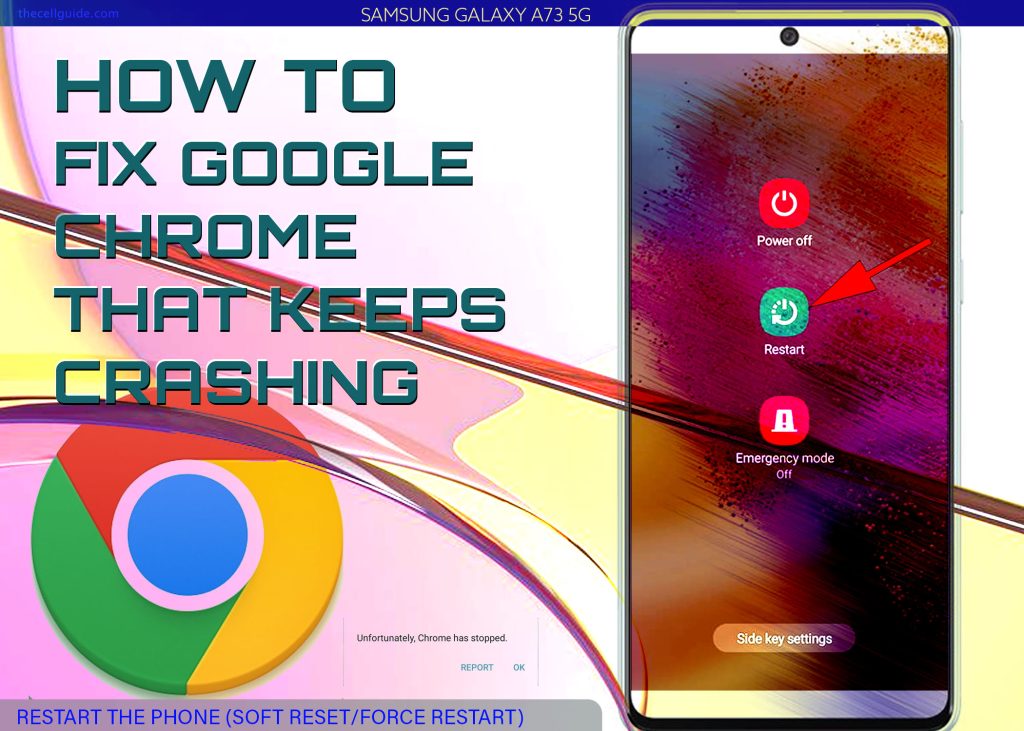 Restarting is also an effective way to rectify minor system glitches including those that are causing trouble to network-related apps and services like Chrome.
So if you haven't already, reboot your Samsung phone either through the normal (soft reset) restart or force restart.
If your device is still able to respond properly, you can do the normal reboot (soft reset) by pressing and holding on the Power key for a few seconds until the Power options menu appears. Tap Restart and wait for the phone to finish rebooting. Or tap Power off to shut the phone down completely and then turn it back on after a few seconds.
If your phone stops responding after Chrome crashes, performing a forced restart would be necessary.
To force restart the Galaxy A73, just press and hold the Power button for at least 10 seconds and then release the button when the Samsung logo appears.
Allow your device to finish rebooting and the system becomes stable again.
Solution #3: Clear app cache and data.
Just like any other app, Chrome also stores temporary internet files in its dedicated cache directory. These cached files will be utilized the next time you request for the same information when using the app.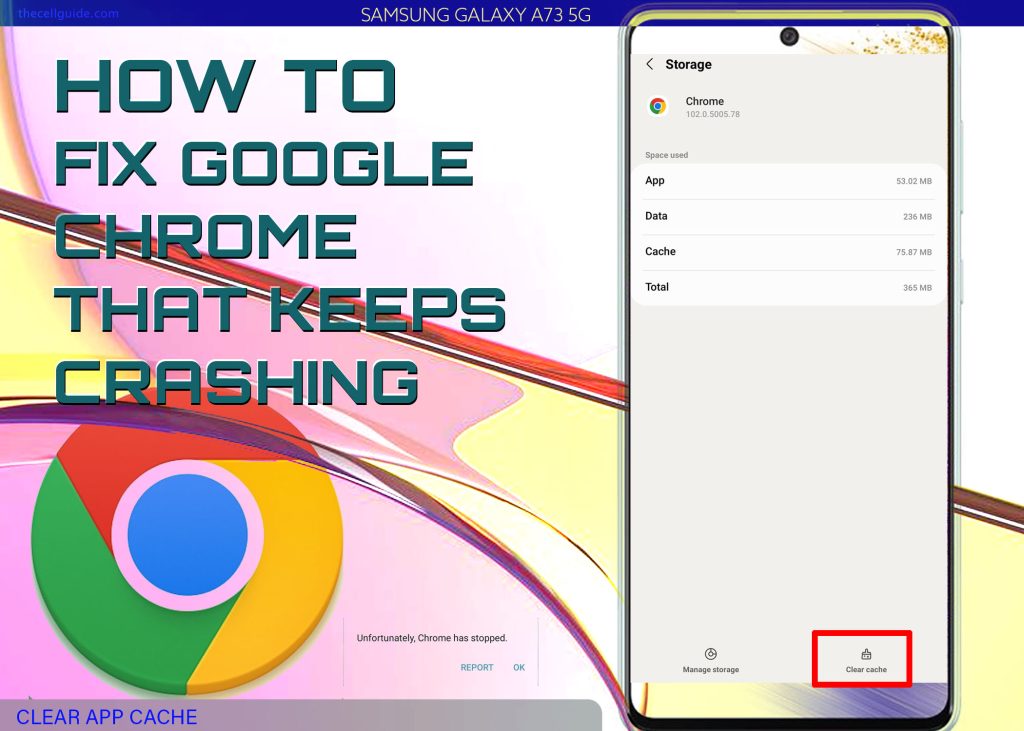 If any of these cached files gets corrupted, there's a good chance that the app would misbehave. And crashing could be the main indication that corrupted residual files exist in the Chrome app's cache directory.
To fix the problem, clearing the app's cache and data is recommended.
To clear cache and data for the Chrome browser app on the Galaxy A73, go to Settings-> Apps menu. If necessary, tap the button to Show system apps then select Chrome from the list of apps then tap Clear Cache at the bottom of the App info screen. All accumulated cached files will then be deleted from the app's storage.
To clear the app's data, tap Manage storage at the bottom of the Chrome app info screen and then tap Clear All Data on the Google Chrome storage menu.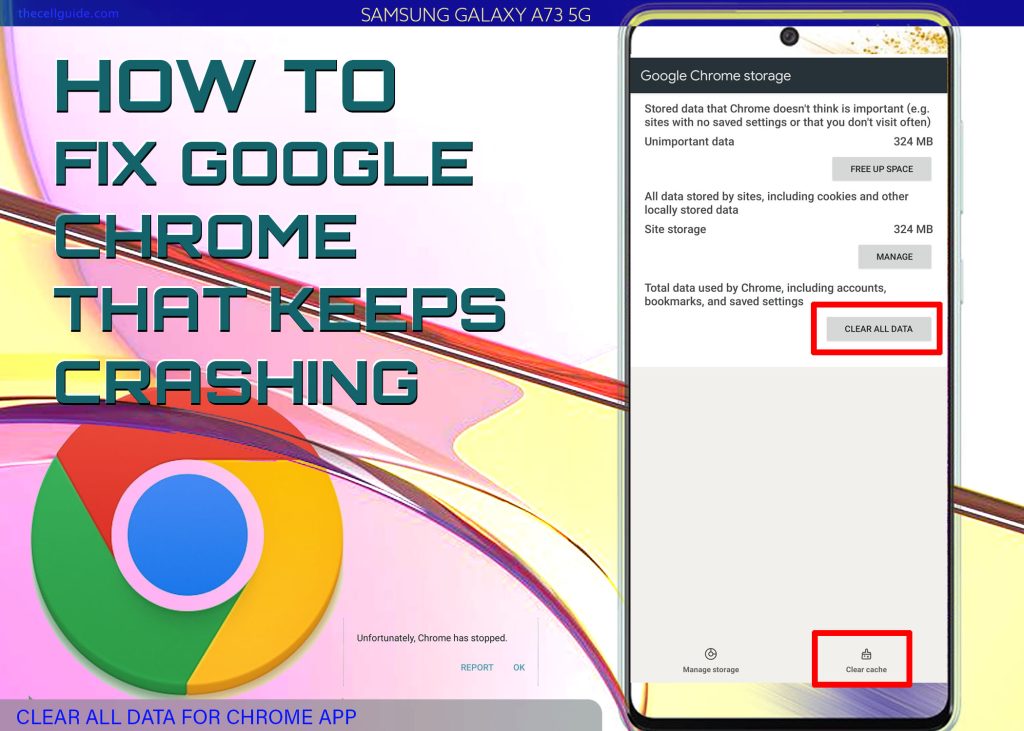 There is also an option for you to manage all data stored by sites, including cookies and other locally stored data from Site storage.
Deleting all stored unnecessary Chrome data, you can tap the Free Up Storage button instead.
Solution #4: Install new updates.
Software updates that are released by Google periodically also contain bug fixes and security enhancements to keep Google apps and services optimal.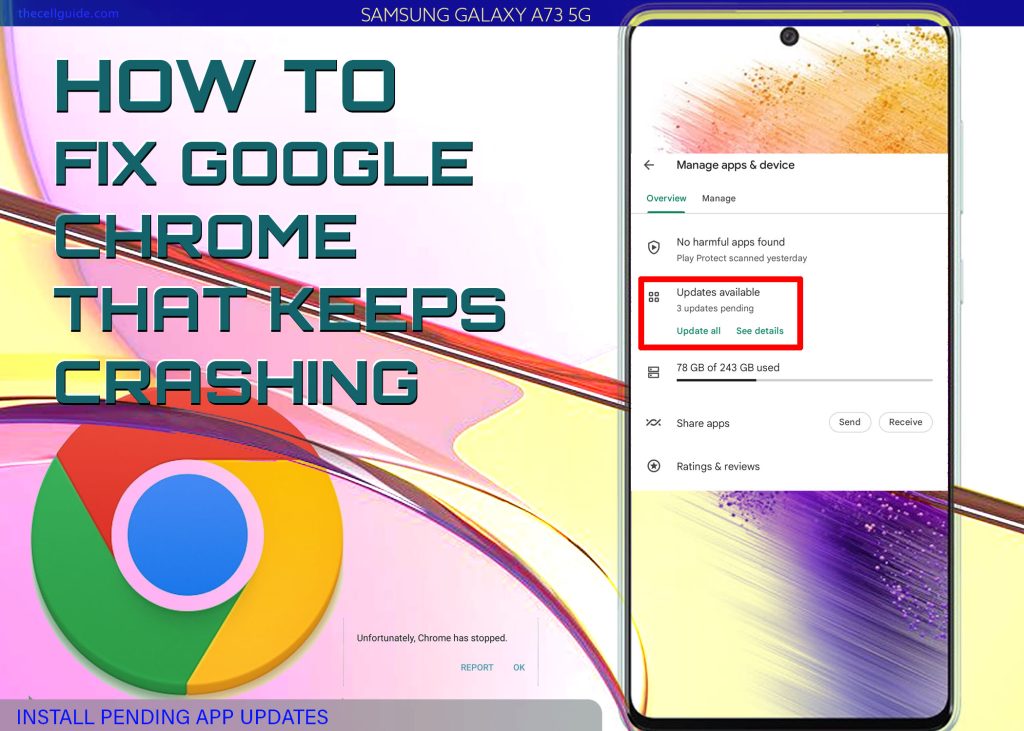 If you haven't enabled auto-updates on your device, you can manually check for pending app updates on the Play Store instead.
Considering that your phone has sufficient storage space, a stable internet connection and battery life, you can go straight to the Play Store app, tap on your Profile icon then select the option to Manage apps and device. If updates are available, tap Update all and follow the rest of the onscreen instructions to finish updating your apps.
Installing the latest Android OS version available is also recommended as it usually contains essential patches that are programmed to get rid of software bugs including those that might have ruined network-related apps like Chrome.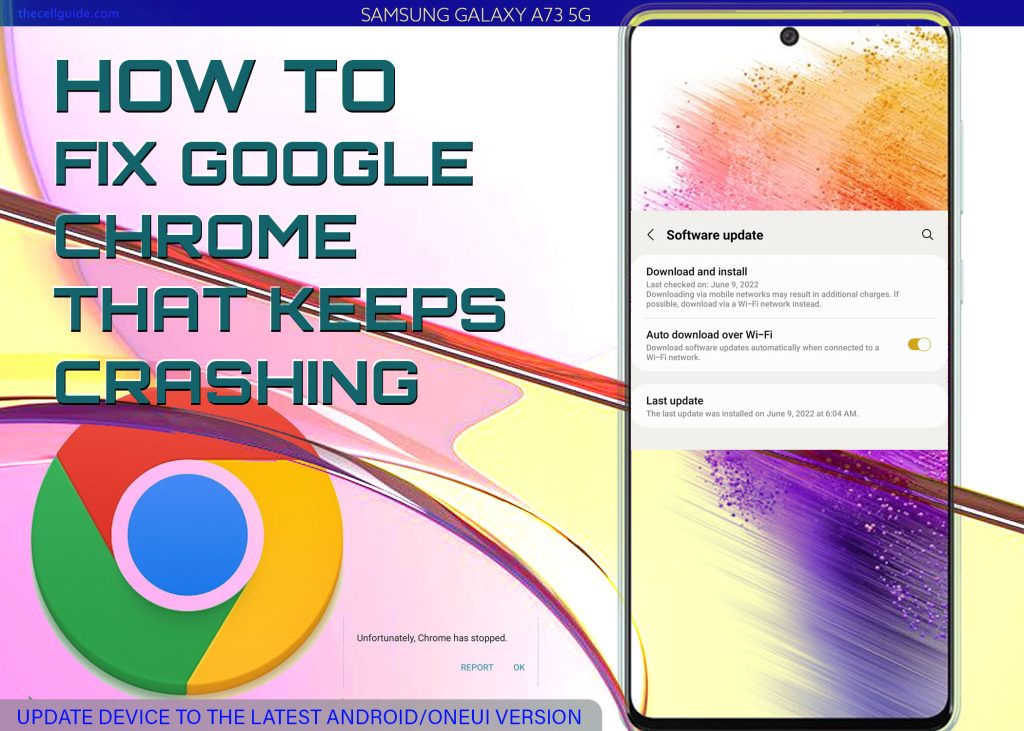 To check for new OS updates, just go to Settings-> Software Update menu and then tap Download and Install. Wait for your device to scan for new updates and follow the rest of the onscreen prompts to manually install the update.
Solution #5: Reset all settings.
Resorting to system resets is usually regarded among the last options when dealing with recurring system problems on a smartphone. There are different types of reset options embedded in every smartphone depending on the platform it's running on.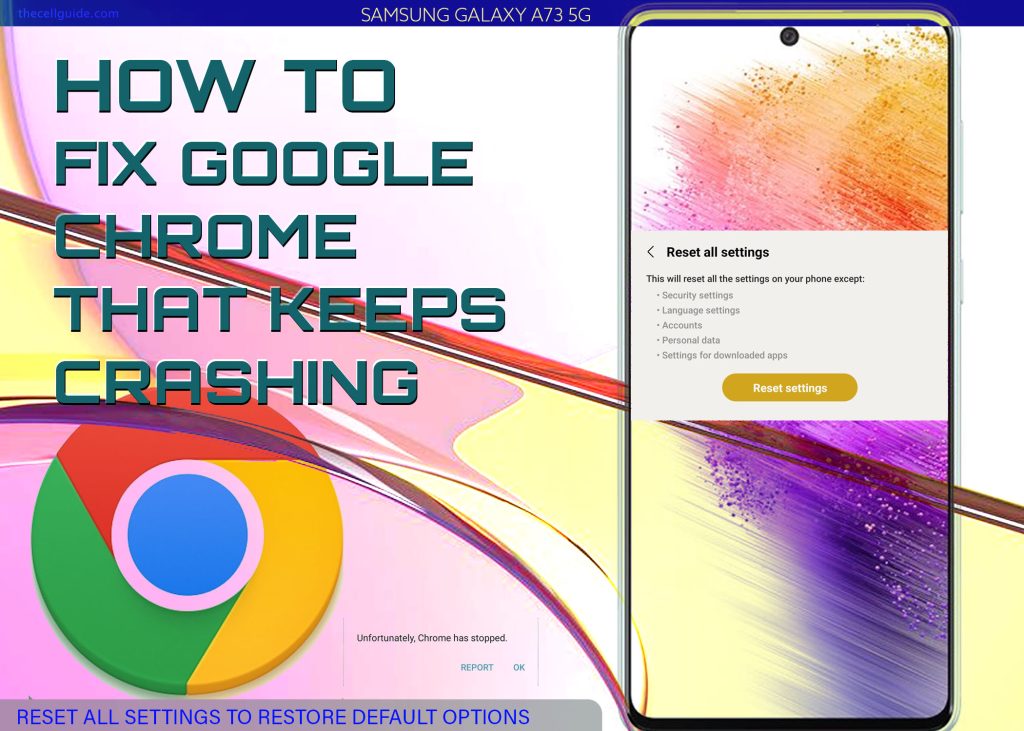 In Samsung devices, executing the reset all settings command has been proven to work wonders when resolving system errors that eventually make certain apps unstable.
To access this reset option on the Galaxy A73, you will need to go to Settings-> General management-> Reset menu and then select Reset all settings from the given options. Read the reset details on the next screen to learn which type of information will be deleted. After reviewing the details, tap Reset settings and follow the rest of the onscreen instructions.
The reset should only take a few seconds to finish. Just don't do anything on your device that may interrupt the process. After resetting, all system defaults are restored.
Compared to a factory reset, resetting all settings does not affect any user data from the internal storage. This means that you won't lose any important files and documents afterwards.
After resetting, you will need to reconfigure individual options and enable necessary features that are disabled by default, so you can use them again on your phone.
Setting default apps to process certain file types or data protocols online or from certain platforms is also necessary as all your previously assigned default app preferences were already deleted.
Don't forget to reconnect to your Wi-Fi or Cellular/mobile data network to get back online and then browse the web again using Chrome app.
Is Chrome still crashing on your Samsung phone?
The above solutions are usually good enough to deal with the common factors that might have prevented Chrome from working properly on Android phones. If none of them works, you can try these additional tweaks.
Disable then re-enable Chrome.
Uninstalling and reinstalling the errant app is usually deemed an ultimate solution to fix a buggy application. However, Chrome is among the preloaded system apps on your Samsung phone and therefore it cannot be uninstalled. So what you can do instead is to disable and re-enable the application. This is another way to refresh and restart the app.
To disable Chrome, just go to your device Settings-> Apps menu and then tap Chrome. While in the Chrome app info screen, tap Disable at the bottom. Read the warning prompt then tap Disable app to confirm. To re-enable the app, just tap Battery from the Chrome app info screen, and then tap Turn on at the bottom.
Exit the Settings app and then retry loading Chrome on your phone to see if it's already working properly.
Uninstall updates (if applicable).
If the problem started after installing a new update for Chrome, it could be due to some unforeseen software bug. Unless Google rolls out the required fix patch, you may opt to uninstall updates and revert to the previous version of Chrome.
While this isn't actually recommended by Google as it would be considered a downgrade, it can be considered among other last resort if all else fails.
Seek More Help
The problem may neither be from within the Chrome application nor your phone's operating system but rather from the Google server. Should this be the case, reaching out to Google's support department could be your last best hope. For further assistance in performing more advanced solutions to Chrome errors, you can visit the Google Help page.
Escalating the problem to Samsung Support is also a good option especially if the onset started from an Android or OneUI update.
Hope this helps!
Please check out our YouTube channel to view more tutorial and troubleshooting videos for popular iOS and Android devices.
You Might Also Want To Read: