This post will walk you through configuring the One UI Messaging app settings to activate the built-in command to remove old messages whenever the inbox gets full. Here's a quick guide to automatically delete old messages on Galaxy A23 5g and other Samsung Galaxy phones with Android 12 (One UI 4.1) OS version.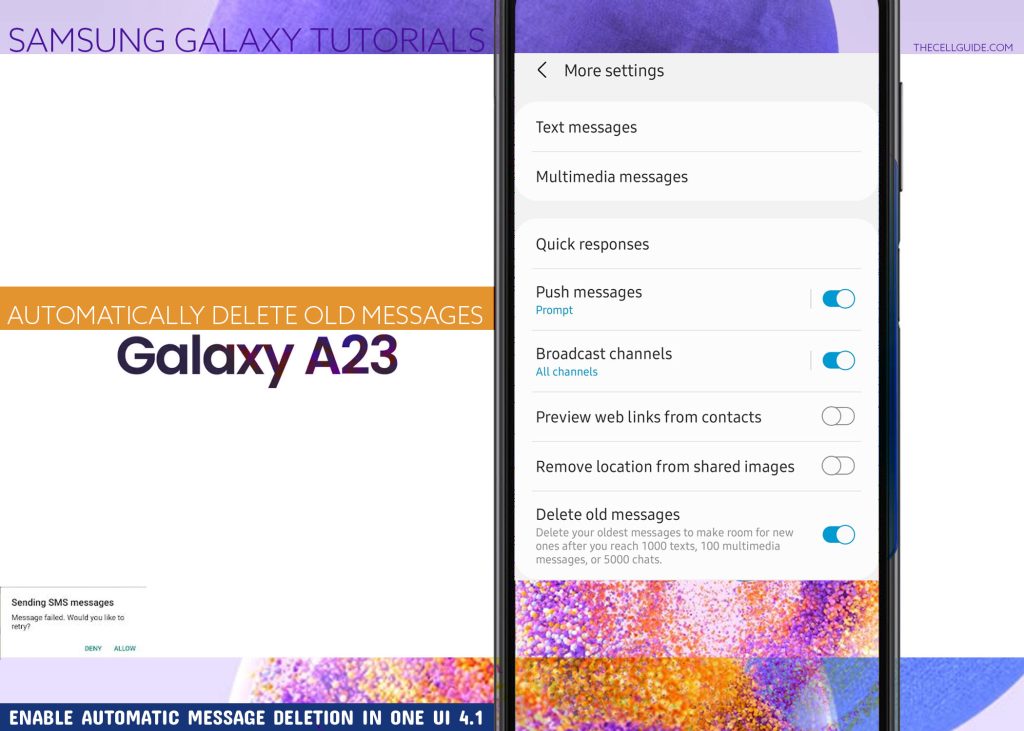 Samsung Messages Storage
If you see a warning prompt that says, you can no longer send or receive new messages because the inbox is full or something similar, it means that the maximum number of messages for both SMS and MMS has already been reached. This means that the inbox is already full.
To continue getting messages, freeing the Messages app storage is necessary. By freeing up means deleting old and unnecessary messages or moving important messages to your other cloud storage (if available).
SMS and MMS messages that are piled up in the Messages app storage can be deleted manually or automatically.
If you've got ample time and effort, manual deletion can be considered an option. But to make things easier and faster, activating the built-in messaging feature to automatically delete old messages is recommended.
Depicted below are the actual steps to access and enable this feature on the Galaxy A23 5g smartphone. Feel free to refer to this quick walkthrough when needed.
Steps to Automatically Delete Old Messages on Galaxy A23 5g
These steps are also applicable when activating the Delete old messages option on the stock messaging application on other Samsung Galaxy smartphones running on the same Android and One UI OS version.
To ensure all menu options are present, update your device to the latest software version available.
Feel free to proceed whenever you're all set to configure your phone's messaging app's settings.
Step 1: To get started, launch the built-in Messages app by tapping on its icon from the Apps tray or Samsung Folder.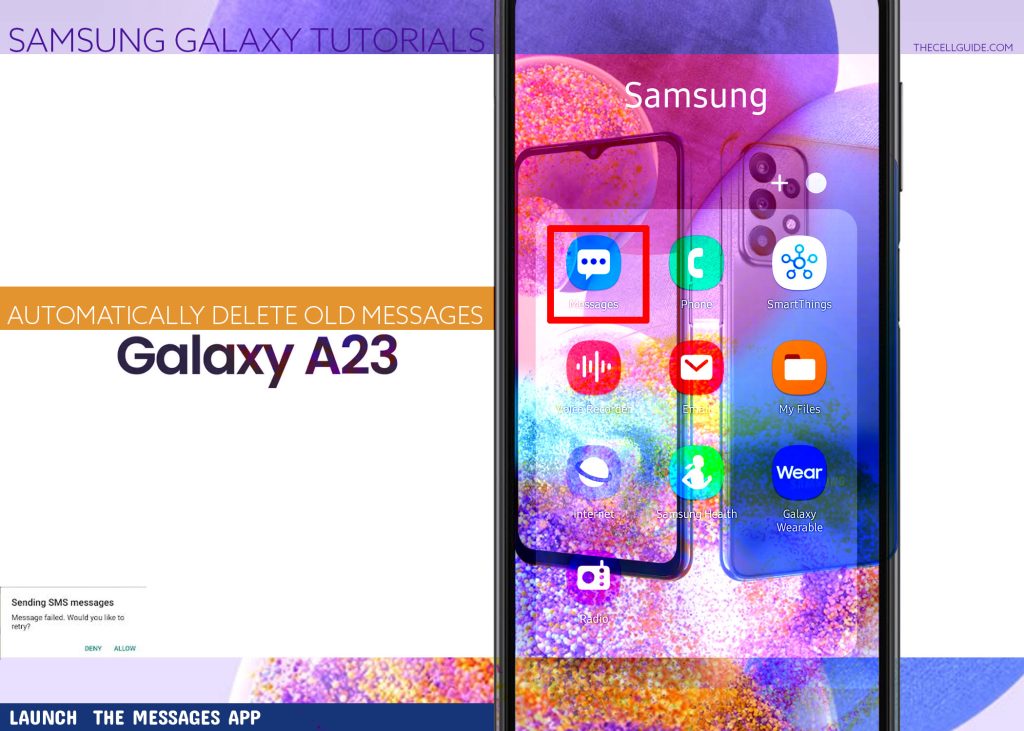 Step 2: While in the Messages app's main screen, tap the three dots (menu icon) on the top-right corner. Doing so opens a side menu with a list of relevant options.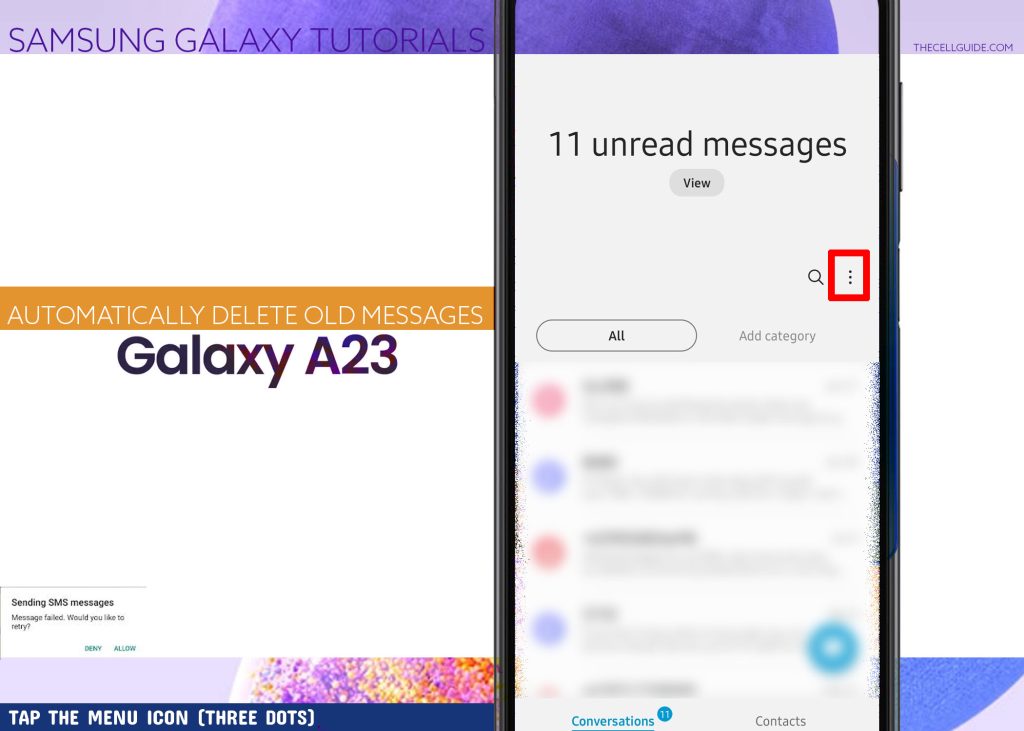 Step 3: Tap Settings from the given options to proceed.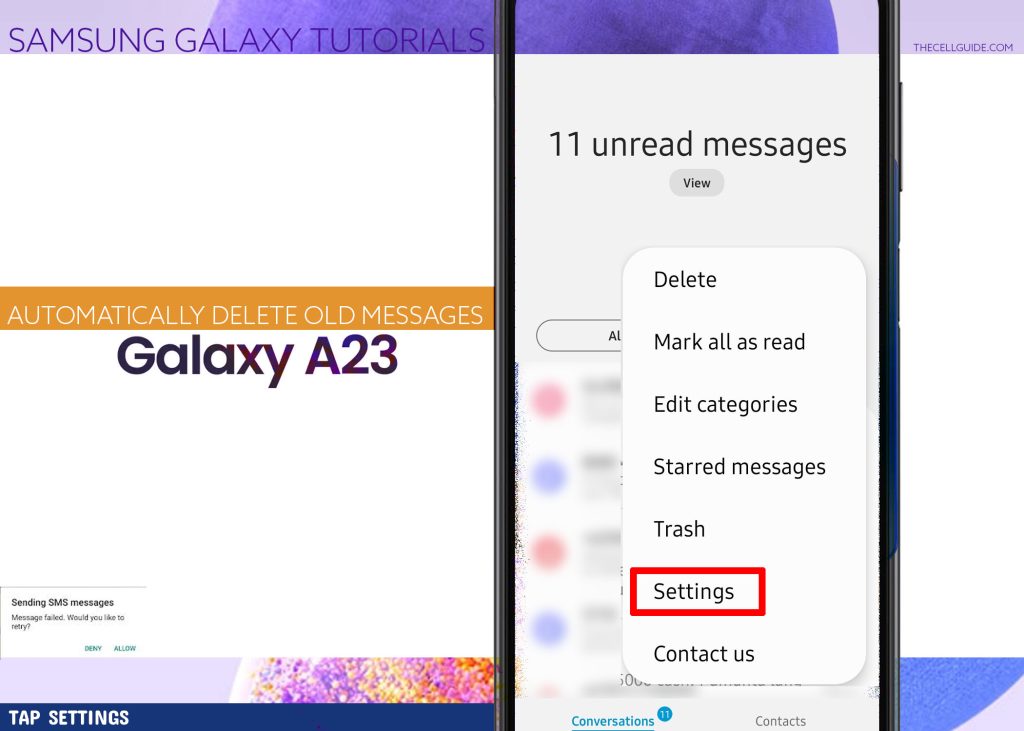 Step 4: On the following menu, tap More settings. Additional settings will load up on the next screen.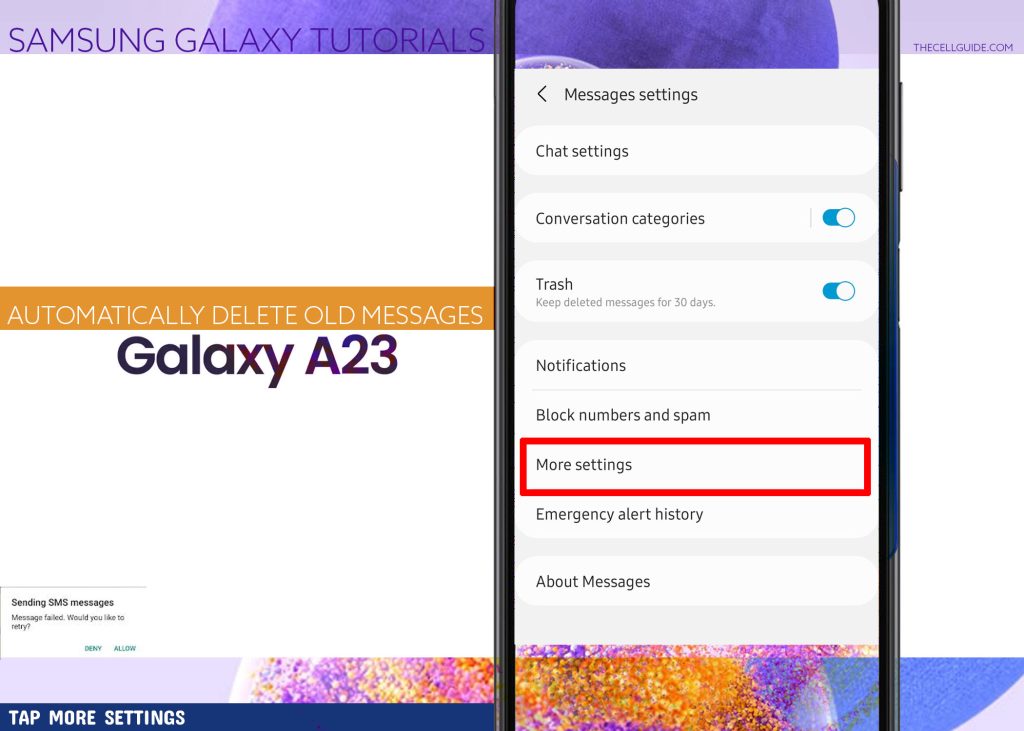 Step 5: Scroll down to find the option to Delete old messages. To activate the feature, just toggle to turn the switch next to it.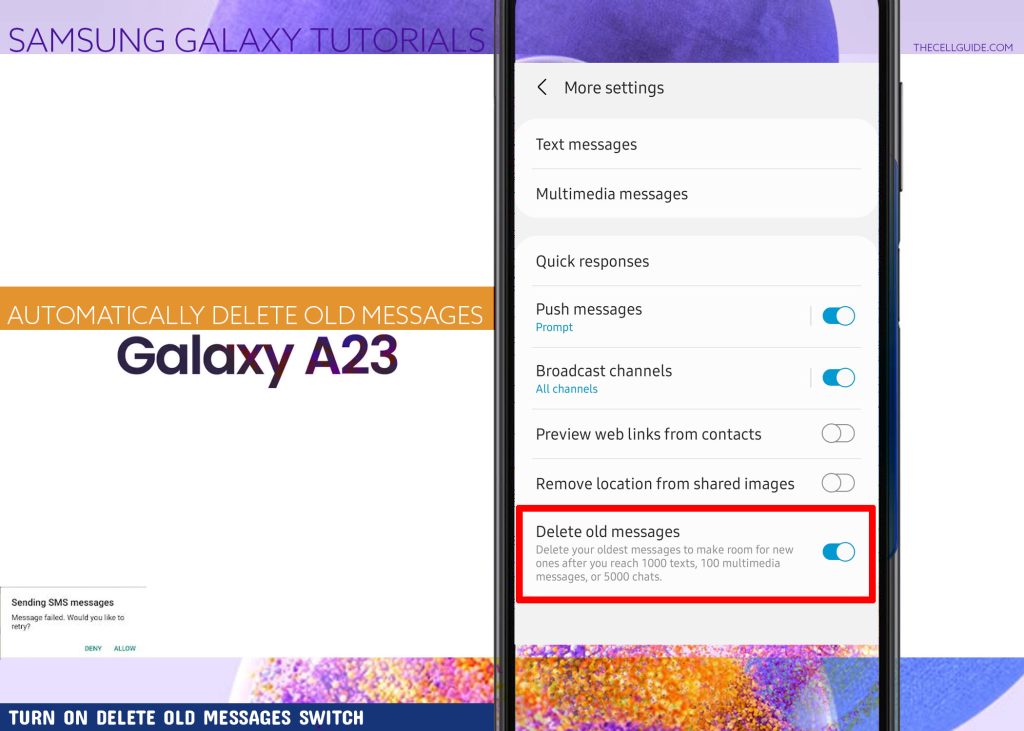 When enabled, the system imposes an automatic deletion of old messages whenever the maximum number of messages for SMS, MMS and chat is reached, giving way for new messages to go through.
The maximum number of SMS messages that the Messages app can store is up to 1000 messages, 100 for MMS and 5000 for chats.
The order of deletion will be based on the date the message was received, so it's going to be from the oldest message that reached the inbox.
Should you wish to delete individual messages manually instead, just turn the Delete old messages switch OFF again. By then, you can start scouring your inbox to find the messages or threads that you'd like to delete.
Advantages of Automatic Message Deletion
Aside from effortless clearing of old messages from the inbox, enabling the automatic deletion of old messages can also aid in optimizing your phone's internal storage. Errors and unexpected messaging issues, particularly those that are triggered by some corrupted old message elements like embedded links and broken threads can likewise be resolved by activating this feature.
Keeping the phone's software updated is also recommended to ensure all system features and services including the built-in messaging app are working smoothly and seamlessly.
Recover Deleted Text Messages
In case you've lost some of your treasured SMS or MMS messages following the activation of the automatic deletion of old messages, you may still be able to retrieve them using Samsung Cloud or Google Drive. This however is only applicable if you've set up and sync your device to your Samsung Cloud or Google Drive account.
You can also use Samsung Smart Switch to recover deleted text messages on your Samsung phone.
And if all else fails, seeking help from your network service provider can be considered as the last resort. Major carriers like AT&T and Verizon typically offer a dedicated solution that their subscribers can use to automatically back up to and retrieve important deleted text messages from the cloud storage.
Hope this helps!
Please check out our YouTube channelto view more tutorial and troubleshooting videos for popular iOS and Android devices.
You Might Also Want To Read: