This post will walk you through making important reminders on the Samsung Galaxy A series. Here's a quick guide to create reminders on Samsung Galaxy A73 5g.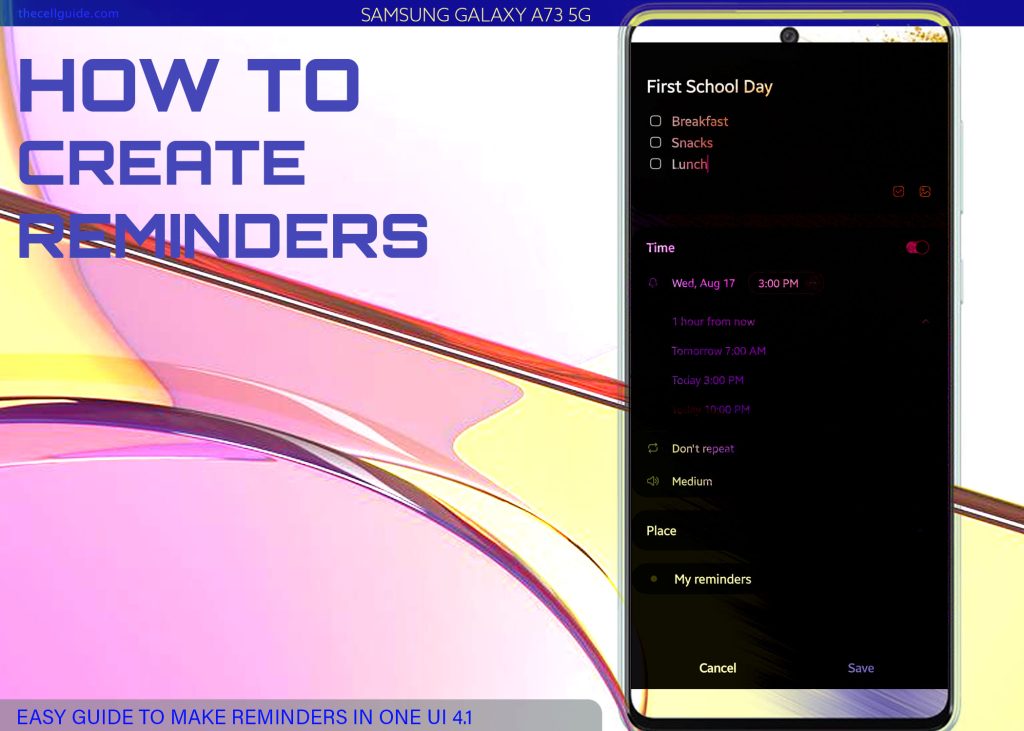 Keep forgetting about your important daily engagement? If so, then you can create and set reminders of the things you need to do for the day using your Samsung smartphone. Read on for more detailed instructions.
Samsung Reminder Application
Smartphones serve a lot of purposes to their owners. Aside from processing calls and texts, they can also serve as a portable computer, camera, alarm clock, and calendar.
Samsung smartphones, for instance, come with an in-built calendar application that users can utilize to create and set reminders of special events, daily routines and appointments.
Such is an advantage to many busy people who easily forget about things.
Creating reminders on a Samsung Galaxy device is pretty straightforward. The same thing when making checklists and memos to get an alert on or before the set time or location.
If you're new to Android phones and need some input on how to access and utilize the reminder app on the Galaxy A73 5g smartphone, you can refer to the step-by-step walkthrough depicted below.
Steps to Create Reminders on Samsung Galaxy A73 5g
These steps are based on the updated interface of the Galaxy A73 5g device and therefore can likewise be used when creating a reminder on other Samsung Galaxy phones with the same Android/One UI version.
Go ahead and start whenever you're all set to create your very first reminder on your Samsung phone.
Step 1: To get started, launch the Calendar app by tapping on the Calendar icon from the Home screen or Apps tray of your phone.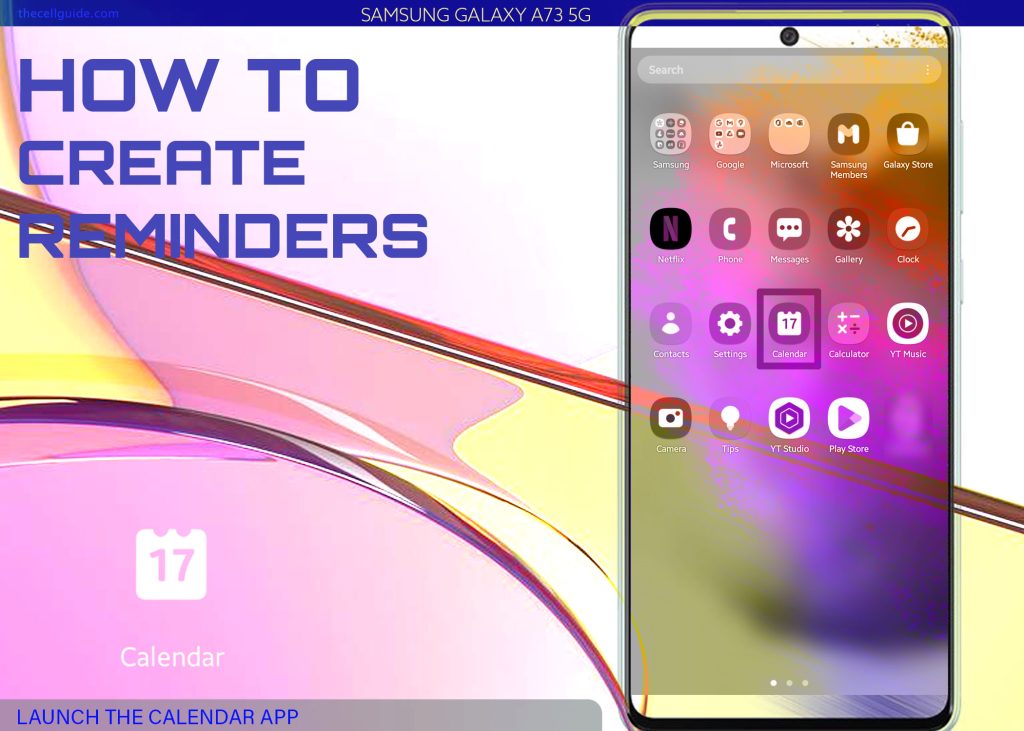 Step 2: In the Calendar app's main screen, tap the Menu icon represented by three short horizontal lines located on the top-left corner of the screen. A side menu will load up next.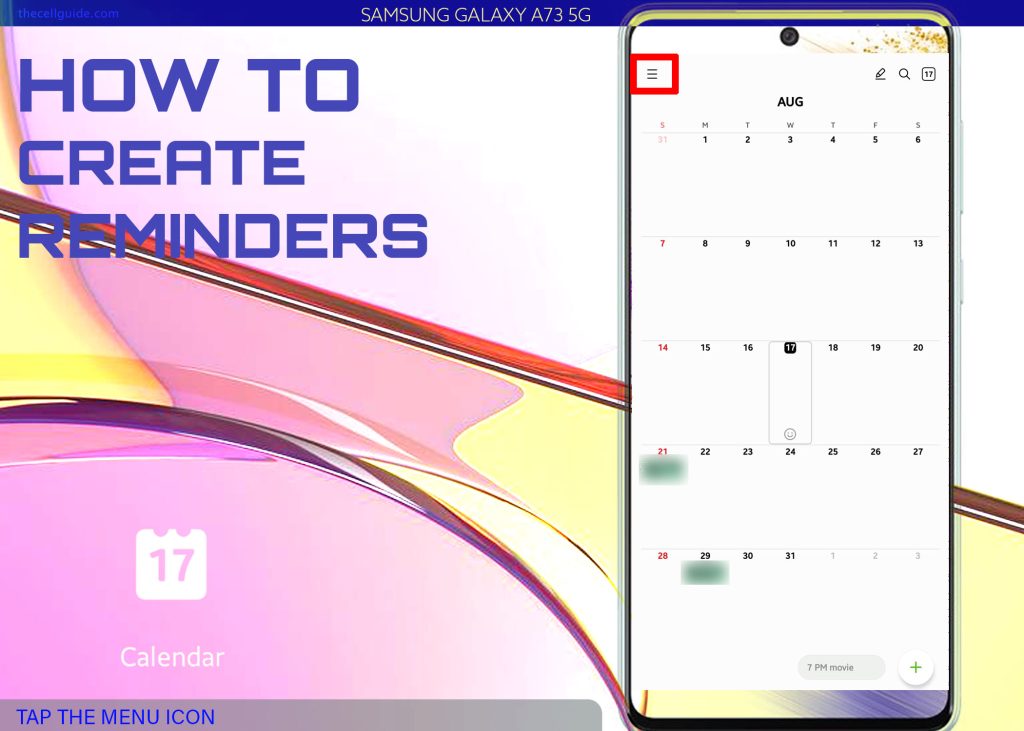 Step 3: Tap Reminder from the given menu options to proceed. Doing so will take you straight to the reminder app. 
If this is the first time you open the Reminder app, you will be asked to Allow or Deny app permissions. Just tap Allow to proceed.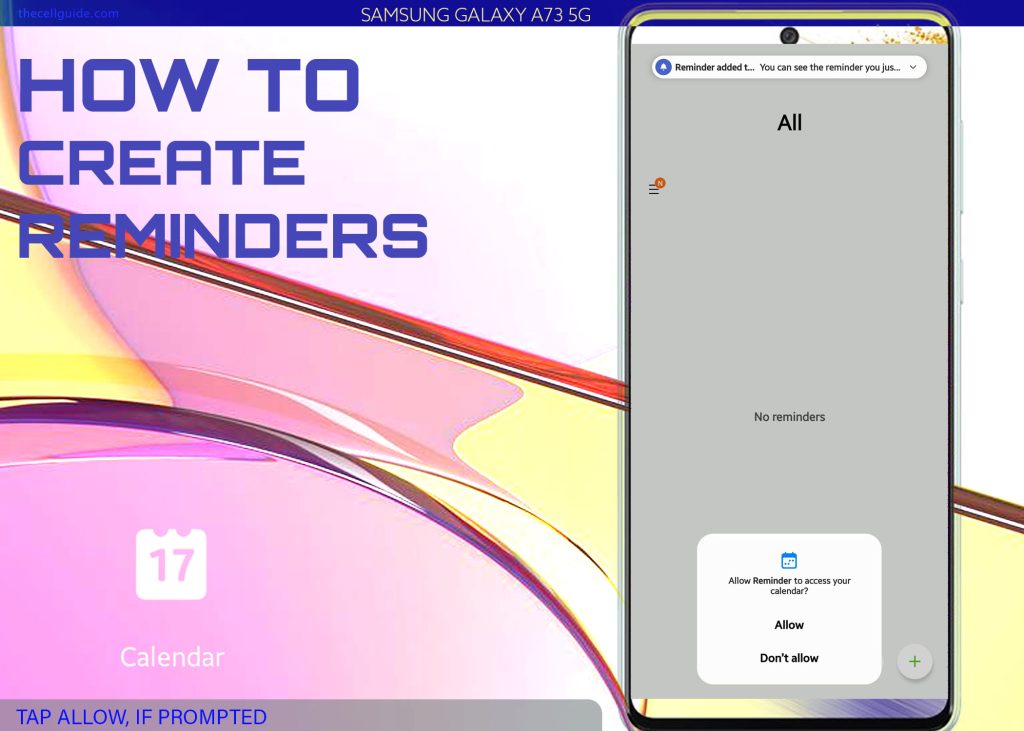 You will also see the Reminder app shortcut added to your Apps screen. By then, you should be all set to create reminders.
Step 4: To start creating a reminder, tap the +Write/Add reminder button on the bottom-rightmost corner of the Reminder app.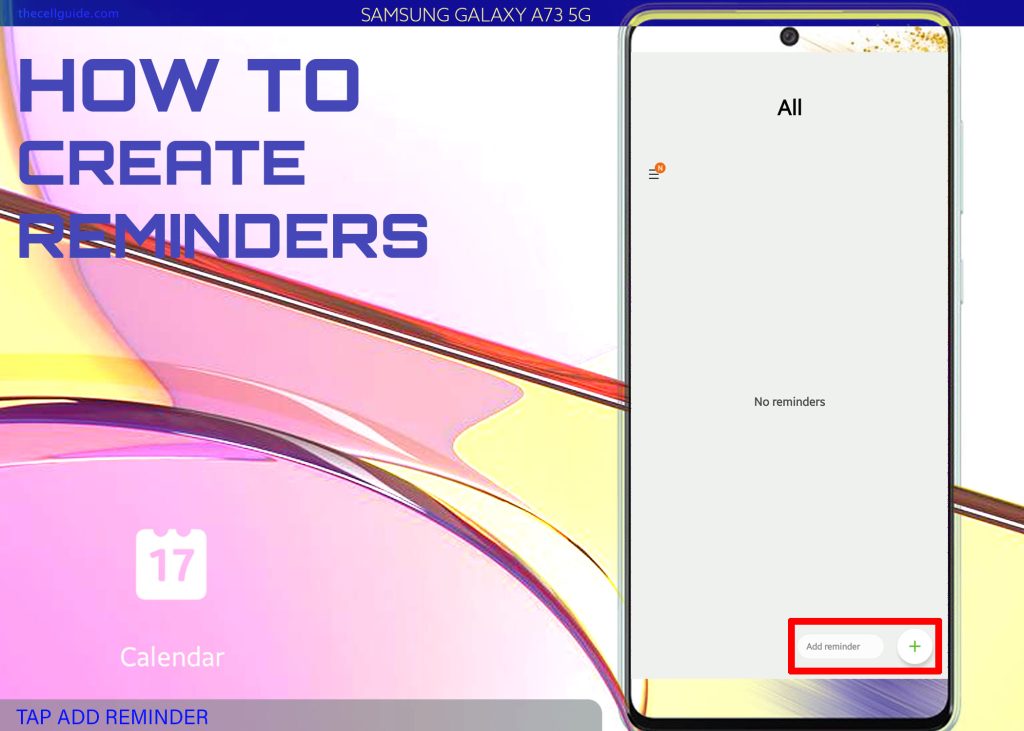 Step 5: On the succeeding window, enter necessary details about the reminder including title and description. You can also add an image and checklist to make it more detailed and personalized.
Step 6: Set the preferred alert tone, time and place. These are the most important information about your reminder so be sure to provide all details as possible. You can be alerted at a specific time or when you're at a specific location.

Be sure to grant location permission to the Reminder app so it will be able to access your precise location. Otherwise, the app will access and use your approximate location instead.
To do this, just tap Time then Set conditions. Tap Date and time then choose when you want to be reminded on the calendar app. You can also repeat the same reminder, if necessary.
A color palette is also available for you to set a desired color to categorize and organize your reminders (if multiple reminders are created).
Step 7: After entering all necessary information about the reminder, tap Save.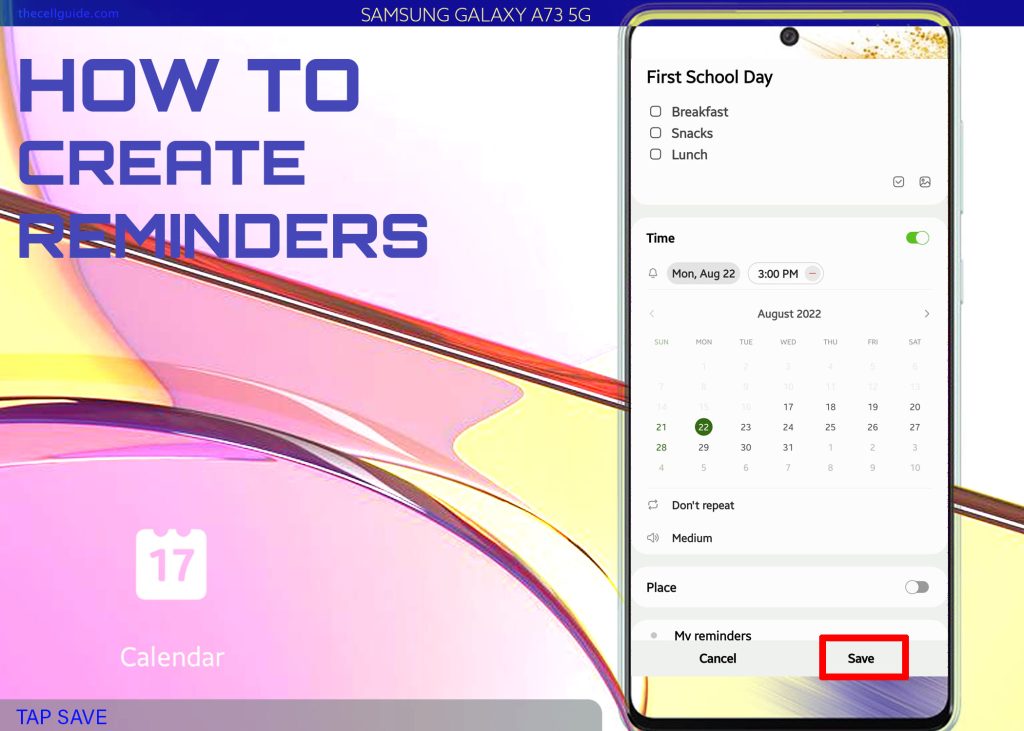 To set a notification sound for your reminder, tap the three dots on the top-right corner of the reminder screen then tap Settings from the given items.
On the next screen, tap Ring once sound under the Sound section and then tap Sound. Choose the desired sound to use for your reminder then tap the Back key after marking your preferred tone.
You can also use the Keep ringing sound feature to make your phone ring until you open your reminder. Be sure to adjust the volume to an audible level.
Don't forget to save all changes you've made to your reminder, particularly the conditions.
When the reminder is completed, it will be removed from the Home screen of the reminder app. This gives space for new reminders to be completed. However, old reminders remain saved in their respective sections.
To delete a completed reminder, just tap the three-dots on the top-right corner of the Reminder app screen, then tap Edit from the menu items. Select the reminder that you'd like to delete then tap Delete all.
Third-Party Reminder Apps for Samsung Devices

Aside from the preinstalled Reminder app, you can also use third-party apps to create and manage reminders on your Samsung device.
Among the widely used apps designed for this purpose include nTask, To-Do Reminder with Alarm, Wunderlist, Todoist, BZ Reminder, Proof Hub and ClickUp, to name a few.
Some of these apps are downloaded for free while others come with a one-time fee. Tagged among the best free apps for creating reminders on Android including Samsung phones are Microsoft To-Do, Google Keep and Rembo.
Other reminder apps are also offered with both a free and paid version. Free versions of these apps typically offer basic feature while paid versions offer full features.
Just pick the reminder app that suits your needs and preferences then download and install it on your device. Reading prior users' reviews can help you gauge the efficacy of an app as well as the ratings.
Hope this helps!
Please check out our YouTube channelto view more tutorial and troubleshooting videos for popular iOS and Android devices.
You Might Also Want To Read: