This post will walk you through freeing up storage space on your Samsung Galaxy phone by clearing out all downloaded videos on YouTube from the app's Library playlist. Here's a quick guide to delete all YouTube downloads on the Galaxy A73 5g smartphone.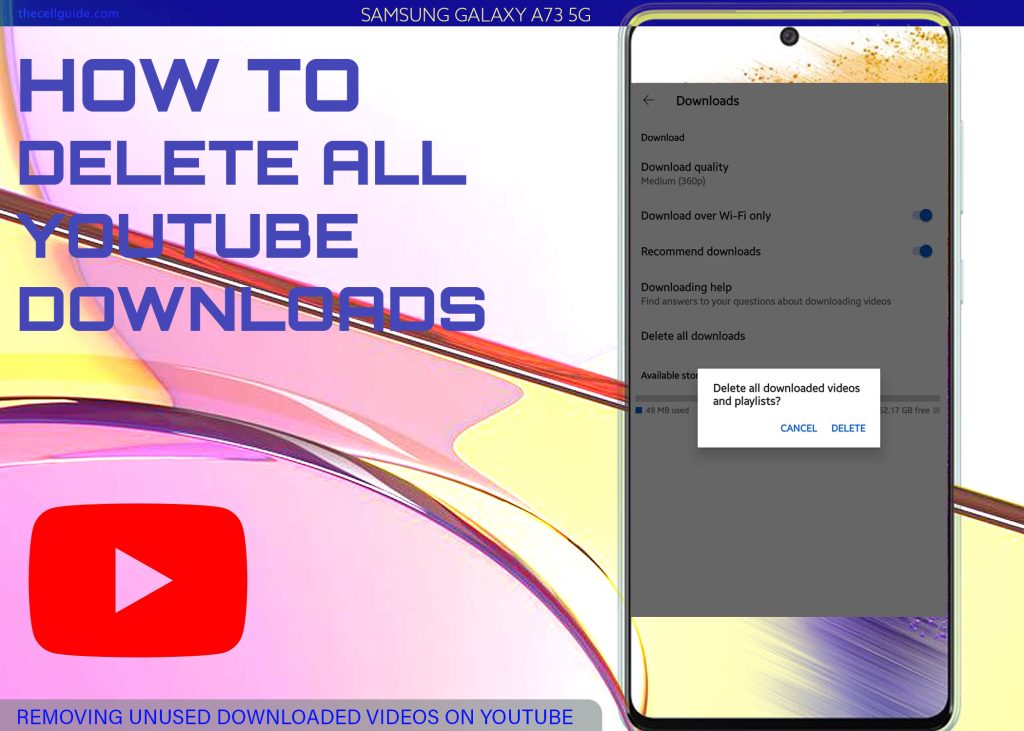 Deleting YouTube Downloads
One of the advantages of downloading YouTube videos is that you can still access them for offline viewing.
This is a good idea if your internet connection is slow or unstable as it would disrupt your YouTube viewing.
However, keeping a lot of high-resolution videos can likewise take up a huge amount of storage on your phone.
To prevent this from happening, you can use the inbuilt function on the YouTube app to delete unwanted videos that you've downloaded and saved in your playlist or YouTube library.
YouTube allows you to delete videos individually or simultaneously.
Deleting YouTube videos on an Android phone is pretty straightforward. All you have to do is access your saved playlists on the YouTube app's library.
For starters who need a little guide on how to get this done, simplified steps are outlined as follows.
Steps to Delete All YouTube Downloads on Samsung Galaxy A73 5g
These steps are based on the updated interface of the Galaxy A73 5g device. This method is also applicable when deleting YouTube downloads on other Samsung Galaxy phones running on the latest Android with One UI 4.1 or later version.
Also ensure that you're using the updated version of the YouTube app on your device so that you'll have access to all key features and updated menu options.
Feel free to start whenever you're all set to free up space on your YouTube library.
Step 1: To get started, open the YouTube app on your phone. Just find the YouTube icon from the Home or Apps screen and then tap on it.
If you don't see it on either screen, then it must be grouped among other apps inside the Google folder.
Step 2: While in the YouTube app's main screen, tap Library at the bottom-right corner. On the next screen you'll see different types of videos that you've previously watched on YouTube.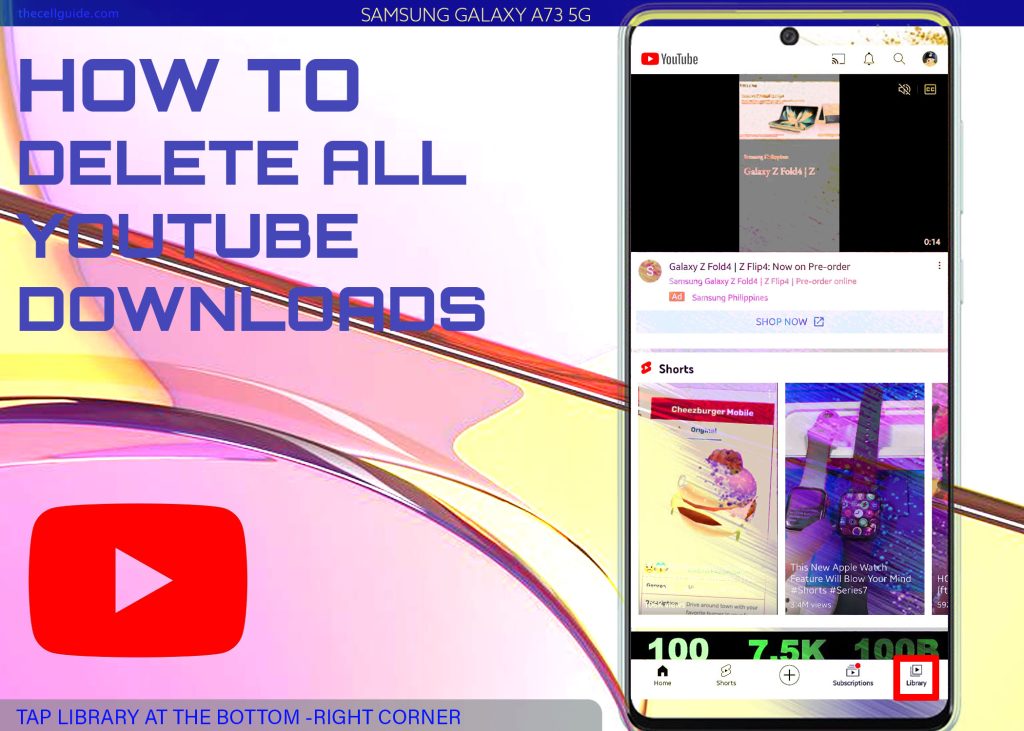 Step 3: From the Library screen, tap Downloads to access the app's downloads folder or directory. All your downloads will load up on the next window.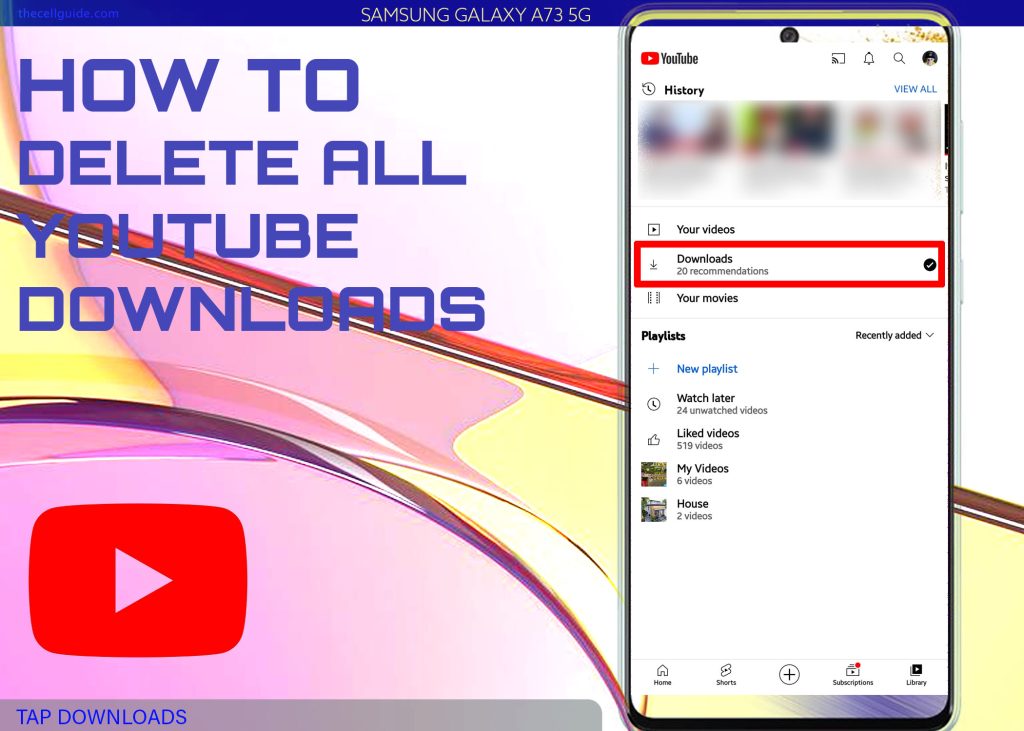 Step 4: To delete a downloaded video individually, tap on the triple-dot icon located next to the selected video then tap Delete from downloads.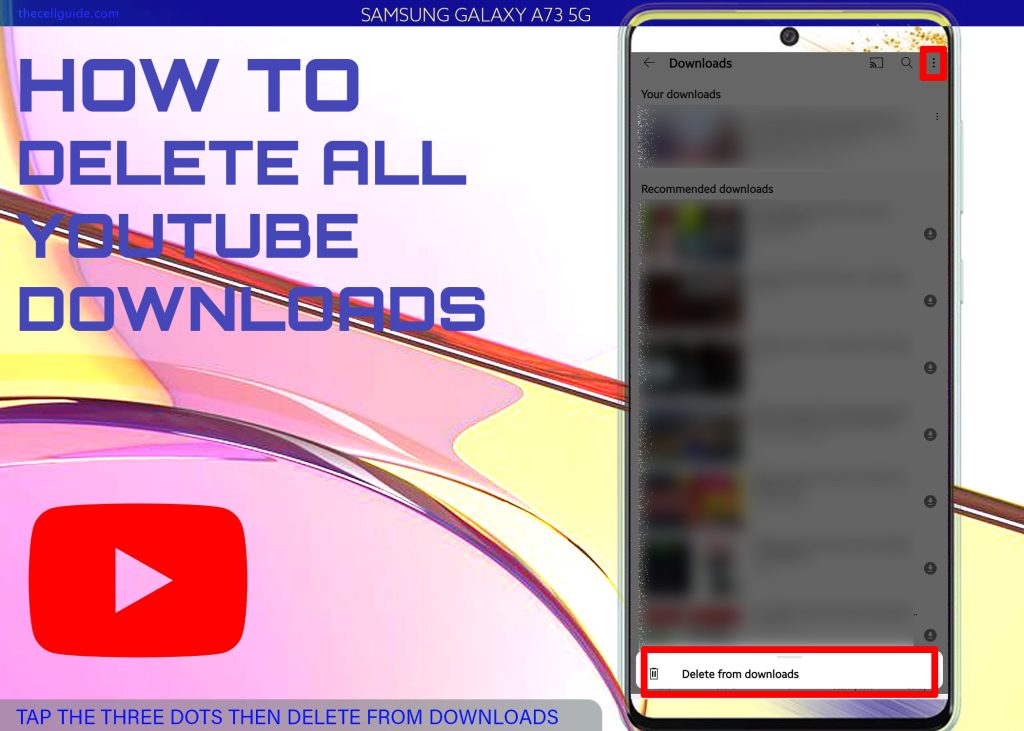 Do this if you want to delete only a few of your saved videos and keep some for offline viewing.
Step 5: To delete all downloaded videos from your YouTube library at once, tap the three dots on the top-right corner on the Downloads screen.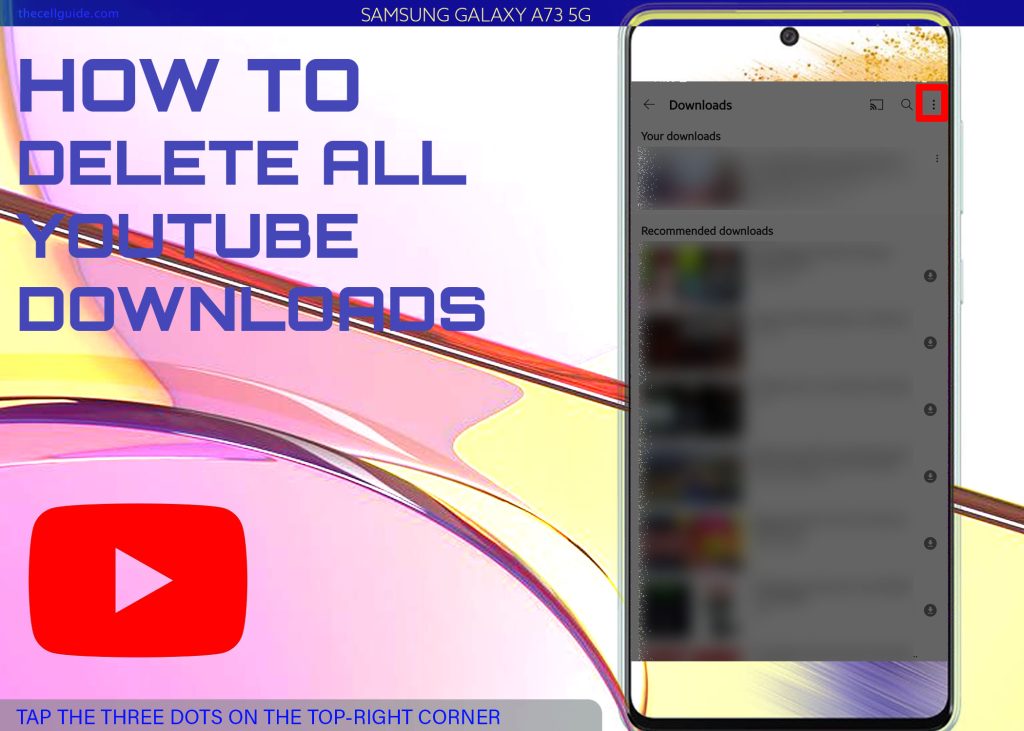 Do this if your aim is to free up storage space on your device.
Step 6: Select or tap Settings from the pop-up menu to proceed. The YouTube app's Settings menu opens with your previous YouTube downloads.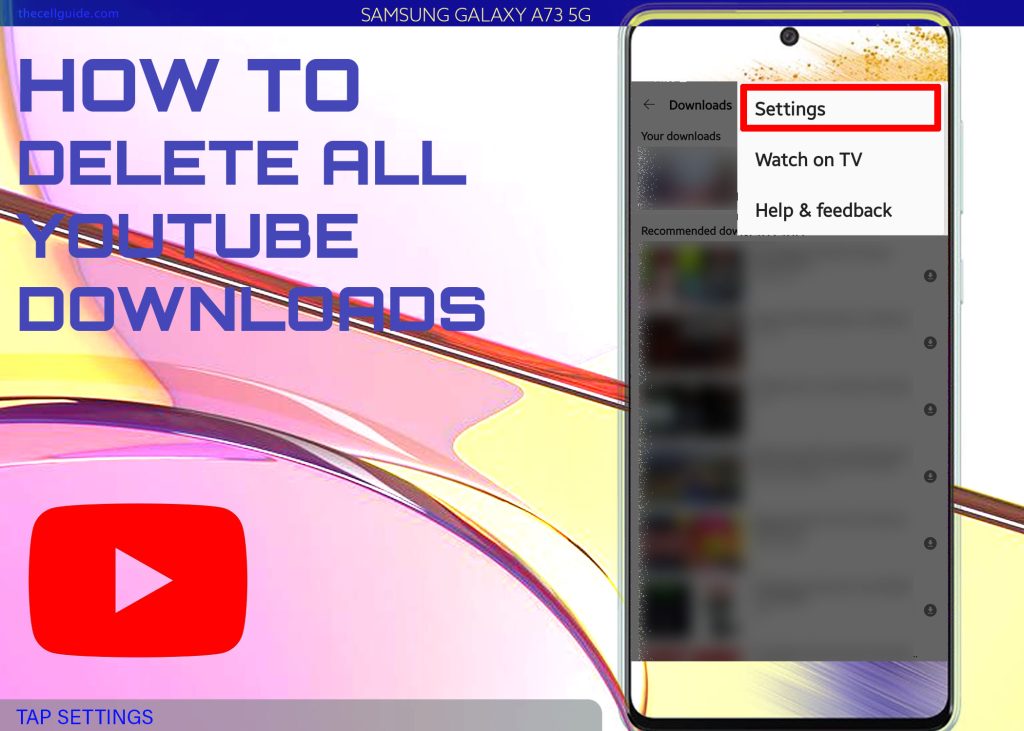 Step 7: On the following menu, tap Delete all downloads.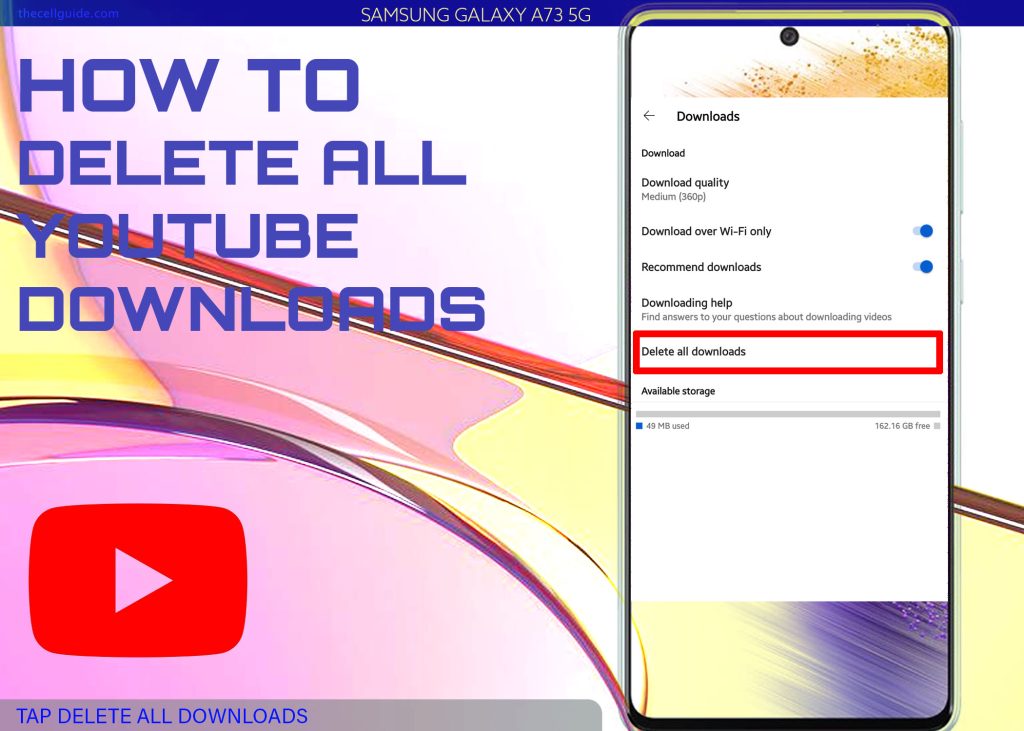 Step 8: Read the warning prompt/confirmation message then tap Delete to confirm.
All your videos you've downloaded from YouTube will then be deleted from your Library.
Not Seeing Downloads?
If you're not seeing the videos that you're supposed to delete, verify if you've signed into the correct Google account to ensure that you're accessing the correct library. The easiest way to verify that information is by looking at the profile icon on top-rightmost corner of the YouTube app. Switch to the right account if needed.
And that's how deleting saved YouTube videos on a Samsung Galaxy smartphone.
Hope this helps!
Please check out our YouTube channelto view more tutorial and troubleshooting videos for popular iOS and Android devices.
You Might Also Want To Read: