This post will walk you through blocking and allowing internet cookies in Android 12 devices. Here's a quick guide to disable/enable cookies in Android Chrome browser.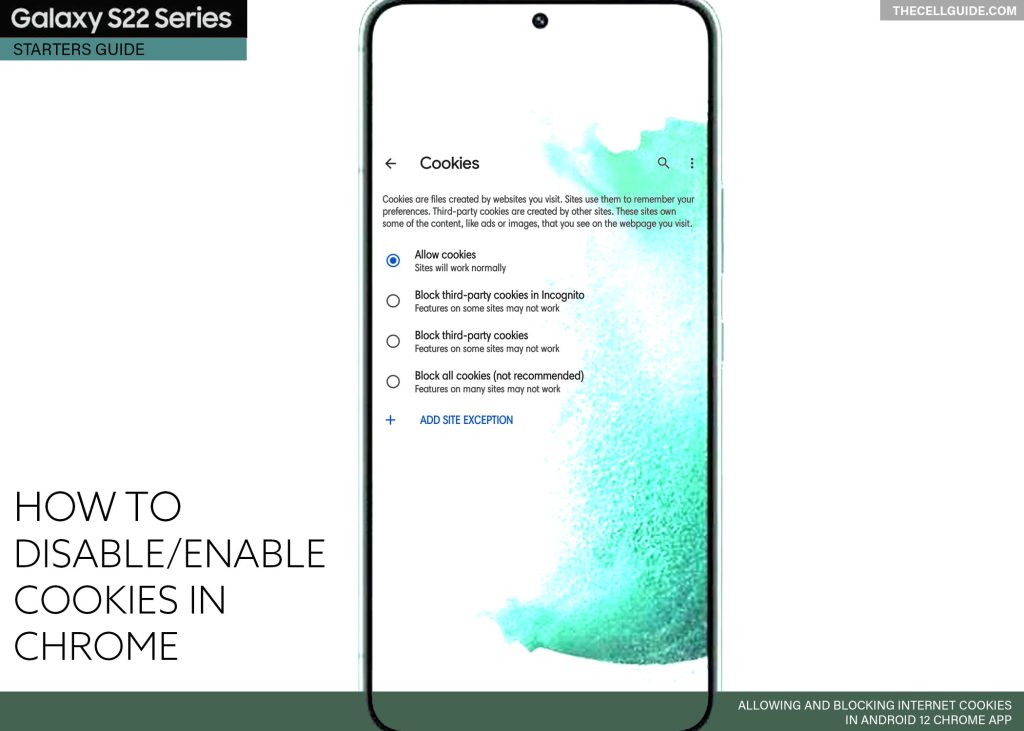 What are Internet Cookies?
Every time you visit a site, temporary files are created by the website. These files are called internet Cookies or HTTP cookies or simply Cookies.
Cookies that are collected will then be used by the website to remember your preferences. So the next time you visit the site, more relevant content including ads are catered to you.
There are different types of internet cookies and each of them has a distinct function and purpose.
Cookies are basically tiny bits of information sent by websites that are saved on your device. They're mainly used for storing internet users' passwords and usernames, for easy site access. Aside from login details, cookies are also used to store other data like your searches to improve suggested content and personalized ads being catered.
Browsers like Google Chrome allow you to manage cookies for certain websites. All you have to do is to access the app's settings menu where you can find relevant options to manage your cookies.
How do internet cookies work?
Generally, internet cookies are categorized in three main types namely session, persistent and third-party cookies.
Session cookies are temporary cookies that are designed to remember your online activities. Without these cookies, websites won't be able to remember your browsing history and therefore have no idea of what information you might be interested in. That said, the website will treat you as a new visitor on your every site visit.
Persistent Cookies (first-party cookies) on the other hand are designed to track your online preferences like your preferred website settings like when you change the site settings to make it work according to your preferences. Your preferences, internal bookmarks, login details and language selections will be saved in persistent cookies so the next time you visit the site, your previous preferences are implemented.
Meanwhile, third-party cookies or tracking cookies work by gathering information based on your online activity. The types of data will be collected by third-party cookies and passed on or sold to advertisers by the site that created the cookie.
This results in interest-based ads or custom advertisements being catered to you on your next site visit. Third-party cookies benefit marketers more than internet users. If you don't like these cookies to track your online habits, then you can just block them.
Steps to Disable/Enable Cookies in Android 12 Chrome Browser
The following steps are based on the Galaxy S22 series interface but are also applicable when managing cookies on other Samsung Galaxy devices that are running on the same Android with One UI 4.1 OS version.
To make sure that all items are accessible, be sure to keep your Chrome browser updated. If you haven't enabled auto-updates for your apps, you can do a quick update check on the Play Store and see if there's any pending update for Chrome.
Once you've got everything set, you may go ahead and proceed with these steps:
Step 1: First, Open the Chrome app.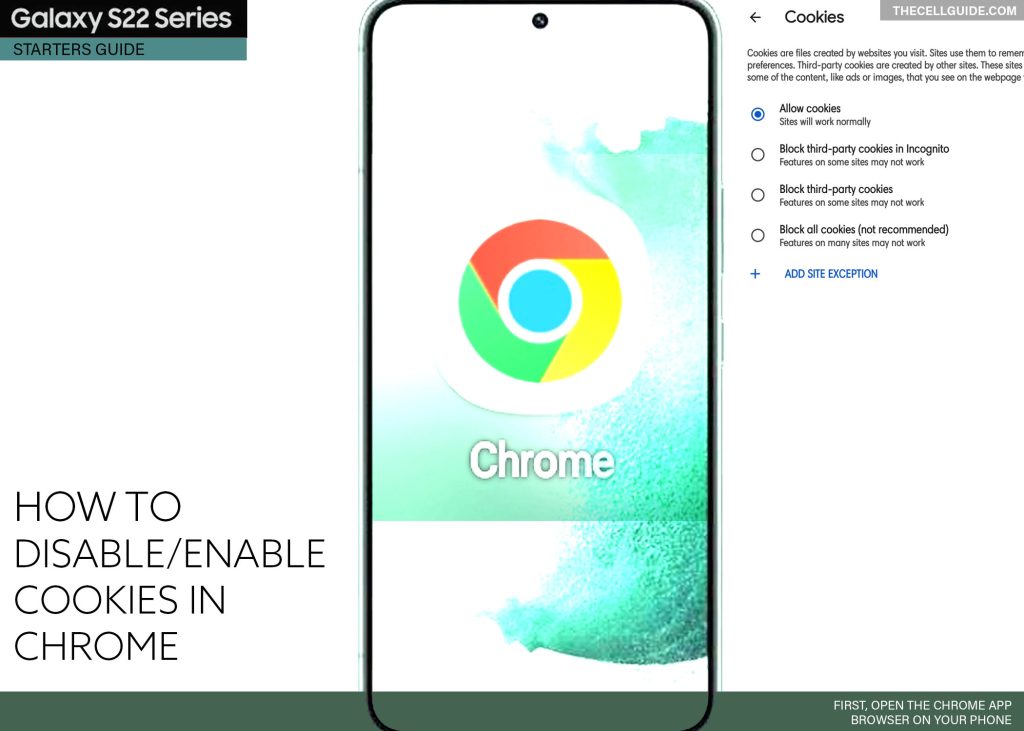 Step 2: From the Chrome app main screen, tap on the three dots (More) icon located on the top-right corner. Doing so opens a side menu with a list of different items.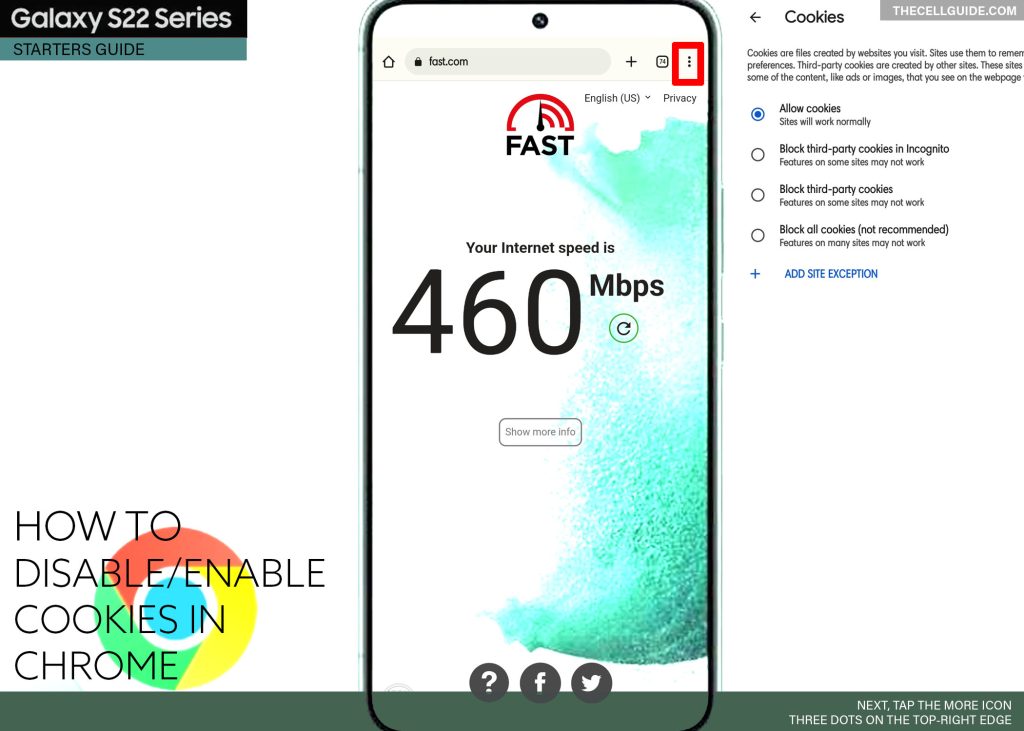 Step 3: Tap Settings from the given options to proceed. The Chrome app settings will load up next.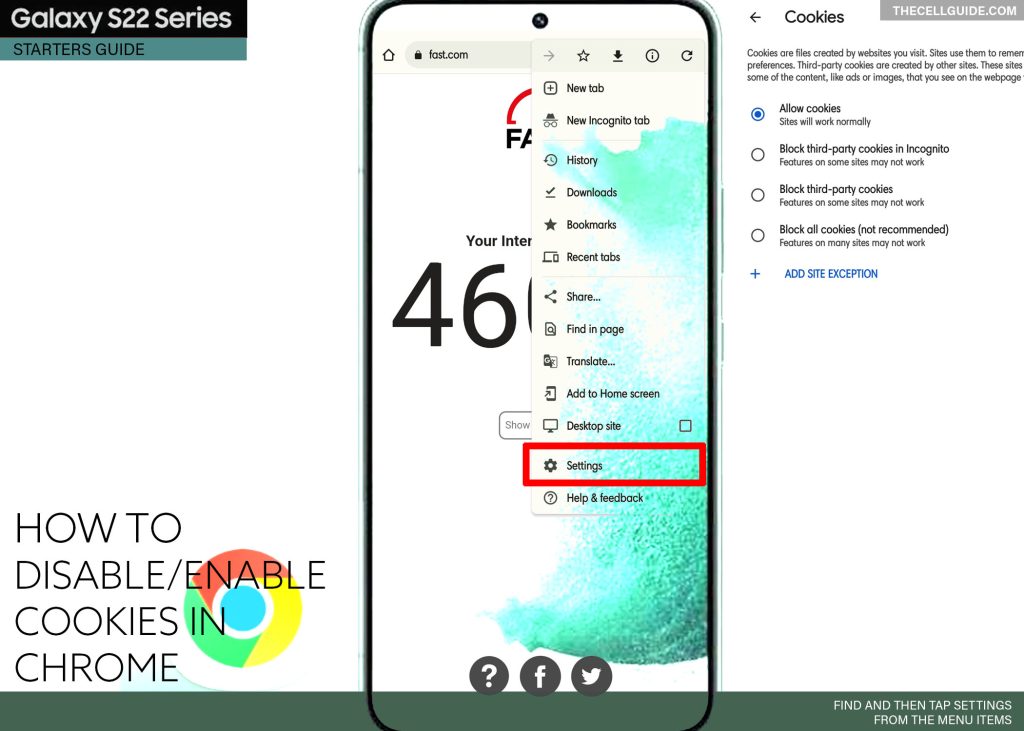 Step 4: Scroll down and then tap Site Settings. Another menu opens with default settings for all sites.
Step 5: Find and then tap Cookies. The Cookies menu opens next. Here, you will see different options to manage cookies in Chrome.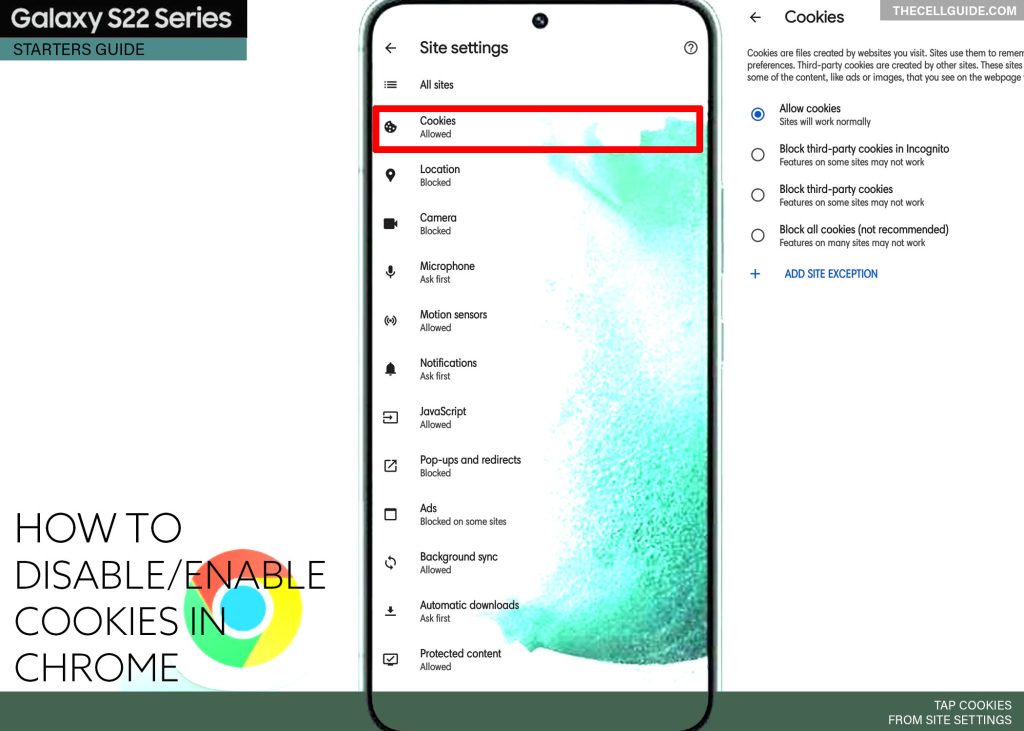 Step 6: To enable all types of cookies with no site exception, tap to mark the Allow cookies option.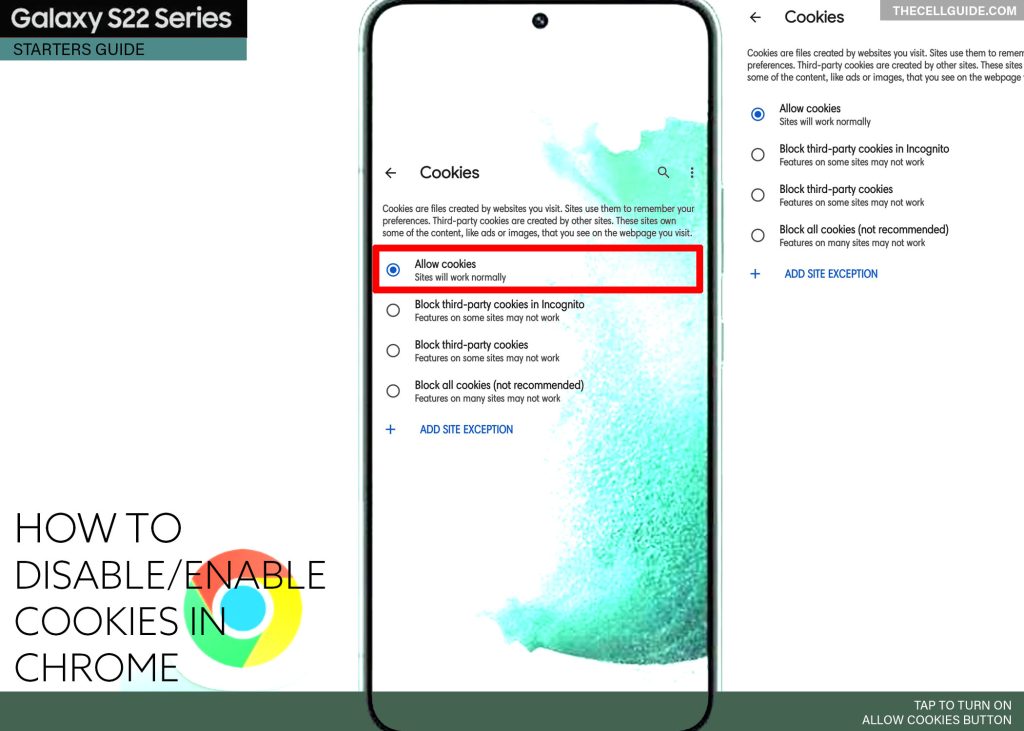 Step 7: To disable cookies, you will need to specify which blocking option you'd like to use. Just tap to select your preferred option to block cookies based on the given scenarios. You may choose to Block third-party cookies in Incognito mode (private browsing), Block third-party cookies (unconditional) and Block all cookies (not recommended).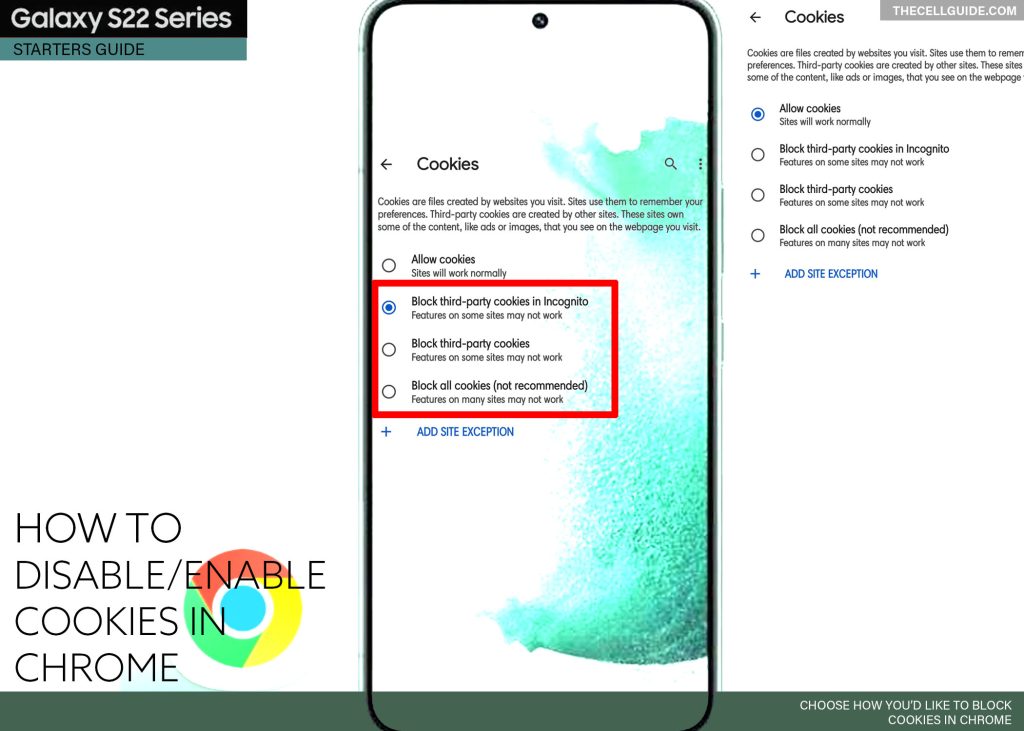 Step 8: To block cookies with some site exceptions, tap Add Site Exception and then enter the site URL of the website(s) that you'd like to allow cookies. Cookies for all sites will then be blocked except those that are associated with the exempted sites.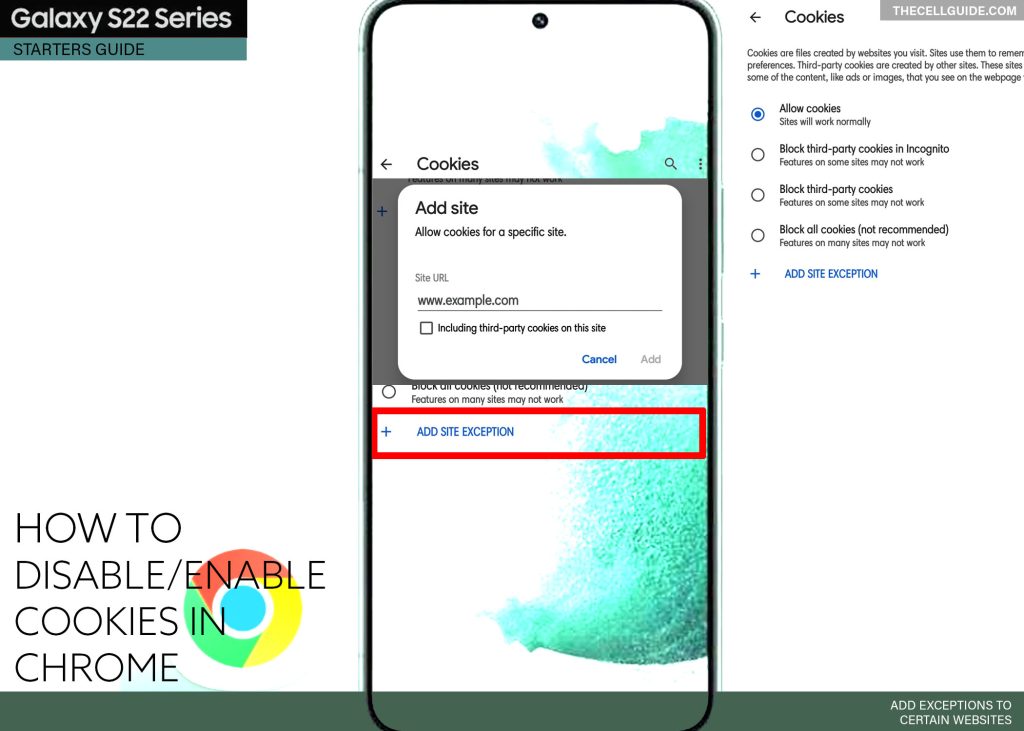 If by any chance a certain website or the Chrome browser itself suddenly stops working after making changes to the site cookies settings, just quit (force stop) and then restart the app. If that doesn't help, restart the phone instead.
The process of managing cookies on other browser apps like Samsung's internet browser, Firefox, Opera, Microsoft Edge and others is different from how it's done on the Google Chrome browser. But generally, this information is likely to be configured from within the browser app's settings menu.
Hope this helps!
Please check out our YouTube channelto view more tutorial and troubleshooting videos for popular iOS and Android devices.
You Might Also Want To Read: