This post highlights potential solutions to a problem with the Chrome app browser that couldn't get to load up on a Samsung Galaxy device. Read on to find out what to do when your Galaxy A53 Chrome app crashes on launch.
What makes Chrome crash on launch?
Crashing on launch is one of the common app problems encountered by many Android phone users. As the name implies, it's when the app fails to load up and crashes instead.
There are many possible reasons as to why this problem occurs to an app. In internet-based apps like Google Chrome, loading issues are usually attributed to internet problems as these apps wouldn't be able to work without a stable internet connection.
To fix the problem, you will need to eliminate possible triggers individually. Among the factors that you should consider looking into when dealing with loading errors with Chrome are as follows:
Multiple tabs open. Chrome will sometimes crash when multiple tabs are kept open as it likewise denotes more tasks for the app to process. If memory-related issues are present, there's a good chance that Chrome would crash as the memory is no longer able to process all currently running services on each of the open tabs.
Chrome app glitches. Like any other apps, random glitches also occur while running Chrome on your smartphone. While most of these in-app glitches are minor, they're still deemed culprits as they can trigger unexpected system conflict.
Network connection problems. Bumping into internet problems in mobile devices is inevitable as there are a lot of factors that can halt your internet connection. When network problems occur, internet-based apps and services like Chrome are the first to suffer. And you will just realize that something is wrong because the app doesn't work as it should.
System glitches. Post-update bugs can also cause system conflicts and the manifesting symptoms may occur on any of the system applications. Oftentimes, post-update bugs are attributed to some settings conflicts from recent software changes and system overrides. Some of these software bugs are minor and therefore can be potentially resolved by performing basic solutions. Complex system bugs however often require a dedicated fix patch that's usually rolled out in a form of follow-up updates.
Memory-related issues. Performance-related issues in mobile devices including loading errors, crashing, freezing, and unresponsive apps may likewise be tied to memory problems. This is often the case when the device is running low on storage. To deal with these problems, freeing up storage on the device is recommended.
Generally, the underlying cause of app crashing issues are software-related and therefore can be potentially rectified by end-users. You can try any of the given solutions below in case you need additional input on how to deal with this problem with your Galaxy A53 Chrome application.
Troubleshooting Galaxy A53 Chrome app crashes on launch
Performing the outlined solutions below will help rule out common software-related factors that may be halting Chrome from loading up completely.
Before you proceed, verify and ensure that there's no ongoing service outage affecting Google Chrome. Outage-related issues affecting online applications are usually not rectifiable by end-users as the underlying cause is from within the network base or main server. You can do some quick search for any reported Google outages that may be affecting the Chrome browser.
Also care to check the available storage space on your device as the problem could likewise be directly attributed to a low memory. If necessary, free up some storage space by deleting old and unnecessary files including messages, photos, videos, and other documents stored in the system.
If everything is good, then you may go ahead and start troubleshooting your device with these subsequent solutions.
Solution #1: Force close Chrome app.
If Chrome was working perfectly fine and then suddenly it crashes and couldn't get to relaunch, it's possible that it got stuck during its previous run.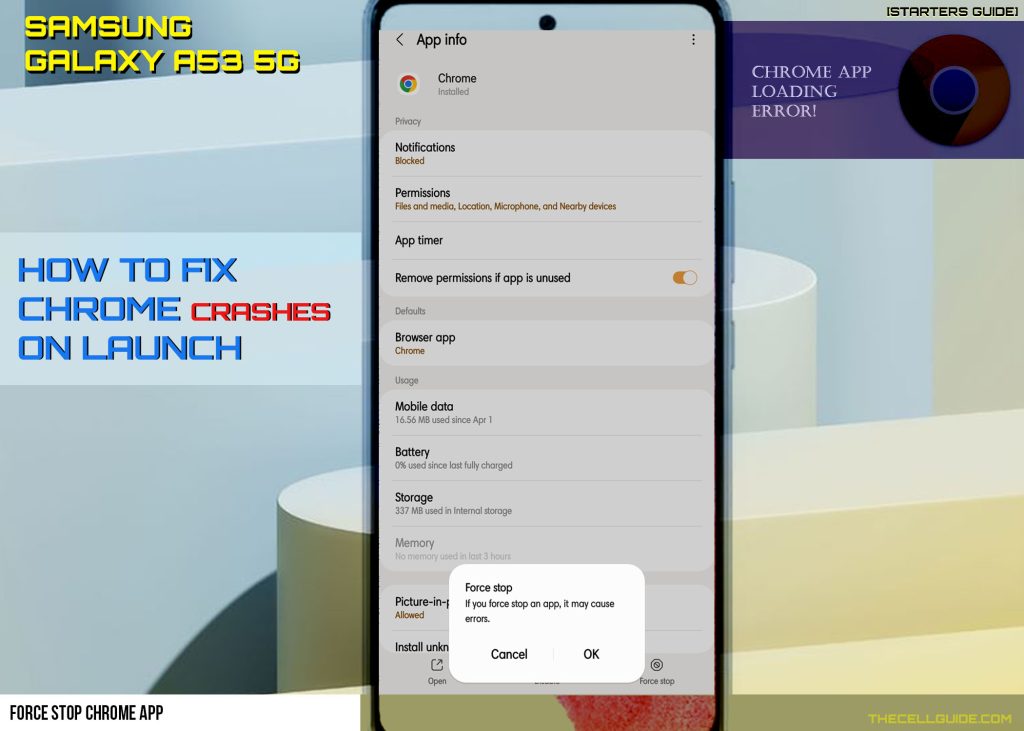 Should this be the case, you will need to terminate/force close the app to allow it to get a fresh start.
To force close Chrome through the App info screen, you will need to access your phone Settings-> Apps menu and then select Chrome from the list of apps. The Chrome app info screen opens next. Here, you will see the Force stop option at the bottom. Tap on it and then tap OK on the pop-up window to confirm.
Alternatively, you can end Chrome straight from the recent apps tab on your device.
To do this, simply tap on the Recent icon represented by the three short lines icon at the bottom of the Home screen and then tap swipe up on the Chrome app's preview to close it.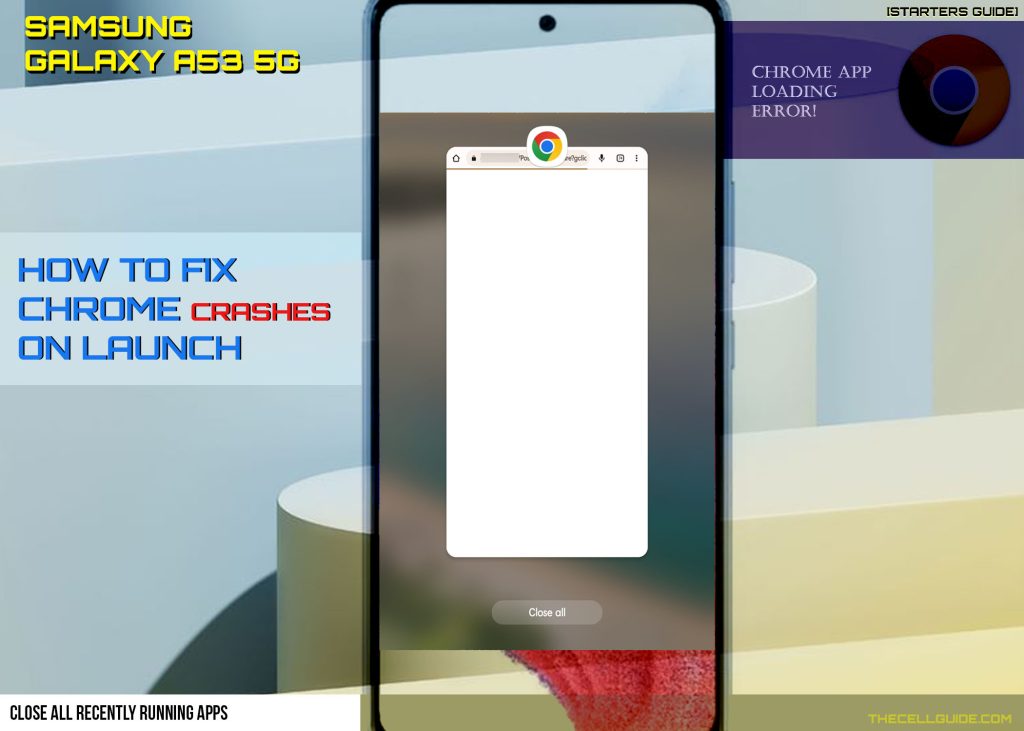 Ending other apps or services that are left running in the background can also help free up memory and thereby clears out any associated performance issues on an app or system feature.
The same thing can be achieved from pausing any app or file downloads before relaunching the Chrome app browser on your phone.
Solution #2: Reboot the phone (soft reset).
Another simple yet very effective solution to random app glitches is a soft reset or system reboot.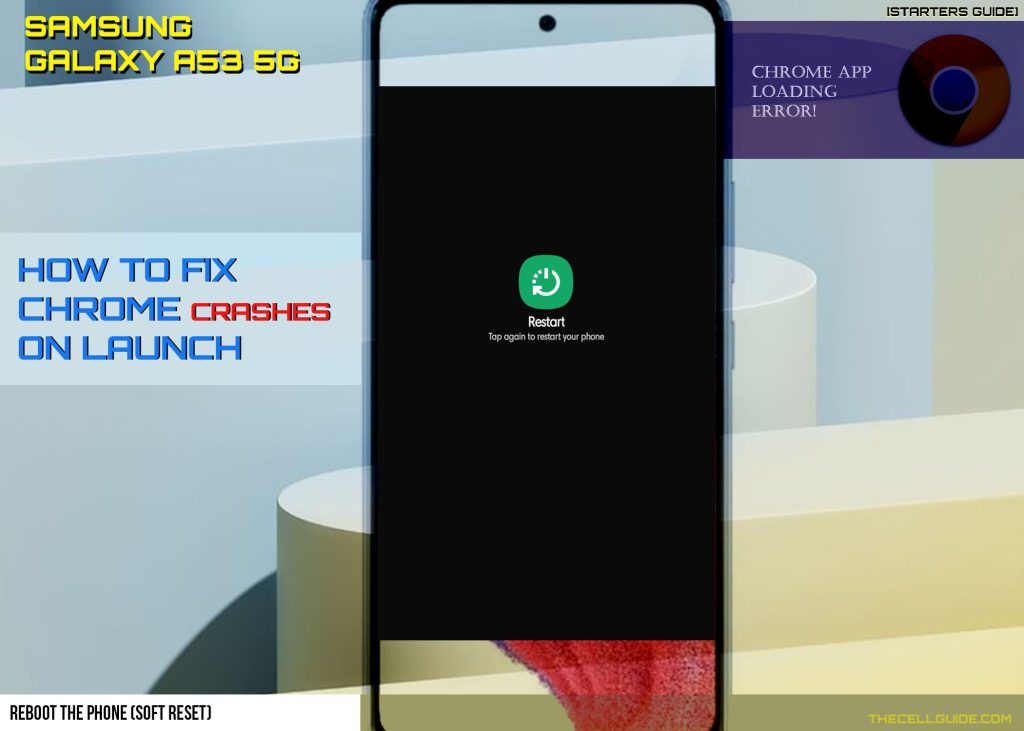 Rebooting the phone is therefore deemed among the first potential solutions when dealing with sudden errors that manifest while using a certain application.
To reboot or soft reset the Galaxy A53, simply press and hold the Power key for a few seconds and then release when the Power options appear. Tap Restart to instigate system reboot or tap Power off to shut the phone down and then turn it back on again.
Either way will yield the same positive outcome when it comes to clearing out minor software errors and glitches including the ones that might have caused conflicts with the Chrome app launching.
Solution #3: Optimize internet connection.
As mentioned earlier, network connectivity issues may also be the root cause of the problem as Chrome wouldn't be able to work properly without fast and stable internet connection.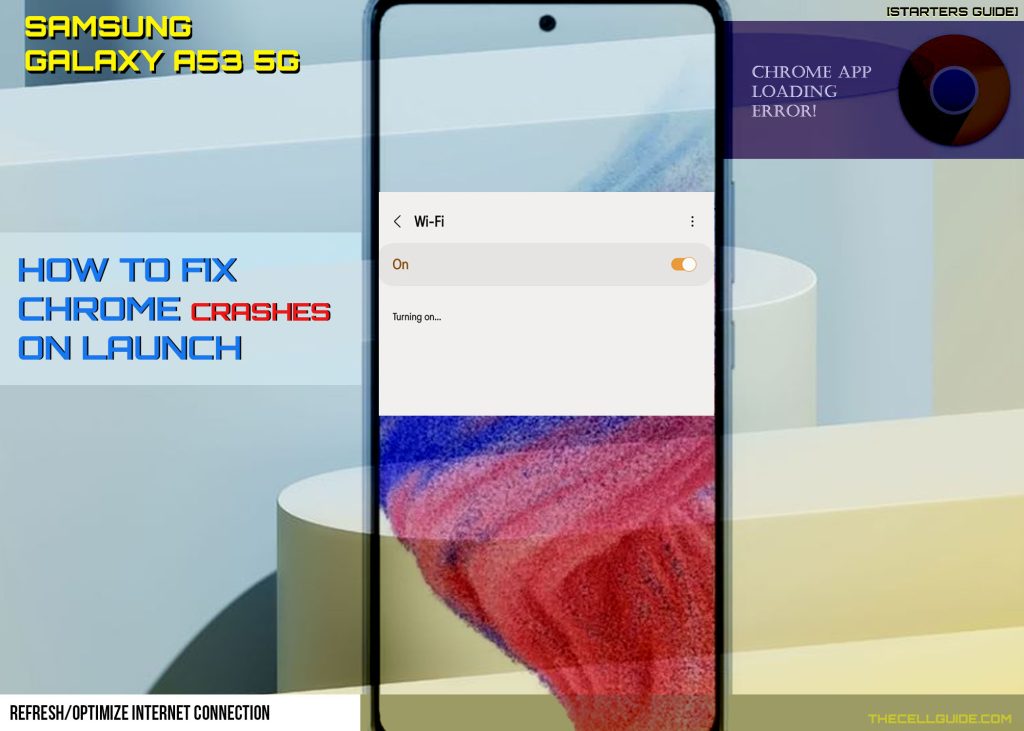 Thus, if your internet connection is somehow slow or intermittent, you will need to deal with it firsthand.
In this case, you can do a quick Wi-Fi refresh if you're connected to the internet via Wi-Fi network. If you're on cellular/mobile data, turning Mobile data off and on is recommended.
There are many ways to refresh Wi-Fi connection on your phone. You can turn the Wi-Fi switch off and on from the settings app menu or toggle the Wi-Fi switch from the quick panel/notification panel to disable and re-enable the feature.
Performing the Airplane mode tweak is also another option as it gives a simultaneous restart to all wireless features on the phone including Wi-Fi and cellular data connections.
To deal with complex network problems that may be affecting online apps and services like Chrome, performing a network reset can be regarded among the last options.
Resetting the network settings will clear out all custom network configurations including settings conflicts that cause problems when loading Chrome.
Solution #4: Clear Chrome cache and app data.
Like other apps, Chrome also stores temporary files every time you use it on your device. These temporary files are piled up among other residual data from the app's cache directory. While these cached files are beneficial when it comes to prompt reloading of the same browsing information, unexpected errors and problems may likewise surface when any of these files gets corrupted.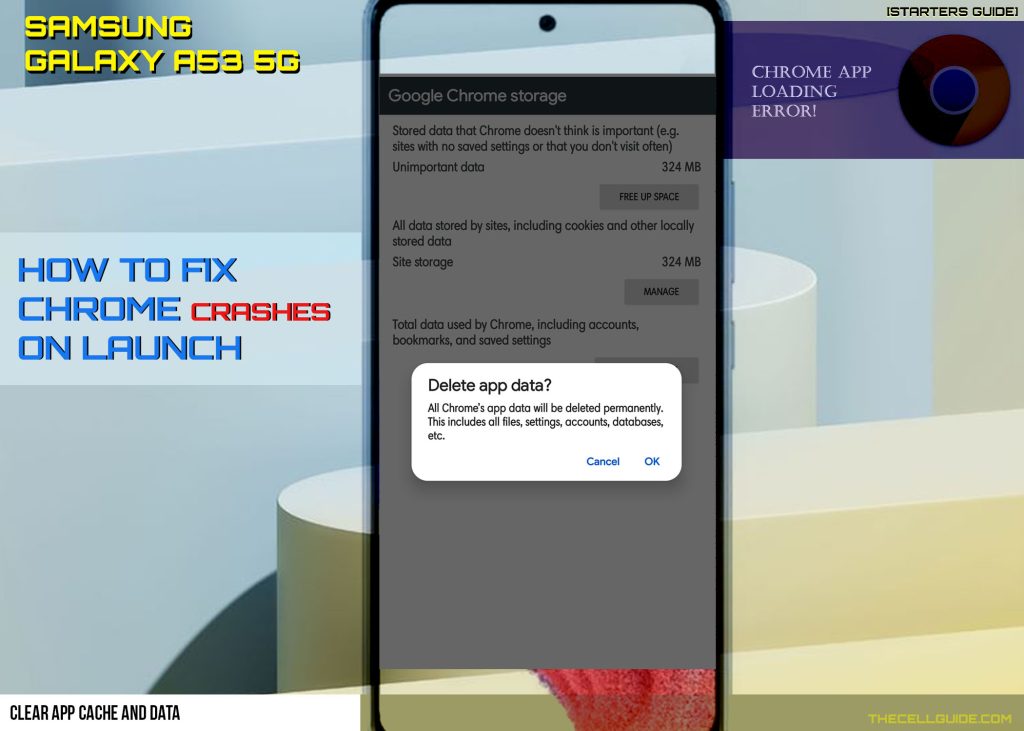 That said, clearing the browser's cache from time to time is highly recommended. Not only that it helps speed up your next browsing experience, it likewise clear out any errant files that trigger unexpected in-app glitches.
To clear cache and data for the Chrome browser app on the Galaxy A73, go to Settings-> Apps menu. If necessary, tap the button to Show system apps then select Chrome from the list of apps then tap Clear Cache at the bottom of the App info screen. All accumulated cached files will then be deleted from the app's storage.
To clear the app's data, tap Manage storage at the bottom of the Chrome app info screen and then tap Clear All Data on the Google Chrome storage menu.
Be sure to note though that clearing data from the app will delete all saved browsing information including website credentials including username and passwords. That said, you will need to sign into your favorite websites and pages the next time you load them up with the Chrome browser.
On a positive note, any errant residual data fragments are obliterated as the browser's cache was totally emptied. New batch of cache will start to accumulate the next time you use the browser app.
Solution #5: Reset all settings.
To rule out complex system errors including those that are inflicted by update bugs and errant settings, resetting all settings can be considered among the last options.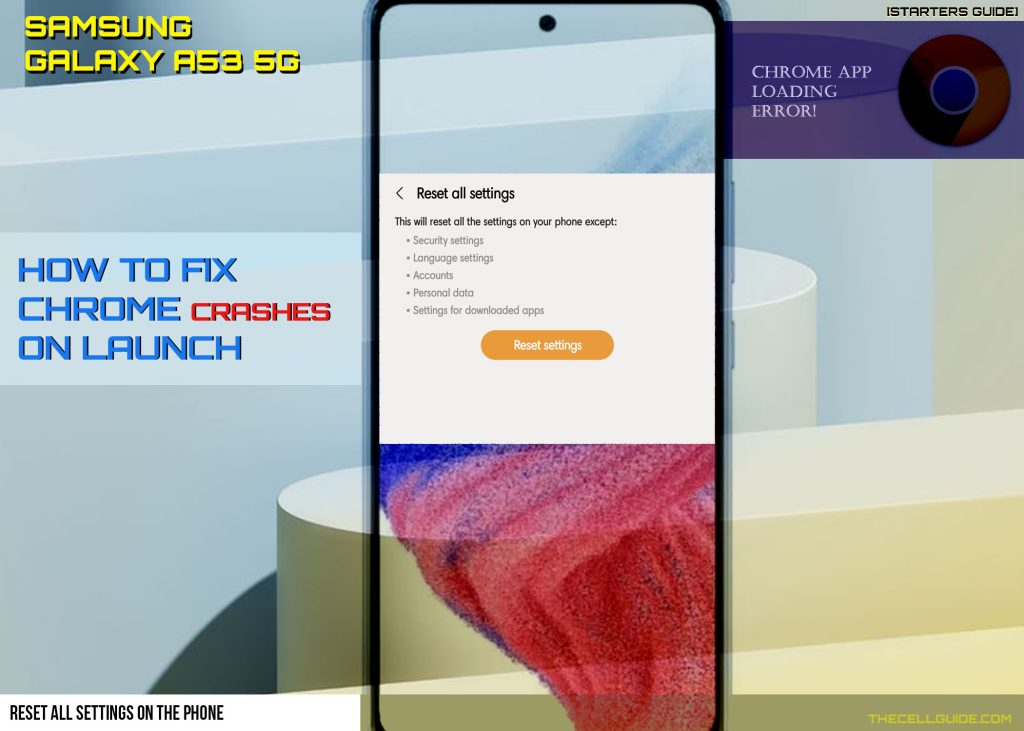 As the name implies, this reset will delete all recent custom settings that are applied on the system including default apps and preferences, custom networks and automatic overrides from recent software updates including those that have caused conflicts with the Chrome system.
Compared to a factory reset, resetting all settings does not affect any user data from the internal storage and therefore doesn't require backup creation.
To reset all settings on the Galaxy A53, just head over to Settings-> General management-> Reset menu and then select Reset all settings from the given options. Read the reset details on the next screen to learn how this reset works and what types of data are affected. After reviewing the details, tap Reset settings and follow the rest of the onscreen instructions.
When the reset is finished, the phone reboots on its own and then loads up all the default values and options. This denotes the need to re-enable features that are disabled by default and setting default apps to process a certain file type or data protocol.
All your files and downloaded apps aren't affected in the process so they'll remain as is.
Still unable to load up Chrome on your phone?
The above solutions are usually good enough means to resolve app crashing issues tied to any of the common triggers. If none of that works, then something else must be preventing Chrome from working on your device. Should you wish to troubleshoot further, you can try these additional workarounds to rule out other possible culprits including corrupted system data fragments and software bugs.
Wipe Cache Partition on Galaxy A53.
Wiping cache partition is likely the same as clearing cache and data from an app. The main difference is that the wipe cache partition command clears cache from the system storage instead of apps.
This method is usually deemed helpful when dealing with performance issues in Android devices, particularly those that are tied to insufficient storage and data corruption.
Wiping the cache partition deletes any temporary files that are stored in the system cache including corrupted data fragments that may be causing an issue with the Chrome app or the phone system itself.
To wipe cache partition on the Galaxy A53, just follow these steps:
Power off the device completely.
While it's powered off, press and hold the Volume Up key and the Power key for a few seconds and then release when the logo appears followed by the 'Installing system update' message.
Wait for the Android Recovery menu to show up next.
While on the Android Recovery menu, press the Volume Down key several times until the Wipe cache partition option is highlighted.
Then, press the Power key to confirm selection.
On the next screen, press the Volume key to select Yes then press the Power key to confirm.
Wait for the cache partition clearing process to finish and the Reboot system now menu option is highlighted.
Finally, press the Power key to restart the device.
This process does not affect any personal information and settings on the phone so everything remains intact afterwards.
An improved system performance will become noticeable after wiping the cache partition on your device.
Install system updates (if available).
Software updates are pushed to add more features, system enhancements and bug fixes. Because of this, keeping apps and phone's system up-to-date is recommended.
If your phone's internet connection is working fine, then try to check for available software updates to download and install.
Also ensure that your phone is sufficiently charged and has ample storage space to allocate recent update files.
To check for available software updates, just go to Settings-> Software update menu and tap Download and Install. Wait for the device to scan for new updates and follow the rest of the onscreen instructions.
You may option to schedule install or install the update immediately.
To check for pending app updates on Play Store, open the Play Store app then tap on your profile icon on the top-right edge. On the following menu, tap Manage apps & device and then navigate to the Available updates section.
Follow the rest of the onscreen prompts to update apps individually or install all available updates simultaneously.
Meanwhile if the problem started after installing a new update for Chrome and none of the given solutions is able to fix it, then it's possible that some unforeseen bugs are ruining the system and preventing Chrome from working as intended. Should this be the case, uninstalling recent updates from Chrome might help. This however is only optional as it would be considered a downgrade for Chrome app. Nonetheless, this might be the key to getting Chrome back up and running smoothly again.
Use Alternative Browser
If Google Chrome crashes even after performing all the above solutions, you may opt to escalate the problem to Google Support for further assistance in performing more advanced solutions. Otherwise, you can just use other browsers than Chrome.
If necessary, download and install any of the available browser apps that's compatible with your Samsung phone such as Opera, Firefox or Microsoft Edge from the Play Store and use it as an alternative to Chrome.
Hope this helps!
Please check out our YouTube channel to view more tutorial and troubleshooting videos for popular iOS and Android devices.
You Might Also Want To Read: