This post will walk you through activating the Galaxy Z Flip 4 (One UI) feature that instigates an automatic system reboot on the specified day and time. Here's a quick guide to enable auto-restart on Samsung Galaxy Z Flip4.
How does Auto Restart Work?
Samsung smartphones running on the latest Android with One UI OS version integrate an auto restart function that users can activate when needed.
As the name suggests, it prompts the device to instigate an automatic system reboot during the set schedule.
Restarting the phone from time to time is recommended as it offers a number of benefits to your apps and the entire system services. When you restart the phone, its operating system is refreshed and various types of software issues, particularly those that are inflicted by minor firmware or app glitches are likewise resolved.
The good thing about restarting is that you don't lose any important information.
Unlike a factory data reset (factory reset), restarting does not affect any saved data, downloaded apps, saved settings, contacts and other stored information from the internal storage.
What it clears are only those temporary system files or residual data that were stored as system cache.
Modern Android smartphones including Samsung's latest Galaxy Z Flip 4 device come with an automatic restart function. You can make use of this feature if you often forget to restart your phone manually.
When enabled, you can set a desired time of the day(s) for your Samsung Galaxy device to restart automatically.
Depicted below is the actual process of activating the auto restart function on the Galaxy Z Flip 4. Feel free to refer to this walkthrough if you need some input on how to do so.
Auto-Restart Activation Requisites
For the auto restart function to work as intended, your phone must have at least 30 percent of battery life, not being used, has the SIM card lock and screen off.
If any of the aforementioned requirements is not met, your phone may not be able to restart on the set schedule.
Steps to Enable Auto-Restart on Samsung Galaxy Z Flip4
Performing the following steps will take you to the general management settings menu where you can activate the in-built auto-restart function of the new Samsung Flip 4 smartphone.
You may go ahead and start whenever you're all set to configure your device.
Step 1: First, launch the Settings app. To do this, simply tap the Gear/Settings icon from the Home screen, Apps tray or Quick settings panel of your device.
Step 2: While in the main settings menu, scroll to find then tap General management. Another menu opens with a list of all system management features and options.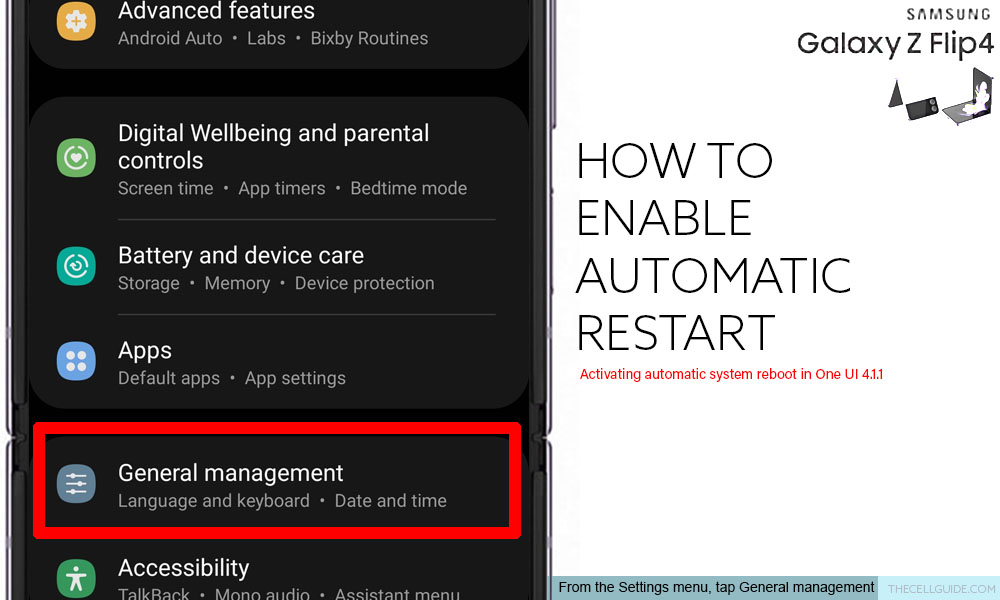 Step 3: Scroll down then tap Reset.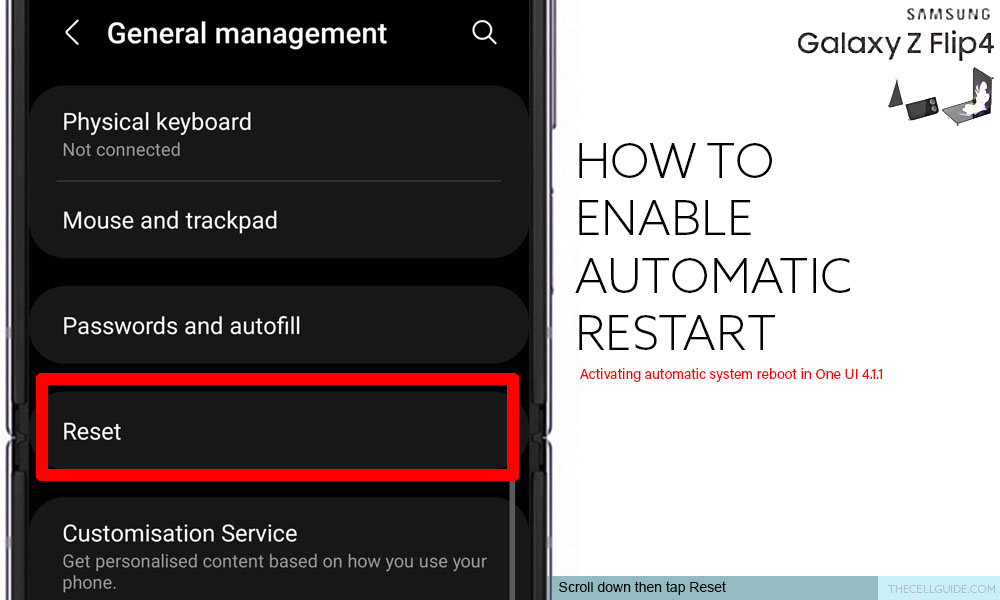 Step 4: On the reset menu, you will see a list of all system reset options. Beneath it is the auto restart option. Simply tap Auto restart at set times to start creating a scheduled auto restart on your Samsung Galaxy Z Flip4.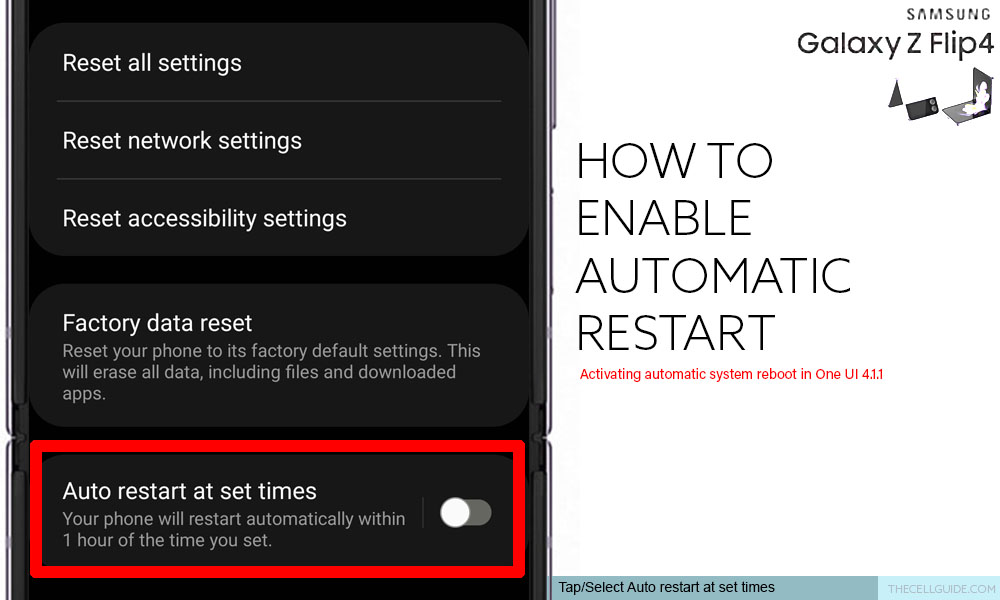 Step 5: On the next screen, turn on the switch to activate auto restart on schedule.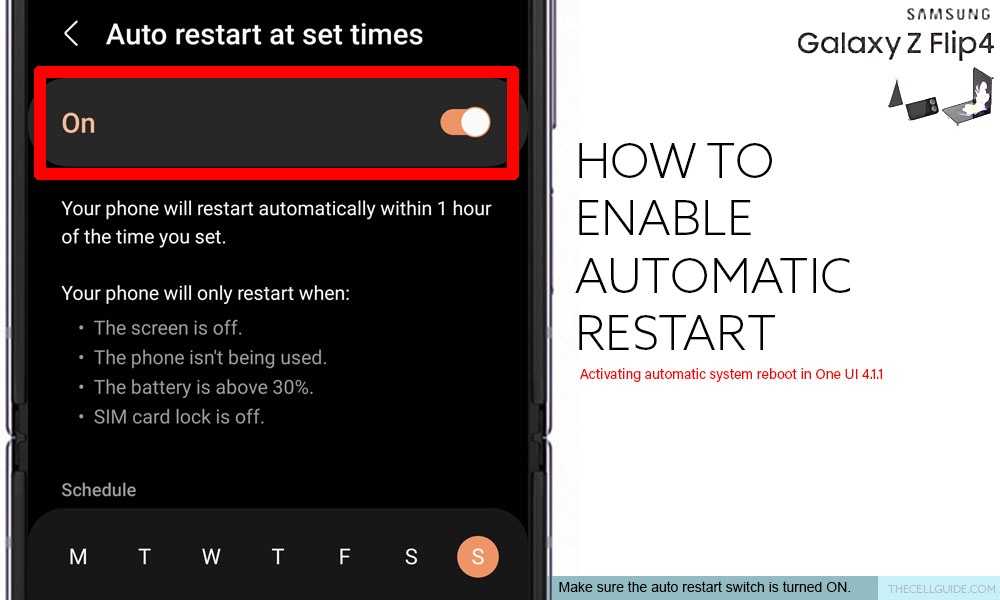 Step 6: To change/set a new schedule, select the day(s) that you want your phone to instigate automatic system reboot. Just tap on the day's initial.
Step 7: To change/set a new time, tap Time then use the time scheduler to adjust the time.
Step 8: After making necessary changes, tap Done.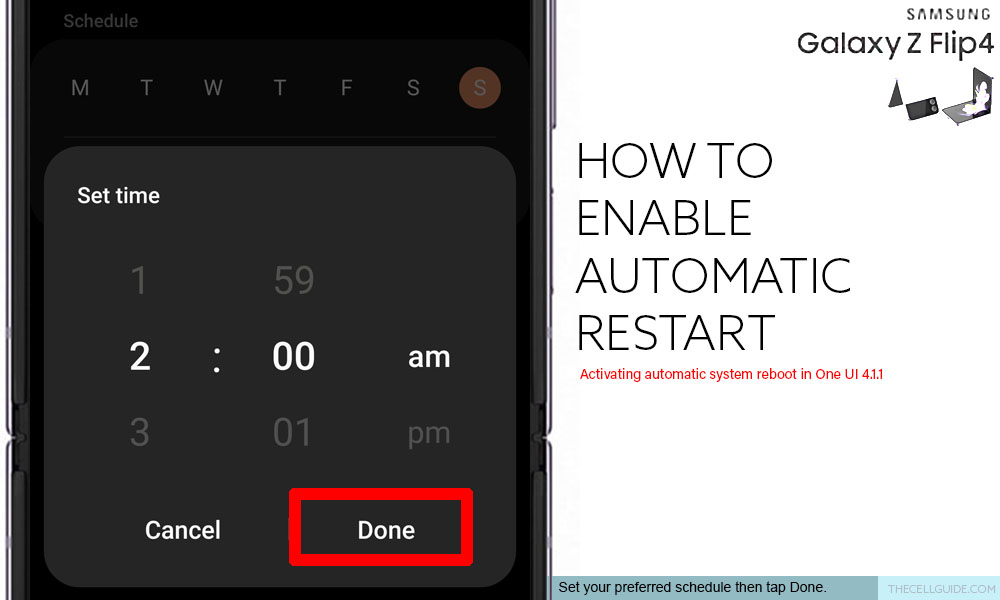 With this setting activated, expect your device to automatically restart within an hour of the specified time and day.
The above steps are also applicable when enabling auto restart on other Samsung Galaxy phones that are running on Android 12 with One UI 4.1.1 OS version.
Actual screens and menu items may slightly vary between device models and service providers so there may be some slight differences on every device's user interface.
When to activate automatic system restart?
Activating automatic system reboot is ideal for those who need to use their phones during the day.
You can set a schedule anytime during the night or at dawn for your phone to instigate an auto restart without having to interrupt any ongoing system activities or operations.
Just be sure to review all the above requirements to ensure that your phone is able to restart successfully on schedule.
Important Notes:
If you activate face unlock or fingerprint unlock on your phone, you may have to enter the primary PIN, pattern or password after the phone reboots automatically so as to access the Home screen and use your apps again.
You can always reconfigure your phone's system settings should you don't find the need to enable auto-restart on your Galaxy Z Flip 4 and do a manual system reboot periodically instead.
Like other Samsung Galaxy phones, the Flip 4 operating system can also be refreshes by a soft reset (standard reboot) and forced restart.
The former method is applicable only when the device is responding and working properly while the latter is needed when the phone is frozen or unresponsive. Either way can help fix various types of software issues that are randomly transpiring on the phone including in-app glitches that result in some rogue or misbehaving apps.
Both methods don't affect any user data saved on the phone's internal storage and therefore no backup creation is needed.
And that's how to configure the Galaxy Z Flip 4 device to restart automatically.
Hope this helps!
Please check out our YouTube channelto view more tutorial and troubleshooting videos for popular iOS and Android devices.
You Might Also Want To Read: