This post will walk you through adding new font styles on the new Samsung Galaxy Z flip phone. Here's a quick guide to download new fonts on Samsung Galaxy Z Flip4.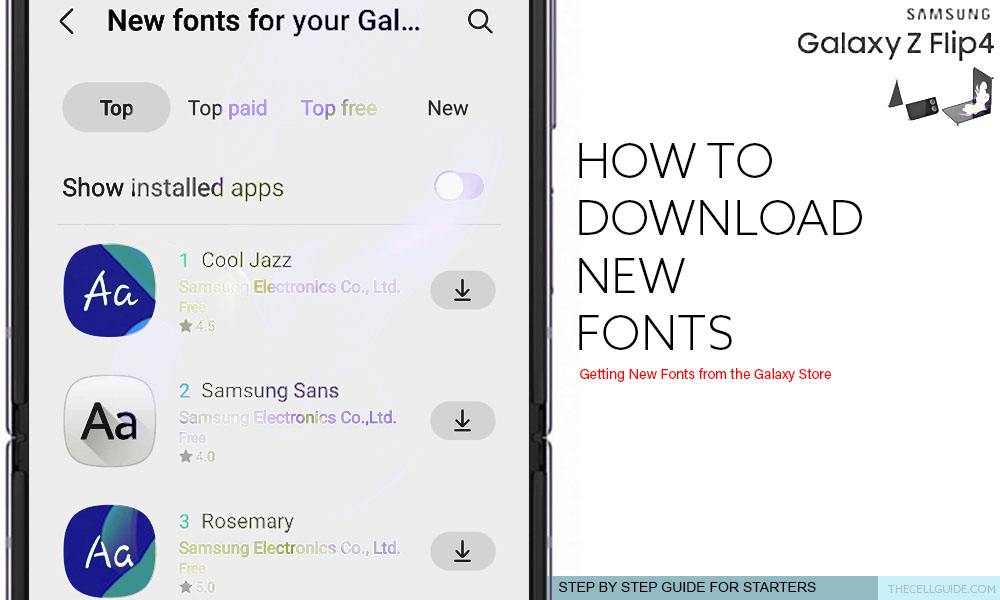 One of the common things people do upon getting a hold of a new smartphone is to customize it, making their device more personalized.
There are many different ways to customize your Samsung phone. And one of these is to download and use different fonts other than the preset system fonts.
Samsung Galaxy Fonts
The new Samsung Galaxy Z Flip 4 smartphone comes with a number of preset fonts in its default fonts library. So if the default font style does not suit your proclivity, then you can just change it with another font which you think better suits your phone's visuals.
And if none of the preset font styles meet your preferences, there is also an option for you to download new fonts straight from the Galaxy Store.
Depicted below is the actual process of downloading new fonts using the in-built font download command on the new Z Flip 4 device.
Feel free to refer to this guide if ever you need some input on how to apply these changes on your recently procured Samsung Galaxy flip phone.
Steps to Download New Fonts on Samsung Galaxy Z Flip4
Performing these steps will take you to the Galaxy Store app where you can access a wide variety of new fonts that you can download and install on your new Flip 4 smartphone.
Quick Note:
Be sure to keep your phone's software up to date to ensure all new features including system fonts are accessible.
You may go ahead and start whenever you're all set to customize your Galaxy phone's visual design with a font style you like.
Step 1: To get started, launch the Settings app by tapping on the Gear/Settings icon from the Home screen or Apps tray.
Step 2: While in the main Settings menu, scroll to find then tap Display. Another window opens with the in-built display options and functions.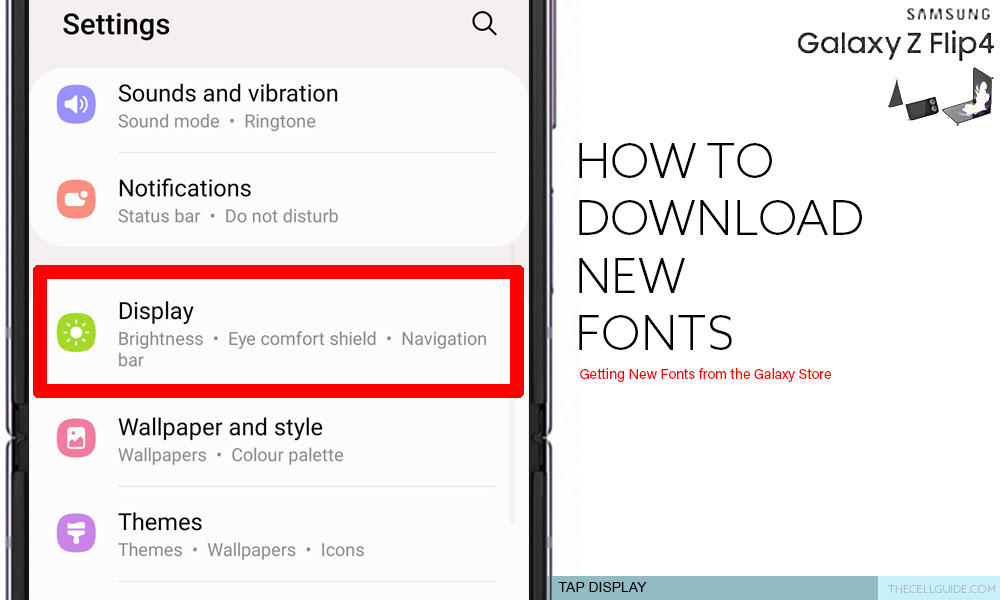 Step 3: Scroll to find and then tap Font style to proceed. A list of all preset font styles will load up on the next screen.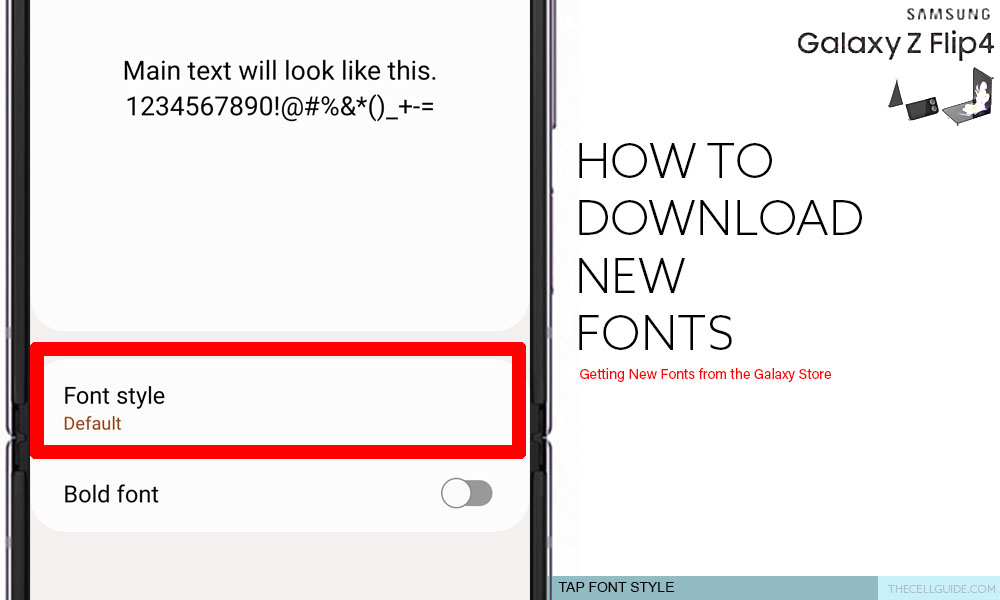 Step 4: To add new fonts, tap Download fonts at the bottom of the list. You will be routed straight to the Galaxy Store, particularly towards the Fonts section where you can find multiple font categories containing various font styles to choose from.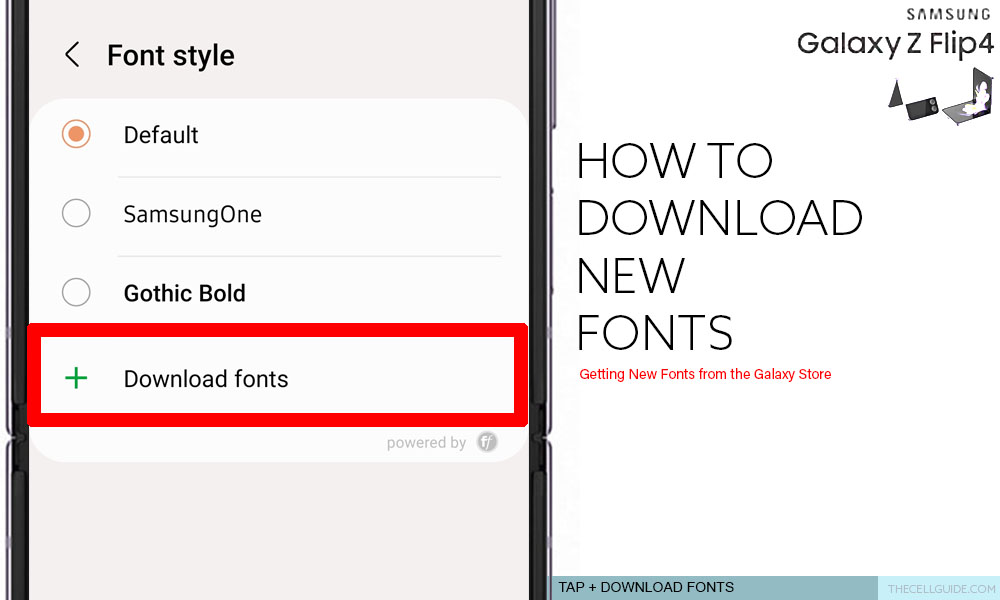 Step 5: Search for the desired font to download. You can use the preset tabs namely Top, Top paid, Top free, and New to narrow down and speed up your searches.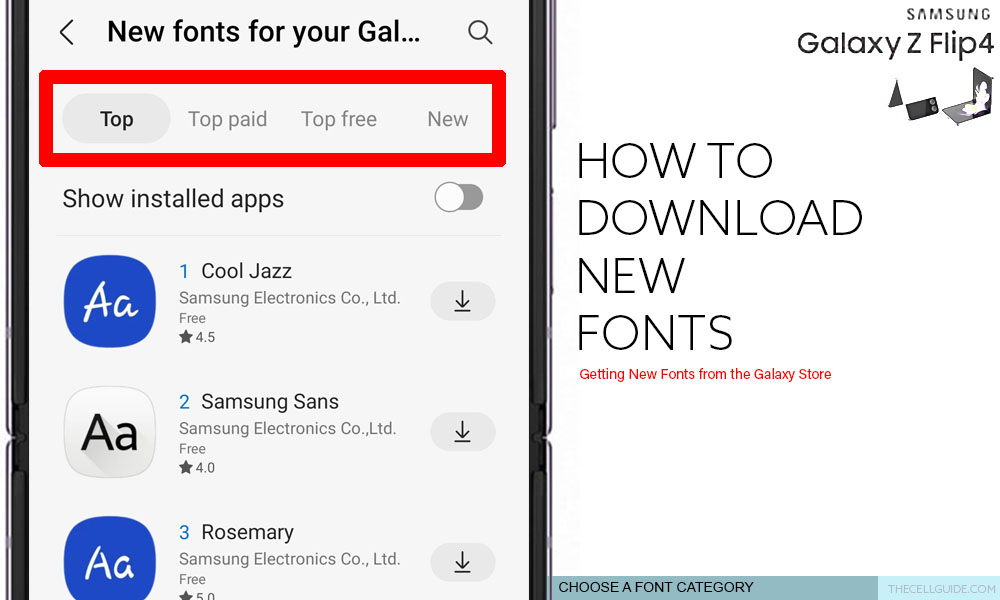 Step 6: Once you find the font you like, tap the Download arrow (Arrow Down) next to it.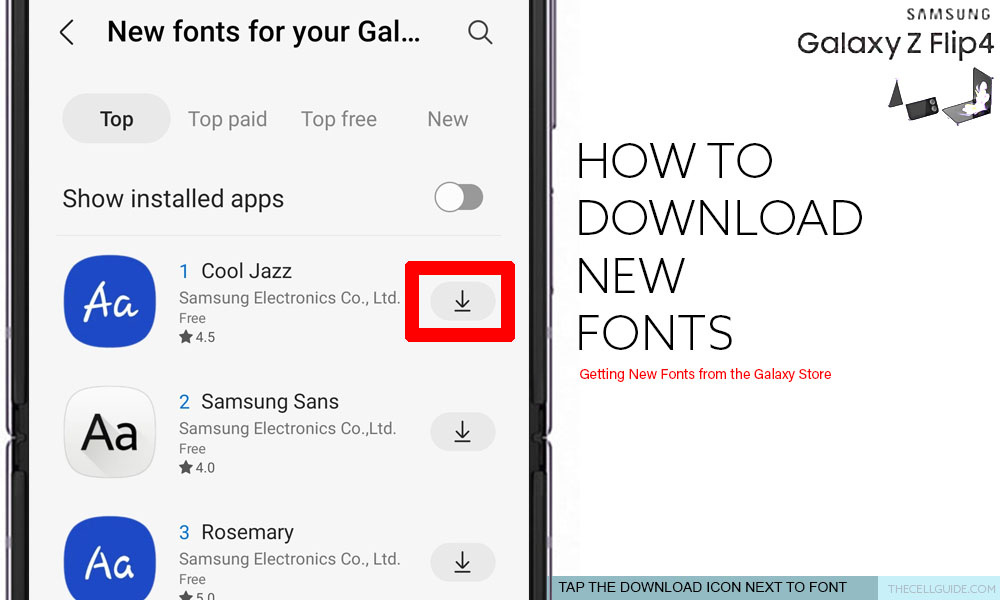 Step 7: Wait for the font to finish installing. You will see the installation progress label beneath the font name you're downloading. When the installation is complete, the selected font will be labeled Installed beneath it.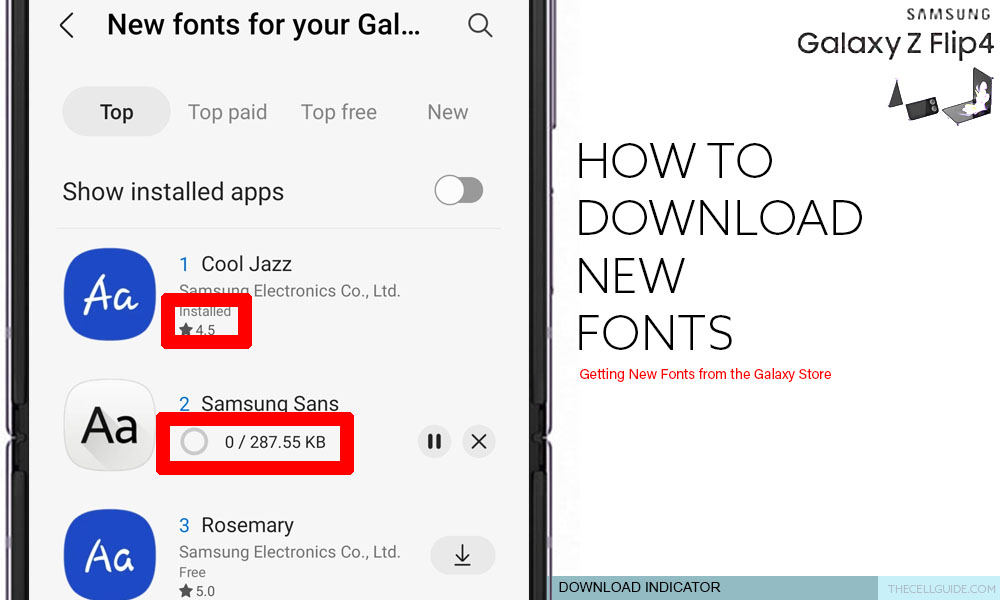 Alternatively, you can tap on the desired font's name and then tap Install on the succeeding window. Finally, tap Apply to add the recently installed font on the existing font styles on your device.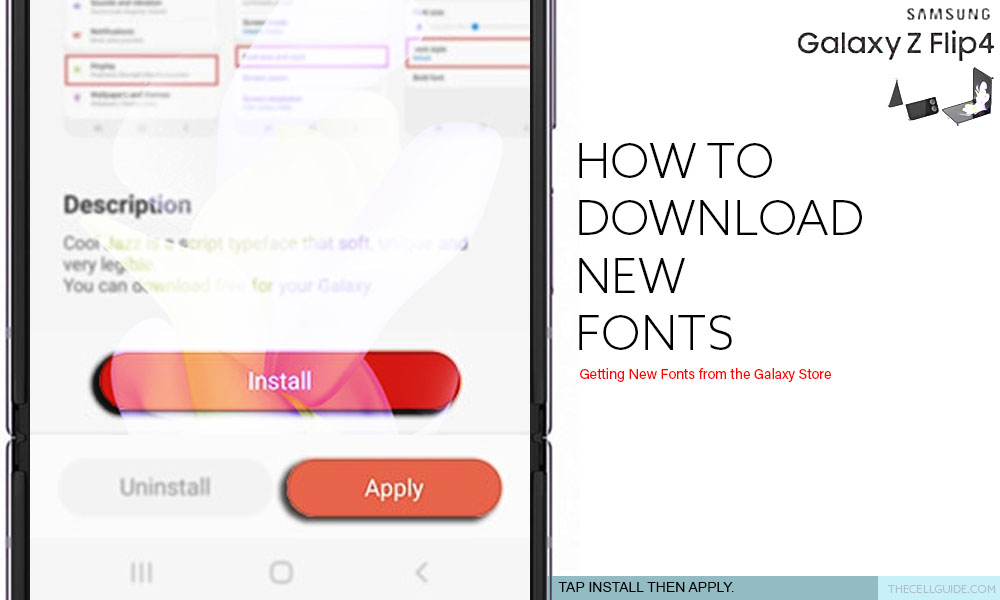 Repeat the same steps to download and install more new fonts on your Samsung Galaxy Device.
Step 8: Once you're done adding new fonts, tap the Back key on the top-left corner to return to the phone's Font settings, particularly the Font style menu.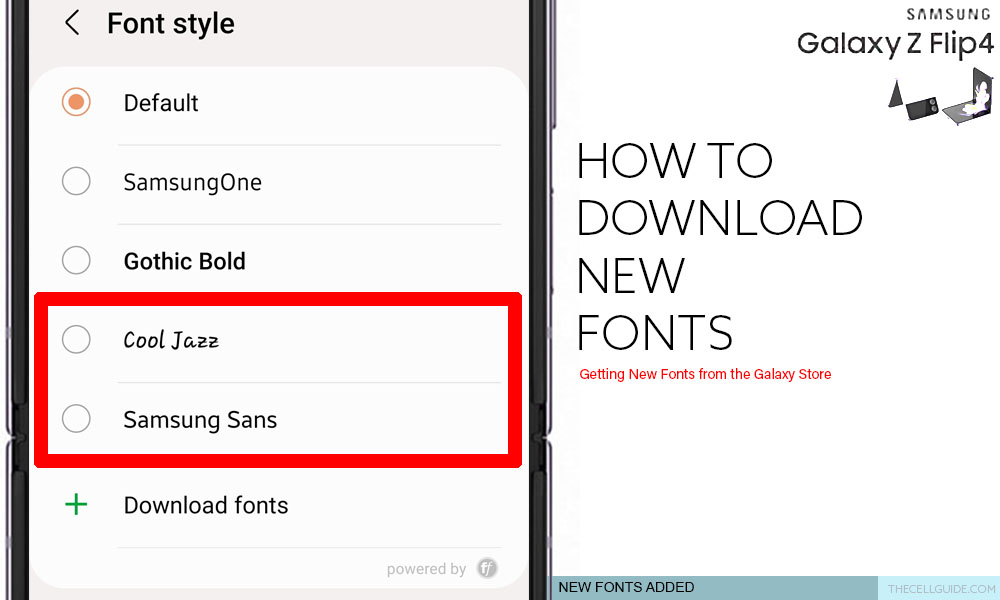 There you will see all your recently downloaded fonts added in the list. To use it, just tap to mark your preferred new font and it will be applied system-wide.
Should you wish to use a different font style, just repeat the same steps to return to the Font style menu then select your preferred font. You can also download more cool fonts from the Galaxy Store app if you want. Just repeat the same steps to Download fonts.
Getting New Custom Fonts from Galaxy Themes
Another way to get new fonts for your Samsung Galaxy phone is to install a new theme that includes fonts in the package.
Galaxy Themes with Font Packages
Aside from AODs, app icons and other display elements, Samsung's very own Galaxy Store also offers a wide variety of Galaxy Themes that allow you to modify many of the visual aspects of your Samsung Galaxy phone. Each of these themes may contain its own set of icons, background and fonts. Just search for and choose a Galaxy Theme that contains fonts, on top of the lock screen, app icons, ringtones, wallpaper images and overall layout of the phone.
Third-Party Themes and Launchers with Font Packages
Plenty of these types of themes and screen launchers are available for downloads on the Google Play Store. You can start scouring for awesome themes and launchers that offer new fonts to personalize your new Samsung flip phone.
Restoring Default Theme and Font
You can always go back to the default theme in case you don't like the new theme output. Just launch the Galaxy Themes and tap the Menu icon on the bottom-right edge. Select My Stuff then tap Themes to view all your themes. Finally, tap to select the Default theme to switch back to the original theme.
Hope this helps!
Please check out our YouTube channelto view more tutorial and troubleshooting videos for popular iOS and Android devices.
You Might Also Want To Read: