This post will walk you through customizing the default ringtone settings to personalize ringtone for incoming calls on a Samsung Galaxy smartphone running on the latest Android with One UI OS version. Here's a quick guide to set downloaded song as ringtone on Galaxy S22.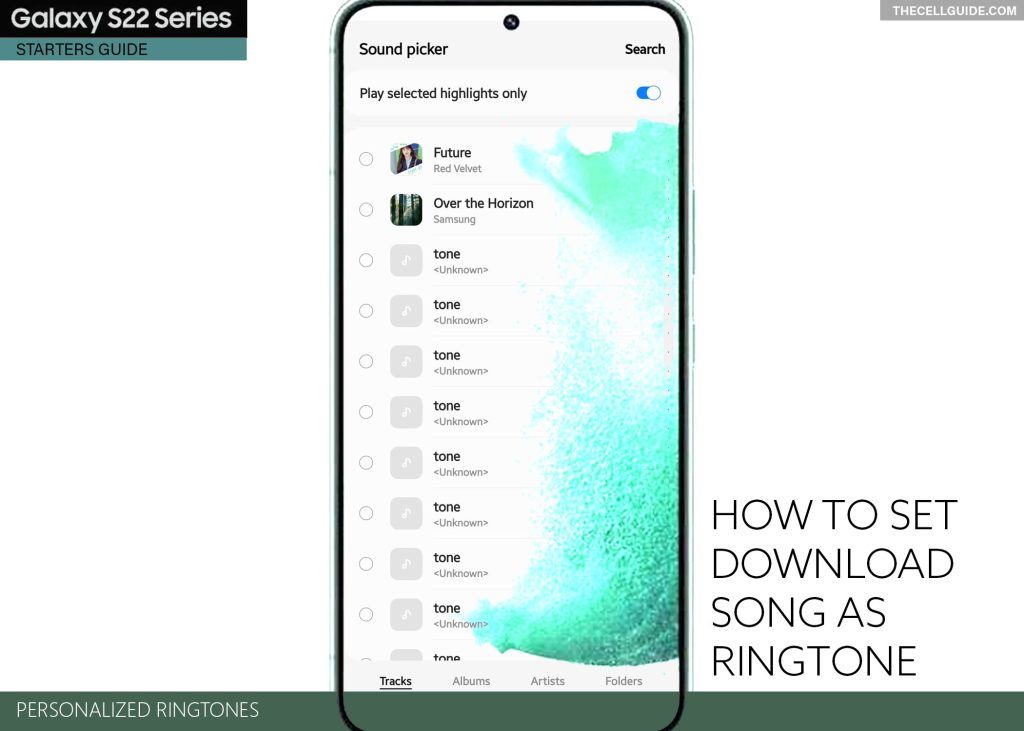 Customizing Ringtone on Samsung Phone
Every Samsung phone comes with a number of preloaded tones that you can use and set as the new ringtone in case the default tone for incoming calls doesn't suit your liking.
Aside from the preset tones, you can also use any of your downloaded songs or audio files as the new ringtone for incoming calls should you wish to augment your device's personalization.
Changing the default ringtone on a Samsung phone is very straightforward. All you have to do is access the ringtone settings and the search for a new ringtone to use.
Tackled below is a step-by-step walkthrough of altering the default ringtone on a Samsung Galaxy S22 smartphone with a downloaded song.
Keep reading and feel free to refer to this simplified walkthrough if you need help customizing ringtone on the same Samsung phone.
Steps to Set Downloaded Song as Ringtone on Galaxy S22
The following steps are based on the updated interface of the Galaxy S22 series. That said, these are also applicable when customizing ringtones on other Samsung phones running on Android 12 with One UI 4.1 OS version.
Before you begin, verify and ensure that your preferred song is already downloaded on your phone. You can confirm this by heading to the Downloads folder of your phone.
Once you've got everything set, you may go ahead and refer to these outlined instructions.
Step 1: To get started, tap Settings from the Home screen or Apps screen to launch the Settings app.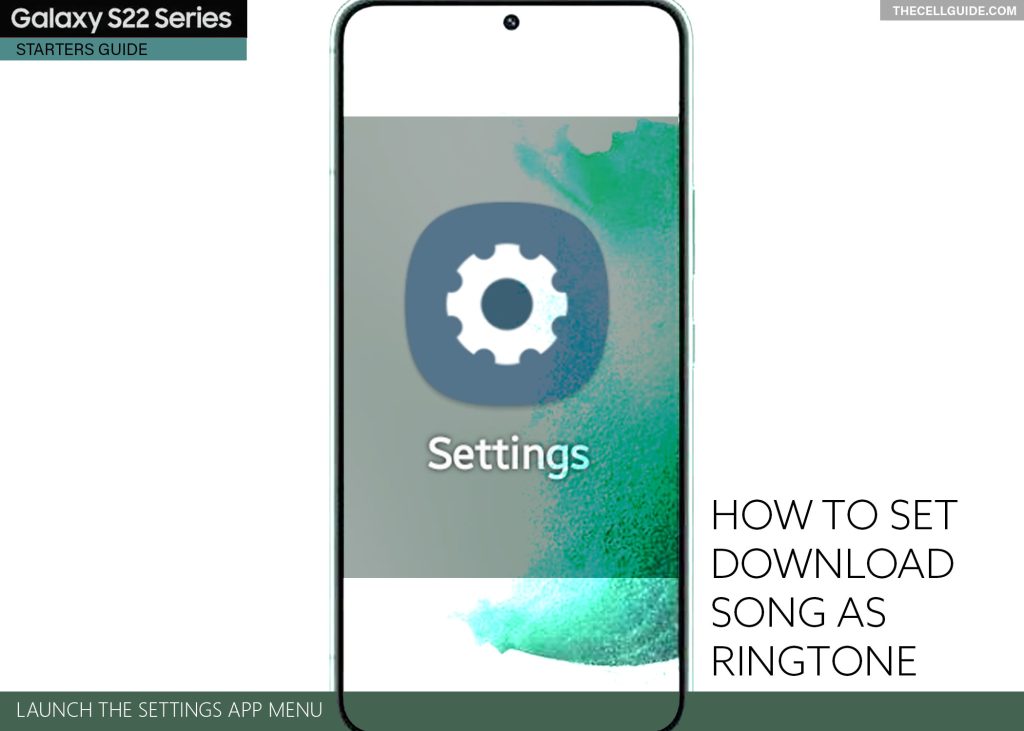 Step 2: In the Settings app menu, find and then tap Sounds and vibration. Another menu opens with relevant options.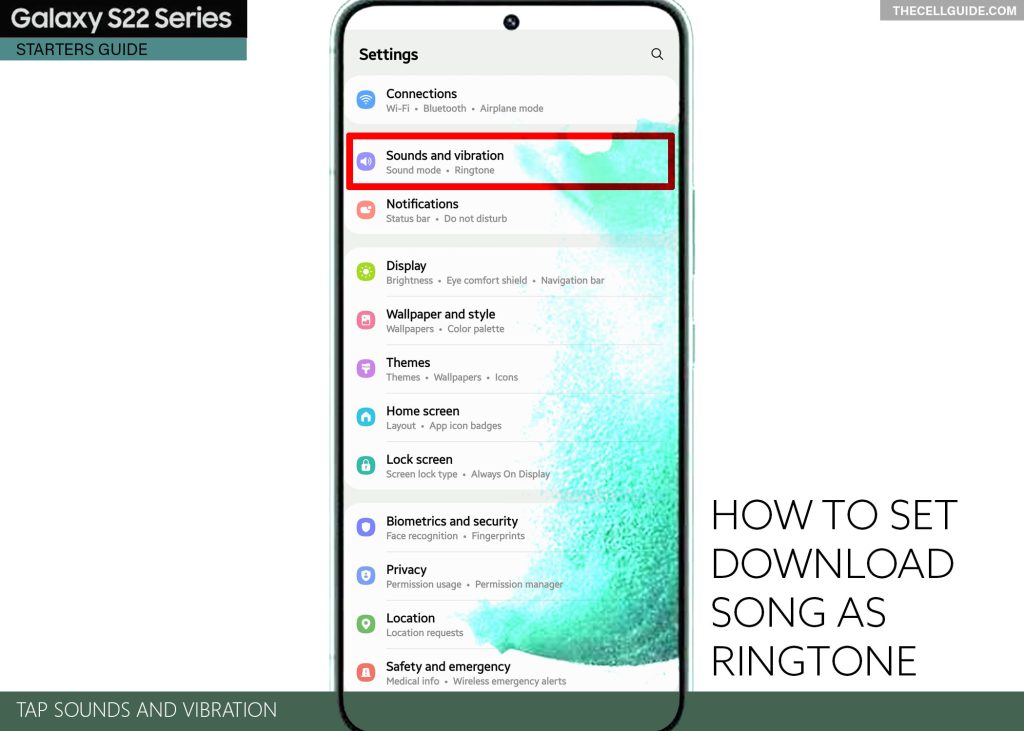 Step 3: Tap Ringtone to continue.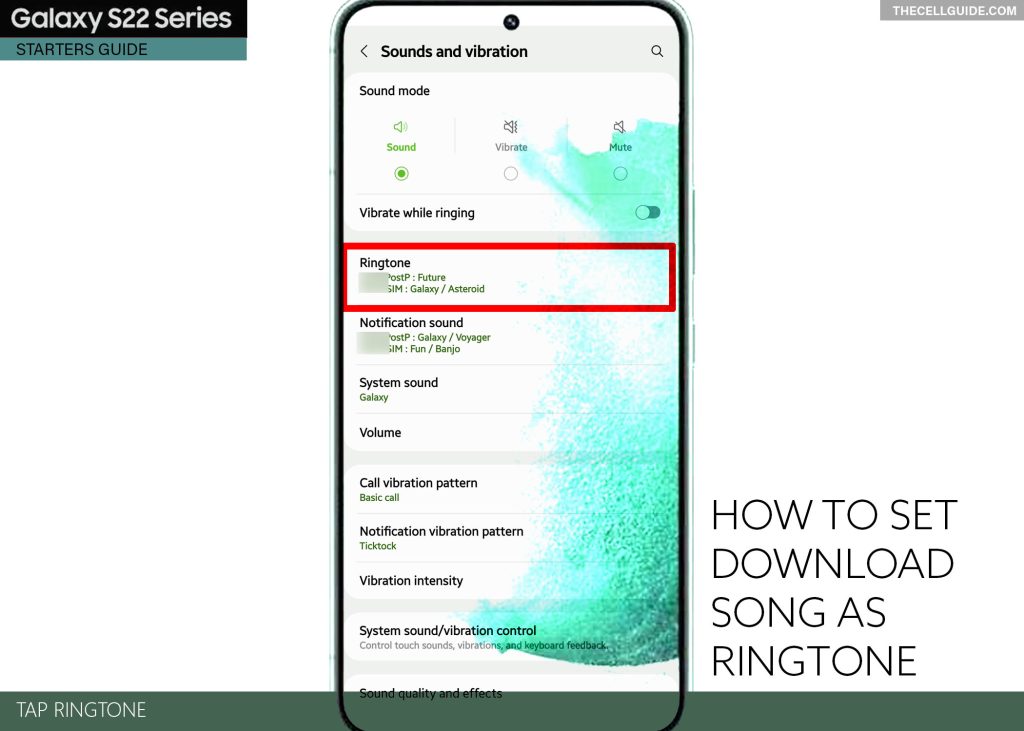 Note:
If on dual-sim, you will be asked to choose the SIM card that you'd like to set the new ringtone to. Just tap to select either SIM 1 or SIM 2. Otherwise, only SIM 1 is the available option.
Step 4: On the Ringtone menu, tap the Plus (+) icon. Doing so opens the Sound picker. Here, you will see a list of all downloaded songs and audio files on your device.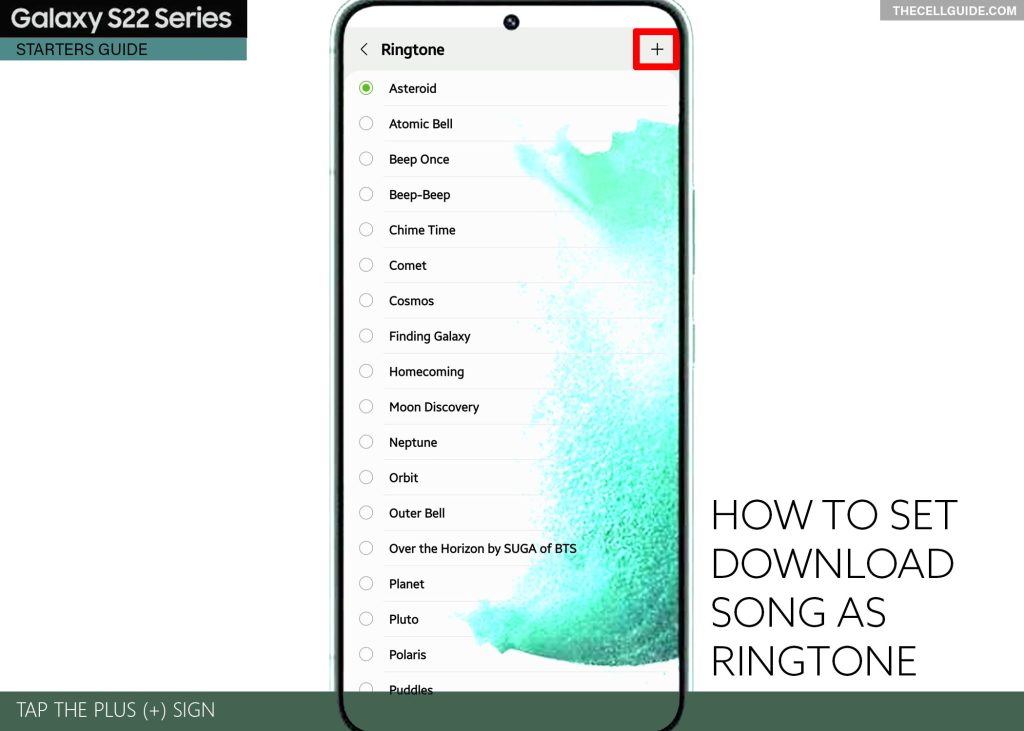 Step 5: Find and then tap to select the song that you'd like to use as ringtone.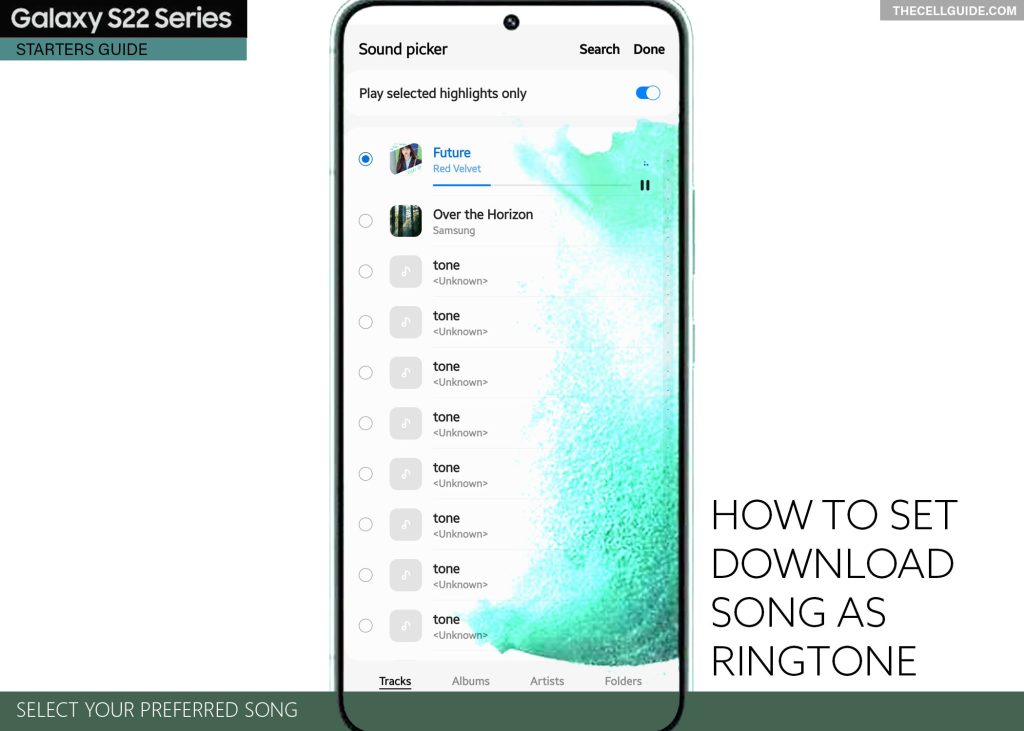 Step 6: You may opt to play selected highlights only or the entire song. To use this feature, just turn on the switch next to Play selected highlights only from the Sound picker screen. Otherwise, leave the switch OFF.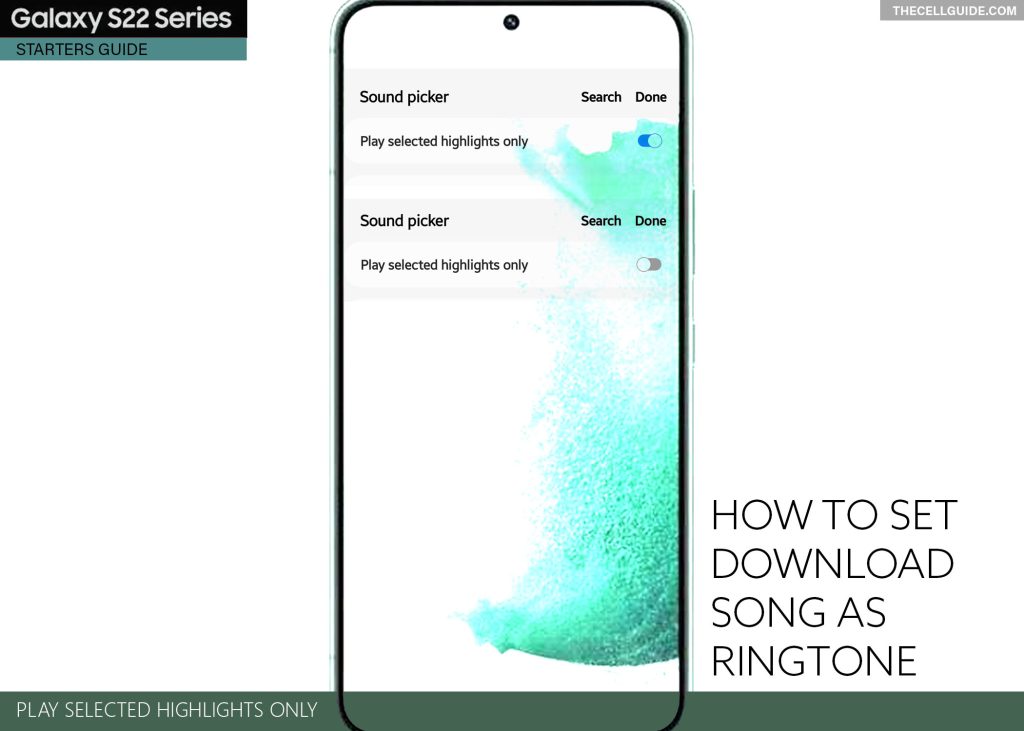 More Hints:
Tapping on every audio file in the list plays a song preview. This will help you decide whether to use the selected song or not.
If you have multiple downloaded songs on your phone, you can narrow down your song searches by tapping on the given filters including by Tracks, Albums, Artists, and Folders.
You can also do a direct search if you know the title of the song that you'd like to use. Just tap Search on the top-right edge of the Sound picker then type in the title of the song or audio file you'd like to use.
Step 7: After making necessary changes, tap Done on the top-right corner.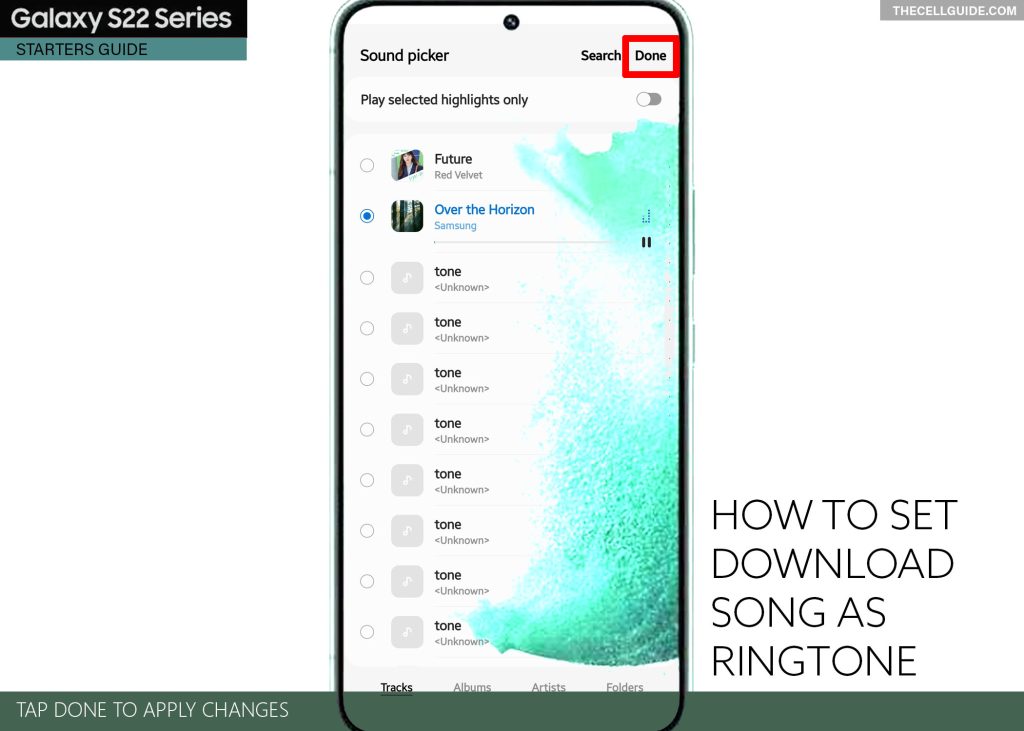 The new ringtone is now applied and will be used as the default ringer for incoming calls.
Setting a Unique Ringtone for a Contact
Keeping getting multiple phone calls everyday? Some of these calls may not be that important for you to attend to. To save time from answering unimportant calls, you can assign a unique ringtone for certain (important) contacts.
Your Samsung phone allows you to set a personal ringtone to a certain contact on your phone. This will help you easily determine who's calling based on the tone that's ringing for the incoming call.
To apply these settings, you will need to configure the contact's details straight from the Phone app.
Note:
This option is only applicable for added contacts on your Samsung phone. If you haven't already, then you will need to add the contact that you'd like to assign with a unique ringtone to on your phone beforehand.
Cannot Find Downloaded Audio File?
By default, all downloaded files including audio tracks/songs are saved to Downloads on your Samsung device. If you don't see your audio track in this feature, then it's probably saved in another directory.
Should this be the case, performing a manual search of the file would be necessary.
Try to view all your created folders and see if the file is in there. If it isn't, then there's a good chance that the file has been removed or deleted. In this case, downloading the file again is recommended.
Just visit the web platform where you previously downloaded that song from, search for the song title then follow the rest of the onscreen instructions to save the file on your phone. You can also download other music files if you want.
By then, you can replace the default tone by heading back to the sound picker menu from the phone's ringtone settings.
Meanwhile, if the selected song does not play as intended, it maybe because the audio file/track was corrupted. To fix the problem, deleting the corrupted music file and redownloading the working file is recommended.

Hope this helps!
Please check out our YouTube channelto view more tutorial and troubleshooting videos for popular iOS and Android devices.
You Might Also Want To Read: