This post will walk you through restoring the default settings on the Galaxy S22 series without deleting any user data from the internal storage. Here's a quick guide to reset all settings on Galaxy S22.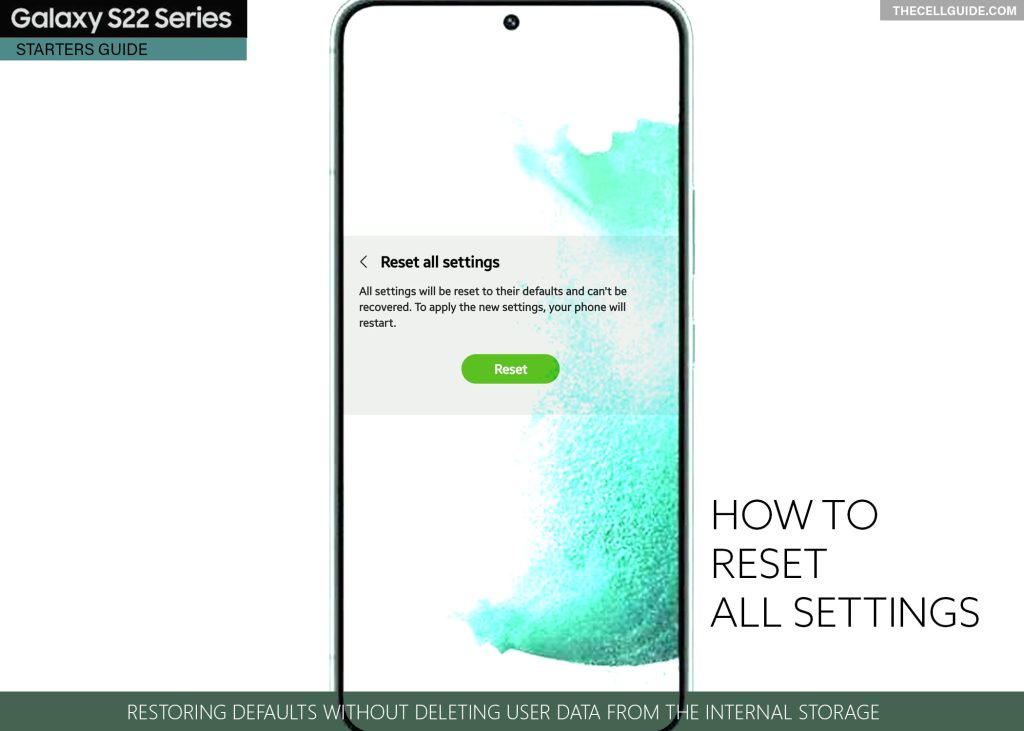 Samsung System Restore
Just like other Android-based smartphones, Samsung Galaxy devices also have different reset options that you can use whenever you need to restore default options and configurations. Each of these in-built resets has a designated function.
For example, a reset network settings command is used to restore network defaults while reset accessibility settings for restoring default options for accessibility features.
Modern Samsung phones including the Galaxy S22 series and other models running on Android 12 with One UI 4.1 OS generally have four system reset options. These include reset all settings, reset network settings, reset accessibility settings and factory data reset.
These resets are tagged under the One UI 4.1 General management settings, particularly from the Reset menu.
Depicted are the steps to access and trigger the command to reset all settings on the Galaxy S22 without deleting any user information. Do this reset if your phone is acting up after installing a new software update, or after customizing some settings on your Samsung Galaxy device.
Keep reading for more detailed instructions.
Steps to Reset all settings on Galaxy S22
Performing these steps will erase all your current app preferences and restore default apps for certain file types or data protocol.
While this reset does not delete any of your downloaded apps and contents, backing up all important files beforehand is still recommended.
Feel free to start whenever you're all set to restore your phone's system settings.
Step 1: To get started, launch the Settings app menu by tapping on the Settings icon from the Home screen or Apps tray.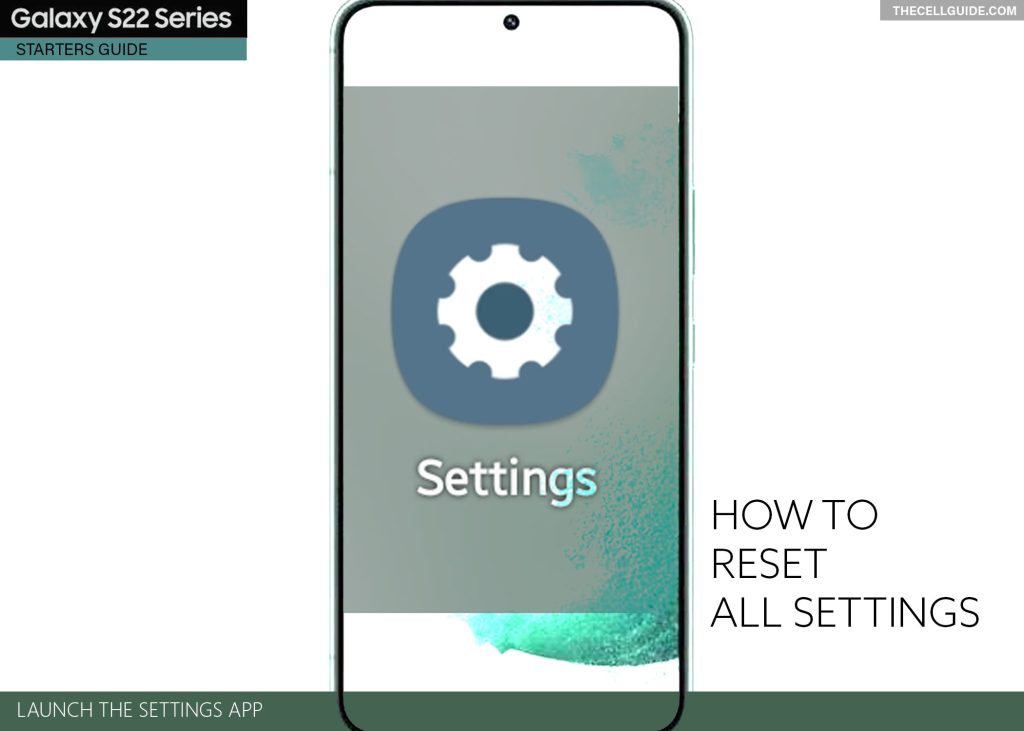 Step 2: While in the main Settings menu, scroll to find and then tap General management. Another menu opens with system management features and relevant options.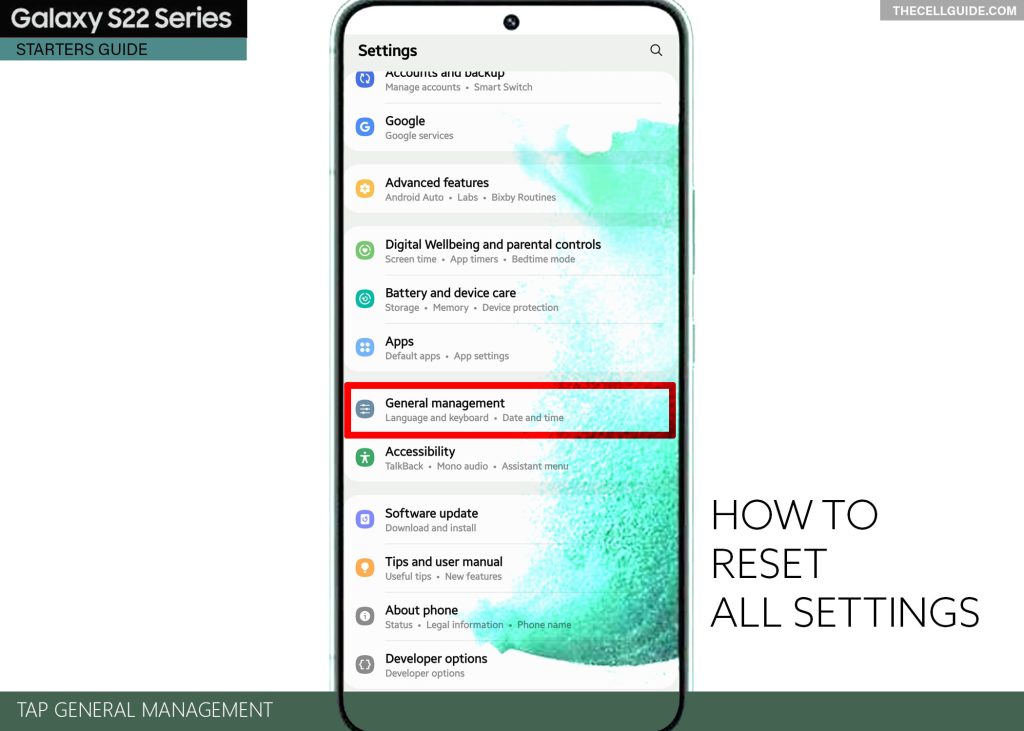 Step 3: Scroll down and then tap Reset to proceed. Different system reset options will load up next.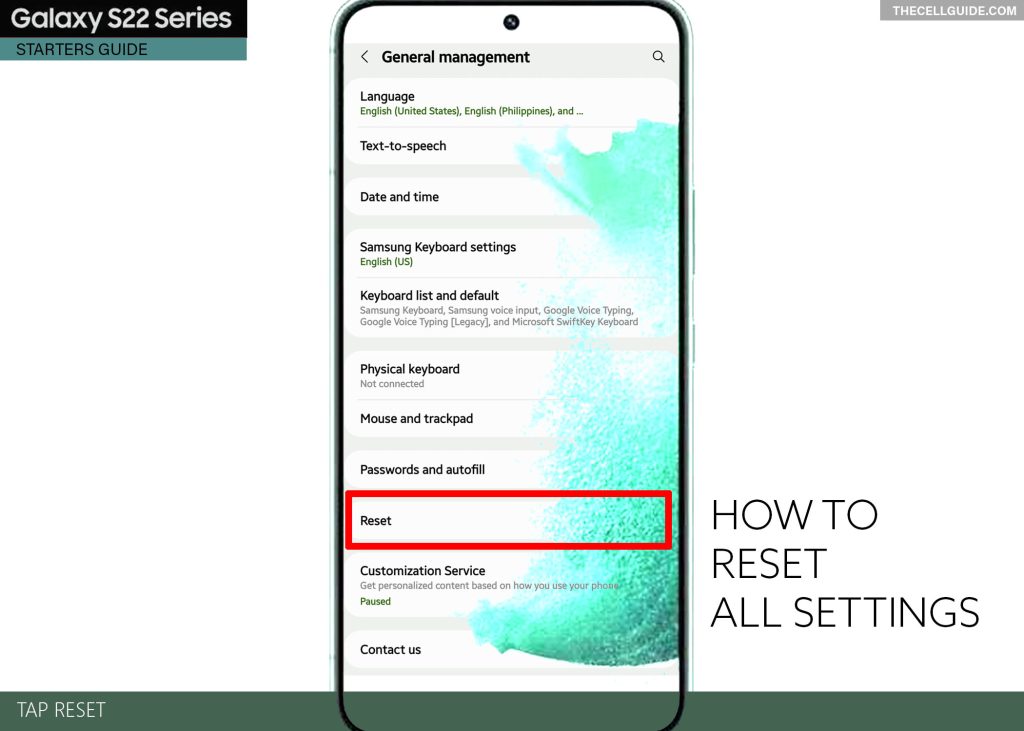 Step 4: Select Reset all settings from the given options.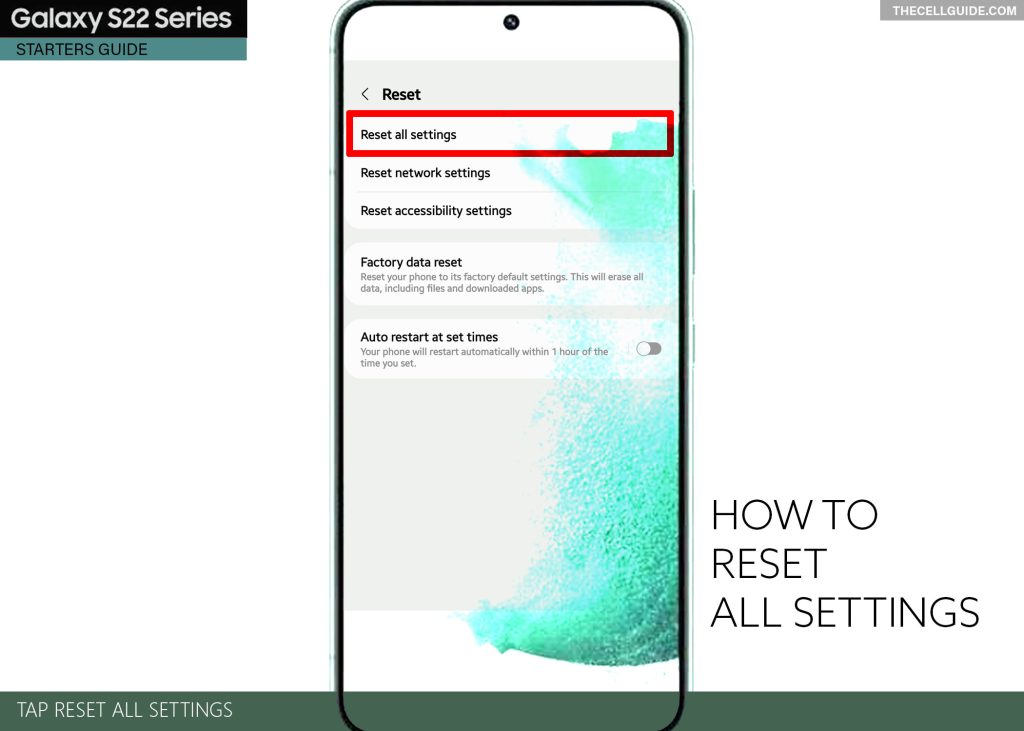 Step 5: Read the reset details on the following menu and then tap Reset settings to continue.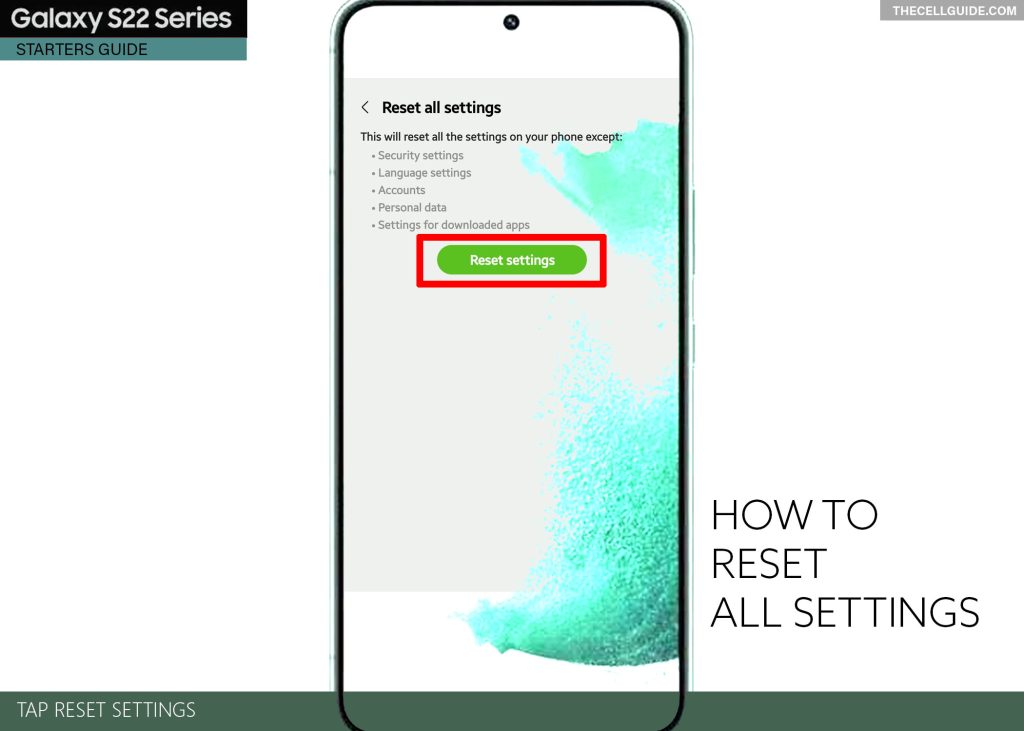 Note:
If you've set up a screen lock method, you will be asked to enter it next. Just input your PIN, password or pattern to proceed.
Step 6: Read the final warning message and then tap Reset to confirm.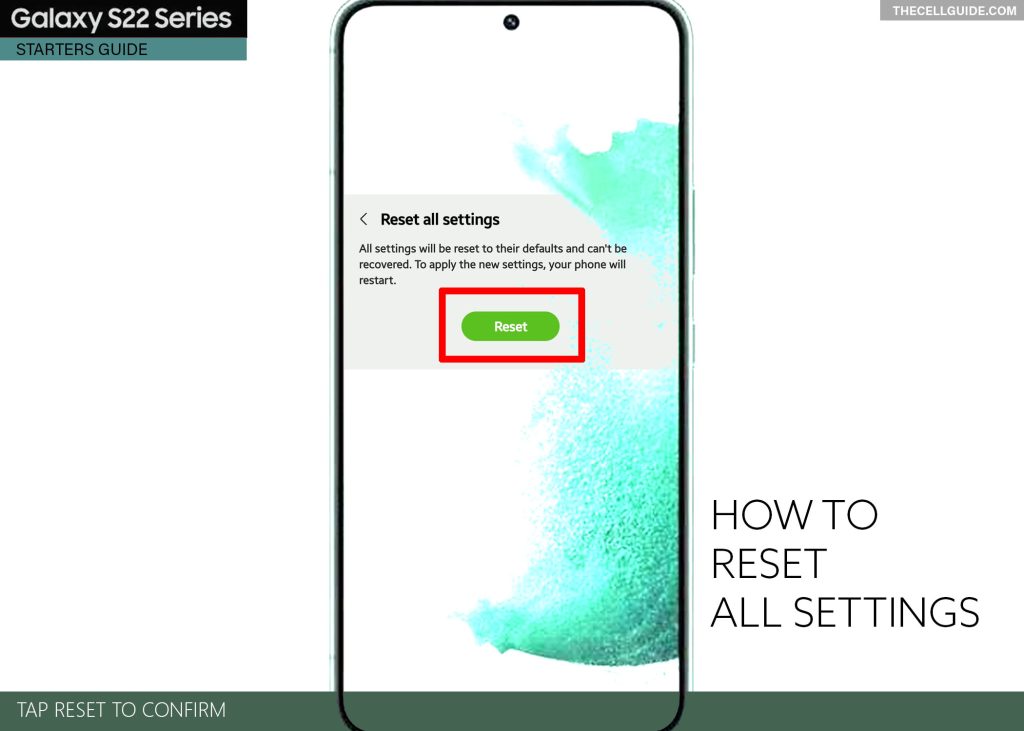 All settings will be reset to their defaults and cannot be recovered. To implement the new settings, automatic system restart instigates. Just wait for your phone to finish rebooting.
After it reboots, system defaults are restored. This means the need for you to re-enable necessary features that are disabled by default so you can use them again on your phone.
System settings and data that are not affected with this reset are as follows:
Language settings
Account settings
Security settings
Settings for downloaded apps
Personal/user data
Furthermore, this reset does not affect in-app settings so you won't have to re-configure certain options for downloaded applications.
Reset all settings to deal with system issues
Resetting all settings is usually regarded among the potential solutions to random system errors and glitches, resulting in rogue apps, system lags, and other performance issues following a series of system settings alteration.
Post-update bugs attributed to automatic system overrides can likewise be addressed by restoring the original system configuration by resetting all settings on the phone.
If the problem continues after resetting all settings, resorting to a factory data reset can be considered among the last options.
Be sure to note though that a factory reset deletes all system information including custom settings, saved contacts, photos, videos, documents, and downloaded apps as the device is restored to its factory state.
You can do a factory reset straight from the Settings menu or via Android recovery menu. Factory reset via settings is applicable only if your device is responsive. If it does not respond to touchscreen inputs, factory reset via Android recovery mode is recommended.
Hope this helps!
Please check out our YouTube channelto view more tutorial and troubleshooting videos for popular iOS and Android devices.
You Might Also Want To Read: