This post will walk you through configuring the One UI 4.1 privacy settings to remove the current advertising ID and generate a new set of unique ID to limit ad tracking and personalized advertising on Samsung mobile devices. Here's a quick guide to reset advertising ID on Samsung Galaxy S22.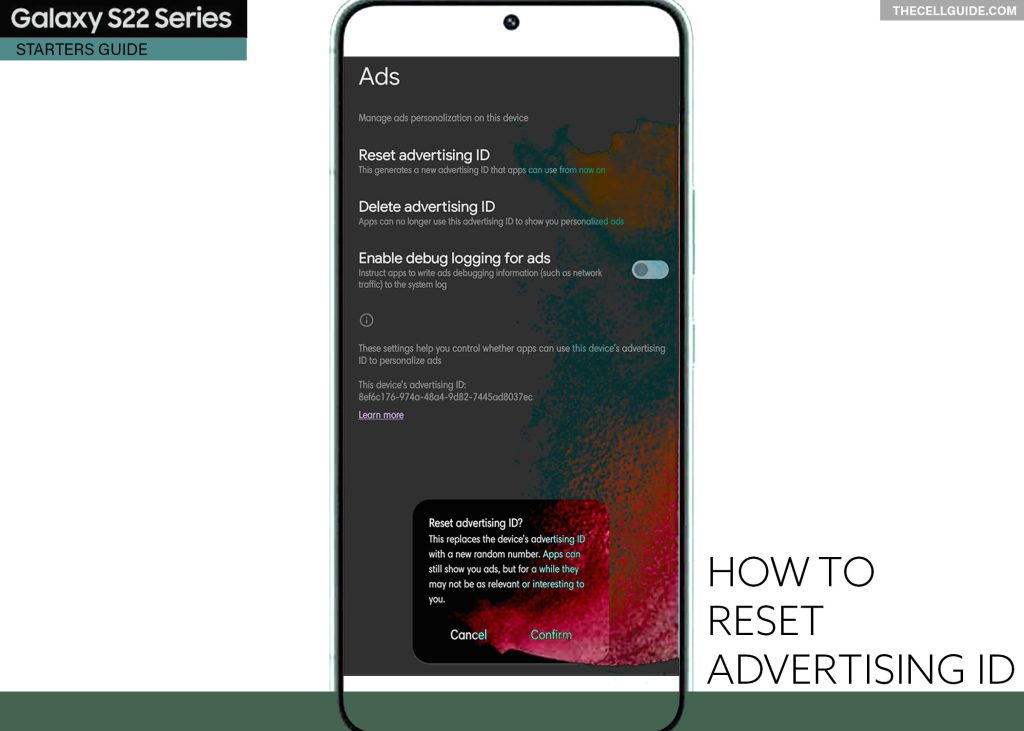 Targeted Advertising/Ad Tracking in Android phones
Advertising ID refers to a unique set of numbers assigned to a device or service. This information allows advertisers to track user ad activity, allowing them to know whenever a user has engaged with an app. Such is referred to as user profiling. Once the user's ad profile is created, the delivery of relevant or personalized ads to the device in use instigates. This is when you'll start seeing interest-based ads when using apps on your phone.
Should you wish to change the type of ads that are catered to your device, you may choose to opt out of ads personalization or reset the advertising ID that's currently assigned based on your ads user profile.
Samsung Galaxy phones running on the latest One UI version (4.1) equivalent to Android 12 allow you to manage your ads profile through the inbuilt privacy settings.
If you're new to the Android platform and need some input on how to access and manage this feature on your Samsung Galaxy S22, I've mapped a simple walkthrough as follows.
Steps to Reset Advertising ID on Samsung Galaxy S22
These steps are also applicable when resetting the advertising ID on other Samsung Galaxy devices running on Android 12 with One UI 4.1 OS version.
Actual screens and menu items may vary between device models and network service providers so the actual user interface on individual devices may likewise differ slightly.
Just follow these steps whenever you're all set to configure the ads privacy settings on your device.
Step 1: To get started, tap Settings from the Home screen or Apps viewer to launch the Settings app.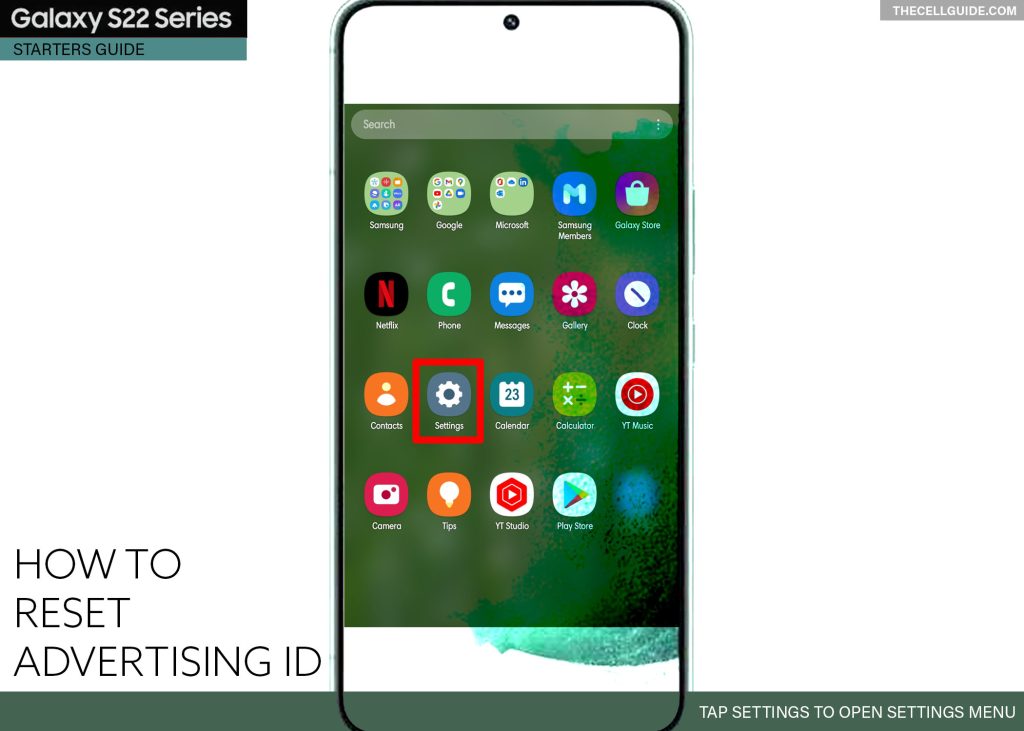 Step 2: While in the main settings menu, scroll to find and then tap Privacy. Another menu opens with inbuilt privacy settings and relevant features.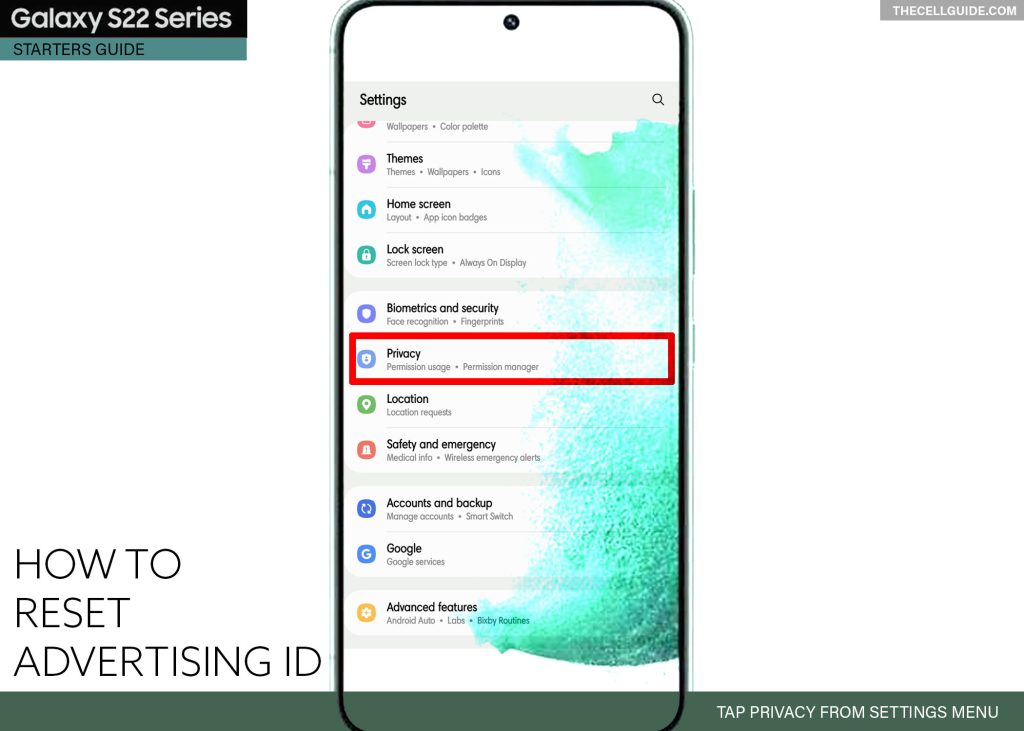 Step 3: Find and then tap Ads to continue. Relevant options for ads management will show up next.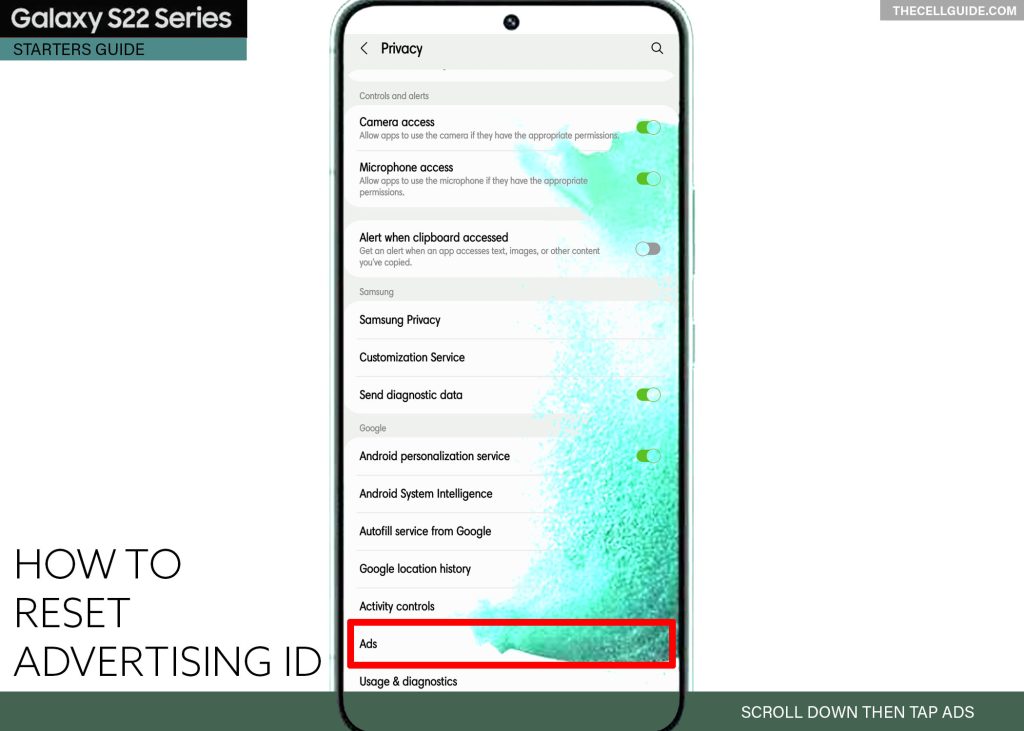 Step 4: Tap Reset advertising ID to proceed.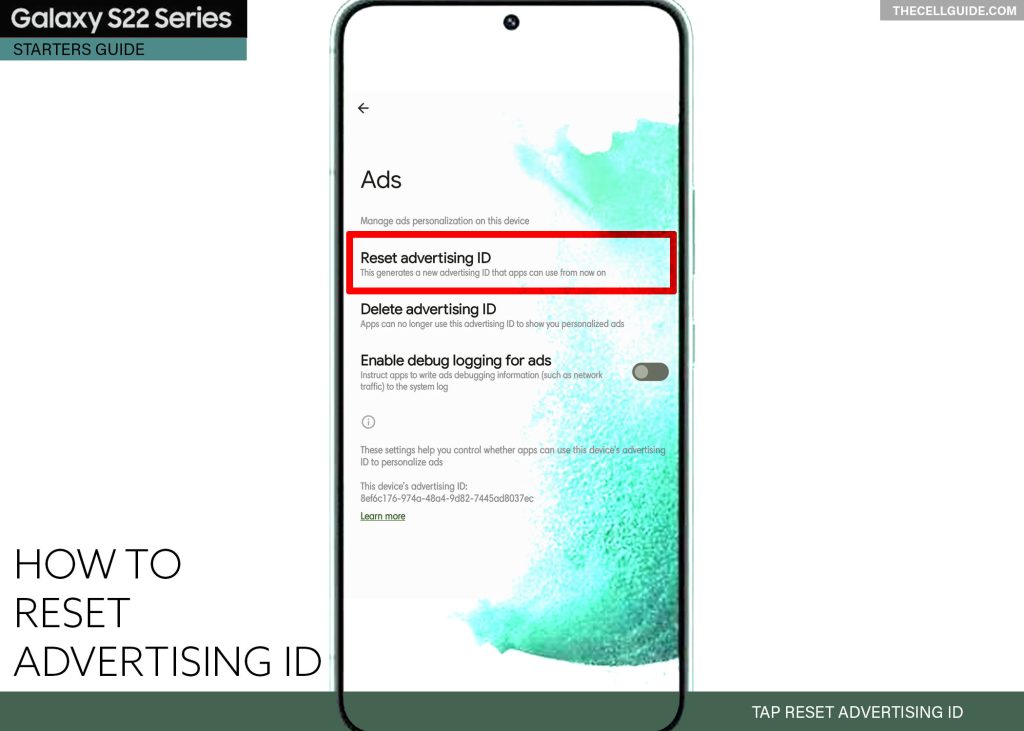 Step 5: Read the warning message and then tap Confirm.
This action replaces the previous advertising ID assigned to your device and generates a new random number.
Apps would still be able to show ads but the next ads will no longer be the same or as relevant and interesting to you.
Resetting vs Deleting Advertising ID
Advertisers are able to track user ad activity on Android devices anonymously using the Google advertising ID that's assigned to every device.
In line with user's need for privacy and security, Google makes the advertising ID resettable so that users would have better control over the ads that they're getting when using Google apps and services on their phone. There's also an option for users to opt out of ads personalization.
When you opt out of ads personalization on your Android phone, any attempt made by advertisers to access the identifier will be hindered as they will only get a string or zeroes instead of the actual unique ID.
Aside from Resetting Advertising ID and opting out of interest-based ads, you are also allowed to erase the current advertising ID assigned to your phone. Doing so prevents apps from using the current advertising ID and cater interest-based ads.
To use this feature, just tap the option to Delete advertising ID from the main Ads menu and then tap Delete Advertising ID on the following screen to confirm.
That should delete your current advertising ID to show you personalized ads. As a result, you will have less control over the type of ads shown to you when using apps on your phone.
It's also worth noting that resetting is different from deleting the advertising ID.
Resetting the advertising ID removes the current ID assigned to your device and then replaces it with a new one.
Deleting the advertising ID on the other hand removes the current ID assigned to your device completely and thereby clears out your ads profile. As a result, random apps would be delivered to your phone as advertisers no longer have information on which types of ads you may be interested in seeing.
You can always get a new advertising ID at any time when needed.
Hope this helps!
Please check out our YouTube channelto view more tutorial and troubleshooting videos for popular iOS and Android devices.
You Might Also Want To Read: