This post will walk you through activating the Android feature that prompts your Samsung device to instigate an automatic system reboot at a specified day and time. Here's a quick guide to activate auto-restart on Samsung Galaxy S22.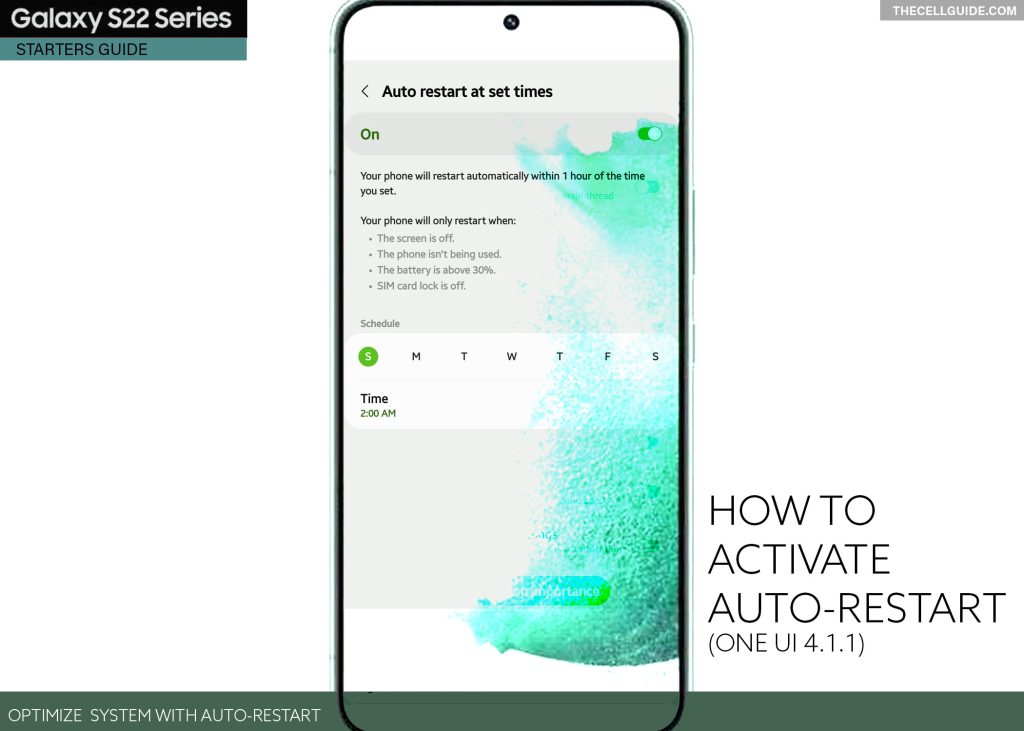 One UI 4.1.1 Automatic System Reboot
Restarting the phone from time to time is recommended as it can help clear out various types of software problems, particularly those that are inflicted by minor firmware errors and in-app glitches.
There are many different instances when restarting is imperative in mobile devices such as when installing a new app as well as when installing new software updates. Restarting is also part of the system reset procedures such as resetting network settings, resetting all settings as well as when performing a factory data reset.
If your phone suddenly faces unexpected errors, network connectivity issues, performance issues and random app problems, restarting will likely rectify the transpiring flaws and thereby make the device work properly again.
It's the simplest way to give your phone a quick breather.
Restarting your phone will likewise free up RAM and make the device's performance return to optimal.
To keep your phone's system optimized, you can restart it automatically at set times. All you have to do is enable the auto-restart function on the settings menu.
If you're new to Android 12 with One UI 4.1.1 interface, you can refer to the outlined steps to turn on auto-restart on the Galaxy S22 series.
Steps to Activate Auto-Restart on Samsung Galaxy S22
The automatic restart function in Android 12 with One Ui 4.1.1 devices is tagged among other system reset options from the Reset menu.
Just follow these steps to access this menu on your Samsung Galaxy S22:
Step 1: To get started, launch the Settings app menu on your phone. To do this, simply find the Gear icon from the Home screen or Apps tray and then tap on it to open the app.
Alternatively, you can access the settings menu by tapping on the Gear/Settings shortcut icon from the quick panel of your device.
Step 2: From the settings menu, scroll to find and then tap General management. Another menu opens with a list of system management features and relevant options.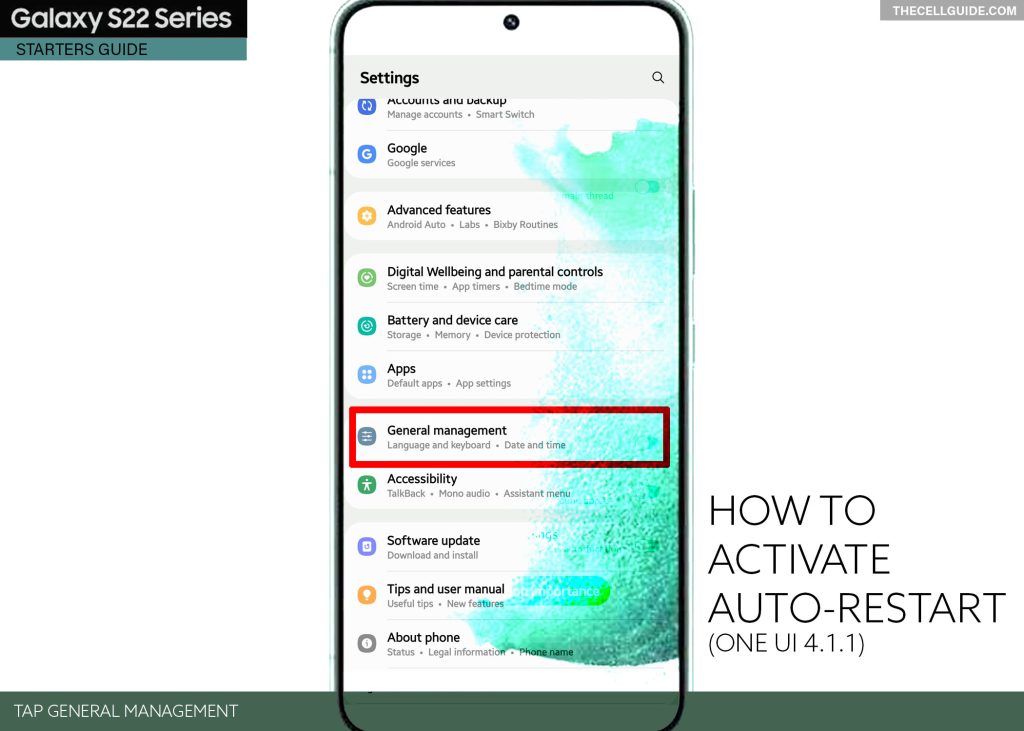 Step 3: Scroll down and then tap Reset to continue.
Step 4: On the succeeding menu, you will see a list of system reset options. Beneath the list is the option to Auto-restart at set times. Just tap auto restart to activate the phone's automatic system restart function.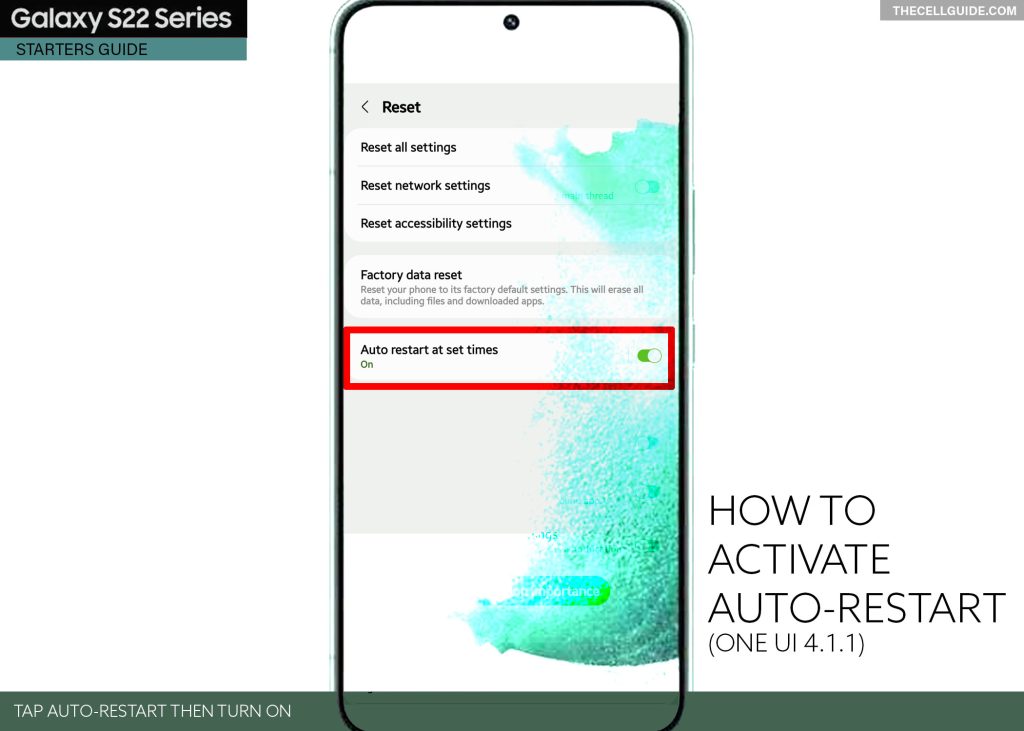 Step 5: On the next screen, toggle to turn the Auto-restart switch ON. When the switch is enabled, you'll be able to set the day and time for the automatic system restart to occur.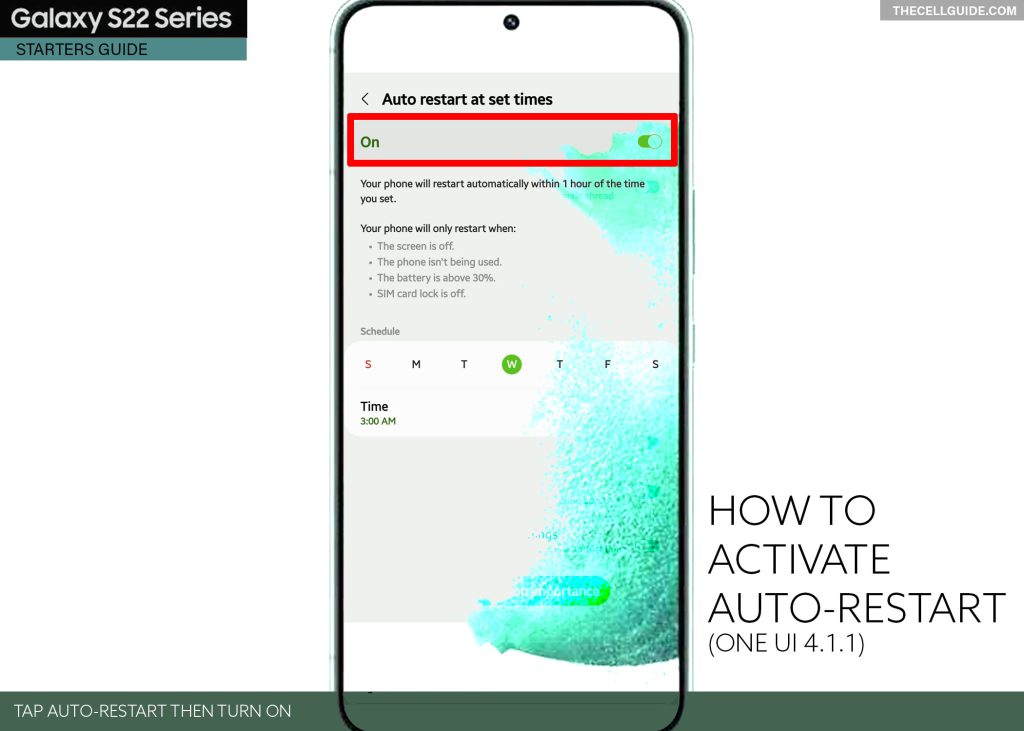 Step 6: To set the day, just tap on the initial of your preferred day under Schedule. One or two days in one week will do.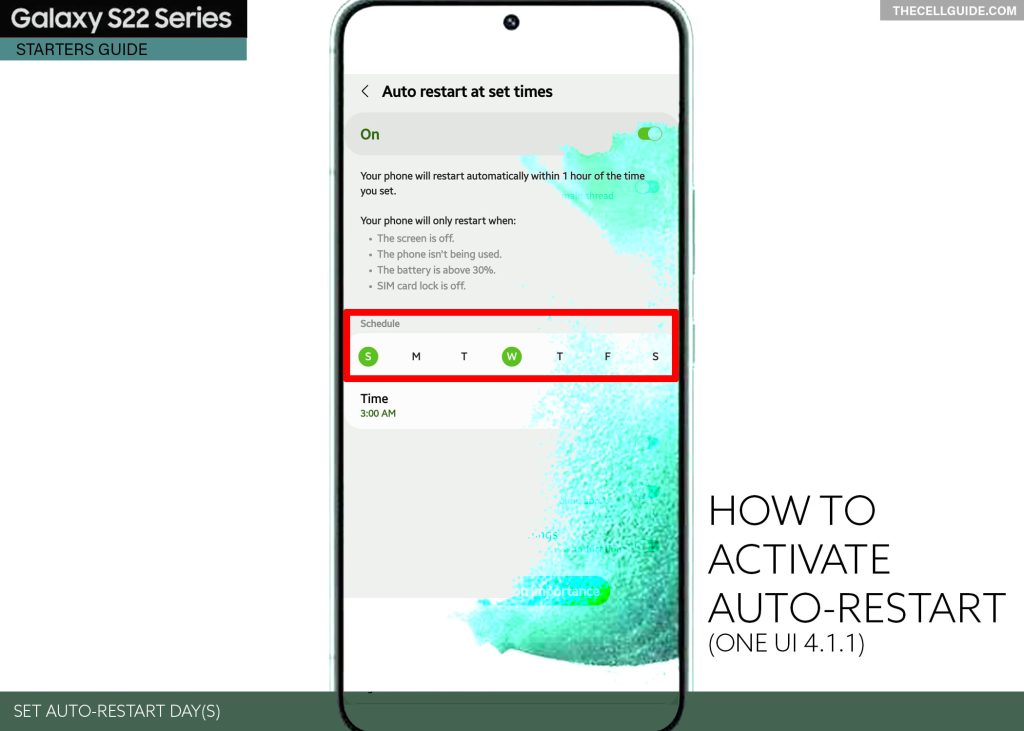 Step 7: To set the time, tap Time then use the pop-up schedule to select the time you'd like your phone to restart automatically.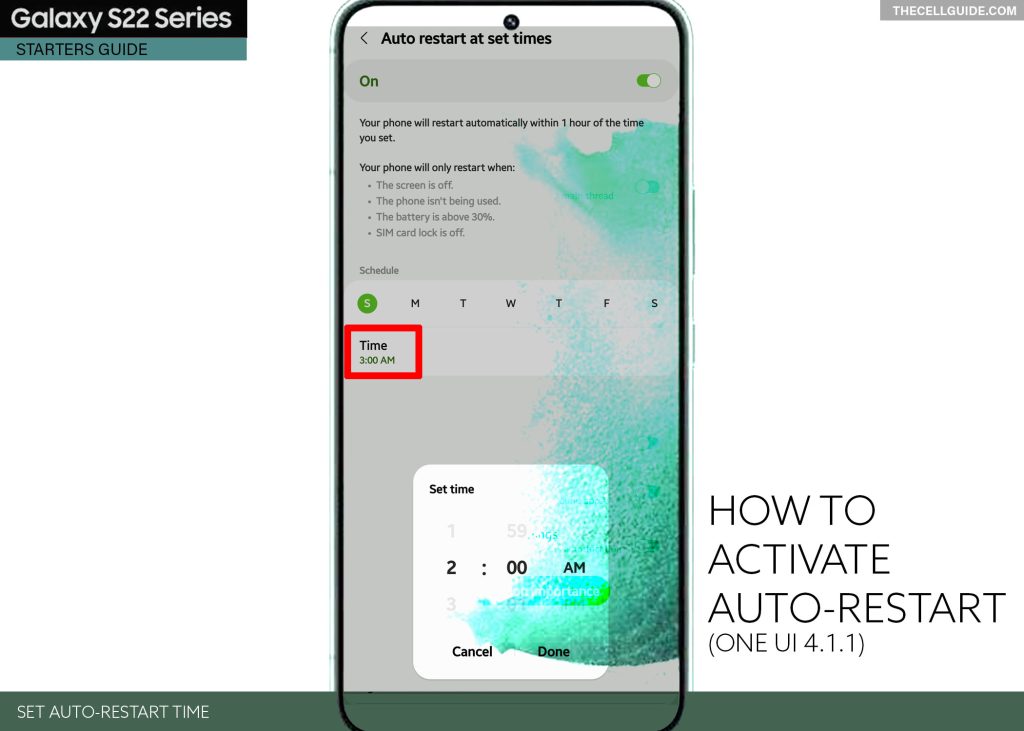 Your phone will then restart automatically within 1 hour of the time you've set. Just make sure that it's sufficiently charged beforehand.
Note that the automatic restart only instigates when the screen is off, when the battery is above 30 percent, when the screen is off and when the SIM card lock is disabled.
SIM Card Lock Enabled on your phone?
If the SIM card lock is enabled on your phone, the auto-restart won't work as intended because the system would require input of the current SIM PIN. In that case, you will need to turn the SIM card lock off on your phone beforehand.
To do this, simply access the Settings app menu then tap Biometrics and security. To continue, tap Other security settings then select the option to Set Up SIM card lock.
To disable the feature, just tap to turn the Lock SIM card switch OFF.
You will be asked to enter the current SIM PIN to confirm. Just enter the correct PIN for your SIM card and then tap OK.
Note:
If you're using dual SIM cards, you will need to disable the SIM card lock for both SIM cards to activate the scheduled auto restart on your Samsung Galaxy device.
If you no longer want your phone to automatically restart and opt to manually restart it instead, just repeat the same steps to go back to the Reset menu then tap the switch to disable automatic restart on your Samsung Galaxy S22.

Hope this helps!
Please check out our YouTube channelto view more tutorial and troubleshooting videos for popular iOS and Android devices.
You Might Also Want To Read: