This post will walk you through augmenting the touchscreen response rate on your new Samsung Galaxy smartphone using a built-in display feature. Read on to learn how to increase touch sensitivity on Samsung Galaxy S21.
If you see any sort of delay on your Samsung phone's touchscreen response, then increasing the device's touchscreen sensitivity might help. To give you some input on how to get this done on your new Samsung Galaxy device, I've mapped out a step by step guide.
Touch Sensitivity Feature Overview
Touch Sensitivity is a display feature integrated in newer Samsung Galaxy smartphones including the S21 variants. When enabled, the touchscreen sensitivity of the phone's screen will be increased.
Turning touch sensitivity feature on is highly recommended when using screen protectors and other phone accessories that could affect the normal response rate of the display. Some third-party screen protectors may not actually fit perfectly on your phone and thus, putting them on could trigger adverse display behaviors.
Enabling touch sensitivity feature is also deemed a potential solution to random software issues that result in touchscreen response delays among various Android devices.
Easy Steps to Increase Touch Sensitivity on Samsung Galaxy S21
Performing the following steps can help make your Galaxy S21's screen more responsive to input touches.
These steps are also applicable to other Android and Samsung Galaxy smartphones that are running on the same Android or One UI version. Actual screens and menu options may vary between device models and carriers.
Feel free to start whenever you're all set to adjust your phone's display settings.
Step 1: To get started, go to the Home screen and then swipe up or down from the center of the display to launch the Apps viewer.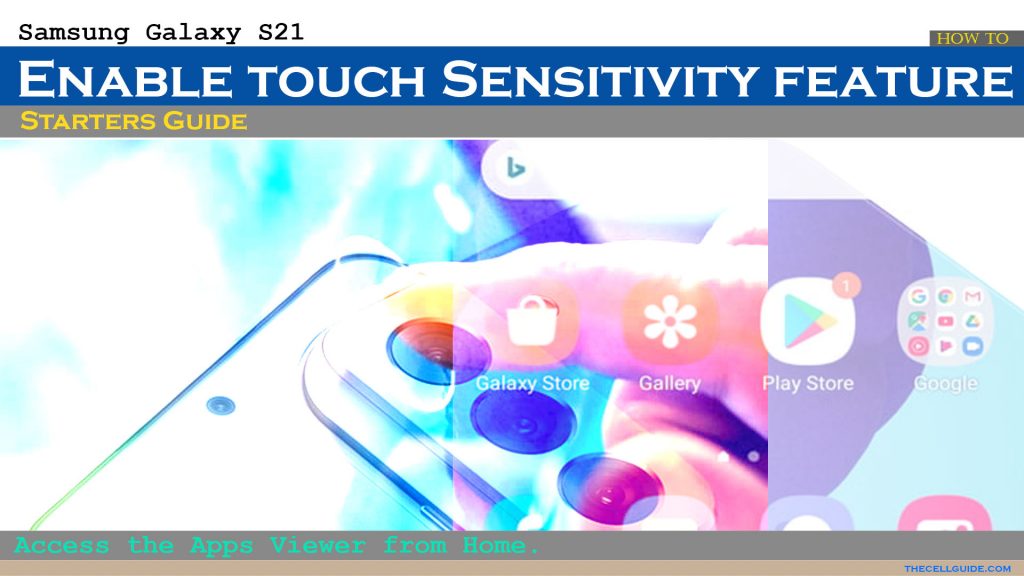 Step 2: While on the Apps viewer, tap the Settings icon. Doing so opens the Settings app.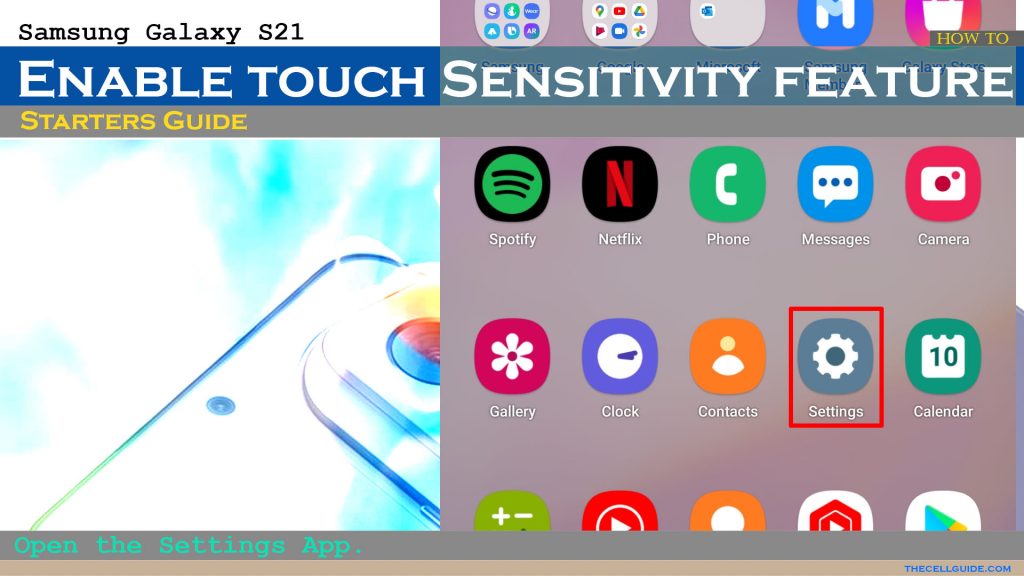 Step 3: Tap Display from the main Settings menu to proceed. Built-in display settings and features will load up on the next screen.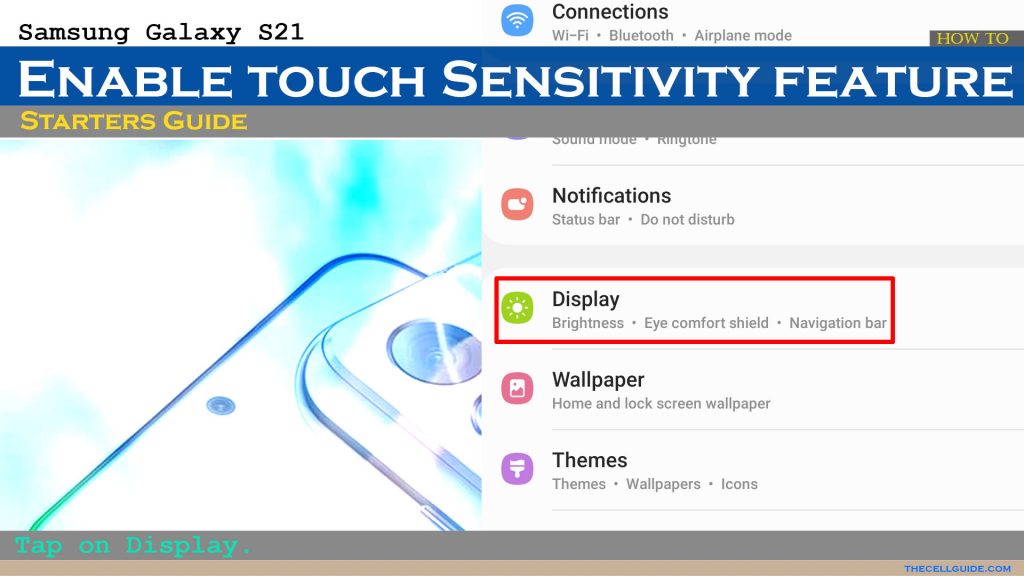 Step 4: To enable the phone's touch sensitivity feature, toggle to turn on the Touch sensitivity switch.
With this feature turned on, the phone's touchscreen sensitivity is augmented even with a screen protector installed.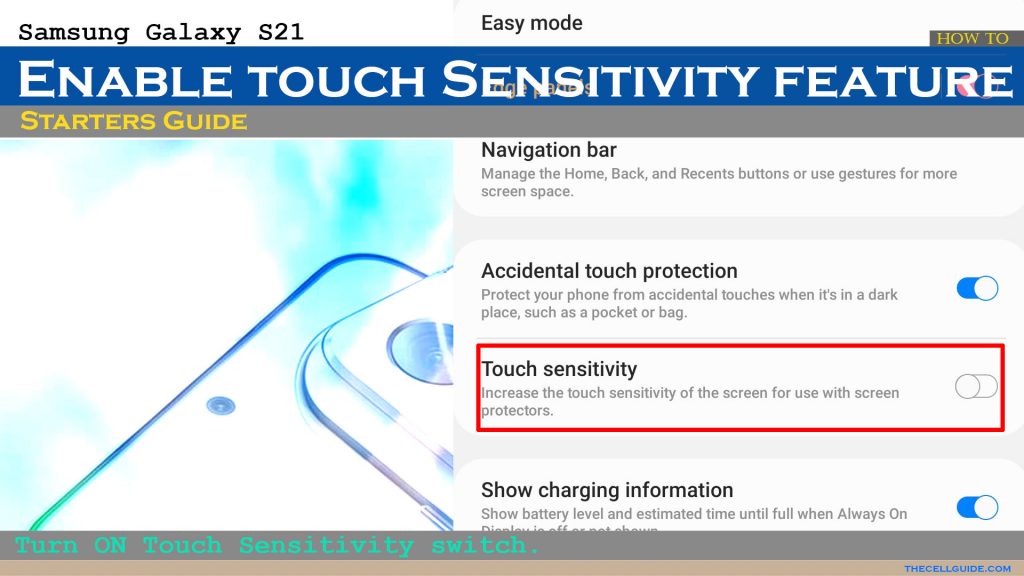 Turning the phone's touch sensitivity on is likewise recommended when using the device with non-leather gloves on.
Other Ways to Improve Touchscreen Response on your phone
Aside from enabling the built-in touch sensitivity feature, display issues depicted by slow or late touch response can also be resolved by a simple reboot or force restart.
Restarting the phone can help fix various software-related issues including those that cause delayed touchscreen responses. Corrupted residual data and errant cached files inflicting unusual system behavior on your phone are generally rectified, making your device performing smoother again.
This process does not affect any saved data, so you won't lose any critical information from your phone.
Keeping the device's software up-to-date can also help ensure fast and optimum system performance of your device.
Optimizing the device storage is also deemed a potential remedy for performance-related display issues. Just head over to your phone's device care settings to manage and optimize your storage. Also ensure that your phone has enough storage available.
Unable to Find Touch screen Sensitivity Option?
Increasing the touch screen sensitivity in newer Samsung Galaxy devices like the S21 series is typically carried out by navigating to the advanced features menu.
In other Android devices, touch sensitivity can be adjusted by dragging the pointer speed slider from the language and input settings.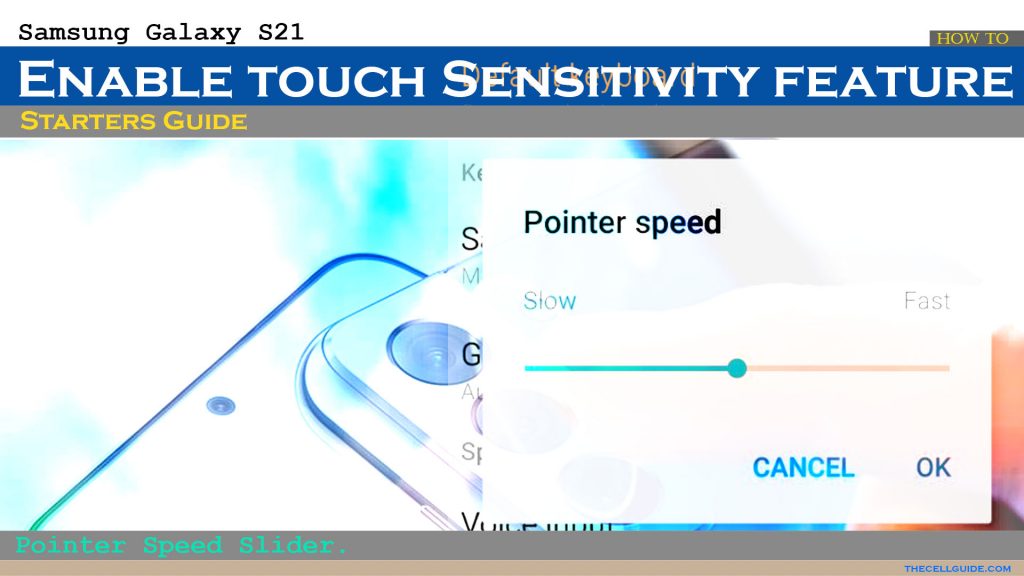 In iOS devices, you will need to access a different menu to enable touch sensitivity. In recent iOS devices, this feature can be managed by specifying the desired touch duration under haptic touch.
And that's all about increasing touch sensitivity on your Samsung Galaxy S21 smartphone.
Hope this helps!
Please check out our YouTube channel to view more tutorial and troubleshooting videos for popular iOS and Android devices.
You Might Also Want To Read: