This post will walk you through activating a Samsung feature that augments the screen's touch sensitivity and make the device as responsive as it is even with a screen protector or other screen accessory on. Here's a quick guide to improve touchscreen sensitivity on Samsung Galaxy A53 5g.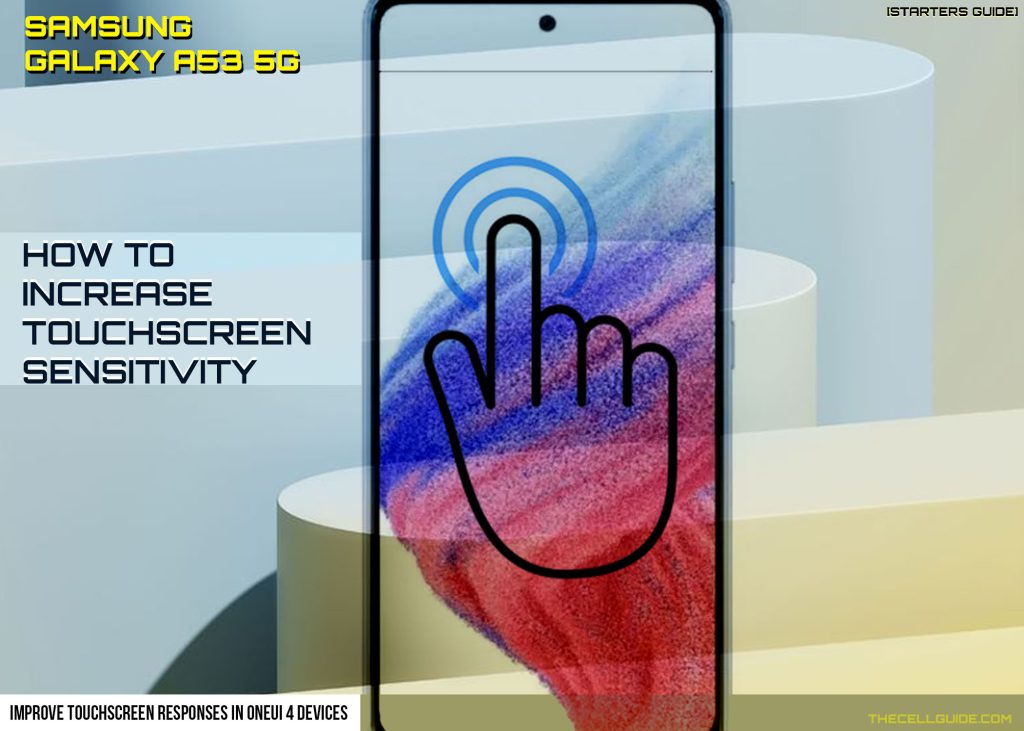 Is your Galaxy A53 touchscreen responding sluggishly? It could be due to the screen protector or tempered glass you installed. Should this be the case, turning on the built-in display feature to increase touch sensitivity might help. Keep reading for more detailed instructions.
Touchscreen Sensitivity Overview
Officially launched mid-March of this year, the Galaxy a53 5g smartphone comes with a super AMOLED, 120Hz display with corning Gorilla Glass 5 protection. This Samsung phone is expected to render swift and smooth performance given that this is an octa-core device.
But just like other Samsung phones, a higher display refresh rate and high-speed processor don't exempt the Galaxy A53 from bumping into some performance issues like delayed touchscreen responses, ghost-touches and unresponsive/frozen display.
There are many factors that can adversely affect the touchscreen sensitivity of this phone. Aside from random software glitches, poor-quality screen protectors are also among the potential culprits. This is usually what happens if you install a third-party screen protector on your device.
To address this matter, Samsung integrates a dedicated display feature that's designed to maintain the screen response rate as usual even with a third-party screen protector installed. To use this feature, touchscreen sensitivity has to be enabled on the phone's display settings.
In case you're wondering how to access and activate this feature on your new Samsung Galaxy A53 5g device, I've mapped out a step-by-step walkthrough as follows.
Steps to Improve Touchscreen Sensitivity on Samsung Galaxy A53 5g
Performing these steps will activate the One UI 4.1 touchscreen sensitivity feature on the phone. These steps are also applicable when activating augmenting touchscreen responses on other Samsung Galaxy phones that are running on Android 12 with One UI 4.1 OS version.
Be sure to keep your phone's software updated to ensure that all main menu options and key features are accessible. This is imperative given that screens and menu items vary between device models and carriers.
Feel free to start whenever you're all set to configure your phone's display settings.
Step 1: To get started, tap Settings from the Apps tray or Home screen to launch the settings app menu.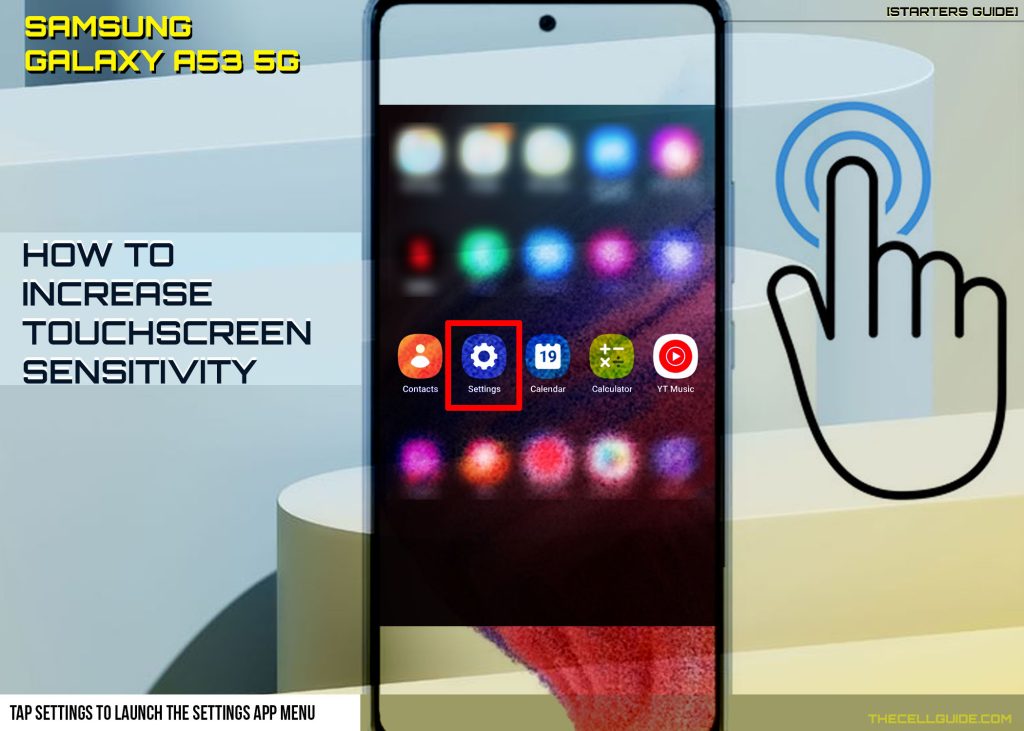 Step 2: While in the main settings menu, find and tap Display. Another menu opens with a list of all display features and relevant options.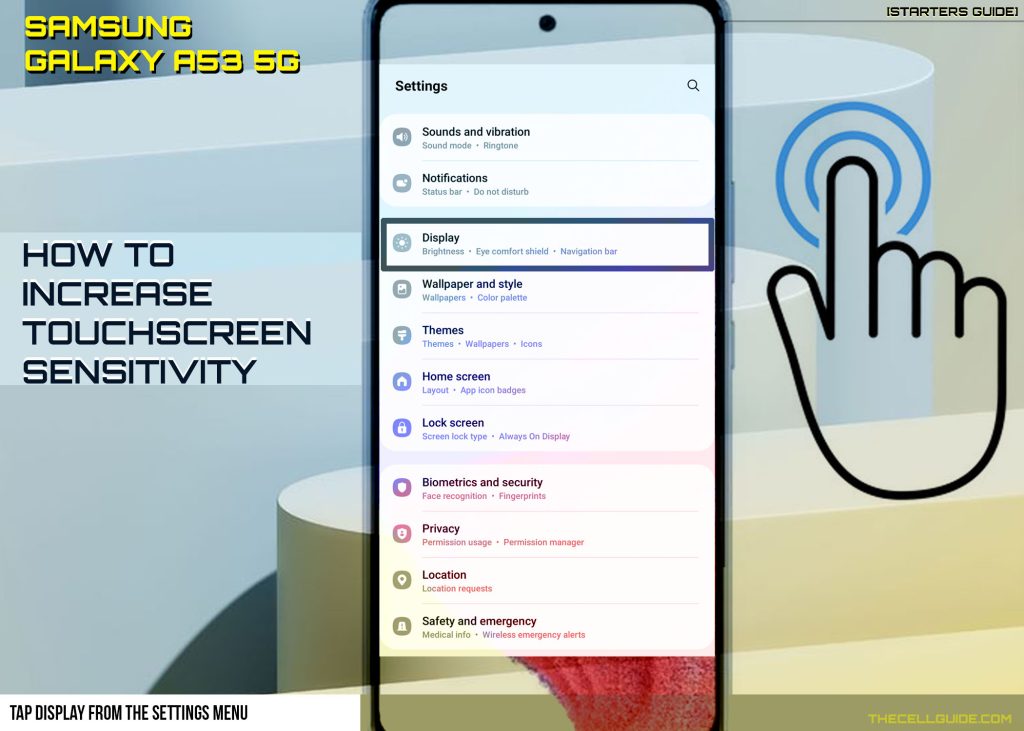 Step 3: Toggle to turn on the switch next to Touch sensitivity to enable the feature.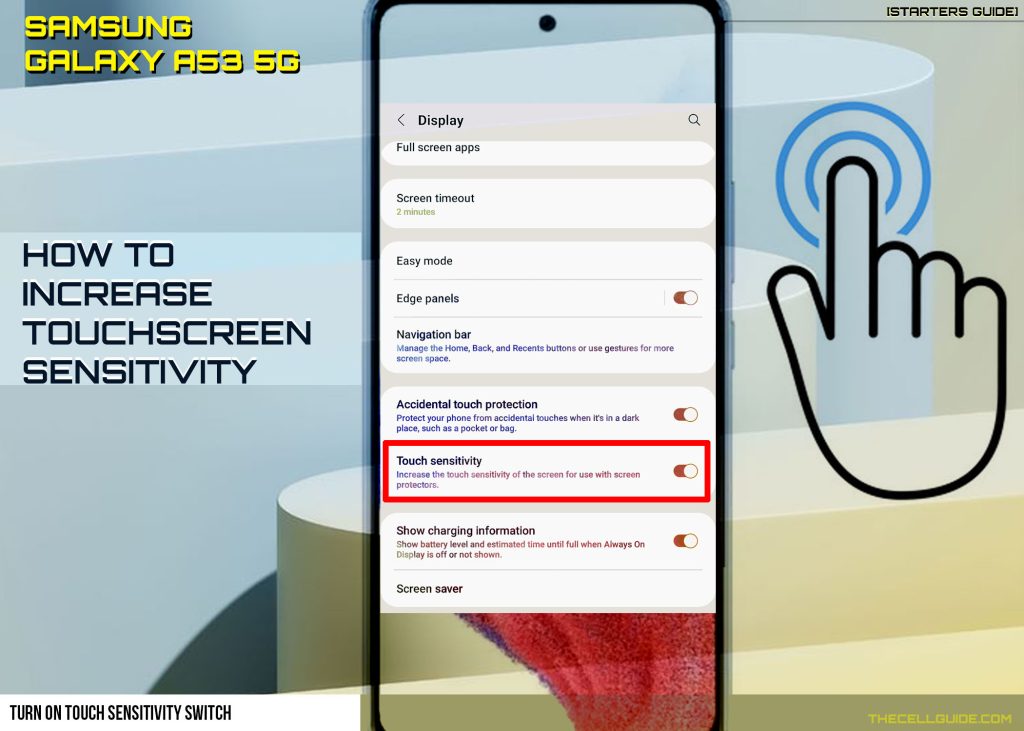 With this feature enabled, the touch sensitivity of your phone's screen will be augmented to make the device stay sensitive to touches even with screen protectors.
Should you wish to disable the feature again, just toggle to turn the Touchscreen sensitivity switch OFF.
Enabling Touchscreen Sensitivity to deal with Display Issues
Touchscreen issues that are attributed to random software glitches are usually addressed by a force restart, storage optimization, settings reset, wipe cache partition, and software update.
And if the workarounds to rule out software-related culprits don't work, resorting to other tweaks like enabling certain display features like increasing touchscreen sensitivity on the phone is recommended.
That said, turning on touch sensitivity will likely fix the touchscreen of your Galaxy device that's responding very slowly, intermittently or not responding completely.
If you suspect that the problem is directly attributed to the screen protector installed on the phone, then removing the screen protector is advised. If necessary, you can replace your screen protector with any of the recommended best-fit for the Samsung Galaxy A53 5g smartphone.
Among the widely used brands include PanzerGlass Black Glass Screen Protector, Olixar Tempered Glass Screen Protector, HOFI Tempered Glass Protector Pro, GlasTify OTG 2 Pack and TouchJAK Carbon Fibre Screen Protector, to name some.
Any of these workarounds will likely be able to fix your device unless hardware damage is present.
For hardware-related concerns, taking the device to the nearest authorized Samsung service center would be necessary.
And that's all about activating the touchscreen sensitivity feature on the Samsung Galaxy A53 5g smartphone.
Hope this helps!
Please check out our YouTube channel to view more tutorial and troubleshooting videos for popular iOS and Android devices.
You Might Also Want To Read: