This post will walk you through activating the One UI display feature that increases the phone's touchscreen sensitivity, making it responding to touch inputs at a normal speed even with a screen protector on. Here's a quick guide on how to increase touch sensitivity on Samsung Galaxy A23.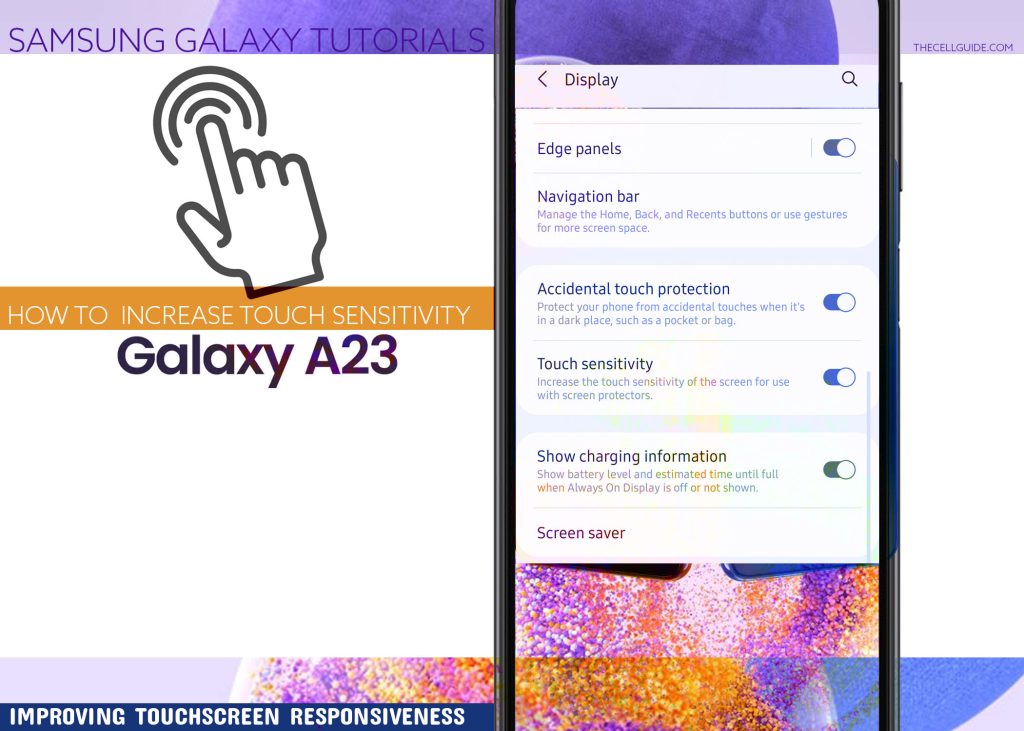 Is your new Samsung phone responding to touches sluggishly? It may be because of the screen protector installed on it. If that is so, then enabling a built-in display feature to increase touch sensitivity might help. Keep reading for more detailed instructions.
Advanced One UI Display Features
Touch sensitivity is a One UI display feature that works in a way that augments the phone's screen responsiveness to touch input commands. Enabling this feature is highly recommended whenever touchscreen response delays are perceived while using a screen protector on the device.
Recent Samsung Galaxy phones including mid-range and entry level models running in Android 12 with One UI 4.1 OS do come with this advanced display feature.
The concept behind the touchscreen sensitivity feature is not new. In fact, it works similar to that of the glove mode feature that was first introduced in Samsung high-end flagship Galaxy S9 series.
Other prior Android phones also came with a glove mode feature, which was aimed at making the phone's screen react more accurately when used with gloves on.
With constant system updates, such display technology has advanced enough and thus Samsung's modern flagships already come with the option to enhance touch sensitivity.
If you're new to One UI 4 and need help activating this feature on your new Samsung Galaxy A23 5g smartphone, just refer to the outlined steps below.
Steps to Increase Touch Sensitivity on Samsung Galaxy A23
This process is likewise applicable when enhancing touchscreen responses by enabling the touch sensitivity feature on other Samsung Galaxy phones with the same Android or One UI version.
Actual screens and menu options may vary between device models and network carriers so the actual interface on individual devices may likewise vary slightly. Just keep your phone software updated to ensure all key features and menu options are present.
Once you've got everything set, you may go ahead and proceed with these steps:
Step 1: First ,tap the Settings icon from the Home screen or Apps screen to open the One UI settings app.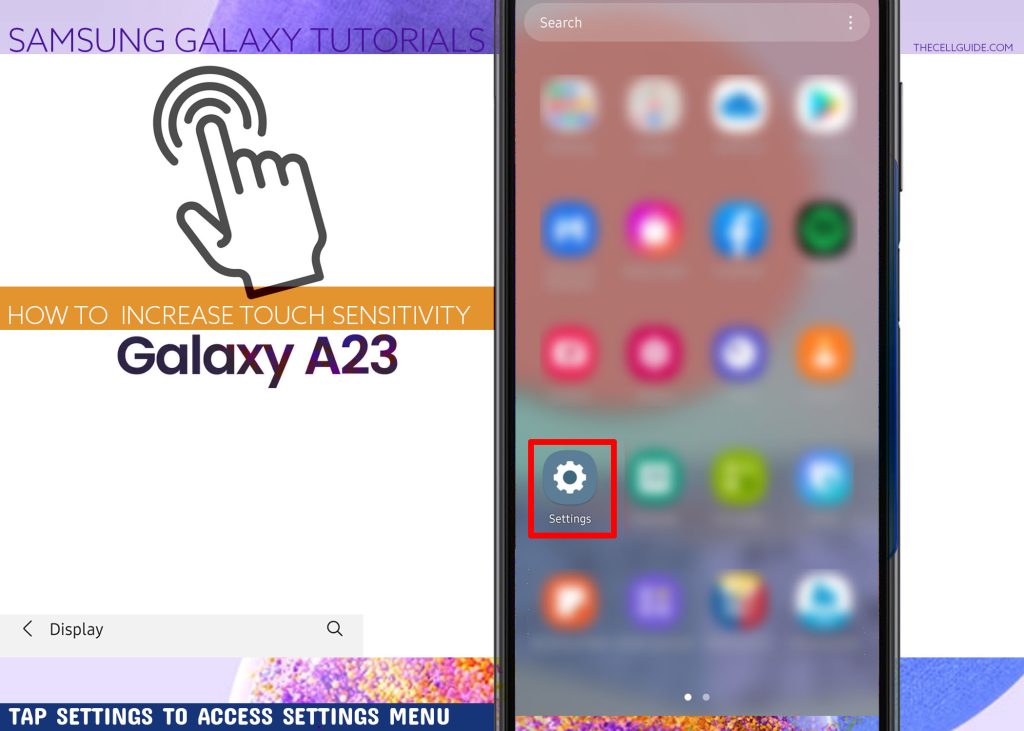 Step 2: While in the settings app menu, scroll to find and then tap Display. More features relevant to the phone's display functions will load up next.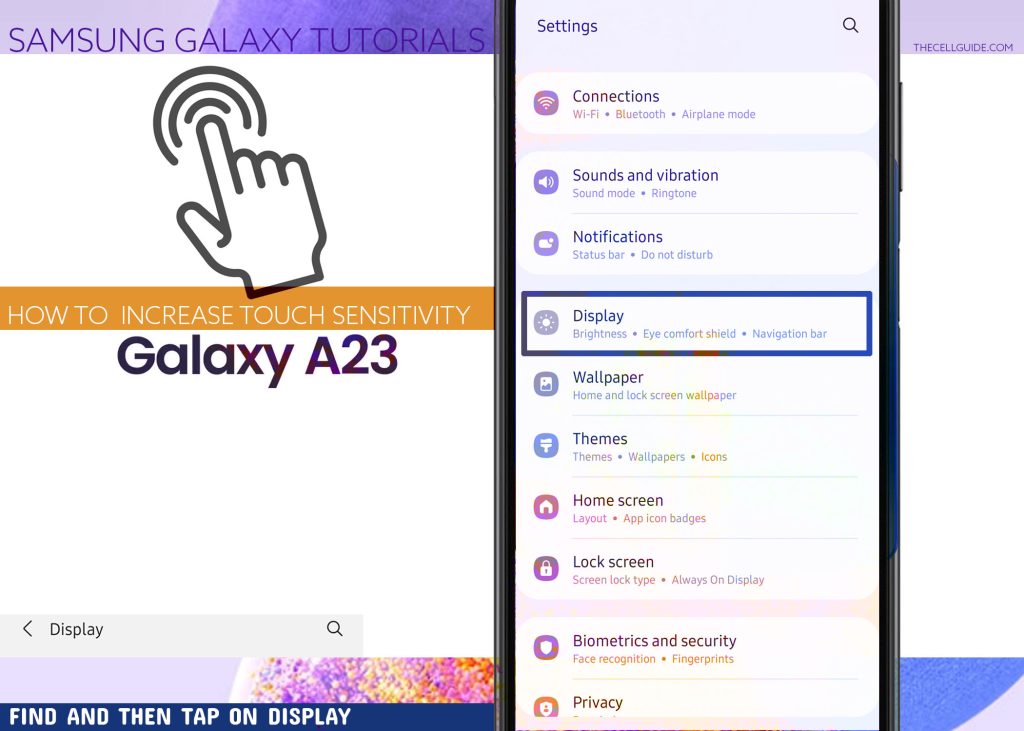 Step 3: Find and then toggle the Touch sensitivity switch ON.
With this feature enabled, your phone should cater better touch screen responses even when using third-party screen protectors.
Should you wish to disable the feature, just toggle the Touch sensitivity switch OFF again.
When to Enable Touch Sensitivity feature on your phone?
Enabling the built-in feature to increase touch sensitivity typically comes in handy whenever you find yourself in a situation wherein your phone is responding very sluggishly or totally unresponsive to your attempts to unlock or tapping actions due to some dexterity issues.
Smartphones are tagged among other touch-sensitive equipment that's mainly operated by the user touching it. If unexpected touchscreen problems occur, then that would directly affect and ruin your entire smartphone experience.
Good thing most modern smartphones are already equipped with more advanced display features to address pertinent user concerns. And one of these is the One UI feature that increases touch sensitivity on the phone.
In Samsung Galaxy devices, the feature is disabled by default so you'll need to enable it manually. In other devices, adjusting the pointer speed can also help remedy some unexpected delays on the phone's touchscreen responses.
Enabling this feature however, won't be able to rectify touchscreen issues that are tied to hardware damage like when a certain display component is broken from a hard fall or liquid exposure. In cases like this, hardware repair is already necessary.
Aside from increasing touchscreen sensitivity, random display issues tied to minor software glitches can likewise be rectified by performing a soft reset or restarting the phone. This does not affect any user data saved on the internal storage so you won't lose important files in the process.
Also ensure that the phone has enough storage because sluggishness or slow touchscreen responses may also be tied to a low memory.
And that's all about increasing the Galaxy A23's touchscreen sensitivity using the built-in display feature.
Hope this helps!
Please check out our YouTube channel to view more tutorial and troubleshooting videos for popular iOS and Android devices.
You Might Also Want To Read: