This post will walk you through activating an advanced display feature on the Galaxy A smartphones to enhance touchscreen sensitivity. Here's a quick guide to increase touch sensitivity on Samsung Galaxy A73 5g.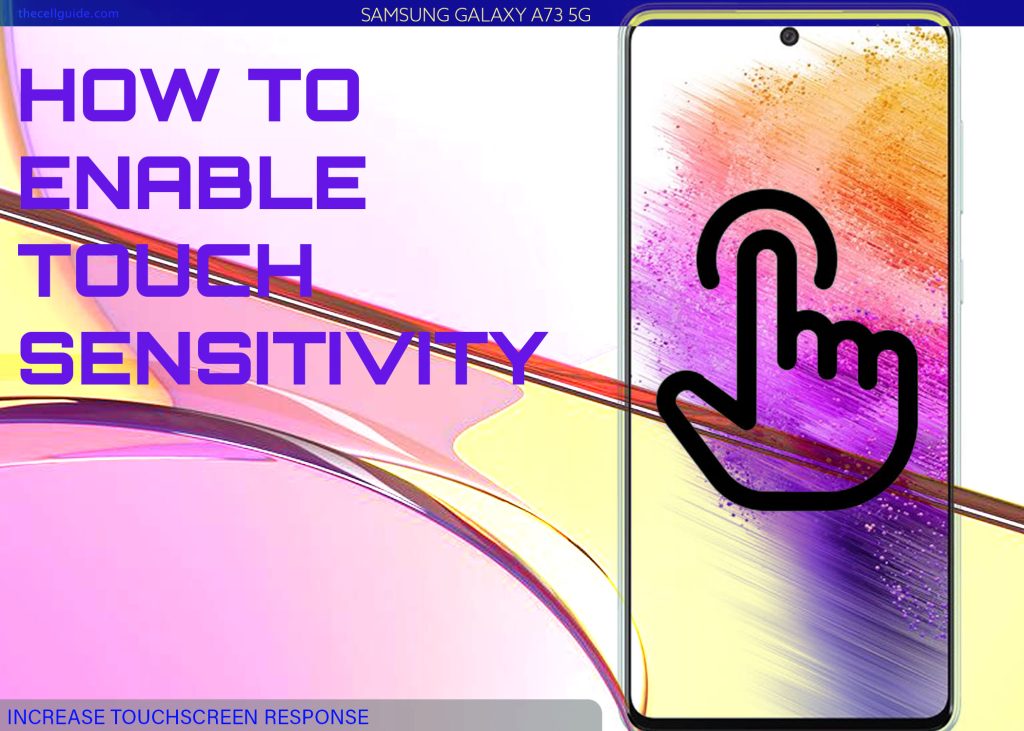 Is the touchscreen of your phone responding intermittently? If that's so, then augmenting the touchscreen sensitivity might help. Read on for more detailed instructions.
How does Samsung Touch Sensitivity Feature Work?
The touchscreen of your phone may malfunction if your hands are not clean while touching the screen. The same thing if you are wearing gloves.
A sensible solution is simply to remove the screen protectors and/or any other screen accessories from the phone, ensuring that the touchscreen is dry and clean, and removing gloves if you're wearing them.
However, if your phone still does not respond properly evenwithout your gloves or with clean hands, doing some other tweaks would be necessary.
In Samsung Galaxy smartphones, there's a certain feature that users can activate and use whenever touchscreen problems arise. Such a feature is called touch sensitivity.
When enabled, it increases the touchscreen sensitivity of the phone, resulting in faster touchscreen responses.
If you're new to the Android platform and need some help in activating this feature on your Samsung Galaxy A73 5g phone, you can refer to this simple walkthrough as follows.
Steps to Increase Touch Sensitivity on Galaxy A73 5g
This method is also applicable to other Samsung phones running on Android 12 with One UI 4.1 OS version. Just keep your device software updated to ensure all important menu options and settings are available.
Feel free to start whenever you're all set to configure the display settings on your phone.
Step 1: To get started, launch the Settings app menu by tapping on the Settings (Gear) icon from the Home screen or Apps screen of your phone.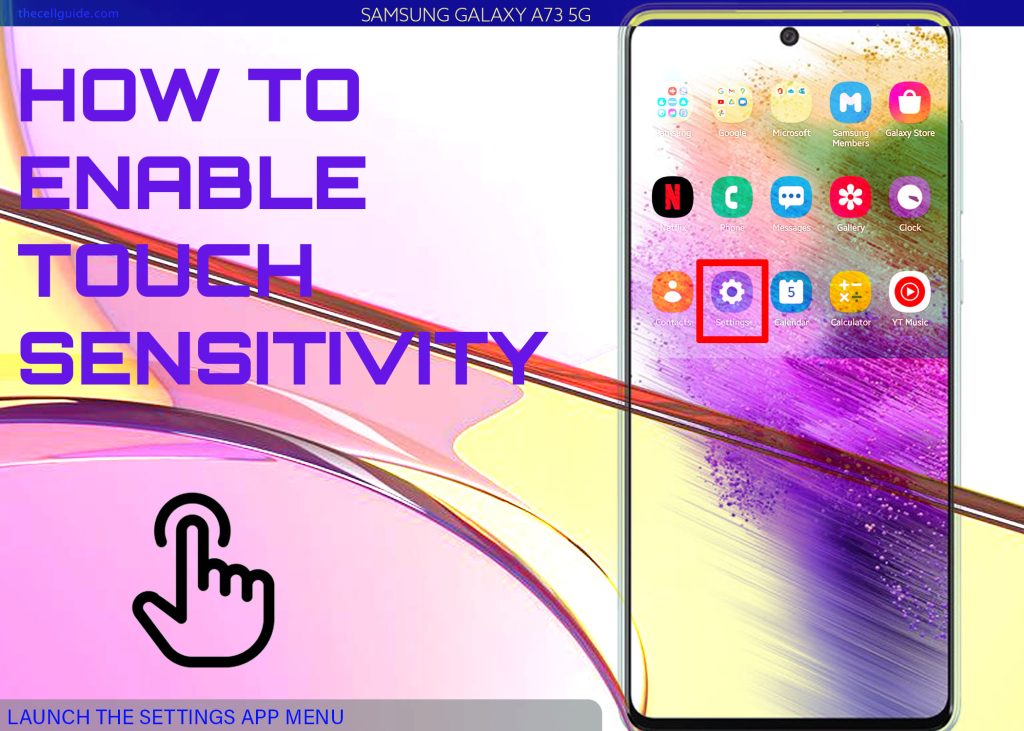 You can also access the settings menu by pulling the notification bar (quick panel) down and then tap the Gear icon on the top-right corner.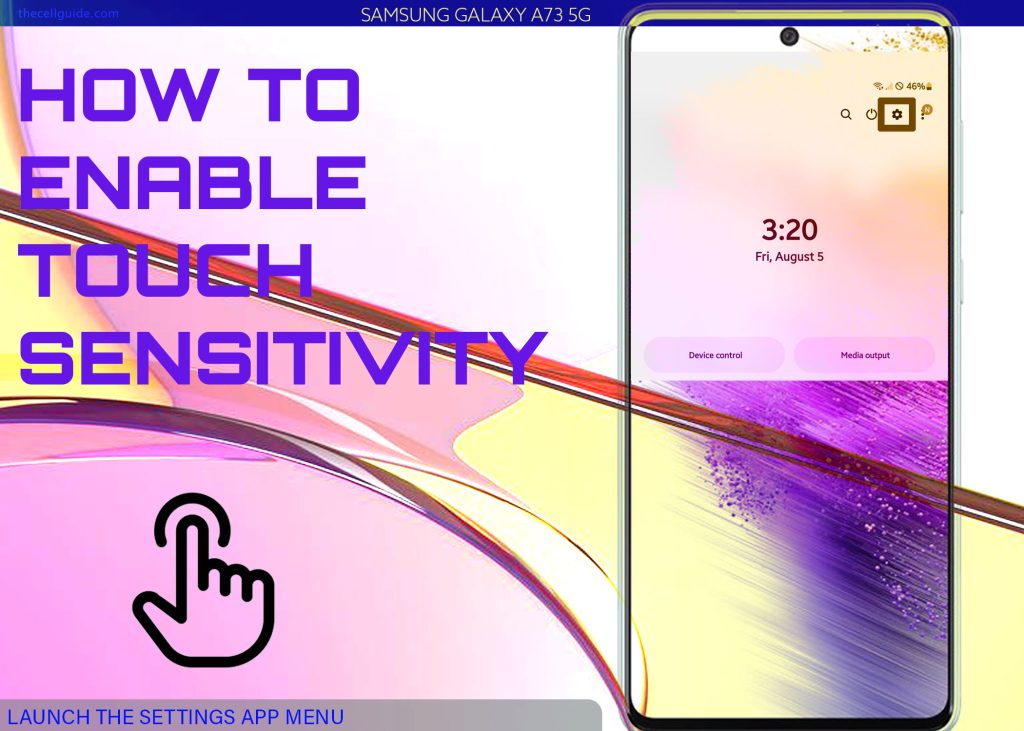 Step 2: In the Settings menu, scroll to find and then tap Display. A list of all built-in display features will load up next.
Step 3: Scroll down to find Touch sensitivity from the given items and then tap to turn On the switch next to it.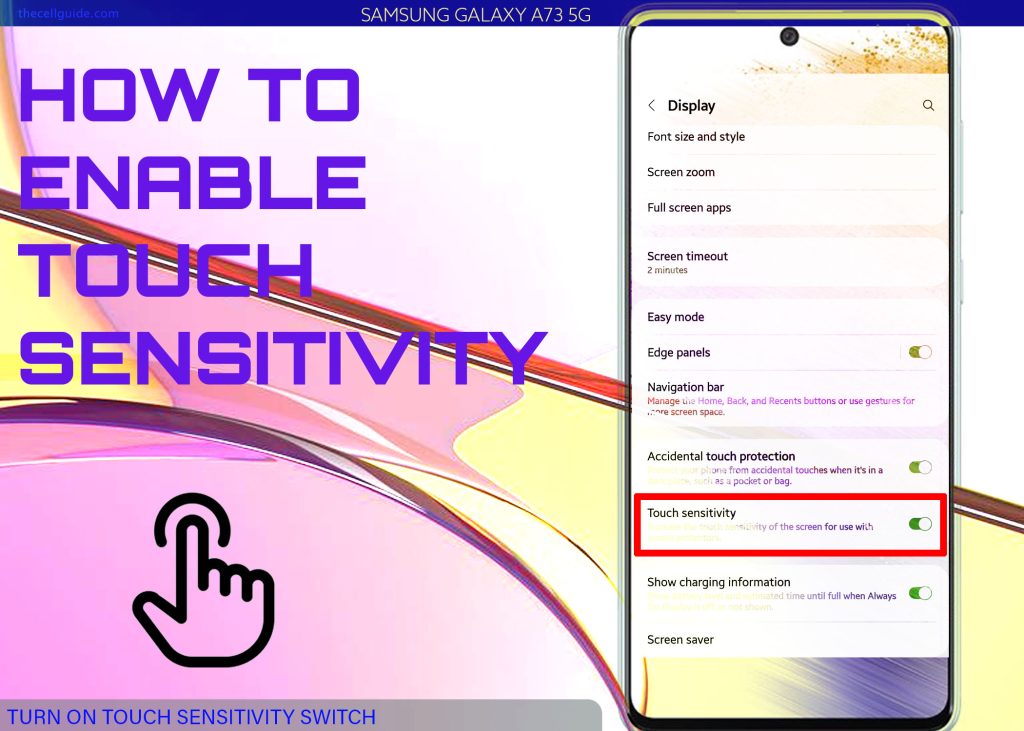 Doing so enables the advanced display feature that enhances sensitivity of the phone's touchscreen.
When enabled, the touch sensitivity of your phone's screen is increased and thereby making it able to respond to touch input commands quickly even when used with a screen protector or other touchscreen accessories.
When to Enable Touch Sensitivity?
Activating this feature on your Galaxy device is usually recommended when using the phone with screen protectors or other display accessories on.
The touchscreen may not work properly if you attach some unapproved protective glasses or films to your phone's display. It turns out that some of these films or glasses only have adhesive on the side edges and therefore may not adhere to the screen completely.
As a result, touch input commands may not be recognized and the phone may respond intermittently.
Enabling Touch Sensitivity to deal with Display Issues
Enabling Touch sensitivity is also regarded among other potential solutions to random display issues in Samsung phones.
Among the common symptoms that can be addressed by activating this display feature include delayed touchscreen response and unresponsive touchscreen like when the phone seems to be stuck or frozen.
Sluggish touchscreen response from use of screen protectors and gloves can likewise be remedied by turning touch sensitivity on.
If the transpiring touchscreen problem appears to be among other performance-related issues, then updating the phone's software and optimizing storage will likely be able to fix it.
Software updates usually contain essential patches that are programmed to enhance and optimize system functions.
Memory-related performance issues on the other hand can easily be rectified by optimizing storage like deleting old and unwanted contents from the phone's internal storage.

If your phone's touchscreen is still not responding, there's a good chance that hardware damage is present. Should this be the case, your device need repair.
Hope this helps!
Please check out our YouTube channelto view more tutorial and troubleshooting videos for popular iOS and Android devices.
You Might Also Want To Read: