This post will walk you through enabling parental controls and setting content restrictions for Play Store apps on a Samsung Galaxy smartphone. Here's a quick guide to activate parental controls on the Galaxy A53 5g device.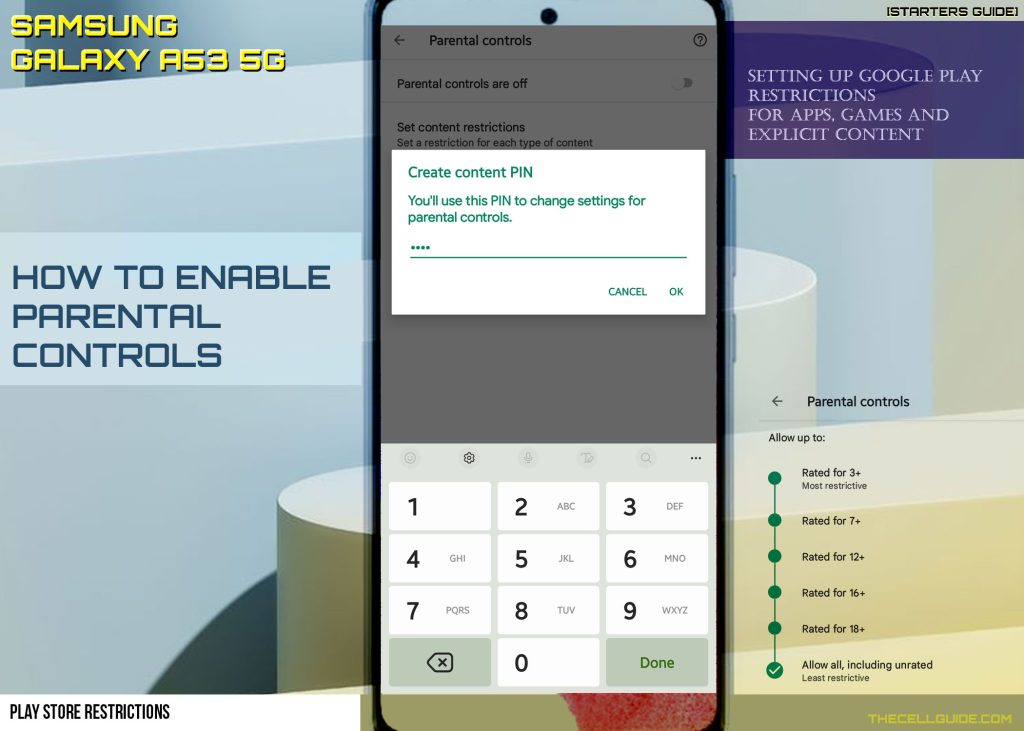 Need help controlling your child's app usage on your Samsung phone? You can restrict access to explicit apps and games by setting restrictions on the Google Play app. Just keep reading for more detailed instructions.
Play Store Content Restrictions in Android
Google allows you to restrict certain apps and games on your Android device using parental controls.
When enabled, the Google Play Store parental controls allows you to choose the highest content rating that you'd like to allow for app downloads and purchases. This means that you can restrict which content can be downloaded and purchased from the Play Store on your device according to the maturity level you've set.
Enabling this feature is recommended when you allow kids or other minor family members to use your Android phone.
The Google Play Store parental controls are different from the in-built parental controls in Samsung phones. That said, activating this feature requires access to your Play Store account settings.
If you're new to Android 12 and need some input on how to access and enable this feature on the Galaxy A53 Play Store application, feel free to refer to the subsequent instructions.
Steps to Activate Parental Controls on Samsung Galaxy A53 5g
Performing these steps will enable parental controls for certain apps and games on the Google Play Store. These steps are based on the updated interface of the Galaxy A53 5g smartphone and likewise applicable to other Samsung phones running on the latest Android with One UI 4.1.1 OS versions.
Go ahead and start whenever you're all set to configure your device.
Step 1: To get started, tap the Google Play icon on the Home screen or Apps tray. Doing so opens the Play Store app.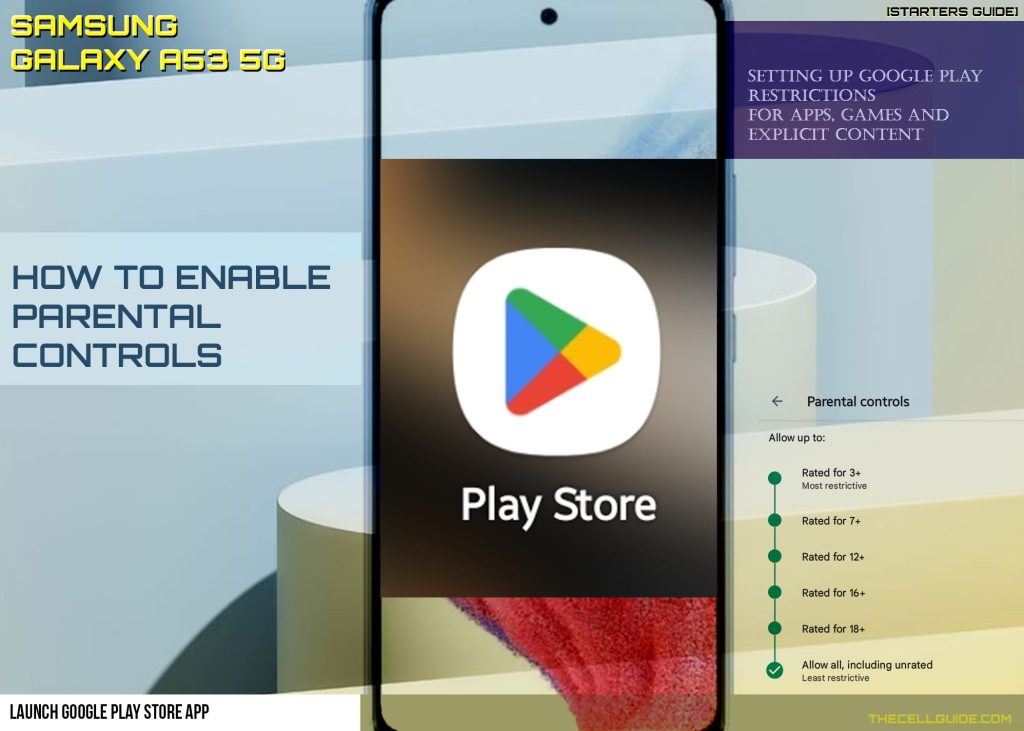 Step 2: While in the Play Store app's main screen, tap on your profile icon located on the top-right corner. A side menu opens with a list of options.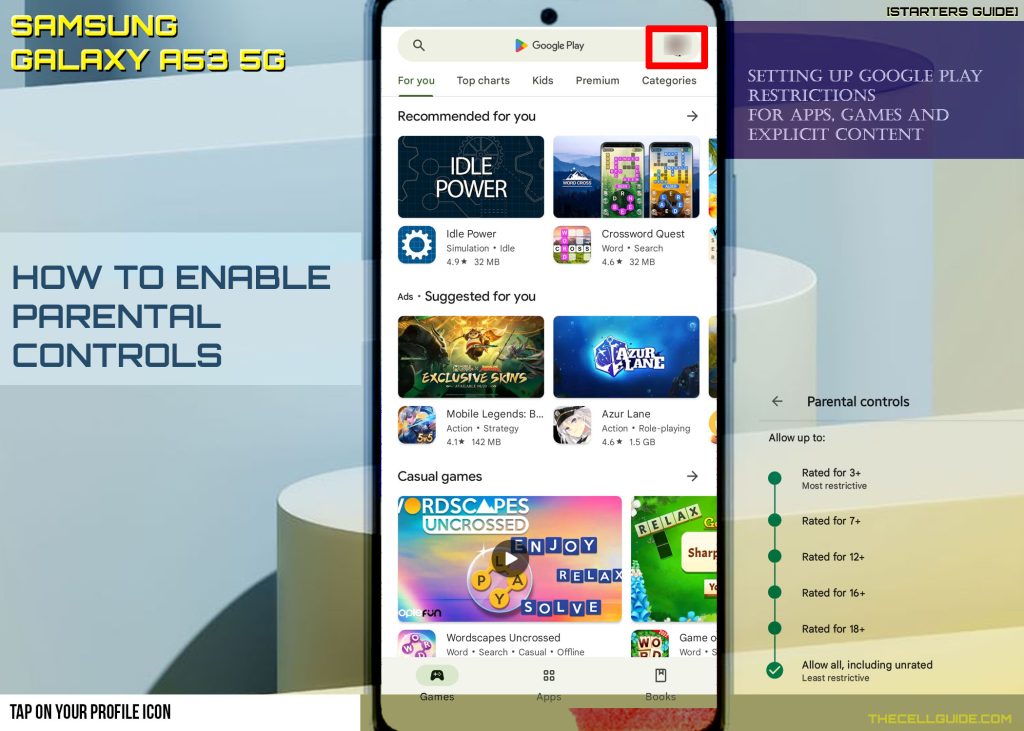 Step 3: Tap Settings from the given options to proceed.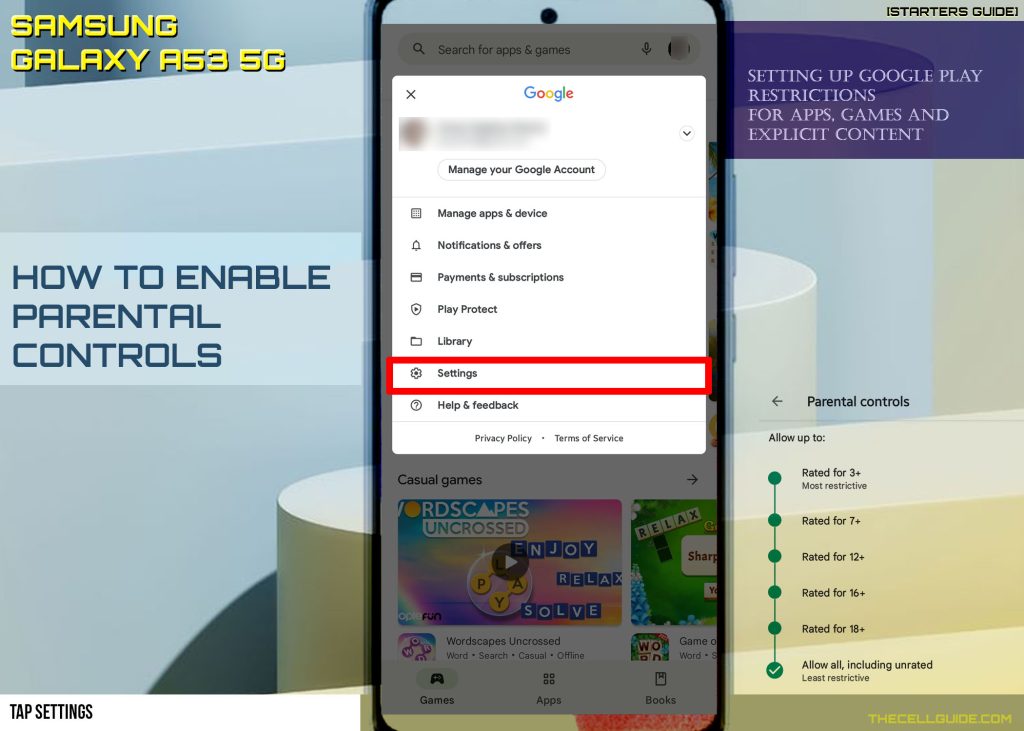 Step 4: On the following screen, tap Family. Another menu opens with a new set of relevant items.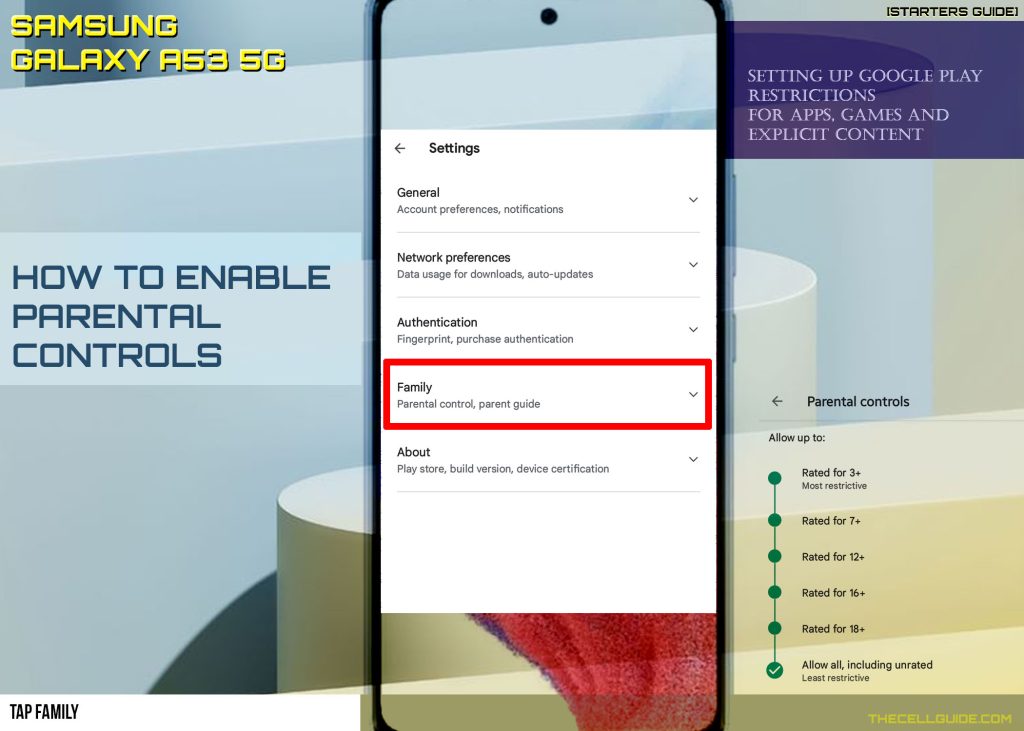 Step 5: Tap Parental controls to continue.
Step 6: On the succeeding window, toggle to turn the Parental Control switch switch.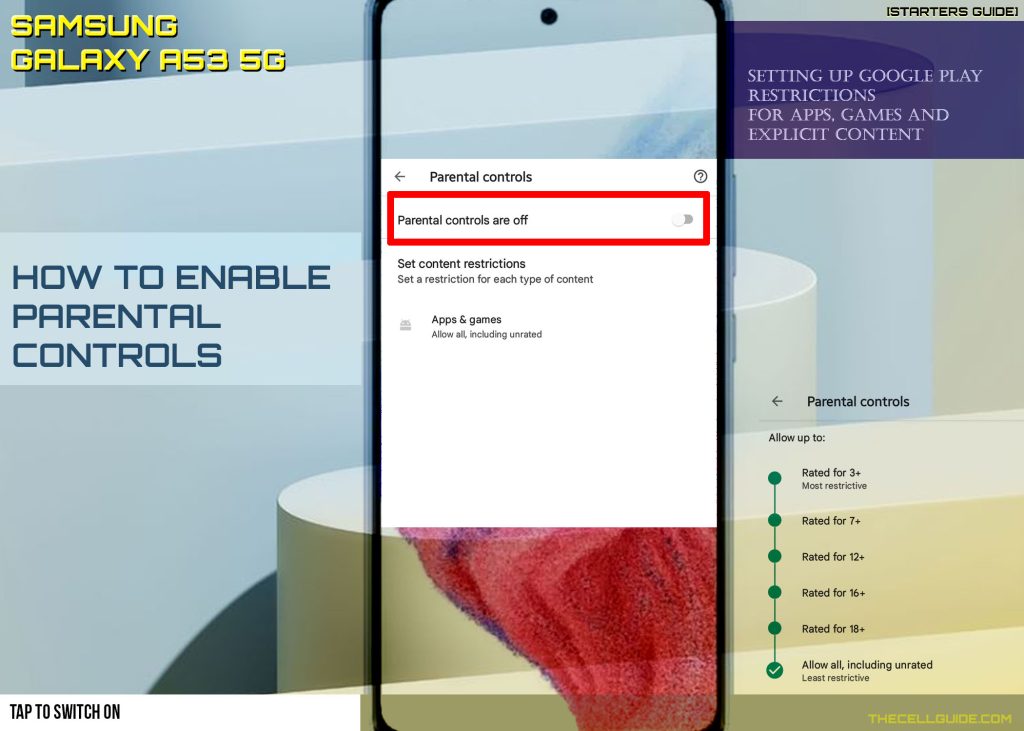 Step 7: If prompted, create your content PIN. Just type in a 4-digit PIN that's easy for you to remember.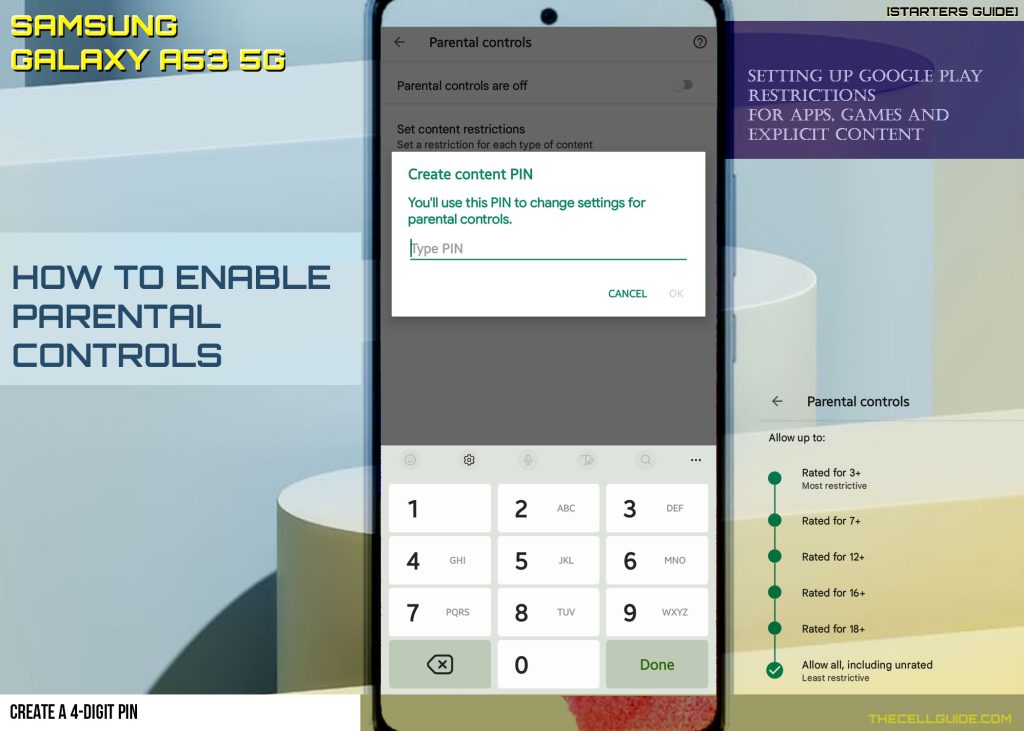 Step 8: Re-enter the PIN on the next pop-up window and then tap OK again to confirm.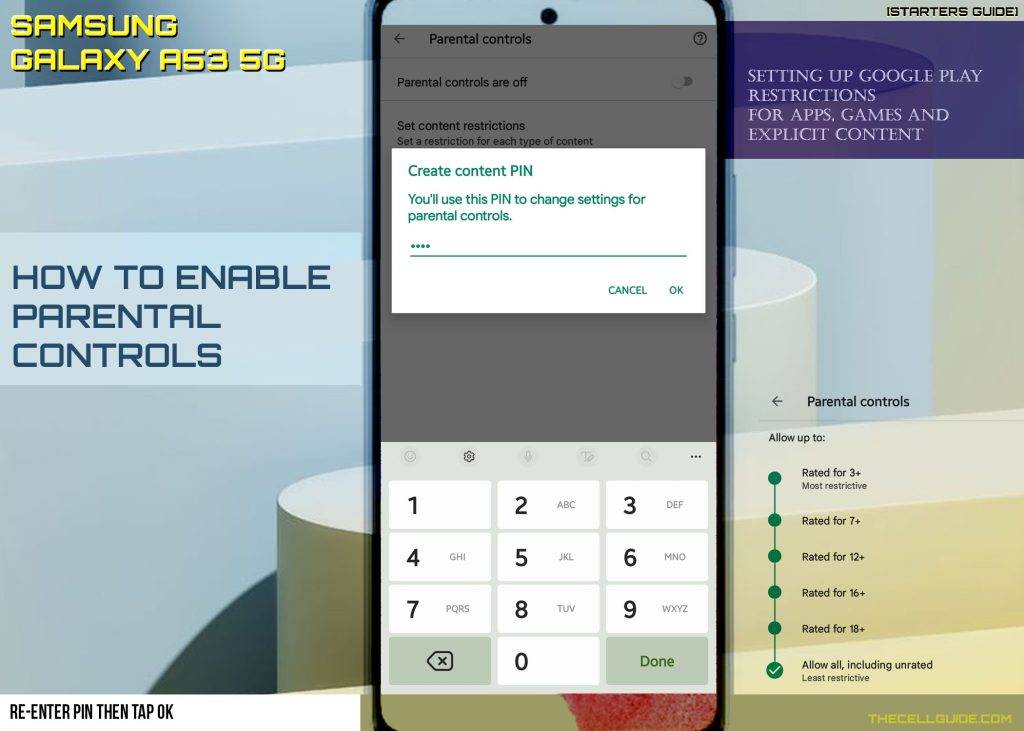 Parental controls are now enabled for Google Play Store downloads.
Step 9: To set restrictions for certain types of content, tap Apps and games under Set content restrictions.
Step 10: On the succeeding menu, set your parental control restrictions then tap Save to apply the recent changes.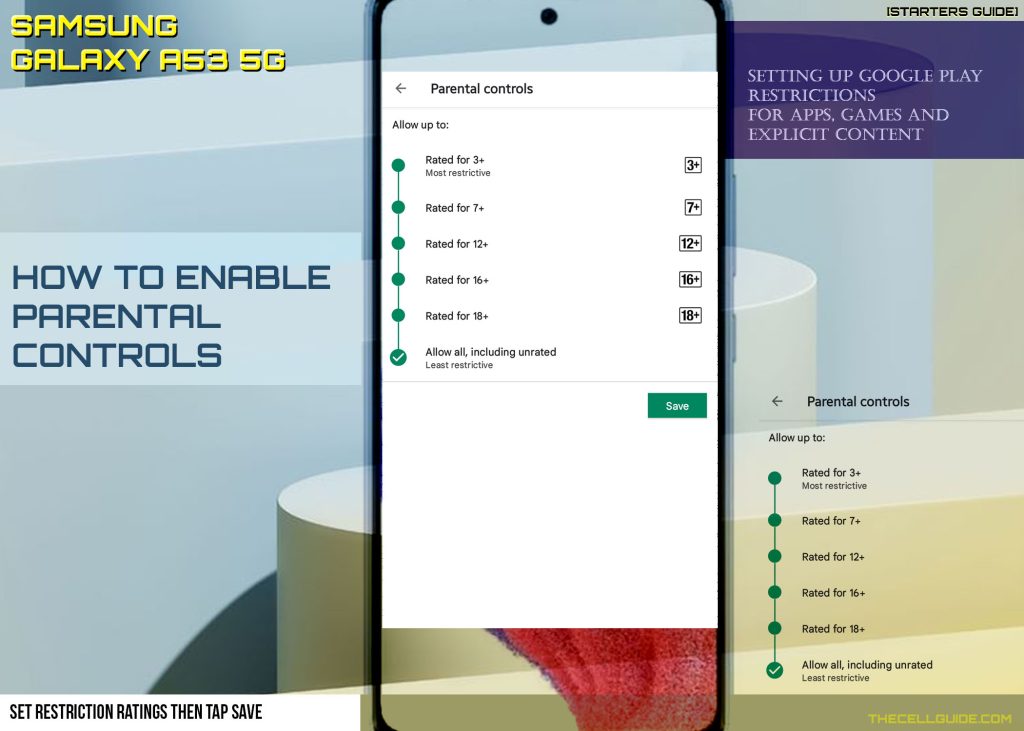 To disable parental control, just repeat the same steps to return to your Play Store account's Family settings then turn the Parental Control switch OFF. Enter your four-digit PIN then tap OK.
If you entered the correct PIN, the parental controls switch will be disabled.
What happens when you forget your PIN?
If you forgot your PIN, you will need to reset it. Resetting the Play Store Parental Control PIN requires clearing of your Play store app settings. This denotes the need for you to note all your existing settings so you can set them up again afterwards.
Once you've got everything noted, follow these steps to reset your PIN:
Open the Settings app by tapping on the Settings icon from the Home screen or Apps tray on your Samsung phone.
In the Settings app, tap Apps.
Select Google Play Store from the list of apps.
In the Play Store app info, tap Storage.
To clear the Play Store app settings, tap Clear data then tap OK on the pop-up window to confirm.
All saved data and settings for the Play Store app will then be deleted including your parental controls and your PIN.
By then, you can sign back into the Play Store app, add parental controls then set up a new PIN.
If unexpected errors occur on certain apps and games after activating parental controls in the Play Store, try updating the problematic app(s) with parental controls turned off.
You can turn parental controls back on again once you're finished updating the application.
Aside from apps and games, you can also set up parental controls for other Play Store contents such as movies, TV shows, and Books. Doing so restricts certain movies, TV shows, and Books based on your specified rating.
Setting up parental controls for Books will restrict reading or purchase of books from the Play Books app and Play Store app that are tagged as sexually explicit. It's definitely a better aid in preventing your child from getting access to most adult content.
Hope this helps!
Please check out our YouTube channelto view more tutorial and troubleshooting videos for popular iOS and Android devices.
You Might Also Want To Read: