This post will walk you through configuring the inbuilt messaging feature on the Galaxy A13 5g for it to remove old messages that are piled up in the app's storage. Here's a quick guide to automatically delete old messages on Galaxy A13 5g.
Unable to send or receive new messages on your Samsung phone? If it's not due to some network issues, it might be due to the Messages app inbox that's already full. Should this be the case, deleting old and unnecessary SMS, MMS and group chats would be necessary. You can do it manually (if you don't mind spending more time) or set your device to automatically do it instead. Just keep reading for more detailed instructions on how to apply this setting on your Galaxy A13 5g smartphone.
One UI 4.1 Automatic Deletion of Old Messages
Newer Samsung Galaxy phones offer an easier way to clear out old bulk personal messages and group chats automatically. This is made possible with the built-in messaging feature called Delete old messages.
When enabled, this feature allows users to customize the message settings to prompt the device to remove old messages once the maximum number is exceeded.
This therefore frees up some storage space on the Messages inbox, allowing your device to send and receive new messages.
Activating the automatic deletion of old MMS and SMS on your device is one of the many ways to optimize storage. More importantly, it's way more convenient than manual deletion of messages.
If you are new to Android with One UI OS devices, feel free to refer to these outlined instructions.
Steps to Automatically Delete Old Messages on Galaxy A13 5g
Your Samsung Galaxy phone is capable of storing 1000 SMS and 100 SMS. If those numbers are reached, you'll get a warning prompt saying that you can no longer send or receive new messages because the inbox capacity is full.
To prevent this from happening, you can either delete old and unwanted messages manually or activate the phone's auto-delete old messages feature.
Automatic deletion of old messages is disabled on the phone by default. That said, manual activation of this option from the stock messaging application would be necessary.
Just follow these steps anytime you are ready to configure the Messages app settings on your Galaxy device.
Step 1: First, tap Messages from the Home screen or Apps tray to open the stock Messages app.
Step 2: While on the Messages app's main screen, tap the triple dots icon on the top-right side to view the quick menu for the app.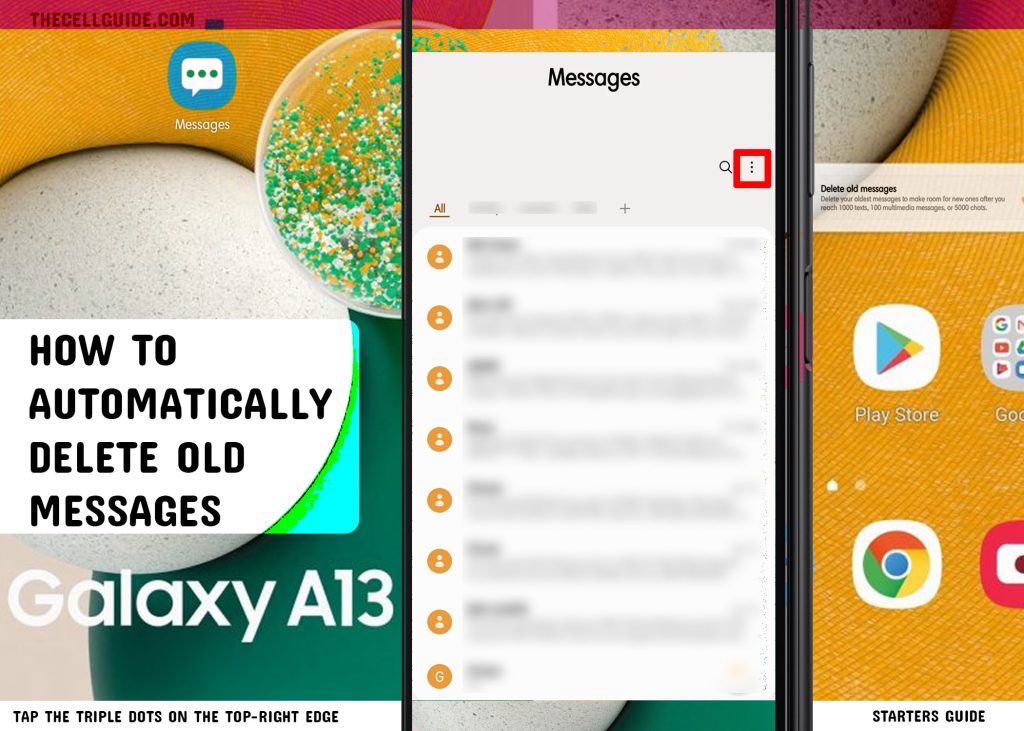 Step 3: A list of sub-menu items will show up on the side menu. Tap Settings to continue.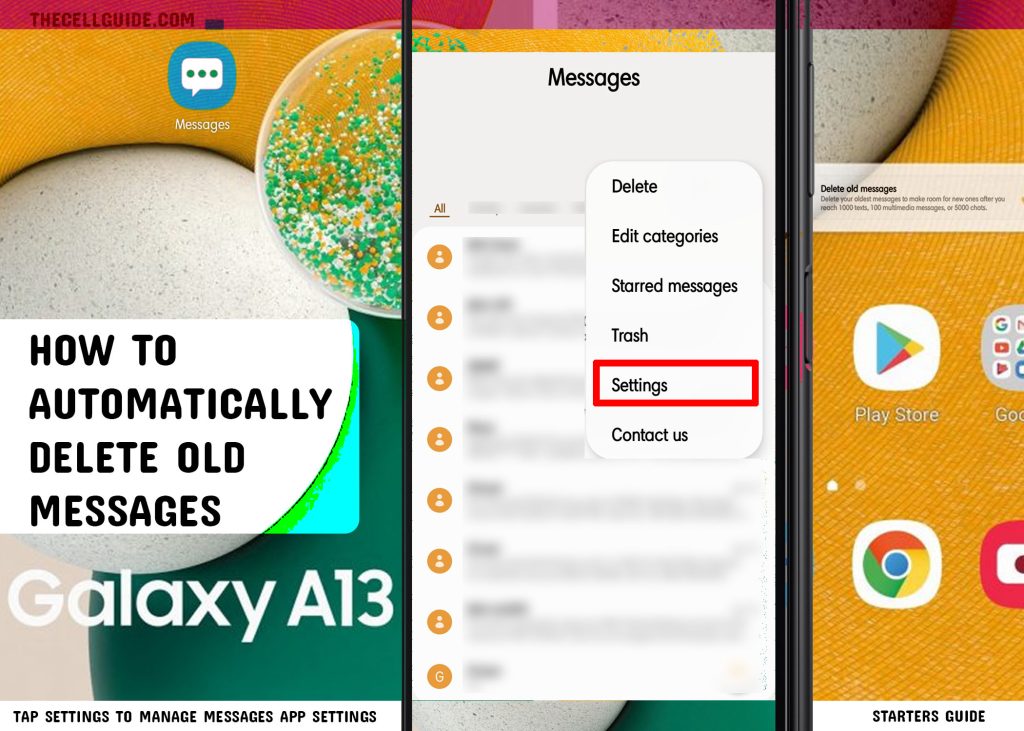 Step 4: On the succeeding window, tap More settings. Doing so will load up additional settings for the inbuilt messaging application.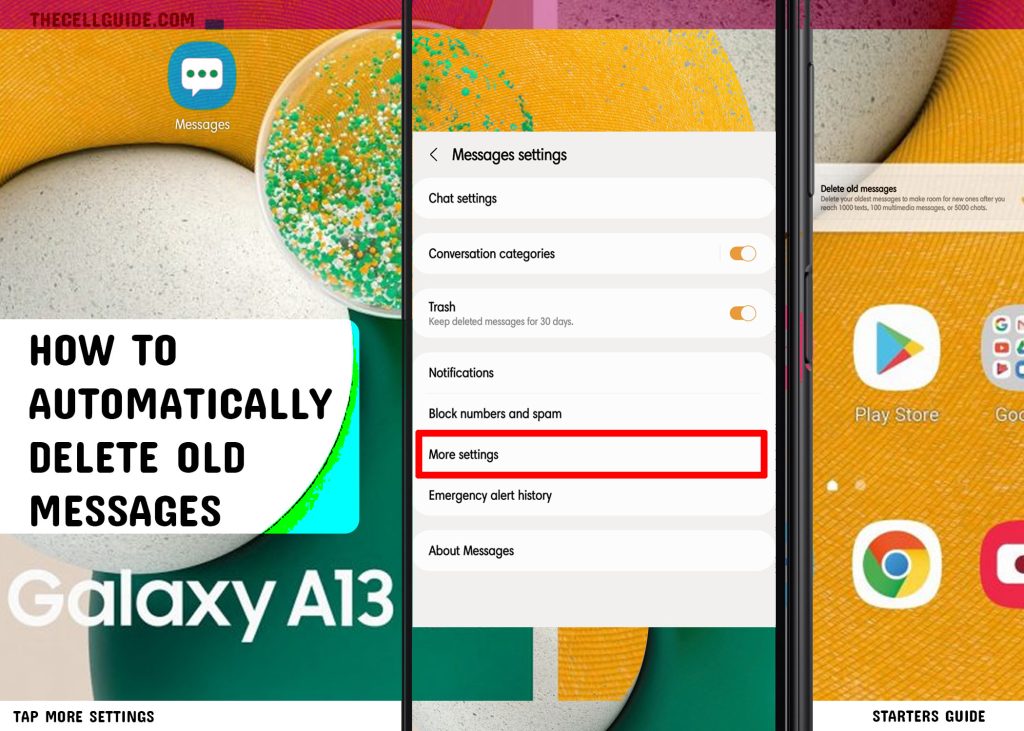 Step 5: Find and then tap to turn on the option to Delete old messages. Just toggle the switch next to it ON to enable the feature.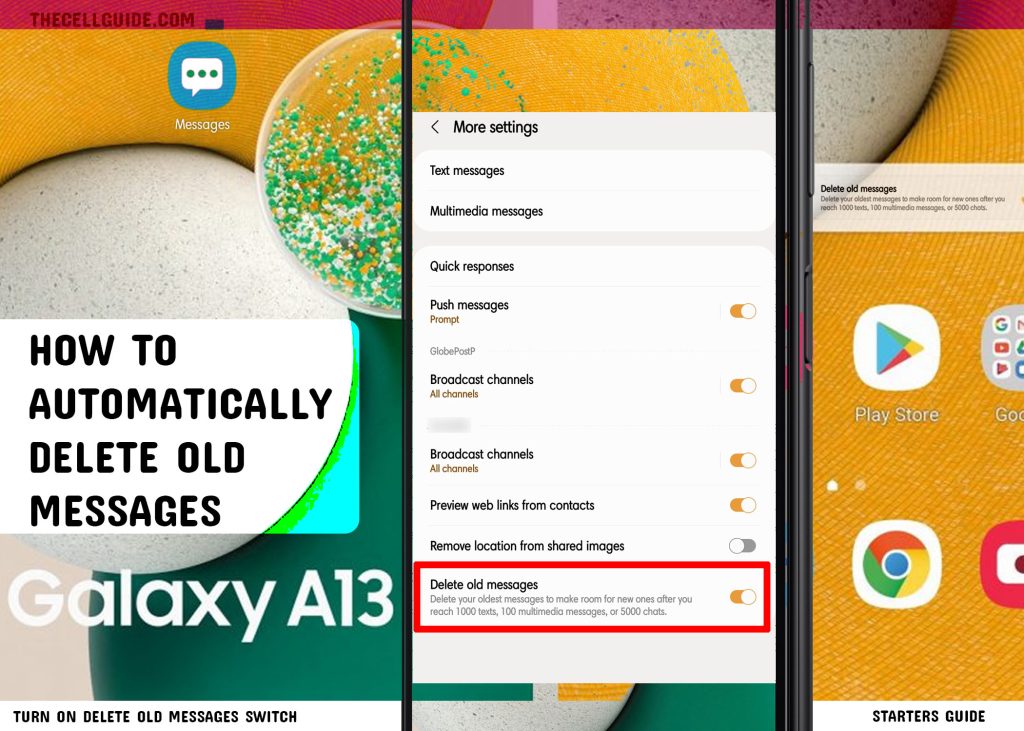 When enabled, old messages will be deleted automatically once the maximum number of texts, multimedia messages or chats is exceeded.
Again the maximum number of text/SMS messages is 1000, multimedia media (MMS) messages is 100 and threads/chats is 5000.
Once the number of messages stored in the inbox is reached, your device will no longer be able to process new messages because there's no more space for the new one. An easier way to fend this off is to activate the automatic deletion of old messages feature on your phone.
If you find this feature helpful, then you can keep it on. Otherwise, just head back to the Messages app settings to turn the Delete old messages switch again.
Please note though that the above procedure is only applicable for the pre-installed messaging app (Messages) on the Samsung Galaxy phone.
If you're using a third-party messaging application for sending and receiving of SMS and MMS messages, then it would be a different procedure.
Need to recover deleted text messages?
If some of your important old messages were deleted, you can recover it using the built-in cloud backup service on Samsung called Samsung Cloud. This however is only possible if you have enabled the phone's sync feature through settings to automatically back up your Samsung messages to your Samsung Cloud account via Wi-Fi.
And that's all about activating the automatic deletion of old messages feature on the Galaxy A13 5g smartphone and other Samsung phones running on Android 12 with One UI 4.1 OS version.
Hope this helps!
Please check out our YouTube channel to view more tutorial and troubleshooting videos for popular iOS and Android devices.
You Might Also Want To Read: