This post will walk you through saving battery on a Samsung Galaxy smartphone by putting unused apps to sleep mode. Here's a quick guide to put apps to sleep on Galaxy A33 5g.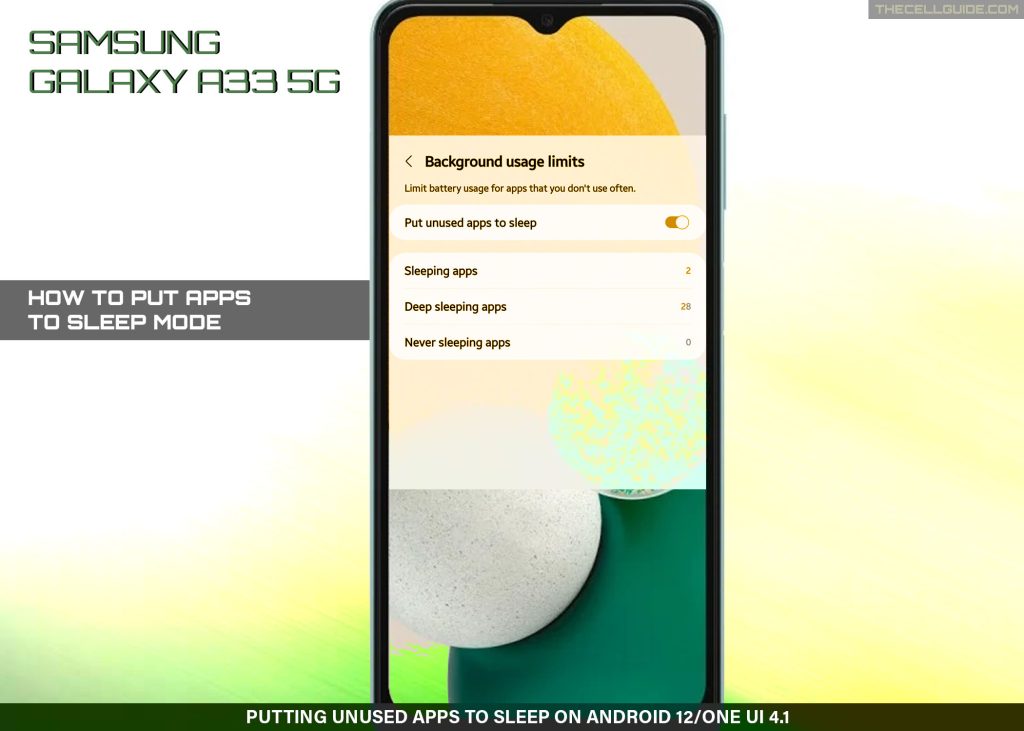 Is your phone battery draining so quickly? It might be due to some rogue unused apps munching the phone's battery life. Should this be the case, putting unused apps to sleep will help solve the problem.
Put Apps to Sleep Mode
Modern Samsung phones are packed with a number of useful features including those that are designed to optimize storage and power consumption. One of these features is the one that will put unused apps to sleep mode. Based on the latest One UI version, this feature is accessible through the Background usage limits menu.
When enabled, this feature will automatically put apps that you haven't used in a while to sleep and thereby delay draining of the battery.
Unused apps can be placed in any of the available sleep mode options including Sleeping, Deep Sleeping and Never Sleeping apps.
If you're wondering how to access and activate this feature on your Samsung Galaxy A33 device, this post highlights a step-by-step walkthrough for you to follow. Keep scrolling to view more detailed instructions.
Steps to Put Apps to Sleep on Galaxy A33 5g
Performing the following steps will help preserve and extend your phone's battery life as it stops any unused apps from adding power consumption.
These steps are also applicable when putting apps to sleep mode on other Samsung phones running on the latest Android with One UI 4.1 OS version.
Feel free to start whenever you're all set to configure your phone's background usage limits settings.
Step 1: To get started, open the Settings app by tapping on the Gear icon from the Home screen or Apps tray.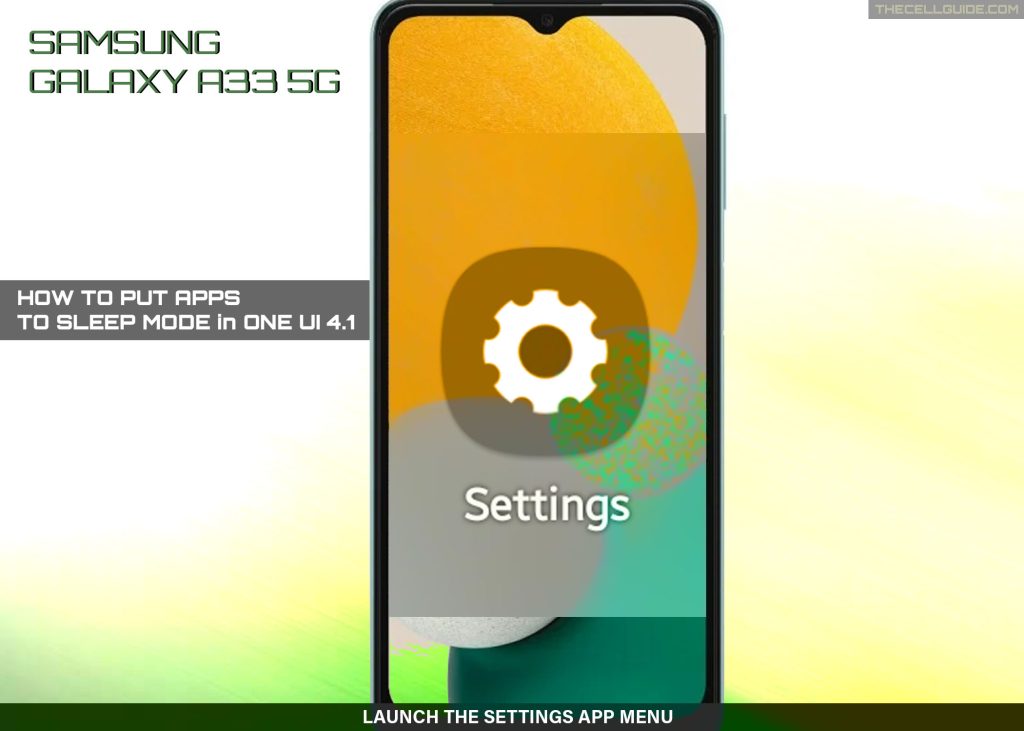 Step 2: While in the settings app menu, find then tap Battery and device care. Relevant features will load up on the next display.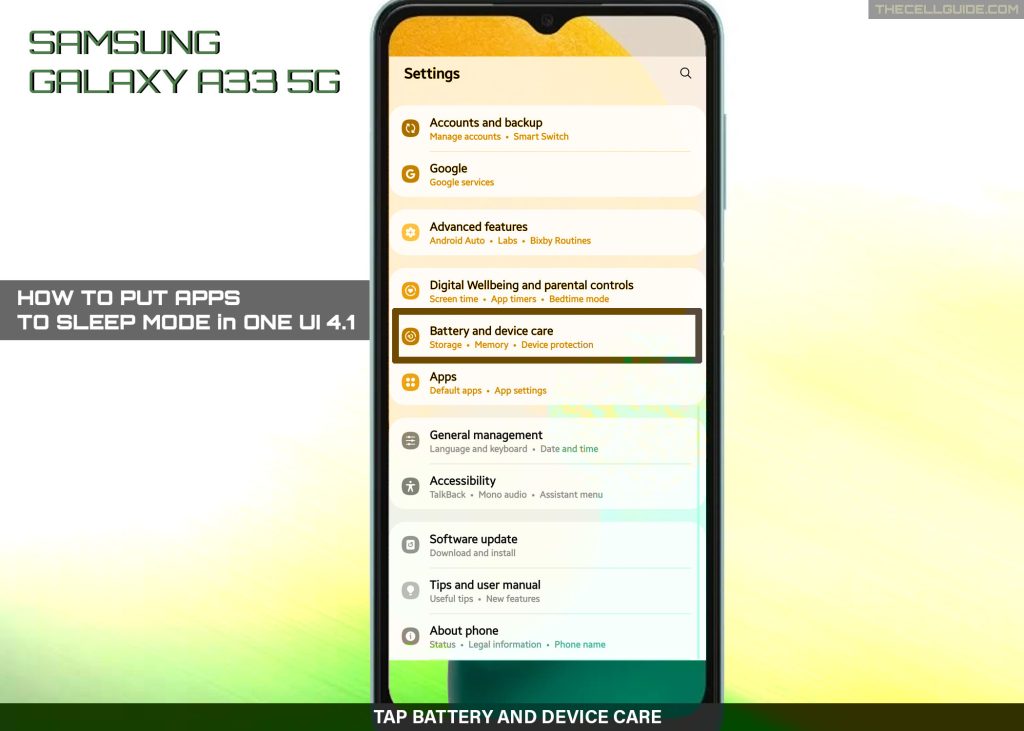 Step 3: Tap Battery to proceed. Battery-related features and features will load up on the next screen.
Step 4: On the succeeding menu, find and then tap Background usage limits. Another menu opens, highlighting the main toggle to put unused apps to sleep along with the different sleep mode options.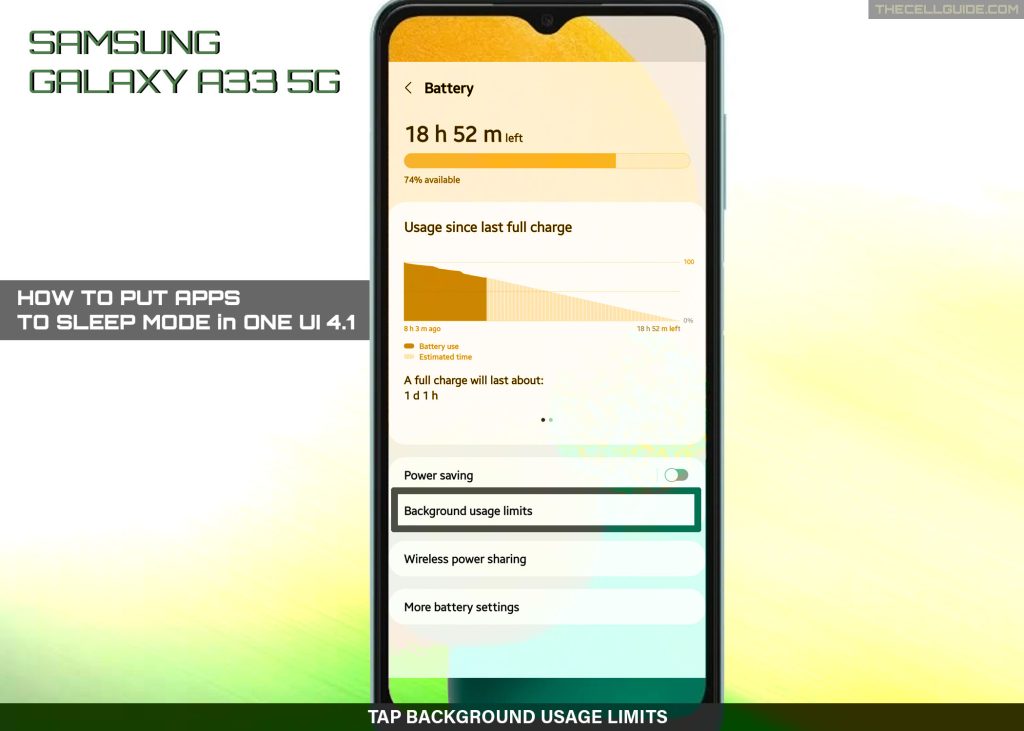 Step 5: Finally, turn the switch next to Put unused apps to sleep.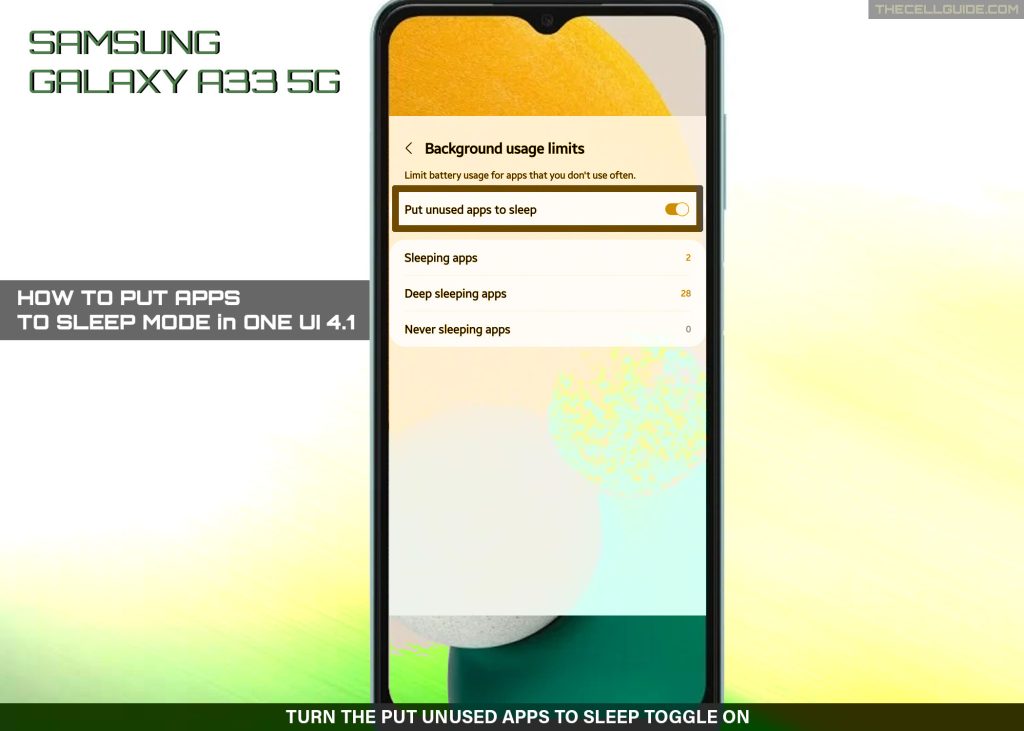 Doing so enables the One UI feature that automatically puts apps to sleep mode when you don't use it for a certain period of time.
Different Sleep Mode Categories
You can also manage background usage limits for individual sleeping apps, deep sleeping apps and never sleeping apps.
1. Sleeping apps
Sleeping apps are apps that are currently sleeping but always ready to run in the background when you use them again.
2. Deep sleeping apps
Apps listed under this category are never allowed to run in the background and only work when you open them.
3. Never sleeping apps
Adds listed under this category never turn off or sleep in the background, allowing you to use them at any time.

To access any of the above sleep mode options, just tap on the desired mode to view the list of apps listed in. On the following screen, you will see user-added and automatically added apps.
To add app(s) to any of the sleep modes or categories, choose the desired category and then tap the Plus (+) icon on the top-right corner of the screen then select the app(s) that you'd like to add in the category. Don't forget to tap Add at the bottom-right corner of the screen to update and include the recently added app(s) in the list.
To remove any of these apps from any of the sleep modes or categories, tap the triple-dot icon on the top-right corner of the screen then tap Remove. Select the app(s) that you'd like to remove from the list and then tap Remove at the bottom-right corner to confirm. The selected app(s) will then be removed from the current sleeping mode category.
Should you wish to add or remove other apps from the other sleeping categories, just repeat the same steps.
Aside from the battery drain solution, putting unused apps to sleep will likewise prevent unexpected occurrences of in-app glitches, particularly those that are inflicted by any unused apps that are left running in the background. It also aids in keeping the overall system performance swift and smooth as intended.

Keeping your apps up-to-date is also highly recommended to ensure that all apps are working stable and free from any sort of bugs and malicious software that will likely trigger the occurrence of random in-app flaws and glitching.
Hope this helps!
Please check out our YouTube channelto view more tutorial and troubleshooting videos for popular iOS and Android devices.
You Might Also Want To Read: