This post will walk you through activating a built-in One UI feature that triggers a Samsung phone to reboot on a specified date and time automatically. Read on to learn how to activate auto-restart on Samsung Galaxy A73 5g.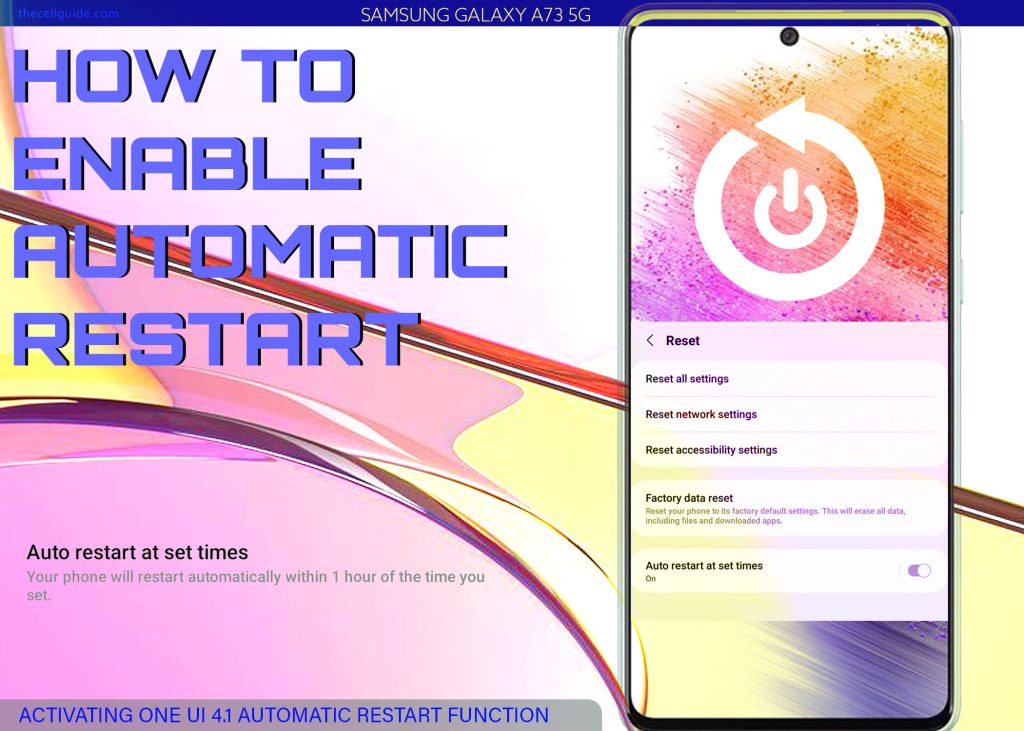 One UI 4.1 Auto-Restart Feature
Smartphone owners are advised to restart their devices from time to time. This is because restarting is one of the simplest and effective ways to optimize system functions and make the device work smoothly.
In fact, performing a quick restart is proven effective in clearing out random system glitches and thereby resolving the associated symptoms.
Restarting your device will also free up its RAM (random access memory) and make the device performance become optimal. Thus, restarting is recommended whenever a phone is slowing down after a long period of usage.
Newer Samsung phones including the Galaxy A73 5g series are already equipped with an automatic restart feature that will prompt the device to instigate a system reboot based on the specified time.
Turning this feature on is highly recommended especially among those who often forget and/or just don't have time to give their phones a quick pause and refresh.
The auto-restart function is lined up among the built-in reset options in the One UI settings reset menu.
If you're new to the Android and One UI platform and need a little help navigating through the built-in settings menu where the auto-restart switch is located, this post will walk you through the entire process.
Steps to Activate Auto-Restart on Samsung Galaxy A73 5g
Restarting does not delete any saved data and downloaded applications so you won't lose important files in the process.
Just follow these steps whenever you're all set to configure your device's system settings.
Step 1: To get started, tap Settings from the Home screen or Apps tray to launch the Settings app menu.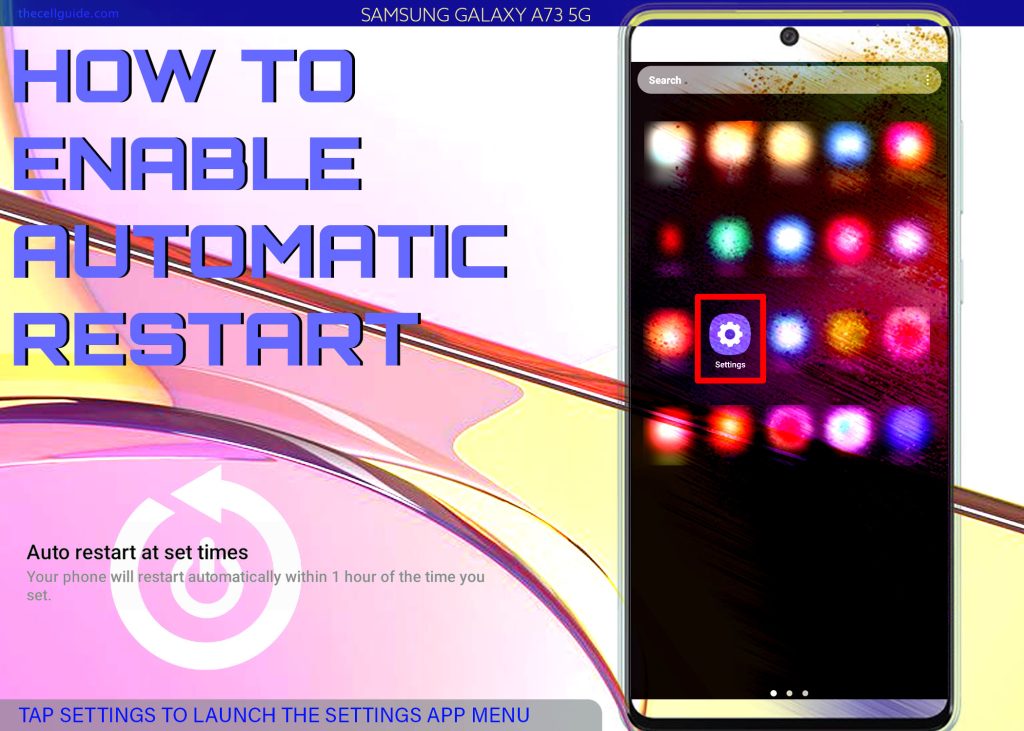 Step 2: While in the main settings menu, scroll to find and then tap General management. Another menu opens with a list of built-in features for system management.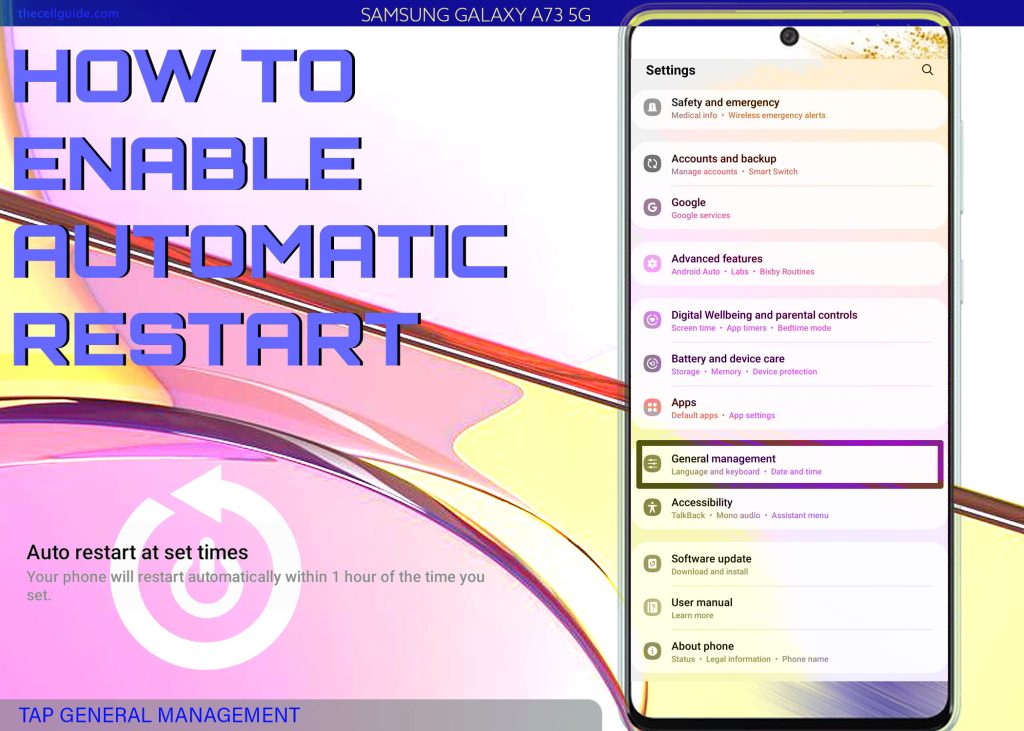 Step 3: Scroll down and then tap Reset to proceed.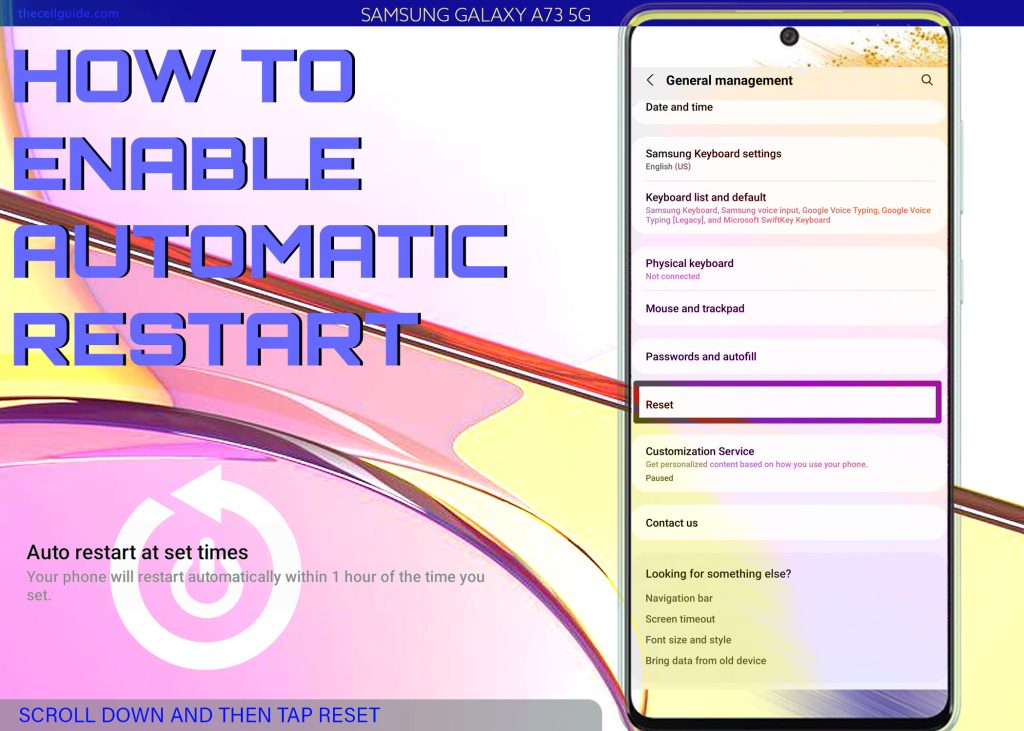 Step 4: On the next screen, you will see a list of the main system settings reset options including reset all settings, reset network settings and factory data reset (factory reset). Find and then turn on the Auto-restart at set times switch.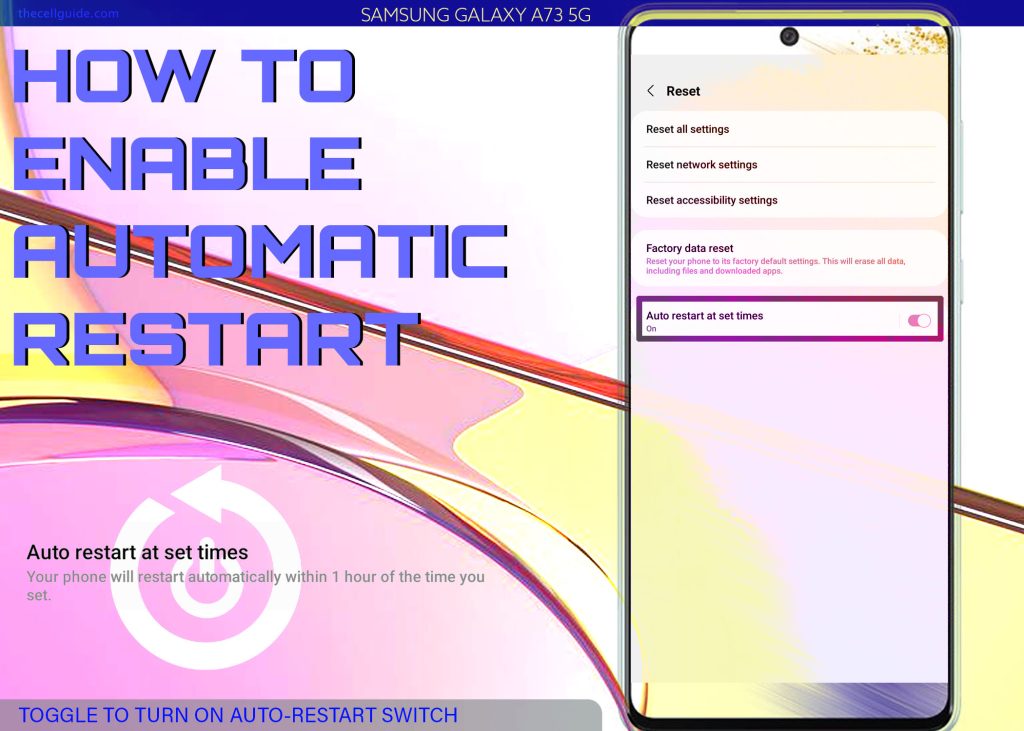 Your phone will automatically restart within one (1) hour of the time you specified.
The above steps are also applicable when enabling the auto-restart feature on other Samsung Galaxy phones that are running on the same Android with One UI 4.1 OS version.
Actual screens and menu items may vary between device models and network operators so expect some slight differences on individual devices user interface.
Just keep your device software up-to-date to ensure all key features and menu options are present.
Should you prefer a manual reboot on your device, just toggle to turn the Auto-restart switch OFF. You can always change this setting whenever you'd like to enable this feature again.
To manually restart your Galaxy A73 5g phone, just press the Power/Side button for a few seconds until the Power off menu appears. Select Power off to turn the device off and then turn it back on again. Otherwise, select Restart from the power options menu to instigate a system reboot instead.
Alternatively, you can access the power off menu by tapping on the power icon from the Quick settings panel of your phone. Just swipe down from the top of the screen and then tap Power off to shut the phone down. After about 30 seconds, press and hold on the Side/Power button to power the device back on.
Just give your device ample time to stabilize all system features and become all set for use again.
Auto-Restart Not Working?
If the auto-restart doesn't work or your phone does not restart within the set hour, verify and ensure that the date and time settings on your phone are set correctly.
If necessary, set the date and time to automatic so that the phone will automatically use the date and time information based on the time zone of your current location/region.
It's also worth to note that the auto-restart function only works when the device screen is off, the battery is beyond 30 percent, the SIM card lock is off and when the device is not being used.
And that's how to activate the automatic system restart feature on the Samsung Galaxy a73 5g smartphone.
Hope this helps!
Please check out our YouTube channel to view more tutorial and troubleshooting videos for popular iOS and Android devices.
You Might Also Want To Read: