This post will walk you through adjusting the display settings on a Samsung Galaxy phone, particularly the refresh rate. Here's how to change the refresh rate on Galaxy A73 5g for better motion smoothness.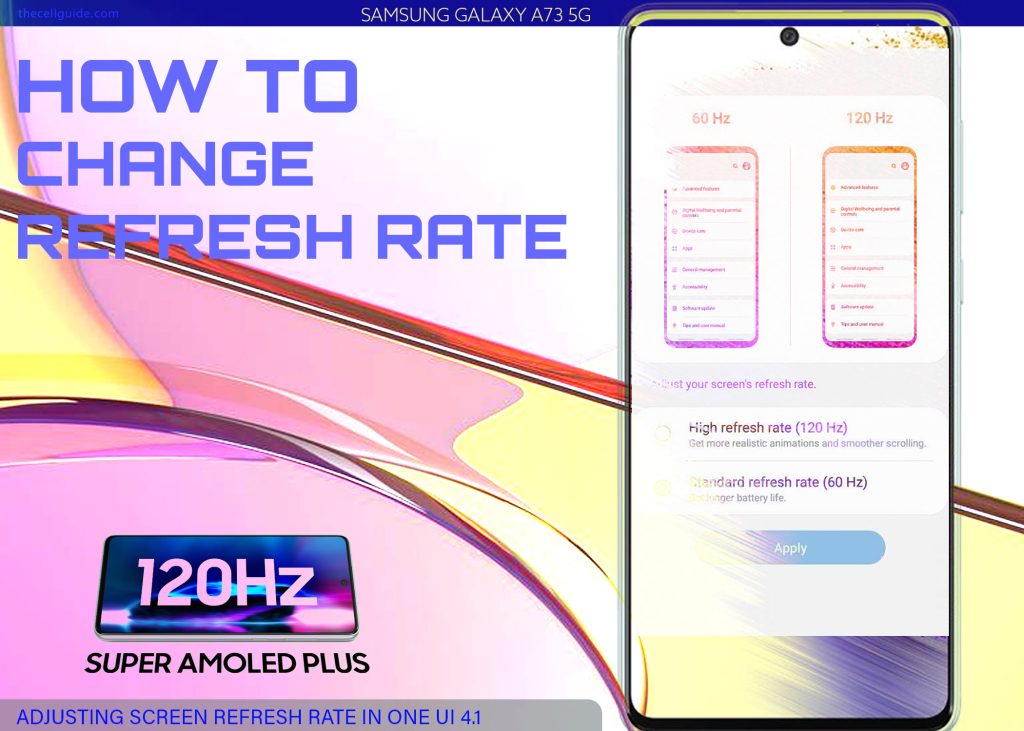 Does your phone respond late to touches or appears to be sluggish when loading up animated contents? If that is so, then adjusting the display refresh rate might be able to help. Keep reading for more detailed instructions on how to adjust this setting on your Samsung phone.
Screen Refresh Rate
Refresh rate refers to how often your phone's screen can render an image display per second. It's measured in hertz (Hz).
For instance, monitors with an advertised refresh rate of 240 Hz means that they're able to refresh the image 240 times per second.
Almost all flagship devices and many mid-rangers do sport a higher refresh rate than the typical 60Hz.
This is because high-end and mid-range devices typically embed more advanced system features that require faster refresh rate.
A higher refresh rate results in a more fluid smartphone experience. This can be noticed when you're scrolling a webpage or playing a mobile game as the screen only refreshes a few times per second.
Gaming phones like Asus ROG phones typically have higher refresh rates of at least 120Hz.
Having higher refresh rates is beneficial especially for mobile gamers. Higher refresh rate displays make animated content appear snappier and feel smoother.
But the main downside is that a higher refresh rate also denotes extra battery consumption.
That said, be sure to adjust your phone's refresh rate according to your needs.
If you're wondering how to access and manage this feature on your Samsung Galaxy A73 5g smartphone, you can refer to the subsequent instructions.
Steps to Change Refresh Rate on Galaxy A73 5g
Performing the following steps will take you to the One UI 4.1 display settings where you can view and change the refresh rate selection on your Galaxy phone.
This method is also applicable when adjusting the display refresh rate on other Samsung Galaxy phones running on the same Android with One UI 4.1 OS version.
Feel free to start whenever you're all set to configure your device.
Step 1: To get started, launch the Settings app by tapping on the Gear icon from the Apps tray.
Alternatively, you can tap the Gear icon from the Quick panel.
Step 2: From the Settings menu, find and then tap Display. Doing so will load up the preloaded display options and features.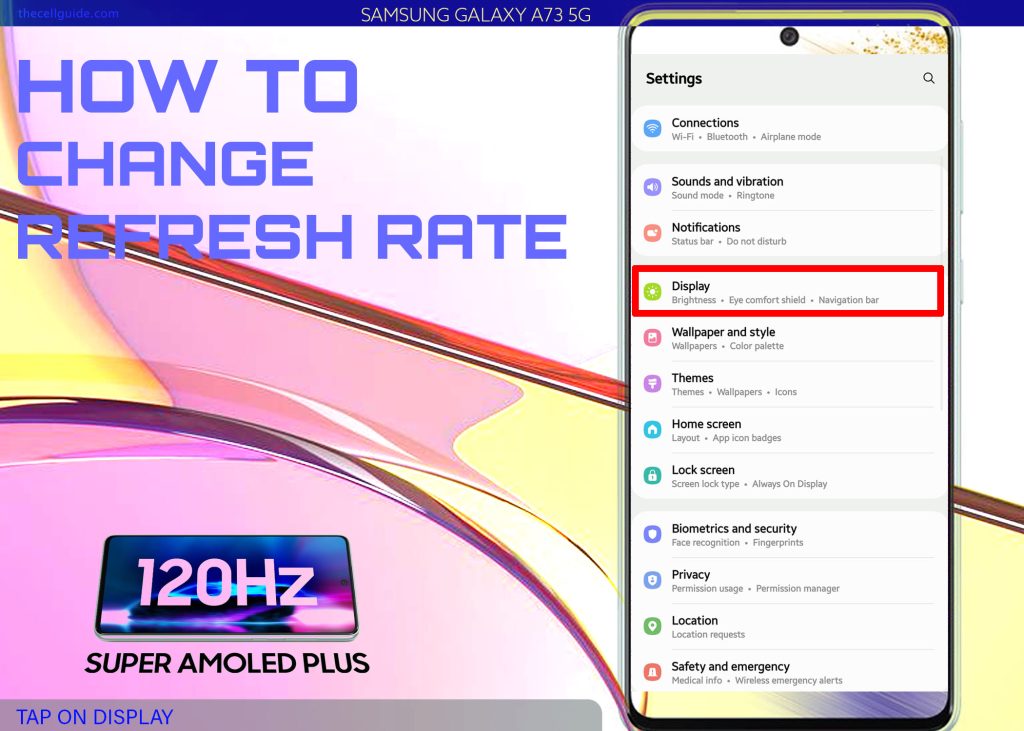 Step 3: On the succeeding menu, tap Motion smoothness. Another menu will launch with the options to adjust the screen's refresh rate.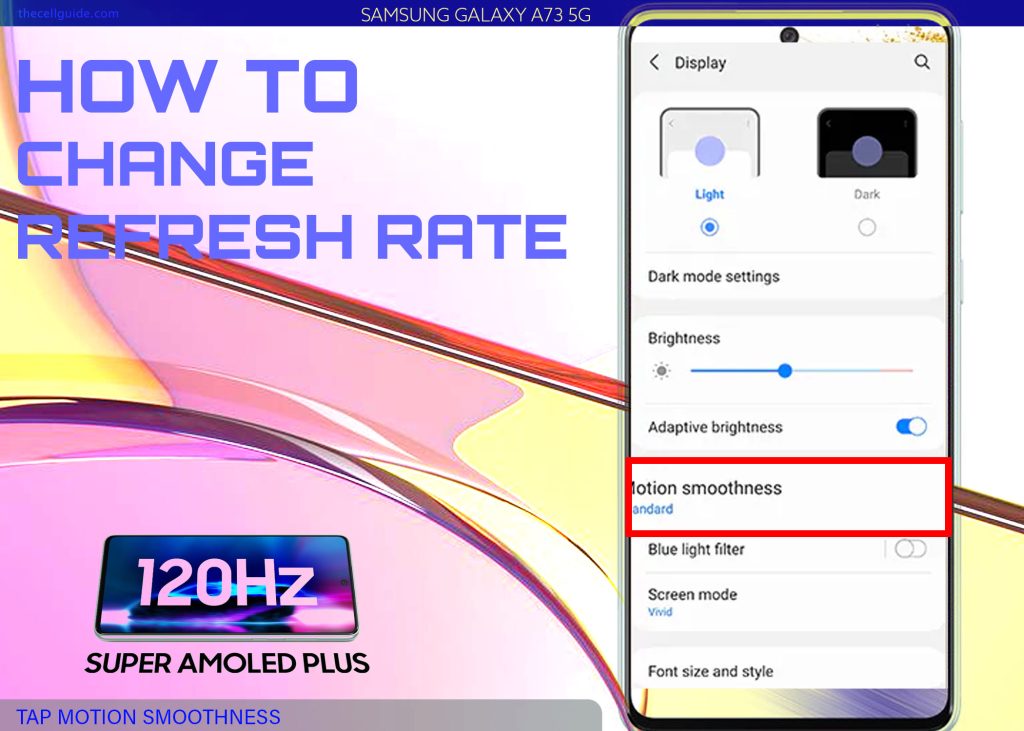 Step 4: Choose your preferred refresh rate. Available options include Adaptive and Standard.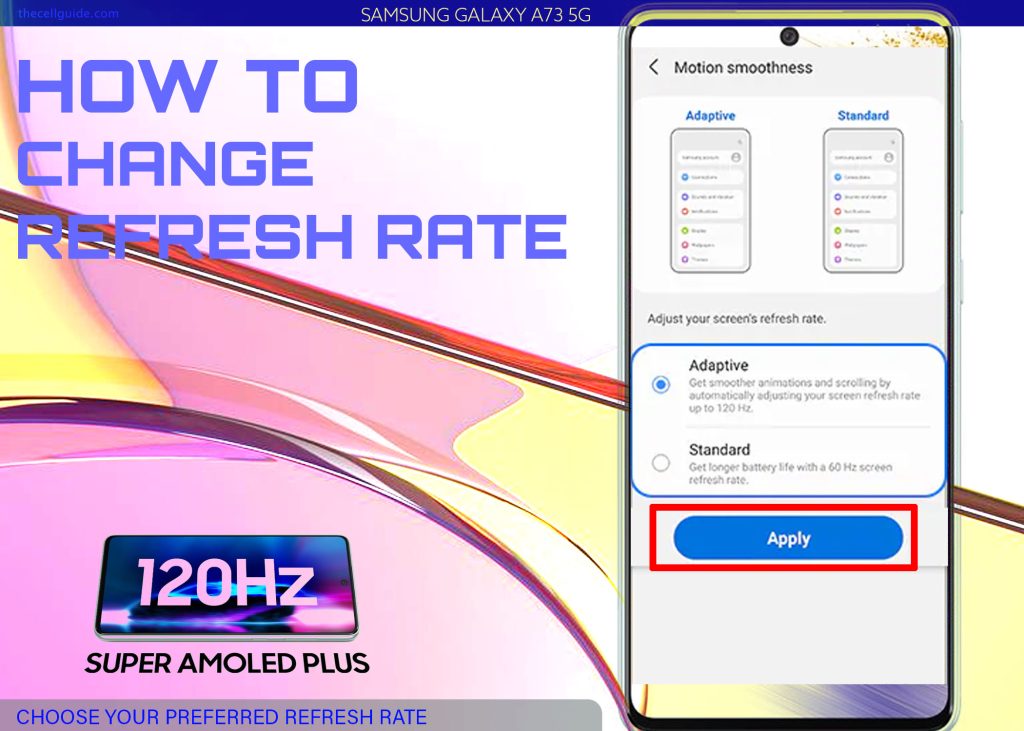 If you aim for smoother animations and scrolling, select Adaptive. Doing so prompts the system to automatically adjust the screen refresh rate up to 120 Hz.
If you're aiming for power efficiency or would want to preserve your phone's battery life, then you should choose Standard instead. Doing so prompts the system to use a 60 Hz screen refresh rate in normal situations.
Available refresh rates may vary between device models and applications. That said, the 120 Hz refresh rate may not work on some apps.
To keep your menu options updated, make sure that your phone is running on the latest software version.

When to Adjust Refresh Rate on your phone?
Adjusting the screen's refresh rate is typically recommended when dealing with different types of display issues on a smartphone including touchscreen delays, screen flickering issues when switching screens, and other relevant symptoms that are attributed to some software irregularities.
Adjusting the refresh rate can also help remove afterimages and blurs from fast-moving images.
But then again, be sure to choose the refresh rate that would best suit your device's battery capacity.
Note that the more battery power is required when the display refreshes more times per second.
If unexpected display behaviors occur or some apps suddenly misbehave after changing the refresh rate, then switching back to the default option might be a good idea so you would still be able to use the app.
You can change the display refresh rate settings at any time when needed.

Hope this helps!
Please check out our YouTube channelto view more tutorial and troubleshooting videos for popular iOS and Android devices.
You Might Also Want To Read: