This post will walk you through activating a built-in One UI feature that will help keep your eye safe from having adverse effects of prolonged screen exposure from smartphone usage. Here's a quick guide on how to enable the Samsung Galaxy A73 5g Eye Comfort Shield feature.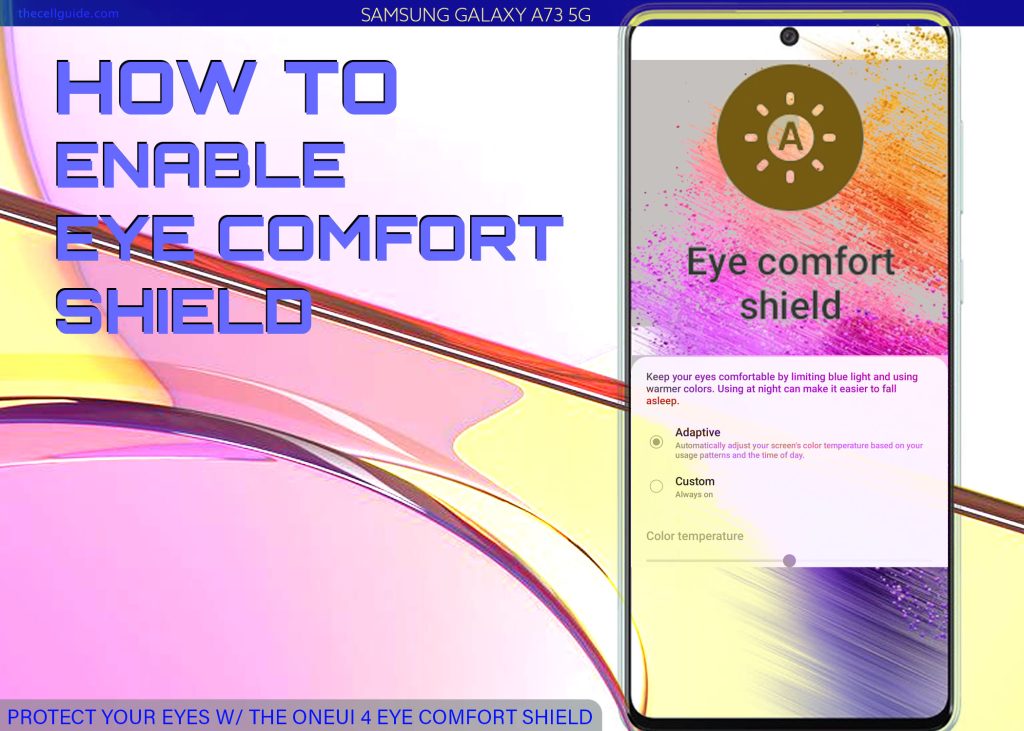 If you find your phone's display too bright or uncomfortable at night, you can either adjust the screen brightness or enable the built-in display feature to auto-adjust the color of the display based on the current ambient. Read on for more detailed instructions on how to use this feature on your Samsung Galaxy smartphone.
OneUI 4.1 Eye Safety Feature
Just like other electronic devices, LCD televisions and laptop computers, smartphones also emit blue light waves. Although it's not that harmful, prolonged exposure to blue light rays could eventually result in eye strain or eye fatigue.
To prevent risking your eyes and keep your eyes safe from any sort of injury, modern smartphones are already designed to integrate blue light filters.
Newer Samsung Galaxy phones for instance, have a built-in display feature called Eye Comfort Shield.
As the name implies, this feature will protect your eyes from accumulating possible soreness especially when using your phone extensively at night.
To enable this feature, you will need to access the display settings menu or quick settings panel of your device.
If you're new to Android with One UI platform and need help using this feature on your Samsung phone, you can refer to the outlined steps below.
Steps to Enable Samsung Galaxy A73 5g Eye Comfort Shield
There are two ways for you to activate the Eye Comfort Shield on your Samsung phone. You can access and manage this feature straight from the Quick settings panel or by accessing the Display settings menu on your device.
A. Turning on Eye Comfort Shield through Settings
The following steps depict the actual process of activating the Eye Comfort Shield feature on the Galaxy A73 via settings menu.
Feel free to start whenever you're all set to configure your phone's display settings.
Step 1: First, tap Settings from the Home screen or Apps tray to launch the Settings app.
Step 2: While in the Settings menu, find and then tap Display. Another menu opens with a list of all built-in display features and options.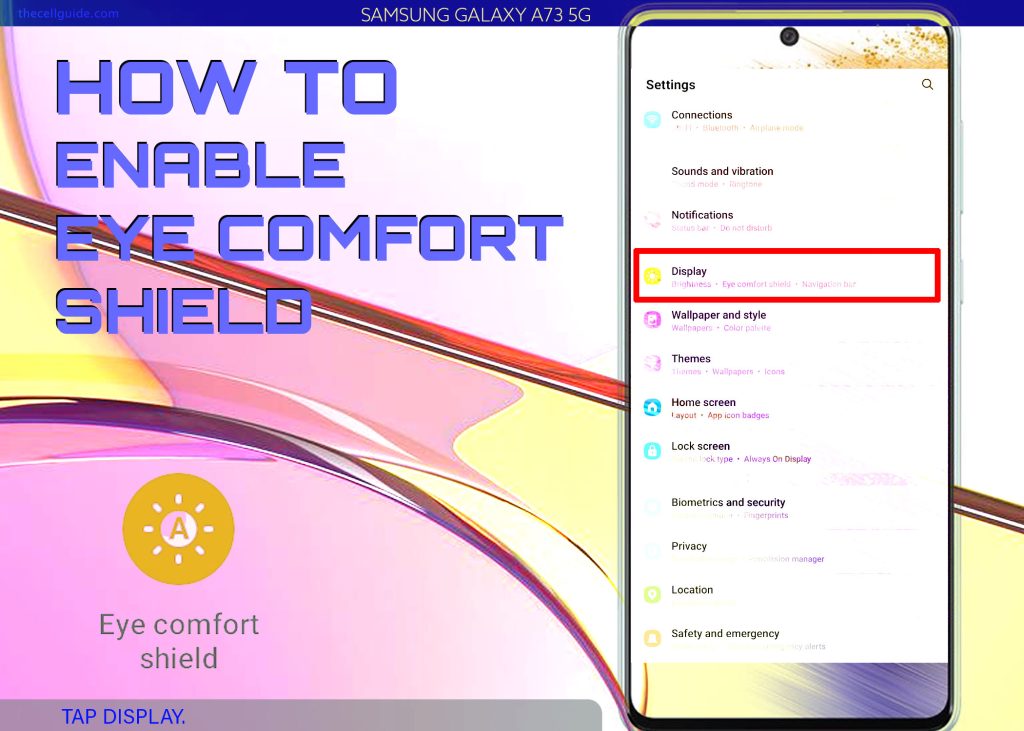 Step 3: To directly enable the feature, just tap to turn the Eye Comfort Shield switch ON.
Doing so will prompt the device to automatically adjust the screen's colors based on the time of the day. Minor adjustments typically become visible during the day and significantly warmer colors at night.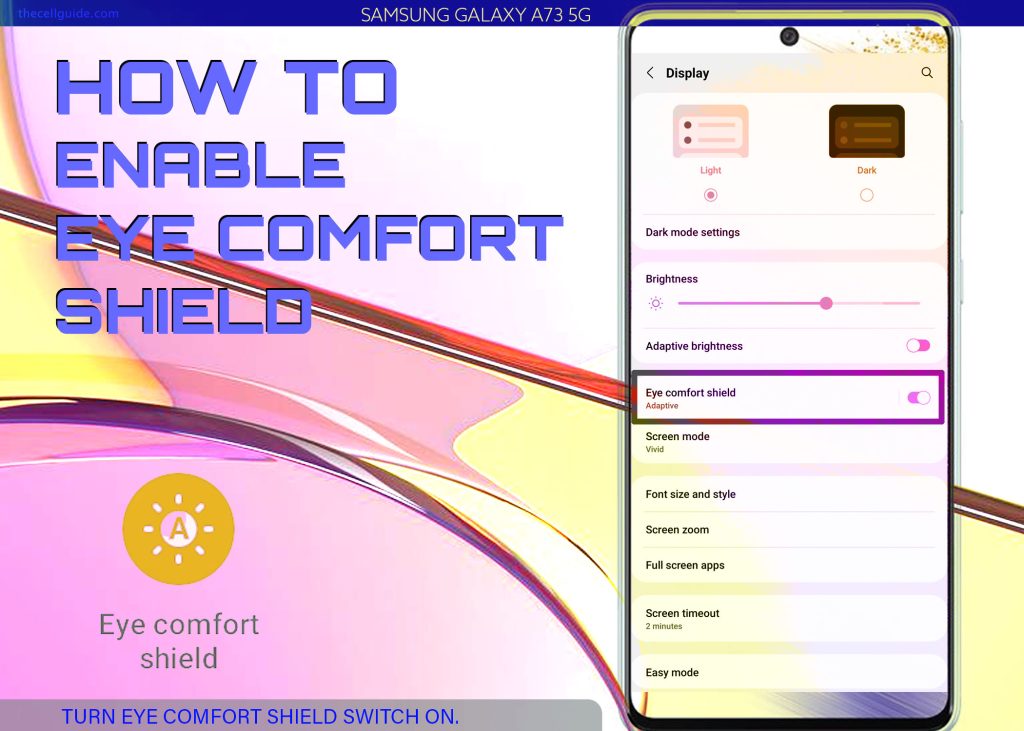 Step 4: To configure its settings, tap Eye Comfort Shield to launch another menu where you can alter the default options.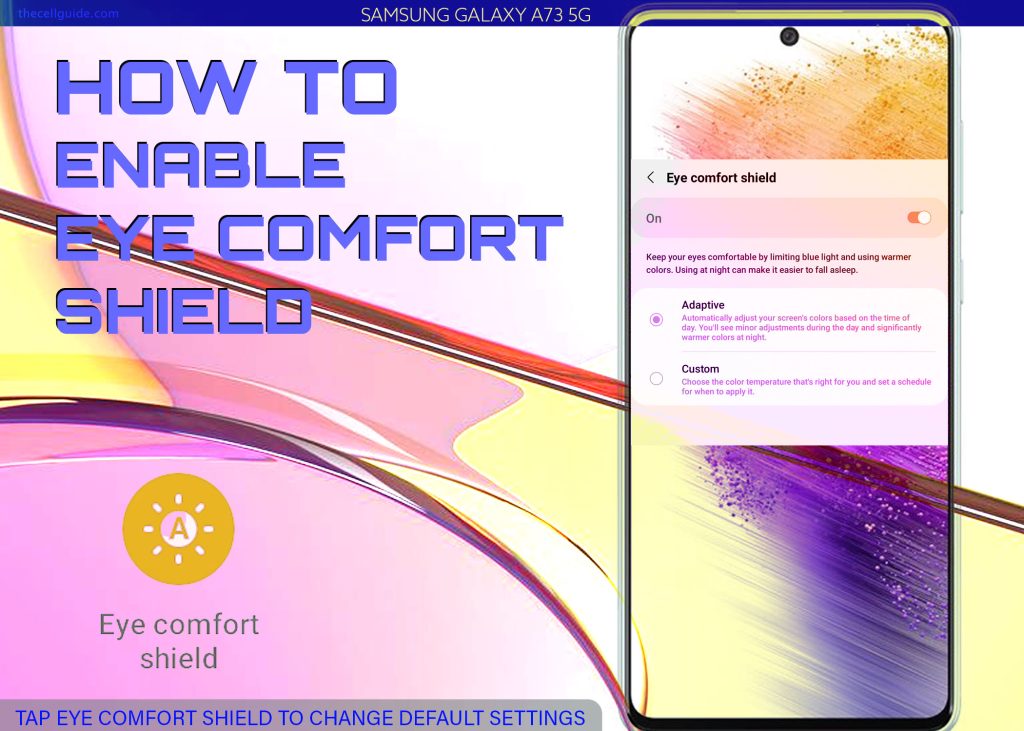 Step 5: Tap Custom to change the default color, which is set to Adaptive. Selecting Custom will let you choose the color temperature that best suits you and set your preferred schedule for the custom display changes to take effect.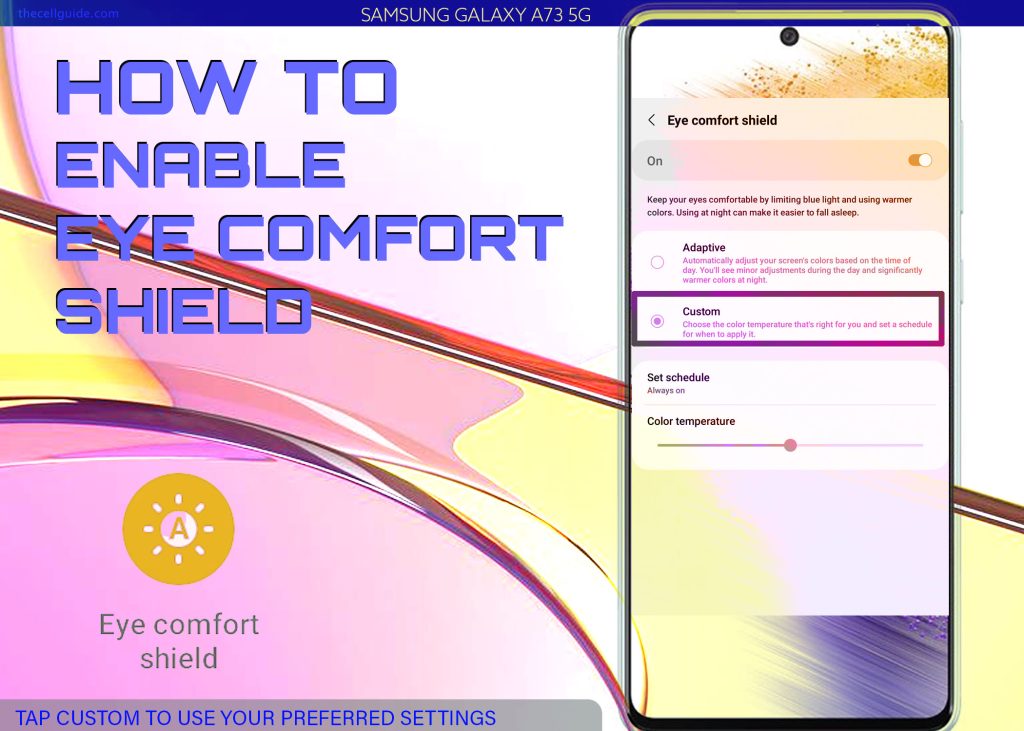 Step 6: To set a custom Schedule, tap Set Schedule then choose any from Always on, Sunset to sunrise or Custom to manually specify the time that you'd like the eye comfort shield to activate on your device.
Step 7: When you choose a Custom schedule, you will be taken to the scheduler screen where you can set the Start and End time. Once you're done setting the start and end time, tap Done to apply the recent custom schedule settings.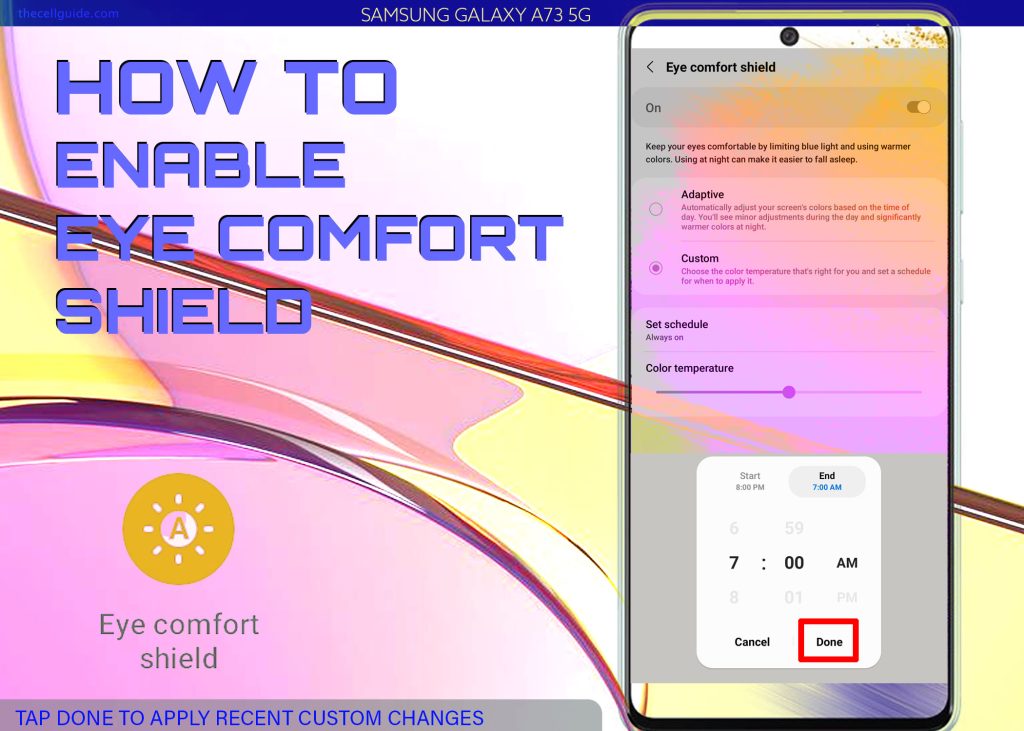 The color temperature intensity of your phone's display can also be adjusted based on your preferences. Simply drag the slider to the left or right to set it to your preferred color temperature.
B. Activating Eye Comfort Shield via Quick Settings/Notification Panel
A quicker way to activate Eye Comfort Shield is through the Quick settings panel or notification panel of your device.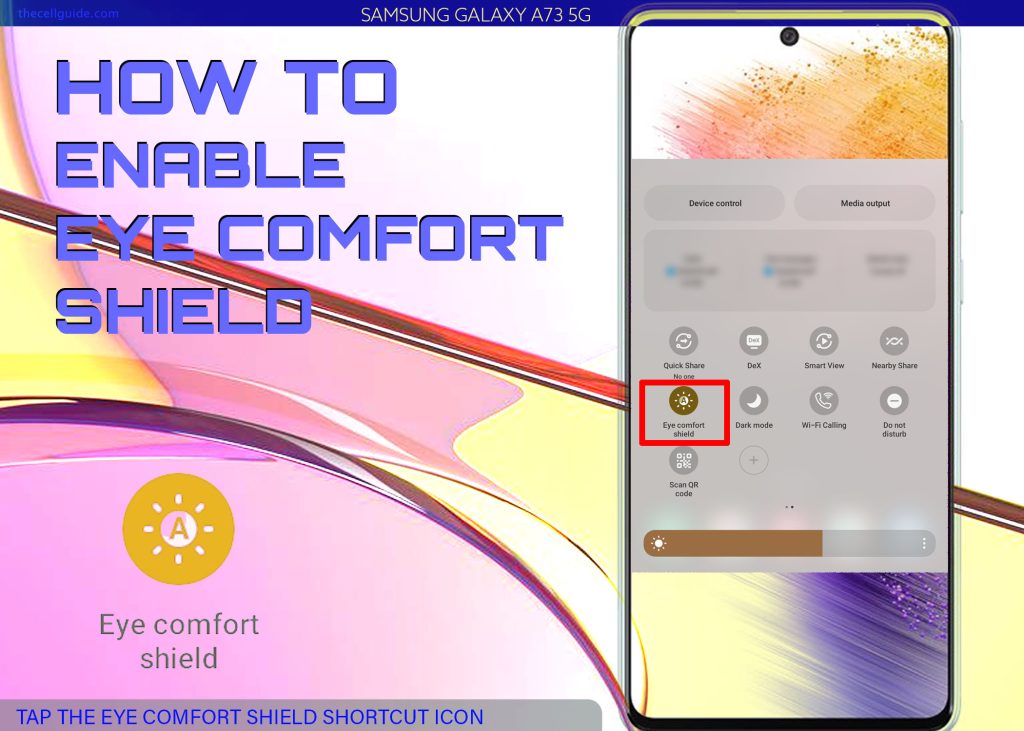 To do this, just pull up the quick settings panel then find the Eye Comfort Shield shortcut icon. To enable the feature, just tap on the icon. When the icon turns blue, it means that the feature is active or enabled. You can always change these settings at any time when needed.
Eye Comfort Shield is only available in Samsung Galaxy phones running on One UI 3.1 and later versions.
In other Samsung phones that don't support Eye Comfort Shield, activating the Blue Light Filter is recommended. It's a relevant display feature that works by limiting blue light and using warm colors on your Samsung Galaxy phone. This feature can also be activated straight from the Quick settings panel or through the Display settings menu of your device.
And that's how to activate and use Eye Comfort Shield on your Samsung Galaxy A73 5g smartphone.
Hope this helps!
Please check out our YouTube channel to view more tutorial and troubleshooting videos for popular iOS and Android devices.
You Might Also Want To Read: