This post will help you deal with an issue on the latest Samsung smartphone that's stuck on black screen and refuses to power on. Read on to learn what to do if your new Samsung Galaxy S22 won't turn on.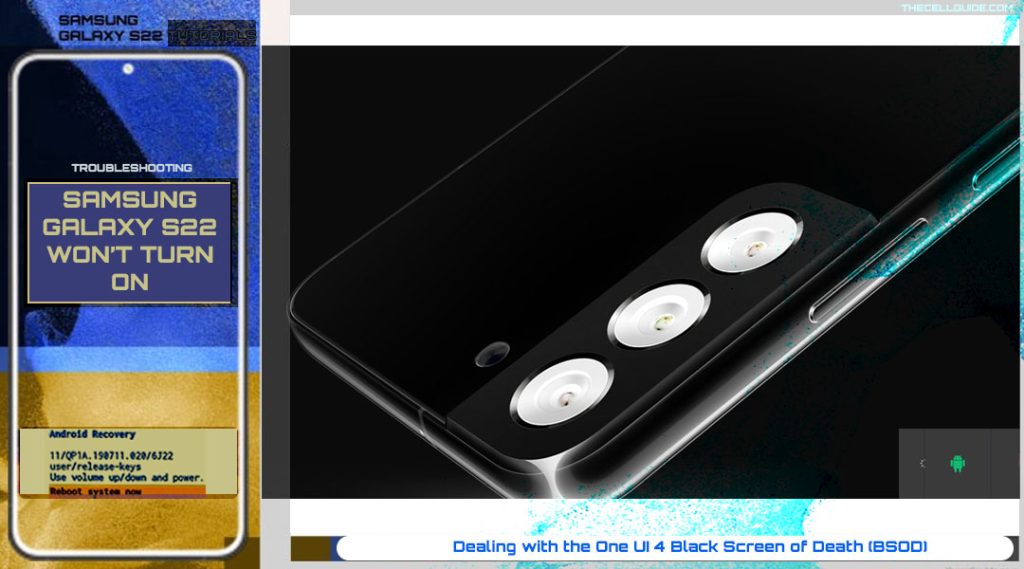 Seldom you'll hear of a new high-end device that's acting up but it happens. In fact, even the highly reputed Samsung Galaxy series would become capitulated to such an issue hereafter. But on the positive note, it usually happens due to a software issue rather than hardware damage unless the phone was accidentally dropped or got wet.
To rule out common software-related factors that may prevent your new Samsung Galaxy smartphone from turning on as intended, I've outlined the potential solutions.
Why is your new Samsung phone not turning on?
The answer to this question may vary depending on what has happened before the onset of the problem. For instance, did the phone shut down from a total power drain and doesn't power on afterwards or did it suddenly crash after an update?
The most apparent reason as to why a new phone doesn't turn on is simply because it ran out of power. Unless you charge the device, it won't get back up and running again.
But if the device shuts down and won't turn on even with sufficient battery life, then that's likely due to a system flaw. This is usually what happens if a fatal system error has occurred and eventually ruined the bootloader. In this scenario, software-related factors are more likely the underlying cause.
Among the known culprits include update bugs, corrupted system files, and malware embedded in certain downloaded apps, media files and documents.
In devices with SD card support, a corrupted SD card data or broken SD card itself may also halt the device from carrying out the normal boot sequence.
Hardware-related power issues on the other hand are usually tied to a damaged/defective battery, dysfunctional Power key, broken charging port or any other relevant components. In the case where the device doesn't turn on and won't charge from unboxing, that's apparently a factory defect. In this case, you're entitled to get a new unit replacement for as long as you've got the official receipt and warranty card.
Before taking your phone back to the Samsung store or to any authorized service center nearby, you can try some basic tweaks to rule out software-related factors that might have caused conflicts and prevented the device from turning on.
Troubleshooting Samsung Galaxy S22 won't turn on issue
Before you begin, get the original charger and let your phone charge for at least 15 minutes. That should be good enough time for the device to store sufficient battery percentage to power up.
After the elapsed charging time, you may go ahead and try these subsequent workarounds.
First Workaround: Force Restart your Galaxy S22.
Performing a forced restart is usually deemed effective when dealing with minor system flaws resulting in unresponsive devices. Consider this among the first possible solutions to try if your phone was previously working fine and then suddenly shuts down and doesn't turn on even with sufficient battery life.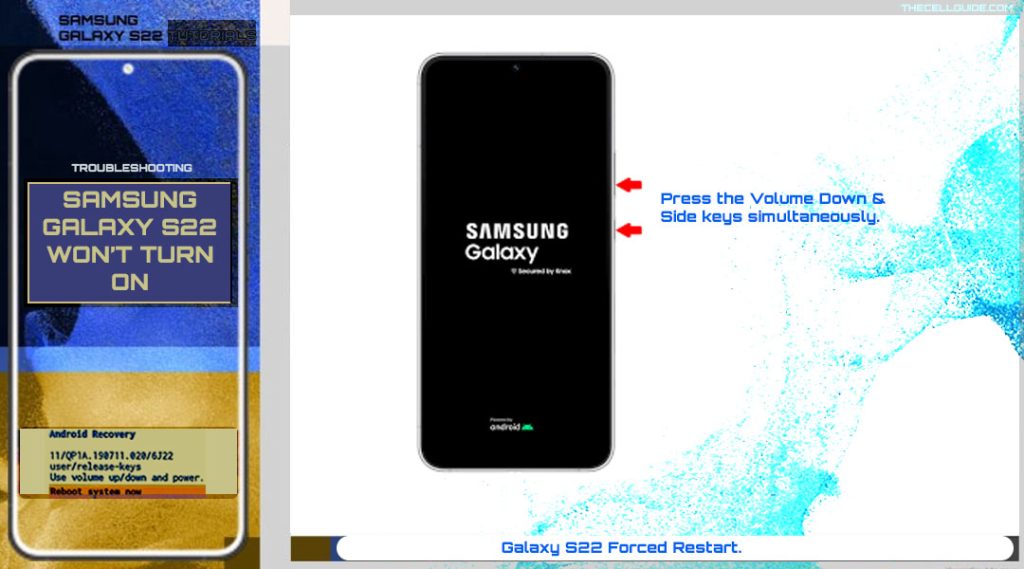 A forced restart doesn't delete any user data saved in the phone's internal storage for as long as it's done correctly. For starters, here's how to force restart the new Samsung Galaxy S22 device:
Press and hold both the Volume Down button and Side button for about 15 seconds and then release when the Samsung logo appears.
Allow your device to complete the boot sequence and load up to the Home/Lock screen when finished.
Second Workaround: Force Restart while Charging.
If performing a forced restart alone doesn't help and your phone still doesn't turn on, plug the phone into its charger and do a forced restart again while it's charging.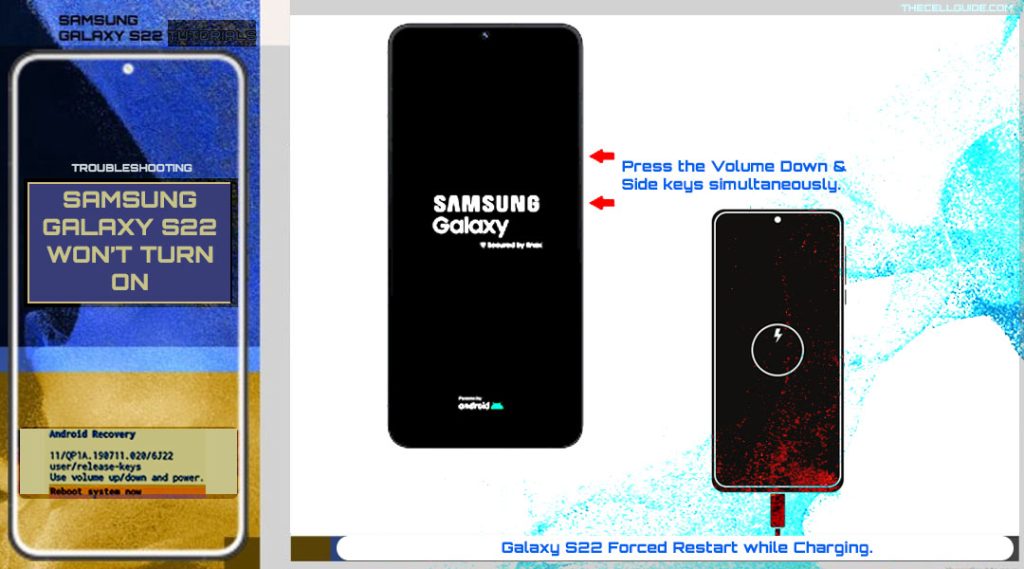 Performing this tweak is usually needed if the device is experiencing massive battery draining due to some errant files or corrupted apps.
Just follow the above steps to force restart the phone but this time do it while the device is charging.
If the phone managed to boot up after performing the first and/or second workaround, the next thing you must do is to eliminate the potential triggers. This is highly recommended to prevent your device from crashing and being stuck on black screen again.
So here's what you should do then:
1. Update your apps.
Unexpected performance problems including system crash and black screen issues may also be due to some outdated applications that are acting up.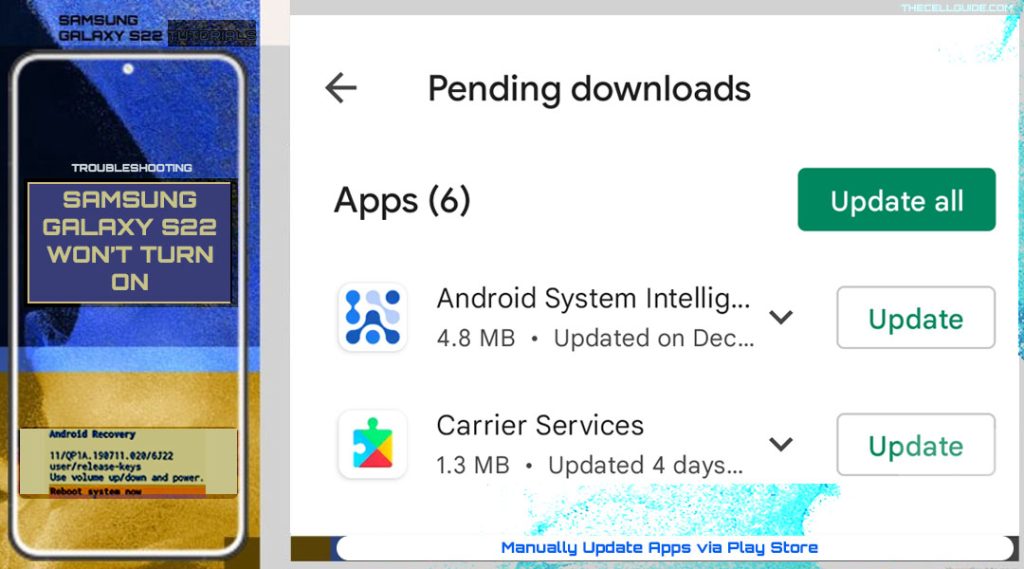 If you haven't enabled automatic updating for your downloaded apps, then you will need to manually update your apps in the Play Store.
To do this, just open the Play Store app. While on the Play Store main screen, tap on your profile icon and then tap Manage apps & device. If new updates are available for your apps, you'll see the "Update available" label.
To implement the new updates, just tap the Update button next to the name of the app or tap Update All to download and install multiple app updates simultaneously.
After updating apps, restart the phone to apply all recent software changes and likewise to refresh the apps and relevant services.
Aside from app updates, installing the latest Android/One UI version available for your phone is also recommended.
New software updates rolled out by the developers usually contain essential fix patches that are designed to get rid of existing bugs and malwares that might have caused system instability.
2. Delete errant apps, files and documents.
If the problem occurs after adding a new app, file or document, then that's likely the root cause of the problem. Should this be the case, deleting suspected errant apps, files and documents that you've recently added is recommended.
3. Wipe cache partition.
Wiping the cache partition usually helps if the problem is related to storage like when the phone's memory is running low.
Although what you've got is a new phone, bumping into some random performance issues resulting in black screen of death is still possible. That said, wiping the cache partition might also be the key to fixing it.
To wipe the cache partition of your Galaxy S22, you need to power it off completely. You can refer to a step-by-step guide on how to do it here.
4. Boot in safe mode.
Booting in safe mode will help you determine whether or not the problem is triggered by a third-party app.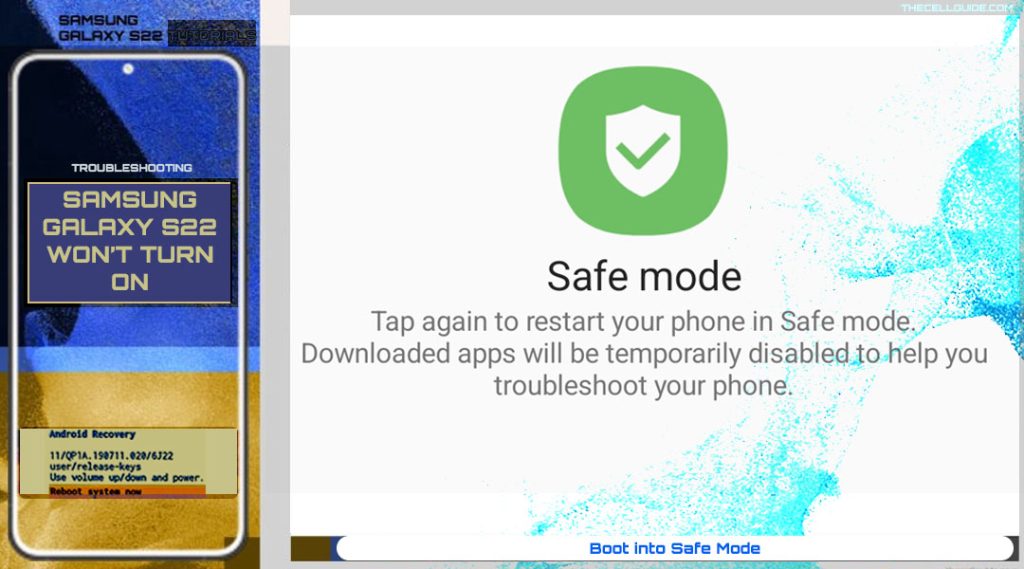 When your phone is running in safe mode, all downloaded apps are disabled temporarily, leaving all system apps active.
If system problems don't occur while in safe mode, then apparently a third-party app is the culprit and that therefore must be obliterated.
However if the phone still succumbs to the same problem while in safe mode, then it's more likely a system issue if not a faulty hardware.
5. Reset all settings.
Restoring the default settings is likewise a potential solution if the problem started after making a series of system settings alterations on the phone.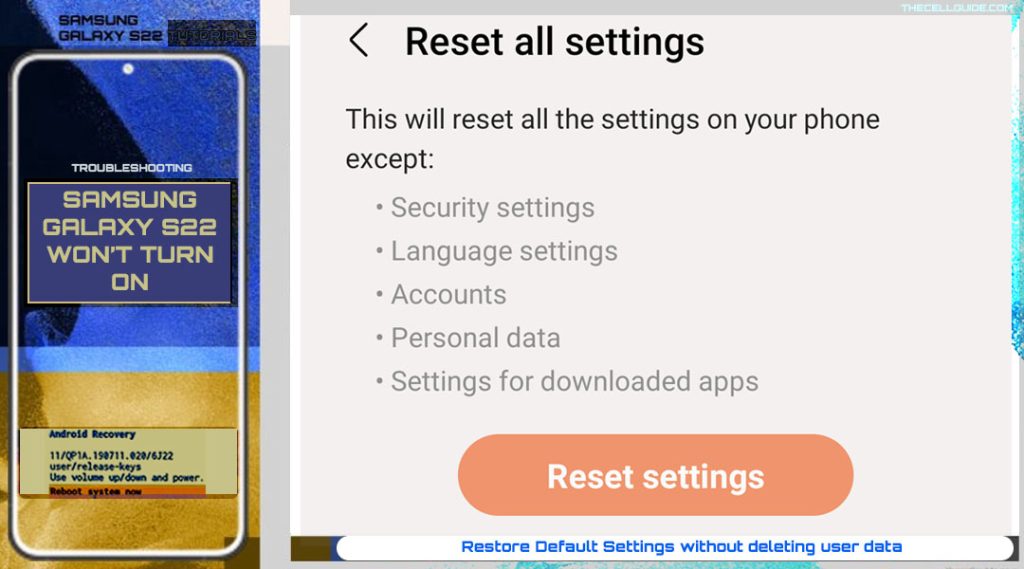 The recent custom changes you've made might have inflicted some fatal system errors and those conflicts eventually ruined the bootloader's normal functions.
You can refer to a separate guide on how to perform this reset through this link.
Is your phone still not turning on?
Similar to other Samsung devices, the Galaxy S22 also has its own Android recovery mode menu that contains critical system commands including reboot system in recovery mode, wipe system cache and android recovery mode factory reset.
You may resort to any of these advanced procedures if you want to troubleshoot further.
What if the phone doesn't charge?
If your phone doesn't show any charging indicator, then you're likely dealing with no charging issue. That said, the phone must have run out of power and couldn't get to power on again because it's not able to charge in the first place.
Should this be the case, care to check the charging port on your phone, the charger and charging cable for any signs of damage. Also try switching between available power sources or outlets. If you have a wireless charger, then you can try charging your phone wirelessly and see if it works.
If any charging component is damaged, then you can have it replaced. Just contact the store where you purchase the phone.
Alternative Software Solutions
There are plenty of software designed by third-party developers to fix critical system issues in Android devices. These tools can be downloaded and installed on your computer for free or via one-time purchase for full versions.
Among the widely used tools that are proven effective when repairing critical system issues among Android phones include DroidKit, Dr. Fone – System Repair for Android, Fixppo for Android, Phone Doctor Plus and ReiBoot for Android to name a few.
You can make use of these tools whenever you run out of options.
Seek More Help

If nothing else works, you can seek more further assistance by escalating the problem to Samsung Support. Otherwise, take your device to the nearest Samsung-authorized service center in your area and ask a technician to diagnose it for any signs of physical or liquid damage.
Warranty is also another option if your phone is still covered. Just talk to your device carrier for more details on how to avail for service warranty or if you're eligible for new unit replacement.

Hope this helps!
Please check out our YouTube channel to view more tutorial and troubleshooting videos for popular iOS and Android devices.
You Might Also Want To Read: