This post will walk you through activating a developer tool that will help your Samsung phone detect and fix any suspicious app activities. Here's a quick guide to enable strict mode on Samsung Galaxy S22.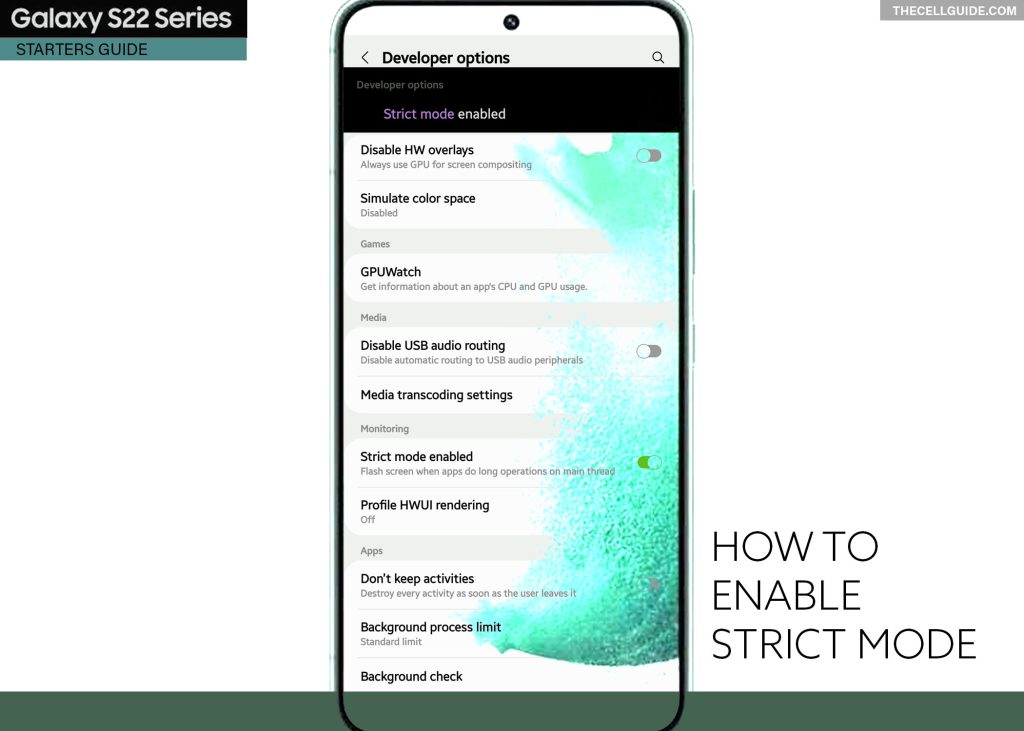 Advanced Android Features (Developer Options)
Every Android smartphone including the Samsung Galaxy lineups has a number of preloaded advanced features that are hidden in a secret menu called the Developer Options.
Most of these hidden features are typically designed for use by advanced users, particularly software developers for app creation and debugging while others for file and system management.
Nonetheless, these features are not exclusively made for advanced users. In fact, common Android users are allowed to unlock the Developer Options menu on their respective devices.
Features that are usually accessed and used by common Android users are USB debugging, Default USB configuration, stay awake, disable absolute volume, animation scales and strict mode, among others.
Tackled in this quick walkthrough is the actual process of activating a developer tool called Strict Mode. As the name suggests, enabling this feature makes your device enter a seemingly unbending phase allowing it to recognize unusual app patterns and usage.
Feel free to refer to this guide if ever you need some input on how to activate and utilize this feature on your Galaxy S22.
Steps to Enable Strict mode on Samsung Galaxy S22
Activating Strict mode requires unlocking the Developer options menu beforehand. If you haven't already, you can refer to a separate guide on how it's done on the Galaxy S22.
After enabling the Developer options menu, it should already be added among other options from the main settings menu.
At this point, you may go ahead and proceed with these steps to activate strict mode in Developer mode.
Step 1: To get started, open the Settings app menu. To do this, simply tap on the Gear icon from the Home screen or Apps tray of your phone.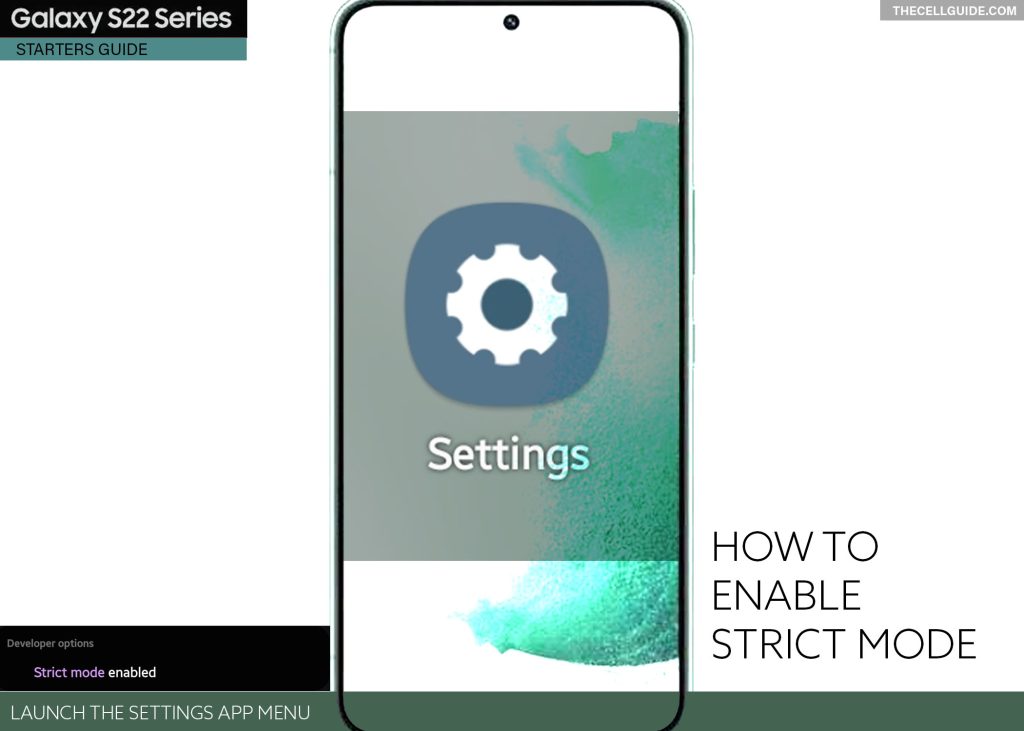 Step 2: While in the settings menu, scroll down all the way to the bottom of the screen and then tap Developer options.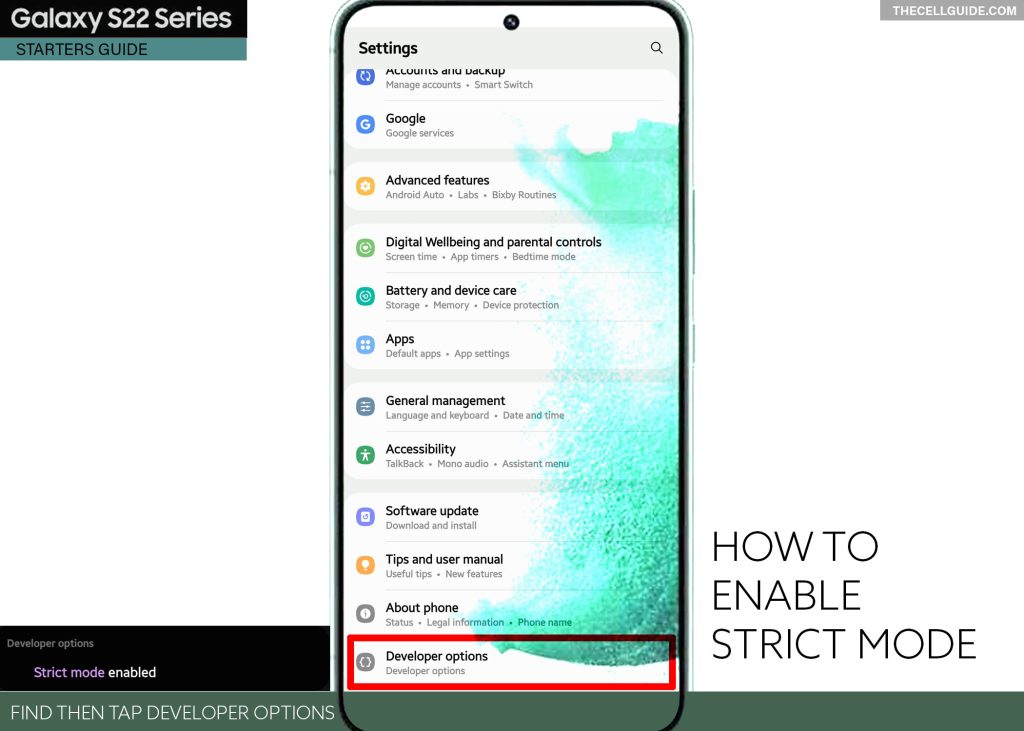 Again, Developer options only appear in the settings menu when it's already unlocked. If it isn't there, then you will need to unlock it first.
Step 3: From the Developer options menu, scroll down to the Monitoring section. There, you should see strict mode or strict mode enabled.
Quick Hint:
A faster way of finding Strict Mode is through Quick Search. Just tap the Search icon (magnifying glass) located on the top-right corner of the Developer Options screen, type Strict mode and tap Strict mode enabled from the search result.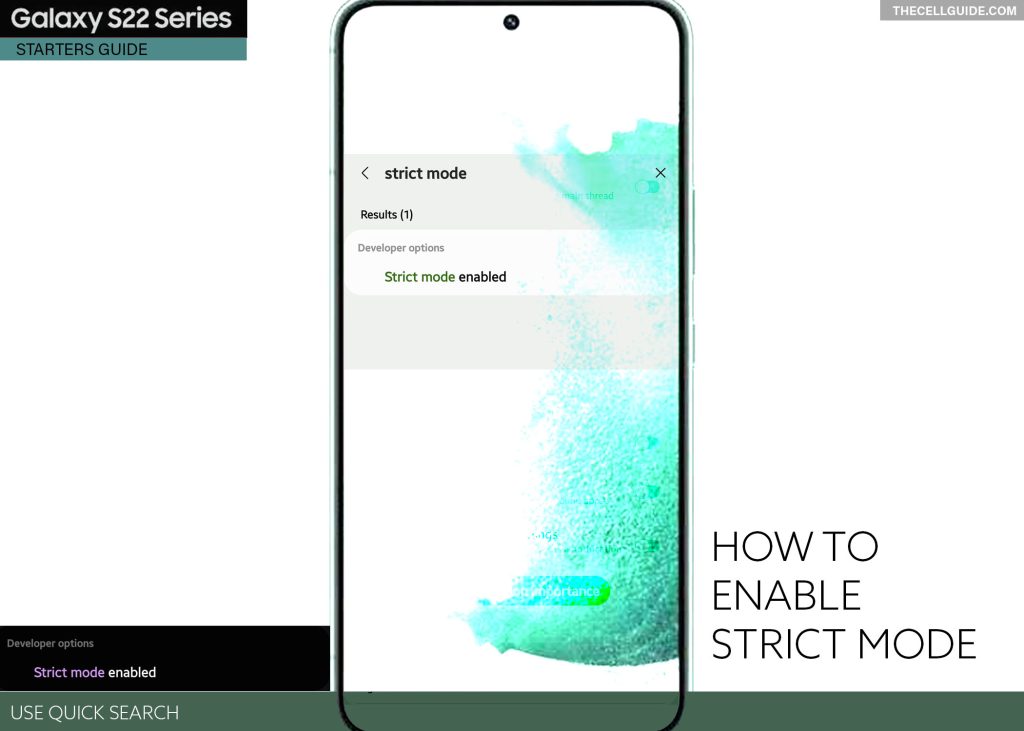 You will promptly be directed to the Monitoring section where the Strict mode option is listed among others.
Step 4: To activate the feature, simply tap to turn on the switch next to strict mode enabled.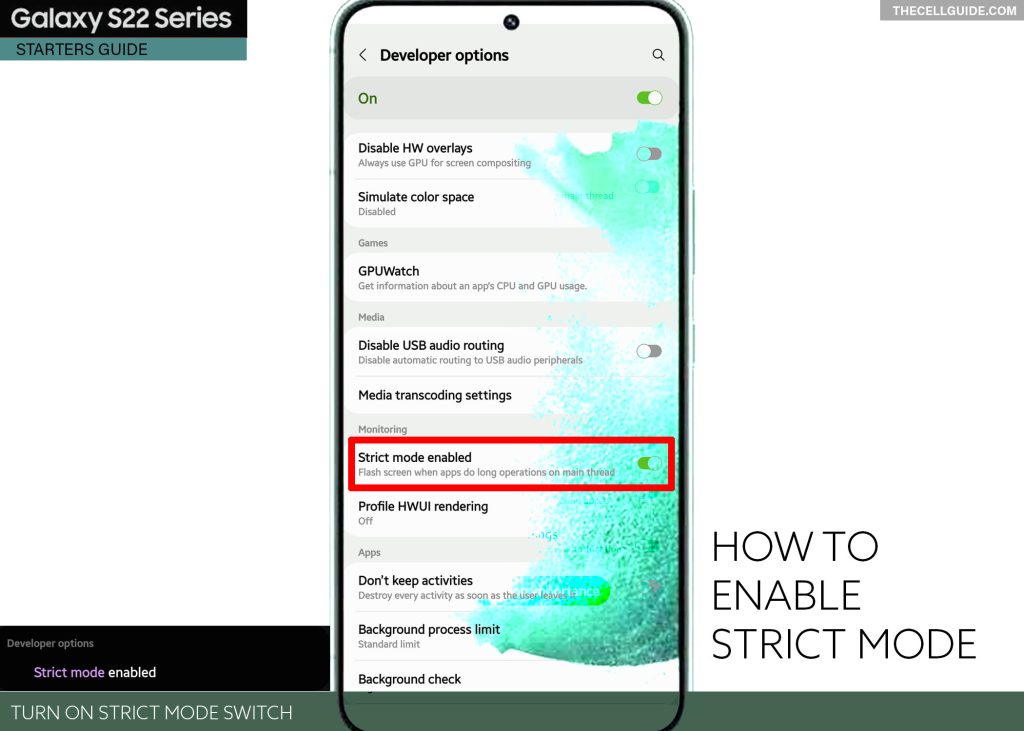 When the switch turns green, it means that strict mode is now activated on the phone.
Expect your device to flash the screen whenever suspicious and long operations by certain apps on the main thread are detected.
Should you wish to stop using this feature, just toggle the Strict mode enabled switch OFF again or turn off the Developer Options menu to disable and hide all its features back in the system.
The above steps are also applicable when turning Strict mode on and off on other Samsung Galaxy phones running on the same Android/One UI version with that of the Galaxy S22 series.
To ensure all key features and menu items are accessible, keep your device software updated.
What happens with Strict Mode enabled?
When enabled, strict mode allows your device to detect and catch accidental disk or network access on a certain app's main thread, where operations on the user-interface are received and display animations take place.
Enabling Strict mode is also beneficial in detecting third-party apps that integrate malware. If any of these malicious applications messes with the system files or network customizations, strict mode is triggered.
When too much load on the GPU is detected by the system, a flashing red frame appears on all sides of the phone's display. This lasts for about 10 to 20 seconds.
In response, the system understands what needs to be done in order to fix the detected problem.

Aside from strict mode, you can also use other advanced monitoring features such as CPU usage, GPU rendering profile and OpenGL traces to manage and optimize apps and network services on your Android device.
Hope this helps!
Please check out our YouTube channelto view more tutorial and troubleshooting videos for popular iOS and Android devices.
You Might Also Want To Read: