Having network connectivity issues on your new Samsung Galaxy device after altering the default network configurations? If that is so, then you can try to reset settings to restore the phone's network values and options. Here's how to reset network settings on Galaxy S22.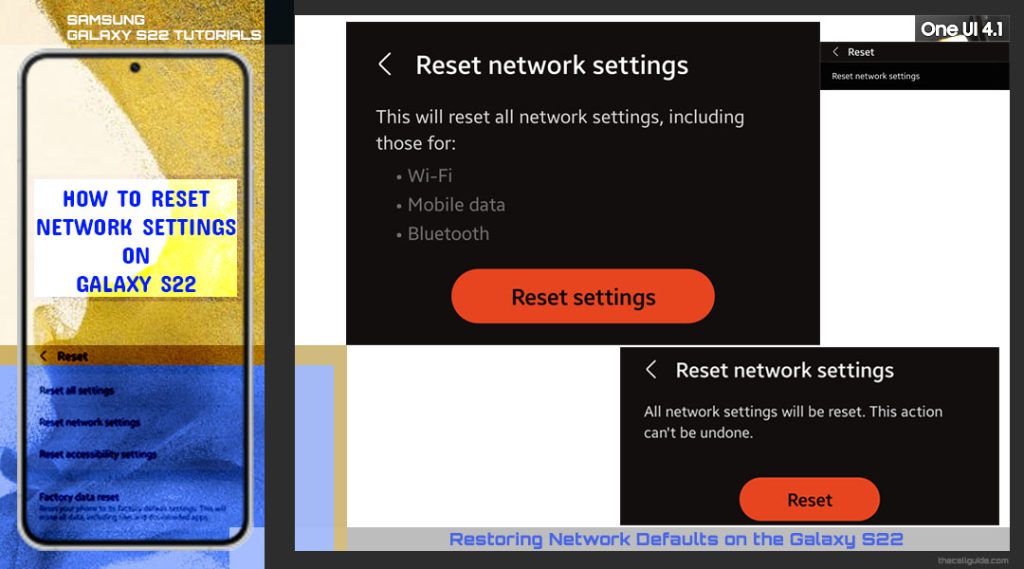 Galaxy S22 Network Reset
Samsung Galaxy phones offer different types of options to reset settings and reset network settings is among them.
Triggering the reset network settings command will delete all recent changes made to the phone's internet features including Wi-Fi, mobile data and Bluetooth connections. This reset also obliterates any network errors tied to some corrupted Wi-Fi networks saved on the phone.
After the reset, all network-related settings are brought back to their factory state just like how they are configured and work the first time you use the device or after performing a full system reset or factory reset.
When to Reset Network Settings on your phone?
New Samsung phones allow you to alter the default network configurations and customize the settings according to your preferences. If an error occurs or your device suddenly misbehaves after applying some network changes, restoring the defaults is recommended. This is when the reset network settings option comes in handy.
Resetting the network settings can help deal with network-related issues on the phone such as slow internet, intermittent connection (Wi-Fi drops) and other internet errors resulting in having no internet connection at all.
It is also among the recommended solutions when dealing with post-update network connectivity issues as it potentially obliterates unforeseen network bugs from recently installed software updates.
Unlike a factory reset, a network reset does not affect any saved data from the phone's internal memory. That being said, all your important files including downloaded contents won't be deleted in the process.
For starters who need help carrying out this reset on their new Samsung Galaxy S22, you can refer to the simplified walkthrough below.
Steps to Reset Network Settings on Galaxy S22
The following steps depict the actual process of restoring the default network settings and options on the new Samsung Galaxy S22, Galaxy S22+ and Galaxy S22 Ultra devices.
This method is also applicable when restoring network defaults on other Samsung phones running on the same OneUI platform.
Before you begin, verify and ensure that your phone is sufficiently charged. At least 50 percent of battery life is recommended to ensure that the reset will be successfully completed.
Also be sure to note your Wi-Fi password and have it ready because you will need to re-enter it to reconnect to the Wi-Fi network following the network reset.
Once you've got everything ready, you may go ahead and proceed with these steps to smoothly reset network settings.
Step 1: Navigate to the Home screen or Apps viewer and then tap Settings to open the Settings app.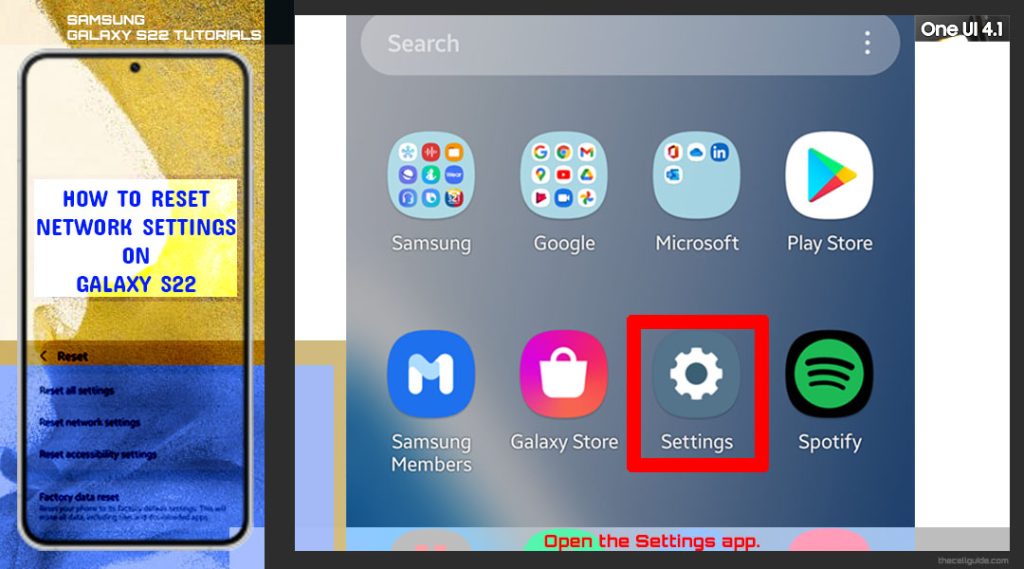 Step 2: While on the Settings menu, scroll to find and then tap General management.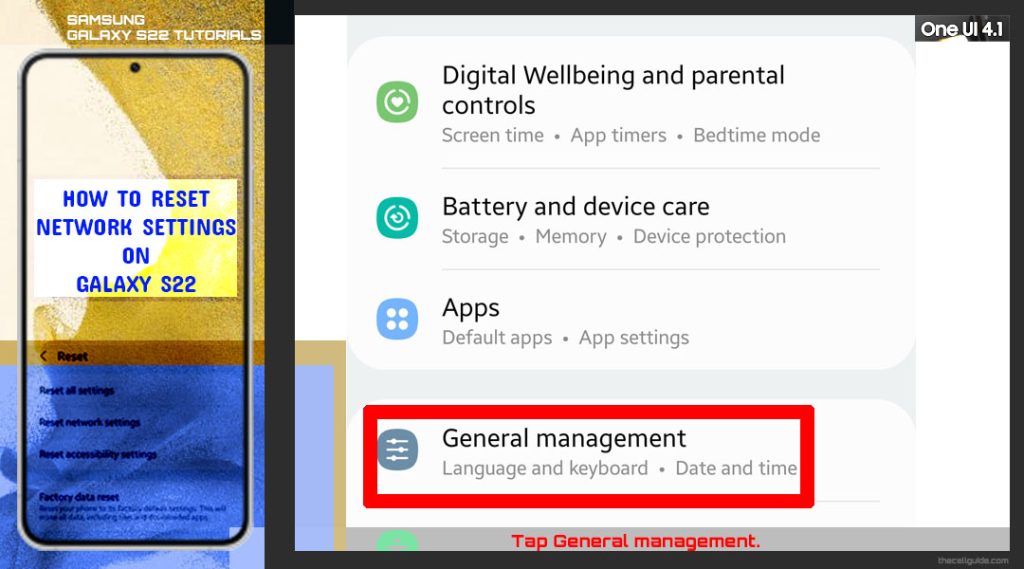 Step 3: On the succeeding menu, scroll down to the bottom section and then tap Reset.
Step 4: Tap Reset Network Settings from the given options.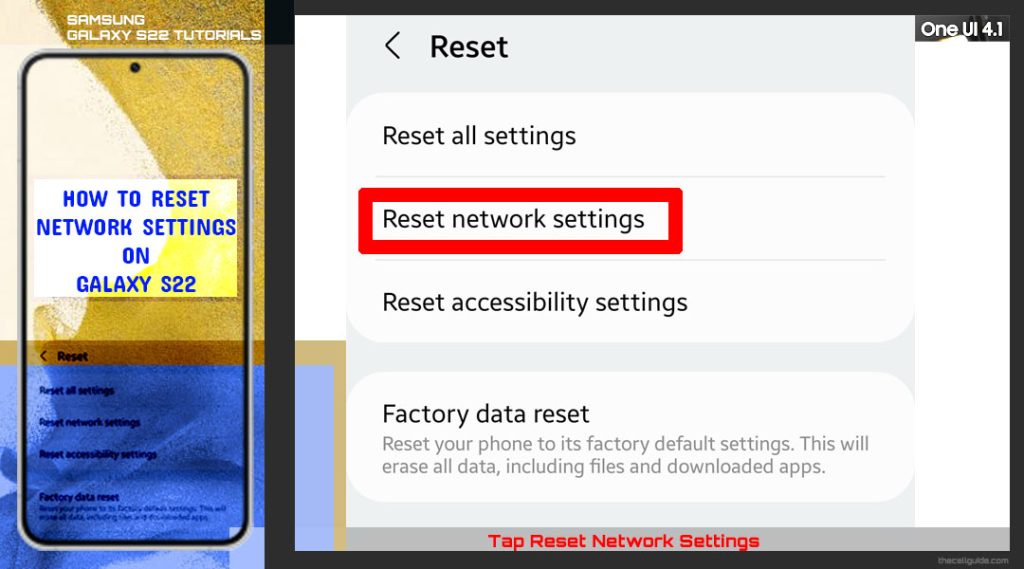 Step 5: Read the reset details on the next screen then tap Reset settings to continue.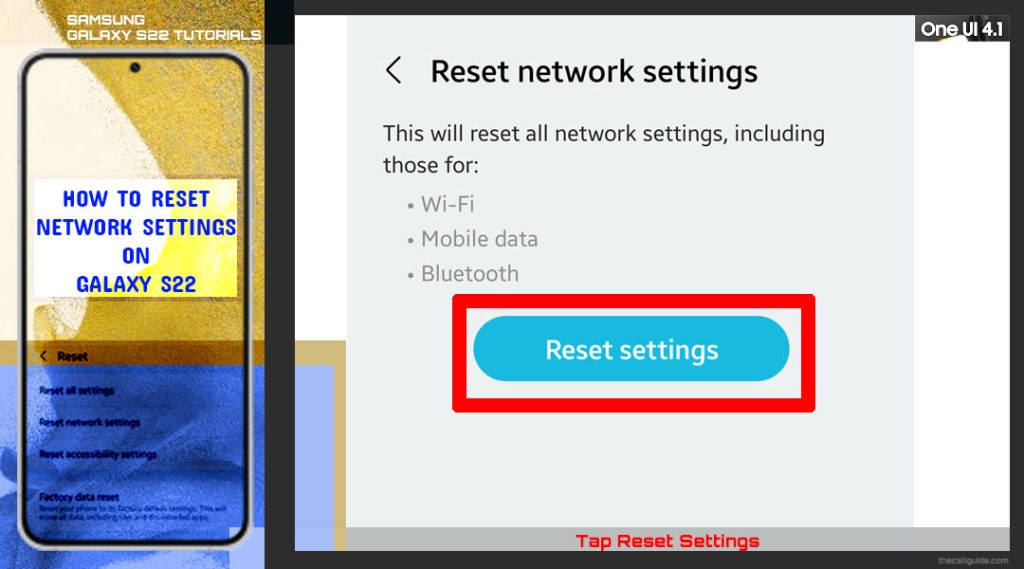 Step 6: Enter your device PIN, pattern or password if prompted.
Step 7: Review the final warning then tap Reset to confirm.
The phone will then start to reset network settings and delete all recent network changes including custom network configurations.
When the network settings reset is finished, automatic reboot follows. Just let your phone finish rebooting and will restore default network configuration once it's back up.
By then, you can re-enable network connections and set up wi fi networks to get back online and use internet features of your phone.
Reconnect after Resetting Network Settings
Since network defaults are reinstated, you will need to set up your Wi-Fi network like the first time you did.
To do this, simply go to Settings-> Connections menu and then tap Wi-Fi. If necessary, tap the switch to turn on Wi-Fi. Select the Wi-Fi network that you'd like to join or connect to from the Available networks. Enter the Wi-Fi password and then tap Connect.
You can enable Auto-connect for that Wi-Fi network so your device will automatically join and connect to it after rebooting or re-enabling Wi-Fi functions.
Hope this helps!
Please check out our YouTube channel to view more tutorial and troubleshooting videos for popular iOS and Android devices.
You Might Also Want To Read: