This post will walk you through configuring the built-in Samsung messaging app on the new Galaxy A53 smartphone to automatically remove old messages when the maximum number is reached. Here's a quick guide on how to automatically delete old old messages on Samsung Galaxy A53 5g.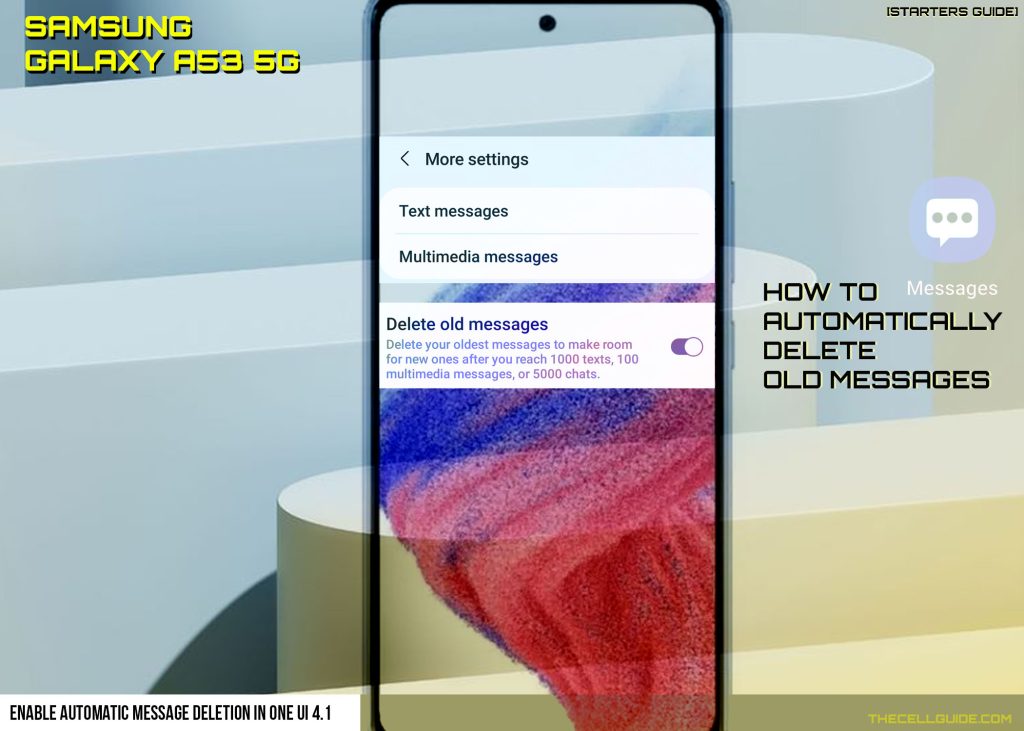 One UI 4.1 Automatic Message Deletion
Text and multimedia messages including personal and group chats also occupy a portion of the phone's overall storage.
Aside from basic texting (SMS) messaging, the stock messaging (Messages) app in Samsung Galaxy devices comes with more advanced features such as photo and video sharing. The more of these messages are kept, the larger the storage they consume.
That said, deleting old and unwanted messages is deemed among the recommended solutions to memory-related issues.
To make the job a lot easier, Samsung integrated a messaging feature that will automatically delete old messages when the maximum number of saved messages is reached.
Activating this feature is highly recommended when optimizing your phone's storage.
Depicted below is the actual process of activating the automatic message deletion feature on the new Samsung Galaxy A53 5g smartphone.
Feel free to refer to this quick walkthrough if you need help in the process.
Steps to Automatically Delete Old Messages on Samsung Galaxy A53 5g
Performing the following steps will enable the automatic message deletion on the Galaxy A53 5g smartphone. This method is also applicable when activating this built-in messaging feature on other Samsung phones that are running on Android 12 with One UI 4 or later OS version. Actual interface may vary between device models and network operators.
Feel free to start whenever you're all set to configure your device.
Step 1: To get started, tap Messages to launch the built-in messaging app on your phone.
The Messages app icon is typically lined up among other main app icons from the Home screen by default. If it isn't there, then you'll need to find it from the Apps viewer instead.
Step 2: While in the Messages app's main screen, tap the quick menu icon on the upper-right corner (represented by a triple-dot). Doing so will pull up a side menu that contains a list of options.
Step 3: Find and then tap Settings to access the Messages app settings menu.
Step 4: On the succeeding window, find and tap More settings. Doing so will launch another menu that contains additional options and messaging features.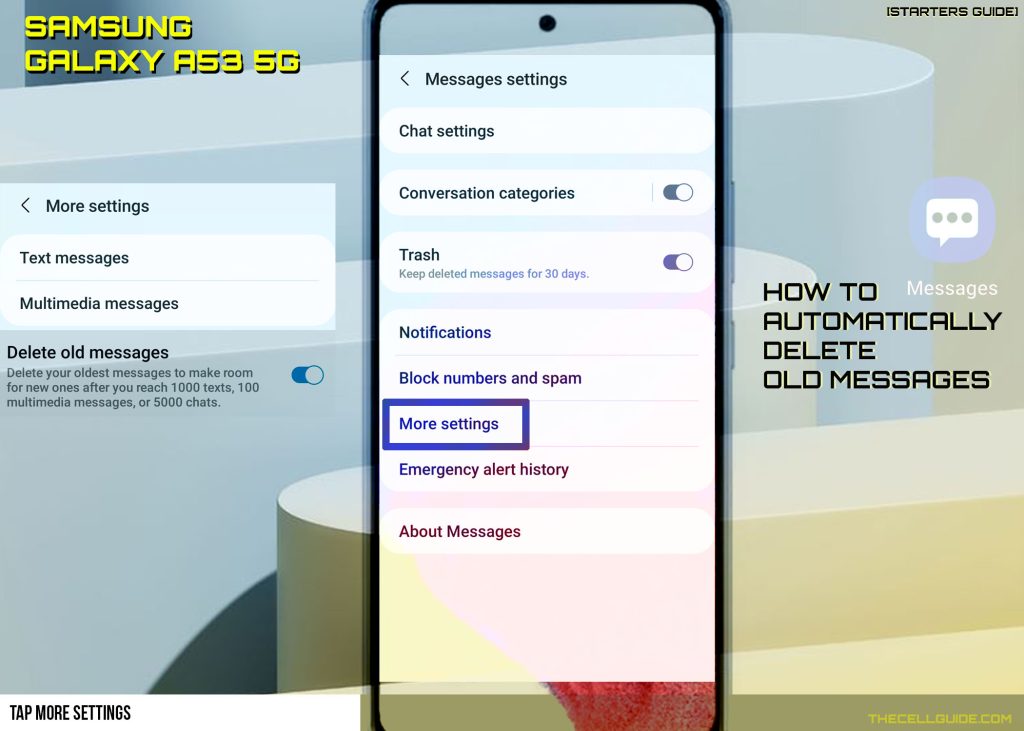 Step 5: Find and the option to Delete old messages and then tap to turn on the switch next to it.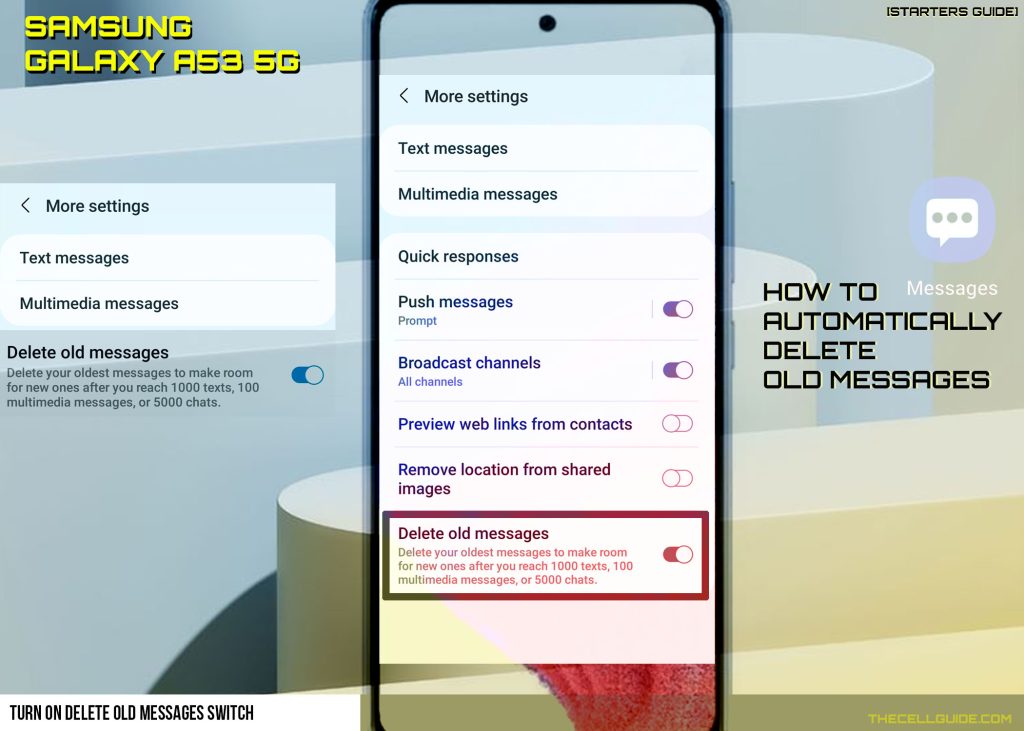 Doing so enables the automatic deletion of old messages on your phone automatically delete old messages to make room for new ones after exceeding the maximum SMS, MMS and chats.
If you prefer manual deletion of messages, then you can keep the automatic deletion of old messages switch off and manually delete unwanted messages and threads from the Messaging app. The deleting process is pretty straightforward. You can delete messages individually or by thread.
Why Enable Automatic Old Messages Deletion?
The maximum number of messages that the phone can hold is up to 1000 SMS and 100 MMS. Typically, the phone will notify that you can no longer send or receive new messages because the Messages app capacity is full.
If automatic message deletion isn't enabled, then you'll need to manually delete old and unwanted messages from your inbox. Apparently, it's going to be a tedious process. Enabling automatic deletion of old SMS and MMS messages is therefore recommended to save time and effort from carrying out manual deletion.
Enabling this feature can likewise help prevent any potential problem inflicted by corrupted messages on the device. Sometimes, the Messages app may encounter unexpected errors due to some corrupt messages that are kept in the inbox.
Messages that are prone to becoming corrupt or broken are typically the old ones that contain invalid or unsupported hypertext links.
The above steps don't apply to any other third-party messaging application such as Chomp SMS, Pulse SMS, QKSMS, SMS Organizer, Textra SMS and the like.
Recover Deleted Text Messages
If by any chance, you've accidentally deleted an important text message, you can use a third-party app to recover your deleted message.
If you've managed to create a backup via Samsung Cloud on your Samsung Galaxy phones, then you may still be able to restore deleted messages from through your Samsung Cloud account.
You can also contact your network operators or cellular service provider for further assistance because some Telco utilizes a dedicated system that keeps text messages for individual subscribers.
And that's all about automatically deleting old messages on the Galaxy A53 5g mobile phone.
Hope this helps!
Please check out our YouTube channel to view more tutorial and troubleshooting videos for popular iOS and Android devices.
You Might Also Want To Read: