This post will walk you through activating the One UI messaging feature that will prompt the app to automatically delete old messages once the inbox reaches the maximum capacity. Here's a quick guide to enable auto-delete old messages feature on Samsung Galaxy A73 5g.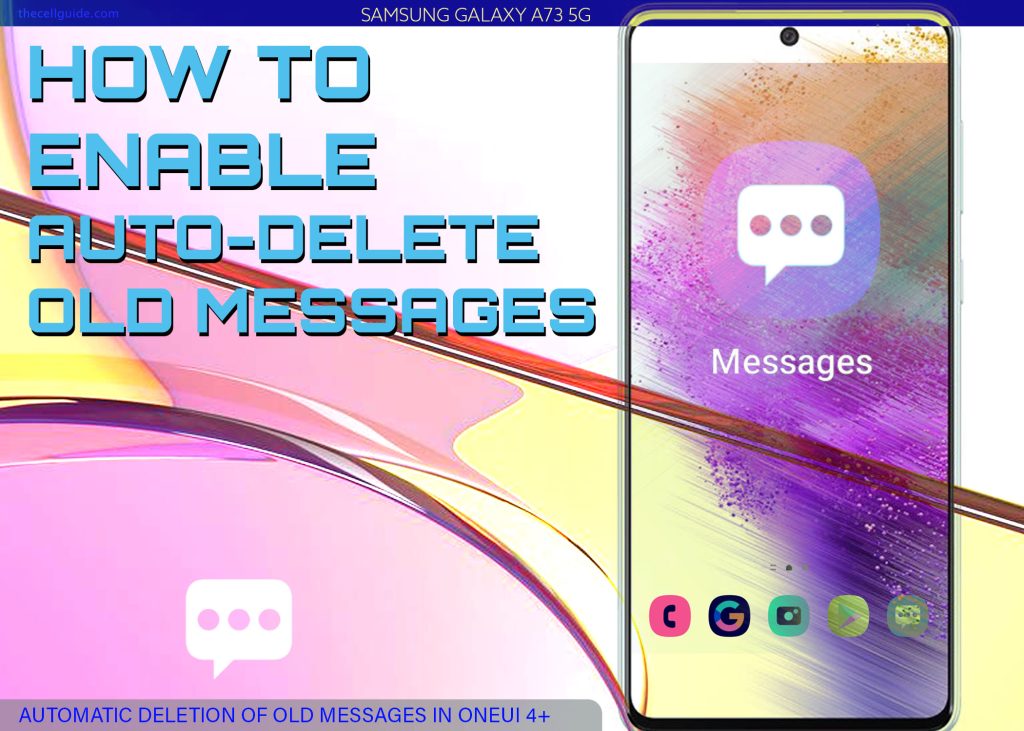 Automatic Deletion of Old Messages
Mid-range and high-end Samsung Galaxy phones come with a stock messaging application called Messages.
With the Samsung Messages app, you can keep in touch with all of your contacts on your device by sending emojis, photos, videos and other quick greetings. The app is also packed with a number of useful features to ensure privacy and security for individual users.
Highlighted among the key features of the Samsung Messages app include message customization, personalized fonts, message scheduling, conversation muting, and message threads tone customization to name some.
Another preloaded messaging app feature that gives users convenience in managing old SMS, MMS and conversations is the option to delete old messages.
When enabled, this prompts the device to delete old messages automatically given that the maximum inbox storage has been surpassed. This therefore prevents the Messages app's storage from piling up and thereby frees up a portion of the internal storage occupied by stored messages and conversations.
If you're new to Android and wondering how to activate this feature on your Samsung Galaxy A73 5g phone, you can refer to the simplified walkthrough as follows.
Steps to Enable Auto-Delete Old Messages feature on Samsung Galaxy A73 5g
The following steps will activate the stock messaging app feature that automatically removes old messages when the inbox reaches the maximum capacity. This method is also applicable when activating the auto-delete messages feature on other Samsung Galaxy phones that are running on the same Android or One UI OS version with that of the Galaxy A73 5g.
The actual interface of individual devices may vary between device models and network operators. To ensure all key features and options are accessible, be sure to keep your device software up-to-date.
Feel free to start whenever you've got everything set.
Step 1: To get started, open the Messages app on your phone. Just tap on the Messages app icon from the Home screen or Apps tray.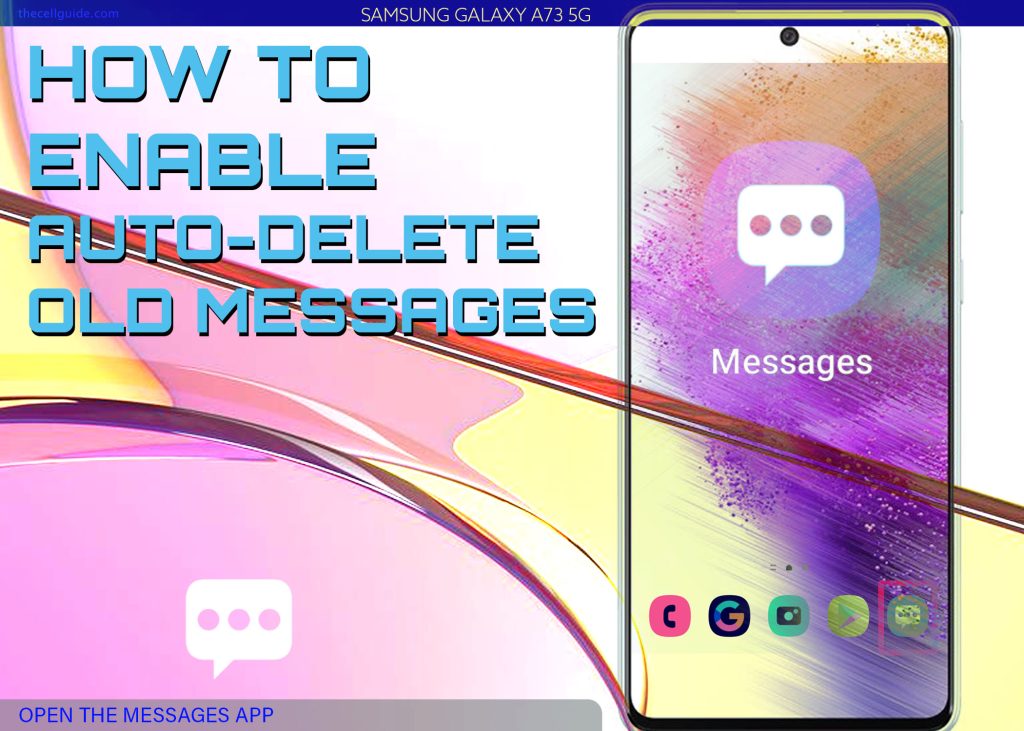 Step 2: While in the Messages app's main screen, tap the triple-dot icon on the upper-right side to launch the quick menu options.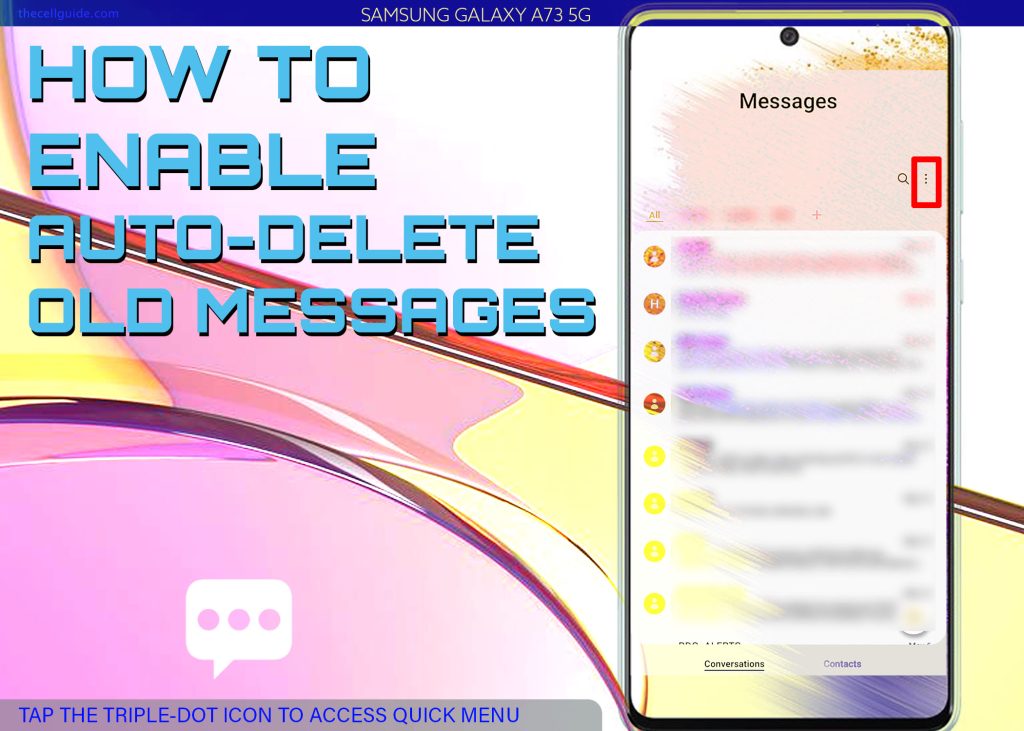 Step 3: From the menu items, tap Settings. Doing so will launch the Messages settings screen that contains inbuilt messaging features and relevant options.
Step 4: Tap More settings to proceed. Additional settings for the Messages app will load up next.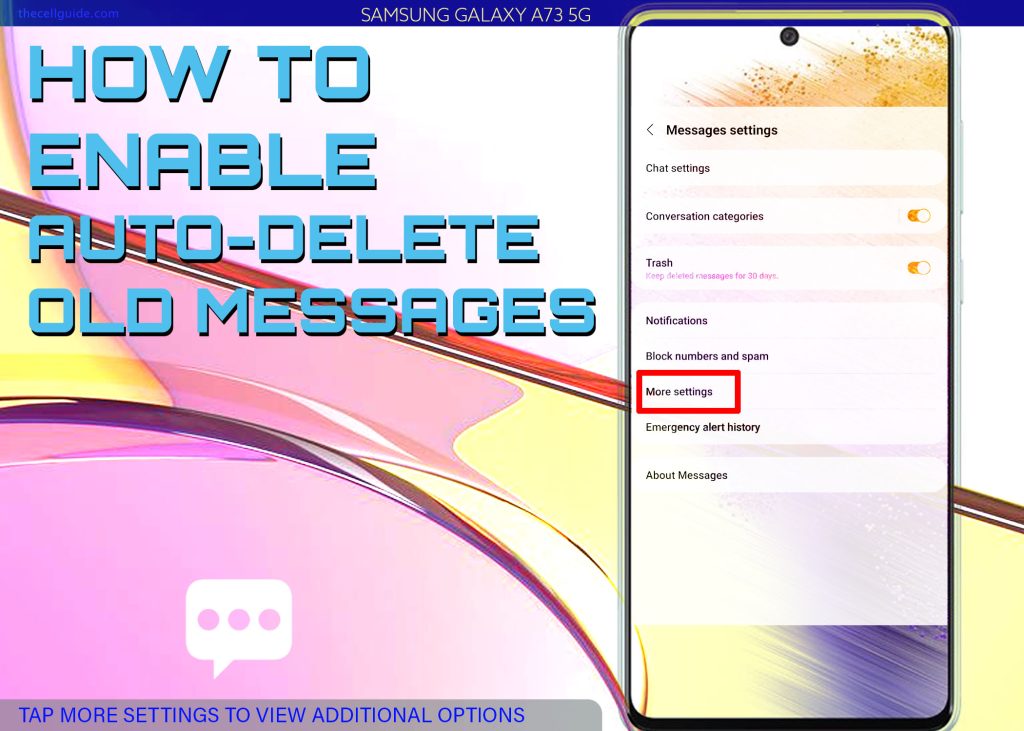 Step 5: While in the More settings menu, you'll see the option Delete old messages. Toggle the switch next to it.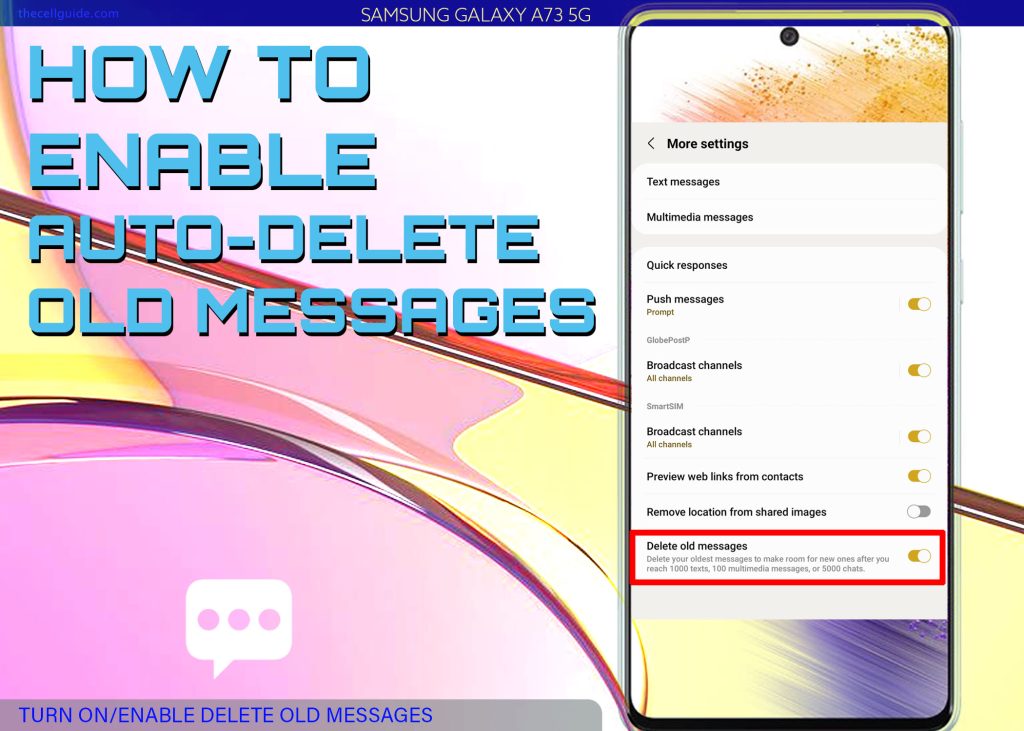 That should enable the auto-delete messages feature on the built-in messaging application. As a result, the device will automatically delete old messages once the number exceeds the maximum, which is 1000 texts, 100 multimedia messages and 5000 chats. This will make room for new messages in your inbox.
Advantages of Enabling Auto-Delete Old Messages
Aside from freeing up storage space, activating the auto-deletion of old messages feature can also help prevent the Messages app from encountering unexpected errors inflicted by any of the old messages that have been corrupted.
The messaging app is more prone to having performance issues such as lagging, loading errors, crashing and freezing if bulk messages have already occupied the in-app storage.
Turning on the Delete Old Messages feature will therefore prevent these issues from transpiring.
Although the phone would give you some sort of reminder that the maximum inbox capacity has already been reached or exceeded, pre-configuring your device to do what needs to be done when that moment comes still gives an advantage. With this setting, you can save time and effort from manually deleting old messages from your inbox.
Should you wish to go back to manual deletion of previous messages, just repeat the same steps to get back to the Messages app settings where you can toggle the Delete Old Messages switch OFF again.
By then, you can manually delete old and unwanted messages individually or by thread, whenever needed.

For messages that you've accidentally deleted, you can use a third-party app to retrieve them. There are a number of third-party apps from Play Store that you can use to recover deleted text messages on your phone.
Deleted messages (SMS and MMS messages) can also be recovered if you've managed to back them up to your Samsung cloud account beforehand.
And that's how you configure the Galaxy A73 5g Messages app to automatically remove old SMS, MMS, and chat messages after exceeding the maximum range.
Hope this helps!
Please check out our YouTube channel to view more tutorial and troubleshooting videos for popular iOS and Android devices.
You Might Also Want To Read: