This post will walk you through removing the Advertising ID that's currently assigned to your Samsung Galaxy phone and stopping relevant ads from showing. Here's a quick guide to delete advertising ID on Samsung Galaxy S22.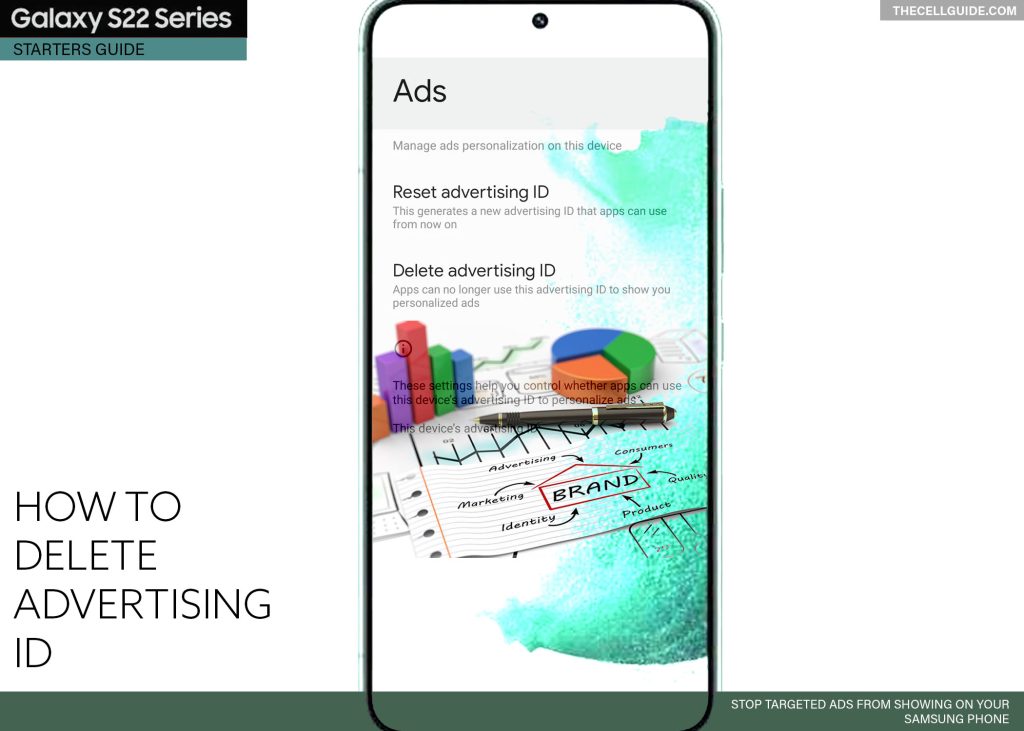 Google Play Ads Privacy
Online shopping is now becoming a global trend and its acclaim is significantly heightened with the recent health pandemic as more and more people find it safer, better and more convenient to shop online through computers and various mobile devices.
As the number of online shoppers continues to grow, business entities are also aggressively pushing online campaigns, promoting their patented products and services. That said, you'll see different types of ads popping up on your computer or phone's screen whenever you browse the web. Most of these displayed ads are based on your digital viewing habits and activities. Such is called targeted advertising — a specific form of online advertising that focuses on specific preferences of individual consumers. Advertisers gathered this information by tracking your online activities.
Every smartphone and table is assigned with a unique advertising ID provided by Google Play services. This serves as the primary key to identify your device and allows advertisers to render personalized ads (interest-based ads) within the Play Store apps.
App developers are asked to comply with the Google Play Developer Program Policy requirements that states all updates and new apps uploaded to Google Play use the advertising ID for any advertising purposes.
In line with mobile user's privacy concerns, Google Play services rolled out an update in late 2021, allowing users to opt out of personalization. All they have to do is configure the Android phone's settings.
When users opt out of personalized ads, apps are restricted from viewing the advertising ID Of users. This therefore halts them from catering interest-based ads to the device. The users however may still be seeing other ads but are no longer based on their likings.
In recent Samsung phones, opting out of personalized ads is done by deleting the device's advertising ID.
Deleting the Advertising ID replaces the device's current Ads ID with a string of zeros so anyone targeting ads through Google services will no longer have an idea of which type of products or services you're most likely to procure. That said, ads you see on your device are less relevant.
If you're new to Android 12 with One UI 4.1 OS, the following steps will walk you through the entire process.
Steps to Delete Advertising ID on Samsung Galaxy S22
Follow these steps to stop seeing personalized ads popping up on your phone's screen whenever you browse online pages and content.
These steps are also applicable when deleting the advertising ID on other Samsung mobile devices running on Android 12 with One UI 4.1 OS version.
You may go ahead and start whenever you're all set to configure the privacy settings of your device.
Step 1: Open the Settings app to get started. Just find and then tap the Settings icon from the Home screen or Apps tray of your phone.
Step 2: In the main settings menu, scroll down and then tap Privacy. Doing so opens the privacy menu with a list of relevant options.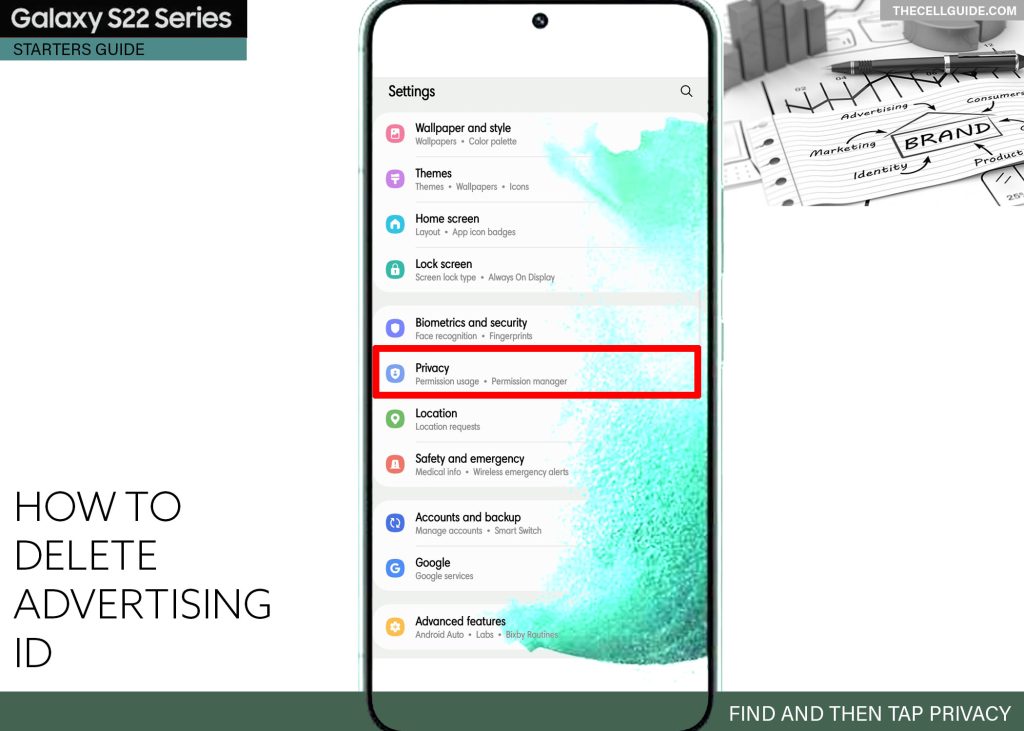 Step 3: Scroll down to find and then tap Ads. The Ads Privacy menu opens next. Here, you will see a few relevant commands to manage ads personalization on your device. Among the available options are reset advertising ID, delete advertising ID and Enable debug logging for ads.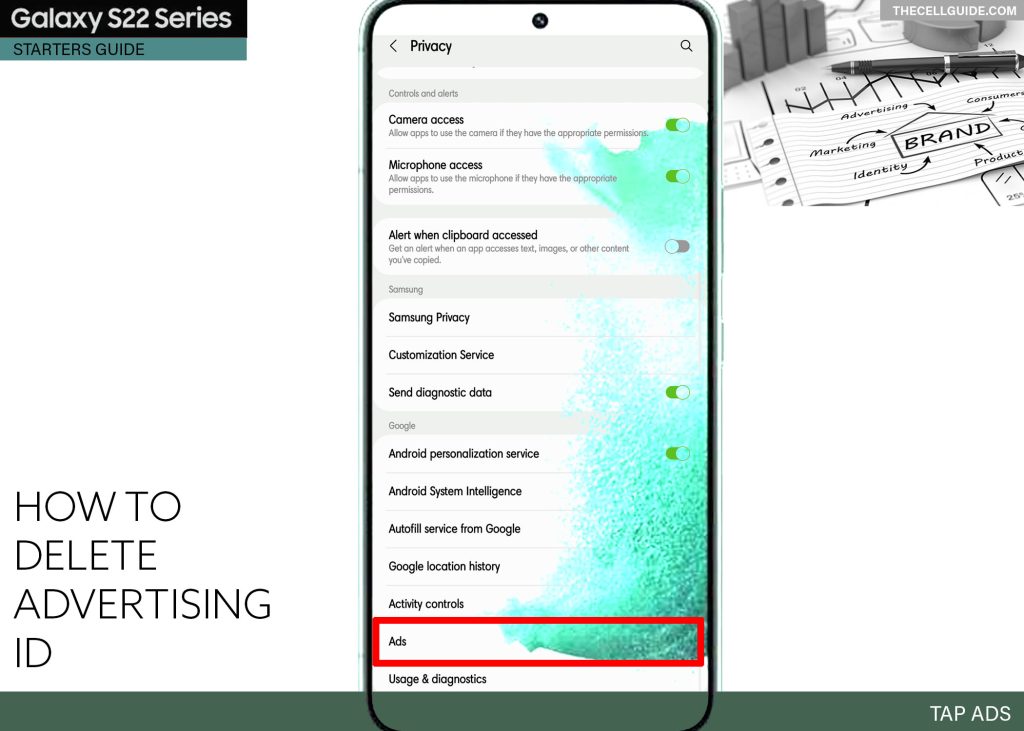 Step 4: Tap Delete advertising ID from the given options to proceed.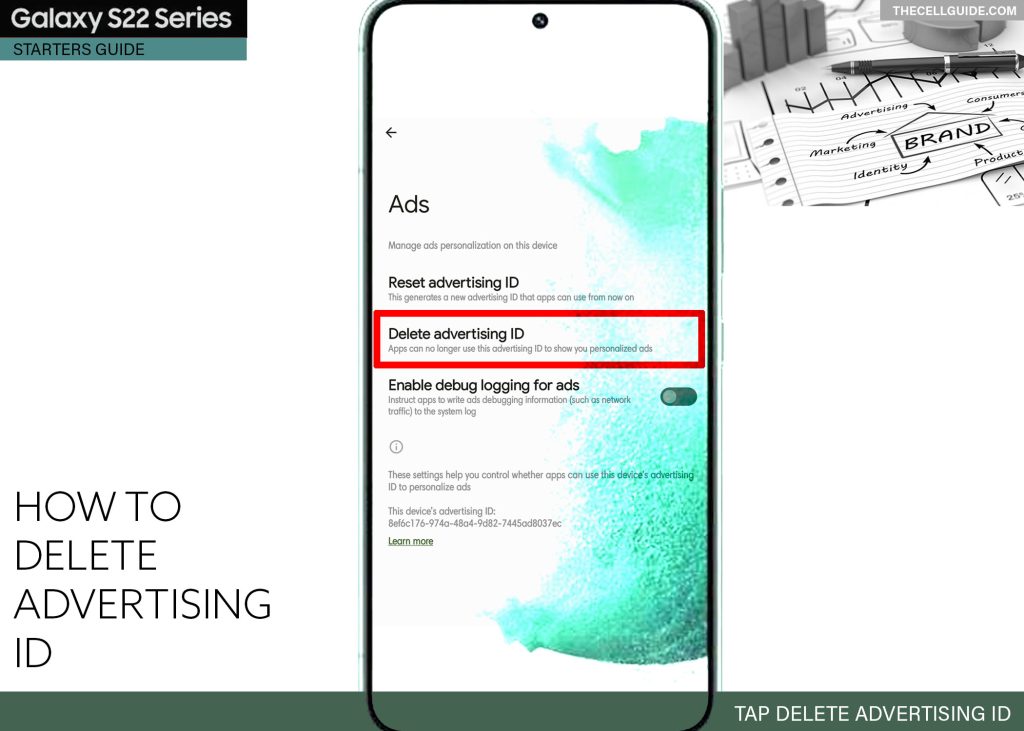 Step 5: Read the message then tap Delete advertising ID to confirm.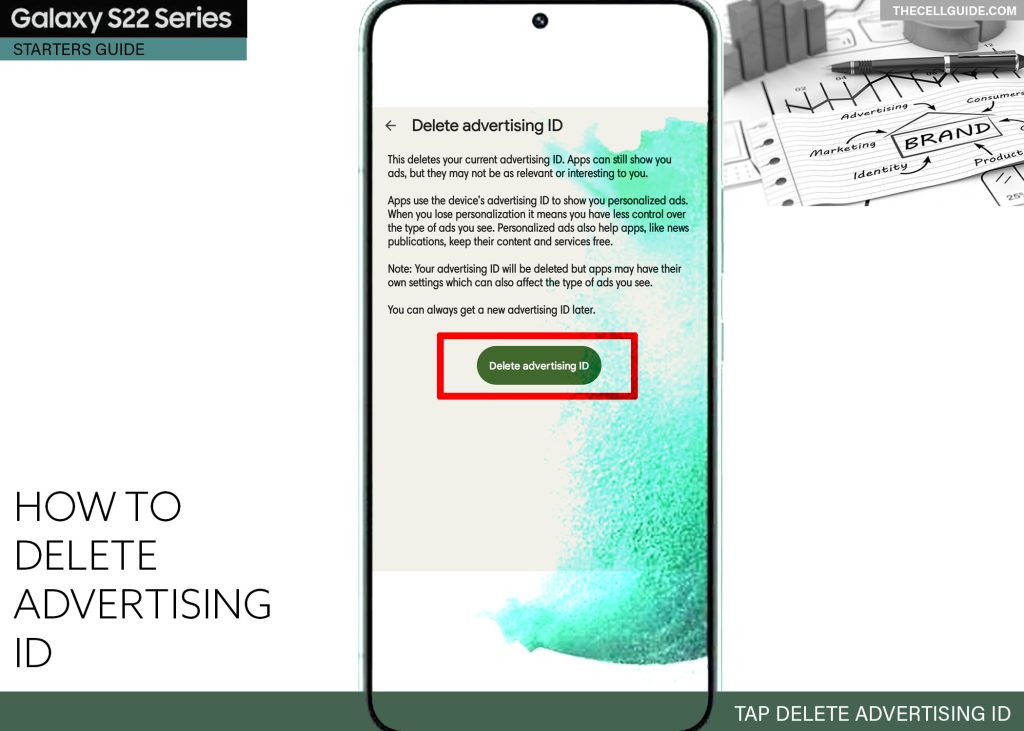 Your current advertising ID will then be deleted.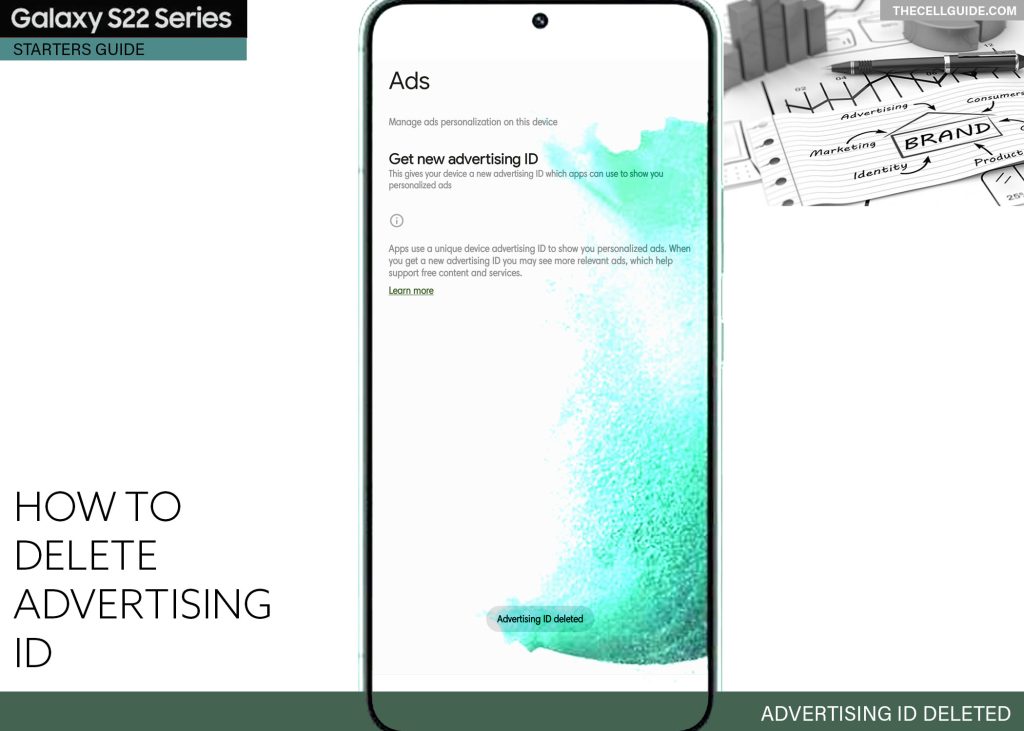 Again, deleting the advertising ID does not completely stop ads from showing up on your device but the ads you see will already be insignificant to you so you can just skip them every time they appear.
Should you wish to see more relevant ads again, you can configure your device to generate a new advertising ID through settings.
Creating New Advertising ID
Google allows you to get a new advertising ID whenever you'd like to control which ads to get and see on your phone.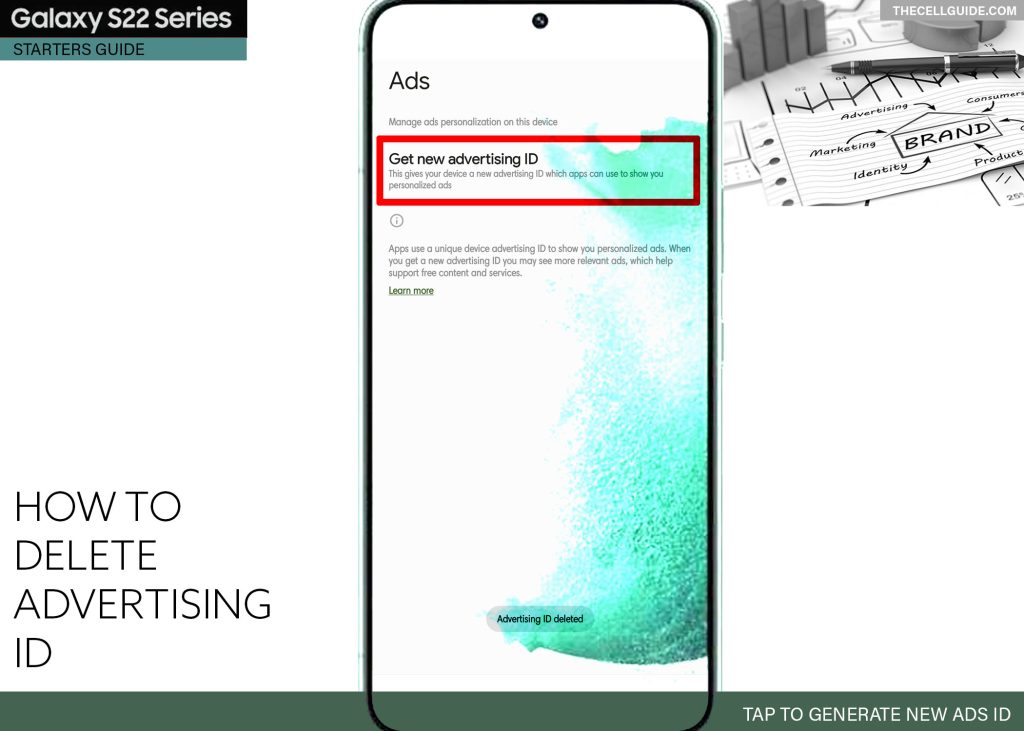 This option is only visible if the advertising ID on your phone is deleted.
To generate a new advertising ID, just head back to your phone Settings-> Privacy-> Ads menu and then tap the option to Get new advertising ID.
Then, follow the rest of the onscreen prompts to generate a new unique advertising ID on the device.
After generating a new ads ID, the ads that you'll be seeing next are already based on your personal interests. This denotes that targeted ads are already re-activated.
Hope this helps!
Please check out our YouTube channelto view more tutorial and troubleshooting videos for popular iOS and Android devices.
You Might Also Want To Read: