This post will walk you through viewing the link preview in the SMS messages you receive on your Galaxy S21 smartphone. Read on to learn how to show link previews on Samsung Galaxy S21 Messages app in the latest OneUI firmware version 4.0.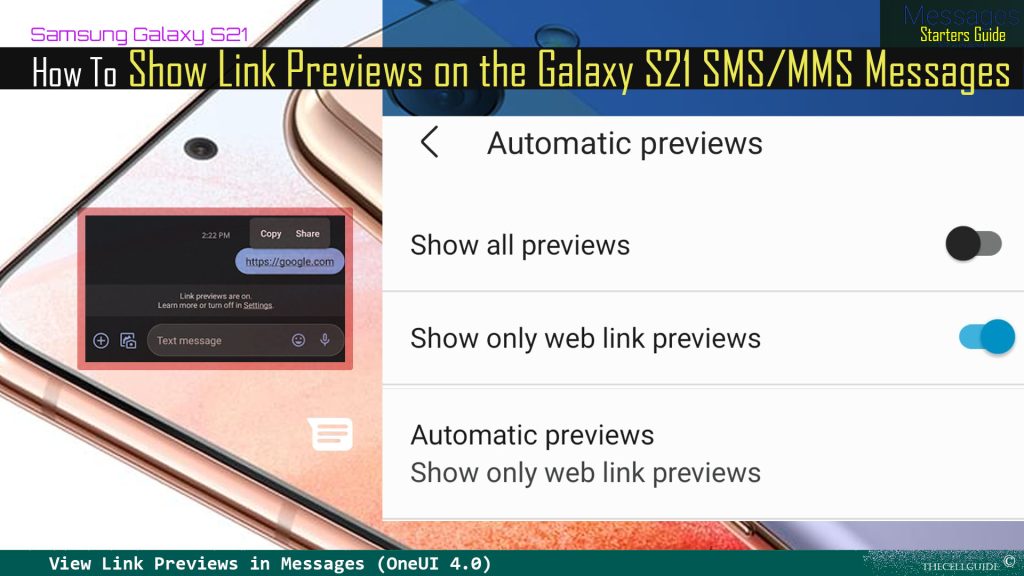 If you receive an SMS or MMS message that contains a link (URL) on your Samsung Messages app, a preview of the target web page or website is supposed to show whenever you hover the pointer on the link. If it doesn't and you want your Samsung Messages app to work in this manner, then tweaking the app's advanced settings would be necessary.
SMS/MMS Web Previews in Messages
The default messaging app in most recent Samsung Galaxy phones do come with a wide array of helpful features and services that users can make use of. But some of these features aren't actually employed because not all users are aware that they exist.
Among the preloaded features that many Samsung Galaxy device owners aren't resorting to is the default messaging app's ability to view web link previews posted and embedded in SMS and MMS messages. The said feature was first introduced in the Galaxy S8 series and since then it's embedded in the succeeding models including the latest Galaxy S21 devices.
With this feature enabled, you will see preview cards related to a certain content in your messages. These preview cards are accumulated through Google search.
The cards appear for places, links and other types of content for as long as the Messages app is able to recognize them.
To access and manage this feature on your Samsung Galaxy phone, you will need to access the Advanced settings menu of the preloaded messaging application. This feature is enabled by default.
If for some reason web link previews don't appear on your Galaxy S21 messages, then it's likely because the link preview switch is turned off or disabled.
Should you need some input on how to access and activate this feature on your new Samsung Galaxy S21 device, I've mapped out a simple walkthrough as follows.
Easy Steps to Show Link Previews on Samsung Galaxy S21 Messages
The following steps are also applicable when turning on the built-in messaging app option to show link previews on other Samsung Galaxy devices running on the same OneUI version.
Actual screens and menu items may vary between wireless network service providers and device models.
Feel free to start whenever you're all set to configure and activate link previews on your Galaxy S21's message settings.
Step 1: To get started, tap Messages from the Home or Apps screen to open the Messages app.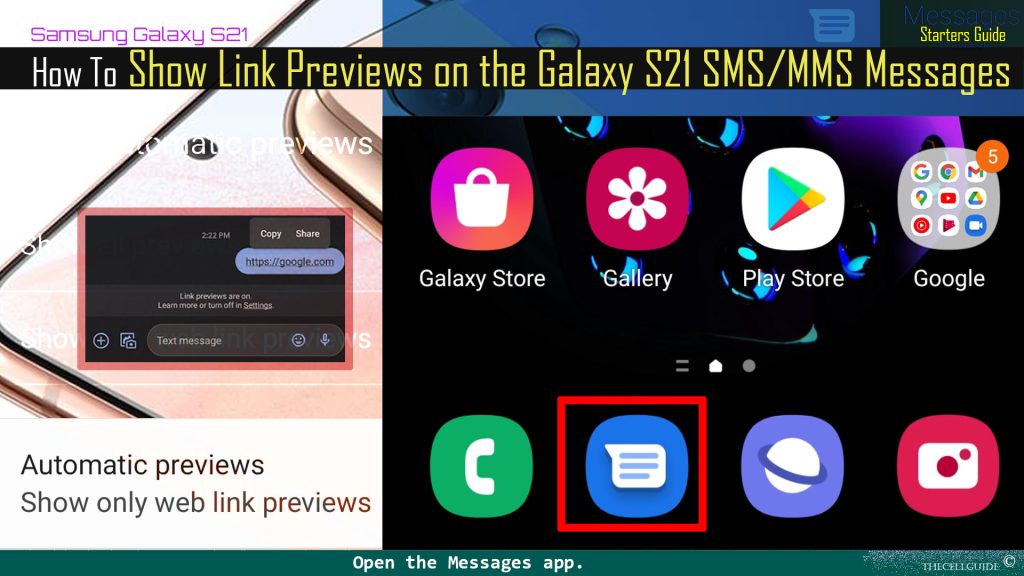 Step 2: While on the Messages app's main screen, tap the menu icon or triple-dot located on the rightmost edge of the text bar or text field. Doing so opens a side menu that contains relevant options.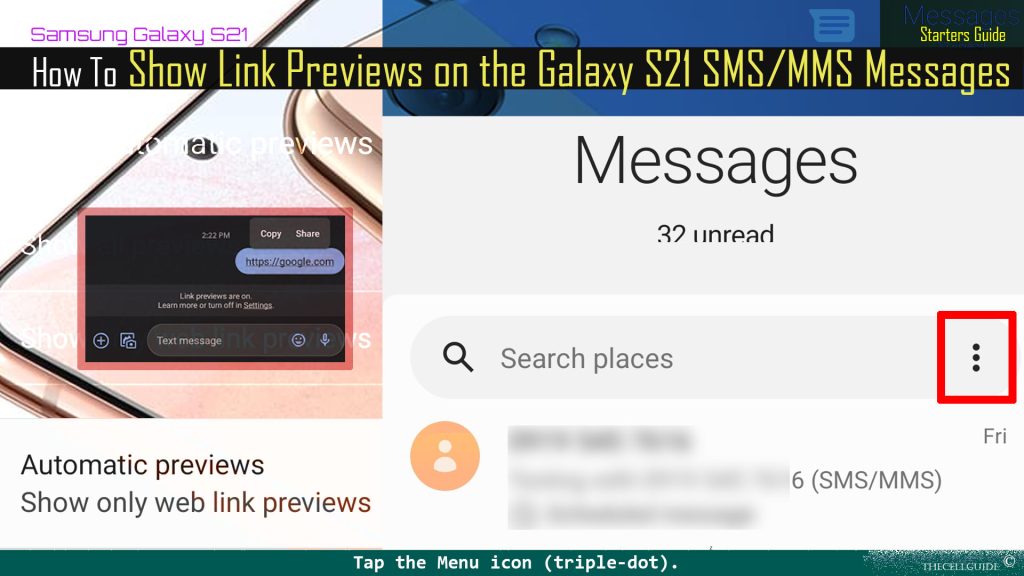 Step 3: Find and tap Settings from the given options to proceed. Messages app settings and features will load up next.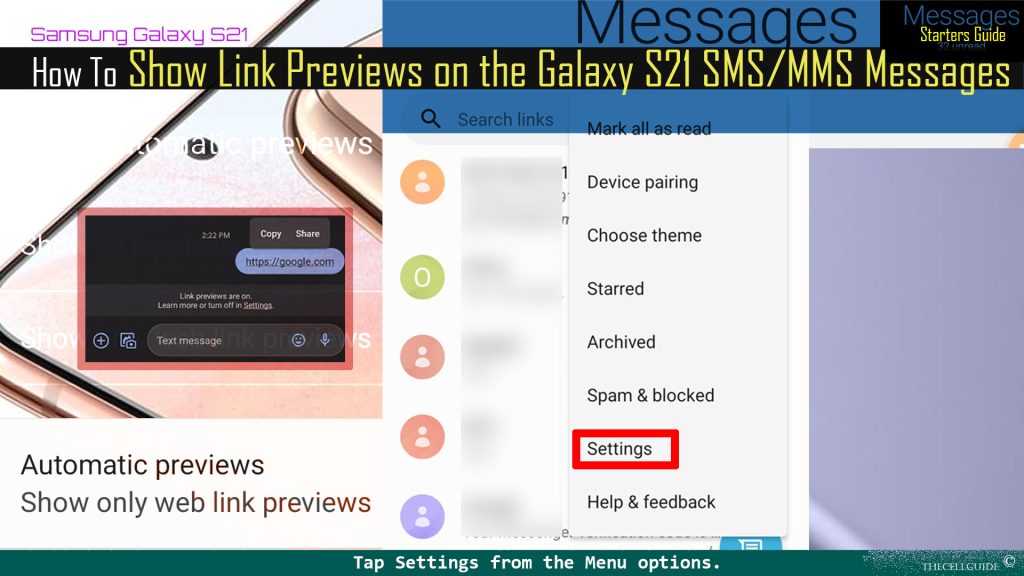 Step 4: On the Messages settings menu, find and then tap Automatic previews. Available preview options will be displayed on the next screen.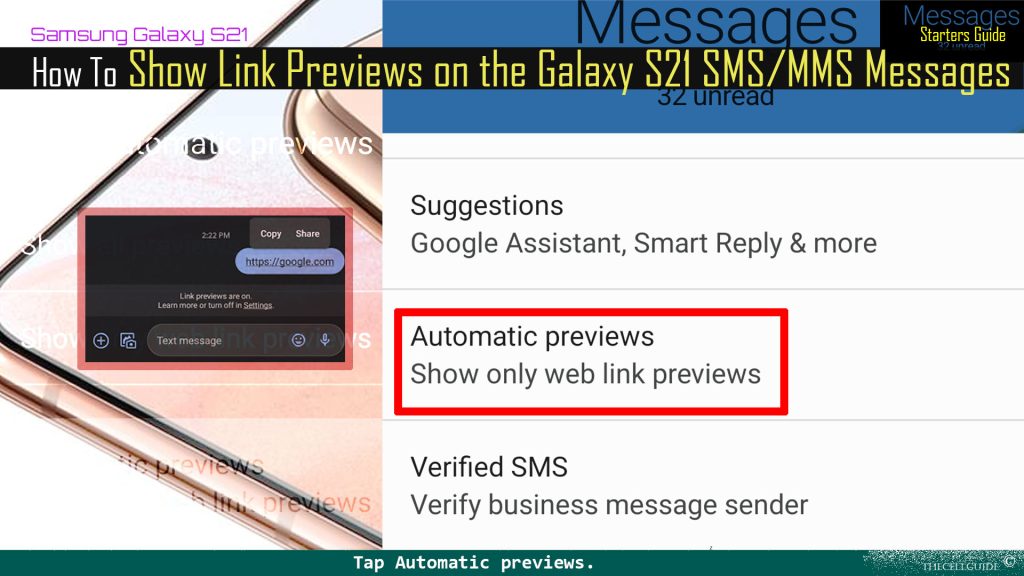 Step 5: To view a preview of web links embedded in a message, tap to turn on the switch next to Show only web link previews.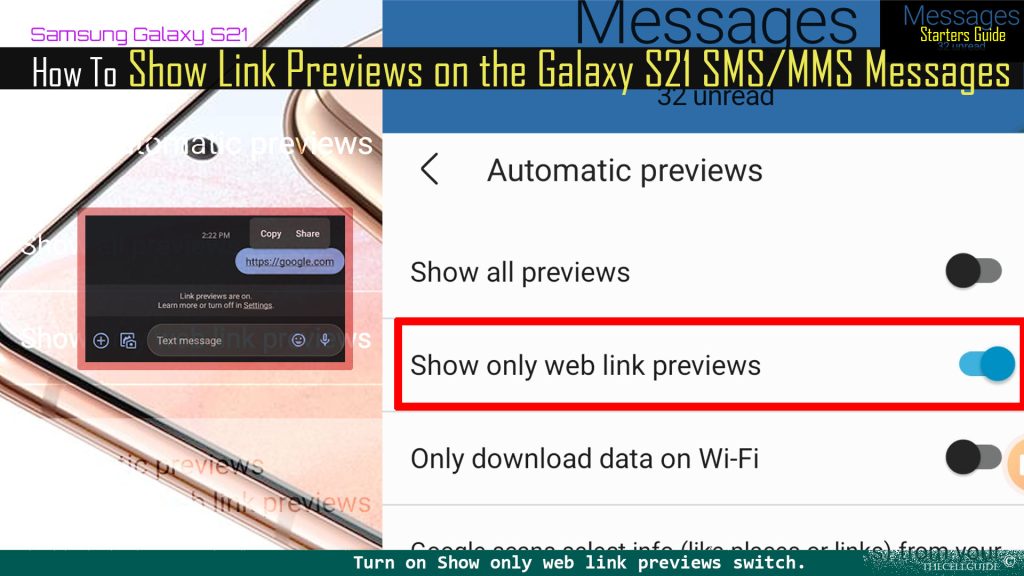 New text messages containing links or URLs will now show web previews.
How does Galaxy S21 Messages Link Previews work?
With this feature turned on, new messages (SMS and MMS) containing a link or URL will put a thumbnail and short text preview of the web page below the posted URL or link in the message thread.
When the feature is turned off, web links will show as normal within the text. This means that the link is still clickable and highlighted but doesn't show any preview of the target web page when the cursor is hovered.
The link previews will be displayed with their size set based on the system's display and accessibility settings. Changing the size in the built-in messaging app's settings is so far not possible. That said, a full website will open in a browser when you click that link preview that's embedded in an SMS or MMS message.
Aside from showing link previews, the default messaging app also allows you to show a preview of the messages you receive. If you want to show previews of all messages you receive through the built-in messaging app on your Galaxy S21, tap to turn on the Show all previews switch.
This feature is also accessible through the Advanced settings menu of the Galaxy S21 Messages.
Hope this helps!
Please check out our YouTube channel to view more tutorial and troubleshooting videos for popular iOS and Android devices.
You Might Also Want To Read: