This post will teach you how to show hidden files and folders on Samsung Galaxy S22 and other Galaxy phones running in OneUI version 4.1.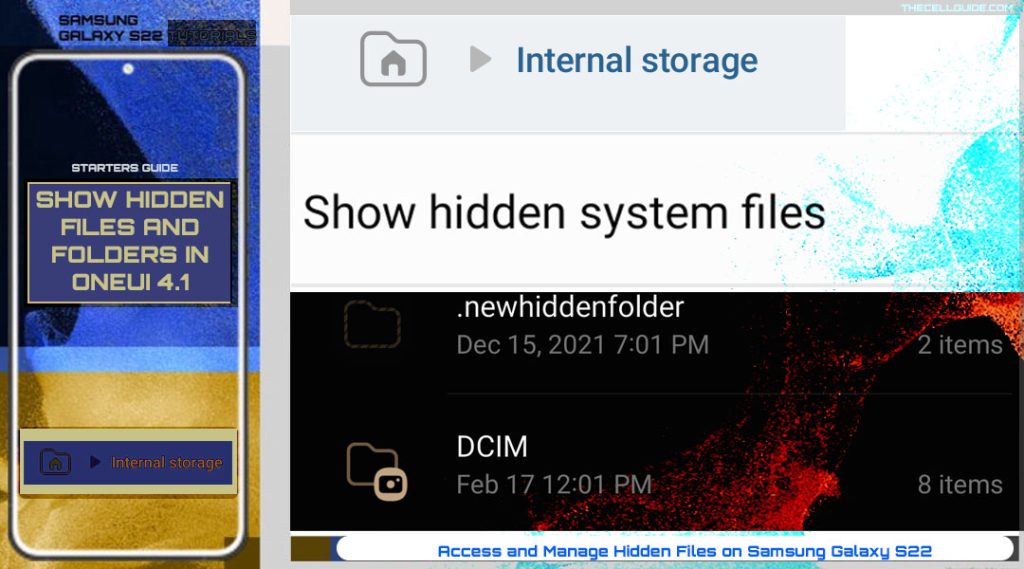 For added layers of data privacy and security, modern Android phones including most recent Samsung devices allow users to hide private files in the phone's internal storage or system directory. A preloaded command is also available for users to activate in order to access and manage these files. If you own the latest Galaxy S22 and need some input on how to do all these, this post highlights the steps. Just keep reading to view more detailed instructions.
Show Hidden Files in OneUI 4.1
As the name implies, hidden files are typically critical data stored on the phone but not visible and accessible to everyone. Just like in computers, hidden files utilize a portion of the total storage space. That said, deleting old and unnecessary hidden files is also recommended whenever the need to optimize the device's storage to deal with memory-related issues arise.
Hiding files in Android smartphones can be done in different ways. You can hide the files directly as is or place it inside a hidden folder. Viewing them on the other hand only requires a single action and that is by enabling a dedicated switch.
Once that switch is enabled, all hidden files appear among other regular files and folders in the internal storage menu of the phone.
The steps depicted below will help you make all hidden files and folders visible on the Galaxy S22 without using a third-party secure folders or built-in file manager app like Secure Folder.
Steps to show hidden files and folders on Samsung Galaxy S22
The following procedure is also applicable when showing hidden files and folders on other Samsung Galaxy phones with the latest OneUI version.
Actual screens and menu options may vary between device models and network service providers so expect some slight differences on every device's user interface.
Just follow these steps whenever you're all set to configure the file storage settings on your new Galaxy S22.
Unhiding hidden files/folders in OneUI 4.1 (Android 12)
These steps are only applicable if you already have hidden the files or folders on your device. To learn how to hide files and folders on the Galaxy S22, you can refer to a separate guide on this site.
Step 1: Tap Settings from the Home screen or Apps viewer to launch the Settings app.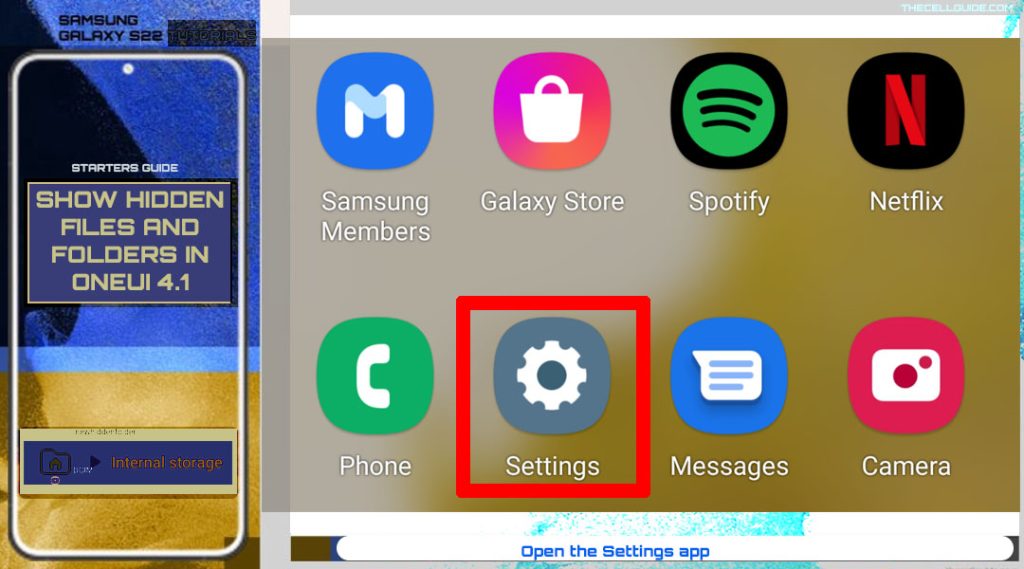 Step 2: While on the Settings menu, tap Battery and device care.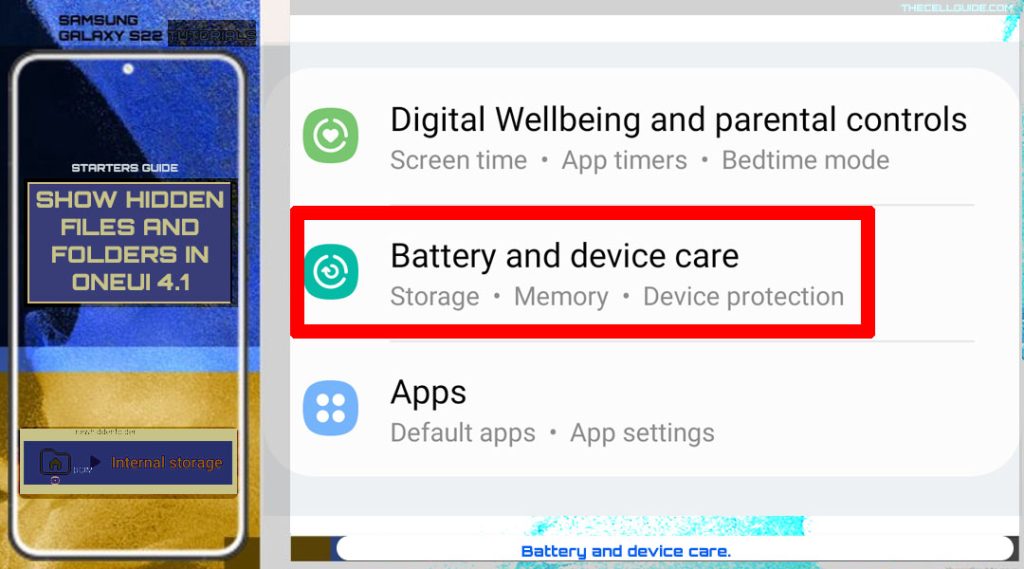 Step 3: Tap Storage on the Device care menu to proceed. The internal storage menu opens next.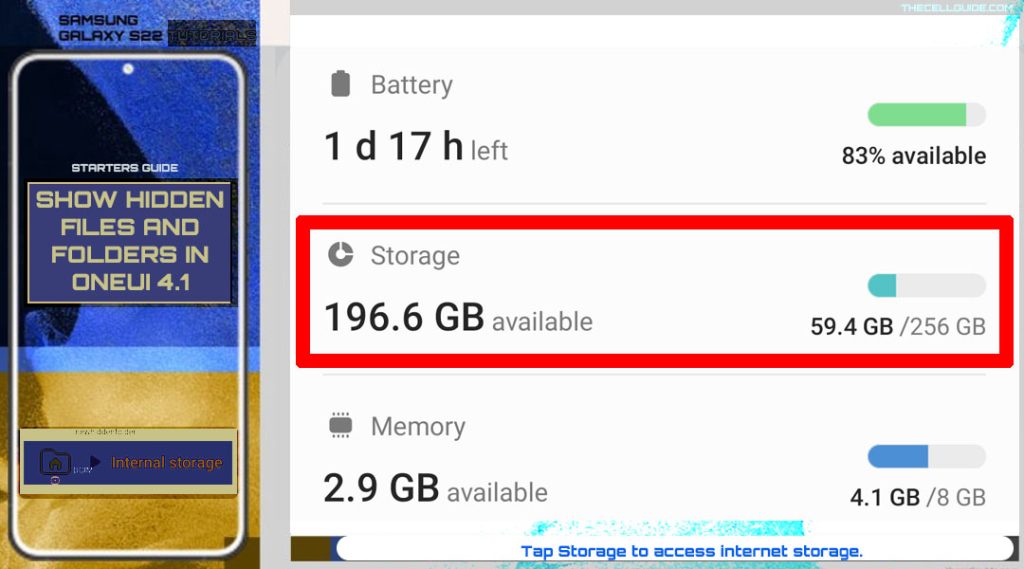 Step 4: On the storage menu, you will see all available directories that store specific data types such as Images, Videos, Audio and more.
Step 5: Select any from the listed directories or go to the main directory where your hidden files are stored. To proceed with this guide, let's just choose Images as an example. So, we'll tap on Images.
Step 6: While in the selected folder/directory (Images) menu, tap the triple-dot icon located on the top-rightmost corner. Doing so will open the quick menu options lined up in a side menu.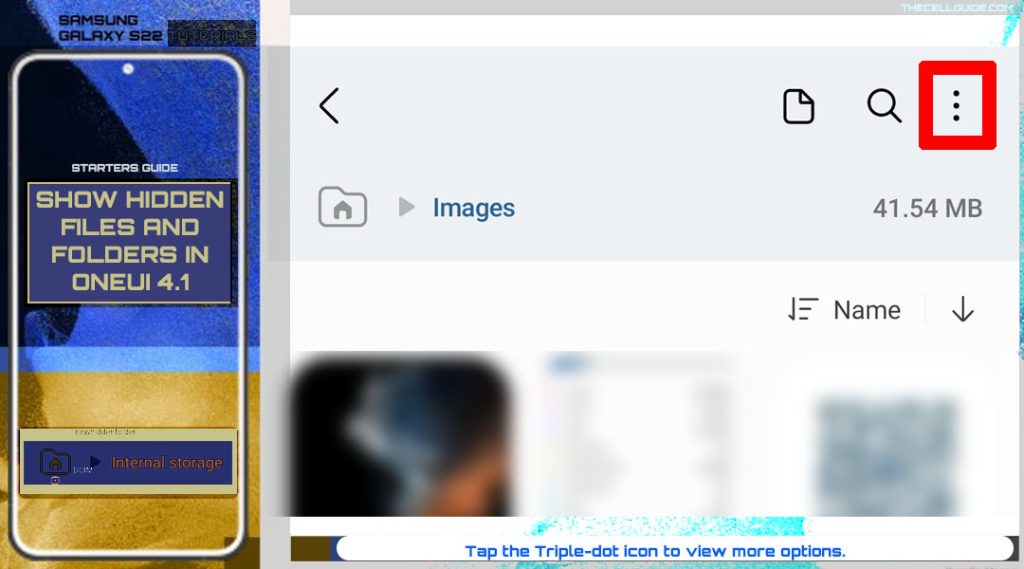 Step 7: Select/tap Settings from the side menu items. More advanced features and settings for the Images directory will load up on the quick settings panel.
Step 8: Navigate to the File management section and there you'll see the option to Show hidden system files.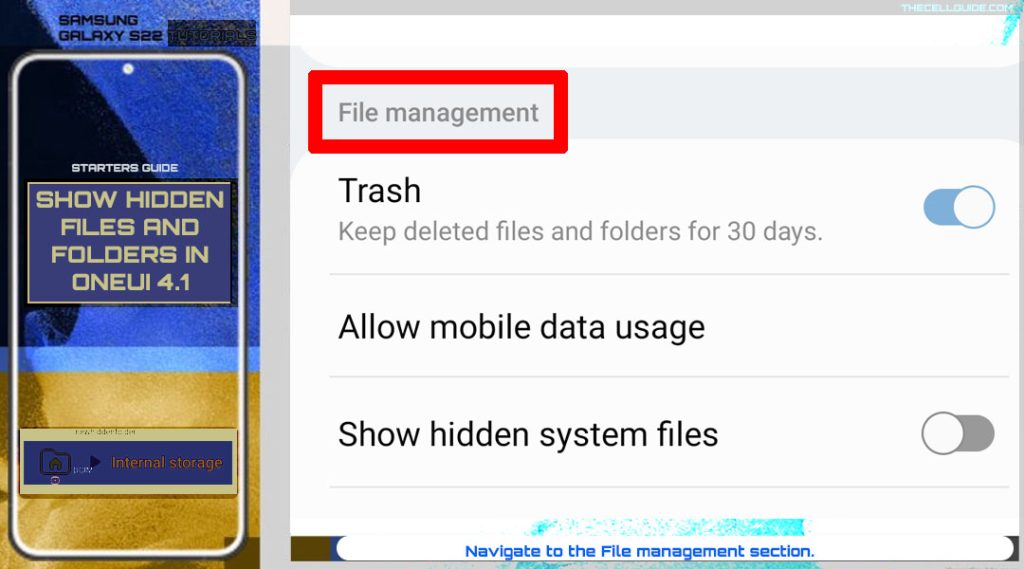 Step 9: To view all hidden files and hidden system folders from the internal storage menu, simply tap to turn on the switch next to Show hidden system files.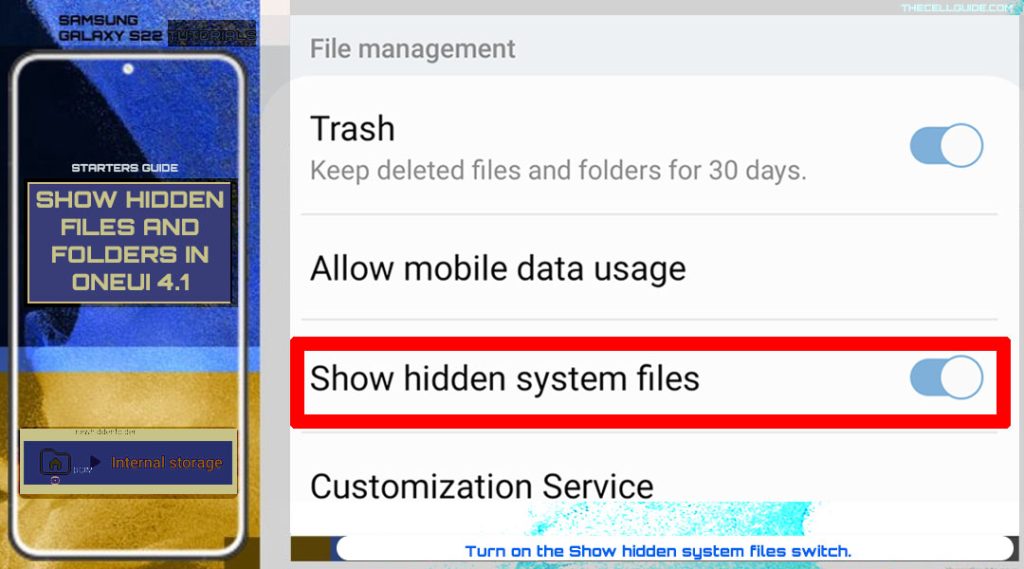 When the switch turns blue, it means that the feature is already enabled. All existing files and folders hidden in the phone will then become visible and accessible through the internal storage menu.
Step 10: To check, just hit the Arrow back key on the upper-leftmost side of the screen until you return to the Internal Storage screen.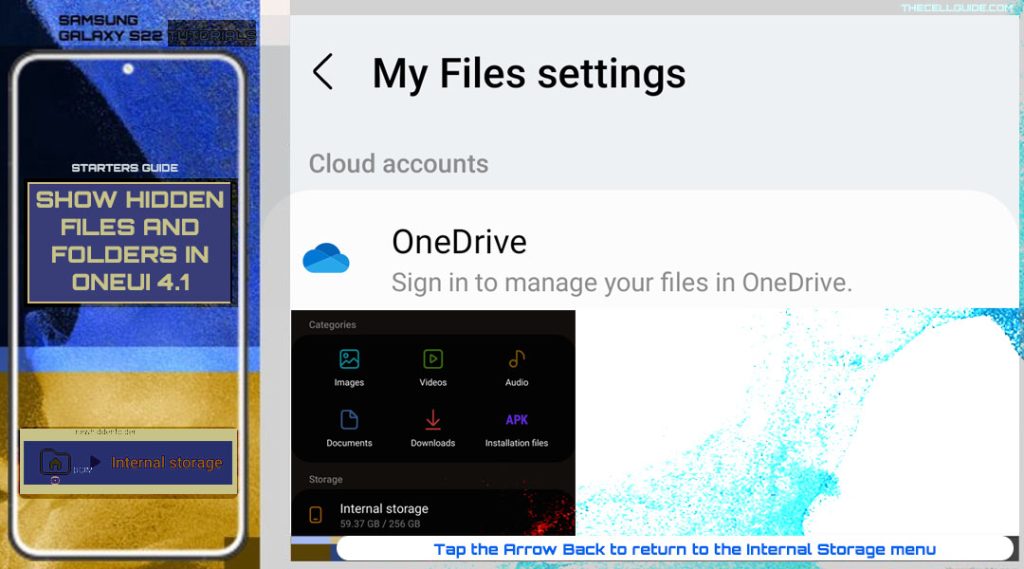 Step 11: There you should see a list of all files including those that are embedded in hidden folders or hidden directories.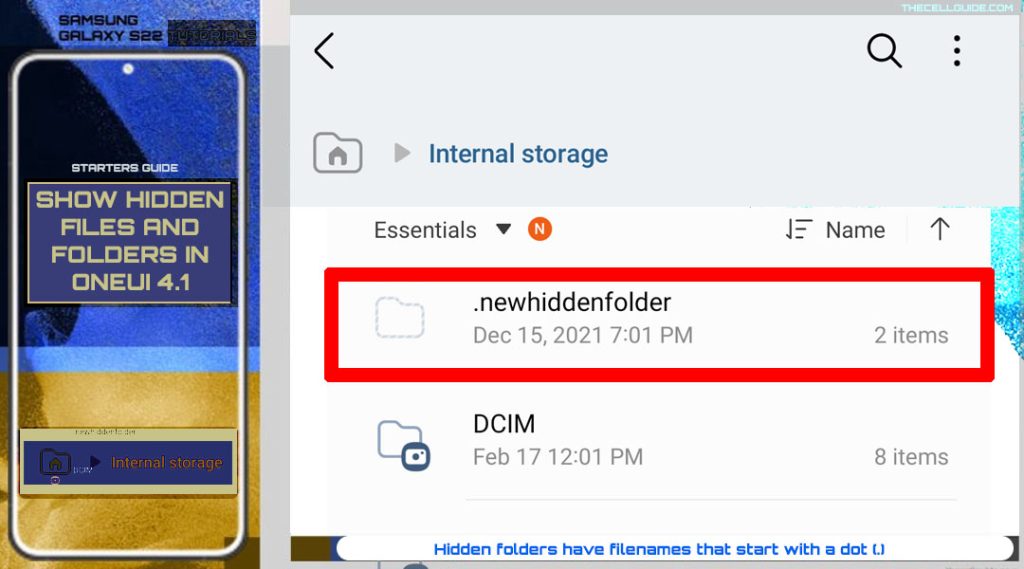 To spot the hidden directories. Just look for the folders or file names that appear in a faded color as they are the ones that were previously hidden. To access and manage these files, simply tap on the desired file or folder to open them in a default compatible application.
Viewing hidden files and folders from other directories on Samsung Galaxy S22
If you want to view hidden files and folders on other storage directories, just go back to Settings-> Battery and device care-> Storage menu and select the desired directory to access invisible content from.
Hiding back all hidden Files and Folders in the system
Once you're done making necessary changes to any of the confidential files/folders, don't forget to hide the files/folders again.
To do so, just head back to the internal storage menu and then turn the Show hidden system files switch off again.
Just repeat the same steps to get back to the Advanced settings menu of the main directory where the confidential files are stored.
And that's how to unhide hidden folders and files on a OneUI 4.1 Galaxy device.
Hope this helps!
Please check out our YouTube channel to view more tutorial and troubleshooting videos for popular iOS and Android devices.
You Might Also Want To Read: