This post will walk you through muting a Samsung Galaxy S22 device using the One UI 4.1 DND feature. Here's a quick guide to activate Do Not Disturb Mode on Galaxy S22.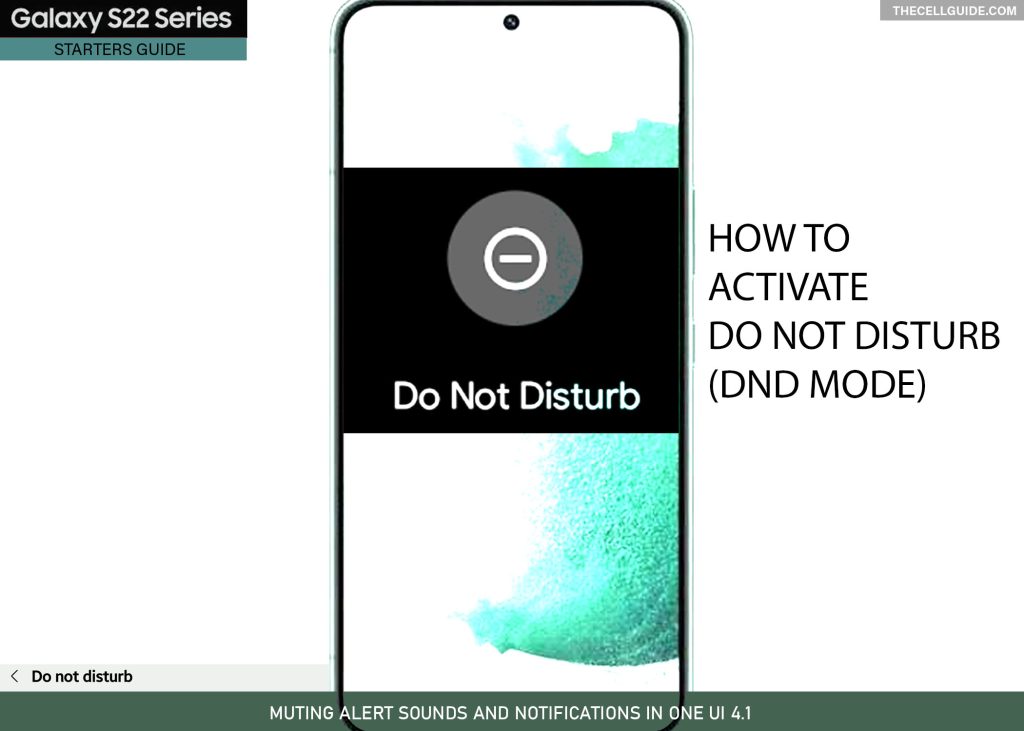 Need to limit interruptions from unwanted notifications on your phone? If so, then you can just utilize its in-built DND feature.
One UI 4.1 Do Not Disturb Mode
Do Not Disturb is one of the new preloaded features in modern smartphones. As the name suggests, it mutes all sounds on the device when activated.
This feature can be used as an alternative option rather than muting the device completely as it allows you to set exceptions to certain calls, messages and apps. This means that you can customize sound, notification and allow a specific contact.
Setting a specific schedule for the device to automatically switch to DND mode is also available.
Activating Do not disturb in new Android phones including the Samsung Galaxy S22 series is pretty straightforward. All you have to do is access the in-built notification settings menu where Do Not Disturb is lined up among other relevant features.
If you're new to the Android with One UI platform and need some input on how to access and utilize this feature on your Galaxy S22, feel free to refer to this quick walkthrough.
Steps to Activate Do Not Disturb Mode on Galaxy S22
You can access and manage the DND feature through the Quick Settings/Notification Panel or through the Settings app menu on your Samsung Galaxy phone. Both of these methods are depicted by the following instructions.
A. Via Quick Settings/Notifications Panel
A faster way to activate DND mode is through the notifications panel or quick settings panel. And here's how to pull this panel up on the Galaxy s22 series:
Step 1: Swipe down to launch the Quick settings/notifications panel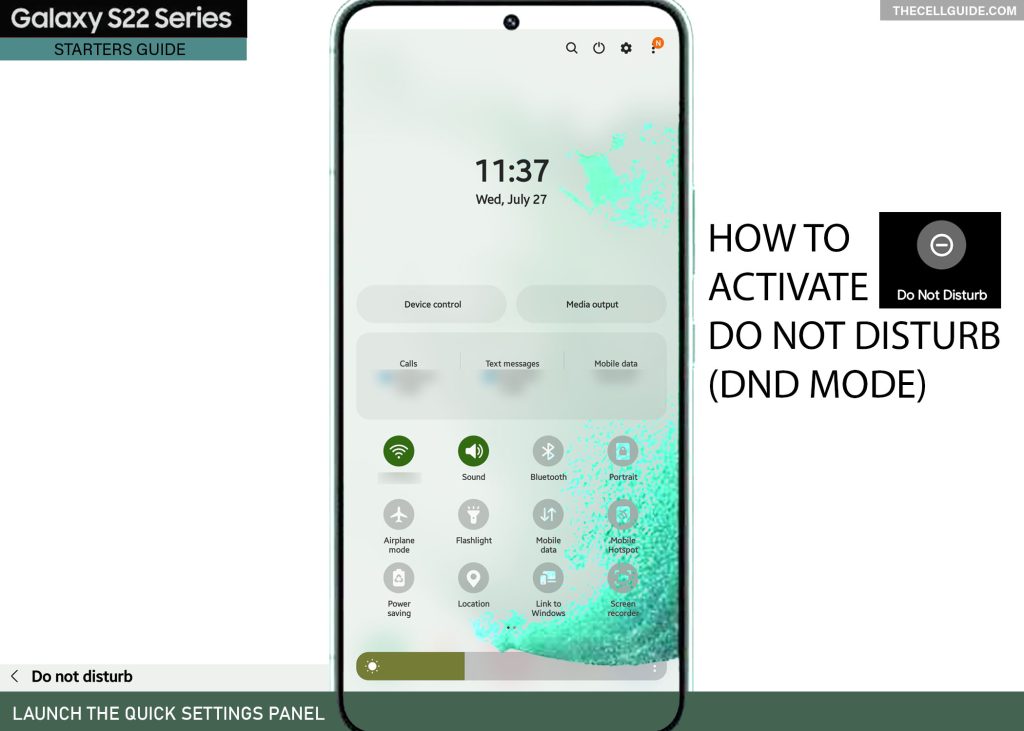 Step 2: Swipe left or right to find the Do not disturb icon.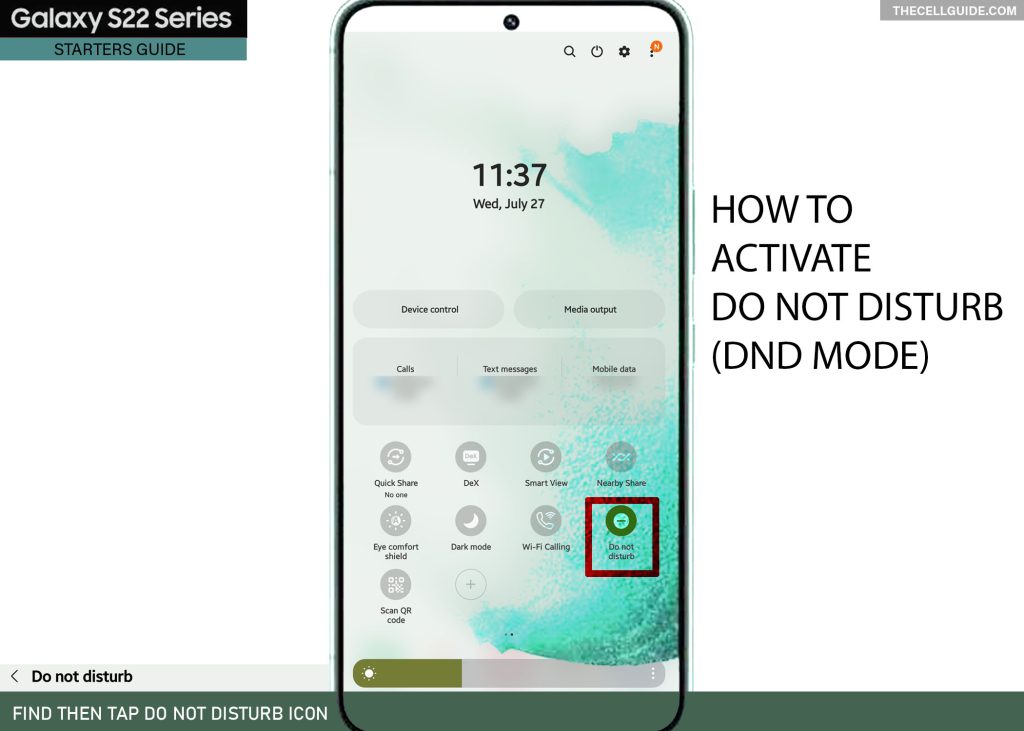 Step 3: Tap on the DND icon to access quick settings.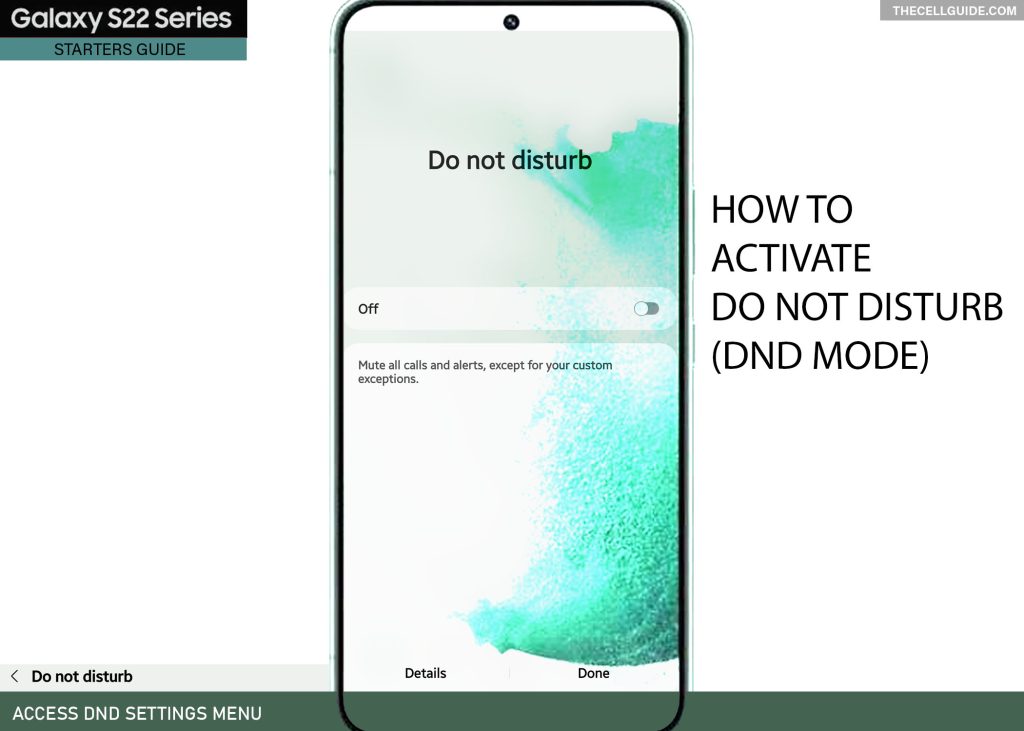 Step 4: Turn the toggle for Do not disturb ON.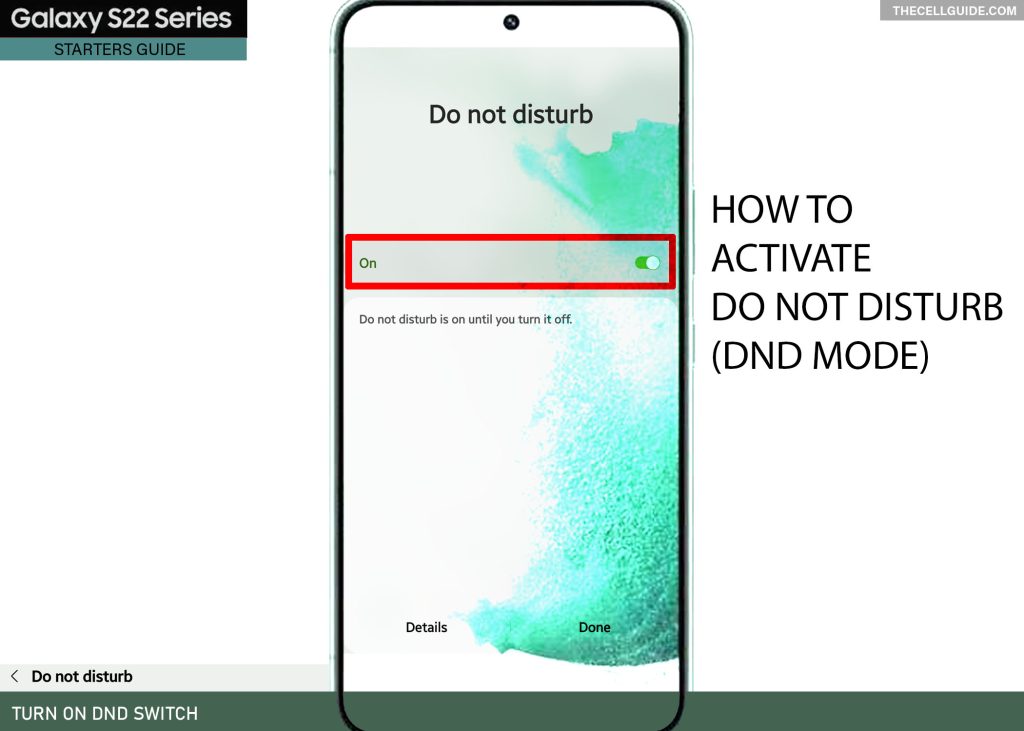 Step 5: Tap Details to access and manage DND settings and options including Schedule and Exceptions.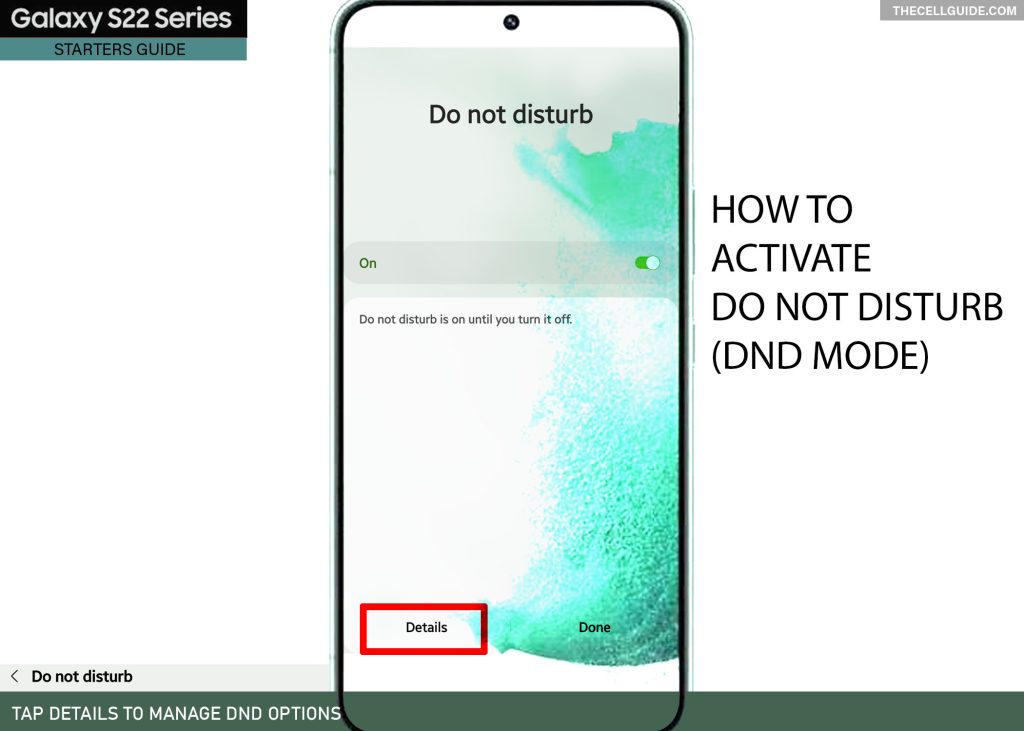 Step 6: Tap Done to apply all recent changes.
B. Through the Settings App Menu
A standard process of activating and managing the Do not disturb feature on the Galaxy S22 series is done through the One UI Settings app menu. And here's how to access this menu on the Galaxy S22:
Step 1: First, tap the Gear icon from the Home screen or Apps tray to open Settings.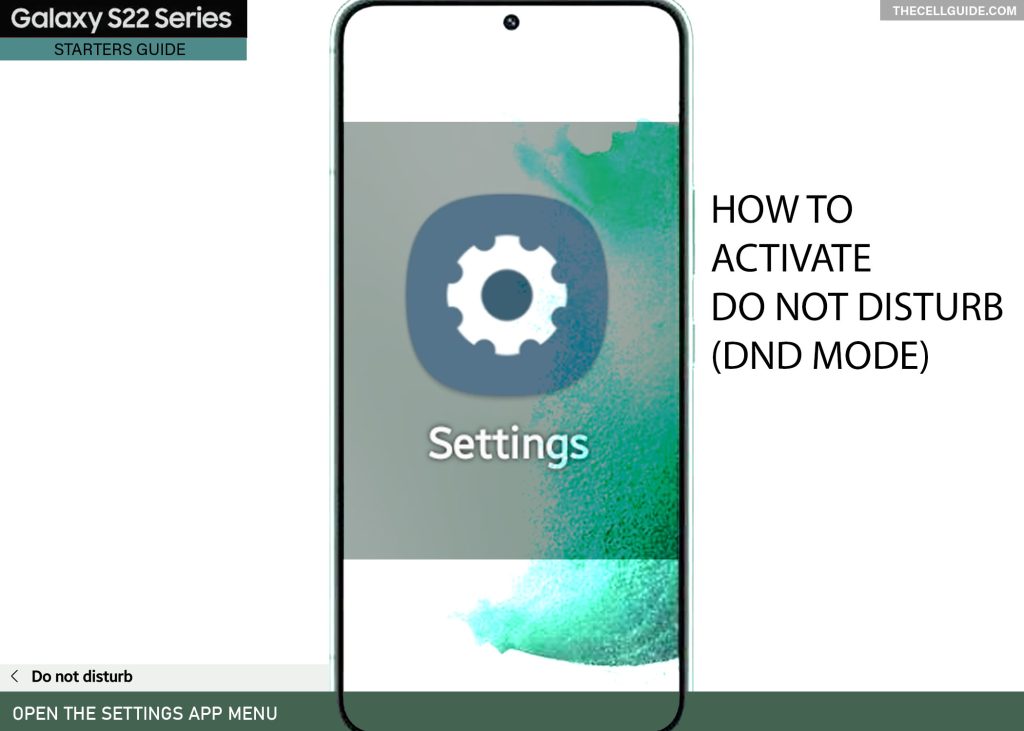 Step 2: While in the Settings menu, tap Notifications. Another window opens with a list of relevant features.
Step 3: Scroll down to find and then tap Do Not Disturb.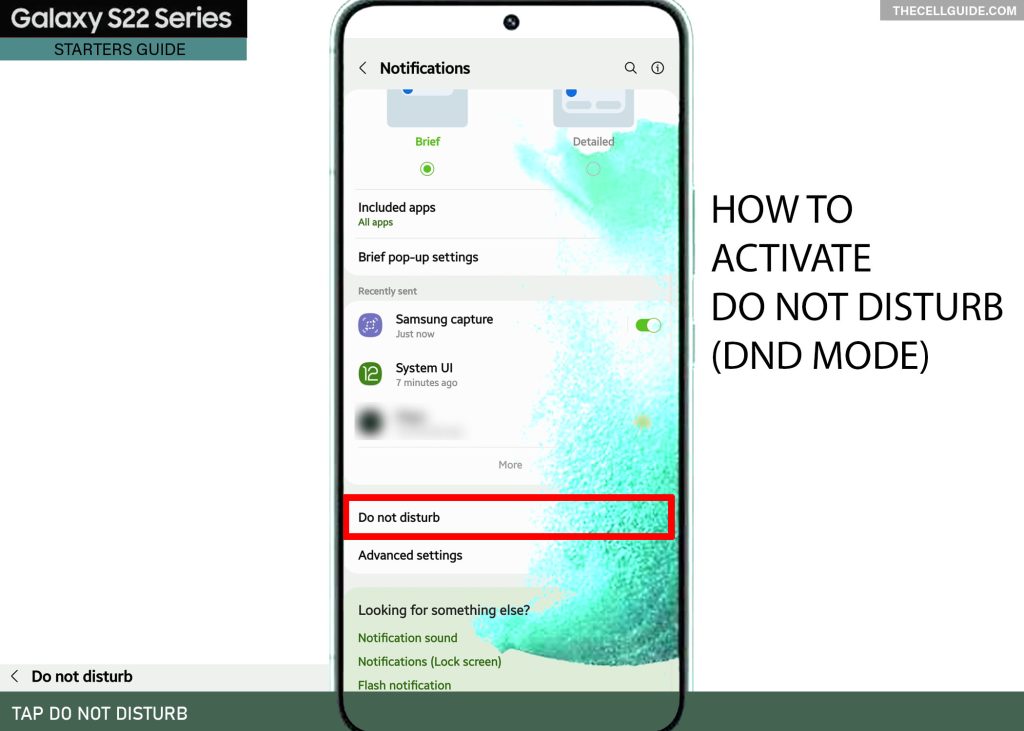 Step 4: On the succeeding menu, you will find the Do not disturb settings and other relevant features. To activate DND mode right away without any exceptions, tap to turn the Do not disturb switch ON.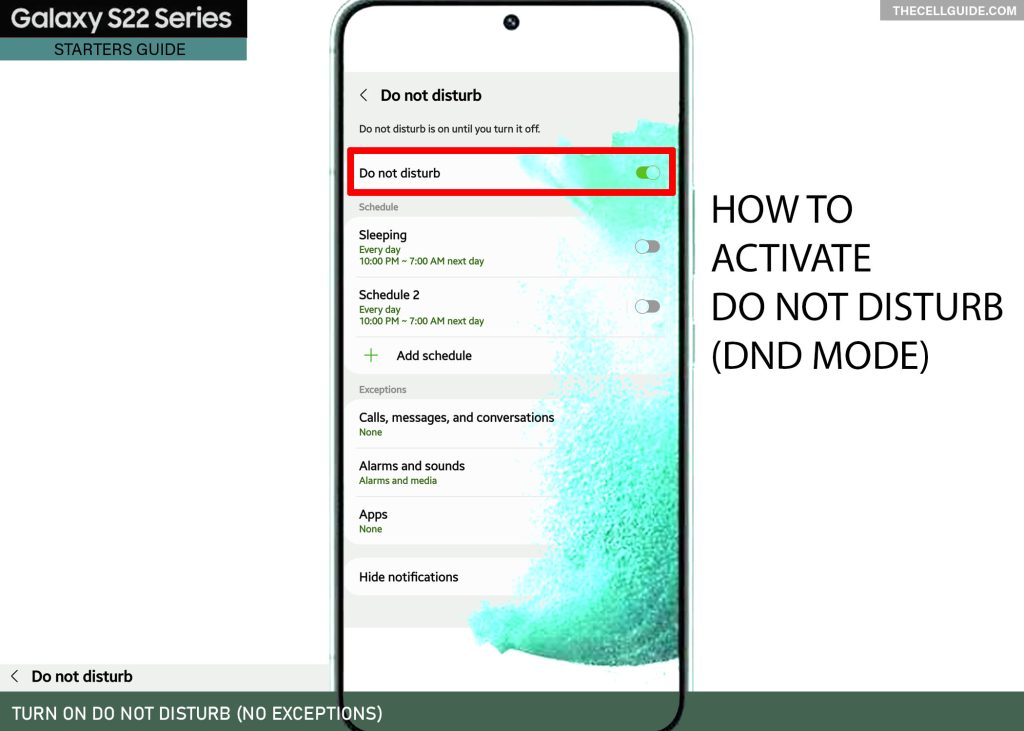 Sound and vibration for phone calls, messages and app notifications will now be turned off unless you've set some exceptions.
This setting does not affect the Alarms feature as Alarms are always considered as priority interruptions.
Adding/Setting a DND Schedule
Your phone allows you to set a schedule for DND mode to activate automatically. You can make use of this feature if you're too busy to manually configure your device to enable DND mode whenever a situation arises.
To set a schedule for the Do Not Disturb feature to activate automatically, just head back to the Settings-> Notifications-> Do Not Disturb menu and then tap Add Schedule under the Schedule section.
Enter the desired information for your custom DND schedule such as Name, day and time. Just use the pop-up scheduler to add your desired schedule for your phone to switch to DND mode.
After setting your new schedule, tap Done on the pop-up scheduler.
Finally, tap Save on the Schedule menu to save and add the new schedule for DND mode to activate on your device.
Your recently created schedule will then be added and enabled on the list of available schedules for DND. To add another schedule, just repeat the same steps.
To remove a schedule, just tap to select the schedule from the list then tap Delete this schedule on the following screen.
All these options are listed under the Do not disturb menu of your phone.
Setting DND Exceptions
You can set up exceptions if you want certain calls and messages to ring while Do not disturb is turned on. All you have to do is customize relevant options from the DND settings menu of your phone.
To set some exceptions for apps, alarms and sounds, calls, messages and conversations, navigate to the Exceptions section from the Do not disturb menu and then tap on your desired option to set exceptions for DND mode.
To set exceptions for incoming calls from specific contacts, tap Calls then choose your preferred option. Among the given choices include All, Contacts only, Favorite contacts only and None.
You may also opt to enable the Repeat callers toggle should you wish to allow calls when they're received from the same phone number more than once within 15 minutes.
To set exceptions for certain messages, tap Messages then choose your preferred option.
To set exceptions for certain conversations, tap Conversation, tap Conversations then select your preferred option.
By default, None is selected so there's no exception made for all incoming calls when DND is turned on. The same goes for Messages and Conversations.
To configure DND settings for Alarms and sounds, tap Alarms and sounds from the Do not disturb menu then turn on the switch next to the alarm that you'd like to mute while DND is on.
To specify which apps to mute while DND is on, tap Apps under the Do not disturb menu then tap Add apps. Select the apps that you'd like to mute while in DND Mode.

There is also an option for you to manage and customize notification sound for Do not disturb.
You can make necessary changes to any of these settings at any time.
Hope this helps!
Please check out our YouTube channelto view more tutorial and troubleshooting videos for popular iOS and Android devices.
You Might Also Want To Read: