This post will walk you through restoring the stock Samsung Keyboard back to its factory default state. Here's a quick guide to reset keyboard settings on Galaxy S22 running on Android 12 with One UI 4.1 OS version.
Need help erasing all recent customizations you've made to the preinstalled Samsung Keyboard app on your phone? If so, then just read on for more detailed instructions.
Samsung Keyboard Reset
Every Samsung Galaxy phone comes with a preinstalled Samsung Keyboard for text input processing.
Samsung recommends device owners to use the Samsung Keyboard that comes preinstalled on the device. Although there are plenty of other keyboard apps that work with Samsung Galaxy phones, many of these third-party apps may cause problems.
The Samsung Keyboard offers a number of great features that are primarily built for fun and smart text messaging. With the Samsung Keyboard, you can make use of the inbuilt Smart typing options like text and emoji suggestions, predictive text, auto-replace, text corrections, text shortcuts and more.
The phone's keyboard settings are also designed to be customizable, allowing you to change the default keyboard options such as language, toolbar, voice input, smart typing options, keyboard mode and more.
And if things go wrong following a series of settings alterations, there is also a reset option for you to tap on.
If you're new to the Android 12 with One UI 4.1 OS platform and need some input on how to access the keyboard reset option on your Samsung Galaxy phone, you can refer to the outlined instructions below.
Steps to Reset Keyboard Settings on Galaxy S22
If you have a Samsung Galaxy phone with a problematic Samsung keyboard, you can use the following steps to restore the default keyboard options. Make sure that your phone is running on the latest Android version to ensure all key features and menu options are accessible.
Feel free to start whenever you're all set to configure your device settings.
Step 1: To get started, tap Settings to launch the settings app. Just find the Gear icon from the Home screen or Apps tray and then tap on it to launch the app.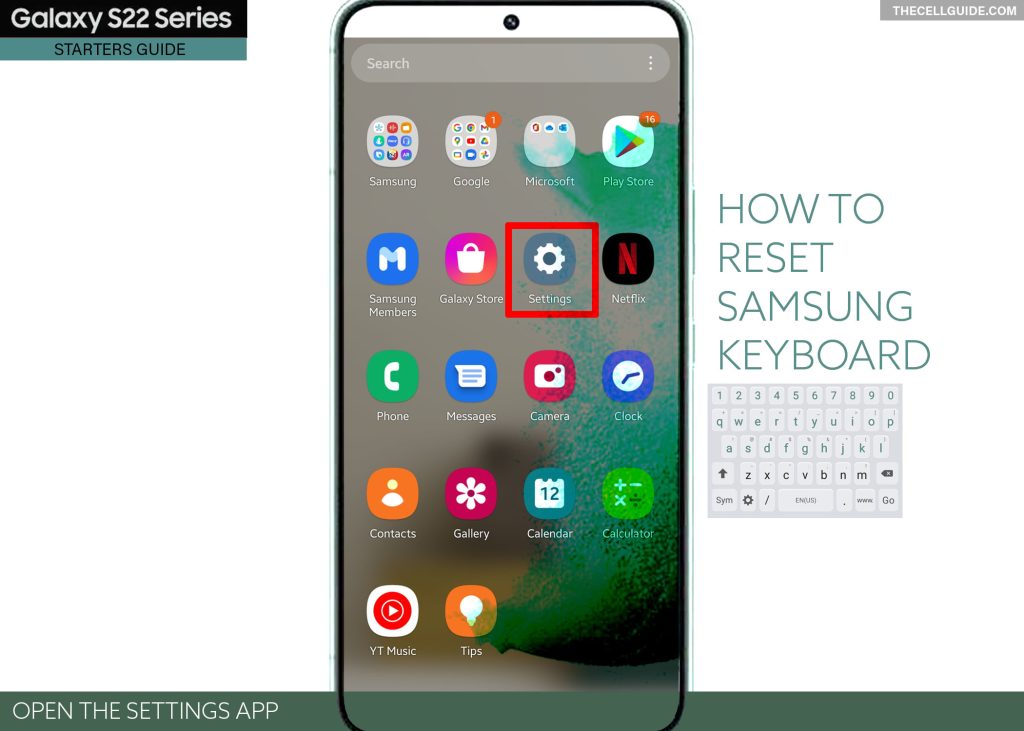 Step 2: While in the main settings menu, find and then tap General management. Another menu opens with a list of system management features.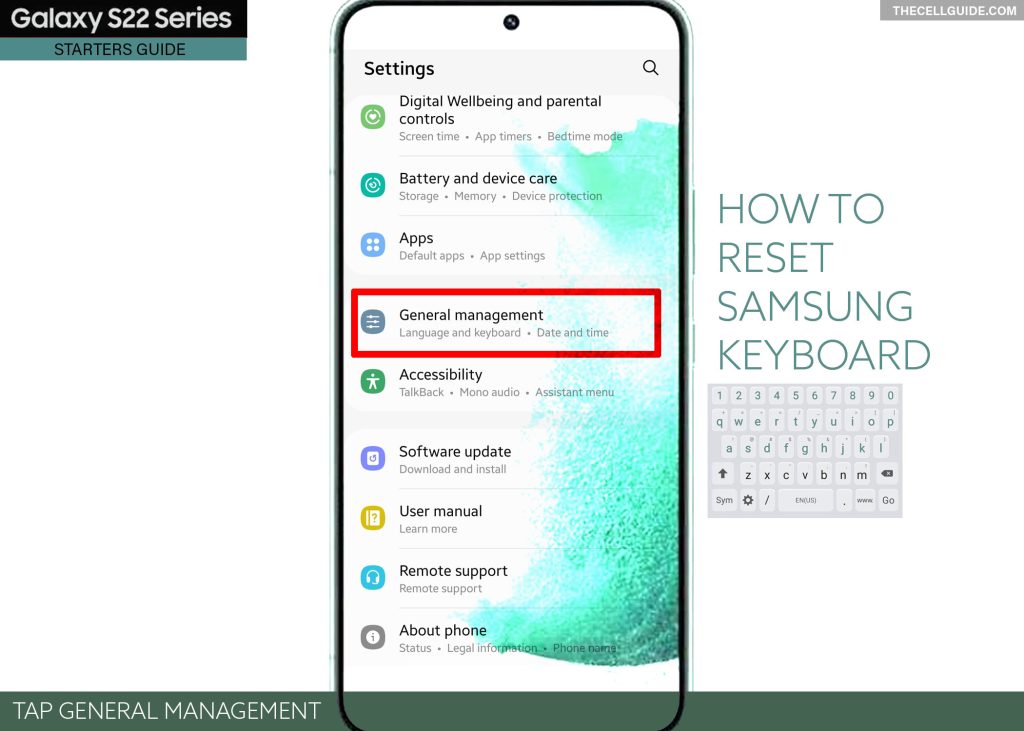 Step 3: Find and then tap Samsung Keyboard settings to continue. Relevant options and settings for the stock keyboard application will load up next.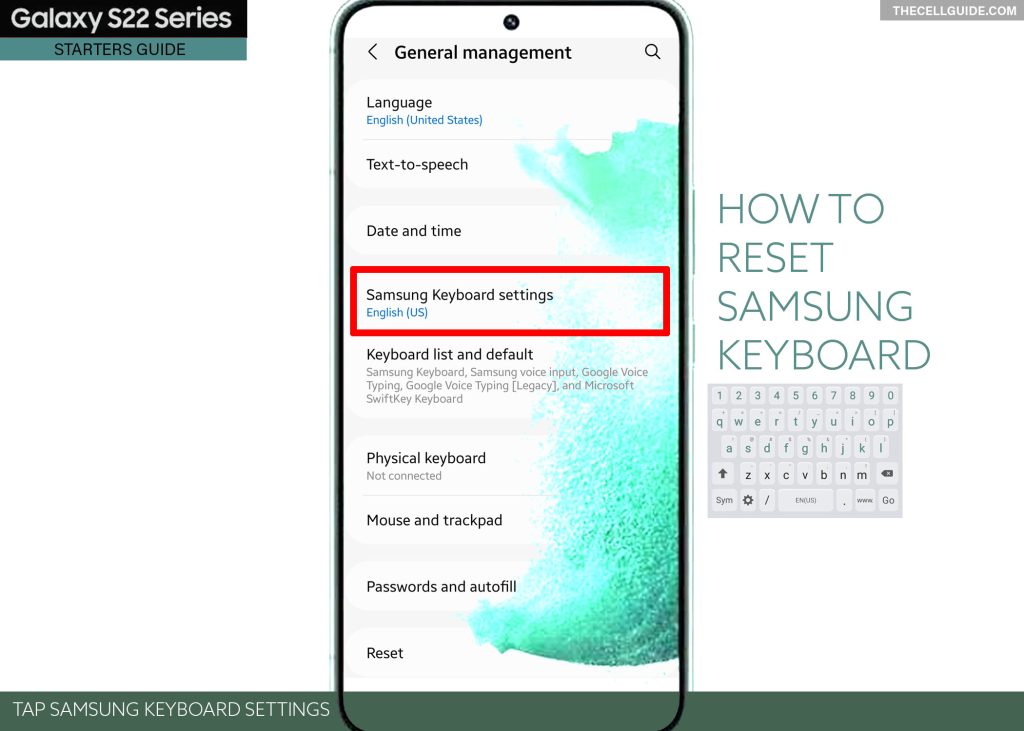 Step 4: To proceed, tap Reset to default settings.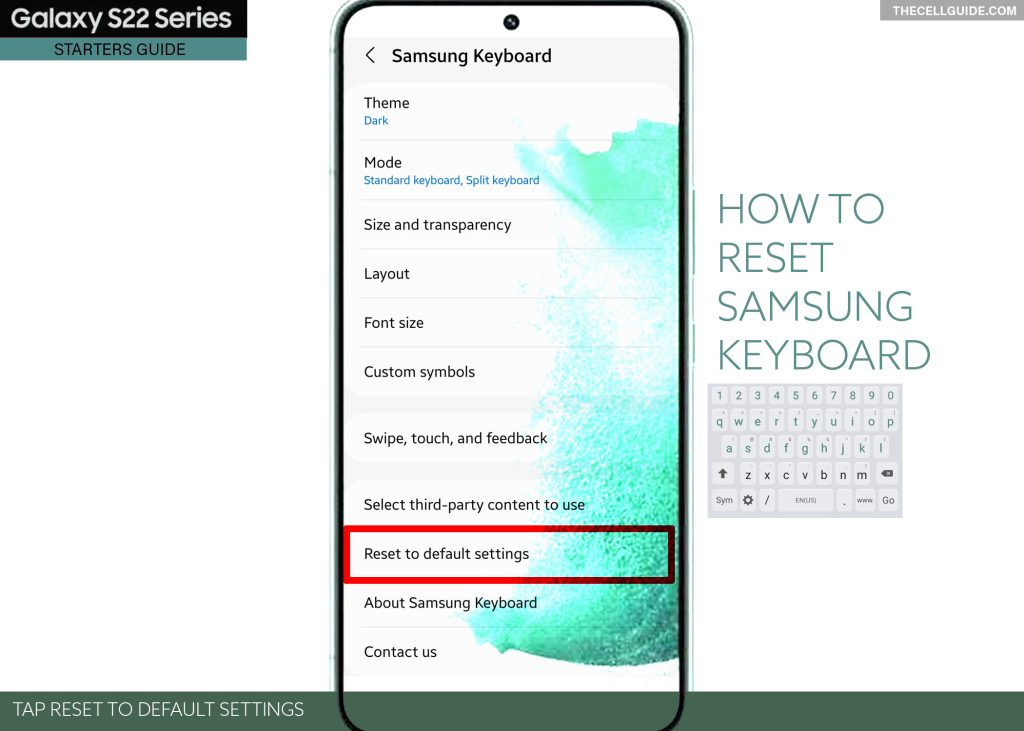 Step 5: On the following screen, you will see two main options including Reset keyboard settings and Erase personalized predictions. Tap Reset keyboard settings to confirm.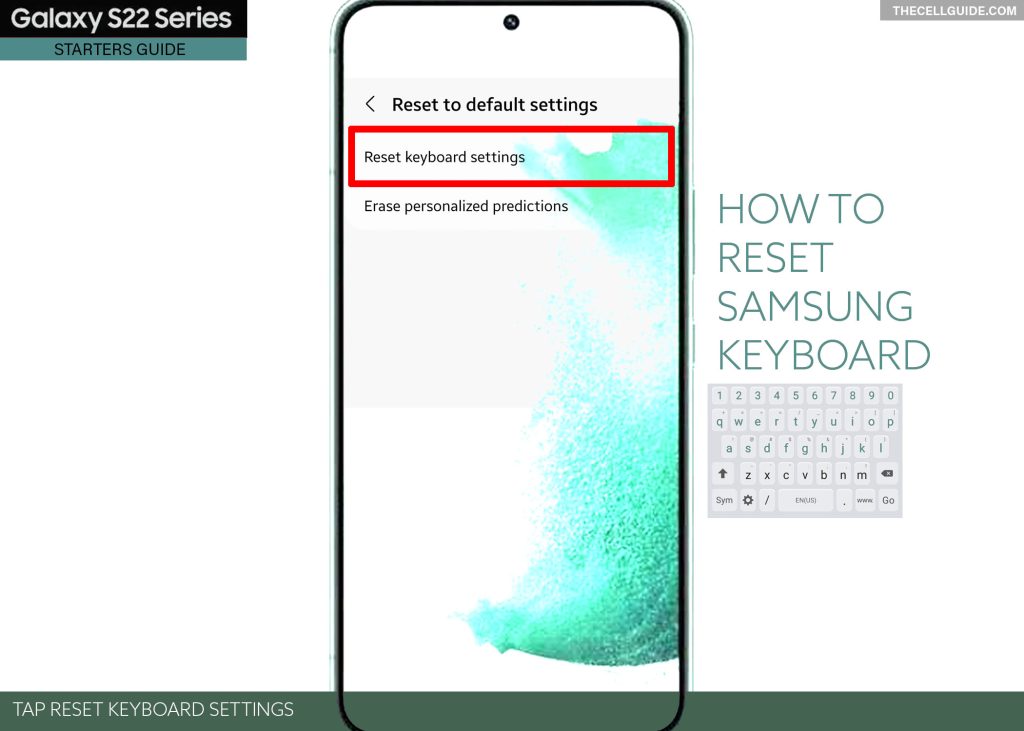 Step 6: Read the warning prompt then tap Reset to confirm.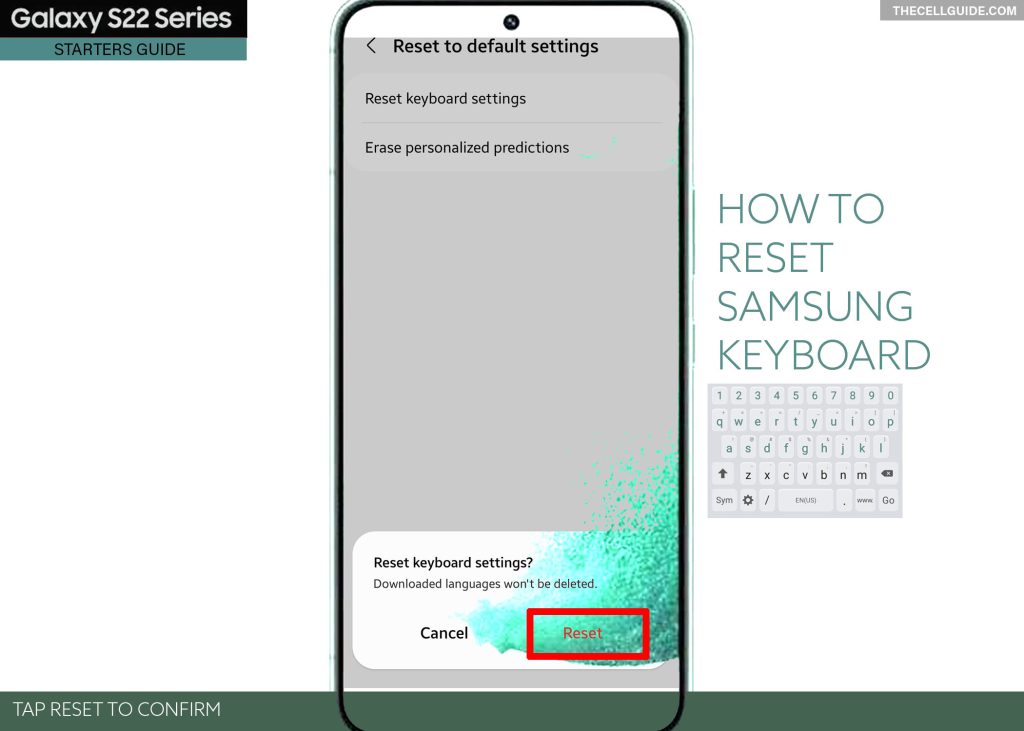 The Samsung Keyboard will then be restored to its original state. All recent changes  you've made to the Samsung keyboard settings including text size, keyboard mode, theme and other keyboard options will be deleted. 

This reset does not delete downloaded languages so you'd still be able to use your preferred languages.
Any settings conflict that make the Samsung keyboard shaky will likewise be obliterated, putting the keyboard app back to its normal state.
Restoring individual keyboard options
If the Samsung keyboard suddenly stops working after altering a certain setting, you can reset that setting individually instead of restoring the entire application. This however is only applicable if you know the settings that you want to revert back to.
For example, if the keyboard misbehaves after changing the theme, you can reset the keyboard theme and restore the original/default theme. The same thing goes for other keyboard attributes like, the keyboard size and transparency, keyboard symbols, and keyboard mode.
To access and trigger these reset options, just open the Samsung Keyboard settings menu and then select the Samsung Keyboard option that you'd like to restore to default.
The above steps are also applicable when restoring Samsung Keyboard app to its default state on other Samsung Galaxy phones running on the same Android/One UI version with that of the Galaxy S22 series.
Actual screens and menu items may vary between device models and service providers so expect some slight differences on every device's user interface.
If restoring the default keyboard options doesn't fix the transpiring problem and the stock Samsung Keyboard app remains problematic, then this is the point when you should consider using alternative keyboard apps like Gboard, SwiftKey, Thumb Keyboard, and GO Keyboard among others.
Just download and install your preferred third-party keyboard app that works best with your Samsung Galaxy phone.
Hope this helps!
Please check out our YouTube channelto view more tutorial and troubleshooting videos for popular iOS and Android devices.
You Might Also Want To Read: