This post will walk you through assigning a dedicated ringtone to a favorite contact on the Samsung Galaxy A series. Here's a quick guide to set a ringtone to individual contact on Galaxy A23 5g.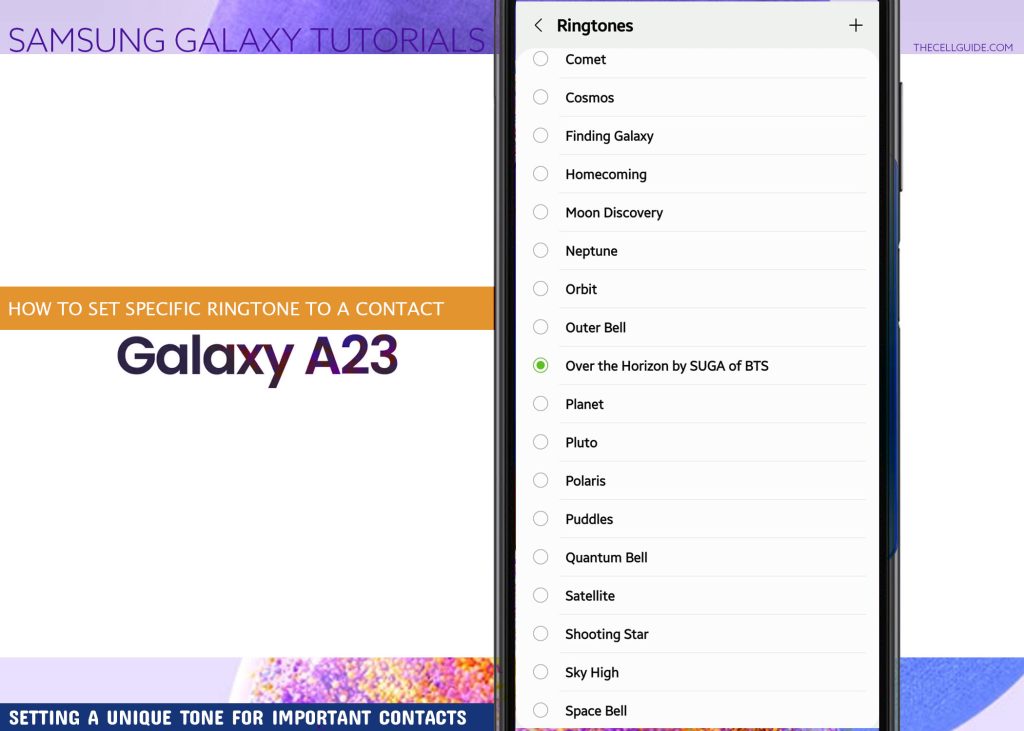 Samsung Galaxy Ringtone
Samsung Galaxy devices come with a number of preloaded ringtones for users to choose from and set as a dedicated ringtone for incoming calls.
The default ringtone in Samsung Galaxy phones is typically set to Over the Horizon. This has been like this since the year 2011, when Samsung released the Galaxy S 2.
Years later, a number of updates were made to that tone and thereby making it fresh.
If you don't like this ringtone, then you can just change it. All you have to do is access your device's sound settings and replace the default ringtone with another ringtone you'd like.
There is also an option for you to set a unique tone for a specific contact to make it easier for you to identify incoming calls and answer them.
This option is found under the Contacts app settings, particularly embedded in every contact's information saved on the phone.
To access and manage this option on the Galaxy A23 contacts app, you can refer to the outlined instructions below.
Steps to set a ringtone to individual contact on Galaxy A23 5g
To set a ringtone for a specific contact, you will need to access the Contacts app to configure the audio settings for the desired contact. And here's how it's done on the Galaxy A23 5g smartphone.
Step 1: Open the Contacts app to get started. Just find the Contacts icon from the Home screen or Apps tray and then tap on it to launch the app.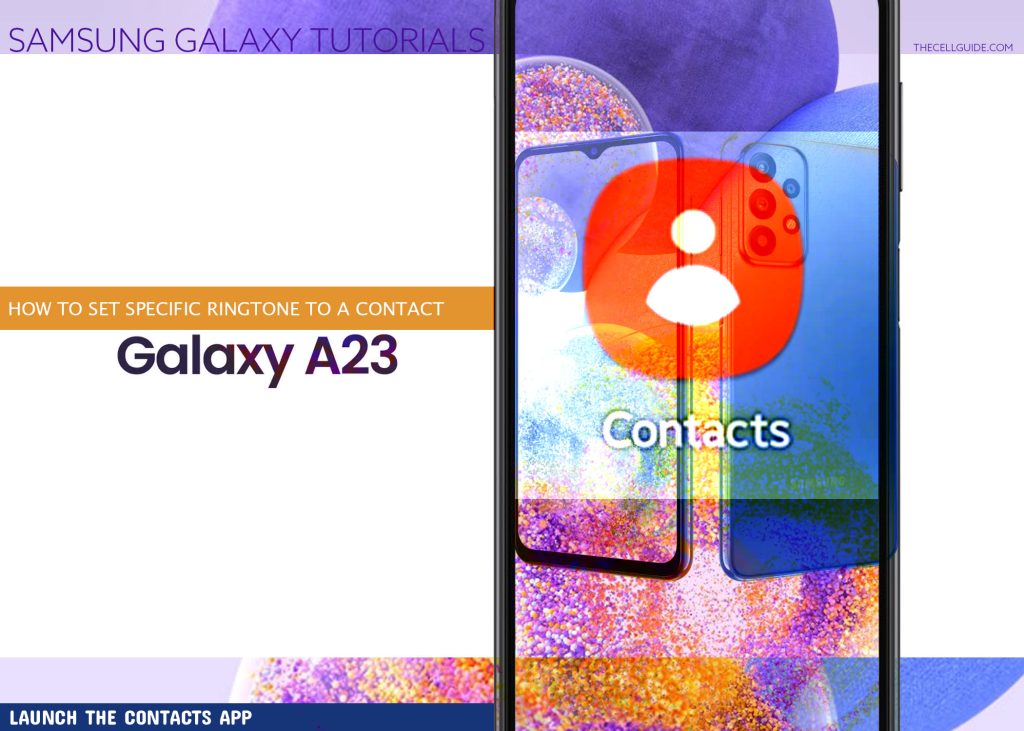 Step 2: While in the Contacts menu, find and tap the contact that you'd like to set a unique ringtone for.
Step 3: On the succeeding menu, tap Edit at the bottom. Doing so will switch the current menu to Edit mode. Here, you will see a number of contact details you can edit or update.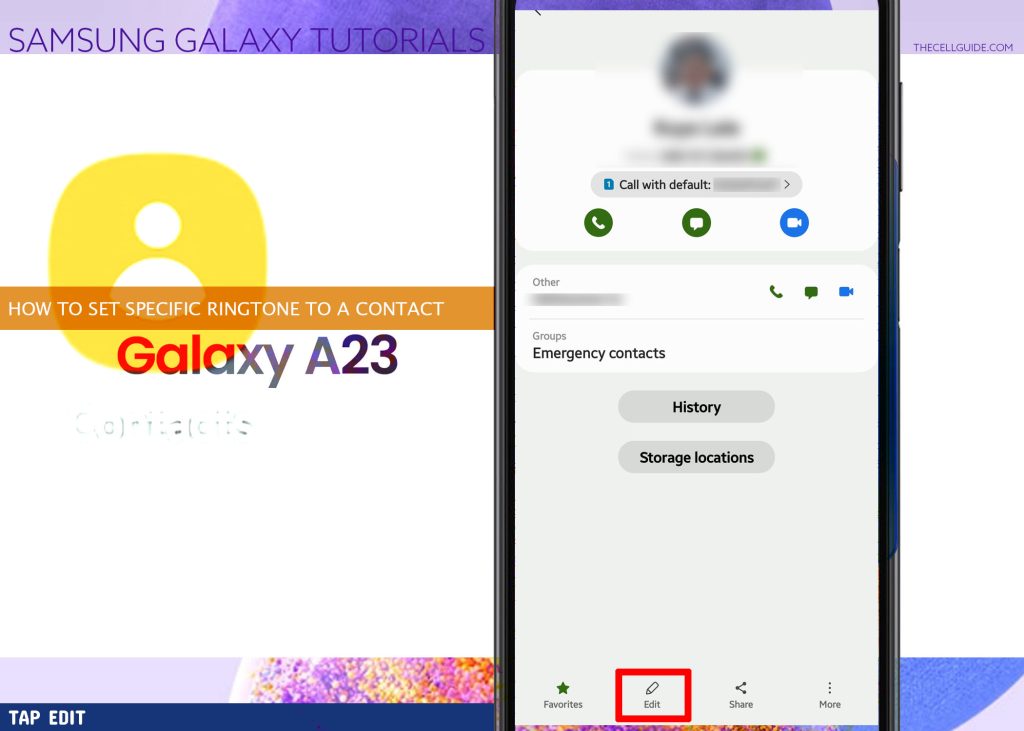 Step 4: Tap View more to see all the rest of the details.
Step 5: On the following screen, scroll down to the bottom section and then tap Ringtone. The ringtone menu opens next with a list of all available ringtones including custom tones.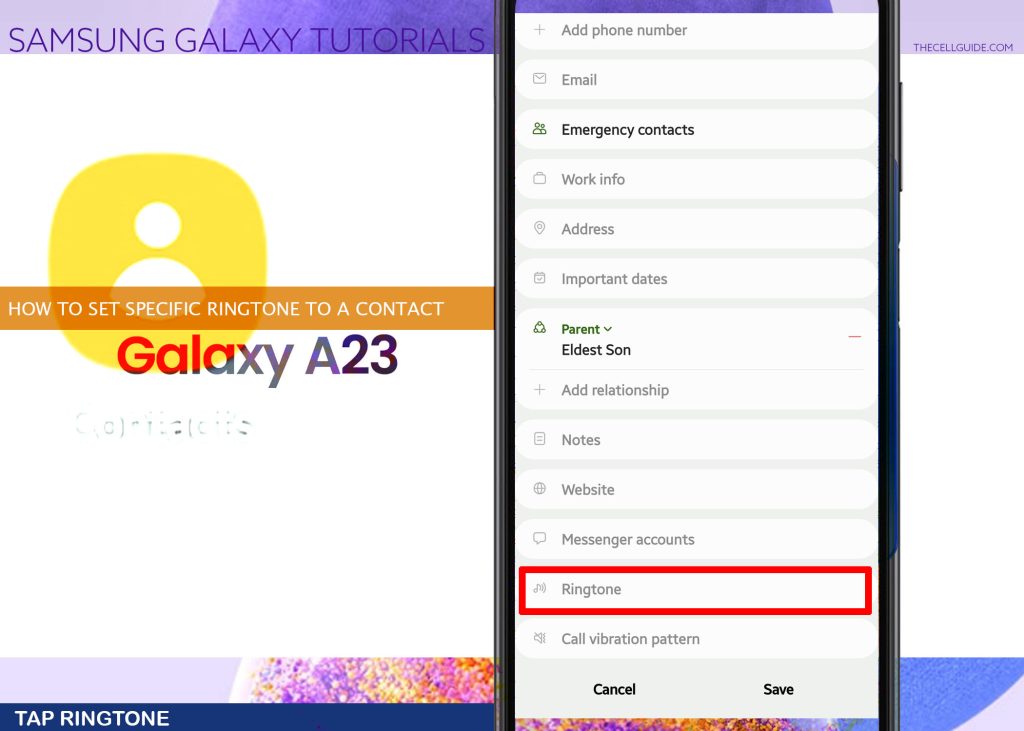 Step 6: Find and then tap to mark the ringtone that you'd like to set or assigned to the selected contact. A quick ring preview will help you choose your desired ringtone.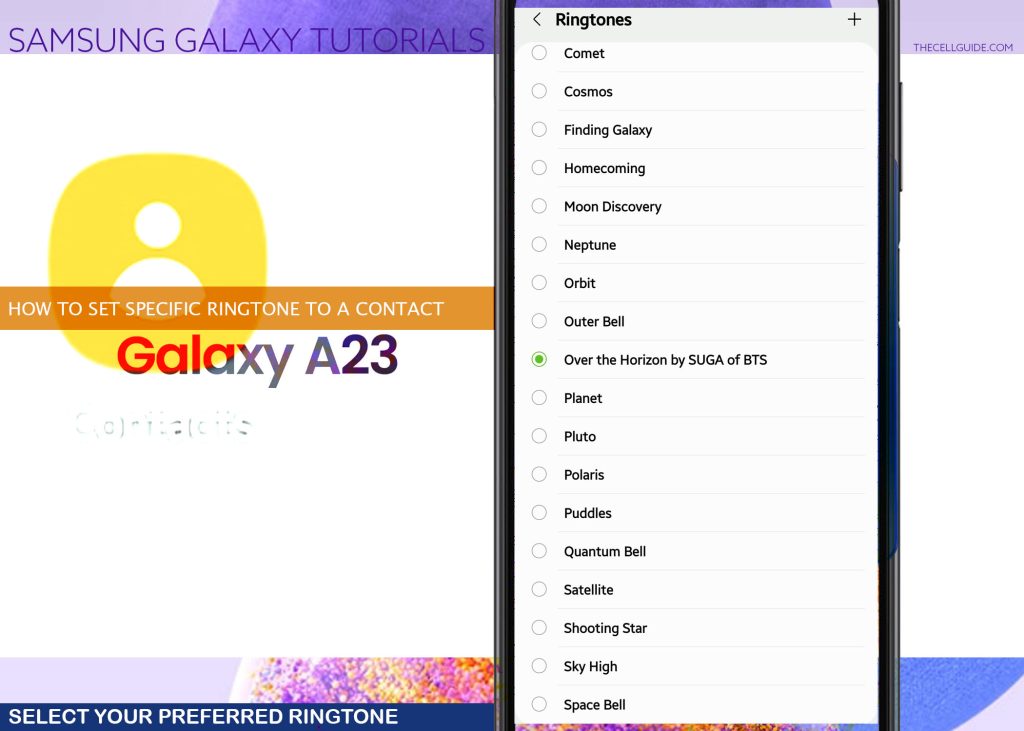 If you'd like to add and use a custom ringtone, tap the Plus (+) sign on the top-right corner then choose Sound picker on the next screen to proceed. Find and select the song that you'd like to use and then tap Done on the top-right edge.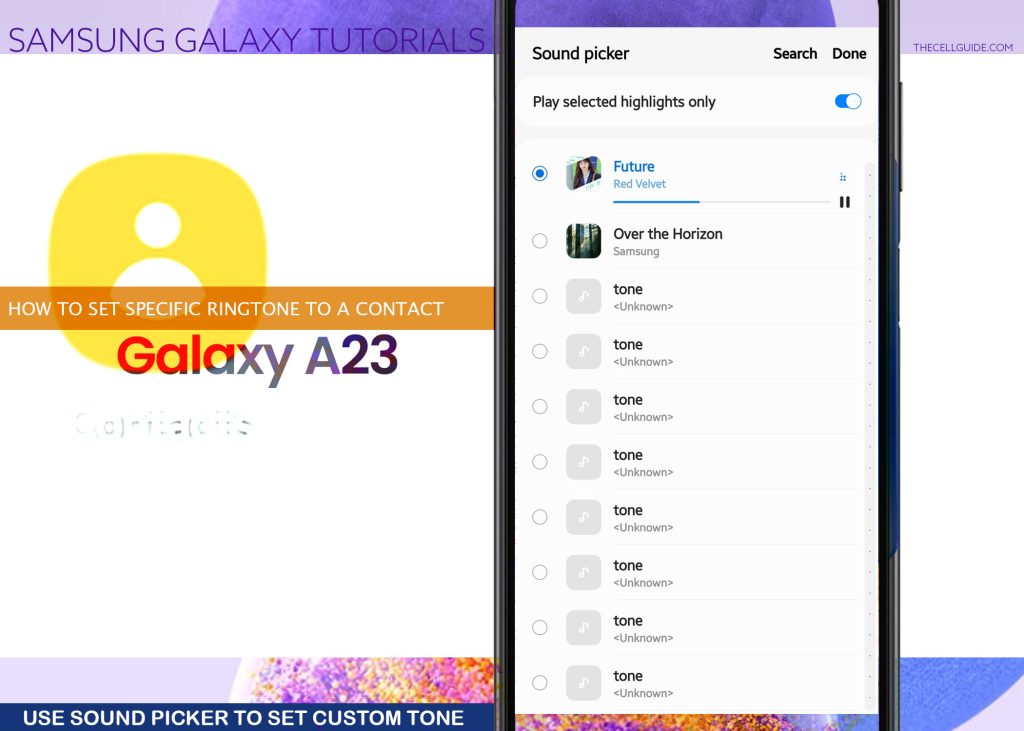 After selecting the desired tone, tap the Back key (arrow back) at the bottom right corner of the screen.
Doing so will take you back to the previous menu. Here, you will see that the recently selected ringtone is set as the new ringtone for the contact.
Step 7: If you're satisfied with and and you're done making necessary changes to the contact, tap Save.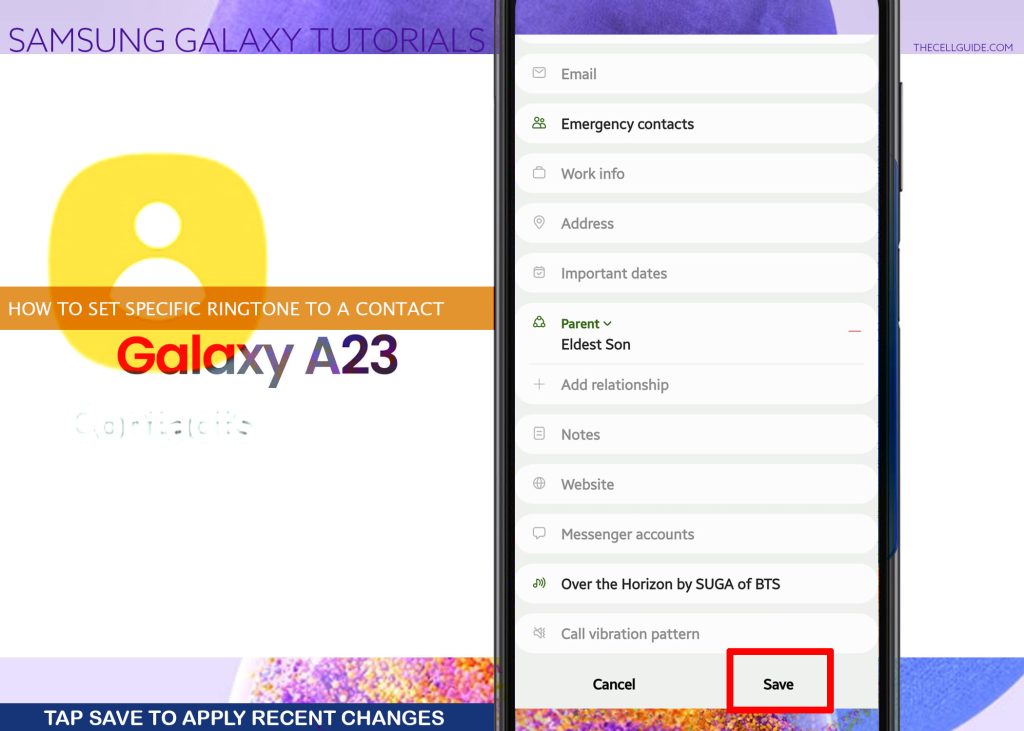 The recent changes made to the contact's details, particularly the ringtone is now applied and activated.
That said, the new tone will ring for every incoming call placed by that contact to your Galaxy phone. This makes it easier for you to identify who's calling and answer the call promptly.
If you don't hear it ringing for the contact's incoming call, head back to the Contact's information then see if the new ringtone is applied. This could happen if you forgot to Save the recent changes you've made to the contact details. Just repeat the same steps to go back to the Edit contact screen then navigate to the Ringtone section and select the ringtone that you'd like to use.
Aside from the preloaded tones, you can also download new songs or audio clips and use them as a custom ringtone for your device. Just pick the audio file that's compatible or supported by your Samsung device so you can easily use it as a custom ringtone.
You can also use third-party apps like Zedge to get access to other latest songs and ringtones that you can set as a custom tone as the new default ringtone on your device.
The above steps are also applicable when setting a specific ringtone for a certain contact on other Samsung Galaxy phones running on Android 12 with One UI 4.1 OS version.
Actual screens and menu items may vary between device models and carriers so there may likewise be some slight differences on every device's user interface. Just keep your phone's software updated to ensure all important menu options are present.
Hope this helps!
Please check out our YouTube channelto view more tutorial and troubleshooting videos for popular iOS and Android devices.
You Might Also Want To Read: