This post will walk you through restoring the default network configuration on the Samsung Galaxy A series. Here's a quick guide to reset network settings on the Galaxy A23 5g device.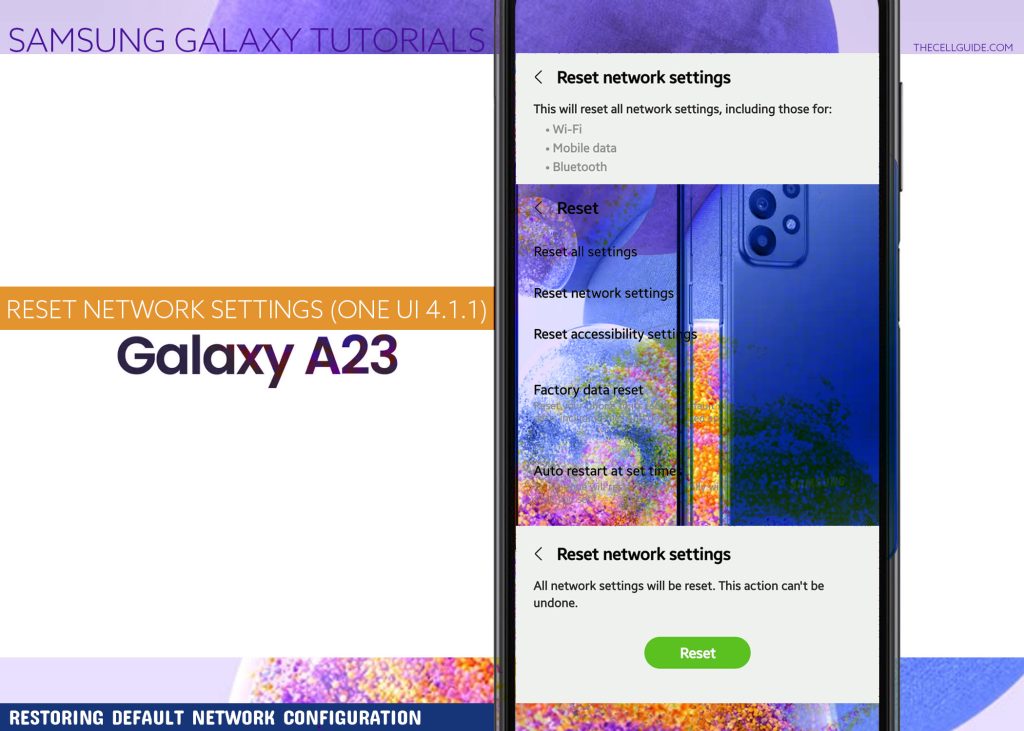 Network Reset on Samsung Phones?
Every smartphone has different types of reset options embedded in the system. Each of these resets is designed to carry out a specific function.
In Samsung Galaxy smartphones, system reset options typically consist of reset all settings, reset network settings, reset accessibility settings, and factory data reset.
Aside from system resets, in-app reset options are also available such as reset app preferences, camera app reset, reset app defaults, and keyboard reset among others.
Tackled in this quick walkthrough is the system reset option called Reset network settings.
As the name suggests, this reset works by deleting all recently added or changed network settings and then restores the default network configurations.
This reset is usually performed when unexpected internet connectivity issues and glitches occur.
If you're new to the Android 12 with One UI 4.1.1 OS interface, this post highlights the simple steps to reset network settings on the Samsung Galaxy A23 5g.
Steps to Reset Network Settings on Galaxy A23 5g
The following steps will take you to the updated system settings menu on the Galaxy A23 where different reset options including the option to reset network settings are listed.
Feel free to start whenever you're all set to reset your device.
Step 1: To get started, tap Settings from the Home screen or Apps tray to launch the main settings app menu.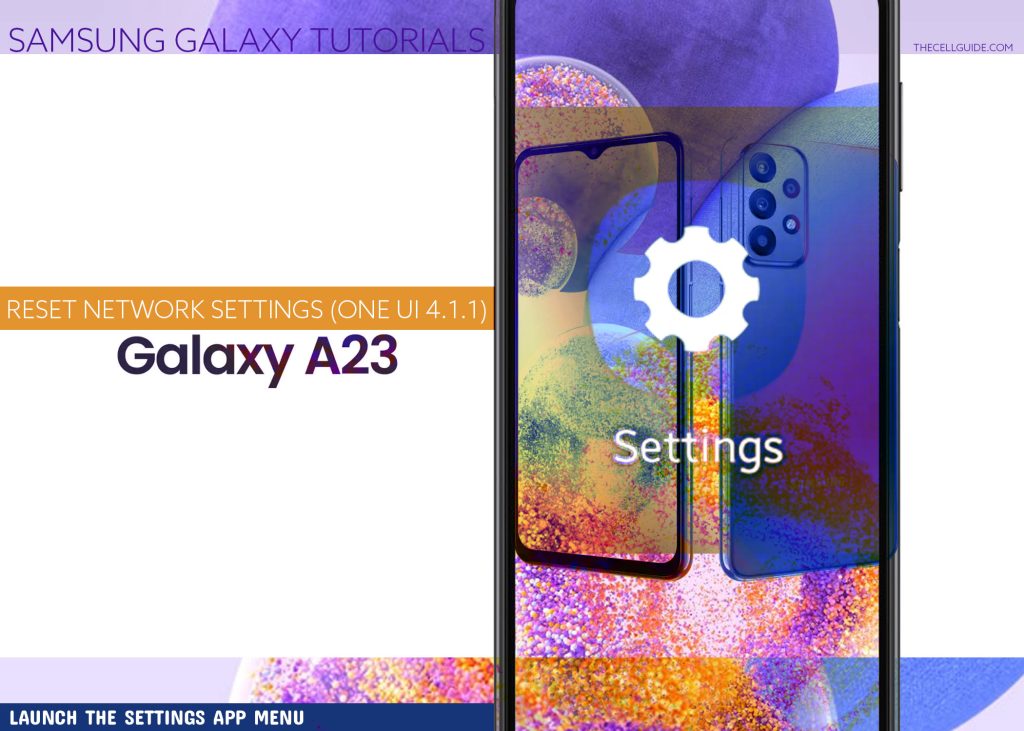 Alternatively, you can access the settings menu straight from the quick panel of your phone. Just swipe your two fingers down from the Home screen then tap the Gear icon on the top-right corner.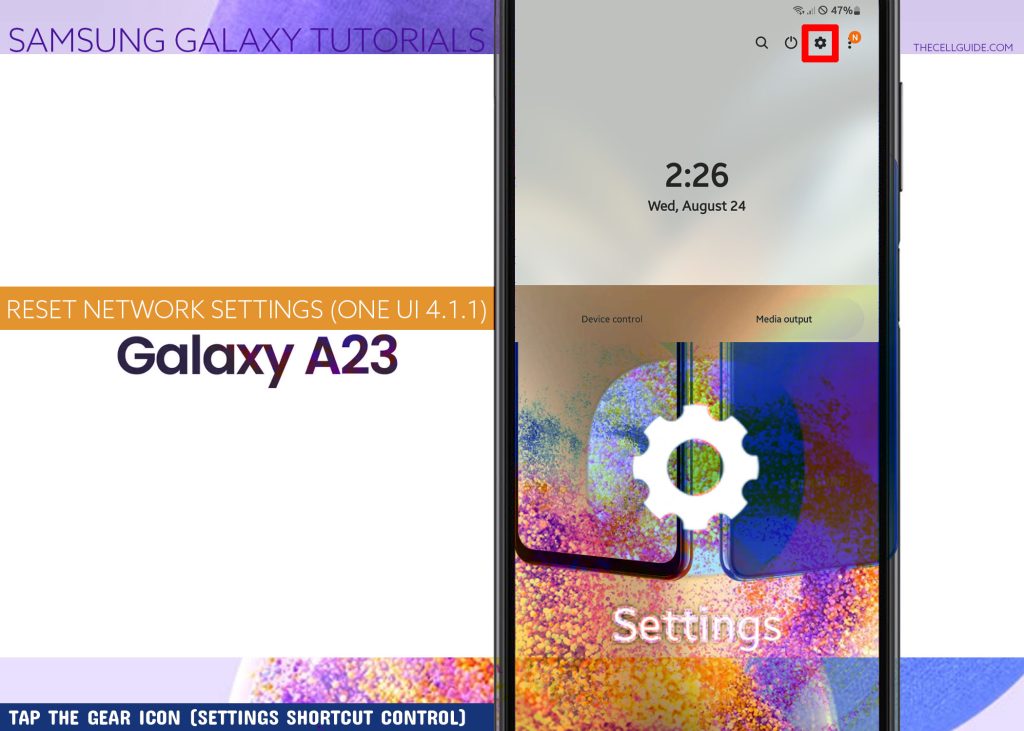 Either way will take you straight to the same settings app menu of your device.
Step 2: While in the main settings menu, scroll to find and then tap General management. Another menu will launch with a list of system management features and relevant options.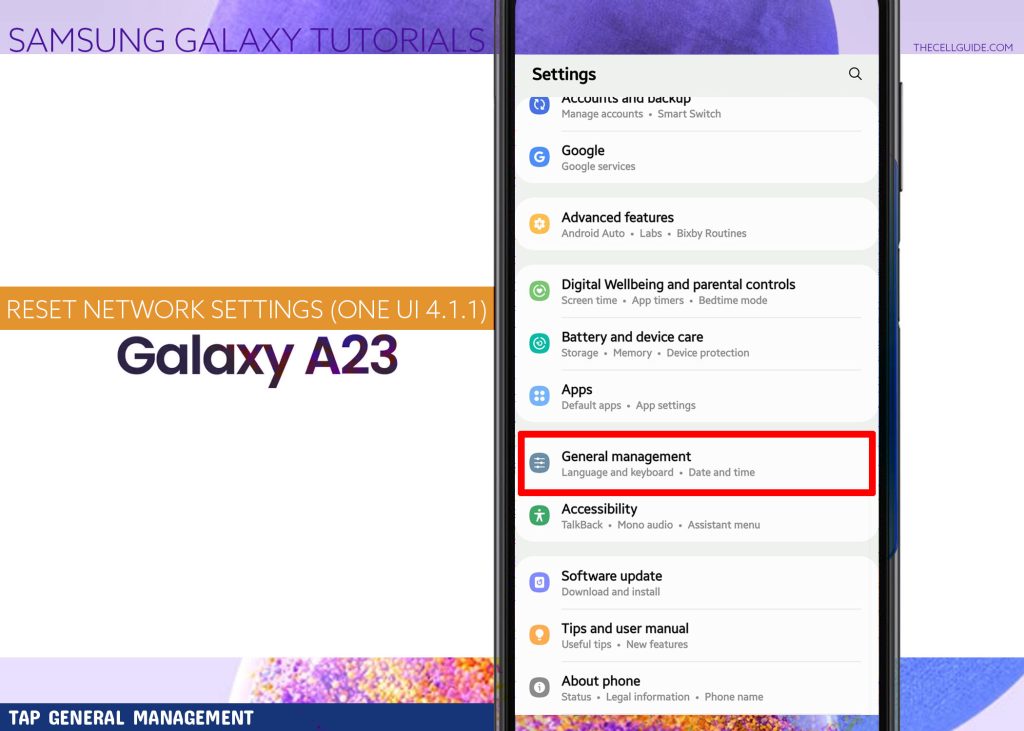 Step 3: Scroll down and then tap Reset to proceed. Another screen will launch with a list of all system settings reset.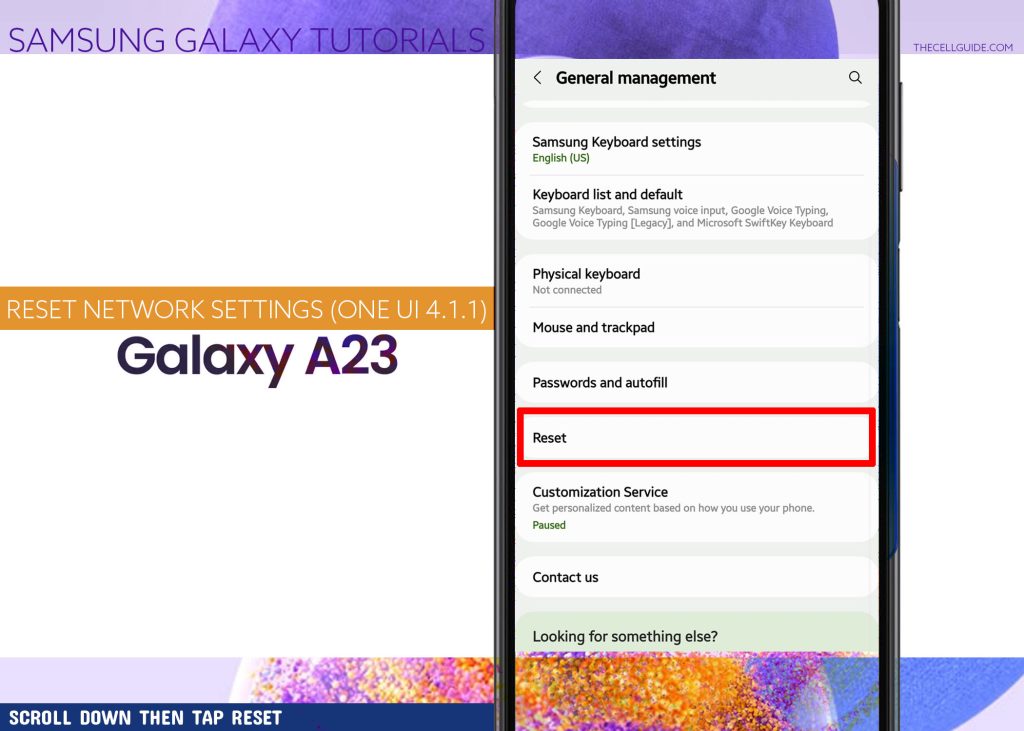 Step 4: To continue, tap Reset network settings from the given options.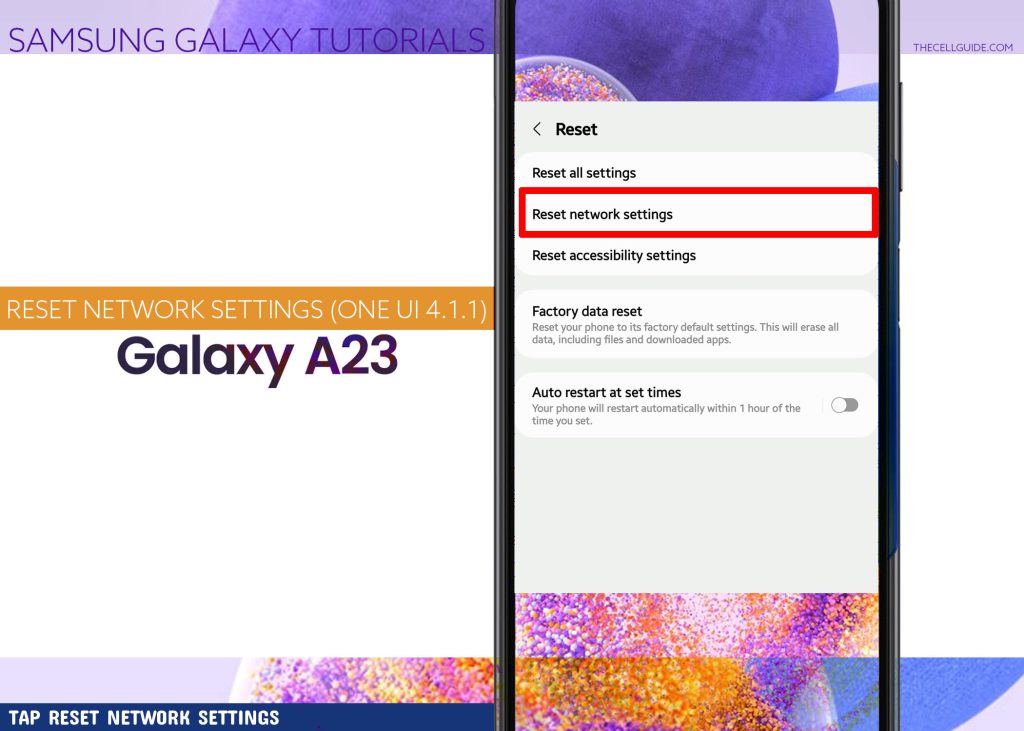 Step 5: If you're on a dual-SIM, you will be asked to specify which SIM card you'd like to reset the network for. Just choose either SIM 1 or SIM 2 from the drop-down menu.
Step 6: Read the reset details on the next screen and then tap Reset settings.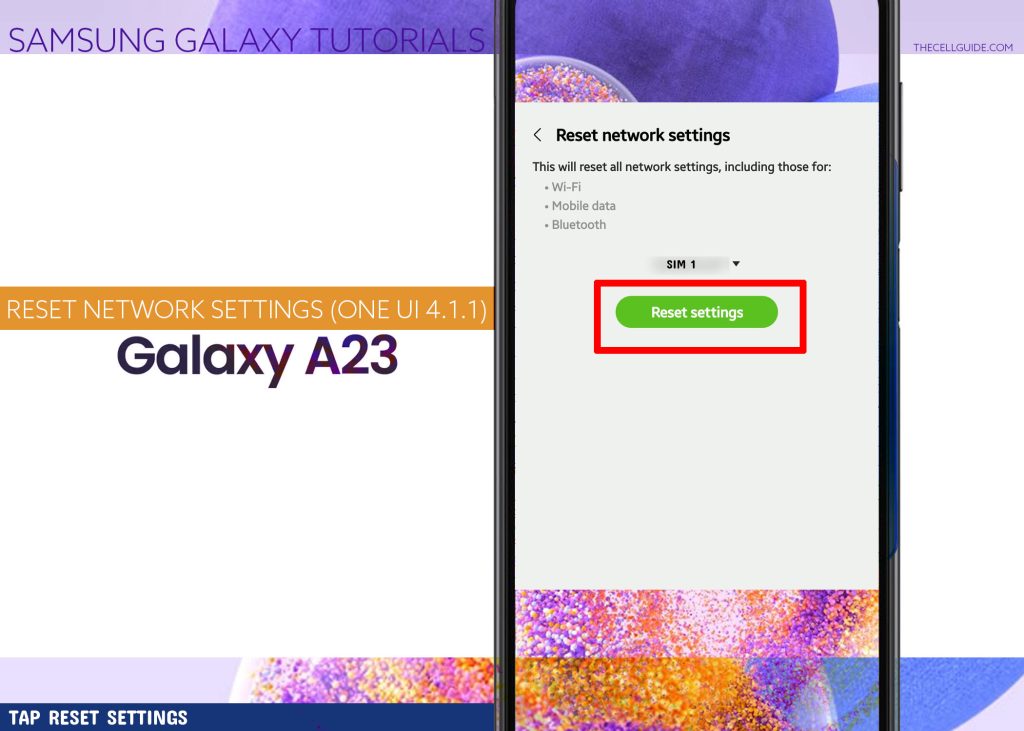 Step 7: If prompted, enter your phone's unlock PIN, pattern or password then tap Reset to confirm.
The phone will then instigate the network settings reset process then reboots on its own when done.
Do not do anything on your phone that may interfere with or interrupt the reset process. As soon as your phone is finished rebooting, all network settings defaults are restored.
All previously used networks and VPN settings will be deleted in the process and the network settings on your iPhone returns to their default state.
Current settings on the phone that will be affected with this reset include your previous Bluetooth, Wi-Fi, VPN, and cellular data (mobile data connection) settings.
The entire reset process only takes a few seconds, so it's definitely quick. After the reset, you will need to reconfigure and reconnect to your Wi-Fi network. Bluetooth pairing also needs to be done like the first time.
When to reset network settings on your phone?
As mentioned earlier, resetting the network settings are often regarded among the potential solutions to network-related issues on a smartphone including slow internet, intermittent connection (Wi-Fi drops), Bluetooth pairing issues, and even some post-update network errors.
Unlike a factory reset, a network reset does not affect any user data from the phone's internal storage, so none of your important apps and files will be deleted.
Aside from resetting network settings, common minor internet problems in new Android devices can likewise be addressed by restarting the phone, performing the Airplane mode tweak, and rebooting the modem or wireless router (power cycle).
If resetting the phone's network settings doesn't yield a positive outcome and the problems continues, resetting all settings or performing a factory data reset can be considered among the last options.
Note:
The above procedure is also applicable to other Samsung Galaxy smartphones running on Android 12 with One UI 4.1.1 OS version. Some screens and menu items may slightly vary given that the actual user interface also differs between device models and carriers.

Hope this helps!
Please check out our YouTube channelto view more tutorial and troubleshooting videos for popular iOS and Android devices.
You Might Also Want To Read: