This post will walk you through restoring the default network configurations on the Galaxy A53 5G smartphone. Here's a quick guide to reset network settings on Samsung Galaxy A53 5g (Android 12).
Having trouble connecting to a Bluetooth device or the internet via Wi-Fi, or cellular network? There might be some errant settings on your phone's current network configuration.
If that is so, then resetting the network settings on your Samsung Galaxy A53 5g smartphone might be able to resolve it. Read on for more detailed instructions.
Samsung Galaxy A53 Network Reset
Similar to the Galaxy S series, Samsung's Galaxy A lineups also offer different types of reset options that users can tap on whenever they would need to restore default configurations.
When triggered, this reset will erase all current Wi-Fi networks, mobile data connections, Bluetooth connections, network preferences and other pertinent settings on the phone.
Resetting the network settings will not delete any saved photos, documents, and apps but will erase saved Wi-Fi passwords, and other network-related information.
As a result, the default network settings are restored. This therefore denotes the need for you to set up and reconnect to your Wi-Fi network just like the first time.
A network reset can fix various types of network errors and internet problems in Android mobile devices. It's by far one of the risk-free solutions to wireless connectivity issues in both iOS and Android phones.
If you're wondering how to perform this reset on your new Samsung Galaxy A53, just refer to the outlined steps below.
Easy Steps to Reset Network Settings on Samsung Galaxy A53 5g
The following procedure is also applicable when restoring the default network configurations on other Samsung smartphones in One UI 4 (Android 12) or later version.
Actual screens and menu options may vary between device models and carriers but the main options are likely the same.
Before you proceed, make sure that your phone is sufficiently charged. At least 50 percent of battery life is required to ensure that the reset process will be completed.
Feel free to start whenever you're all set to reset your Samsung Galaxy A53 and restore the default network configuration.
Step 1: To get started, go to the Home screen or Apps viewer and then tap Settings. Doing so will launch the Settings app menu with a list of all OneUI 4 features.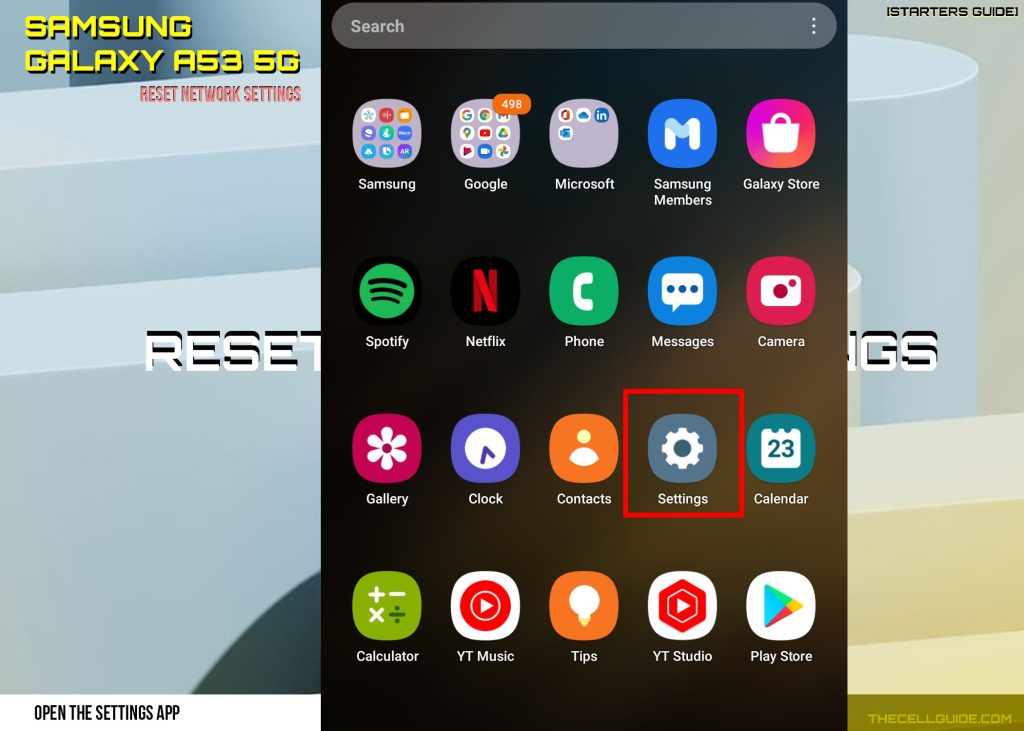 Step 2: Scroll down and then tap General management. Relevant features will load up on the next screen.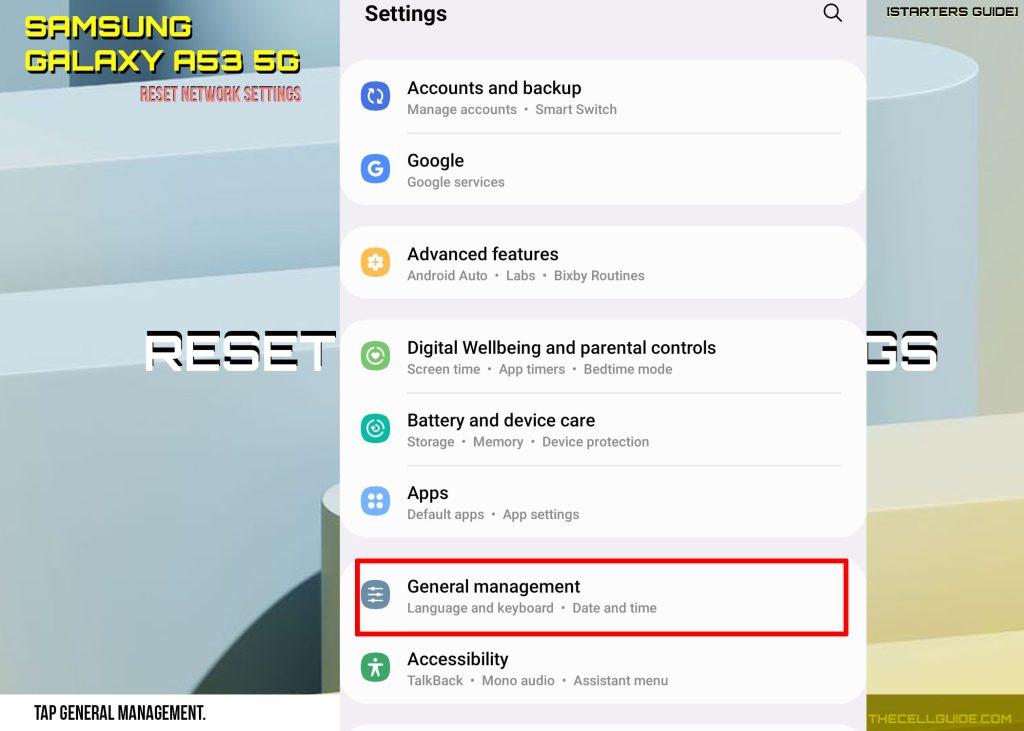 Step 3: On the succeeding screen, scroll down to the bottom section and then tap Reset. Another window opens with a list of all available reset options.
Step 4: Tap Reset network settings to continue.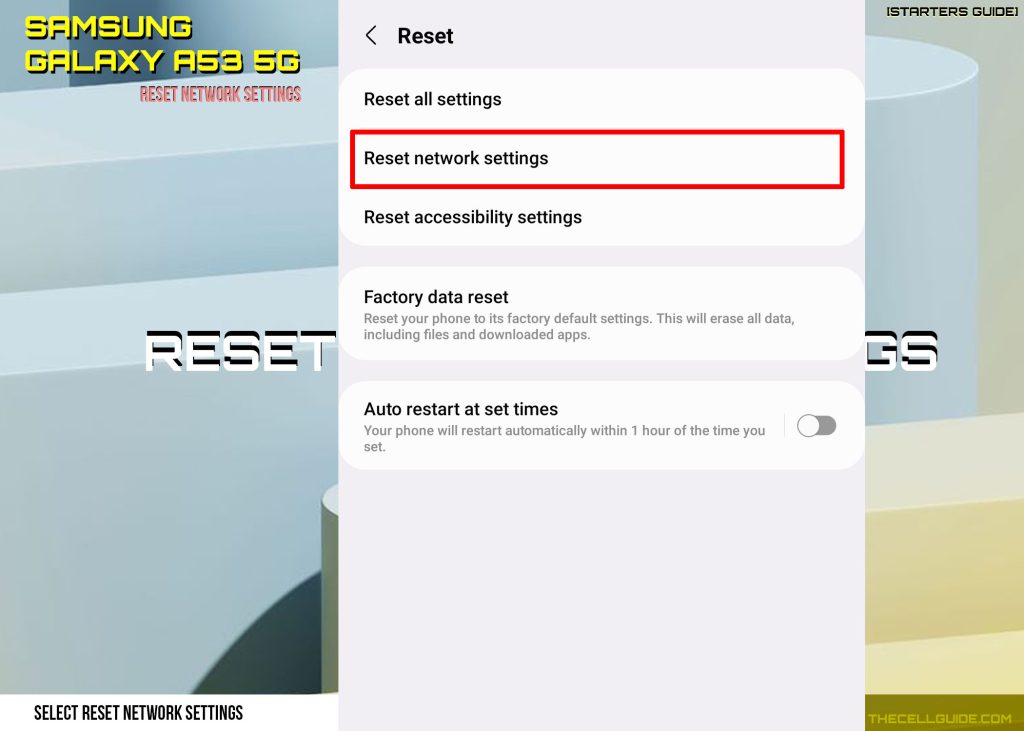 Step 5: Read and review the reset details on the following screen and then tap Reset settings. Enter your phone's pattern, password or PIN lock to continue.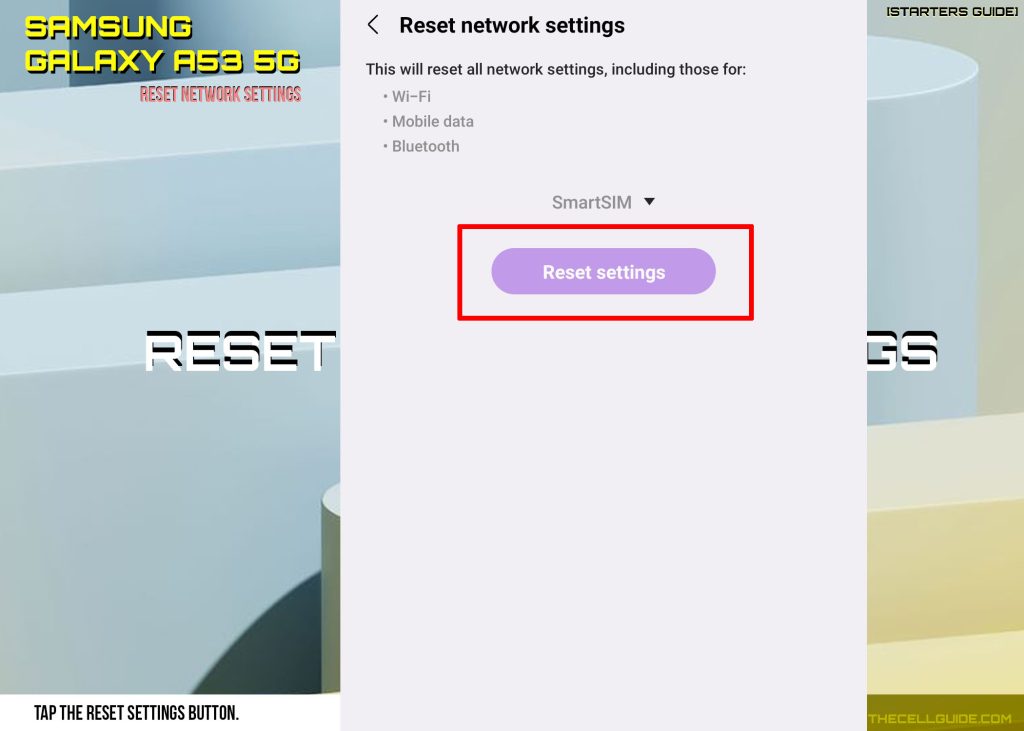 Step 6: Finally, read the final warning and then tap Reset to confirm.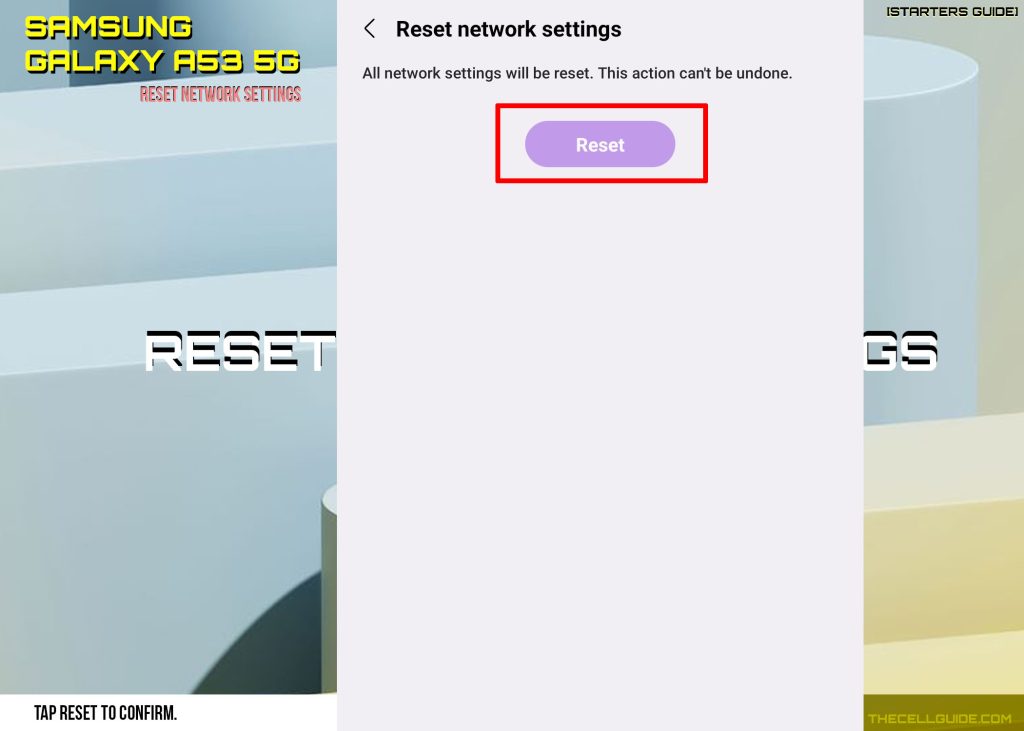 The phone will then start wiping all current network configurations including saved Bluetooth devices, Wi-Fi networks, cellular connections, mobile data settings, APNs, VPNs and other relevant information.
After deleting all custom network settings, the phone reboots on its own and then restores all the default network values and options.
In order to get back online, you will need to set up the Wi-Fi network and join or connect to it like the first time.
When to Reset Network Settings on your phone?
Resetting the network settings if often deemed necessary when dealing with complex network connectivity issues in mobile devices including post-update Wi-Fi problems, Bluetooth pairing errors, cellular data errors and the like.
This reset is also proven effective when dealing with specific connection errors that are tied to custom network configurations resulting in some system conflicts.
In-app glitches particularly those that are transpiring in online/internet-based apps can also be rectified with this reset.
Even network errors attributed to corrupted SIM card data can likewise be addressed with a network reset on the phone.
If network problems continue after restoring network defaults, resorting to other reset options like reset all settings or factory reset would be the next option.
Just be sure to back up all your important files before performing a factory reset so you'd still be able to recover them afterwards.
And that's all about restoring network defaults with the Galaxy A53 reset network settings command.


Hope this helps!
Please check out our YouTube channelto view more tutorial and troubleshooting videos for popular iOS and Android devices.
You Might Also Want To Read: