This post will walk you through organizing contacts on the Samsung Galaxy A series by grouping relevant contacts in one group. Here's a quick guide on how to create a group contact on Galaxy A53 5g.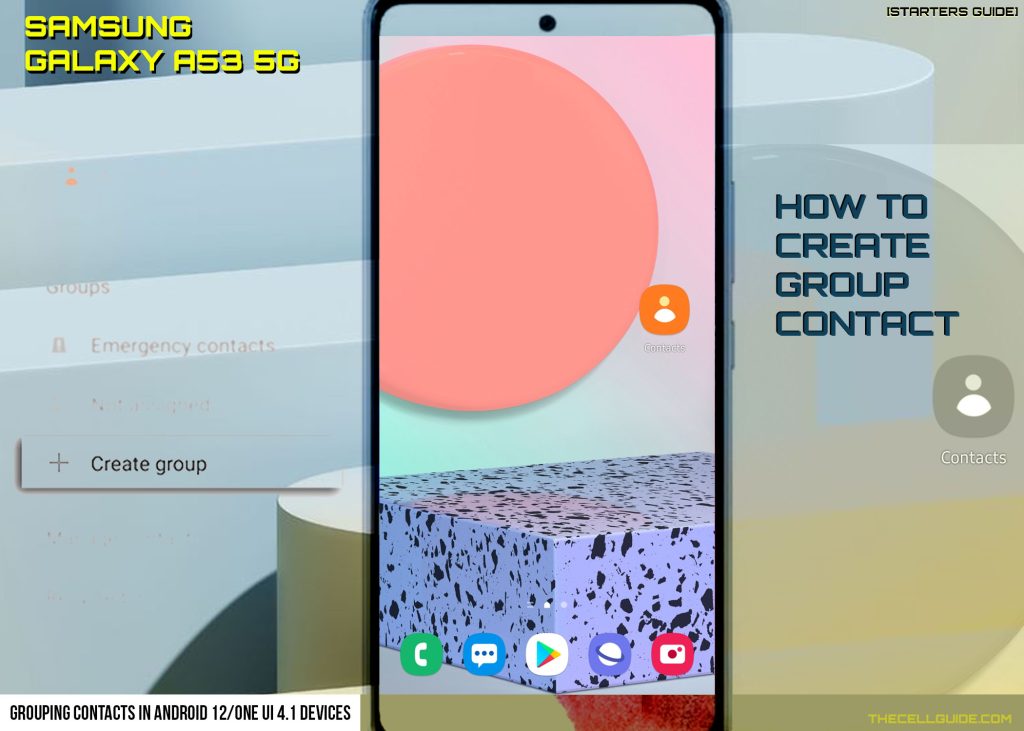 Organizing Contacts in Samsung Devices
One way to organize files is to group the same file types in one category. By doing so, you won't have to scour individual files or folders when trying to find a certain file or document. All you have to do is to go directly to the category in which the file belongs. The same notion applies to your smartphone contacts.
Finding specific contact details can be a bit of a challenge especially if you've already accumulated numerous contacts on your phone. This is when organizing contacts comes in handy.
In modern Samsung Galaxy phones users are allowed to group contacts. Not only that grouping contacts saves you time from scouring through a long list of individual contacts, it also makes it easier for you to contact a specific set of people in one instance. For example, you can relay one same message to multiple people at once.
Having this setup is highly recommended for group meetings, class sessions and family conversations. Even online messaging platforms like Facebook Messenger already integrate the same feature.
Aside from saving time and effort in sending and re-creating the same message to an individual person, having a group conversation is also fun and varied.
In recent Samsung Galaxy phones, the contact groups feature is preloaded among other features in the built-in Contacts app as well as the Phone app.
That said, creating a group contact can be accomplished through either of the Samsung Phone or Contacts app.
Steps to Create a Group Contact on Galaxy A53 5g
Depicted below is the actual process of creating a group contact on the Samsung Galaxy A53 5g smartphone.
These steps are also applicable when organizing contacts through a group contact in other Samsung Galaxy phones that are running on Android 12 with One UI 4.1 OS version.
Actual screens and menu items may vary between device models and network operators so expect some slight differences on individual device's user interface. Ensure that your phone is running on the latest software version to make sure all key features and options are accessible.
Feel free to start whenever you're all set to configure the contacts settings on your device.
Step 1: First, open the Contacts app. Just find the contacts app icon from the Home screen or Apps screen and then tap on it.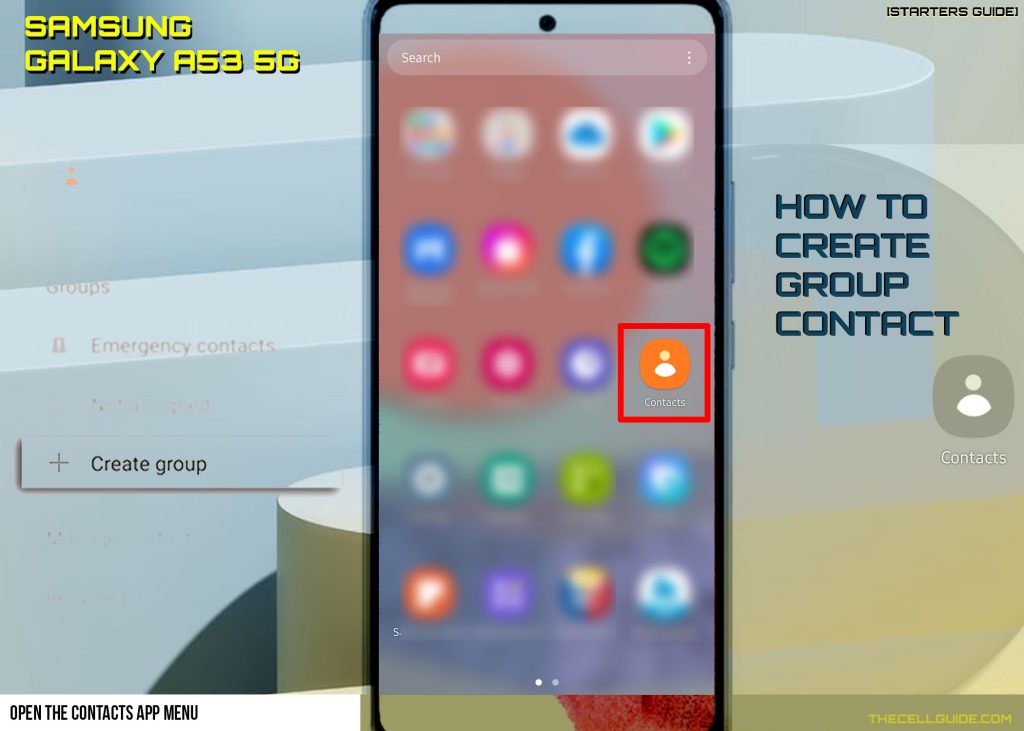 Step 2: While in the Contacts app menu, tap on the three short horizontal lines on the top-leftmost corner. Doing so opens a wide menu options.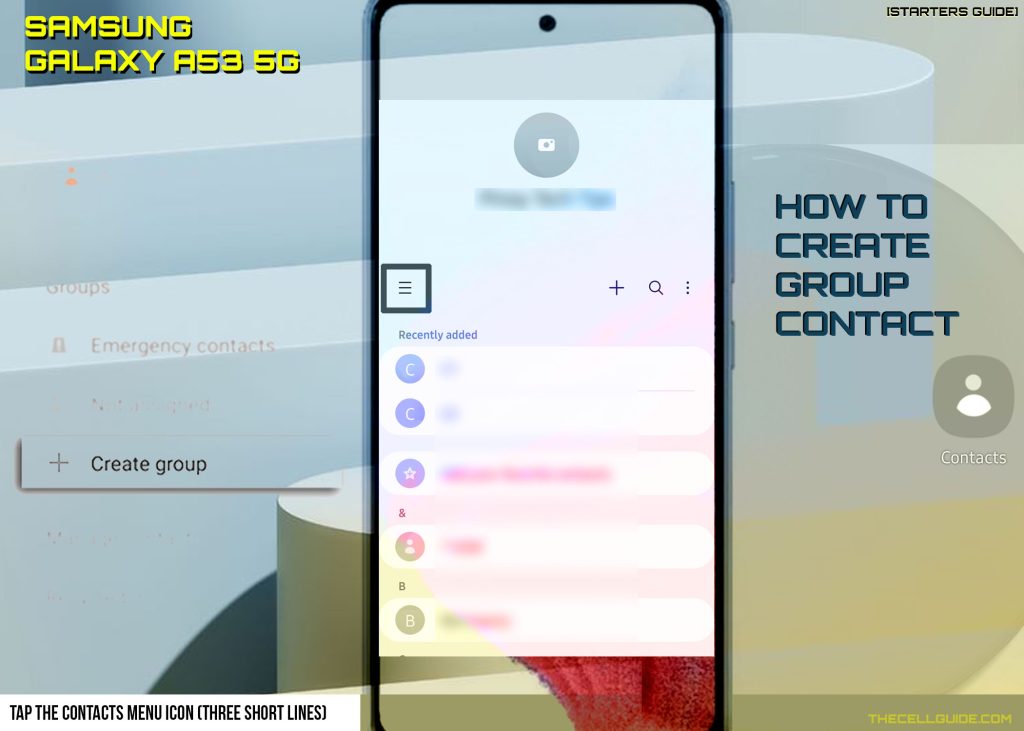 Step 3: Tap Groups from the menu items to proceed. A sub-menu opens next.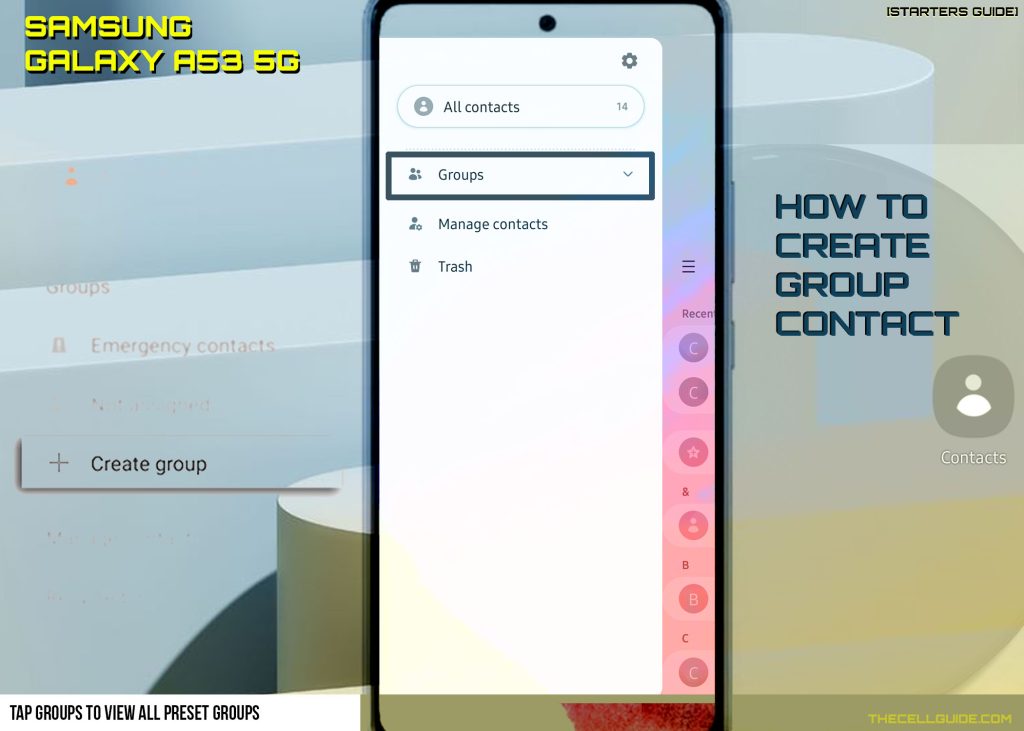 Step 4: Find and then tap +Create group from the given options.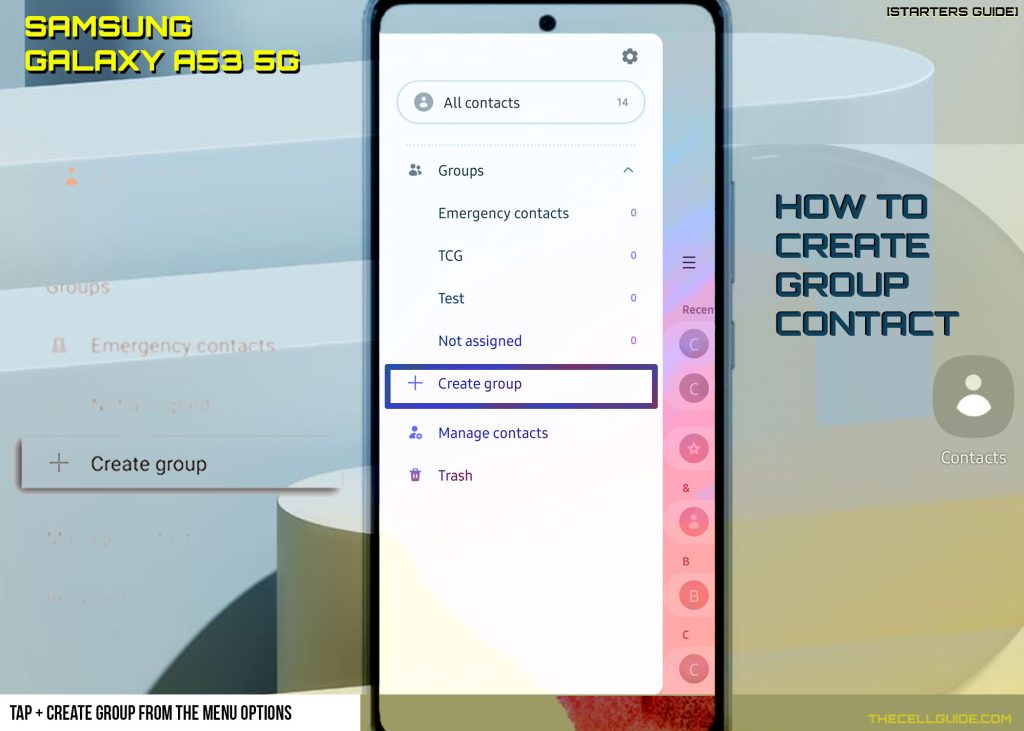 Step 5: On the following screen, enter your preferred Group name on the provided text field.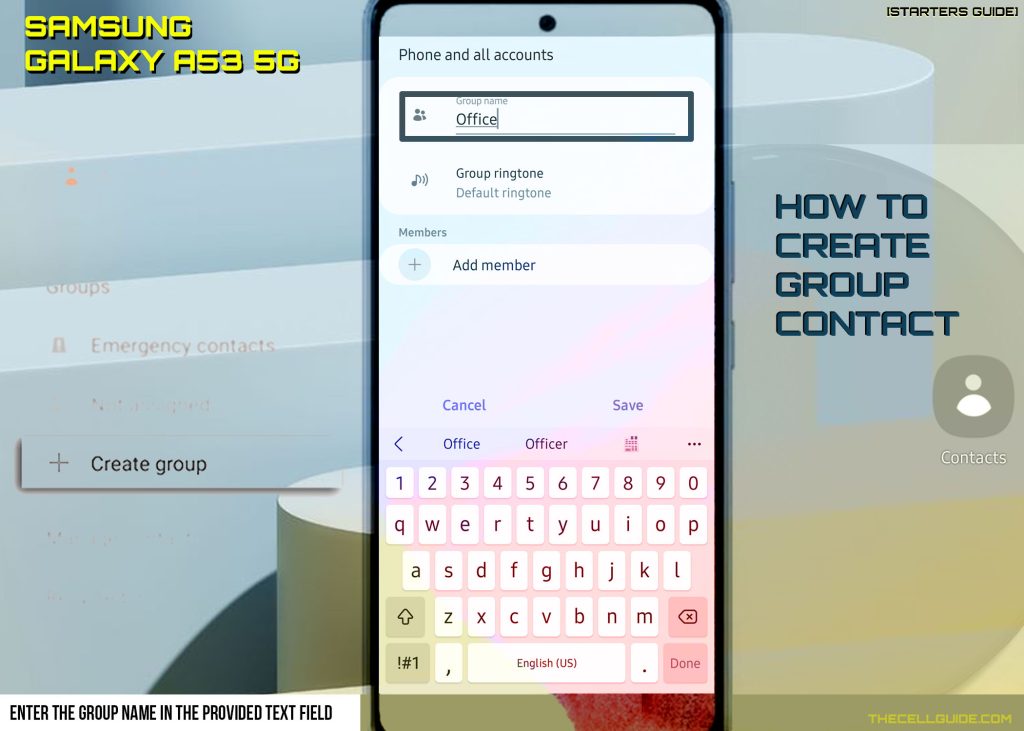 To assign a separate ringtone for the group, tap Group ringtone then select your preferred ringtone.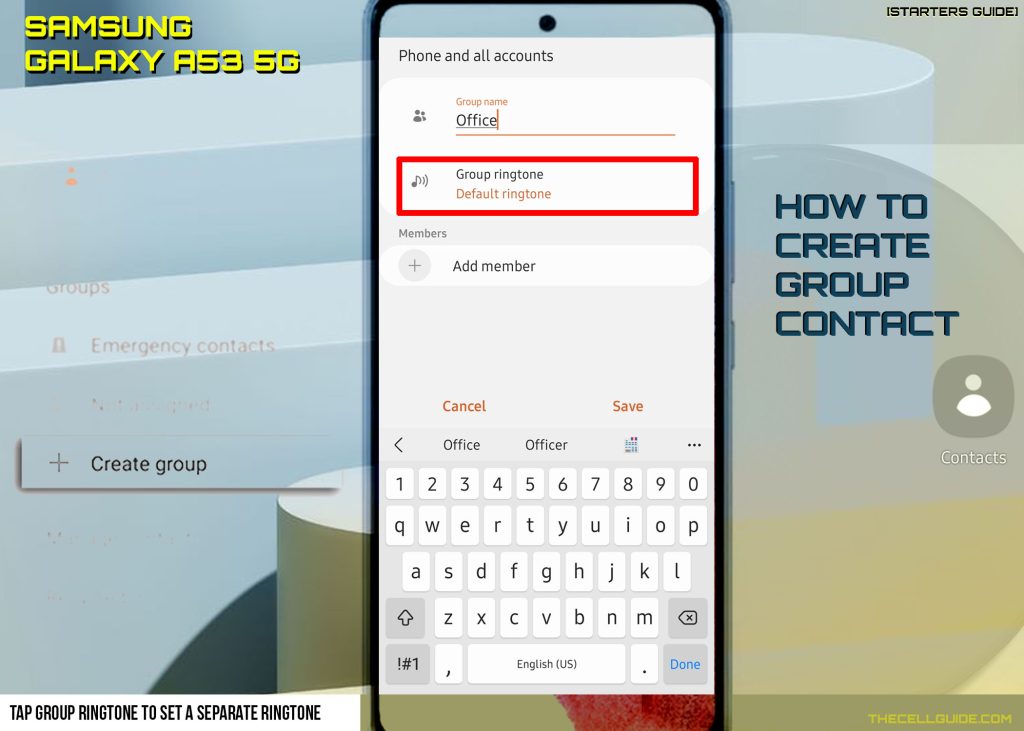 To add members for the group, tap Add member and then select people from your contacts list. Just tap to mark the contacts that you'd like to add to that group.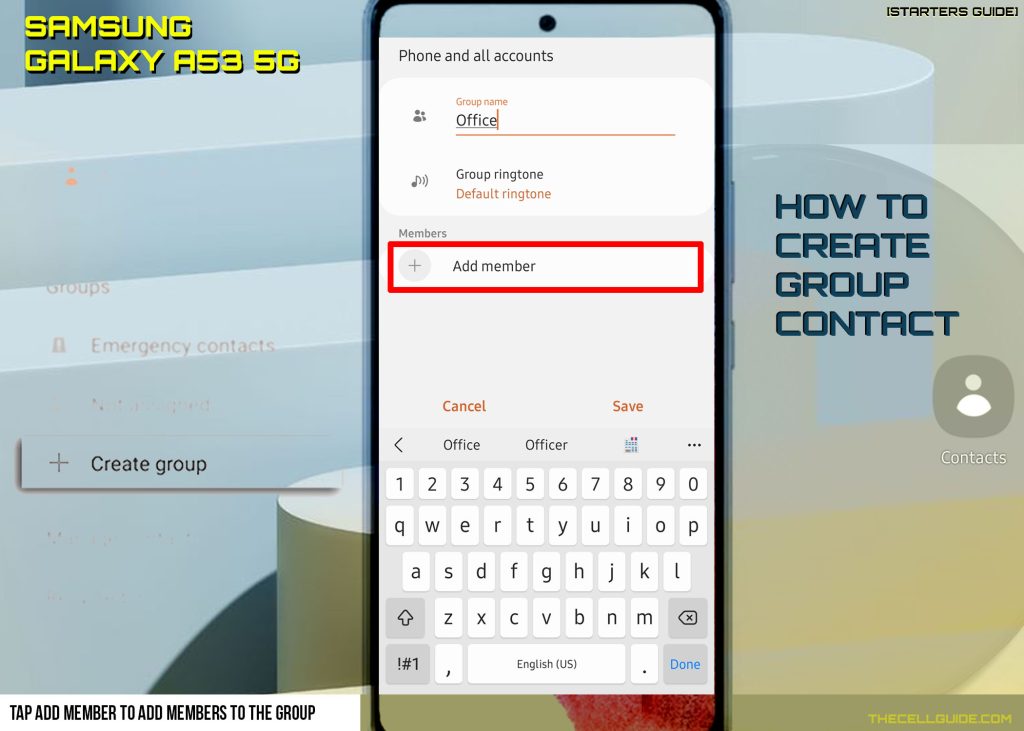 Once you're done filling up the required fields, tap Done at the bottom of the screen.
Step 6: When finished setting up the group contacts, tap Save at the bottom-right corner. That will create and save the new group contact on your phone.
To edit and manage an existing contact group, just open the Menu (three-short lines) and then select the group that you'd like to manage. On the succeeding menu, tap the triple-dots in the top-right corner to view more options like Delete or Send message.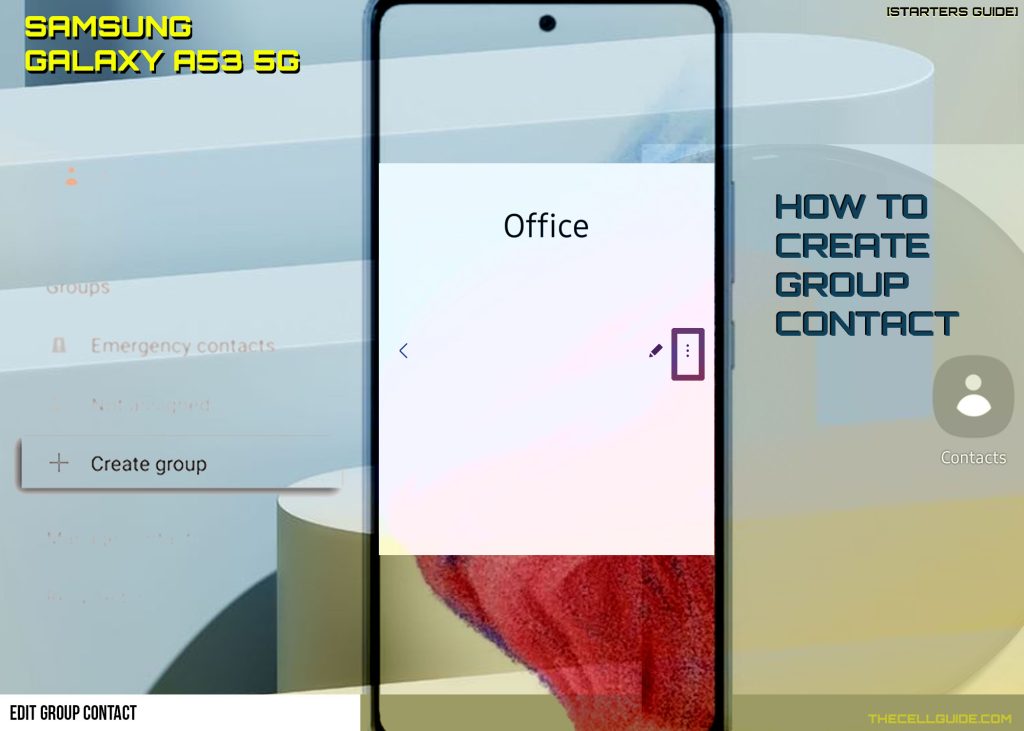 To edit existing or add new members, tap the Pencil icon and follow the rest of the onscreen instructions to complete the process.
More about Group Contact in One UI 4.1
You can send a group email, text or set a common ringtone to all the group members in the group contacts. For instance, you can assign a separate ringtone for your Family Group so it would be easier for you to identify that anyone in your family is calling based on the ringtone playing.
The group message recipients limit for SMS messages is set to 20. This means that you can send one single message to multiple contacts in an entire group consisting of 20 people.
Searching Group Contacts
To find group contacts on your Samsung phone, you will need to access the Contacts section in the Phone app.
Here's how it's done:
Open the Phone app.
In the Phone app menu, tap the Contacts tab at the bottom.
Scroll down a bit to get to the Groups section. Under it, you will see a list of all the group contacts you've created.
Simply tap to select the group contact that you'd like to edit or manage.
Alternatively, you can access the group contacts through the Contacts app.
To do so, simply launch the Contacts app and then tap on the triple-line (menu_ icon on the top-left corner. Tap to expand the Groups dropdown menu to view all existing groups.
It's actually the same menu you visit when you create a new contact group.
In some Samsung phones, a few predefined groups are already created. These include Emergency contacts, Family, Starred in Android and Not assigned.
Available group names may vary between device models and software versions but the common denomination about these predefined contacts is the fact that they cannot be renamed or deleted.
You can also add individual members to a group contact by selecting and accessing a specific contact's details and then tap Groups to select a group where you want to assign that contact to.
And that's all about creating a group contact on the Galaxy A53 5g smartphone.
Hope this helps!
Please check out our YouTube channel to view more tutorial and troubleshooting videos for popular iOS and Android devices.
You Might Also Want To Read: