This post will walk you through altering the default language and input settings to use your preferred language on the Samsung Galaxy A series. Here's a quick guide to change or set a new default language on Galaxy A53 5g.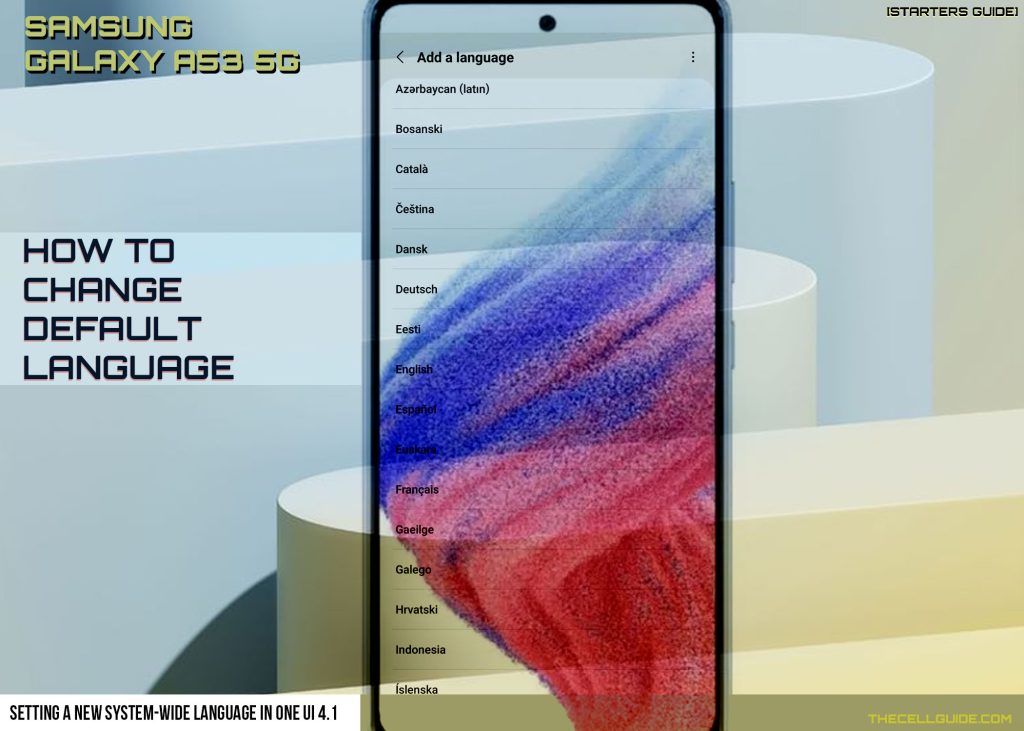 By default, Samsung phones use English as the system-wide language. If this isn't your language, then you can change it to your desired language. All you have to do is configure your phone's settings to make necessary changes. Just keep scrolling for more detailed instructions.
Samsung Language and Input Settings
Samsung Galaxy phones come with preset languages that you can use for language and input services. Because these devices are rolled out globally, Samsung made sure that users can change these settings.
That said, you can change the default language to your desired language that you're more comfortable or fluent with. You can find and choose your preferred language from the built-in languages on the phone's settings.
Changing the default language on a Samsung device is effortless. All you have to do is access the Language settings menu under General management.
Outlined below are the steps to make these changes on a Samsung Galaxy a53 5g smartphone. Feel free to refer to this guide if you need help changing the system language on your Samsung device.
Steps to change/set default language on Galaxy A53 5g
The following steps will take you to the One UI settings menu where you can find a list of available languages to use and replace the default system language on your Galaxy phone. These steps are also applicable when altering the default language settings on other Samsung phones running on Android 12 with One UI 4 or later OS version.
The actual interface on some device may vary slightly given that actual screens and menu options likewise vary between device models and service providers.
Just be sure to keep your device software up to date to ensure all key features and settings menu options are present.
Once you've got everything set, you may go ahead and proceed with these steps.
Step 1: To get started, tap Settings from the Home screen or Apps tray to launch the settings app menu.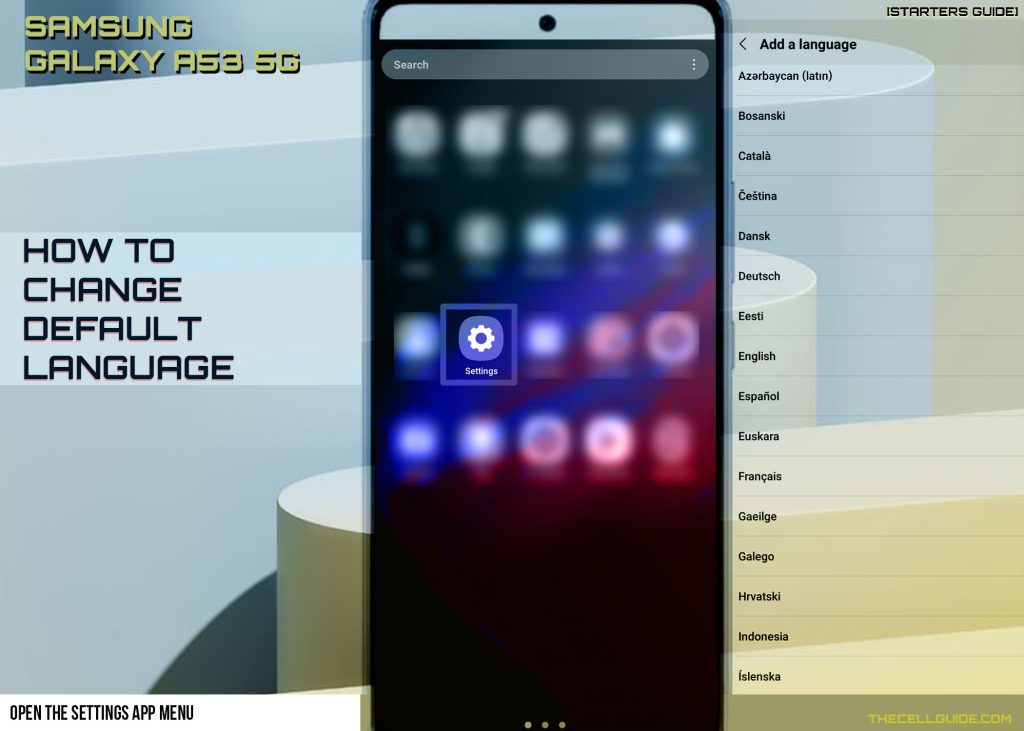 Step 2: In the main settings menu, find and then tap General management. Another menu opens with another set of options for system management.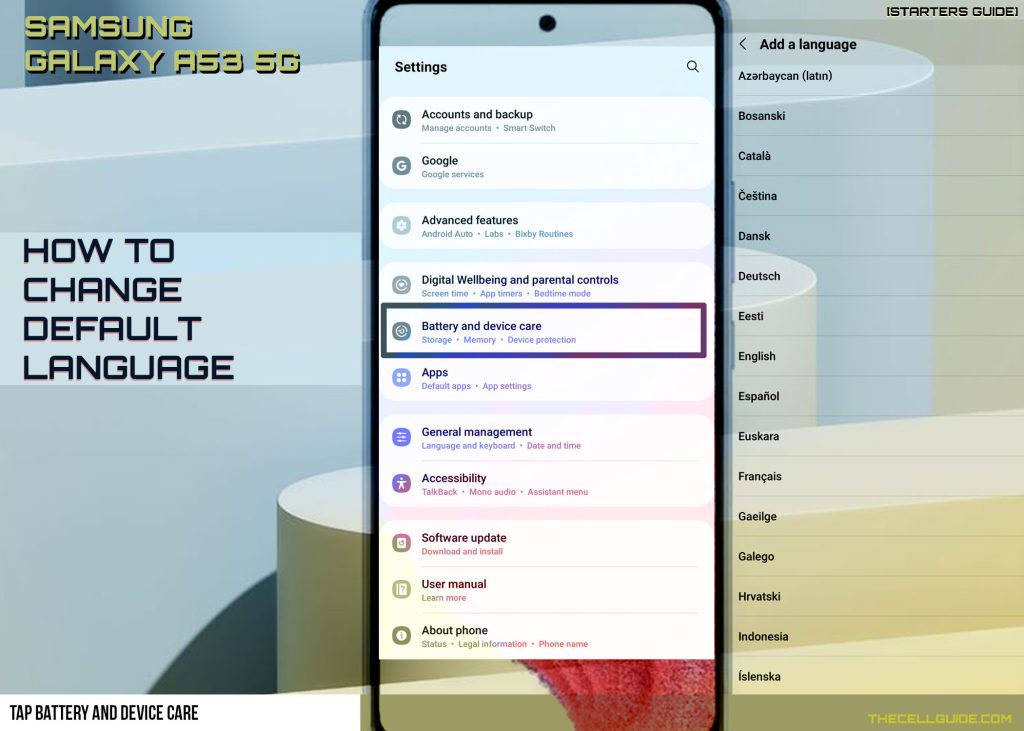 Step 3: Find and then tap Language under General management to proceed.
Step 4: Tap +Add language to continue. The current default language will load up on the next screen.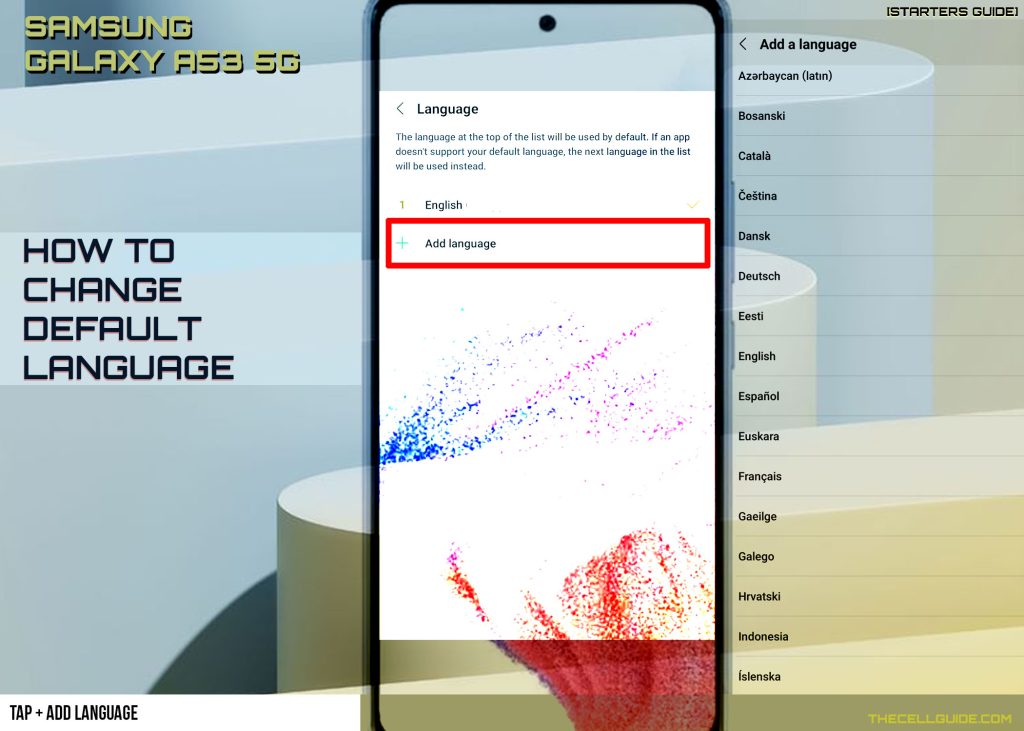 Step 5: A list of available system languages will load up next. Find and select your preferred language. Just tap on your language to mark it.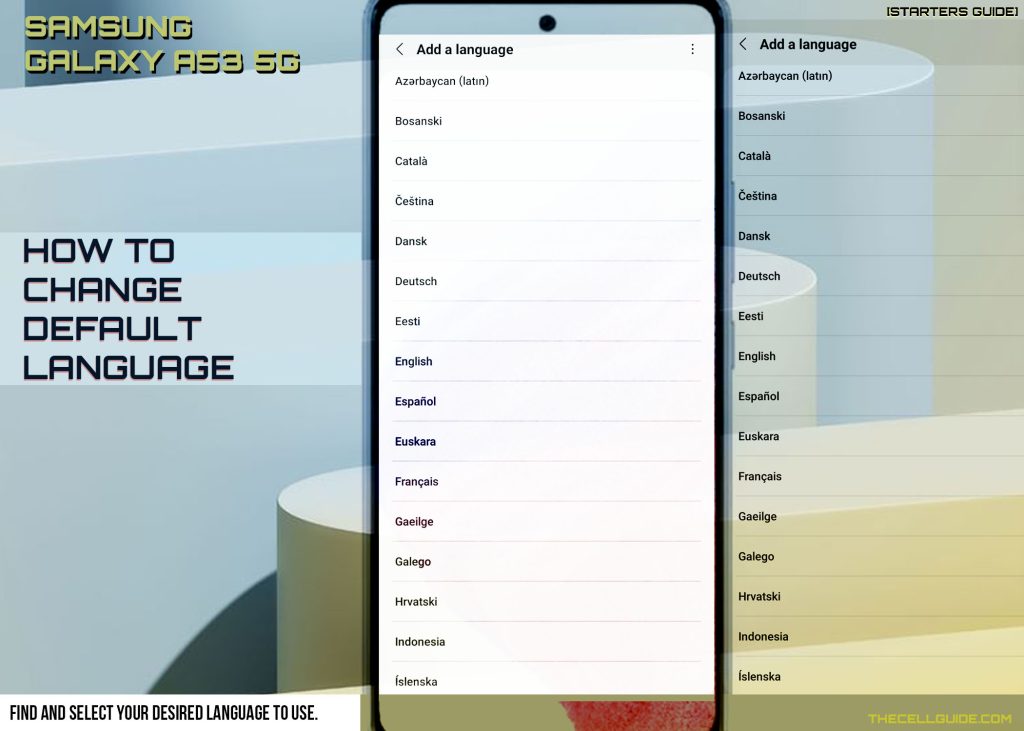 Step 7: If prompted, choose whether you'd like to set it as default or keep the current default language.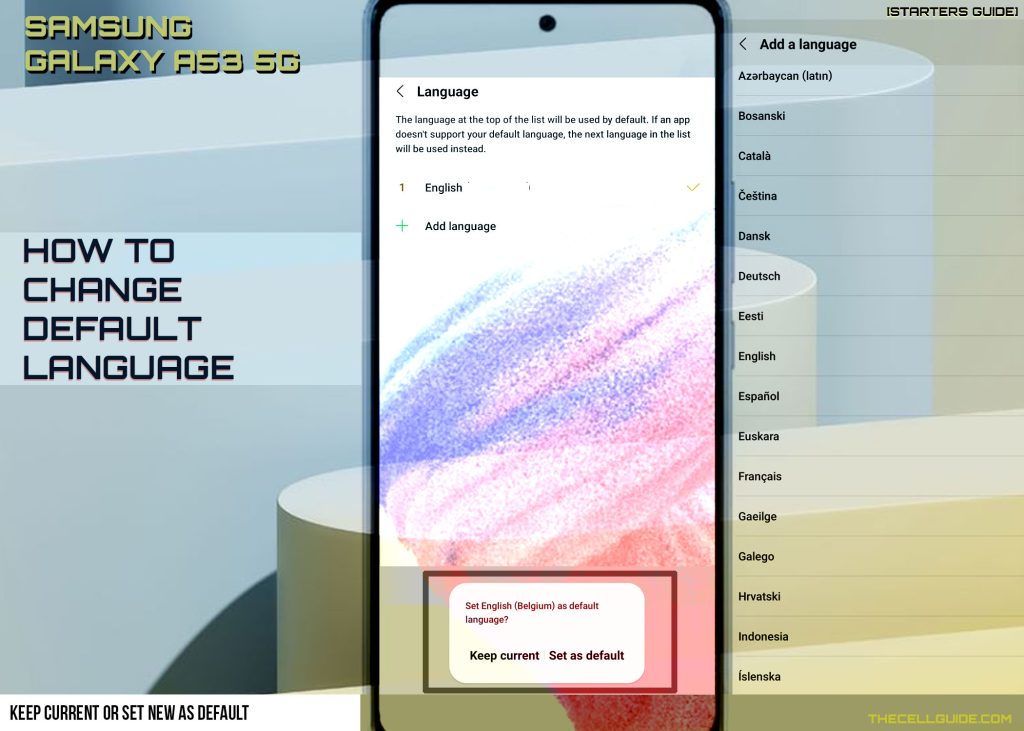 Tap Set as default if you want to change the device language. Otherwise, tap Keep current to add the new language to the list without altering the device language.
The default language is now replaced with your preferred language.
You can also change the order of your preferred languages, if necessary. To do so, just touch and hold on the double-arrow icon next to the desired language and then drag it to the desired order or position.
It is important to arrange your languages because the language at the top of the list will be used by default, if you don't specify it beforehand. If an app does not support the default language, the next language in the list will be used instead.
Should you wish to remove a language, just tap Edit on the top-rightmost corner of the Language menu. On the next screen, tap to select/mark the language then Remove at the bottom center of the Language screen. Read the warning message then tap Remove to confirm.
The selected language will be deleted from your current list of languages.
Just repeat the above steps to add another language that you want to use on your device.
Changing Default Input Language for Samsung Keyboard
You can also set the recently added language as the default keyboard language, particularly for the Samsung Keyboard app.
To do this, simply head over to Settings-> General management-> Samsung Keyboard settings menu and then tap Languages and types.
On the next screen, you'll see the default language which is set to English (US).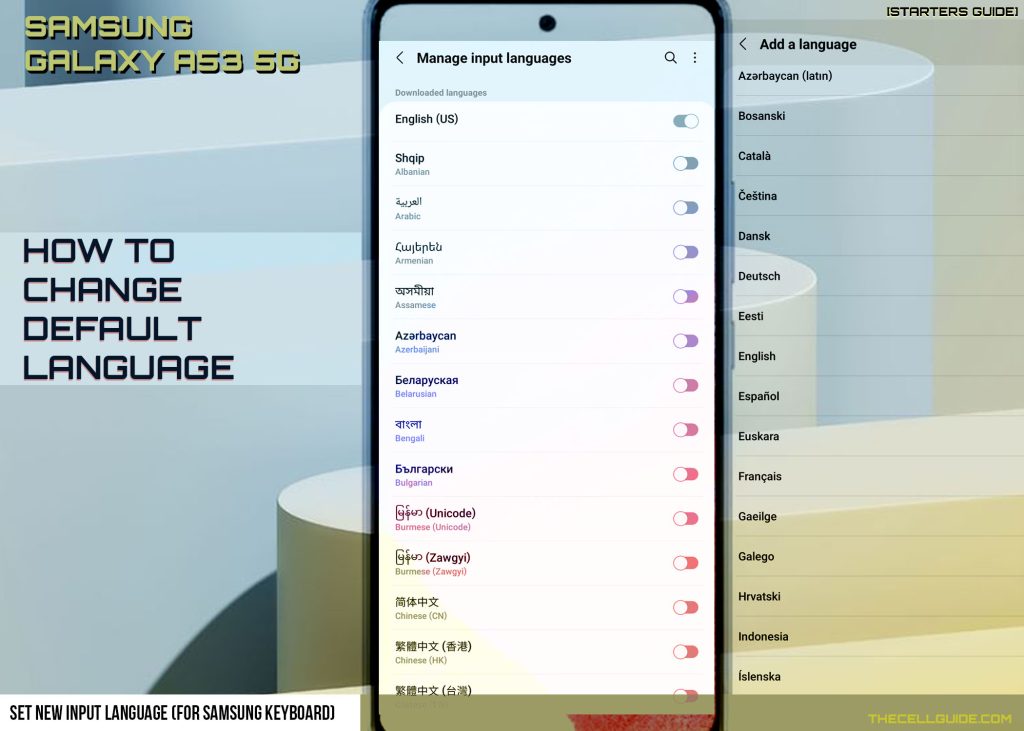 To change keyboard language, tap Manage input languages then toggle to turn on the switch next to your desired language.
Available languages may vary between countries or regions. Just keep your device software up-to-date to ensure all system services including languages and types are updated.
And that's all about altering the default system language on a Samsung Galaxy A53 5g smartphone.
Hope this helps!
Please check out our YouTube channel to view more tutorial and troubleshooting videos for popular iOS and Android devices.
You Might Also Want To Read: