This post will walk you through manually activating the USB debugging mode on the Samsung Galaxy A series. Here's a quick guide to enable USB debugging on Galaxy A53 5g.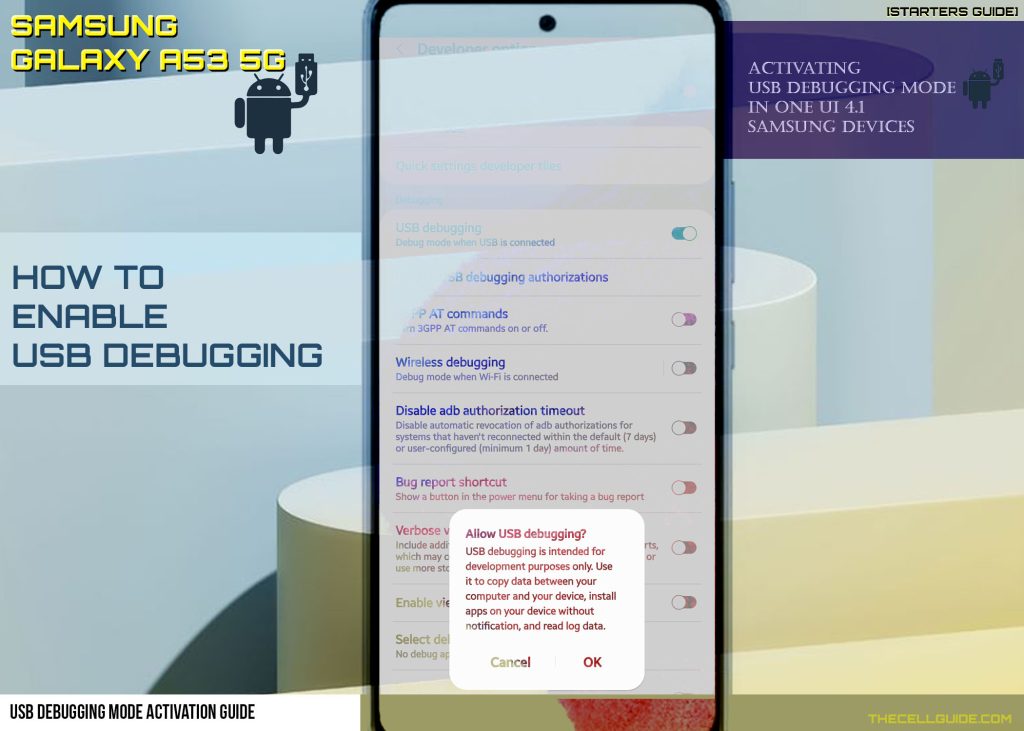 Need help facilitating a connection between your Samsung smartphone and a computer with the Android software development kit (SDK)? If that is so, then this quick walkthrough might be able to help you.
USB Debugging Mode
Modern Android phones typically come with a hidden menu that contains more advanced features including those that are mainly designed for software development purposes. Such a menu is called Developer Options.
One of the hidden features from the Developer Options menu is USB debugging.
When enabled, it gives mobile app developers access to the internal system components of the mobile platform and other relevant files and data.
However, common users can also make use of this feature particularly for copying files between the phone and the computer. With USB debugging enabled, you can connect your phone to a computer without getting any warning prompt for as long as the devices are paired in this mode.
To activate the USB debugging mode, you will need to unlock its parent menu which is the Developer mode or Developer Options menu.
Initially, Developer mode is hidden so you'll need to un-hide it firsthand. The process of unlocking the Developer options may vary between Android devices.
In Samsung devices with Android and One UI OS versions, this can be done by heading to Settings-> About phone-> Software information menu.
From the Software information menu, you should see Build Number among the list of options. Tapping on Build Number successively will let you activate the hidden menu. Once the Developer mode is accessible, activating USB debugging should already be viable.
If you're new to the Android 12 with One UI 4.1 interface, you can refer to a step-by-step process of activating USB debugging mode, particularly on a Samsung Galaxy A23 5g smartphone.
Steps to Enable USB Debugging on Galaxy A53 5g
The following steps are also applicable when turning on USB debugging on other Samsung phones that are running on Android 12 with One UI 4.1 OS version.
Actual screens and menu items may vary between carriers and device models so some device's interface may likewise differ slightly.
Feel free to start whenever you're all set to configure the advanced settings on your phone.
Step 1: To get started, you will need to unlock the Developer Options menu on your phone. This is imperative because USB debugging is listed among other hidden features from the Developer Options menu (Developer mode).
If you need help unlocking this hidden menu on your phone, you can refer to a separate walkthrough posted on this page.
Step 2: Once you've unlocked the Developer mode, the Developer Options menu should already be added in the Settings menu. So, launch the Settings app to continue.
Step 3: While in the main settings menu, scroll down to the bottom and then tap Developer Options. The hidden menu opens with a long list of advanced features.
Step 4: Navigate to the Debugging section and then tap USB Debugging. A pop-up window opens next.
Step 5: Read the pop-up message and then tap OK to confirm.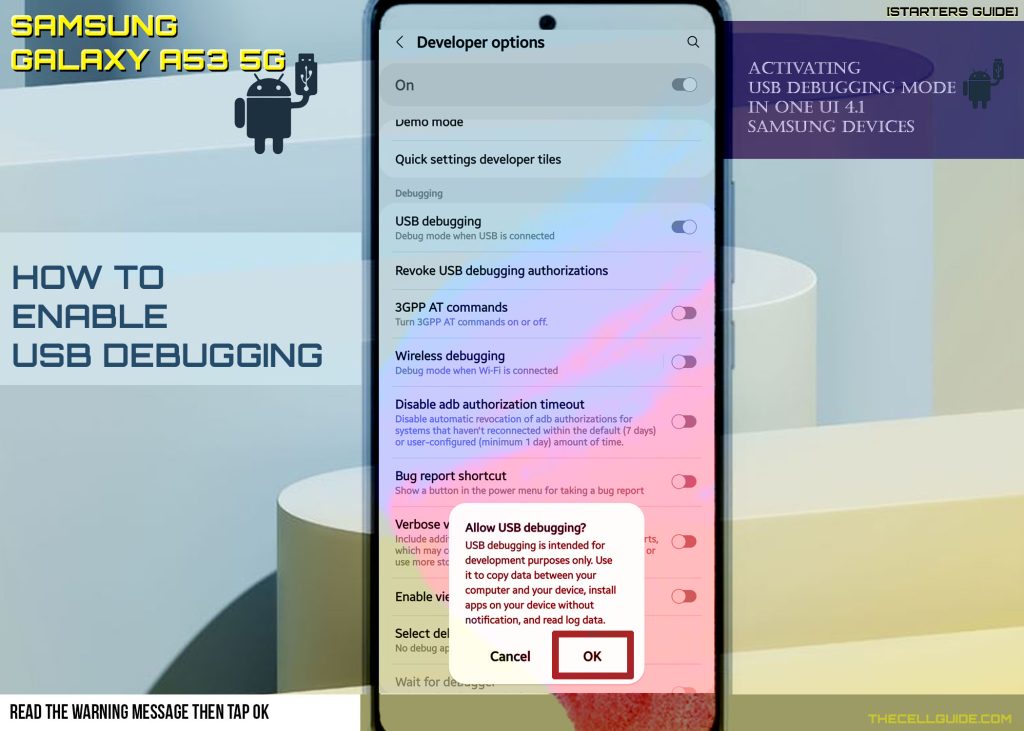 USB debugging mode is now activated, making your phone accessible through a computer via wired (USB) connection.
Be sure to note though that USB debugging is intended only for development purposes, to copy data between your phone and computer, install apps on your devices without notification and read log data.
If you're not using your phone for any of the said purposes, turning USB debugging off is highly recommended. This is to prevent any unauthorized access to any sensitive information from your phone's storage, when connected to a computer via USB cable.
Disabling USB debugging will also prevent any unauthorized app installation or system changes from any computer users.
Hope this helps!
Please check out our YouTube channelto view more tutorial and troubleshooting videos for popular iOS and Android devices.
You Might Also Want To Read: