This post will walk you through restoring the default accessibility configurations on the latest Samsung Galaxy device. Read on to learn how to reset accessibility settings on Samsung Galaxy S21.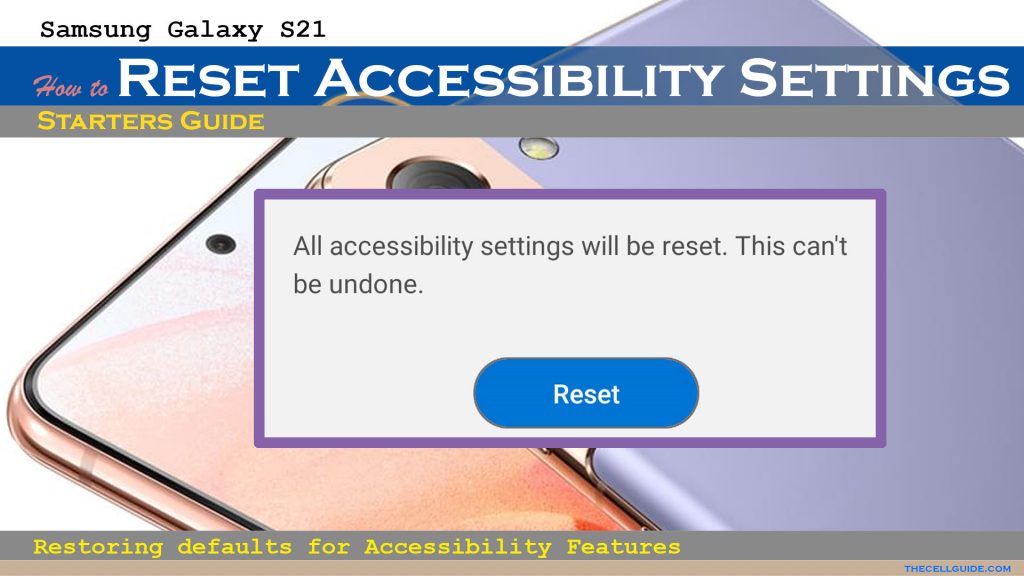 Are you experiencing any unusual behavior on your Samsung Galaxy S21 smartphone after customizing accessibility options and features?
If that is so, then there's a higher chance that the recent changes you've made on your phone settings have messed up other system services and thereby results in adverse apps behavior.
This therefore denotes the need for you to put everything back to the way it was by restoring the default accessibility configuration on the phone. This is where the reset accessibility settings command comes into play.
Samsung Accessibility Menu /Assistive Technology
Samsung devices integrate many useful features to address various needs of individual users. Among these are the so-called accessibility features that are mainly designed to assist users in adjusting font size or style, adjusting display color and contrast for visibility enhancement, reading the screen aloud and converting audio to text (speech-to-text).
In modern Samsung smartphones accessibility features and other relevant applications are housed in a dedicated segment called accessibility menu.
The accessibility settings on a Samsung Galaxy smartphone are also designed to be adjusted in a way that would best suit every user's special needs.
Reset Accessibility Settings
To access and customize accessibility settings on your device, you will need to access the accessibility menu from the Settings app.
Once you get there, you can start adjusting necessary options for the preloaded accessibility features including TalkBack, Visibility enhancement, Hearing enhancement, Interaction and dexterity, advanced settings and installed devices.
And if your phone suddenly misbehaves following a series of settings adjustments, you can always put the settings back to their original state.
To give you some input on how to restore the default accessibility settings on the new Samsung Galaxy S21 smartphone, I've mapped out a step-by-step walkthrough for you to follow.
Easy Steps to Reset Accessibility Settings on Samsung Galaxy S21
The following steps are also applicable when performing accessibility settings reset on other Samsung Galaxy smartphones running on the same Android or One UI version with that of the Galaxy S21 series.
Important Note:
There may be some slight differences on the actual user interface given that menu items and screens vary between device models and carriers.
Feel free to start whenever you're all set to reset and restore the default accessibility settings on your phone.
Step 1: Tap the Settings icon from the Home or Apps screen. Tapping the settings icon will launch the Settings app with all the preloaded features and settings.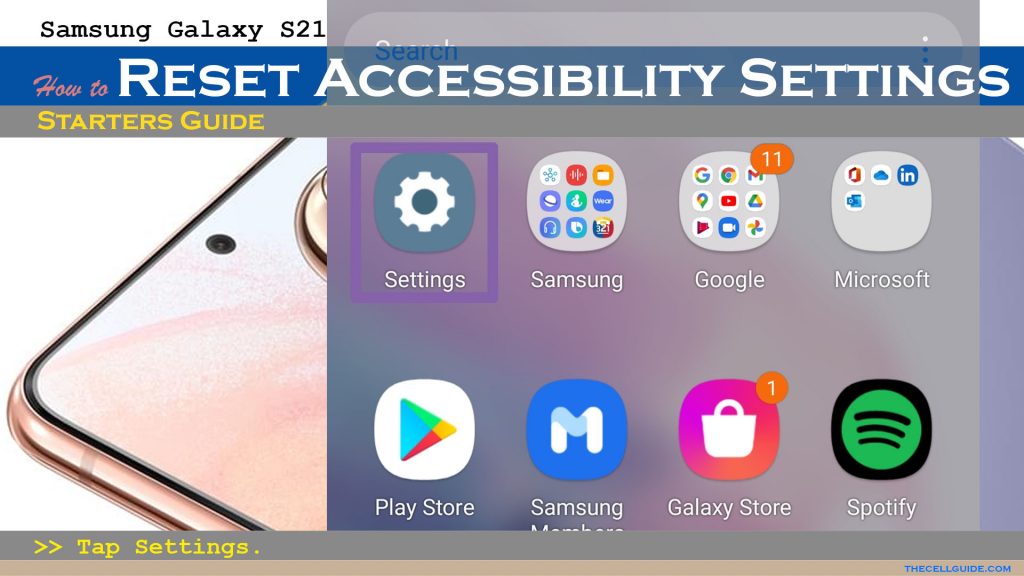 Step 2: While on the main settings menu, tap General management. Another menu opens, highlighting all built-in features for device system management.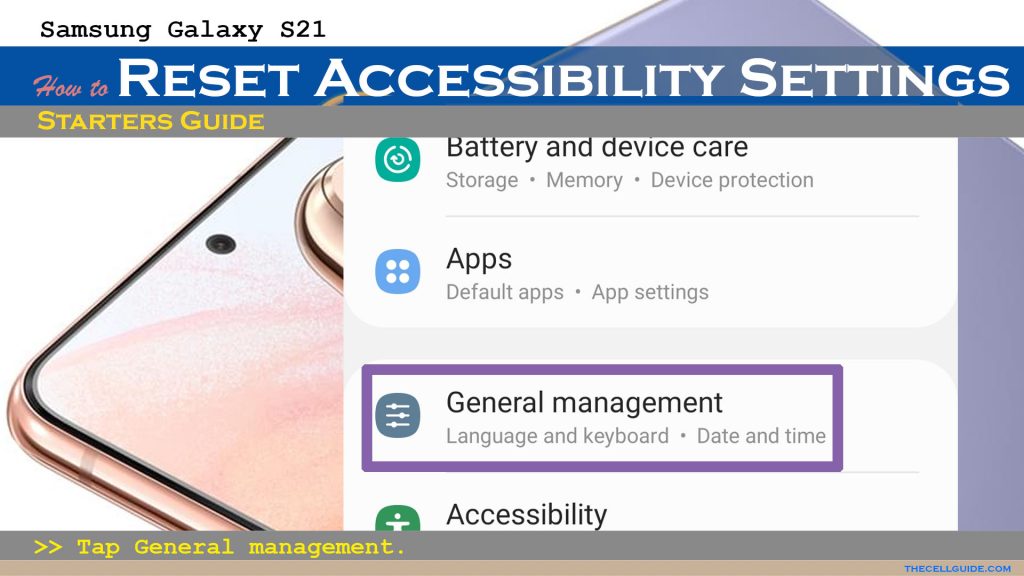 Step 3: On the succeeding menu, scroll down and then tap Reset. Built-in reset commands will show up on the next screen.
Step 4: Tap Reset accessibility settings to proceed. More information about the reset will be displayed on the next window.
Step 5: Read and review the reset details and then tap the Reset settings button. If prompted, enter your password or pattern to authorize your request for reset. Otherwise, skip to the next and final step.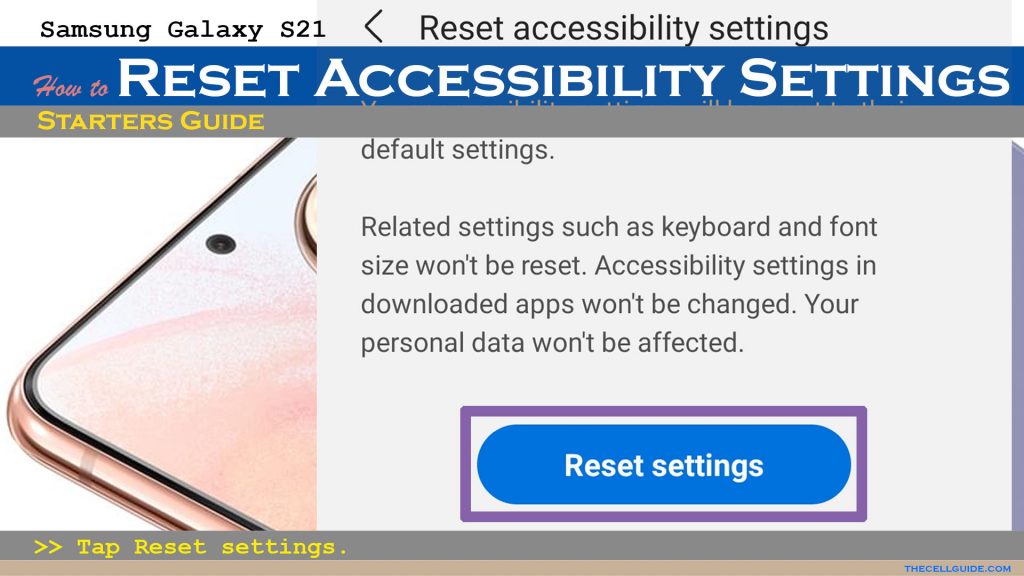 Step 6: Finally, tap the Reset button on the next screen to confirm and instigate accessibility settings reset.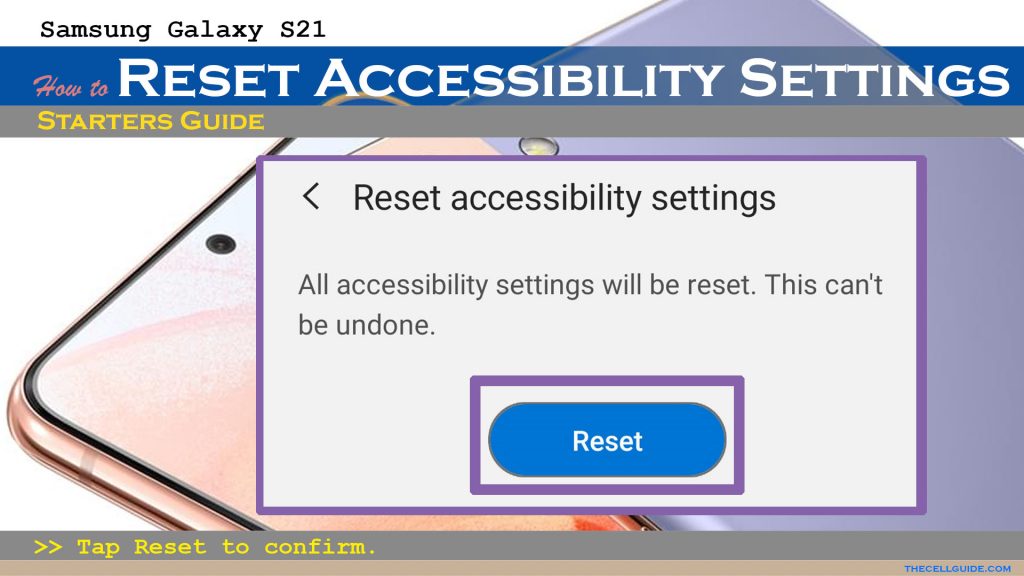 What Happens After You Reset Accessibility Settings on your Samsung Galaxy S21?
After the reset, all accessibility features and options will be restored to factory default values. The rest of your apps and files will remain the same as these reset doesn't affect other features and system services.
This reset also doesn't affect your personal data, keyboard and font settings , as well as accessibility settings in downloaded (third-party) apps.
If your phone continues to misbehave after the accessibility settings reset, perform a soft reset or reboot the phone to clear out any errant caches and to refresh system features and services.
Installing any pending software updates is also recommended as these updates are typically rolled out to deliver essential fix patches and system enhancements for optimum system performance and device stability.
And that's all about restoring the default accessibility options on the Samsung Galaxy S21 through the integrated reset accessibility settings command.
Hope this helps!
Please check out our YouTube channel to view more tutorial and troubleshooting videos for popular iOS and Android devices.
You Might Also Want To Read: